Start your day the right way— with a Rainbow Waffle Charcuterie Board! This is a fun and colorful breakfast or brunch for families celebrating St. Patrick's Day or Pride Month. Or any morning where rainbows are needed to brighten the day! Breakfast charcuterie boards are fun for kids to make and eat, and rainbow waffles are a breakfast that can't be beat!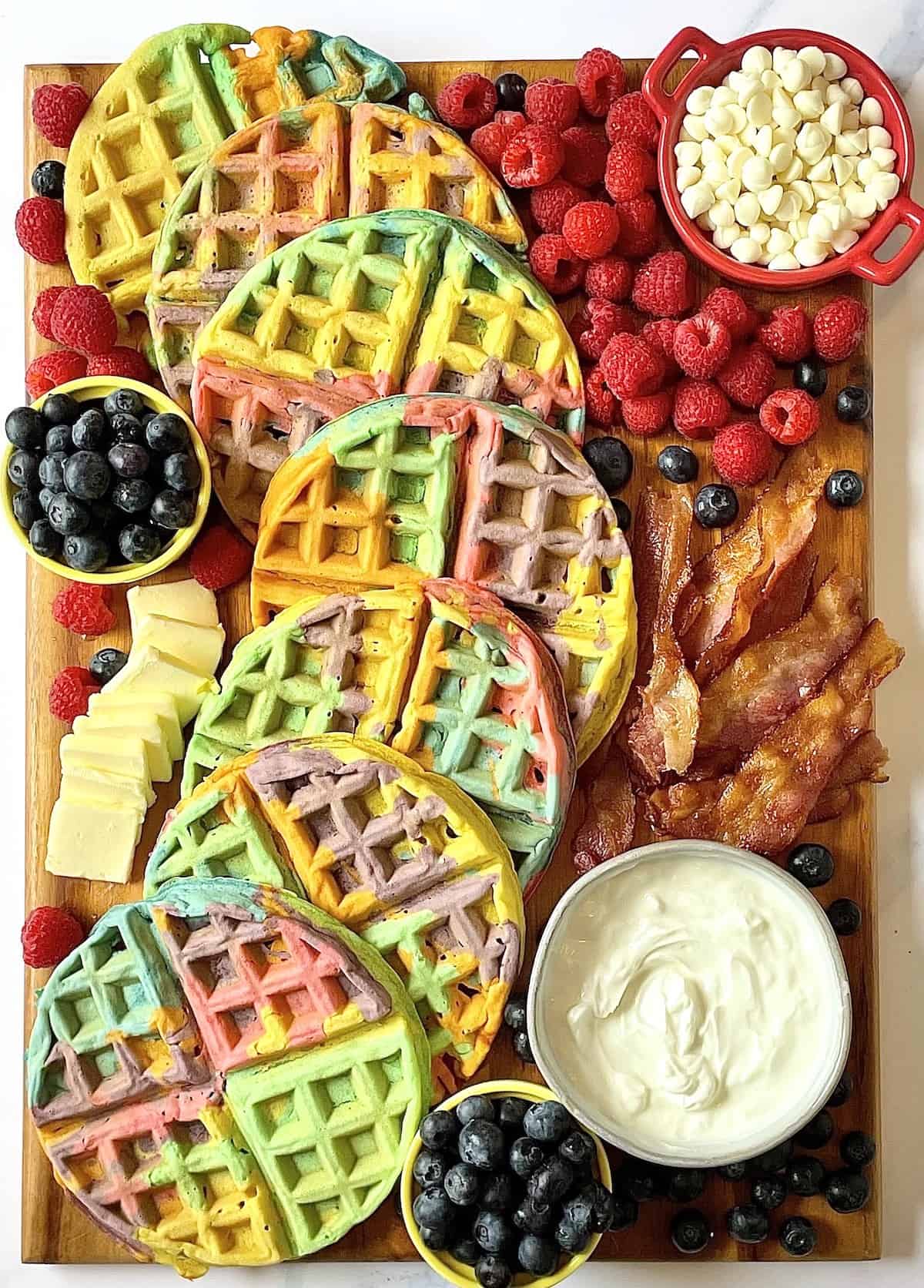 Jump to:
Charcuterie boards are fun for every occasion, breakfast included! They get family and friends excited to eat and chatting over good, attractively put together food.
This rainbow waffle charcuterie board was created especially as a fun way to celebrate St. Patrick's Day morning. But the joy that comes with seeing rainbows is highly contagious (even when they aren't real), so don't save it just for St. Patty's!
In addition to a rainbow breakfast, a fruit & snack board shaped into a rainbow and pot of gold is great for later in the day.
This recipe makes 10 standard size waffles and about 4 belgian-style waffles. I use either an almond milk pancake batter or oat milk pancake batter. Any pancake or waffle mix will do, though.
Breakfast charcuterie is a weekend tradition for my family, one that you should consider making for yours too.
Not only does coming downstairs to a homemade breakfast charcuterie board get my family wanting to eat breakfast, it gets them to consider eating foods they may not normally choose.
We have a ton of fun putting together boards for any occasion. When I pull out my wooden boards, the kids come running to help. You can't beat that!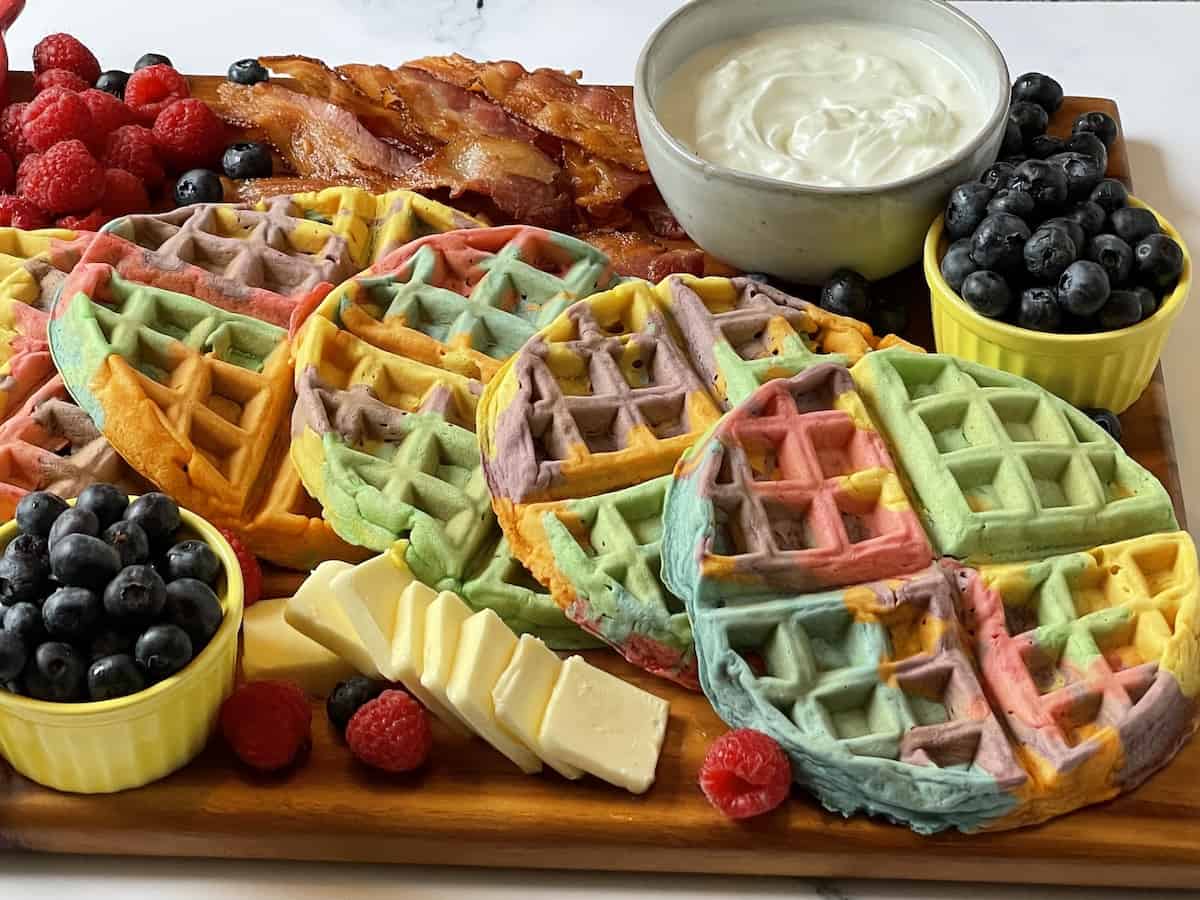 Some Other Ideas for Breakfast Boards:
Helpful Tips
For a complete guide to making charcuterie boards (particularly kid-friendly ones), check out this post.
Helpful hints to making this rainbow waffle charcuterie board are:
If you don't have a wooden serving platter, use a large cutting board. But consider investing in a few good charcuterie boards in different shapes and sizes.
Prep your work station first. You'll need a bowl and spoon for each color dye.
You don't need to do all the colors of the rainbow for beautiful rainbow waffles.
Try to separate the batter equally into the separate bowls. If not equally separated, you'll run out of some colors toward the end. My last few waffles were only blue, yellow, and green.
What Makes a Good Charcuterie Board?

What makes a good charcuterie board depends on the type of board and the occasion you are making it for. The first step to making a good charcuterie board is choosing a theme, like the rainbow for this breakfast board. Then choosing the ingredients that go along with the theme.

In general, a good charcuterie board includes ingredients of different textures and types. Think sweet and salty, crunchy and soft, healthy and fun.

A good charcuterie board is also arranged well and includes depth with the addition of bowls and cups.

For more information on choosing ingredients and arranging boards in general, see this post.
Can I Use Pancake Mix to Make Waffles?

Yes! Use a store bought or homemade pancake mix to make waffles.

Mix the batter as instructed. Grease a waffle maker lightly with oil spray or butter. Add the pancake mix and make the waffles as your waffle maker instructs.
Ingredients
You'll need:
waffle/pancake batter and food coloring (I use almond milk pancake or oat milk pancake batter)
bacon (or other breakfast meat)
brightly colored fruit, like blueberries, blackberries, strawberries, raspberries, or oranges
toppings, such as maple syrup, butter, yogurt
something fun, like chocolate chips!
Step-By-Step Directions
STEP 1: Make the waffles.
Mix the batter. Separate into bowls and add food coloring.
Scoop each color into a preheated waffle maker. Close and cook the waffle.
Transfer waffles to the charcuterie board.
STEP 2: Create the board.
Arrange the board by adding small bowls of fruit and toppings first.
Add the waffles in the middle, around the bowls.
Add meat, fruit, and fill in gaps with butter and extra fruit.
Serve and enjoy!
I hope you enjoy this rainbow waffle charcuterie board for your St. Patrick's Day breakfast, or any other occasion! I'd love to hear your thoughts in the comments below.
If you enjoyed this recipe, make sure to give it a star rating and let me know what you thought in the comments! And follow me on Facebook, Pinterest and Instagram for more delicious recipes!
Recipe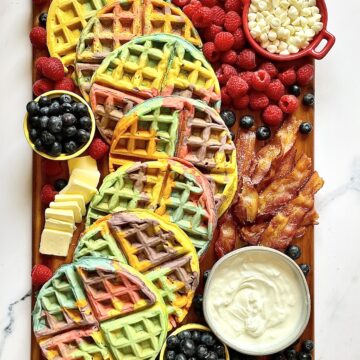 Rainbow Waffle Charcuterie Board
Start your day the right way— with a Rainbow Waffle Charcuterie Board! This is a fun and colorful breakfast or brunch for families celebrating St. Patrick's Day or Pride Month.
Bookmark Recipe
Saved!
Ingredients
2

cups

blueberries

2

cups

raspberries

10

slices

bacon

butter, for serving

yogurt, for serving

syrup, for serving

whipped cream, for serving
For Waffles
2

cups

flour

4

teaspoon

baking powder

3

tbsp

sugar

1

teaspoon

salt

2

cups

milk (almond, oat, or dairy)

4

tablespoon

olive oil

1

teaspoon

vanilla extract

2

eggs

food coloring (in a variety of colors)
Instructions
Add the flour, baking powder sugar and salt to a large mixing bowl. Mix and make a hole in the center. Pour in the milk, oil, vanilla extract and eggs. Mix until smooth.

Divide batter into separate bowls for each color. Add food coloring and mix, repeating until the color is the shade you'd like it to be.

Set the waffle maker to on. Once preheated, spray lightly with cooking oil. Scoop about 2 tablespoons of each color batter into the waffle maker. Cook waffles according to your machine's instructions.

Put the yogurt, syrup, and blueberries into small serving bowls and place on the board in the corners. When waffles are done, arrange in the center of the board.

Add the fruit and bacon around the bowls and waffles. Fill in the gaps with butter sliced and additional fruit.
Notes
*nutrition facts do not include toppings (butter, syrup, whipped cream, and yogurt)
Serving size accounts for 2 waffles and 1 cup of fruit.
Nutrition
Serving:
10
oz
Calories:
357
kcal
Carbohydrates:
51
g
Protein:
7
g
Fat:
14
g
Saturated Fat:
2
g
Trans Fat:
1
g
Cholesterol:
56
mg
Sodium:
804
mg
Potassium:
165
mg
Fiber:
5
g
Sugar:
13
g
Vitamin A:
119
IU
Vitamin C:
15
mg
Calcium:
285
mg
Iron:
3
mg