Healthy and delicious Cottage Cheese Waffles are packed with protein and are made in just 2 simple steps using 5 simple ingredients. These waffles are a great alternative to traditional waffles, and are completely family-friendly. No one will even know they're eating cottage cheese, guaranteed!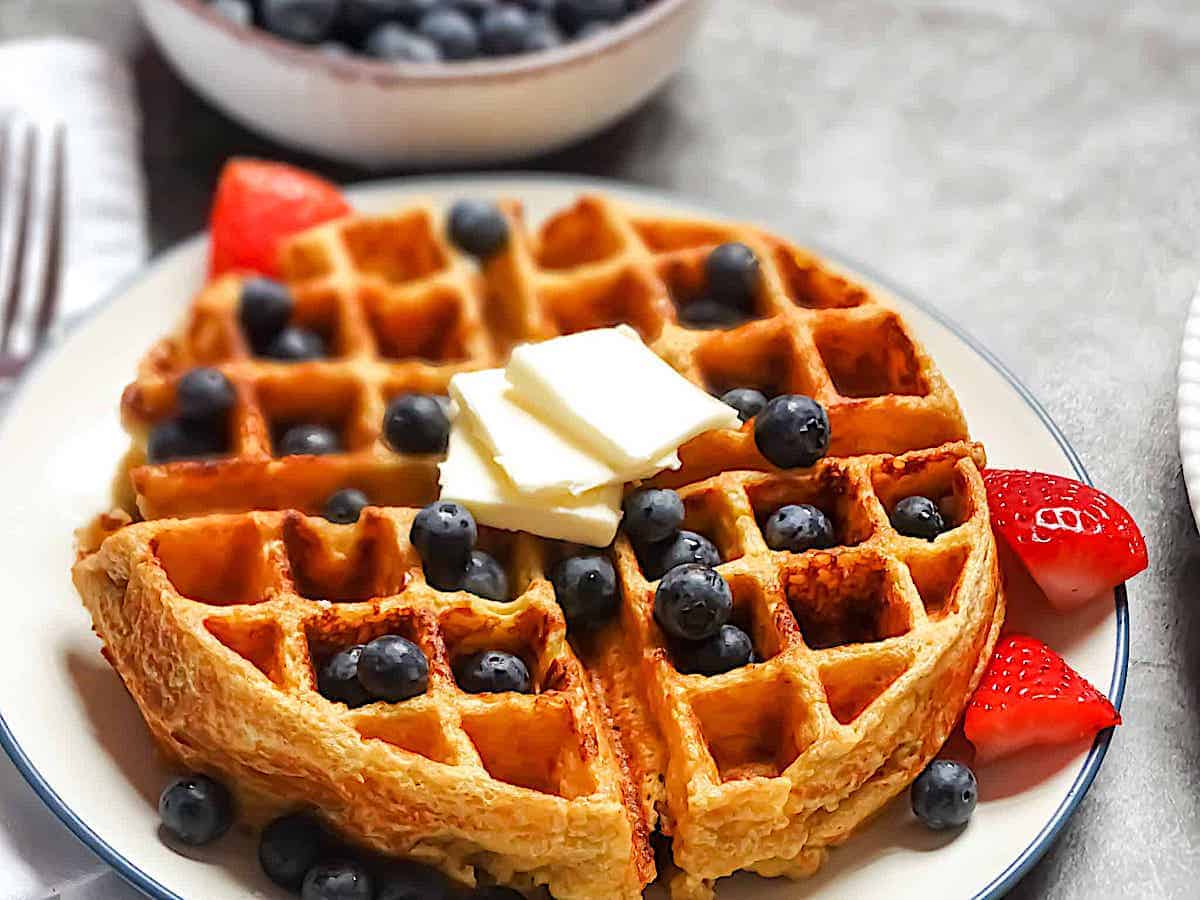 Looking for a new healthy breakfast for your family? Are you tired of the same ole' thing every morning?
Start your day off with these wholesome and yummy cottage cheese waffles. If you want to spice up the morning routine for the entire family while still keeping it simple and quick, this is the breakfast for you! Cottage cheese waffles are packed with protein and will keep you feeling satisfied for hours.
No one will be able to tell that these golden-brown nook and cranny filled waffles are made with oats, cottage cheese, and eggs. Guaranteed. Unless you tell them. And don't do that until they taste them.
The best part about this waffle recipe is that you can have a completely guilt-free breakfast that is packed with nutrients, vitamins, and minerals. One waffle has 39 grams of protein.
While men are supposed to take in about 56 grams of protein a day and women 46 grams, that means you've nearly consumed all your protein by breakfast! And your kids need much less protein than you, so they will definitely have gotten all they need by eating just half of one cottage cheese waffle.
Cottage cheese waffles with oats are also full of fiber (and other good for your heart vitamins and minerals). Each waffle has approximately 8 grams of fiber, which is ⅓ of the fiber you'll need in a day.
Truth: I don't like hate cottage cheese. If cottage cheese was the last food on this planet, I don't think I'd eat it. Well, at least plain.
So when I first made these cottage cheese waffles, inspired by the desire to get my family eating healthier breakfasts but mostly just looking for a change, I really did not think I'd like them. I was skeptical.
I did not tell my family what was in these before they ate them.
I chewed that first bite as slowly as possible. I watched everyone else closely as they ate. Did they like them? Should I tell them they're eating cottage cheese and oats yet??
Oh my, were these delicious!! And when my husband and daughter agreed, I did tell them. Now they request these waffles on waffle Sundays. The texture is a little different than a traditional waffle but no one will be able to guess why.
And if you don't have a waffle maker, no problem! Use this same recipe to make pancakes and fry them on the griddle as you would a classic pancake.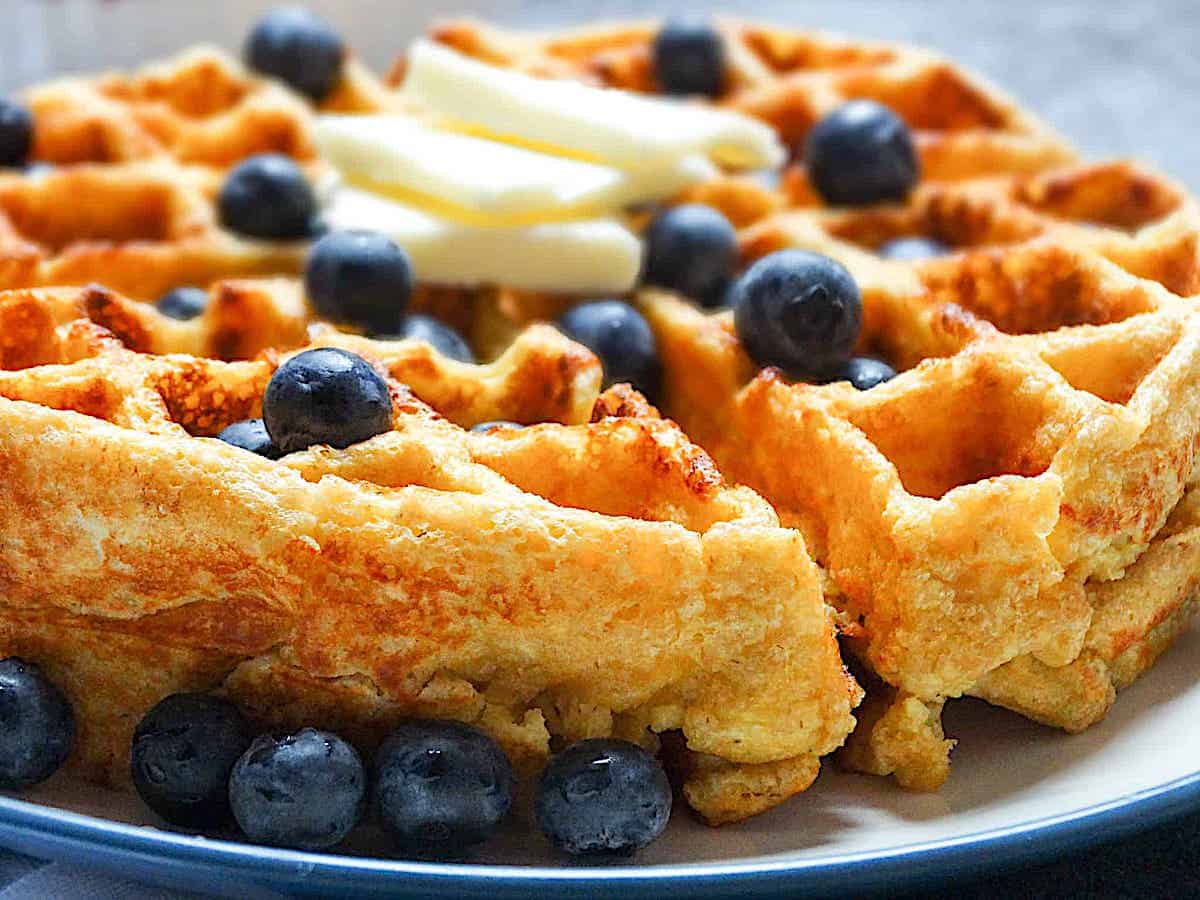 Ingredients
To make these delicious, healthy cottage cheese waffles you need 5 simple ingredients that you likely have on hand.
Oats, cottage cheese, eggs, sugar, and vanilla extract are all it takes to make these babies.
No, these are not ingredients found in the usual waffle recipes, but I promise that these cottage cheese waffles will taste just as good, if not better than waffles made with butter, milk, flour, and sugar!
This recipe is my take on one from Savory Magazine, but I add sugar and increase the vanilla extract.
I recommend making these protein-packed waffles even healthier by serving with yogurt and fruit. But of course, eat them topped with whatever you desire, whether it's fruit, butter, syrup, or whipped cream!
Cottage cheese waffle topping suggestions:
nutella and sliced bananas
nutella and sliced strawberries
yogurt and blueberries/strawberries/raspberries
butter and maple syrup
whipped cream and sprinkles (for the kids!)
peanut butter and banana
Substitutions
Oats. I find quick oats give a less gritty texture than old fashioned oats, so I use them. You can always use old fashioned oats if that's what you've got, but blend them a minute or so longer.
Sugar. I use white sugar. You can leave it out entirely or replace it with coconut or raw can sugar to make these cottage cheese waffles even more guilt-free.
Vanilla extract. Although I have never used anything in place of this, you can try almond extract.
Feel free to also add a teaspoon of cinnamon or pumpkin spice seasoning for added goodness! Both are delicious, especially in the fall when pumpkin spice season has hit.
Step-By-Step Directions
Cottage cheese waffles are made in just 2 steps.
Puree all ingredients in a blender until smooth.
Heat a waffle maker, spray with cooking oil, and pour batter into the pan. Follow the instructions on your individual waffle maker to cook the waffles.
It typically takes about 3 minutes per waffle in my Belgian waffle maker, but this depends on how dark you want them.
We like our cottage cheese waffles a nice golden brown, right between the middle and max of the darkness setting.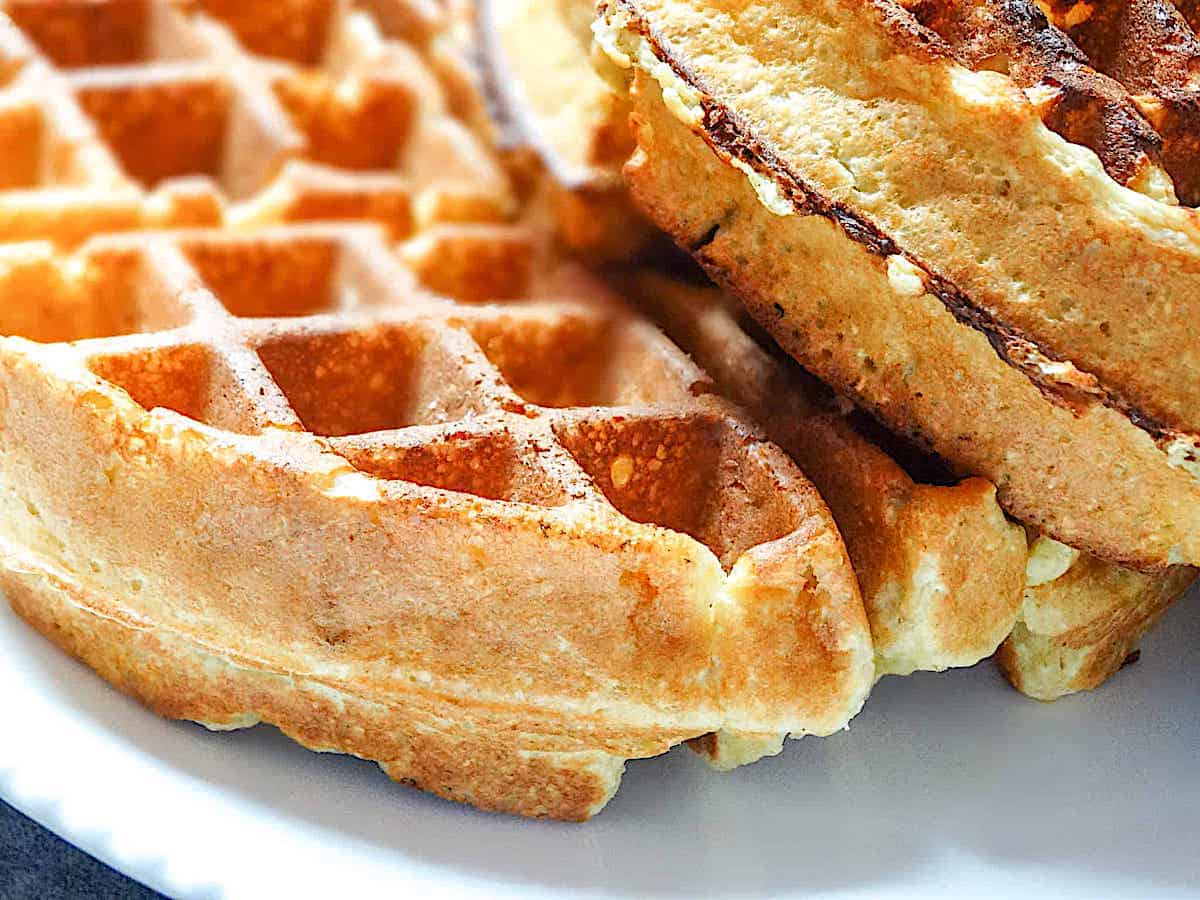 Then serve with your choice of toppings and enjoy!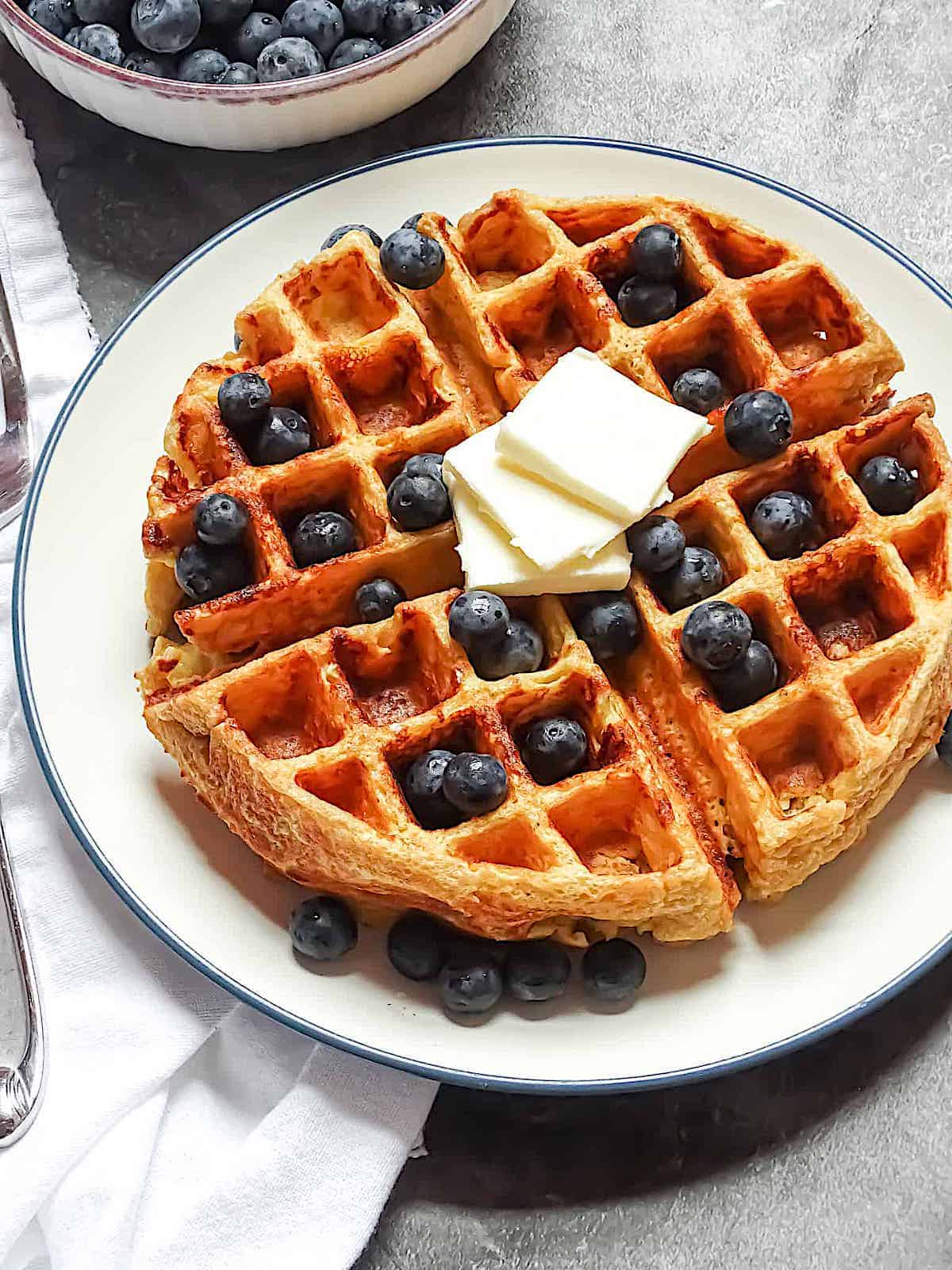 Serving
This recipe makes 3 large Belgian-style waffles, which is the kind of waffle maker I have. This kind of waffle maker makes giant waffles, and just 1 waffle should be enough for 1 person.
Feel free to double, triple, or quadruple this recipe for your needs!
And for my kids, I like to set up a "waffle bar" so they can make their waffles their way. Of course, they always prefer to eat more if they feel like they had a choice in their meals.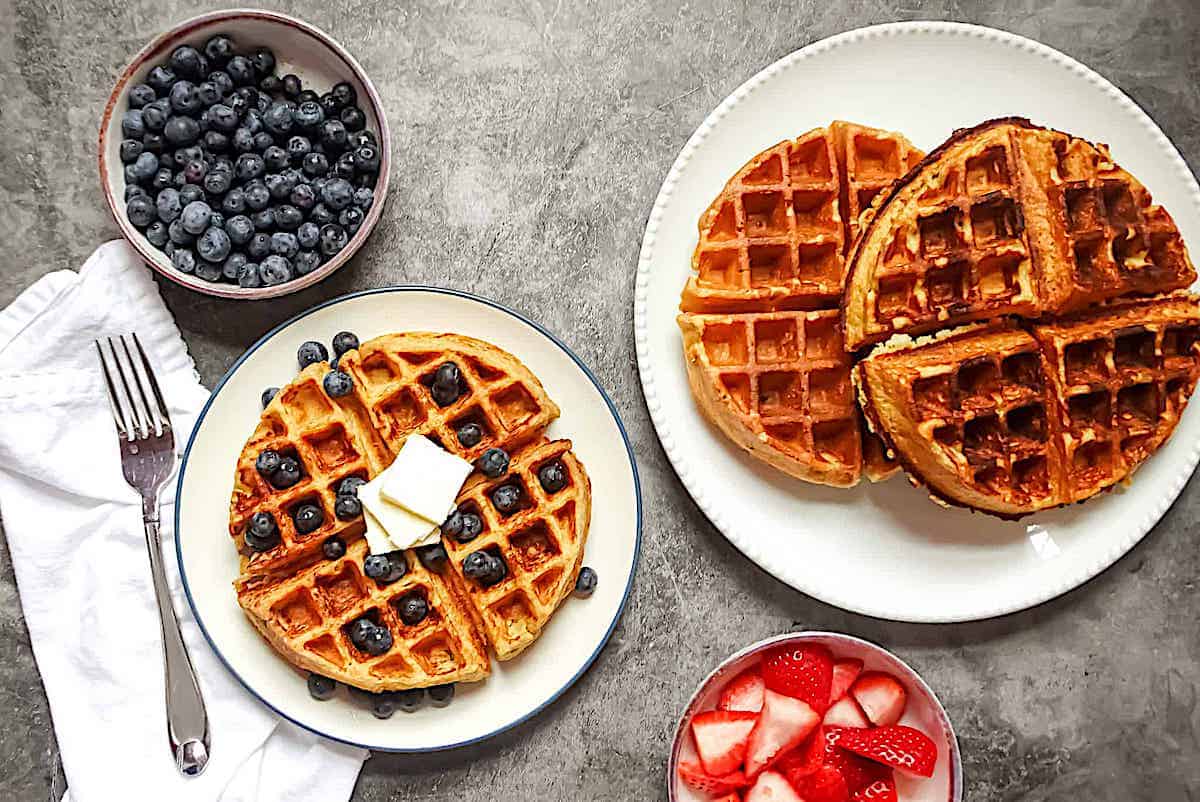 How to Store
I bet you won't have any left to store, but if you do, store your cottage cheese waffles in an airtight container or baggie at room temperature for a day or two. Any longer than that and you should freeze them. They will be good for up to 6 months.
And that's all there is to making these healthy, family-friendly, protein-packed cottage cheese waffles.
If you enjoyed this recipe, make sure to give it a star rating and let me know what you thought in the comments! And follow me on Facebook, Pinterest and Instagram for more delicious recipes!
Recipe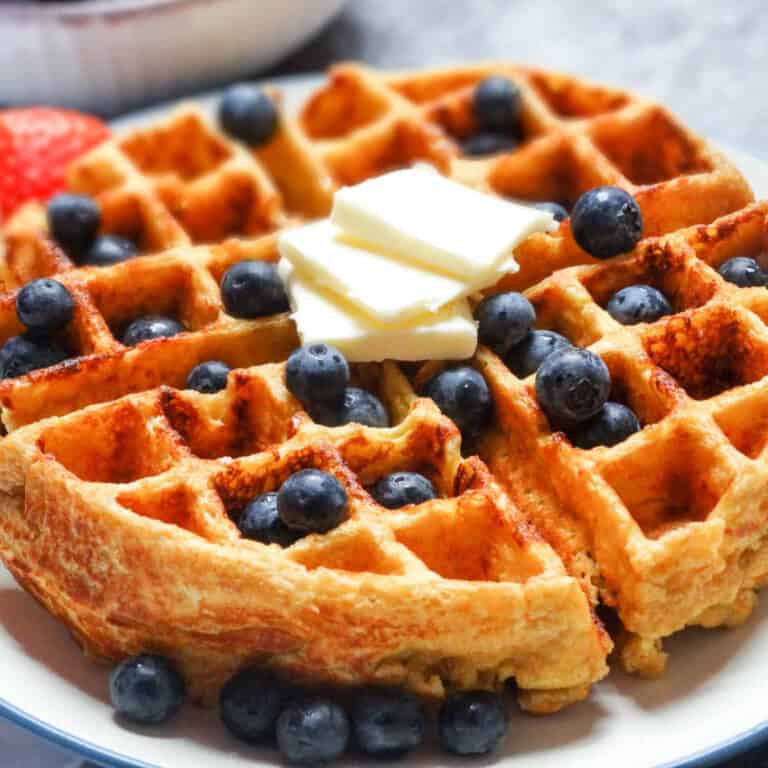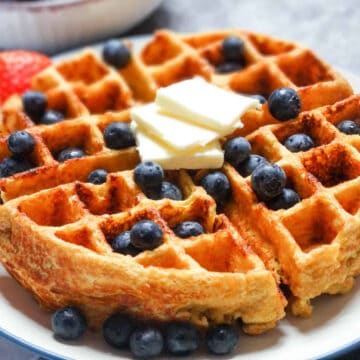 Cottage Cheese Waffles with Oats
Healthy and delicious Cottage Cheese Waffles packed with protein and made with 5 ingredients: cottage cheese, oats, eggs, vanilla, sugar.
Bookmark Recipe
Saved!
Instructions
Mix all ingredients in a blender until smooth.

Preheat a waffle maker and spray with cooking oil. Fill the waffle maker with batter and cook according to waffle maker instructions, about 3-4 minutes per waffle.
Nutrition
Serving:
1
Belgian waffle
Calories:
503
kcal
Carbohydrates:
50
g
Protein:
34
g
Fat:
18
g
Saturated Fat:
6
g
Trans Fat:
1
g
Cholesterol:
351
mg
Sodium:
638
mg
Potassium:
465
mg
Fiber:
5
g
Sugar:
13
g
Vitamin A:
671
IU
Calcium:
194
mg
Iron:
4
mg