Mediterranean Quesadillas are a simple and scrumptious healthy quesadilla recipe. Flour tortillas are stuffed with feta and mozzarella cheeses, spinach, red onion, and tomatoes. They take 15 minutes to make and are packed with wholesome ingredients. Make Mediterranean quesadillas for a nutritious weekend lunch or a 15 minute dinner on a busy weeknight.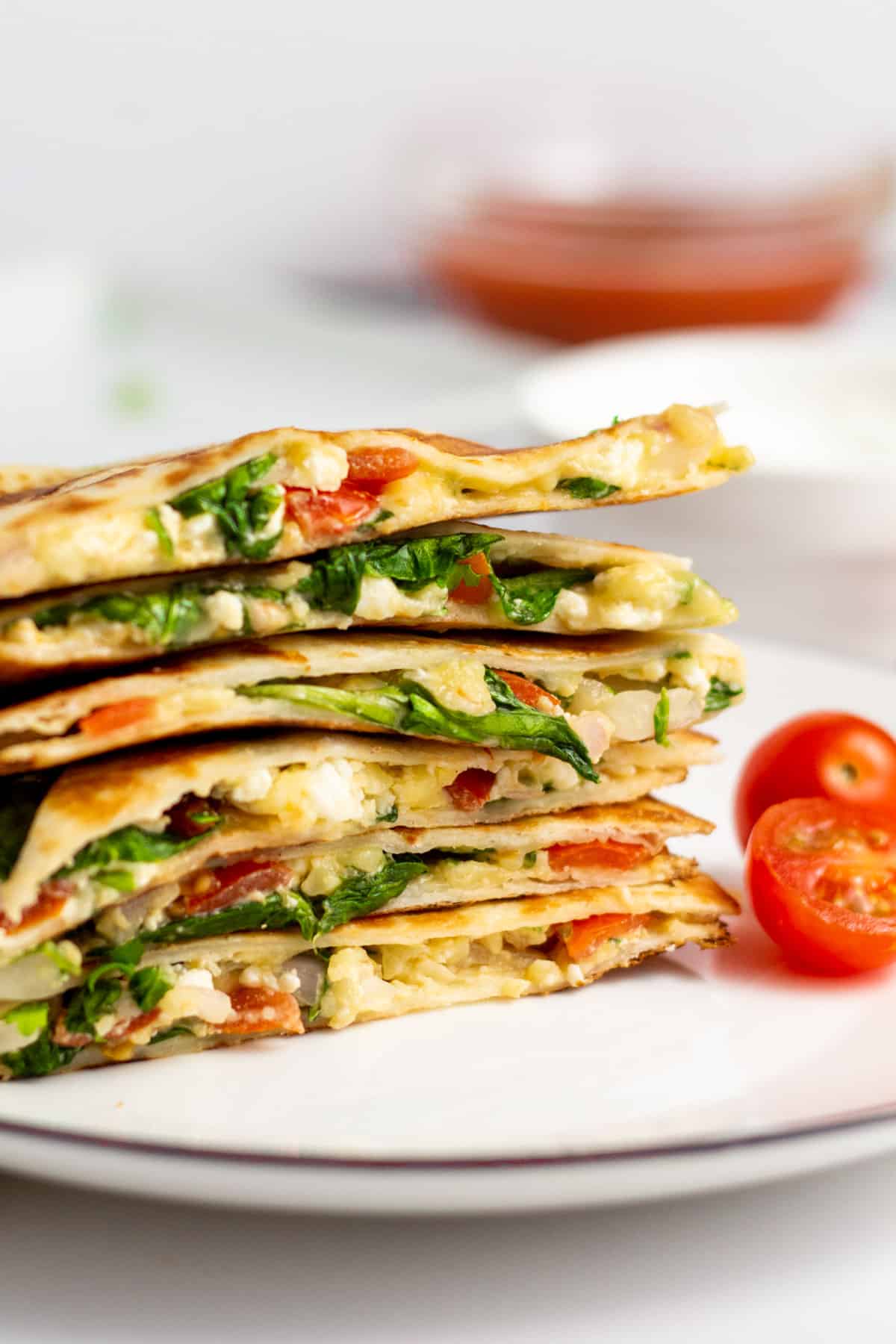 Mediterranean Quesadillas are hearty, healthy, and absolutely delicious!
They make an easy, filling lunch or dinner that takes just 15 minutes.
Oh boy, do we love quesadillas! And any recipe that uses lots of melted cheese. But this quesadilla recipe isn't your typical Mexican-inspired cheese and chicken quesadilla.
This is a healthy quesadilla recipe made with Mediterranean-inspired ingredients that come together to make an irresistible combo.
Eat them guilt free, as each quesadilla is just 285 calories and is packed with cancer-fighting minerals, antioxidants, and vitamins.
They are easy to warm in the toaster or microwave at work, and are so delicious they can even be eaten at room temperature. This makes them a good choice for school lunches, too.
While they make a great dinner on their own, they can be served with a cucumber tomato salad, hummus, or a Greek olive salad. Or any of your favorite quesadilla toppings.
I created this Mediterranean quesadilla recipe to be kid-friendly, so it doesn't include ingredients with overpowering flavors— like kalamata olives or spices. Although you can certainly modify it to include these ingredients.
Even still, if you don't think your kids will like this veggie loaded quesadilla, try out this easy cheesy 10 minute kid's quesadilla recipe.
Mediterranean quesadillas can be made gluten-free or vegan with a few simple ingredient substitutions. So read on friends, to see how to make this healthy quesadilla suitable if you are one of these restricted diets.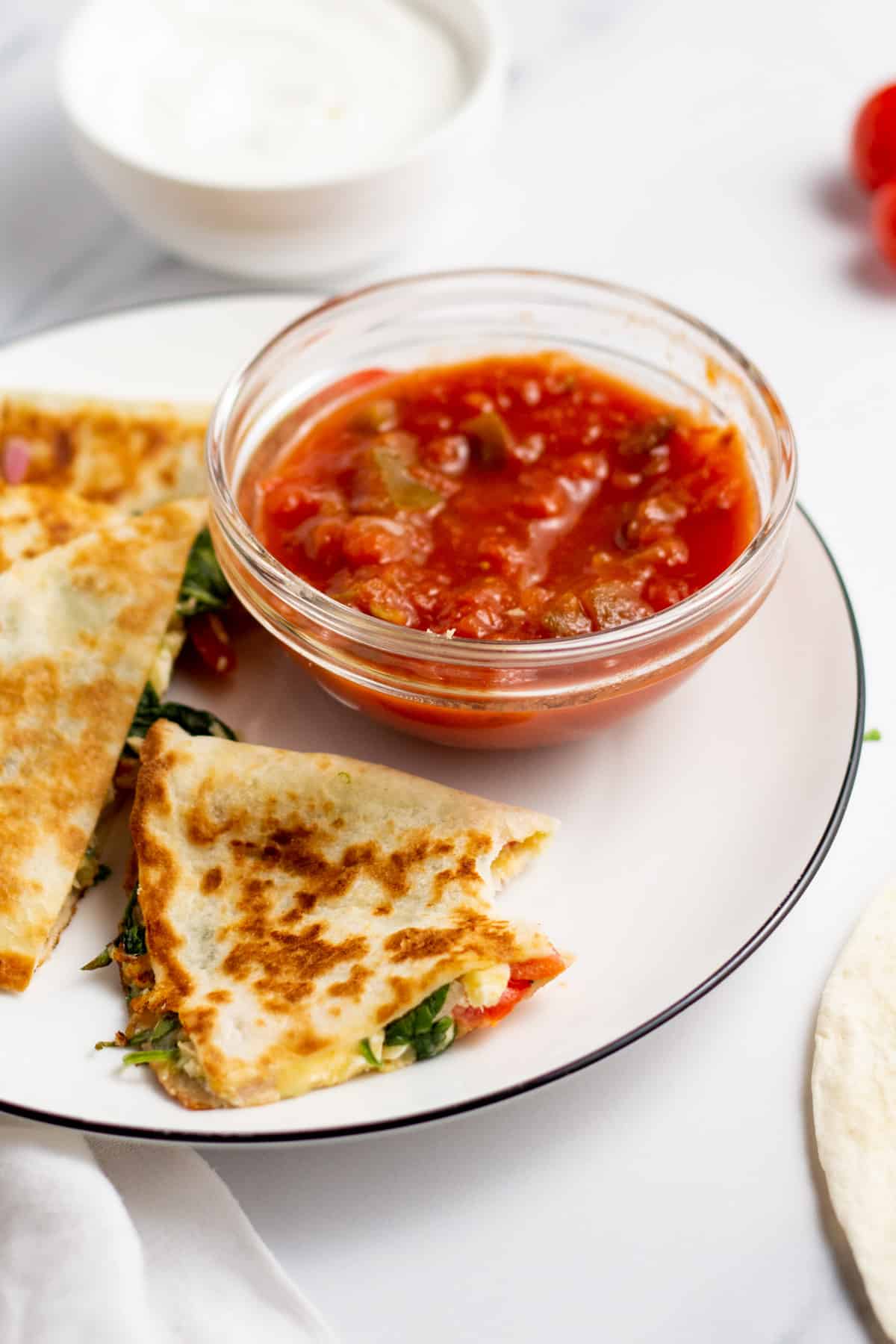 What are Mediterranean Quesadillas?
A Mediterranean quesadilla is a cheese and vegetable stuffed quesadilla recipe that uses ingredients typical of the Mediterranean rather than ingredients traditional to Hispanic countries.

This recipe uses fresh spinach, tomatoes, red onions, mozzarella, and feta.

Mediterranean quesadillas make a great, nutritious family meal. Almost all ingredients are whole foods that are filled with vitamins and minerals.
Let me know if you love this Mediterranean quesadillas recipe in the comments. I would love to hear what you thought!
And make sure to follow me on Facebook, Pinterest and Instagram for the latest recipes and more!
Ingredients
Mediterranean quesadillas use mostly whole ingredients, plus salty feta and creamy mozzarella cheese.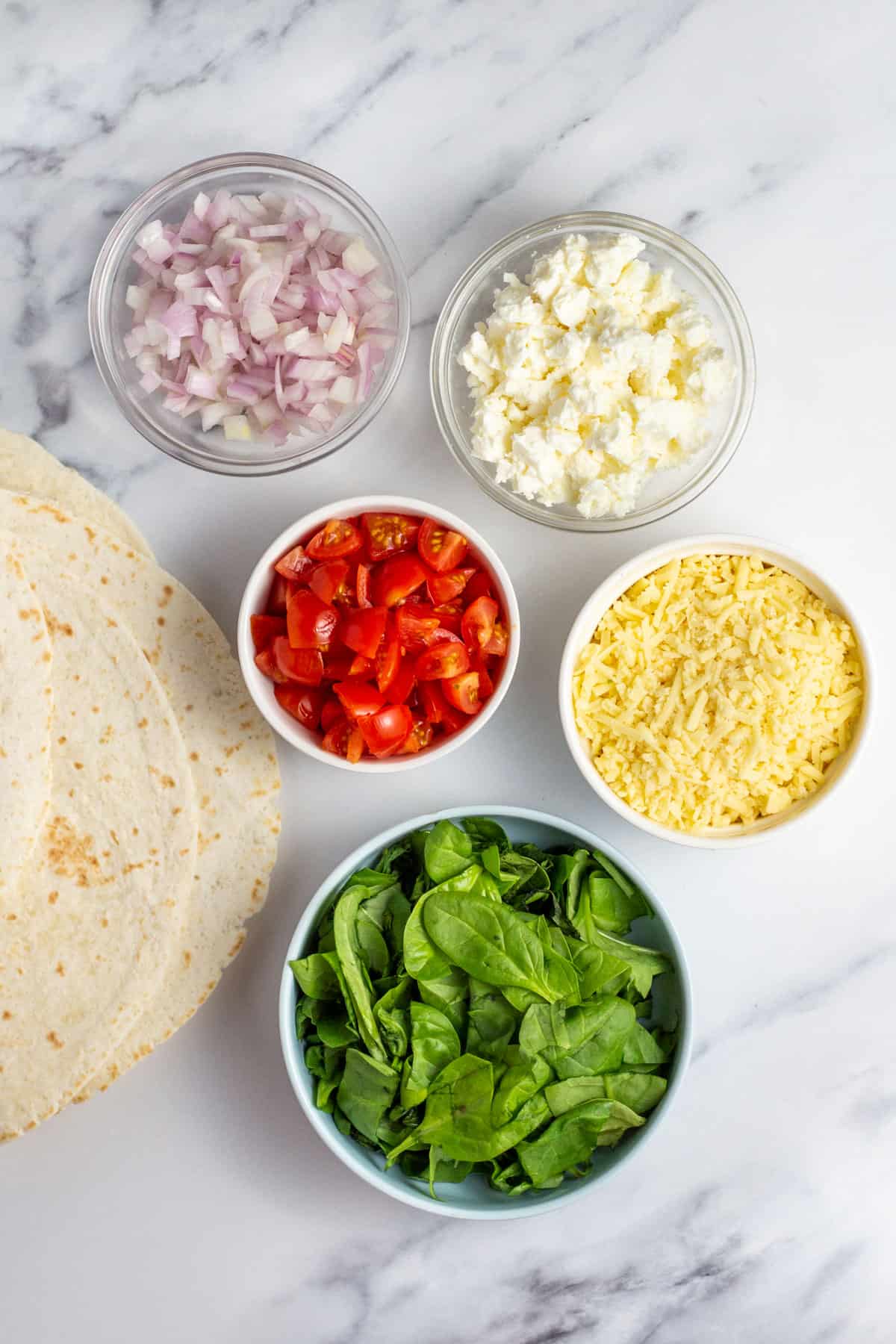 Spinach, tomato, onion, feta, and mozzarella are an incredibly tasty combo, so I don't season my quesadillas with anything other than pepper. Feta is a salty cheese, so you shouldn't need to season them with salt.
These whole ingredients make Mediterranean quesadillas a very healthy quesadilla recipe.
Make it Gluten-Free
Making this recipe gluten-free requires only 1 easy ingredient change— gluten free tortilla shells.
Instead of using flour tortillas, use corn tortillas. Corn tortillas are naturally gluten free because they contain no wheat as flour tortillas do.
You can also use gluten-free tortillas. Luckily, you can now find a huge variety of commons foods that are made gluten-free.
The brand Mission makes gluten-free tortillas. They are readily available at most grocery stores in the United States.
All other ingredients in this recipe are gluten-free.
Make it Vegan
Making these Mediterranean quesadillas into a vegan recipe is just as easy as making them gluten-free.
Being the by-product of an animal, mozzarella and feta are not vegan. Substitute these cheeses with a vegan cheese.
There are vegan versions of mozzarella cheese on the market. They may not be easily found in the local grocery store. Whole Foods and Trader Joe's are a good place to check. Vegan mozzarella cheese can be easily found on Amazon if you can't find it in stores.
Vegan feta cheese can also be found on Amazon, at Whole Foods or Trader Joe's, to name a few. If you are unable to find it, these quesadillas can be made with just vegan mozzarella.
Flour tortillas and all corn tortillas should be vegan. Most are made with vegetable oil now instead of lard. It's a good idea to double-check the ingredients though, to be sure.
And as we know, spinach, tomatoes, and onions are all vegan— containing no animal by-products.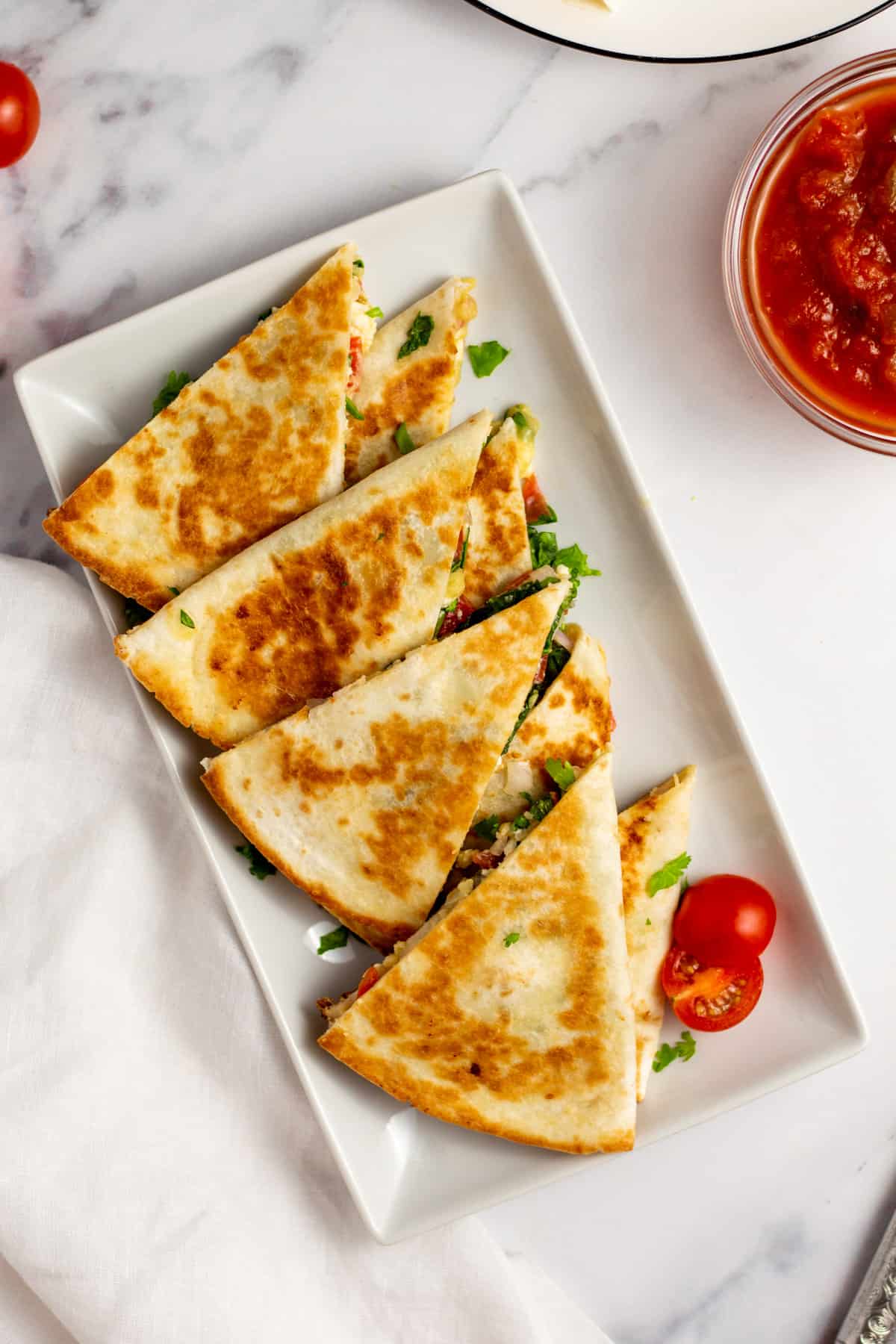 Step-By-Step Directions
Mediterranean quesadillas are made in only 3 simple steps and are ready in less than 15 minutes. Here's how to do it:
Combine the mozzarella, feta, onions, tomatoes, spinach, and pepper and mix well.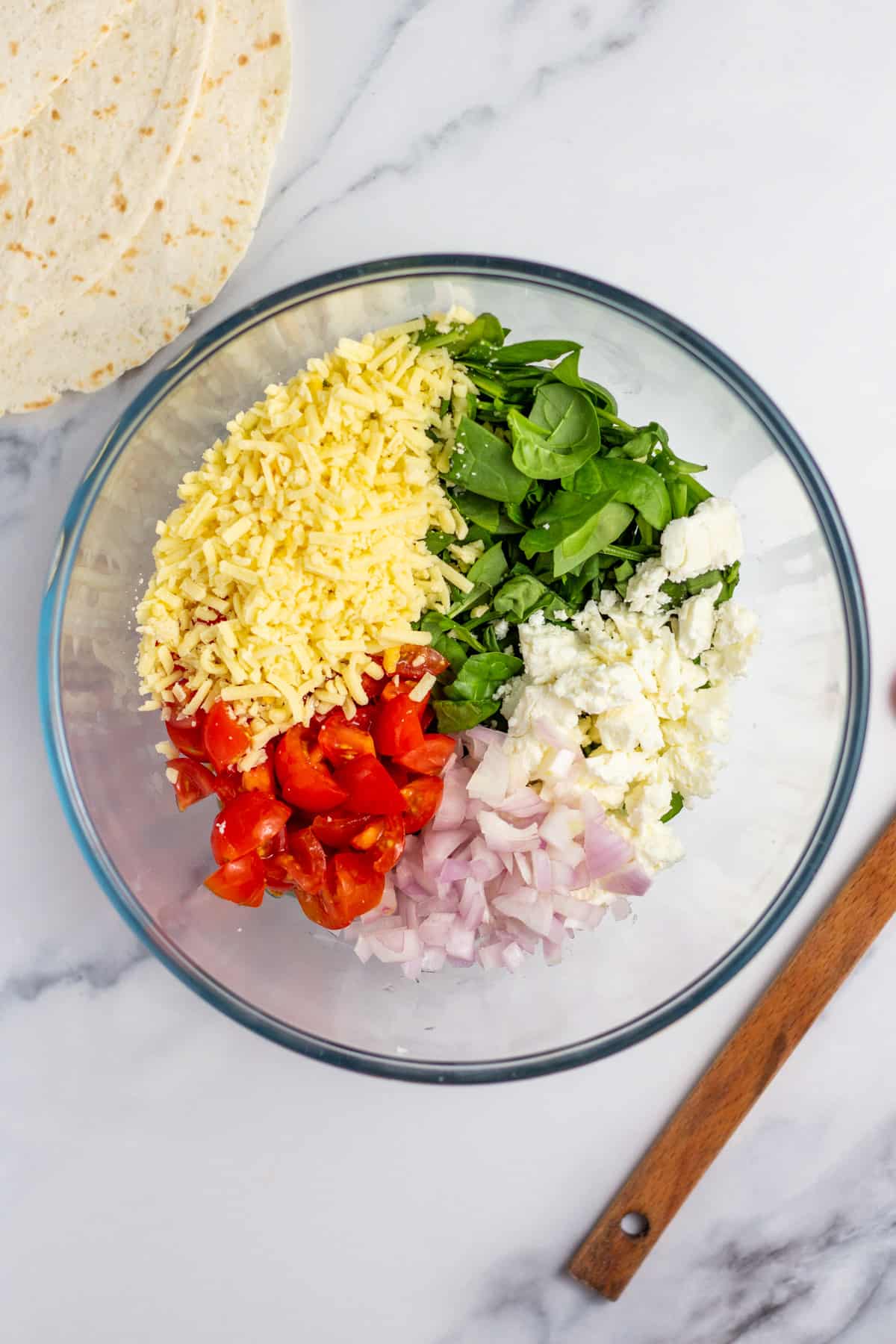 Lay the tortilla flat and place ⅓ of the mixture on one side of the tortilla. If you would like yours a little cheesier, add some more mozzarella cheese to the top here. Fold the tortilla in half.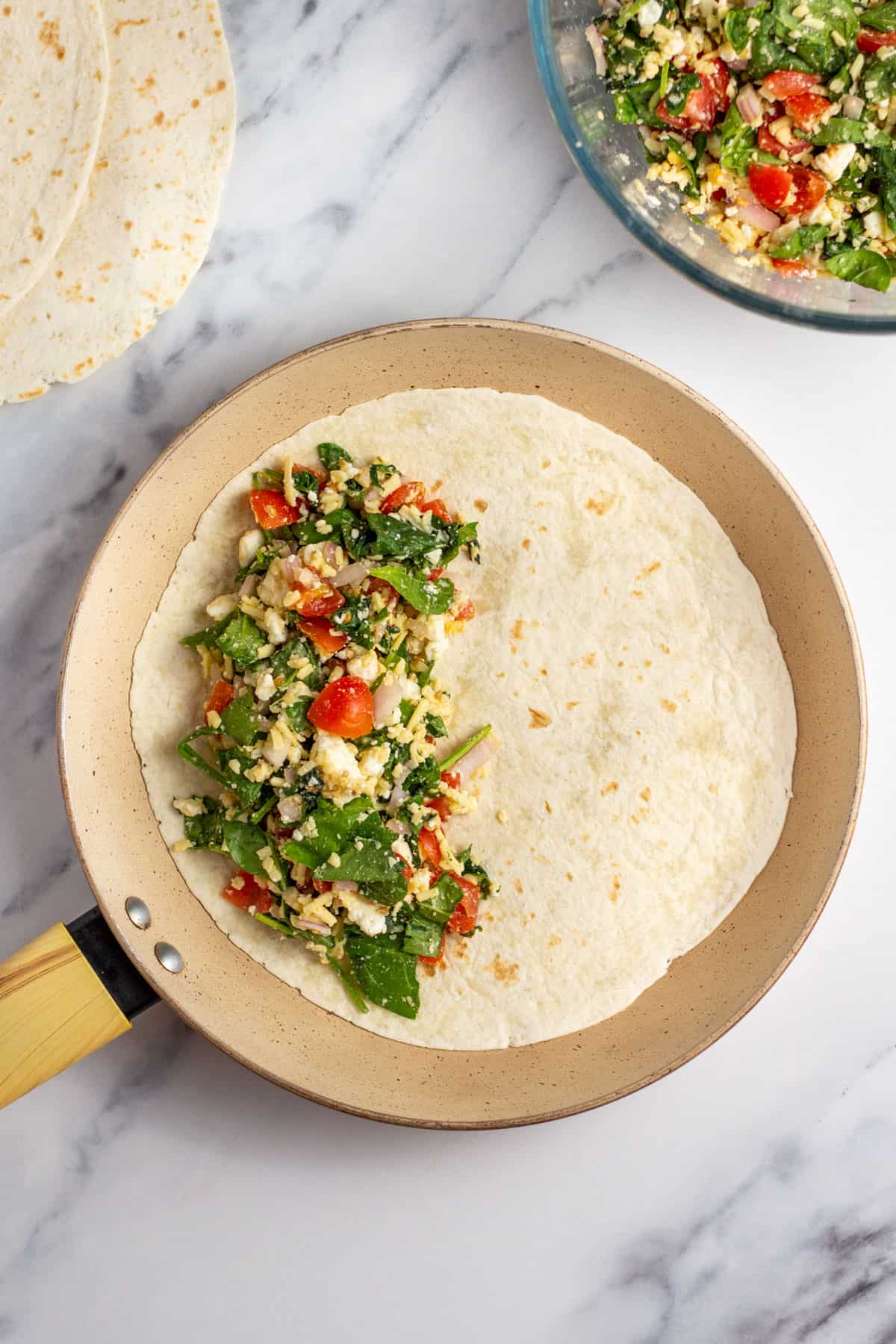 Pan fry the quesadilla over medium heat in a well oiled pan or griddle. Each side takes about 3-4 minutes and will begin to brown when finished. While it's cooking, press down on the top with a spatula to help the melted cheese stick to both sides of the tortilla.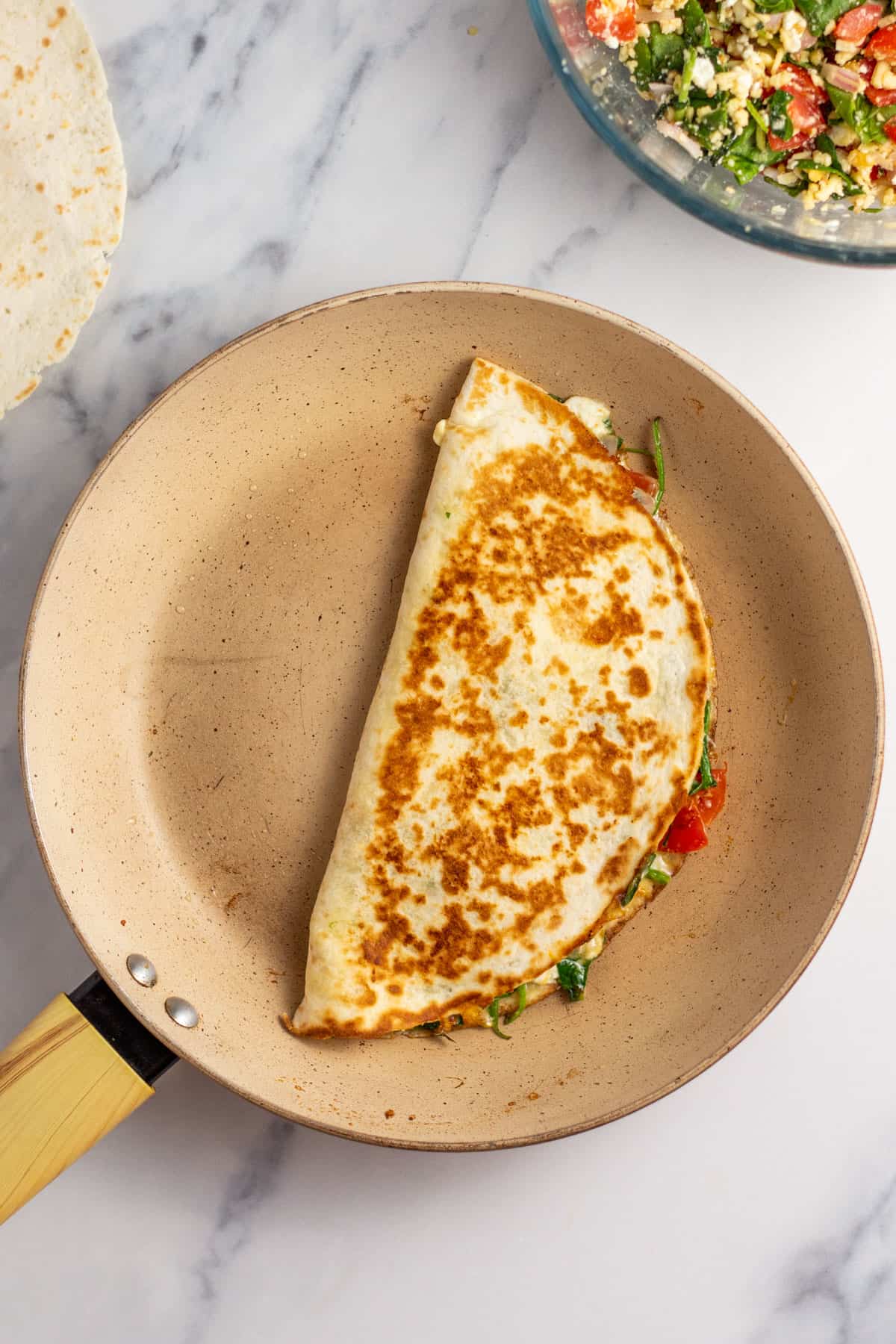 Then remove the quesadillas from the pan and let them cool for about 5 minutes before slicing into 3 or 4 pieces.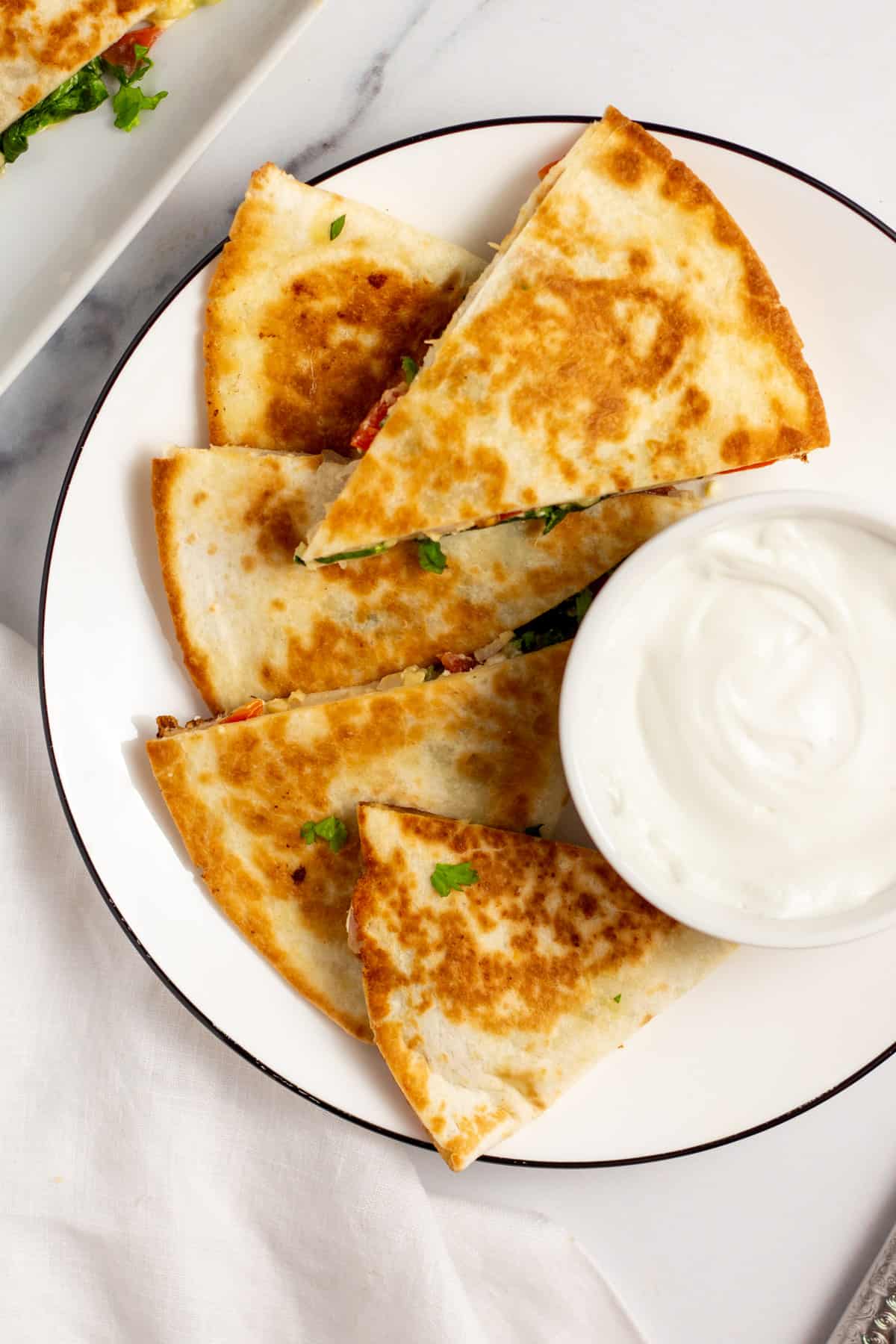 Storing
Mediterranean quesadillas keep well in the fridge for about 5 days. They toast up perfectly in the toaster and warm up quickly in the microwave.
They should be freezer-friendly, although I've never tried. To freeze, wrap tightly in plastic or use a freezer bag. Defrost in the fridge and toast to warm.
If you enjoyed this recipe, make sure to give it a star rating and let me know what you thought in the comments! And follow me on Facebook, Pinterest and Instagram for more delicious recipes!
Recipe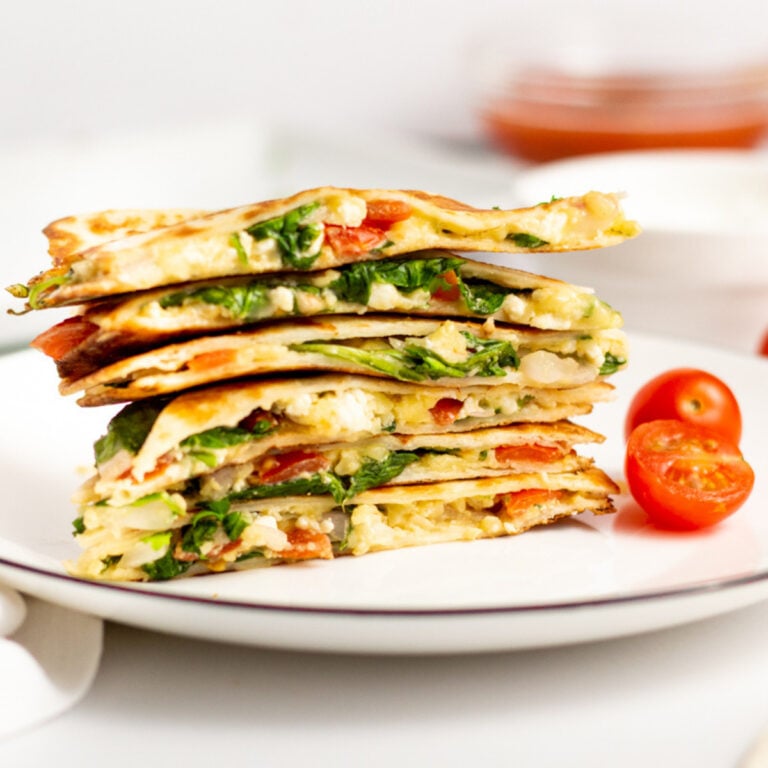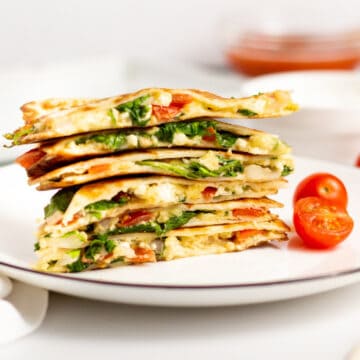 Mediterranean Quesadilla with Spinach and Feta
Mediterranean Quesadillas are one of the simplest, yet most scrumptious healthy quesadillas recipes you'll make! Flour tortillas are loaded with feta and mozzarella cheeses, spinach, red onion, and tomatoes. This quesadilla recipe takes 15 minutes to make and is packed with wholesome ingredients. Make it for a nutritious weekend lunch or a 15 minute dinner for a busy weeknight. Mediterranean Quesadillas are hearty, healthy, and absolutely delicious
Bookmark Recipe
Saved!
Equipment
spatula

10 inch pan

mixing bowls
Ingredients
1

diced tomato (grape/cherry tomatoes work best for a sweeter taste, or plum tomatoes)

⅓

cup

diced red onion

1

cup

chopped spinach

½

cup

feta cheese

1

cup

shredded mozzarella cheese

3

burrito style tortillas
Instructions
Combine tomato, red onion, spinach and cheeses.

Place ⅓ of the filling on one side of each tortilla. Fold the tortilla in half.

Heat a small amount of oil in a large flat plan or on a griddle over medium heat. Transfer the tortillas to the pan and cook for 3-4 minutes on each side, pressing down with a spatula, until each side is lightly browned and cheese is melted.

Cut into 4 slices and serve with your choice of toppings, such as sour cream, salsa, pico de gallo, etc.
Notes
Serving size is for 1 quesadilla.
Nutrition
Serving:
10
oz
Calories:
368
kcal
Carbohydrates:
35
g
Protein:
17
g
Fat:
18
g
Saturated Fat:
10
g
Cholesterol:
52
mg
Sodium:
933
mg
Potassium:
217
mg
Fiber:
2
g
Sugar:
5
g
Vitamin A:
1296
IU
Vitamin C:
4
mg
Calcium:
389
mg
Iron:
3
mg
RELATED RECIPES