Create beautiful charcuterie boards for Thanksgiving this year with inspiration from these 2 fall-themed Thanksgiving charcuterie boards. This simple Thanksgiving appetizer idea is a joyful way to celebrate food, family, and togetherness! These charcuterie boards take minimal preparation and can be complete in 20 minutes or less. Make them while your Thanksgiving dinner is cooking away!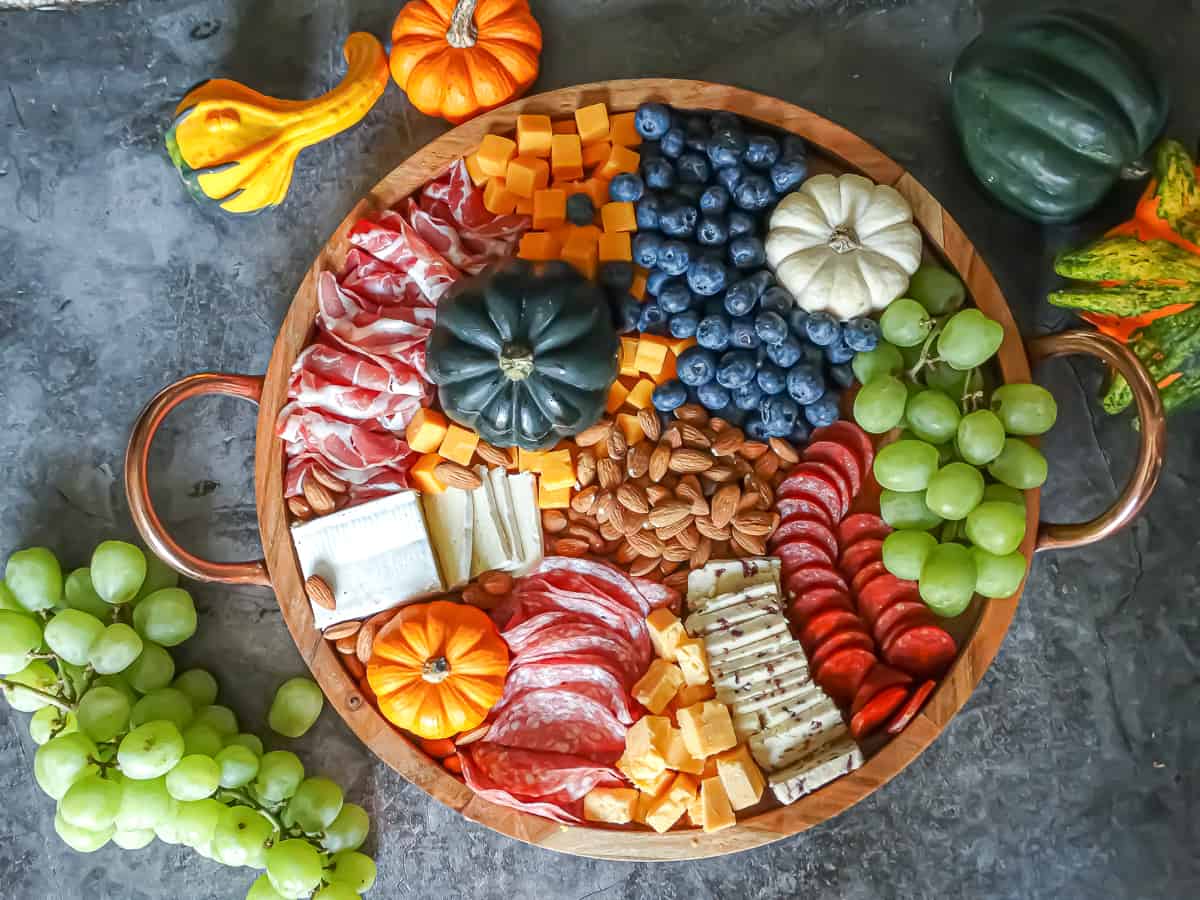 Charcuterie boards are a fun and simple way to brighten up party menus or make eating meals extra special. There is a sense of togetherness that comes with gathering around a beautiful charcuterie board to eat, drink, and be merry!
Fall-themed charcuterie boards make an easy Thanksgiving appetizer whether you are spending the holiday with only your immediate family, or some extended family too.
In this post I've created 2 beautiful, yet easy charcuterie boards for Thanksgiving. They are very similar, with just a few differences in choice of colors and foods.
When done right, charcuterie boards are an eye-catching addition to any gathering. Charcuterie, grazing boards, and snack boards are all very similar and these terms are often used interchangeably.
I use the term "charcuterie" to refer to any board of finger foods and snacks made for virtually any occasion. I am not alone in this. The trend today is to create a "charcuterie" board for every occasion, and even when there is no occasion at all. Charcuterie boards are made for family movie nights, weekend breakfasts, and relaxing weekends by the pool. And my new favorite Thanksgiving charcuterie board in the shape of a turkey.
To the traditional folk, these are not charcuterie boards. These are "snack boards". So I've been told. Gasp.
They are right, technically. There are key differences between what was considered mainstream charcuterie 5 years ago and what the majority of us average folk consider charcuterie now.
A traditional charcuterie board is based around meat and cheese. It can also include some nuts and fruits, or sauces and spreads. Charcuterie boards are an awesome way for people to gather around a table or party space and graze on delicious food and have a chat.
Today, we have turned traditional charcuterie boards into so much more than this. Boards expand well beyond meat, cheese, nuts, and fruit. They come in all shapes and sizes and for all occasions and non-occasions.
Heck, there are Facebook groups dedicated solely to average people sharing their everyday or epic charcuterie boards with each other.
Most of the charcuterie and snack boards I create are kid-friendly. But these Thanksgiving charcuterie boards here have been created for adults. Although, if you have adventurous kids they may enjoy these. If not, go with this fun turkey shaped snack board as the kids' table easy Thanksgiving appetizer!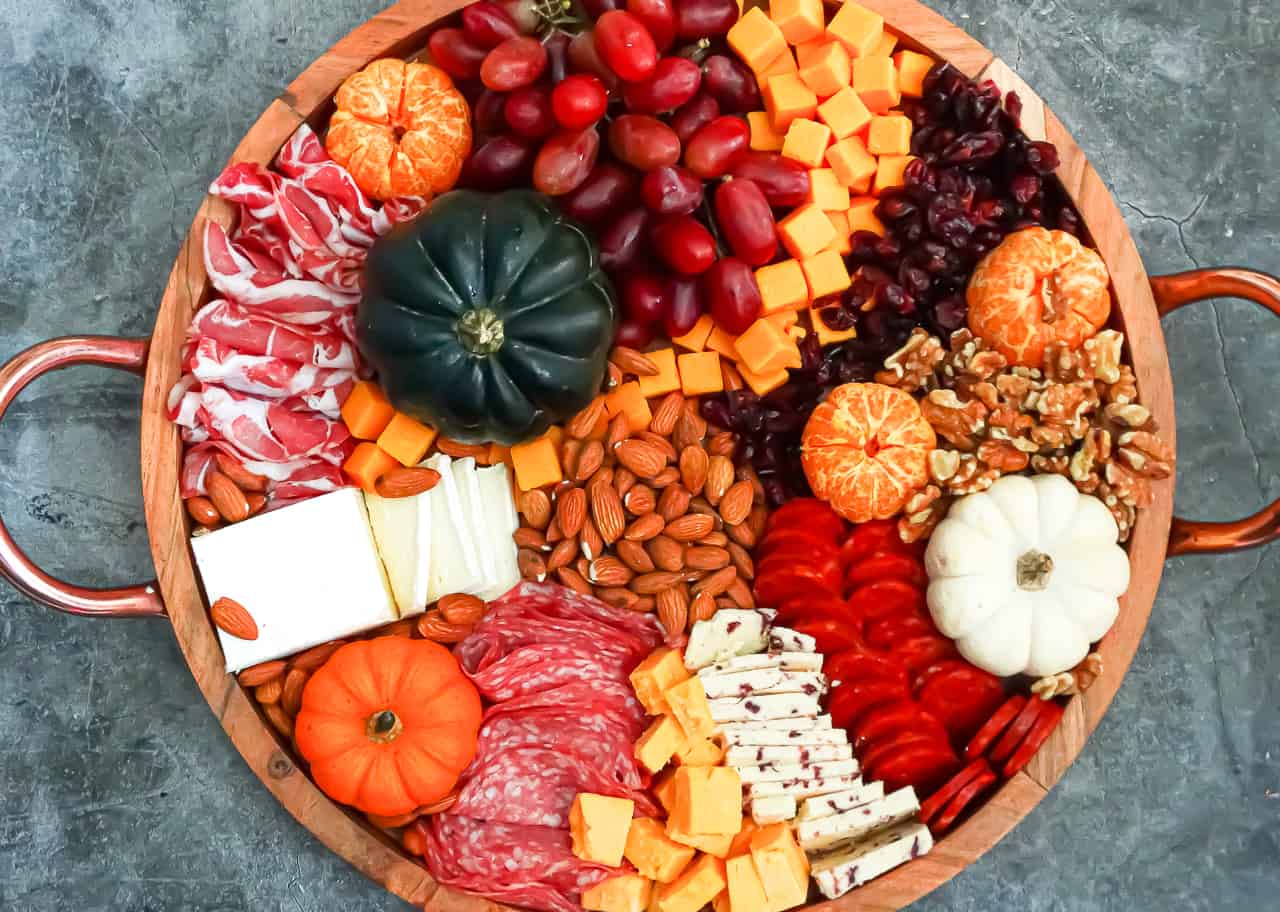 Tips for Success
You can find my full list of tips on creating charcuterie boards here. While this is geared toward kid-friendly boards, most of the tips can and should be applied to any charcuterie board.
I've summarized the most important tips for creating a Thanksgiving charcuterie board here:
Decide on the color theme. Stick with 3-4 colors for a holiday or seasonal board. Every season and holiday is generally associated with 3 or 4 colors, so create a board based on these.
Decide what kind of foods you want to include. Is this a traditional meat and cheese board? Will you add fruit? Is this a board for sweet foods and desserts? Do you want a savory board? Sweet and salty? Something else?
Create a comprehensive list of foods that correspond with the chosen colors and food type. Make separate lists for different categories of foods (fruits, vegetables, meats, nuts, etc.)
Pick foods from the lists that pair well with each other, deciding on a few foods from each color.
Choose foods with a variety of textures. For example, soft cheeses and hard cheeses, soft deli meat and hard speciality meats, fresh fruits and dried fruits, etc.
Choose your board. Consider the number of people attending and how many foods you've chosen.
Find simple bowls and containers. Create focal points around the board using these. Arrange the bowls first and other foods around them. A good rule of thumb is 1-2 bowls for small and medium charcuterie boards and 3-4 bowls for large charcuterie boards. Too many bowls will be distracting instead of eye-catching. Arrange the bowls at opposite ends of the board, diagonal from each other.
If not using bowls or containers, give the board definition by adding pumpkins and gourds to the spots where bowls would be. You can see that I did not use bowls in my Thanksgiving charcuterie boards. I replaced them with miniature pumpkins.
Use pumpkins and squash to hold spreads and dips. This is one of my favorite additions to the Thanksgiving appetizer table, particularly the charcuterie boards. Scoop the insides out of a small squash, like an acorn squash, or pumpkin and use it to hold your favorite Fall dips!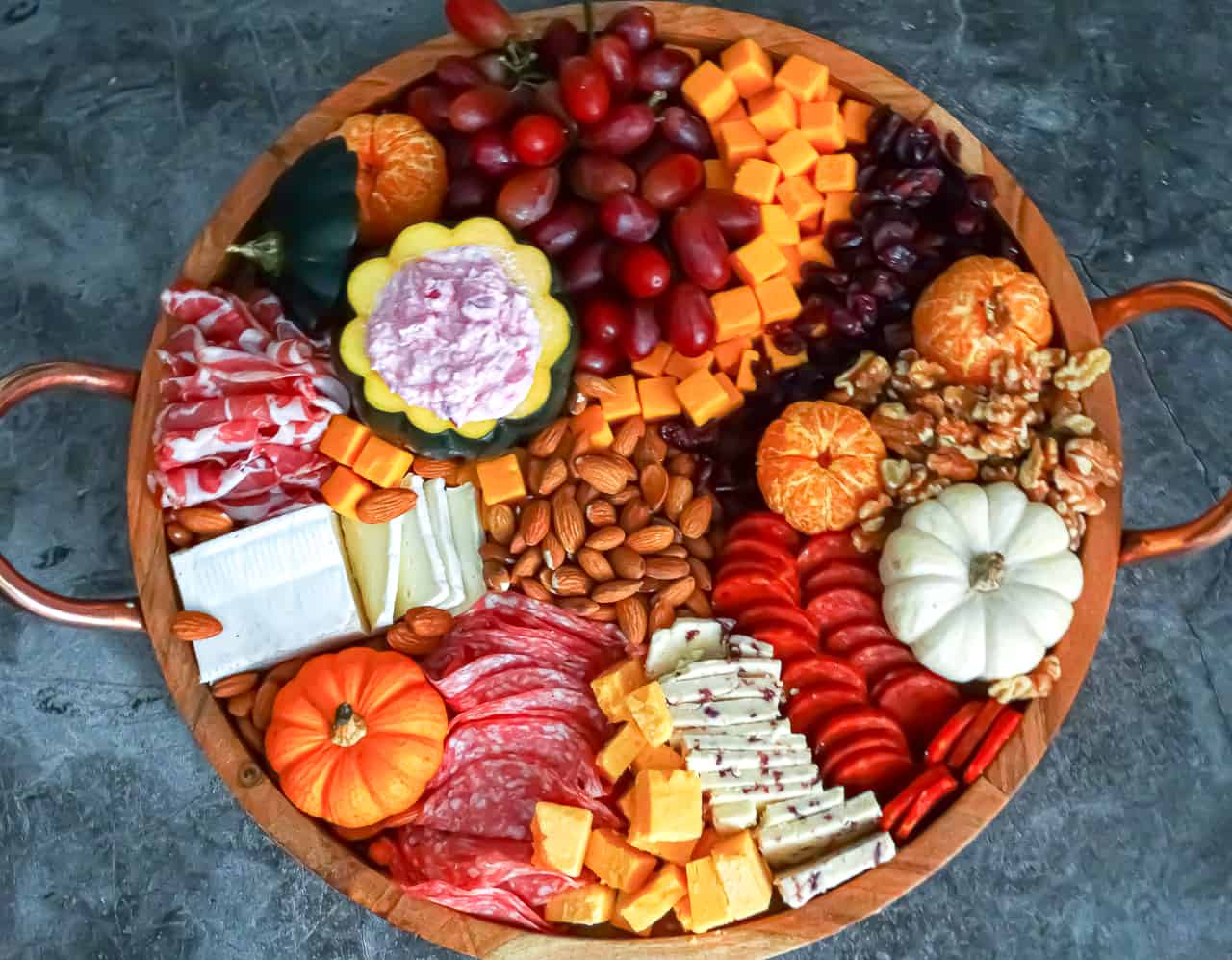 Another good idea, particularly for Thanksgiving appetizer boards (and any other cold and flu season occasion), is to offer small serving ware or toothpicks. This way your guests can use these to pick food off the board instead of their hands., hopefully limiting the spread of germs.
Board Suggestions
If you're going to be making a lot of charcuterie boards, consider purchasing a few different boards in different sizes and shapes.
It's a good idea to have a circular board and a rectangular board. If you'd like to arrange food to create specific shapes or designs, a rectangular board would work well. For my turkey shaped board, I used a rectangular board so the image would stand out and be defined. Otherwise, both circular and rectangular boards look fabulous, it's really about what you prefer.
If you need to purchase charcuterie boards, Amazon, Home Goods, and Bed Bath and Beyond have lots of options.
This circular board with handles is one of my favorite circular boards. If you're going to transport your board or move it around a lot, the handles are very useful.
If you'd like a rectangular board, this is a great option. You can also use a wooden cutting board if you don't have time to go shopping or if you're on a budget.
My most favorite board, though, is this Smirly Cheese Board. It has 5 different serving sections so it's great for creating boards that have many types of food. Use it for your Thanksgiving appetizer boards, Christmas dessert boards, New Years Eve parties, and so much more!
Ingredients
These 2 boards are very similar, but create a very different look.
In the 1st board, I stuck with the color theme of reds, oranges, and whites. I also chose foods more traditional of Thanksgiving, which included lots of cranberry. Here are more ingredients for this board:
Brie
Cranberry cheese
Cheddar cheese cubes
Aged Swedish cheddar cheese (a specialty cheese)
Cranberry cream cheese (what you see in the acorn squash)
Red grapes
Dried cranberries
Clementines
Coppa
Pepperonis
Salami
Walnuts
Almonds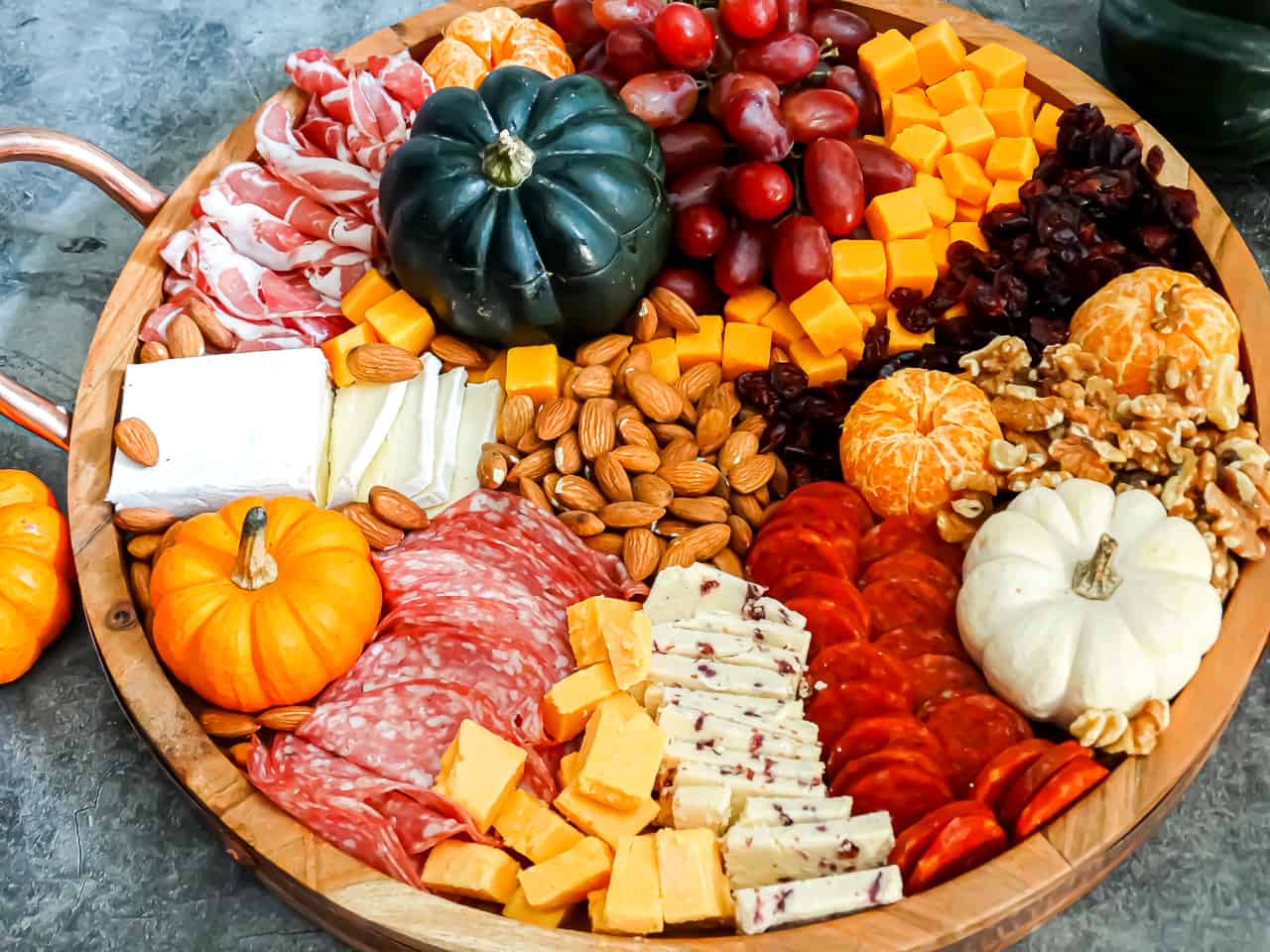 Use your favorite nuts, meats, and cheeses, just make sure they adhere to your color theme and are generally thought of as being "Fall foods". While I filled an acorn squash with cranberry cream cheese, pumpkin cream cheese works too.
I created the 2nd board to be a little more colorful, yet kept most of the same foods. Here I replaced the red grapes with green grapes and the dried cranberries with blueberries. I also left out the walnuts.
My point here is to show that you can create a beautiful Thanksgiving charcuterie board with a theme of limited Fall colors or a vibrant board that adds a bit more color to the theme.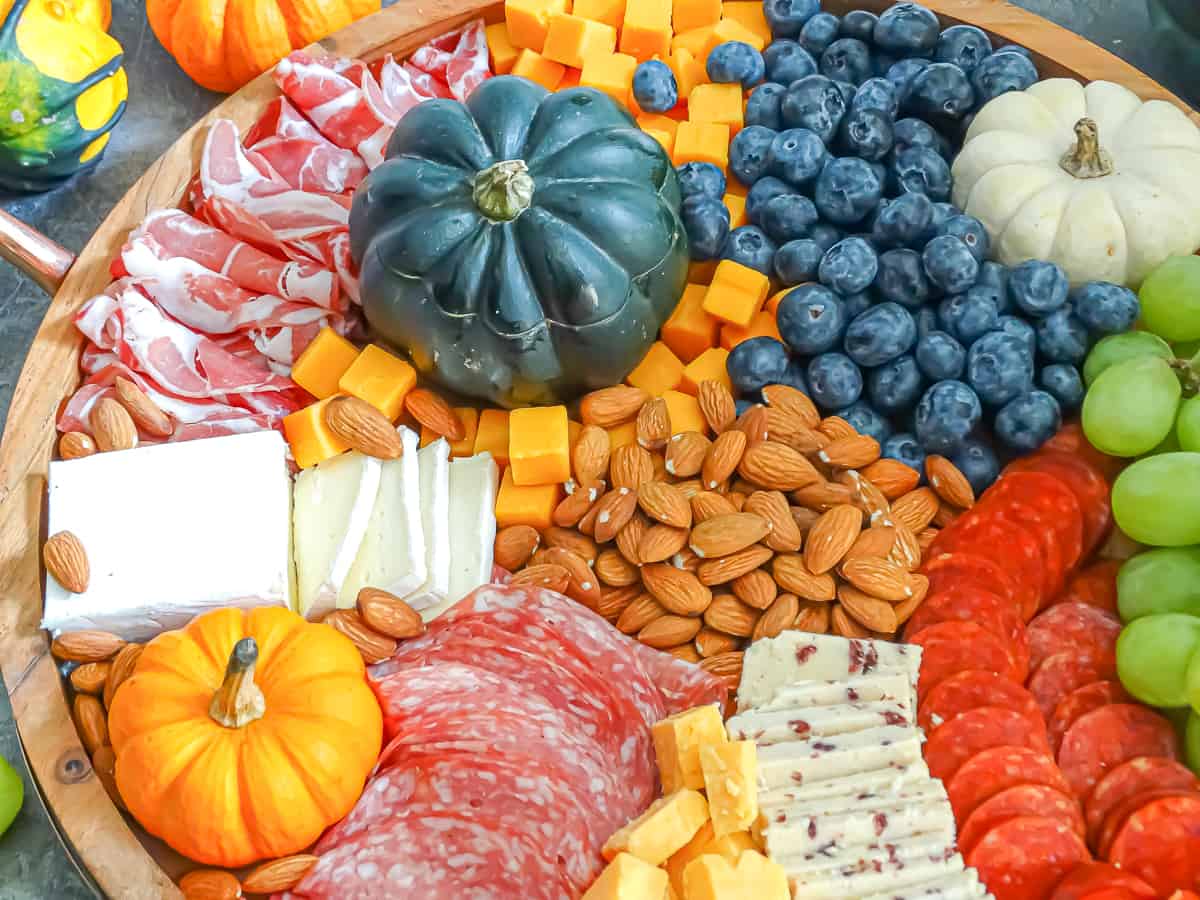 Putting the Board Together
Once you've chosen the color theme, foods, and picked out decorative bowls, pumpkin and gourds, it's time to put this fun Thanksgiving appetizer board together!
First, arrange the containers, bowls, and decorative pumpkins. It's best to place these on the board first and arrange food around them. Start by placing them in opposite corners of the board, so there are diagonal lines going from one to another, like the picture below.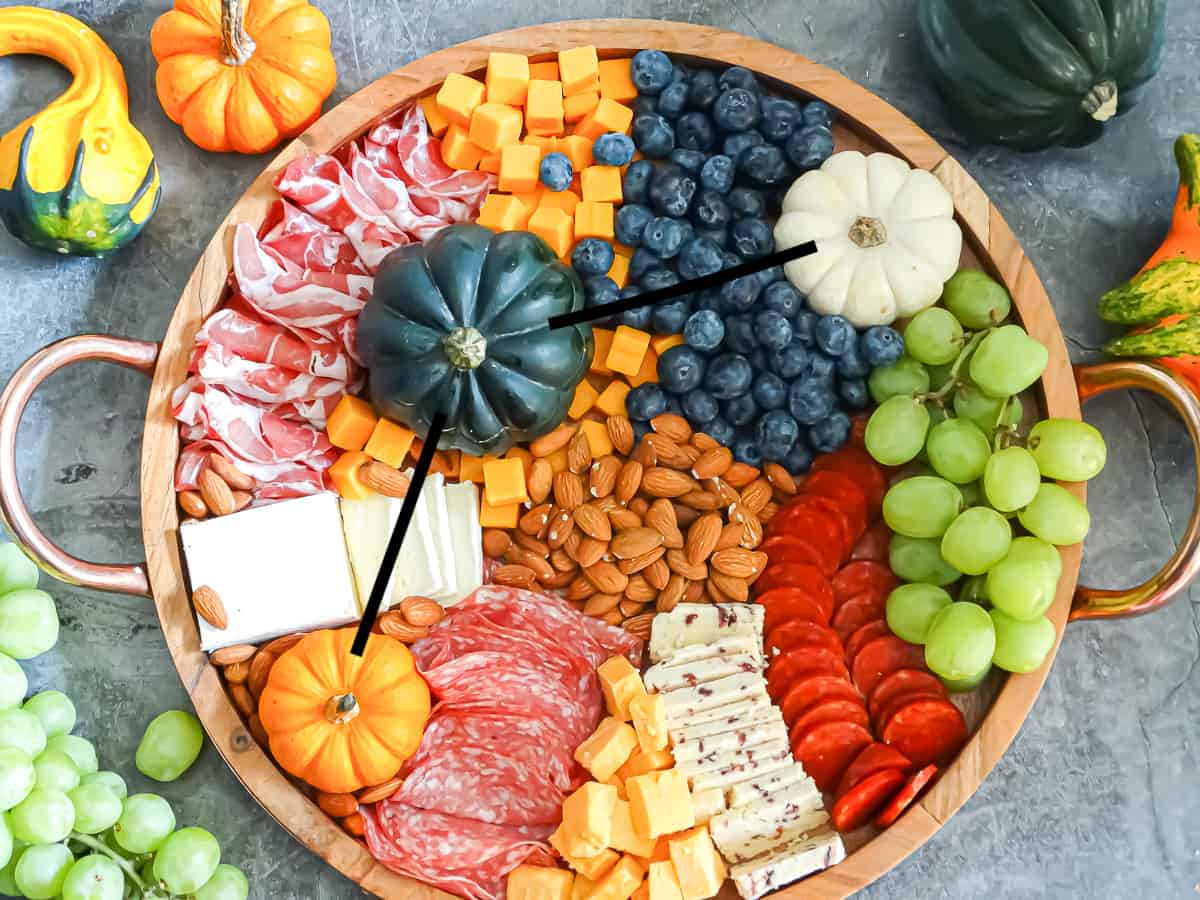 Next, arrange any blocks of cheese.
Now arrange the foods that surround the gourds, pumpkins, or bowls.
Last, fill in the remaining spaces.
Fill in small gaps by overlapping foods and letting them run into each other, like in the picture below with the blueberries and cheddar cubes. If you're using nuts, sprinkle them around where there are holes.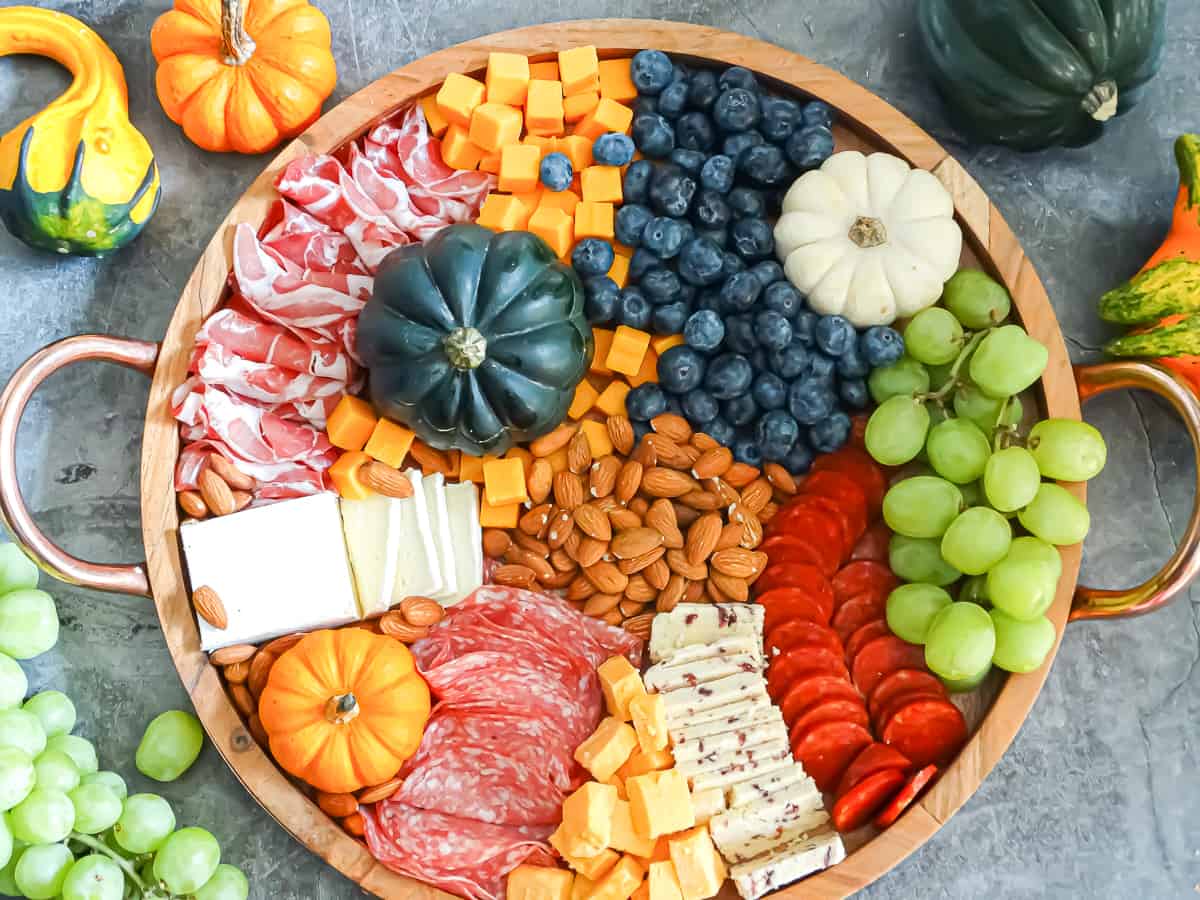 For an even more festive and stunning look, arrange gourds and pumpkins around the completed board on your Thanksgiving appetizer or dessert table.
Enjoy!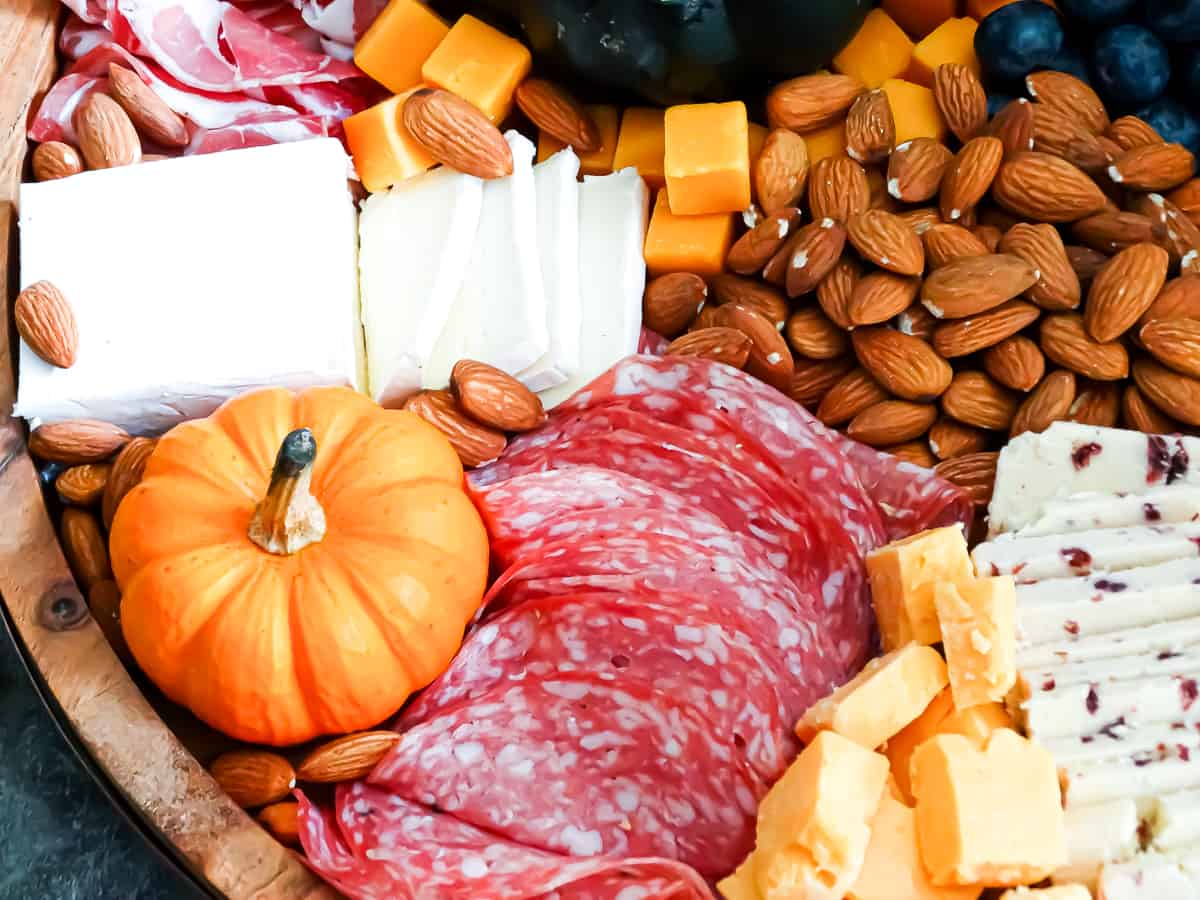 If you enjoyed this recipe, make sure to give it a star rating and let me know what you thought in the comments! And follow me on Facebook, Pinterest and Instagram for more delicious recipes!
Recipe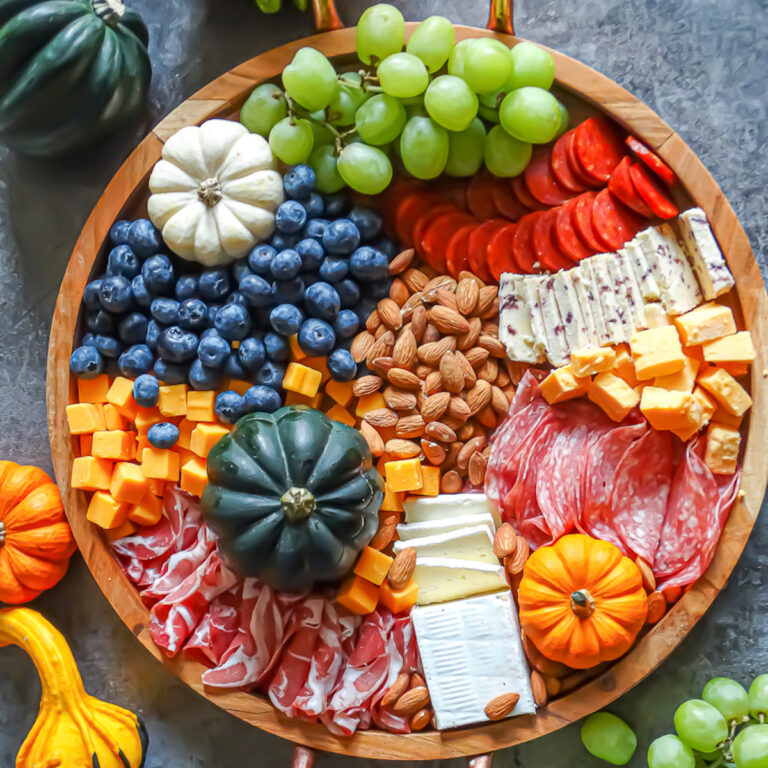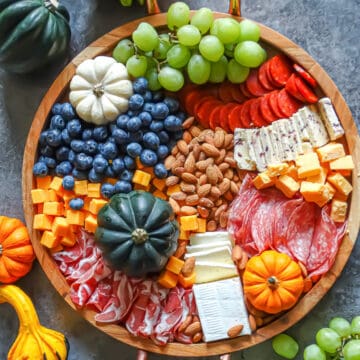 Thanksgiving Charcuterie Board
Make one of the best and easiest Thanksgiving appetizers to go with your Thanksgiving dinner menu, a Thanksgiving Charcuterie Board! Thanksgiving charcuterie boards are quick, simple, and beautiful, full of vibrant fall colors. Choose your favorite brown, red, orange, and yellow meats, cheeses, fruits, nuts, and spreads to complete a customized holiday charcuterie board.
Bookmark Recipe
Saved!
Ingredients
1

package

Brie cheese

2

cups

cheddar cheese cubes

1

package

speciality cranberry cheese

1

package

speciality pepperoni

1

package

genoa salami

1

package

coppa

2

cups

almonds

1

cup

walnuts

3

cups

grapes

2

cups

blueberries

5

clementines

peeled
Instructions
Arrange decorative pumpkins, gourds, or serving bowls on your board. Place in opposite corners so they are separated by diagonal lines.

Arrange blocks of cheese and clementines next, followed by the foods surrounding the bowls and decorative pumpkins/gourds.

Place the meats, cheeses and fruits in the remaining spaces. Fill in the gaps with nuts.

If using dips or spreads, add them to the bowls or hollowed out gourds/pumpkins.
Notes
The ingredients here are suggestions and can be replaced by your favorite seasonal fruits, nuts, cheeses, and meats.
Calories per serving is based on 4 ounces of a combination of included ingredients, but varies based on chosen foods.
Nutrition
Serving:
4
ounces
Calories:
278
kcal
Carbohydrates:
13
g
Protein:
11
g
Fat:
22
g
Saturated Fat:
6
g
Polyunsaturated Fat:
5
g
Monounsaturated Fat:
9
g
Trans Fat:
1
g
Cholesterol:
30
mg
Sodium:
364
mg
Potassium:
276
mg
Fiber:
3
g
Sugar:
7
g
Vitamin A:
175
IU
Vitamin C:
11
mg
Calcium:
148
mg
Iron:
1
mg