This slow cooker potato soup is incredibly delicious and comforting, a perfect winter dinner recipe. It requires just 15 minutes of prep time and 4 hours in the slow cooker. Slow cooker potato soup is loaded with all of your baked potato favorites: bacon, cheddar cheese, sour cream, and onions + garlic!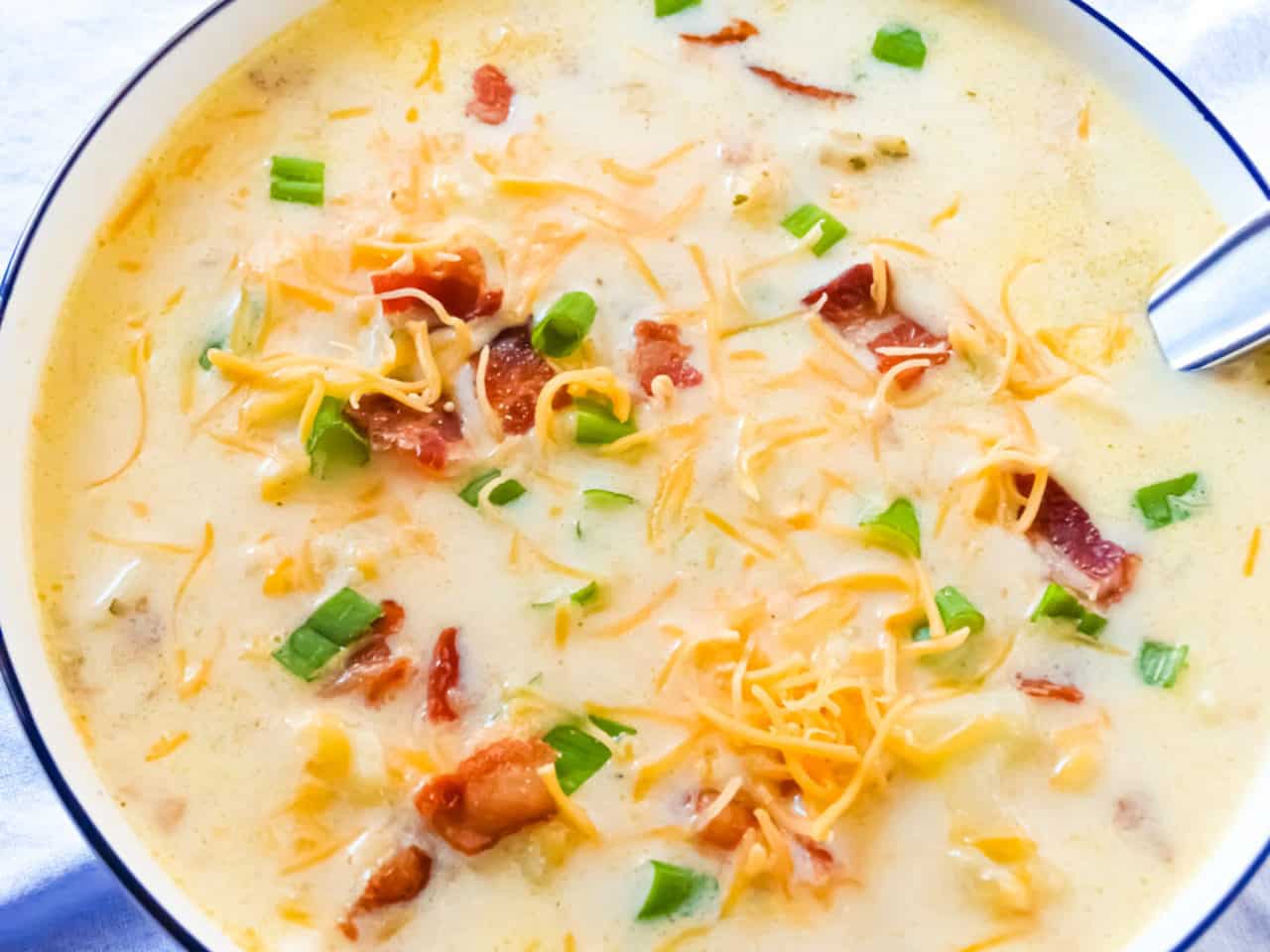 Jump to:
Before I tell you how to make this fantastic slow cooker potato soup, you need to know that I have had a terribly teething baby since before Thanksgiving. A terribly teething baby who has refused any and all food. She will eat nothing. NADA! And Thanksgiving was TWO WEEKS AGO! All the poor thing will do is drink her bottles...and slowly...painfully slow.
But guys, she ate TWO bowls of this soup tonight! She loved it. Like leaning-into-the-spoon-for-more loved it. I have finally gotten my baby to eat. I am one excited mama right now!
I should call this loaded slow cooker potato soup my miracle soup.
What's more, my other daughter who LOATHES potatoes (seriously, she won't even eat french fries), also ate a full bowl. Granted, I failed to mention that it was slow cooker potato soup. I may have told her it was slow cooker cheesy soup. 🙂 But she loved it too, and that's all that matters.
Needless to say, I think we've got a winner.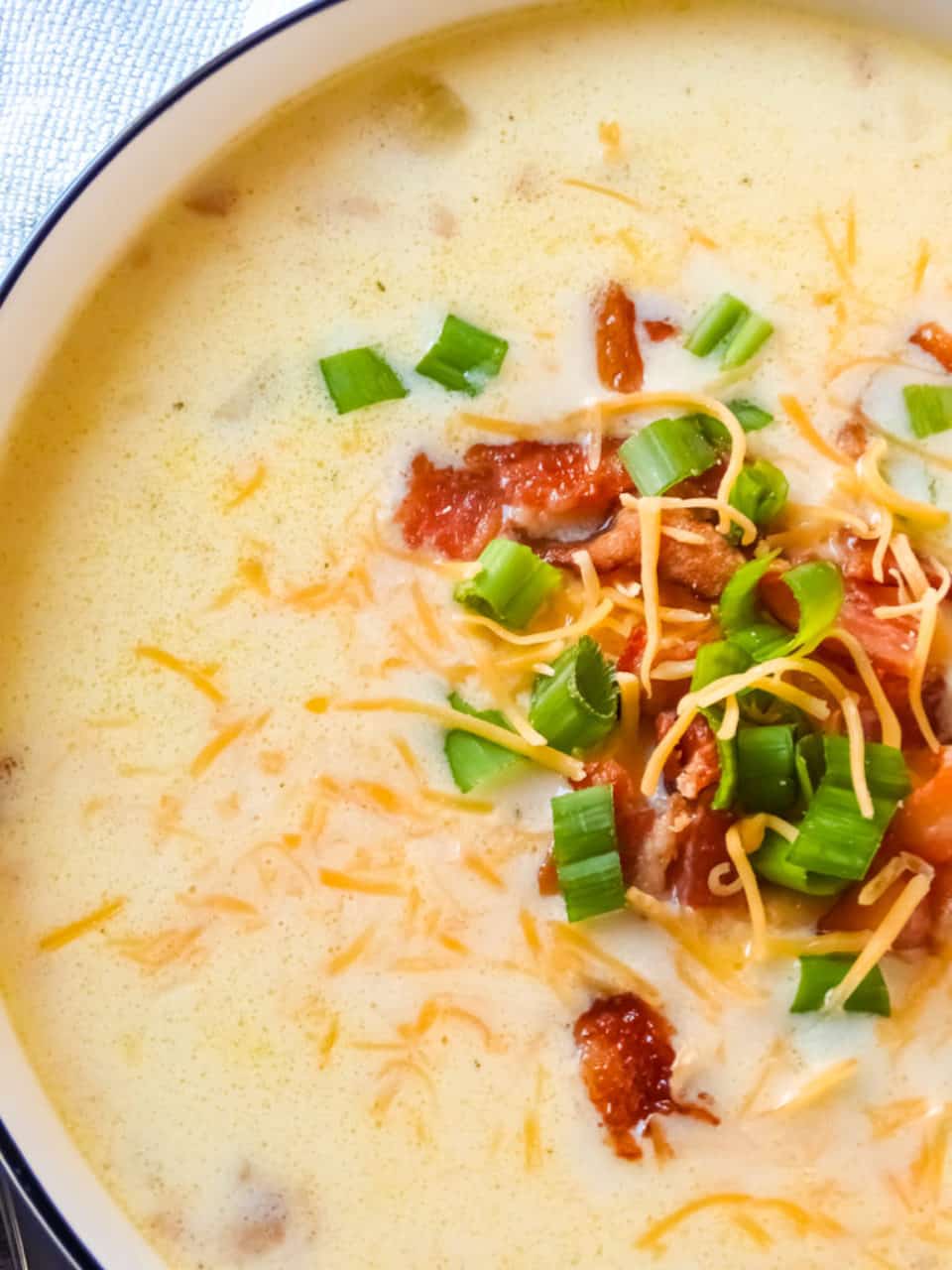 Ingredients
This delicious slow cooker potato soup is slightly on the healthier side compared to others. It doesn't use heavy cream or milk to thicken it. It uses a mix of sour cream and yogurt instead.
What you'll need:
Potatoes: I prefer buttery gold potatoes, but russet is a good choice, too
Onions + garlic: the perfect base for any soup; serves as your veggies here!
Chicken broth: or substitute with vegetable broth
Herbs + spices: salt, pepper, parsley
Sour cream + plain yogurt: these help to thicken the broth and give it incredible flavor; use Greek yogurt for the best results
Sharp cheddar cheese: because everything needs cheese!
Bacon: because everything's better with bacon!
And, my secret ingredient: Lawry's garlic salt with parsley I seriously love this stuff. I use it whenever I can.
Plus, you'll need cornstarch to amp up the thickness, as much as you desire.
For the toppings, you can use chives or green onions, and always more cheddar.
I love my slow cooker because it can make a huge batch of soup. This recipe makes enough soup to fill a 6 quart crock pot, so it's great for big families. Or, for those of you like me that like having extra to eat throughout the week.
Step-By-Step Directions
This simple recipe has 2 parts.
First, cook the bacon until it's crispy, and then break it into small pieces. While the bacon cooks, dice the onions and garlic, and peel and dice the potatoes.
I only peel a little skin off my potatoes. I think the skin adds more flavor, plus it's full of nutrients. Including the skin also adds heartiness to the soup.
Then dump everything into the slow cooker, along with the herbs, spices, and broth. Set it to high for 4 hours. This preparation takes about 15-20 minutes.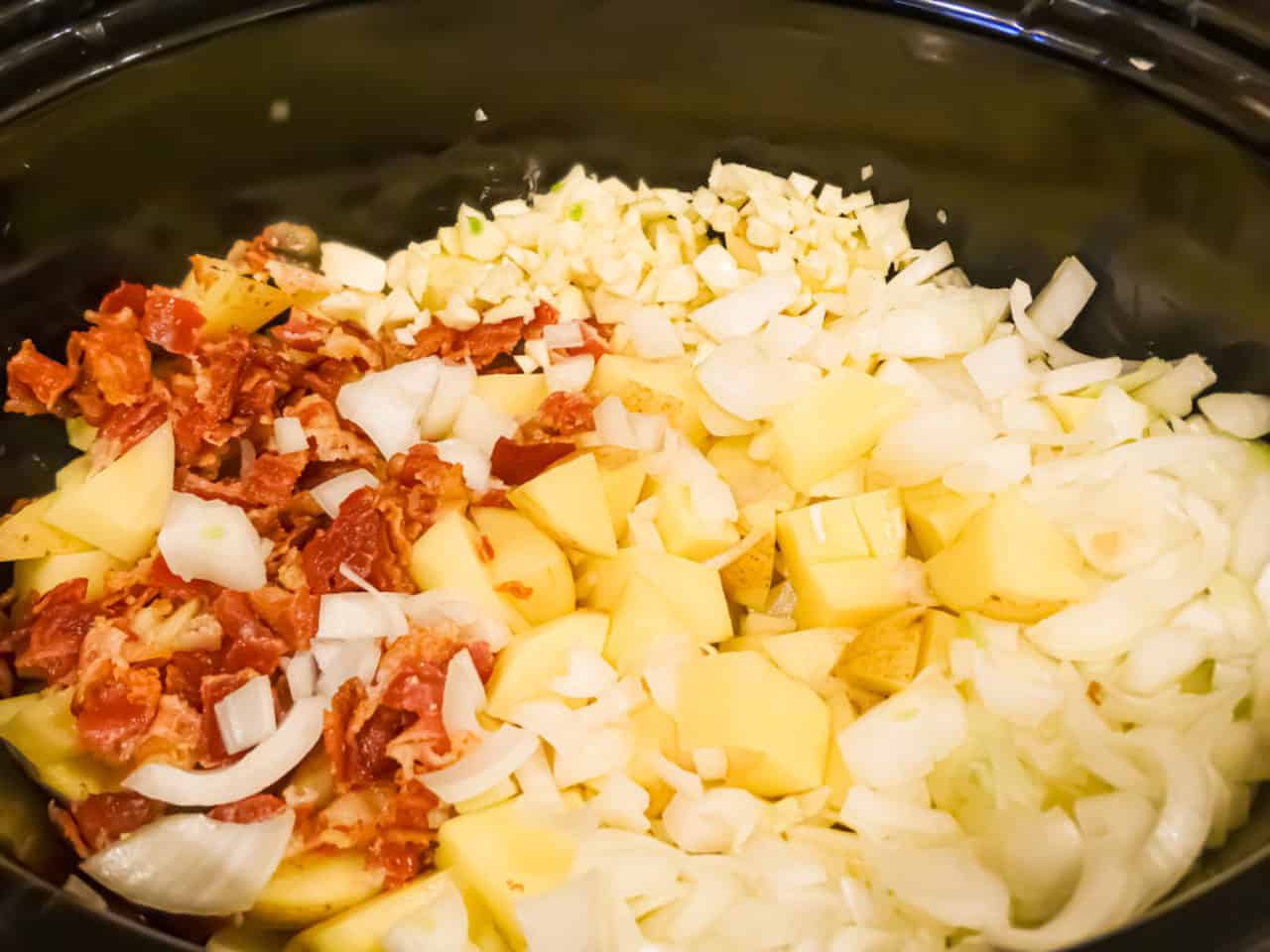 For the second part, wait until the soup has cooked the full 4 hours. Then mash the potatoes until the broth reaches your desired consistency. I mash about ½ of mine.
Next, add the sour cream, yogurt, and cheese, and stir until everything is dissolved. Thicken with cornstarch, but only after mixing the cornstarch with cold water.
If you put the powdered cornstarch into the hot broth, you'll have clumpy cornstarch floating around your soup.
Let it cook for another 30 minutes on high, and then season with additional salt and pepper. Feel free to mash more potatoes or add more cornstarch if you want the broth thicker.
Serve seasoned with additional salt and pepper if needed, and topped with extra cheddar and chives or green onions. We love dipping garlic or crusty bread in it, too!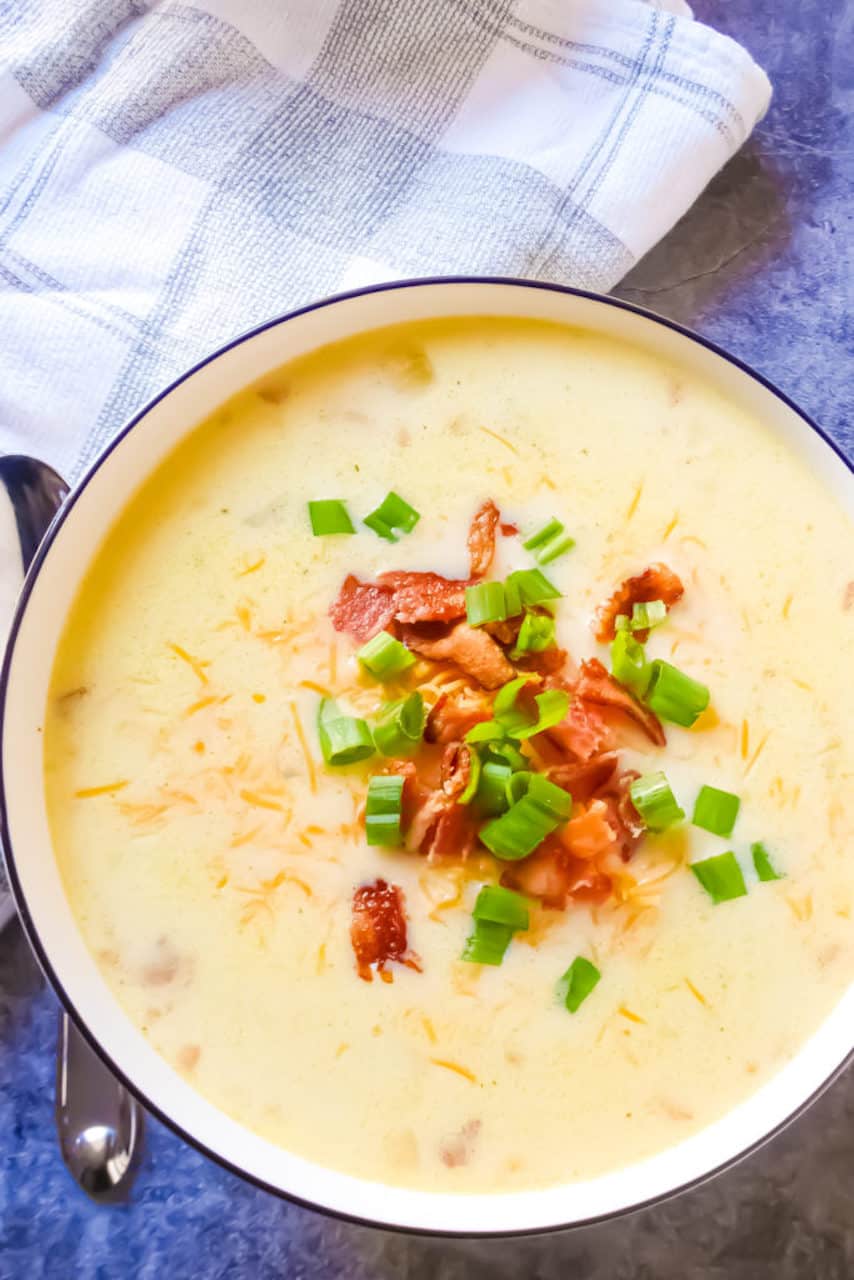 Recipe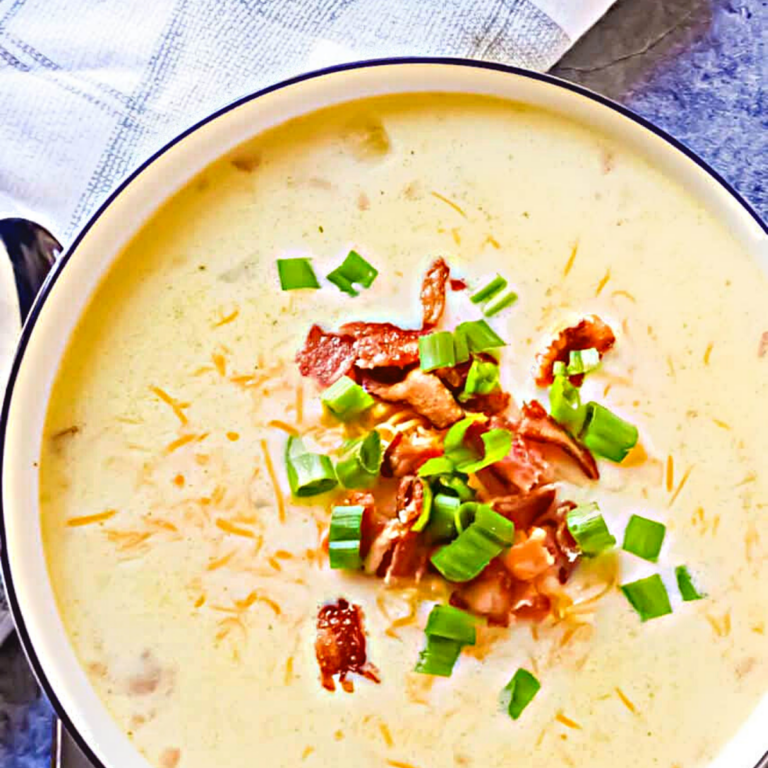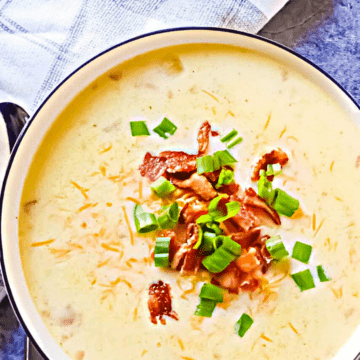 Slow Cooker Loaded Baked Potato Soap
Slow Cooker Loaded Baked Potato Soup is filled with baked potato favorites: sour cream, bacon, cheddar cheese, onions, garlic, salt and pepper. Top with extra cheddar, bacon, and green onions for the ultimate delicious and comforting soup. A fantastic addition to the winter weeknight slow cooker rotation!
Ingredients
10

bacon slices

3

lbs

gold potatoes

2

small onions

8

garlic cloves

6

cups

chicken broth

1

teaspoon

salt

½

teaspoon

pepper

1

teaspoon

garlic salt

1

tablespoon

parsley

3 ½

cups

cheddar cheese

1 ⅓

cup

sour cream

½

cup

plain Greek yogurt

4

tablespoon

cornstarch + water

green onions or chives for serving
Instructions
Bake bacon in oven at 375°F for 12 minutes, or until crispy.

While bacon cooks, dice the onions and garlic. Peel and chop the potatoes into small pieces. (hint: you can leave most of the skin on for extra flavor and nutrients)

Add potatoes, onions, garlic, salt, pepper, garlic salt, parsley, and chicken broth to slow cooker and set on high for 4 hours.

When done, mash potatoes until you reach your desired consistency. Stir in sour cream, yogurt, and cheddar cheese until dissolved. Mix cornstarch with a small amount of cool water and add to the slow cooker. Let simmer for 30 more minutes.

Season with more salt and pepper if desired. Serve topped with cheddar, green onions or chives, and bacon bits.
Instant Pot Directions
Follow steps 1 and 2 above.

Add 1 tablespoon of olive oil to the inner pot and set to saute on high for 3 minutes. Add onions and garlic. Cook, stirring frequently. Turn off saute.

Pour in the chicken broth and deglaze the pot thoroughly. Add the potatoes, salt, pepper, parsley, and garlic salt. Close and seal the lid. Set to pressure cook on high for 8 minutes.

Allow a 10 minute natural release, followed by a controlled quick release of the remaining pressure. Remove the lid and stir.

Add sour cream and yogurt and stir to incorporate. Using an immersion blender, blend the soup to your desired consistency, leaving some diced potatoes. You can also remove some potatoes prior to blending and add them back when you're finished.

Set the Instant Pot back to saute on high for 3 minutes. Mix the cornstarch with a small amount of water and mix until smooth. Add to the soup, mix, and saute for 3 minutes until thickened. Stir frequently.

Turn off saute and transfer the inner pot to a heat-proof surface. Wait 1 minute, then stir in the cheddar cheese until a smooth soup has formed.

Serve topped with bacon, chives, and extra cheese.
Notes
Tip 1: You can use all sour cream instead of sour cream and yogurt Tip 2: Add more or less cornstarch, depending on your desired thickness Tip 3: In place of cornstarch, use double the amount of flour
Nutrition
Serving:
8
oz
Calories:
526
kcal
Carbohydrates:
37
g
Protein:
21
g
Fat:
33
g
Saturated Fat:
17
g
Polyunsaturated Fat:
3
g
Monounsaturated Fat:
11
g
Trans Fat:
1
g
Cholesterol:
83
mg
Sodium:
1720
mg
Potassium:
1064
mg
Fiber:
4
g
Sugar:
4
g
Vitamin A:
732
IU
Vitamin C:
50
mg
Calcium:
410
mg
Iron:
2
mg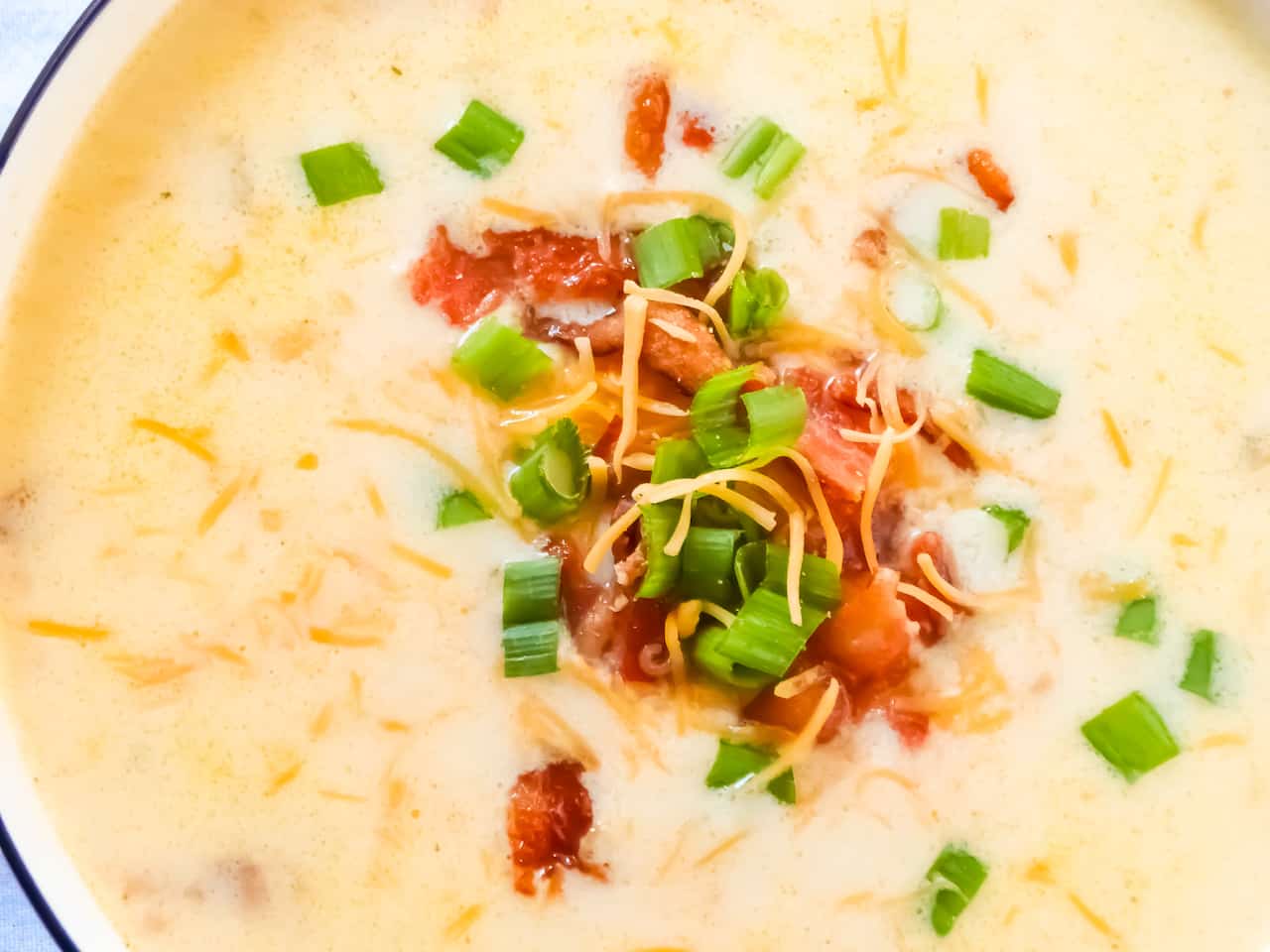 make it vegetarian by eliminating the bacon and using vegetable broth
use heavy cream in place of the cornstarch to thicken (though this will add calories!)
use less broth for a thicker soup
mix up the cheeses: use a combination of sharp cheddar and another, like gruyere, asiago, or parmesan
⭐️ Freezer Tips
It will keep well for about 3 months in freezer baggies. To defrost, put in the fridge overnight. For a quick defrost, submerge the baggie in hot water.
If you've tried this slow cooker potato soup, I'd love to hear what you thought. Please let me know in the comments below.
If you enjoyed this recipe, make sure to give it a star rating and let me know what you thought in the comments! And follow me on Facebook, Pinterest and Instagram for more delicious recipes!
Related Recipes You'll Love