Make Pancake Breakfast Charcuterie Boards as an easy, stress-free weekend or weekday breakfast that gets the family eating together!
Sunday Breakfast Charcuterie Boards
I am so excited to share our new weekend breakfast ritual with you: Sunday Charcuterie! Breakfast charcuterie boards are amazing time-savers in the morning. They create little mess and get the whole family to eat together, talking rather than parting ways with separate breakfasts to watch the latest Youtube video or check Facebook for the thousandth time.
Breakfast charcuterie boards have given breakfast a new life, and while we are making a different breakfast charcuterie board every weekend, I also make them a few mornings during the week. They have been a game changer for us in the morning! We started the first weekend of September with this pancake breakfast charcuterie board, complete with lots of fresh fruit, yogurt, syrup, and bacon.
Getting my 5 year old to eat breakfast in the morning has been a challenge for a few years. I don't think she is an early breakfast eater, which was not a problem until she started school and she had to be. But every morning I felt like I was forcing her to eat, still.
She's distracted by the things a 5 year old is distracted by. TV. Toys. The Guinea Pig. iPads. Youtube (ugh). But we were onto something, I'd get her up a little earlier so she'd be hungry earlier, let her take leftover breakfast in the car. You know, little things meant to keep me from pulling out my hair slightly less.
Then the pandemic hit and breakfast became a fight again. Being home meant she didn't have to eat breakfast before 8:30am. Sometimes she wouldn't eat a thing until lunch!
Well here we are in mid-September and she's back at a wonderful little in-person homeschool. So I've had to find creative ways to keep the breakfast battles at bay, and breakfast charcuterie boards are my #1 go to! Make sure to check out my guide to creating a 15 minute kid-friendly charcuterie board for every occasion, too.
My daughter was so excited to make her own breakfast that she set her own place at the table, arranged her knife, fork, and spoon properly and completely served herself. Plus, she ate her entire plate full of food! A few days later when I made the Fall Harvest Pumpkin Charcuterie Board, she did the same thing. Boy, was I one happy mama!
Disclaimer: kids can become disillusioned easily, so be careful. Don't make a charcuterie board every day, otherwise they will become boring! Save it for a special day during the week and give it a name so they look forward to it. Like I do with Saturday/Sunday morning charcuterie. I make a board 2 or 3 times a week. My kids get excited to see the board's theme every morning! I keep my theme secret, and this is part of the excitement.
They love making a heart shaped pancake board, because they can use cookie cutters to make their heart pancakes.
Why You'll Love Breakfast Charcuterie Boards
I carve out 20 minutes, before the rest of the family is awake, in the morning to put together our breakfast charcuterie board. It is incredibly peaceful to get breakfast done early in your quiet kitchen. Once the board is done, I literally breathe a sigh of relief that it's 1 less thing to worry about or remember to do before the work-school routine begins. Here are 5 more reasons you will love making breakfast charcuterie boards:
1. Your Kids Will be Excited to Eat
If you find yourself fighting with your kids to eat in the morning or you're rushing them to finish because they eat so...terribly...slow...morning charcuterie boards might be the solution! Kids LOVE to have a choice in what they'e made to do. They should learn to make decisions and be given the opportunity to become independent little thinkers. While it may seem small, deciding on their own breakfast and making the choice as to how to arrange it on their plate and what foods to put together, is a huge step in developing their brains for creative and analytical thinking.
And think about the last breakfast buffet or brunch you went to. What excites you more, a cold bowl of cereal or that fantastic breakfast spread where you could pick and choose what you want?
2. No More Making Individual Breakfasts for Everyone
If your mornings started out with making 4 different plates and asking 4 people what they wanted for breakfast, breakfast charcuterie boards are here to simply your morning routine. All that time spent in making individual plates can be spent creating one big board, where most of the ingredients (like the fruit) only require a washing and placing on the board. It's easy peasy!
3. The Family Eats Together
Charcuterie boards have helped us lose the electronics at the table. (don't judge, but yes, we got into this bad habit a long time ago) The reason is simple: everyone is using their hands to get their plates together. Then after, we talk to the kids about what they've chosen and why, if they like it, etc. We also let them use their kiddie knives to spread on the toppings and cut their pancakes. This all makes for less opportunity for everyone to be engaged in electronics, adults included!
5. Healthy Eating All Morning
This is one of my favorite reasons to make breakfast charcuterie boards. I stock up our boards with extra fruit so there are leftovers. I leave the board out all morning and afternoon so that when we are hungry or someone asks for a snack, we are more likely to grab the fruit instead of something unhealthy from the pantry.
Need to Buy A Charcuterie Board?
If you need to purchase a charcuterie board, you can find charcuterie boards
" target="_blank" rel="noreferrer noopener nofollow">endless options on Amazon. Home Goods is another great option for good quality, yet discounted boards.
This board on Amazon is one of my favorite circular boards. I love that it has handles for easy carrying! If you'd like a rectangular snack board, this one here is a great option. But you can also use a large wooden cutting board if you don't have time to go shopping or if you're on a really tight budget. (no one will notice!)
But my absolute favorite board is this Smirly Cheese Board. It's awesome for wine, cheese, meat, nuts, and fruit because it has 5 different serving sections and serving ware!
How To Make a Breakfast Pancake Charcuterie Board
A traditional charcuterie board, simply put, is a meat, cheese and bread board. But not our breakfast pancake charcuterie. This one is filled with fresh fruits, homemade vanilla almond milk pancakes, bacon, and the pancake toppings.
Breakfast charcuterie boards should start with 1 main breakfast item, like bagels, pancakes, waffles, or toast. Obviously for this pancake board we have gone with pancakes. Once you've chosen the main breakfast item, choose condiments and spreads that work with it, secondary breakfast item, and fruit. I also choose 1 fun item for all of my boards. In the list of possible options for an epic breakfast charcuterie board, I've highlighted my suggestions for the perfect pancake breakfast, but change these up based on you!
Here is how to do it:
Main Breakfast Item
pancakes
waffles
bagels
biscuits
toast
pastries
danishes
Secondary Breakfast Item
bacon
eggs (scrambled, fried, hard boiled)
sausage
pork roll (we call this Taylor Ham in my neck of the woods 🙂 )
Complimentary Toppings and Spreads
syrup
yogurt
butter
whipped cream
To keep our pancake board on the healthier side, we only use pure maple syrup and plain yogurt. Our favorite way to make pancakes is topped with yogurt and berries!
Fruit
blueberries
blackberries
strawberries
bananas
raspberries
Any berries make awesome pancake toppings.
Fun Food
chocolate chips
anything else you can think of!
We always add a dash of something chocolate, because why not!
Recipe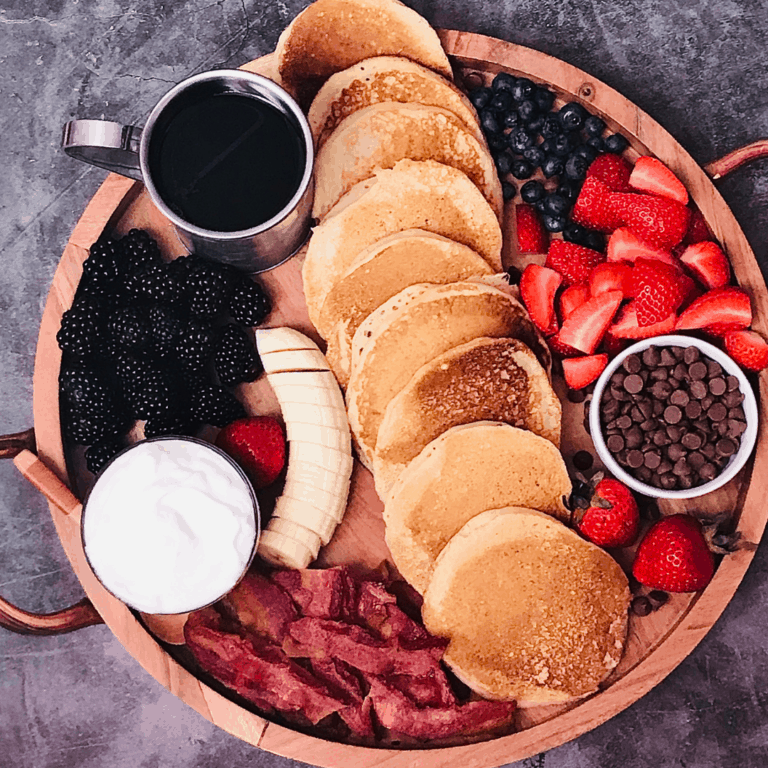 Pancake Breakfast Charcuterie Board
Make Pancake Breakfast Charcuterie Boards as an easy, stress-free weekend or weekday breakfast that gets the family eating together!
Add to My Collection
Saved!
Ingredients
15

pancakes

1

cup

maple syrup

2

cups

yogurt

½

cup

chocolate chips

1-2

bananas, sliced

2

cups

strawberries, sliced

1

cup

blueberries

2

cups

blackberries

10

slices

bacon
Instructions
Arrange the pre-made pancakes on the center of the charcuterie board.

Put the chocolate chips, yogurt and syrup into small serving bowls and place on the board.

Arrange the fruit and bacon around the pancakes and bowls.
Nutrition
Serving:
3
pancakes + toppings
Calories:
350
kcal
I hope you've enjoyed learning about how to make a breakfast pancake charcuterie board! I'd love to hear how yours turned out in the comments below.
And don't forget to follow me on Facebook, Pinterest and Instagram for the latest recipes and more!
Check Out Similar Recipes
Vanilla Almond Milk Pancakes
Pancake Bites with Almond Milk Pancake Batter