This Sweet and Salty Halloween Snack Board for Kids compliments my healthy Halloween snack board that's filled with fruit, veggies, cheese, and meat. While we love healthy snacks as much as possible, it is Halloween after all! We have an excuse to eat way more candy and treats in 1 day than anyone probably should eat the entire year! A Kid-Friendly Halloween Snack Board is an easy addition to any way you're celebrating Halloween this year.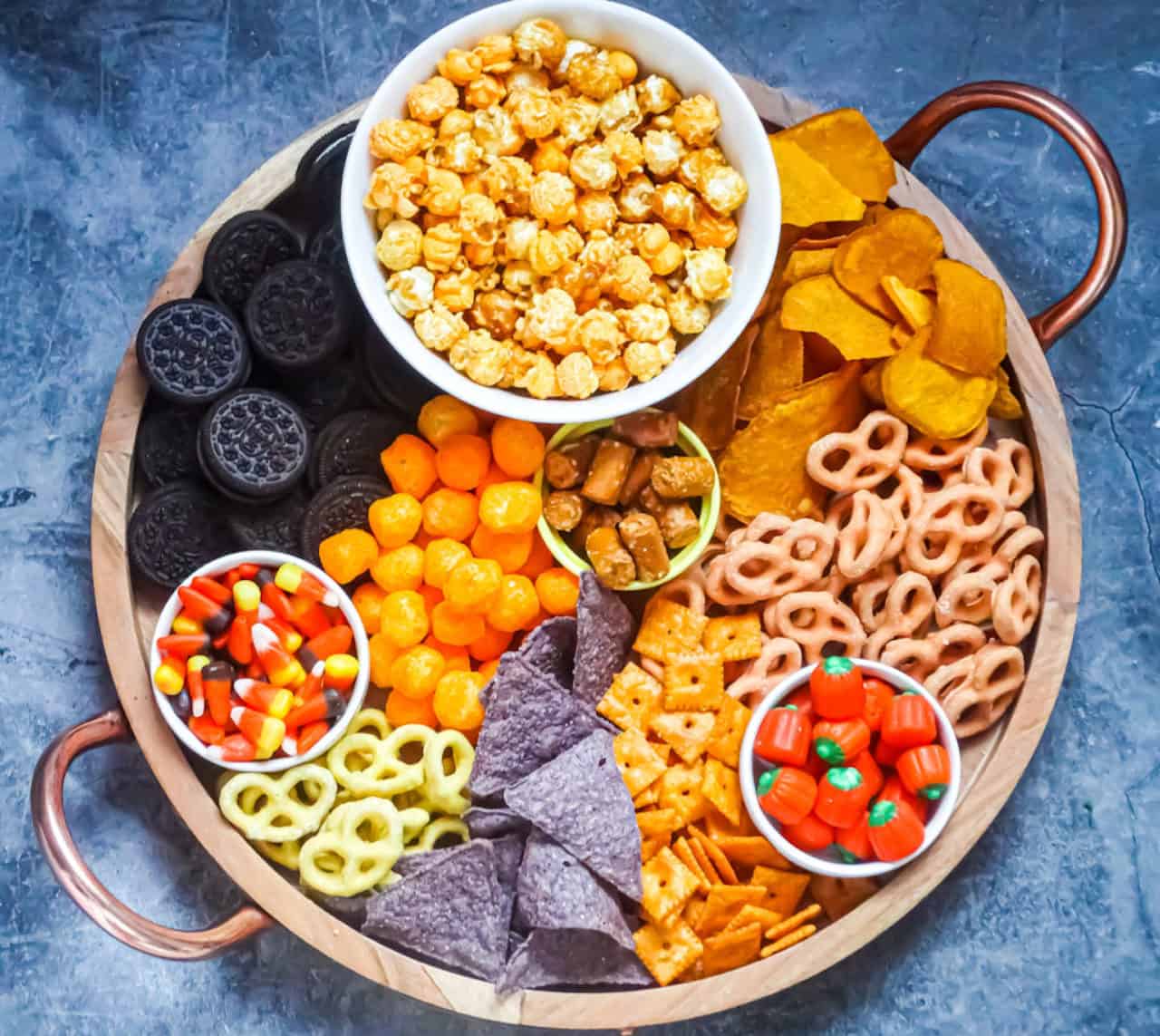 Jump to:
Last night I posted the healthy Halloween snack board that I'll be serving during this year's "homemade" trunk or treat. But I will also be putting together this sweet and salty Halloween snack board for kids, because why not? Everyone loves sweet treats!
We are going to set up our own little trunk or treat between 2 families this year. Our kids will still dress up and go trick or treating, just out of their aunts', uncles', and grandparents' trunks! Anyone who doesn't feel comfortable being close to others can safely stay at a distance while still enjoying the company of some cute kids on Halloween. We're going to let the kids gather as much candy as they want and run around for a bit while the adults enjoy snacks and some much deserved spooky cocktails!
Our snack table will include a healthy snack board, this sweet and salty snack board, mummy hot dogs, graveyard pudding cups, and maybe some graveyard brownies. It's going to be a blast! Halloween will happen this year, but it better not rain, because I don't have a back up plan!
🎉 Snack Board Ideas
Snack boards are fantastic for any type of party. You can focus on certain colors or arrange foods in festive shapes to turn any snack board into one for a special occasion or holiday. This Red, White, and Blue Kid-Friendly Charcuterie Board for summer barbecues. A S'mores Snack Board for kids' sleepovers are 2 of my favorites!
You can make sweet snack boards filled with candy and goodies or healthy snack boards packed with fresh fruit and veggies. Both kids and adults will love them, whatever you choose your snack board to be!
I like snack boards that take little time to prepare. This sweet and salty Halloween snack board for kids is just that. It takes me 10 minutes to get the board put together. It is so simple because it only involves arranging pre-made snacks on a serving board. No cooking. No slicing. No baking. No chopping. It's the best!
If you are new to putting together snack boards for kids, my readers' favorite guide to 15-minute kid-friendly charcuterie boards is a great place to learn just how easy it is.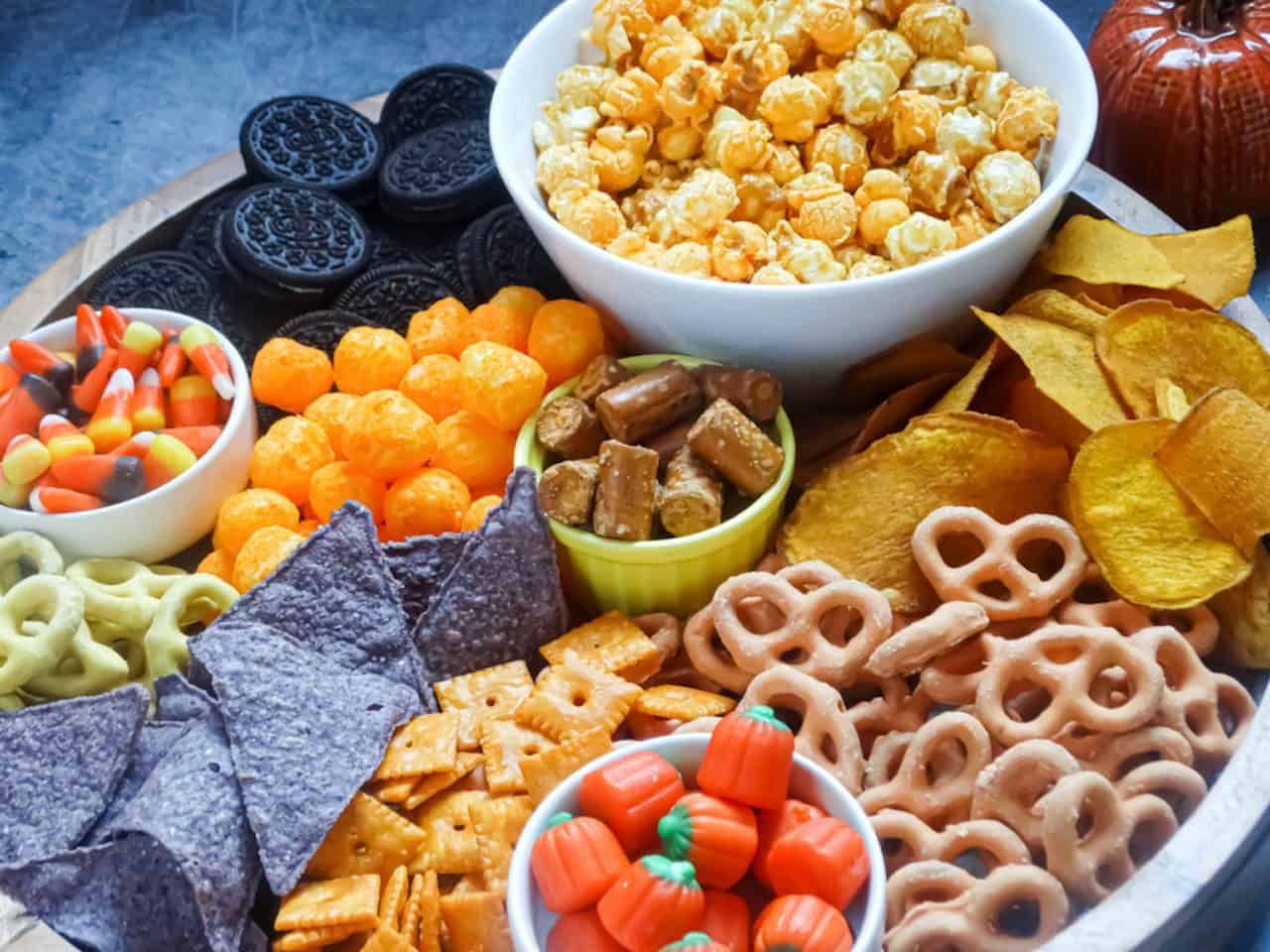 🏬 Where To Buy
If you need to purchase a charcuterie board, you can find endless options on Amazon. Home Goods is another great option for good quality, yet discounted boards.
This board on Amazon is one of my favorite circular boards. I love that it has handles for easy carrying! If you'd like a rectangular snack board, this one here is a great option. But you can also use a large wooden cutting board if you don't have time to go shopping or if you're on a really tight budget. (no one will notice!)
But my absolute favorite board is this Smirly Cheese Board. It's awesome for wine, cheese, meat, nuts, and fruit because it has 5 different serving sections and serving ware!
Ingredients
There are a ton of different foods that you can choose for your kid-friendly Halloween snack board. For the Halloween-theme, I am sticking with yellow, orange, beige, and black colored foods.
Just remember to consider the ages of the kids.This Halloween charcuterie board for kids is made for those over 2, because some of the foods are considered choking hazards.
Orange/Yellow/Beige: caramel popcorn, cheddar popcorn, cheez-its, lemon yogurt covered pretzels, pumpkin spice yogurt covered pretzels, combos, cheese puffs, candy corn, candy pumpkins, sweet potato chips
Black: tortilla chips, Oreos
More Food Ideas
Chocolate bar pieces
Reeses Pieces
Reeses Pieces peanut butter cups
black licorice
goldfish
gummy worms
popcorn
caramel candies
There are so many options for orange and yellow fall foods, so use your favorite snacks! You can't go wrong!
Tips
Kids Ages. If small children who can choke easily on certain foods will enjoy your snack board, watch out for choking hazard foods, like hard candies or anything hard to chew.
Allergies. Consider a nut-free snack board if you're serving to guests and you don't know if someone has an allergy. Although I think it's pretty standard that parent's of kids with allergies alert a party host about allergies ahead of time.
Weather/Temperature. If you're serving your snack board outside, consider skipping foods that easily melt if you live in a hotter climate or foods that quickly attract flies and ants.
Germs. This is a big one, especially now. You probably don't want everyone touching the food, so have lots of forks, spoons, and toothpicks available. Kids are impulsive and easily forget etiquette for not touching food they aren't taking. It may be a good idea to arrange toothpicks in individual pieces, like the cheeseballs. Having a few serving spoons for the candy and popcorn is something else you can do to decrease the chance of contaminating food.
I hope you've enjoyed learning about how to make fun kid-friendly Halloween snack board! I'd love to hear how yours turned out in the comments below.
And don't forget to follow me on Facebook, Pinterest and Instagram for the latest recipes and more!
Related Recipes