Breakfast classics are piled high and wrapped in croissant dough in this Everything Bagel Bacon Egg & Cheese Breakfast Croissant Ring recipe. Delicious bacon, egg, and cheddar stuffed croissants are topped with everything bagel seasoning and baked until golden brown. The perfect brunch, breakfast, or holiday breakfast.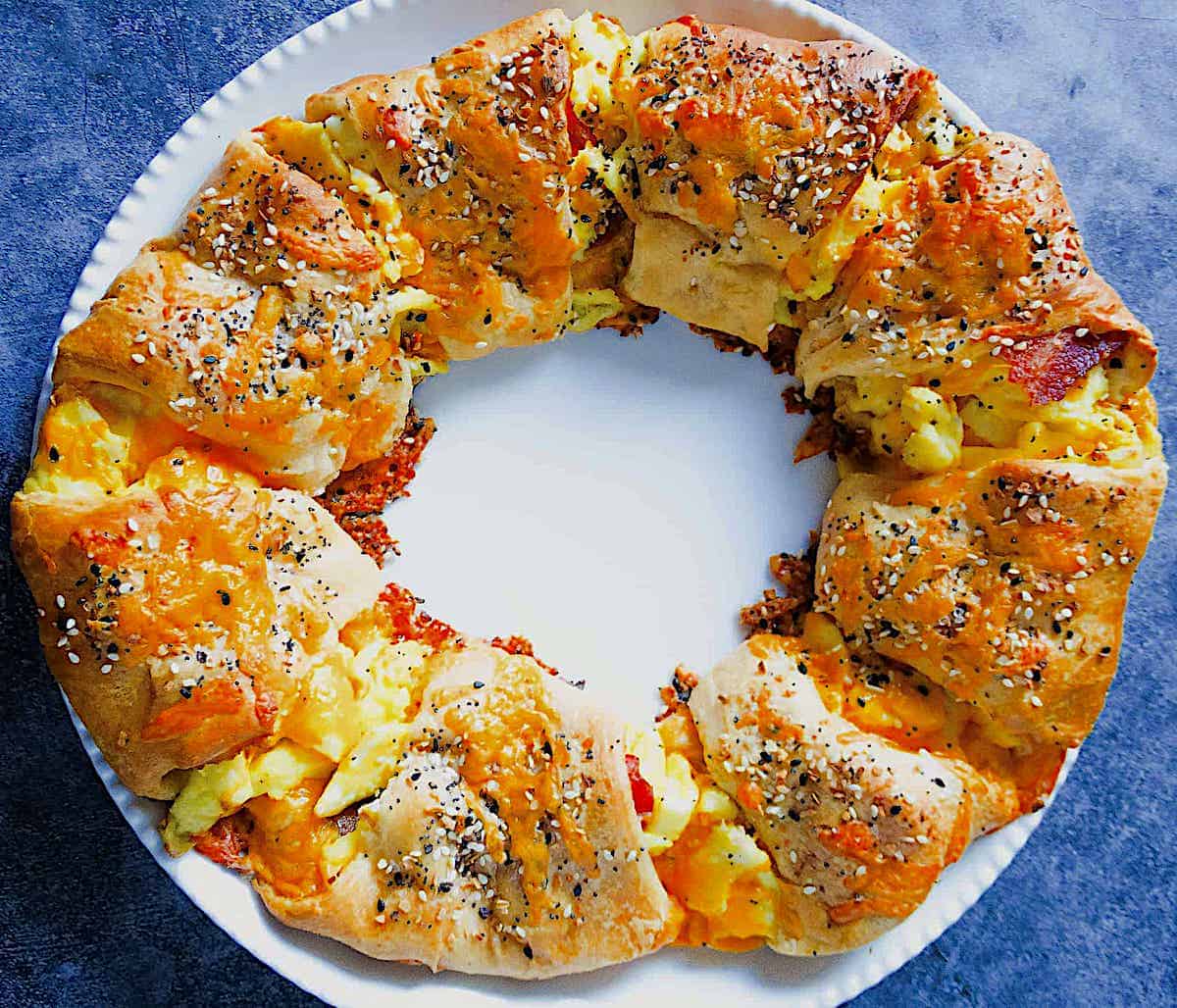 Jump to:
My family sure does love breakfast sandwiches. Especially on the weekends where there is plenty of time to make everyone their own individual sandwich. Sometimes this can be a pain, though.
If you have a big family or visitors, making all those sandwiches one by one can take a lot of time! That's why a bacon, egg, and cheese stuffed breakfast croissant ring is perfect as a holiday breakfast.
Pick the croissant ring apart while opening presents on Christmas morning or while watching the parade on Thanksgiving Day. It'a a mouthwatering breakfast that never dissapoints!
We spend every Christmas morning at my parents' house. There have never been less than 10 of us, and every year that number grows. This year we are up to 14. That's 14 people my father, who goes out in the morning to buy the best NY bagels around and then comes home to cook scrambled eggs, bacon, and taylor ham for everyone.
With 14 people that's about three batches of eggs/bacon/ham on the stove. My poor father!
And then we all need to make our bagel sandwiches. It's a ton of waiting and shoving each other around the kitchen to get what we need. Taking an hour to make and eat breakfast on Christmas morning with presents to open is too long!
So this year, we will be making this easy breakfast croissant ring stuffed with bacon, egg, and cheese, and topped with everything bagel seasoning. And of course, more cheese.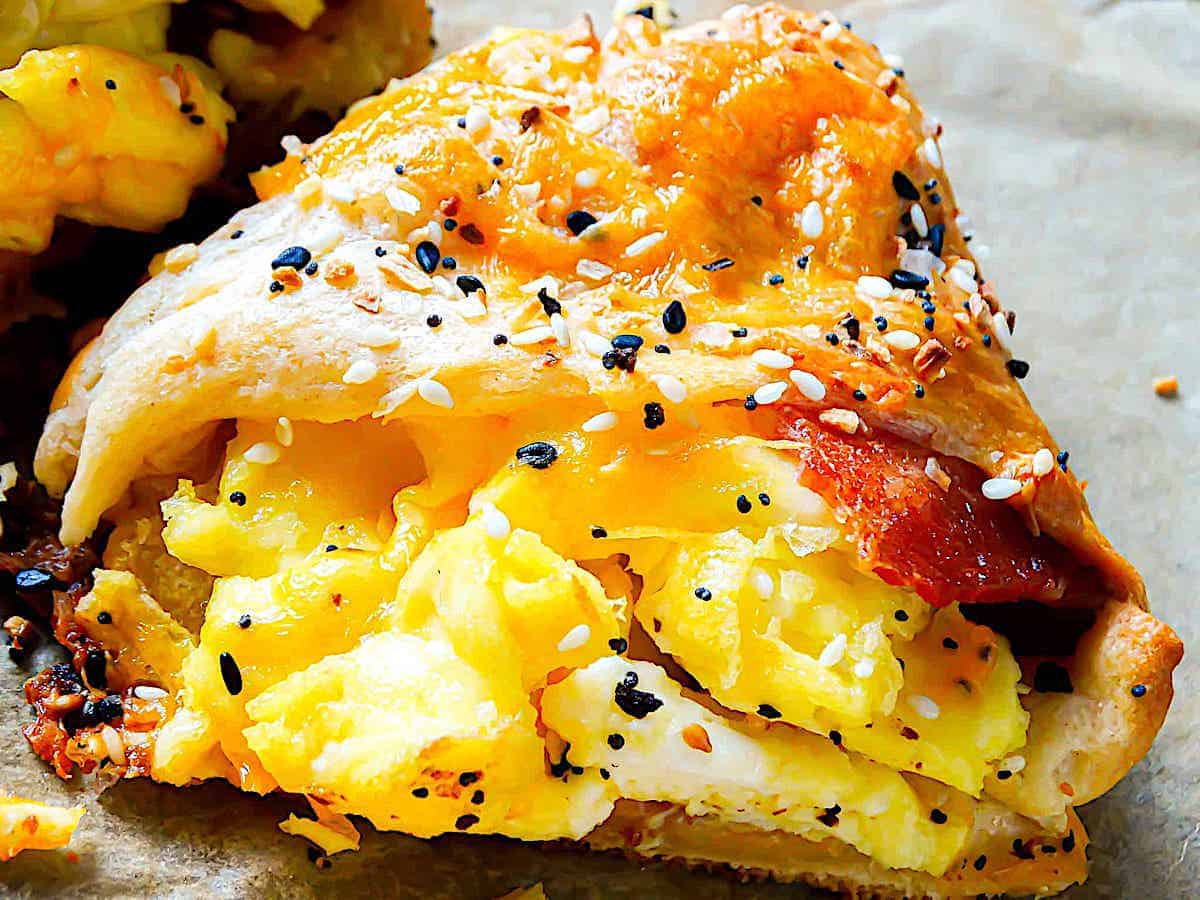 Instead of pushing each other around the kitchen, waiting for our batch of bacon, eggs, and cheese to be done, and dirtying up plates, knives, and forks, we will be pulling apart this satisfying stuffed croissant ring!
A breakfast croissant ring makes the ultimate pull-apart finger food for a brunch get together with friends and family, too. Or as in our case, an easy to make and easy to clean holiday breakfast for lots of guests! No one will be disappointed with how delicious this is.
Plus, for unknown reasons my kids won't eat scrambled eggs anymore unless they are stuffed inside an English muffin, croissant, or bagel. That's not so much of a problem with me. We do love our breakfast sandwiches! So this breakfast croissant ring also serves as my way of sneaking them eggs. 😉
Ingredients
This tasty bacon, egg and cheese breakfast croissant ring requires classic American breakfast ingredients:
crispy bacon
scrambled eggs
cheddar cheese
croissant dough
everything bagel seasoning
You can add chopped spinach or tomatoes to the scrambled eggs if you'd like, too. However, I like to keep this recipe as NY/NJ breakfast sandwich-ish as possible, so I stick to just bacon, eggs, and cheese.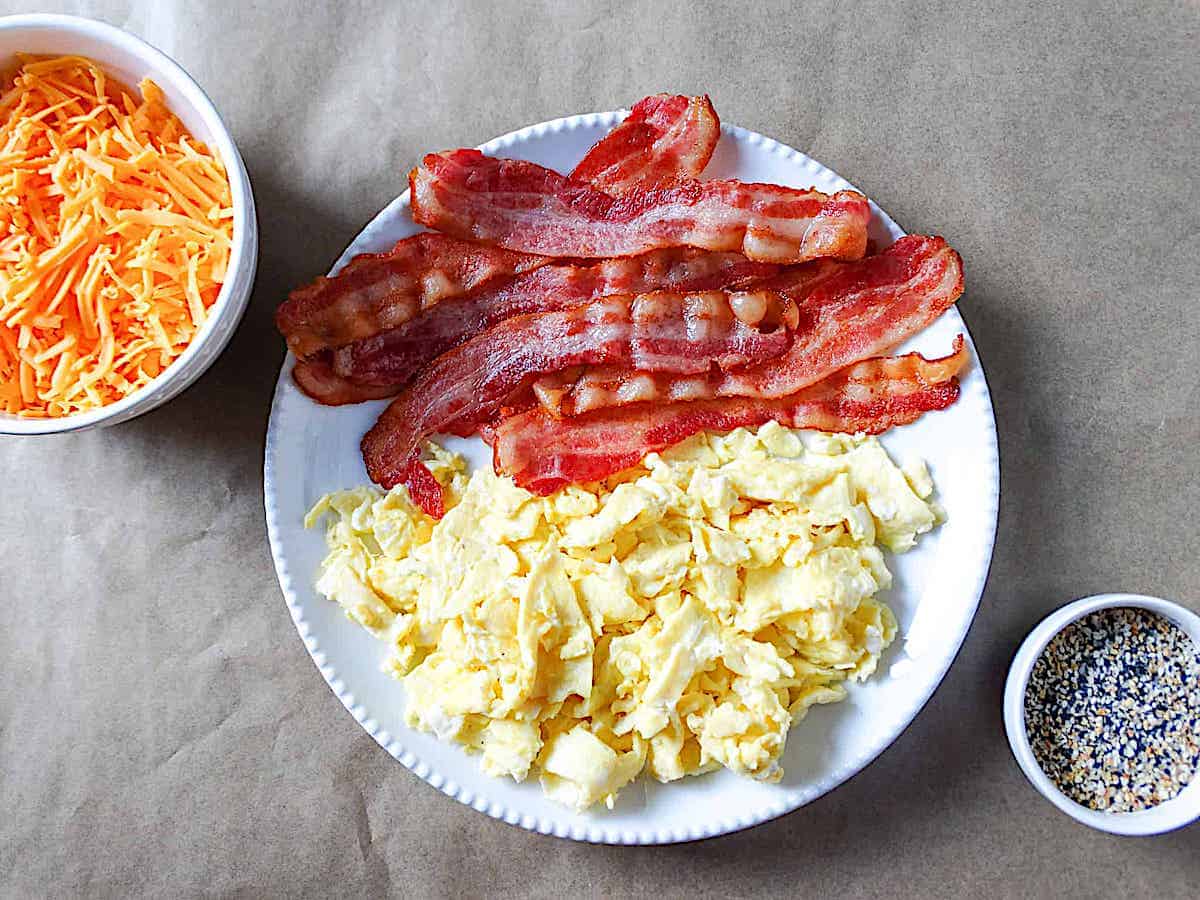 Step-By-Step Directions
To make this everything bagel breakfast croissant ring, first cook the bacon according to the package (I like baking mine in the oven).
At the same time, scramble the eggs until they are just about done, but still a little wet. They will continue to cook while the croissant ring bakes in the oven.
While the eggs and bacon cook, separate the croissant dough and shape into a star on parchment paper. This is easier to do with chilled croissant dough, so don't remove it from the fridge until you need it.
Spread each individual piece of dough out a little bit if some seem very skinny. Sprinkle with cheddar.
Next, halve the bacon strips and place one on each croissant.
Now pile a good amount of egg on top of the bacon.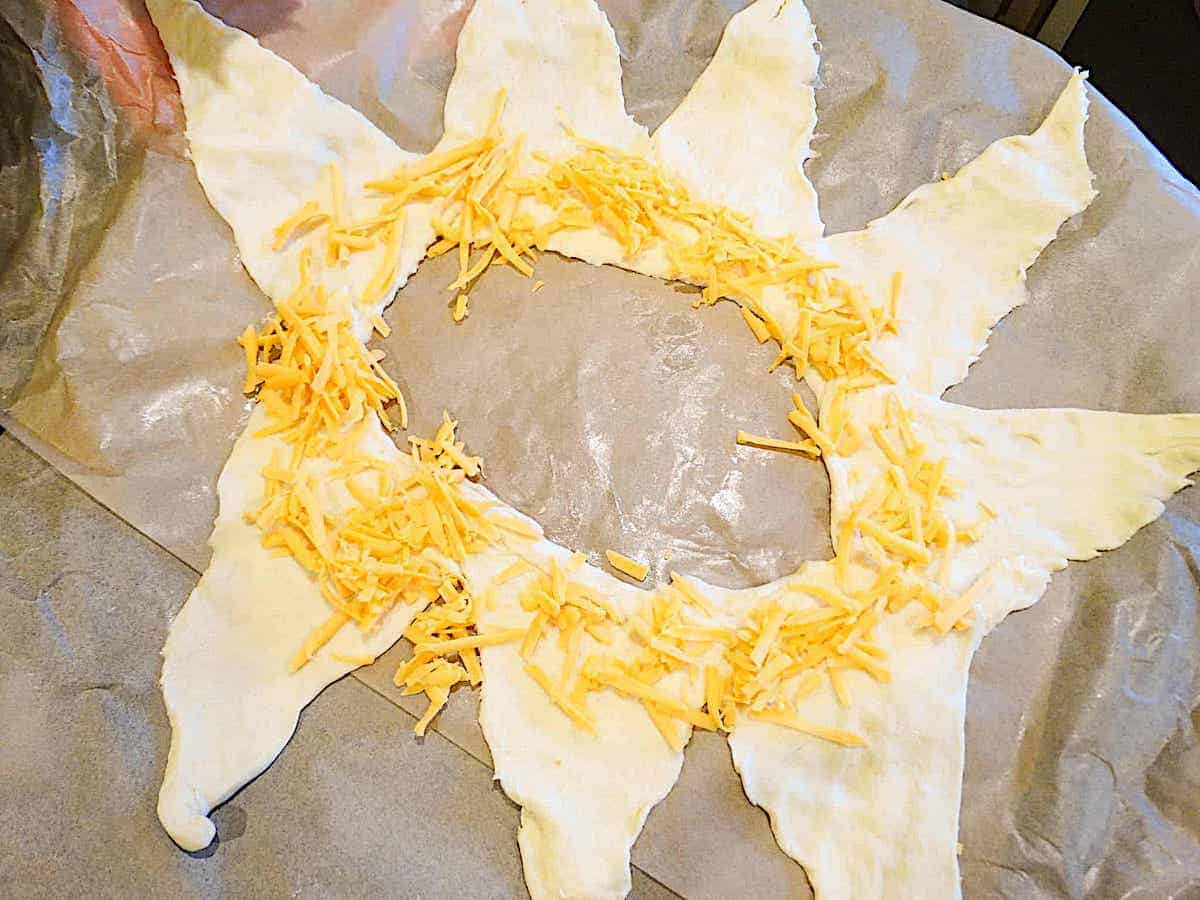 Add another layer of cheese on top of the egg. Close each croissant by tucking the points under the opposite end.
Brush the tops with milk and sprinkle with everything bagel seasoning and more cheese.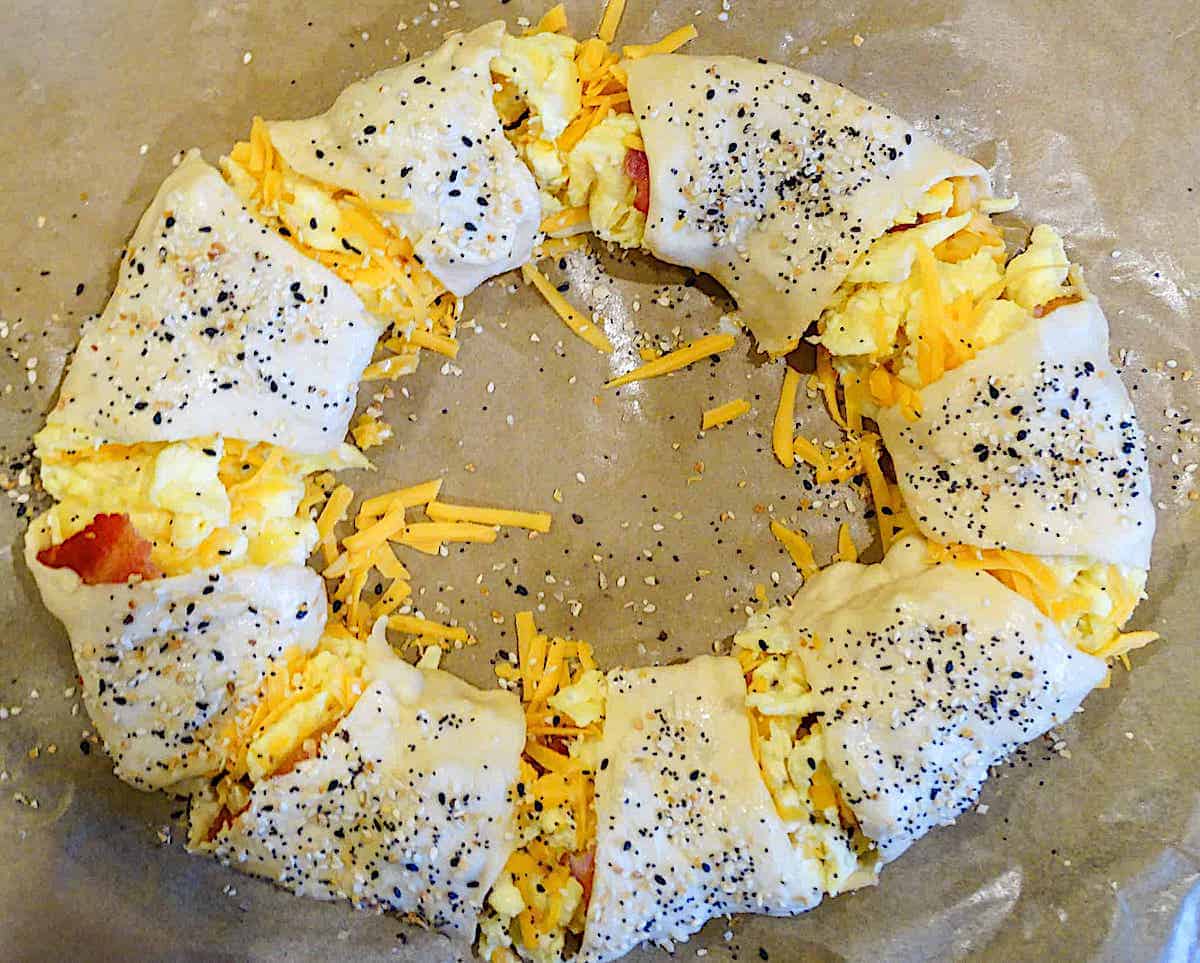 Bake at 375 for 10-12 minutes, until the croissants are a perfect golden brown.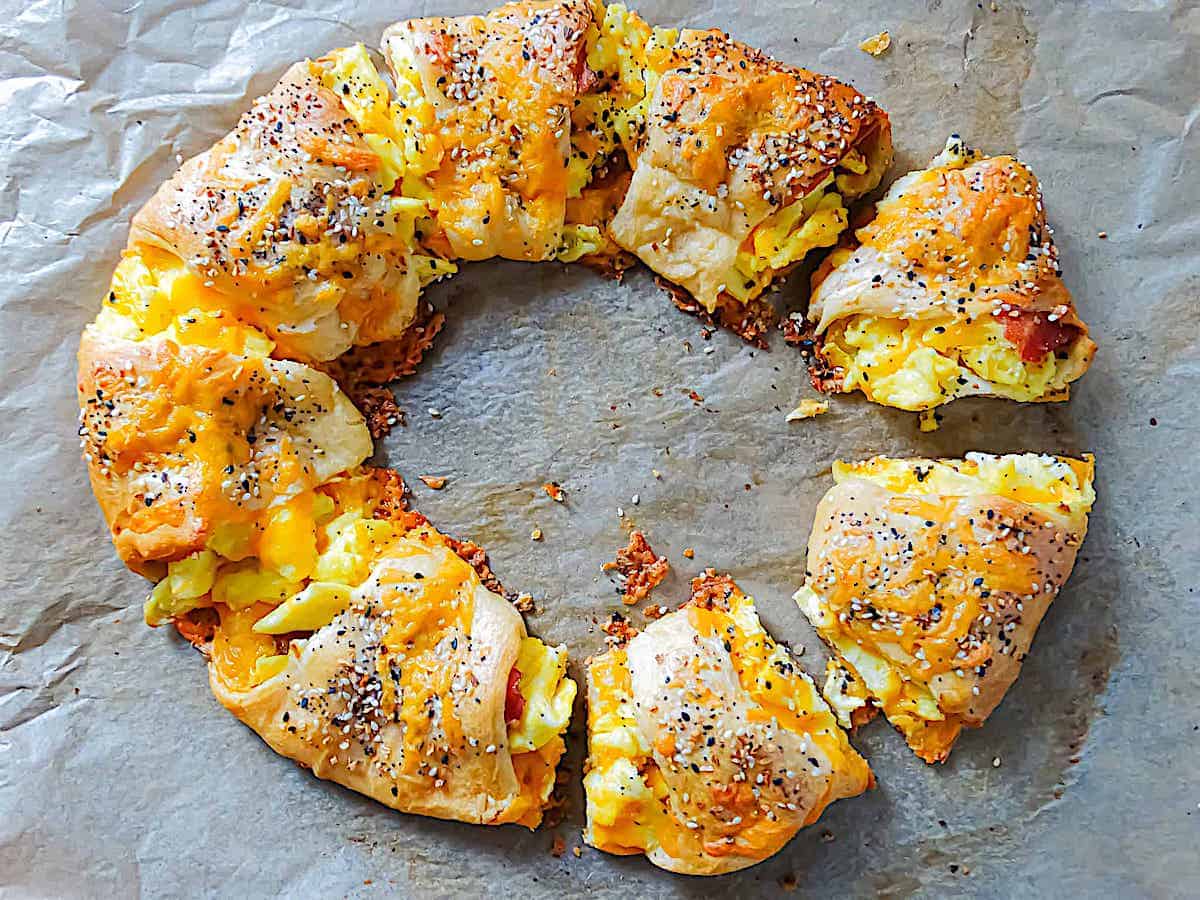 Let it cool for a few minutes and then separate the pieces with a spatula or pull apart by hand.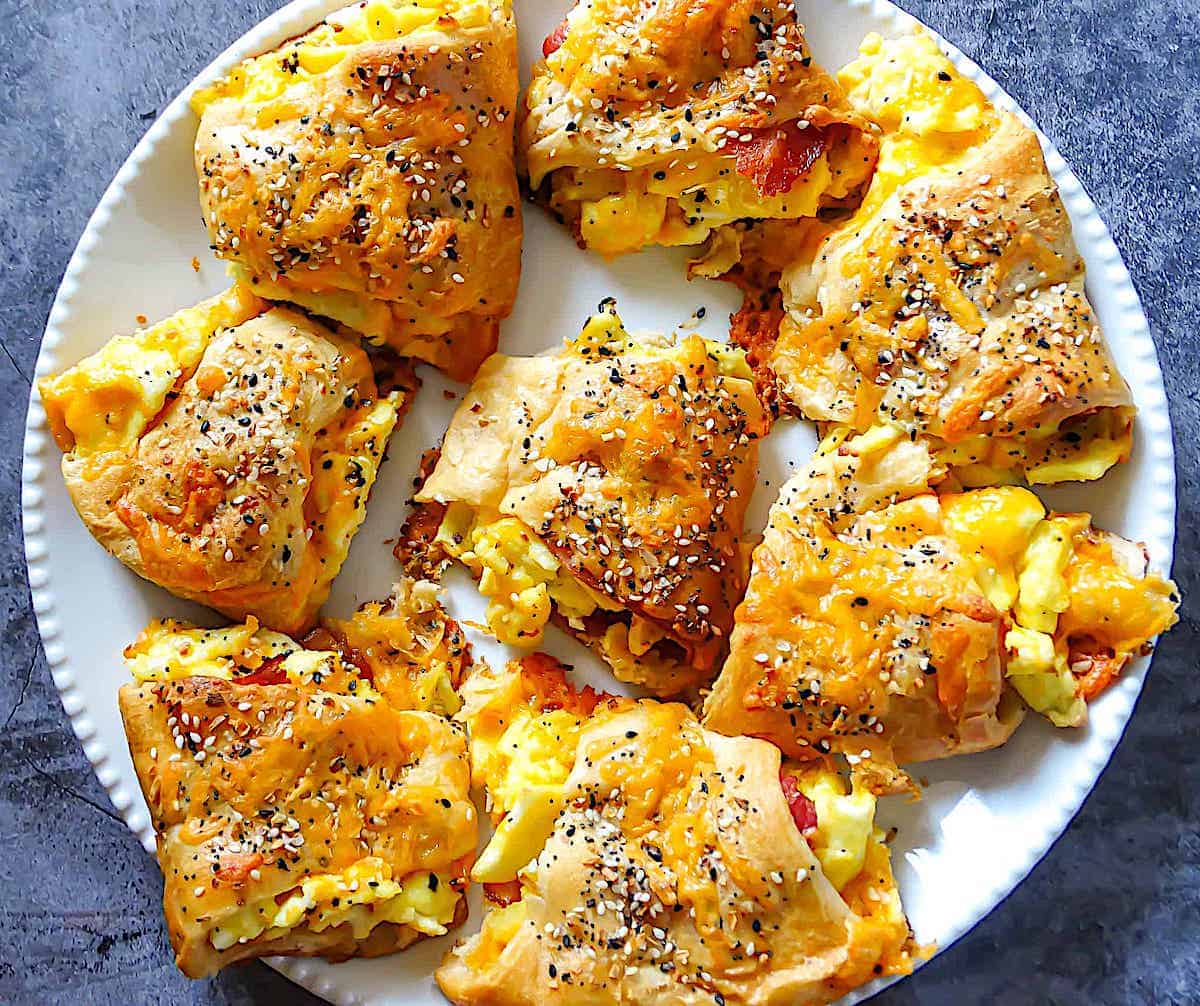 Recipe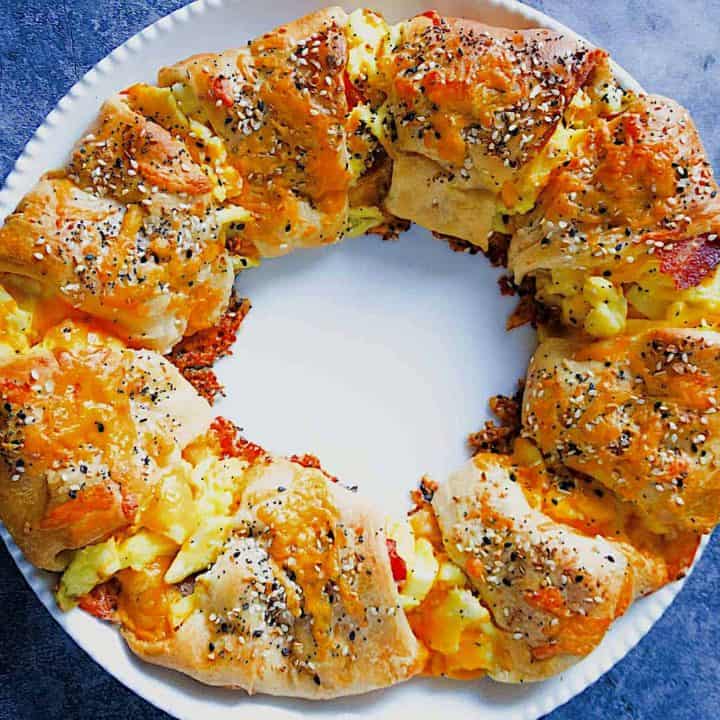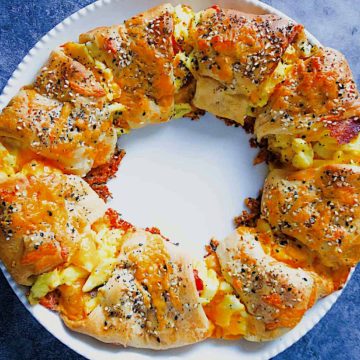 Everything Bagel Bacon Egg and Cheese Croissant Breakfast Ring
Everything Bagel Bacon Egg & Cheese Croissant Ring- delicious bacon, egg, and cheddar stuffed croissants, topped with everything bagel seasoning and baked until golden brown. An incredibly delicious variation of all the breakfast classics! The perfect plate for a brunch or holiday breakfast for guests.
Add to My Collection
Saved!
Ingredients
8

slices

bacon

8

eggs

1

croissant package (8 individual croissants)

1 ½

cups

shredded cheddar cheese

1

tablespoon

milk

salt and pepper to taste
Instructions
Bake bacon according to package, generally 12-17 minutes at 375°F.

While bacon cooks, scramble salt and peppered eggs until almost finished (they will continue to cook in the oven).

Arrange croissant pieces on parchment paper, in a circle with the short sides overlapping on the inner circle. It should look like a star. (hint: spread the dough slightly if it's too skinny)

Sprinkle inner half of each croissant with cheese. Break bacon slices into 2 pieces and layer 1 slice over cheese. Top with scrambled eggs and more cheese.

Fold the ends of the croissant over the bacon, eggs, and cheese, tucking the end under to hold it in place. Brush top of croissants with milk. Sprinkle with everything bagel seasoning and additional cheese.

Bake at 375°F for 10 minutes, until golden brown.

AIR FRYER METHOD: Follow the steps above for cooking the bacon and scrambled eggs. In oven style air fryers, you can make the ring following the instructions above. Air fry at 375°F for 6-8 minutes. In basket style air fryers, take 2 crescent pieces and form a rectangle. Place bacon, eggs, and cheese on one side and fold the other side over. Seal the seams, brush with milk and sprinkle with everything bagel seasoning. Air fry sandwiches for 6-8 minutes.
Nutrition
Serving:
2
pieces
Calories:
513
kcal
There are lots of variations to breakfast croissant rings. You can stuff the croissants with any egg scrambler type plate. The options are nearly endless, A few suggestions are:
replacing the bacon with pork roll, sliced ham or sausage
adding spinach, broccoli or arugula
replacing the cheddar with mozzarella or swiss cheese
dicing veggies, like peppers, onions, tomatoes, and adding them to the scrambled eggs
use turkey bacon
Basically, think about what makes a great bagel sandwich or scrambled egg platter and stuff your breakfast croissant ring with that.
Serving
This breakfast croissant ring is delicious with a cold glass of orange juice or hot cup of coffee. It's my favorite on Christmas morning with a hot homemade peppermint mocha latte.
Since an 8 piece breakfast croissant ring is just enough to feed me, my husband, and two little ones, I sometimes make a double ring.
Then I freeze the leftovers. To eat later, defrost overnight in the fridge and then toast on 350 degrees until the middle is warm. You can also warm them in the microwave, but I prefer the toaster's ability to recrisp the croissant.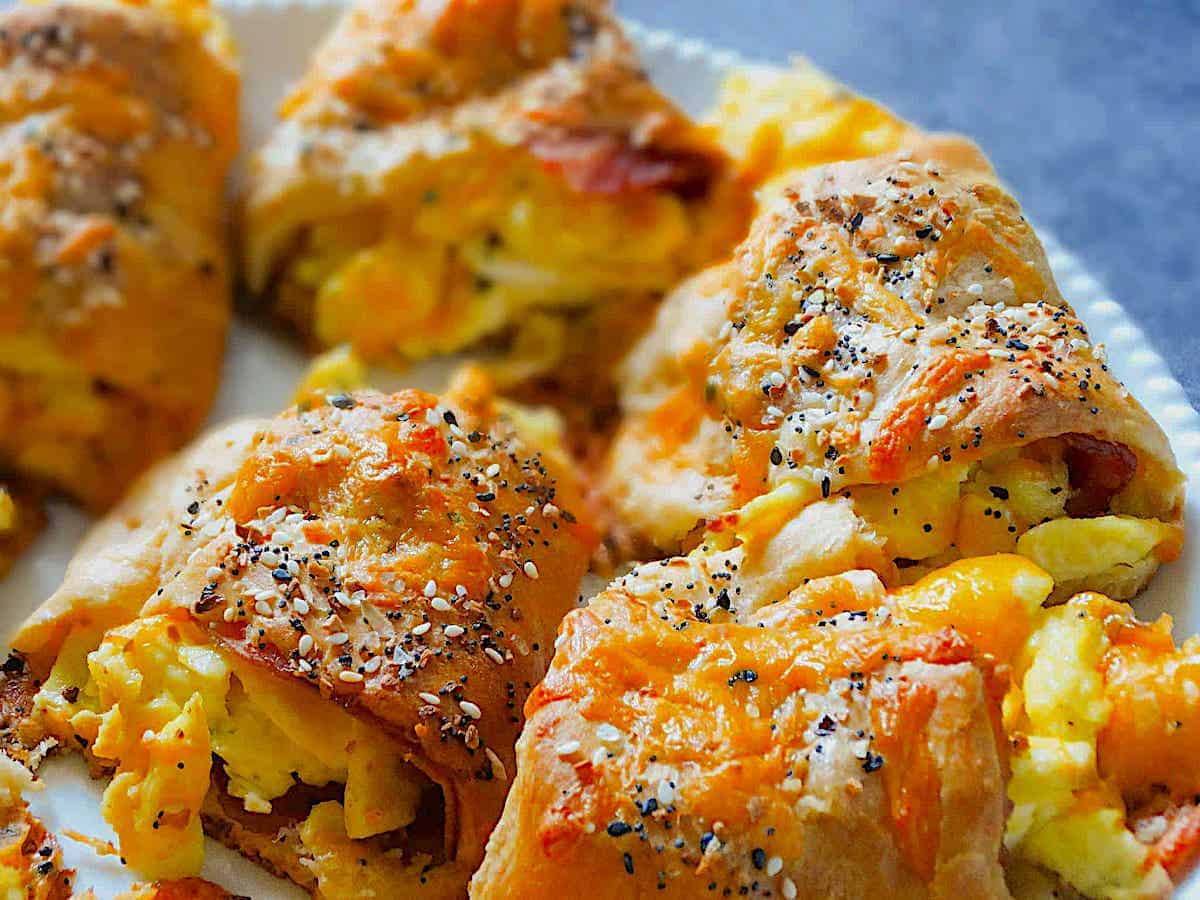 If you love this breakfast croissant ring, let me know in the comments below. I'd love to hear what you thought and any variations you made.
If you enjoyed this recipe, make sure to give it a star rating and let me know what you thought in the comments! And follow me on Facebook, Pinterest and Instagram for more delicious recipes!
Related Recipes You'll Love
Flatbread Sandwich Ideas: 3 Easy Recipes