Kid Friendly Charcuterie Boards are my favorite party food when kids are in attendance. They are so simple, and depending on what you decide to use, there is virtually no cooking involved. With barely any preparation other than washing your fruit and slicing cheeses, traditional kid friendly charcuterie takes about 15 minutes to put together.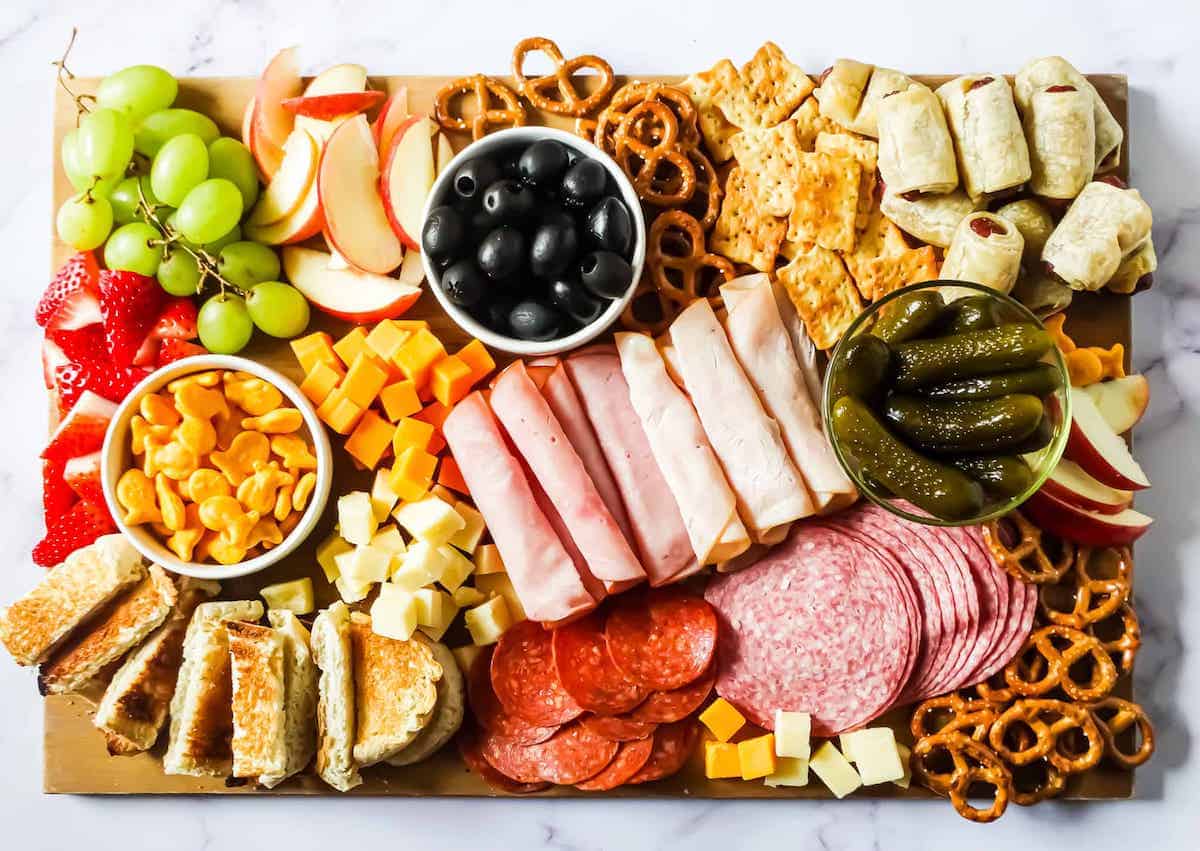 Okay, first things first. How do you pronounce charcuterie?
shar - koo - tuh - ree
Easy, right? Except I had been calling it CHAR koo tuh ree for quite some time and no one ever corrected me. How embarrassing. I hope they weren't sure either.
Once I started putting together charcuterie boards, I thought, let's just make sure I'm saying this right. At least now I know, and so do you!
Charcuterie boards are a fantastic, simple idea for parties and for getting the entire family involved in sharing and celebrating food. They involve kids and adults in socializing and get everyone talking.
There are so many options when it comes to charcuterie boards. Arrange foods using festive colors or in holiday-themed shapes. Make a movie night snack board or a s'mores board for kid-friendly sleepover charcuterie. And for holidays, make sure to include a turkey-shaped charcuterie board for Thanksgiving and a red, green, and white board on Christmas.
More Charcuterie Ideas
What is a Traditional Charcuterie Board?
A traditional charcuterie board consists of a variety of meats along with garnishes and condiments, cheeses, and breads. Simply put, it's a meat, cheese and bread board.
Charcuterie meats should be of different textures, like hard salami paired with soft smoked salmon. You can slice them in different ways, too, to add variety to the board. The meats should be paired with a few different simple cubed or sliced cheeses.
I like adding simple fruits and fun foods to make kid friendly charcuterie, rather than just sticking to meats, cheeses and breads. What better way to get kids to eat their fruit when it's at a fun party or in a fun shape?!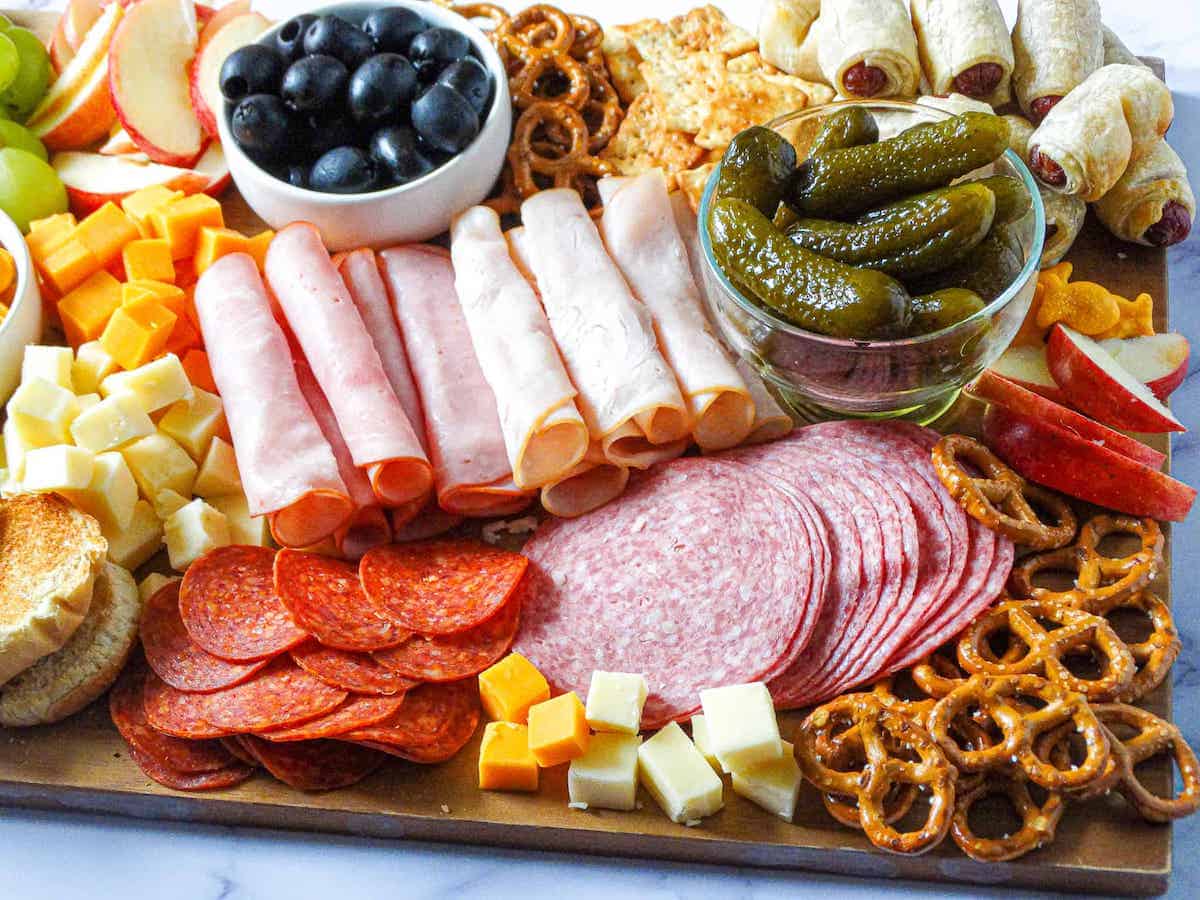 Step-By-Step Directions
Follow these guidelines to make a beautiful kid friendly charcuterie board.
Decide on the occasion/theme (or color theme)
Decide on the type of food. Do you want a sweet board? A savory board? A bit of both? Something else?
Choose your board. Do you need a round one? Square one? Big? Small?
Choose fun bowls and containers and use them to create focal points around the board. Arrange the bowls first and other foods around them.
Offer small, kid-friendly disposable serving utensils to avoid lots of mess and kids' germs from getting into the food.
Your board doesn't have to look perfect. Let the kids help and make it fun, that's all part of it.
You can customize your choices for the board based on what the kids like. And if you don't know, that's okay. Most kids like lunch meat, cheese, and simple everyday fruits, plus fun stuff like pretzels and chocolate. Kid-friendly charcuterie should be spice free (and probably nut free too in case of any allergies).
Depending on the kids' ages, watch out for choking hazards, like grapes and crackers that are too hard. There are a ton of different "kid friendly" foods that you can choose for your charcuterie board. Just make sure to consider the ages of the kids.
This particular kid-friendly charcuterie is made for kids over 4 and my ingredients are:
honey ham and turkey
salami
pepperoni
mini hot dogs wrapped in puff pastry
yellow and white cheddar
mini sweet pickles
small black olives
grapes
strawberries
apple slices
pretzel twists
olive oil flatbread crackers
goldfish crackers
toasted hoagie roll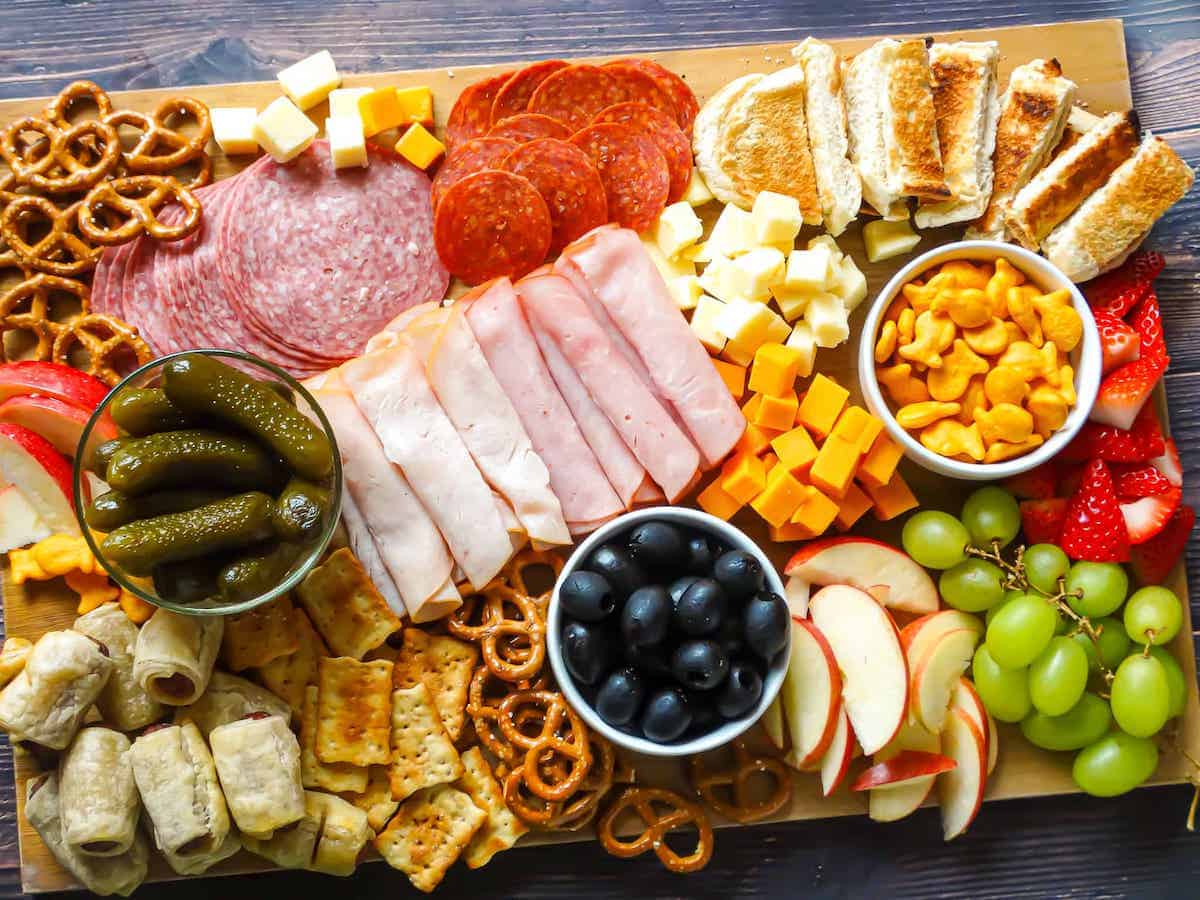 Ingredients
Meats
For the meats, choose classic lunch meats like salami, turkey, ham, roast beef, and pepperoni. I use honey ham and honey turkey and a brand of pepperonis that I know to be mild and not spicy.
Cheeses
For the cheeses, I use sharp white and yellow cheddar. These are always a hit, are easy to find, and are generally loved by everyone. Rather than buying bags of cubed cheese, I buy square cheese sticks or a block and cut those into cubes. This way is less expensive. Monterey and swiss are other good cheese options. Feel free to use cubes or slices, or a combo of both!
Breads
For the breads I usually toast a few hoagie rolls and cut them into small pieces. Then the kids can make mini sandwiches with the meats and cheeses if they want. They always think this is fun, because they get to choose what they want from all the delicious items you offer!
Fruits
Sticking with seasonal fruits will save you money. I like to go with simple fruits that don't take much preparation (so I normally wouldn't use fruits like mango or kiwi). Apples, blueberries, strawberries, grapes, and pears are great choices. Use a variety of different color fruits to fill your board with vibrant colors and make it an eye-catching masterpiece!
Fun Foods
I always add something fun to my kid friendly charcuterie! Choose what this is based on the ages of the kids. I like goldfish and different shaped pretzels for the little ones. Mini hot dogs wrapped in puff pastry or croissants are always a hit with any age! Pickles and olives are a few of my other favorites, but these can be a hit or miss with your crowd.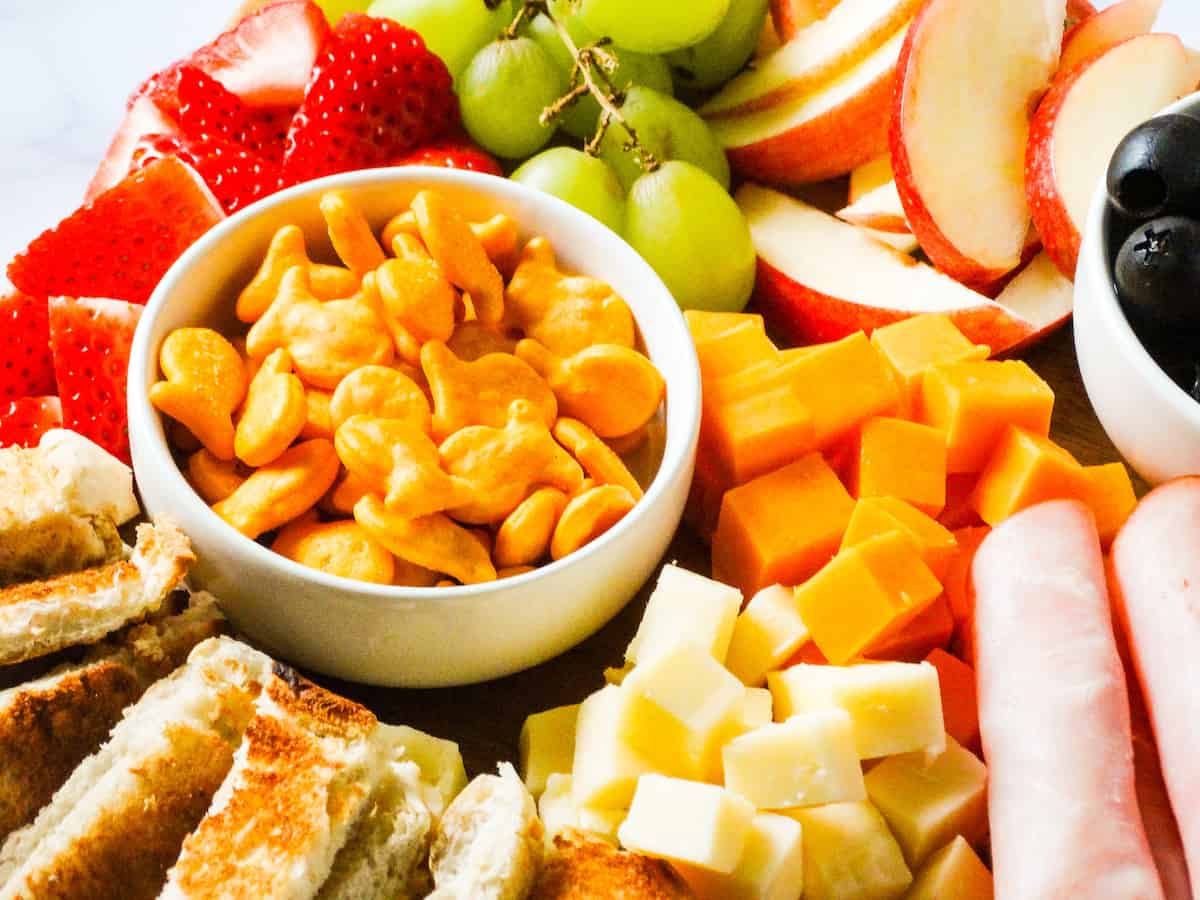 Don't forget to serve your kid friendly charcuterie board with condiments, like mayonnaise, mustard, and ketchup. Because kiddos are pretty messy, I don't put the condiments on the board. Instead I leave them in small bowls on the side, with small serving spoons.
Where To Buy Charcuterie Boards
If you need to purchase a charcuterie board, you can find endless options on Amazon. Home Goods is another great option for good quality, yet discounted boards. This board on Amazon is one of my favorite circular boards. I love that it has handles for easy carrying! If you'd like a rectangular snack board, this one here is a great option. But you can also use a large wooden cutting board if you don't have time to go shopping or if you're on a really tight budget. But my absolute favorite board is this Smirly Cheese Board. It's awesome for wine, cheese, meat, nuts, and fruit because it has 5 different serving sections and servingware!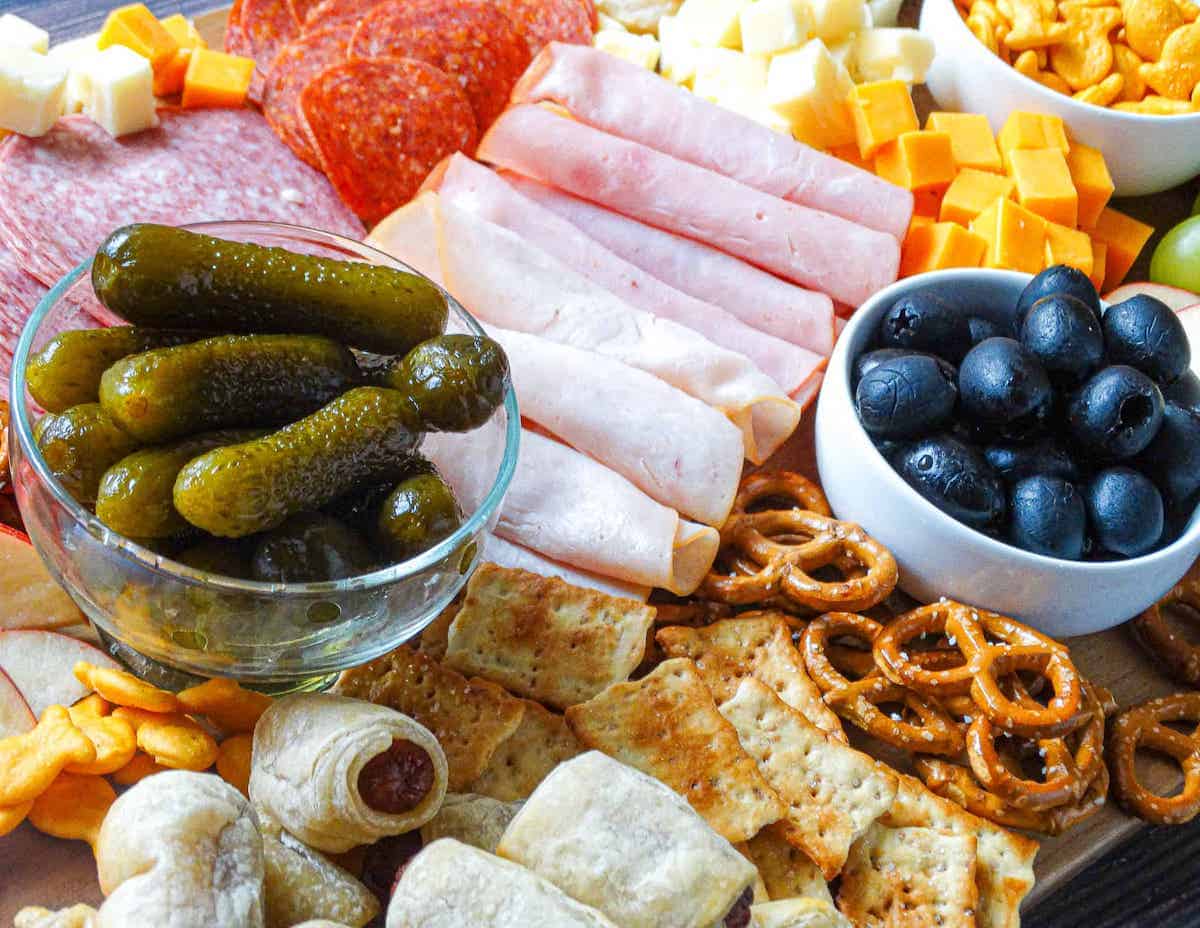 If you enjoyed this recipe, make sure to give it a star rating and let me know what you thought in the comments! And follow me on Facebook, Pinterest and Instagram for more delicious recipes!
Recipe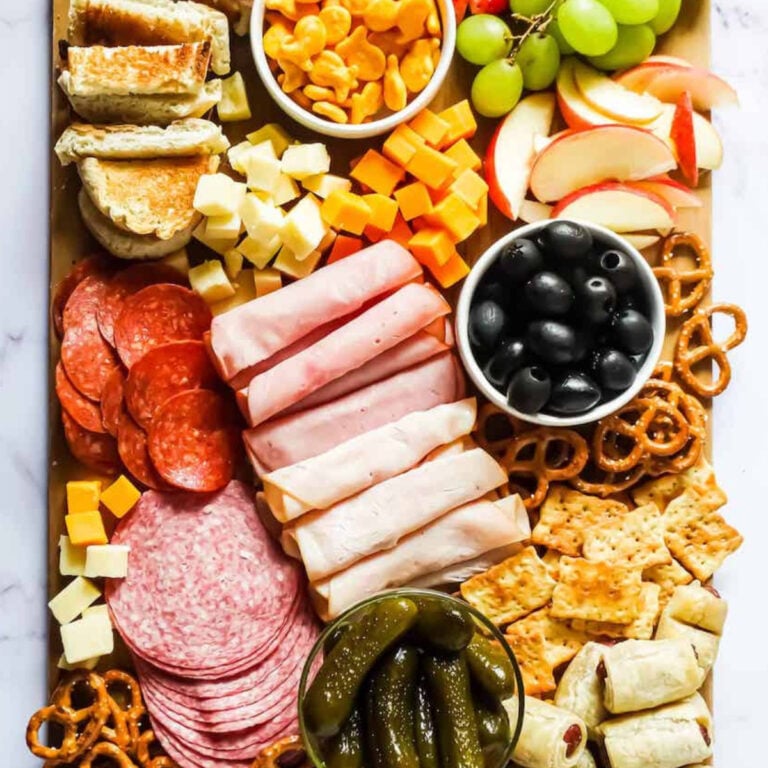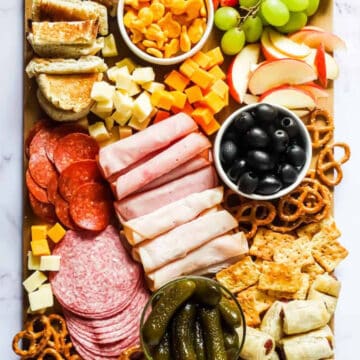 Kid Friendly Charcuterie Board
Choose your favorite kid-friendly foods to make an easy Kid Friendly Charcuterie Board in 15 minutes. A fun idea for parties, holidays, sleepovers and gatherings.
Bookmark Recipe
Saved!
Ingredients
1

cup

strawberries

1

cup

raspberries

1

cup

blueberries

2

apples, sliced

1

cup

grapes

8

ounces

genoa salami

8

ounces

pepperoni slices

8

ounces

ham

8

oz

mozzarella slices

1

cup

cheddar cubes

1

cup

olives

1

cup

pickles

12

ounces

goldfish crackers

8

ounces

crackers

8

ounces

pretzels

20

mini hot dogs

20

toasted bread slices
Instructions
Arrange serving bowls on your board. Place in opposite corners so they are separated by diagonal lines.

Arrange foods around the bowls first, then fill in the remaining empty spaces.

Fill the serving bowls with small foods or condiments.

Serve immediately, with condiments on the side if not included in bowls.
Notes
The ingredients here are suggestions and can be replaced by your favorite seasonal fruits, nuts, cheeses, and meats.
Calories per serving is based on 8 ounces of a combination of included ingredients, but varies based on chosen foods.
Nutrition
Serving:
8
ounces
Calories:
508
kcal
Carbohydrates:
43
g
Protein:
20
g
Fat:
29
g
Saturated Fat:
9
g
Trans Fat:
1
g
Cholesterol:
64
mg
Sodium:
1500
mg
Potassium:
278
mg
Fiber:
3
g
Sugar:
6
g
Vitamin A:
118
IU
Vitamin C:
8
mg
Calcium:
152
mg
Iron:
3
mg
More Charcuterie Board Ideas