If you're looking for an easy and mouth-watering raspberry muffins recipe, look no further than these easy Dairy Free Raspberry Muffins from scratch! Keep them dairy free or easily substitute with eggs and milk, the choice is yours! They are super easy, super moist and fluffy, and super delicious. Your family will love this easy raspberry muffins recipe!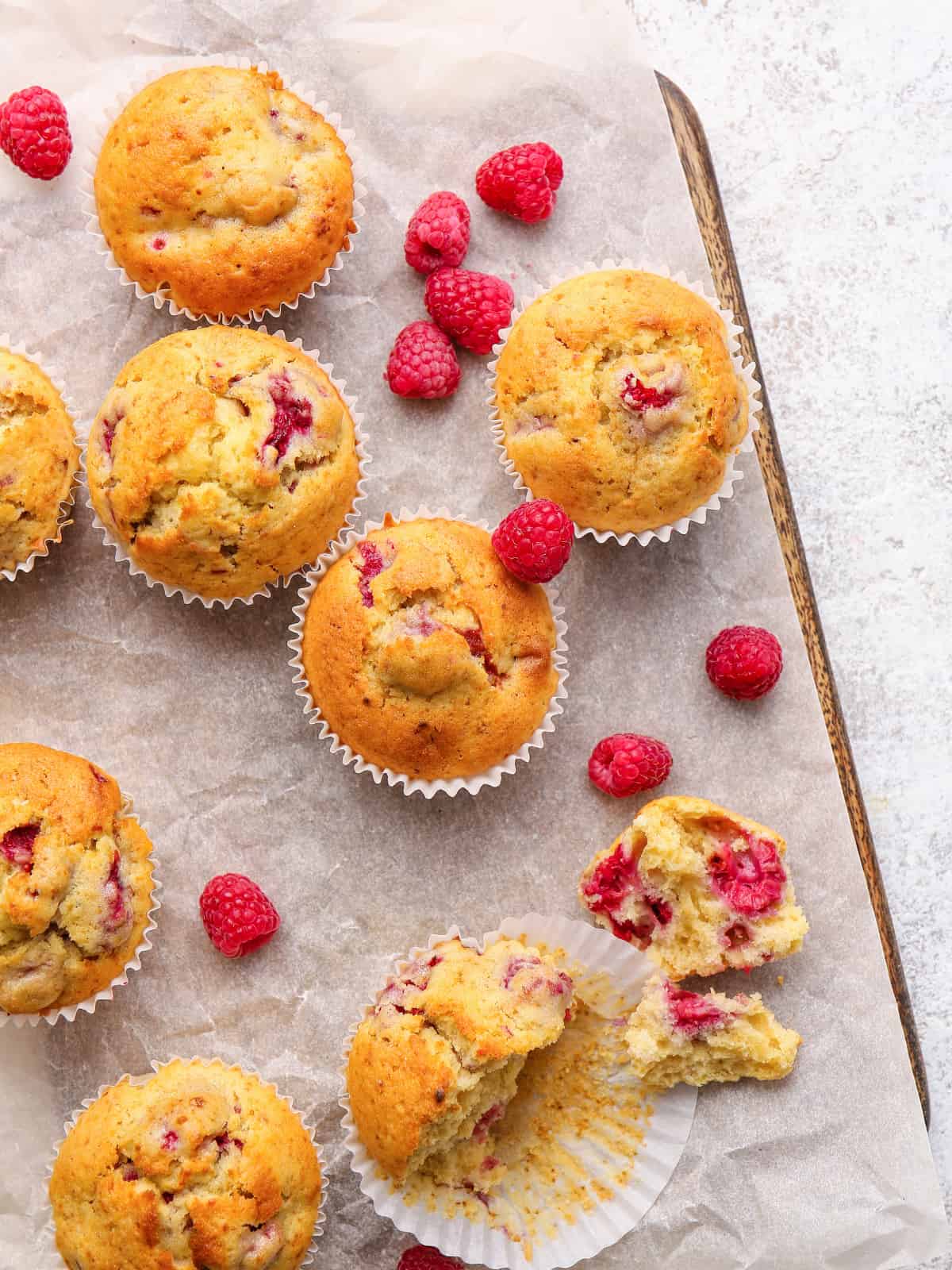 These Dairy Free Raspberry Muffins from scratch are sweet and tangy, filled with fresh plump raspberries. They were inspired by these delicious ginger-spiced peach muffins, and like most muffin recipes, have become another family-favorite.
Though no one in my house has a dairy allergy, I am becoming increasingly interested in baking without cow's milk or eggs. Not only does eliminating these from baked goods decrease the calories within them, it increases the nutritional benefits of traditionally "unhealthy" muffins.
Though eggs are actually not a dairy product, it's a common misconception that they are.
Still, this recipe does not use eggs, making it a dairy-free and egg free recipe for those with either type of allergy. Or simply looking for a healthier muffin.
Plus, with it being a little tricky finding eggs and milk recently up here in Northern Virginia, it's always good to know how to make your favorite baked goods without eggs or milk.
🧁 How To Make Dairy-Free Muffins
Making muffins dairy free is super simple and requires just a few easy substitutions. These substitutions likely will be pantry staples so you should have them on hand.
If they aren't the usual staples you keep stocked up on, definitely add them to your pantry staple list! You never know when another pandemic emergency will strike and you wish you stocked up!
See this list of foods you should always have on hand for easy cooking, baking, and drinking during emergencies.
Here are the 2 easiest ways to make egg and dairy free muffins, like we do with this scrumptious raspberry muffins recipe:
1.Substitute Flax Eggs for Chicken Eggs
I've also slowly becoming obsessed with using flax eggs in place of chicken eggs for my baking. I just love how muffins turn out when using flax eggs. This will make your muffins egg free— remember that eggs are naturally not a dairy product.
What is a flax egg? A flax egg is simply water mixed with ground flax seed. That's it! It works the same way as an egg does in baking: to add moisture and structure. In fact, I find the muffins I make with flax eggs are even more moist and fluffy than those I make with regular eggs! Learn how to make a flax egg for these raspberry muffins here. Essentially, you mix 1 tablespoon of ground flax with 3 tablespoons of water to make 1 "egg".
Flax eggs are also a bit healthier than the real deal. They have less calories, no cholesterol and are loaded with vitamins and minerals. Most abundantly, they contain protein, fiber, omega-3 fatty acids, and vitamin B. Overall flax eggs are a healthier choice, so if you're looking to start baking with healthier alternatives to traditional baking ingredients, flax eggs are for you! You can read all about the benefits of flax here, if you'd like to know more.
2. Substitute Almond Milk for Cow's Milk
Almond milk is a great substitute for cow's milk. Almond milk is soy-free, gluten-free, and lactose-free. This non-dairy drink also contains vitamins A and D and has a lower calorie count than cow's milk. When substituting with almond milk, I often find that I need to increase the amount of almond milk by about ¼ cup in most recipes. So keep that in mind!
I especially love using vanilla almond milk in baking. It gives the recipe a subtle vanilla and creates a light and fluffy end result. These vanilla almond milk pancakes are one of my reader's favorite recipes.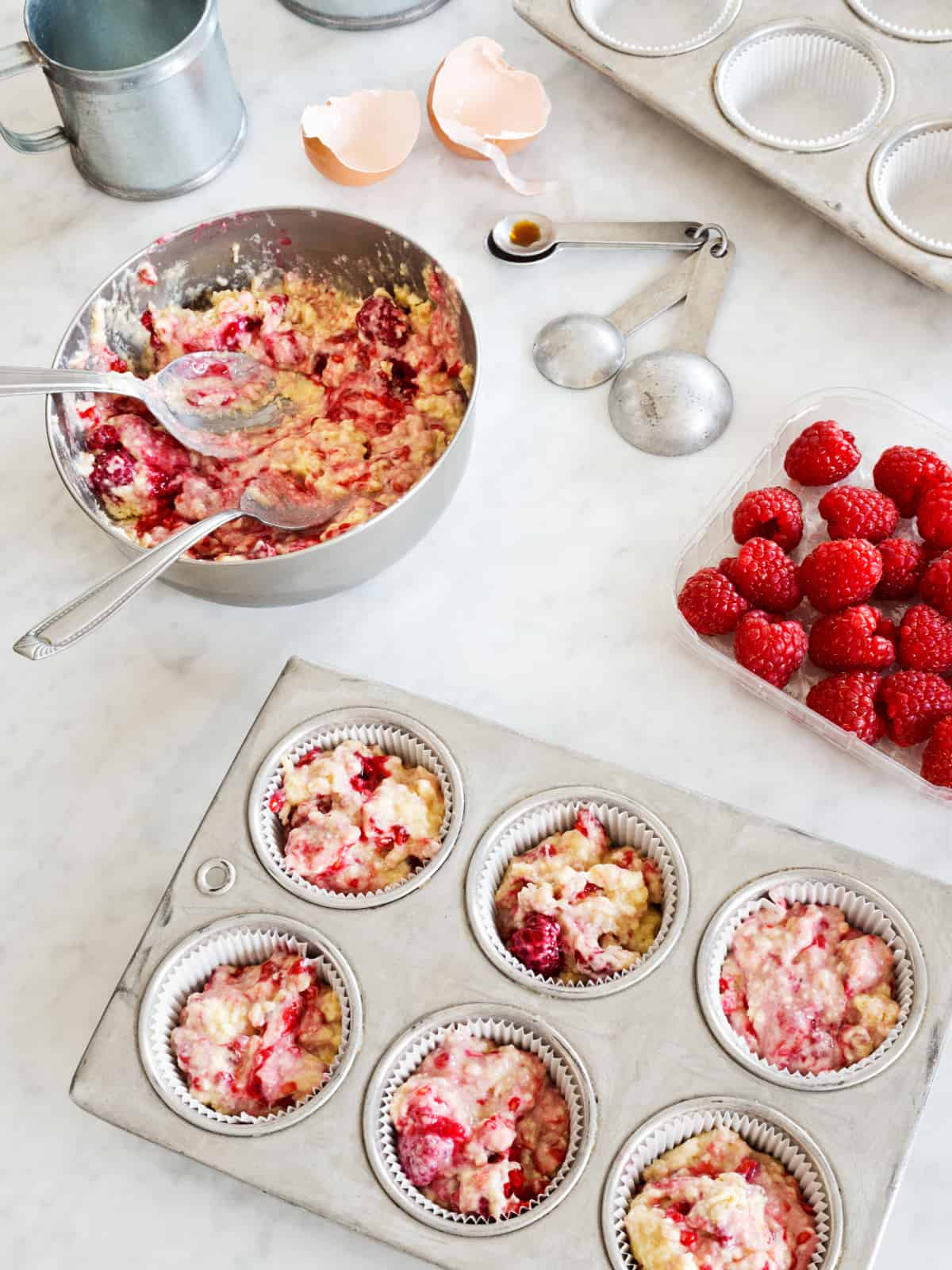 Despite being dairy free, these raspberry muffins are super moist and wonderful to make during raspberry season, when raspberries are at their plumpest and juiciest.
When are raspberries in season?
Raspberries are a summer/fall crop. They are usually at their peak in June in the Southern United States and July in the Northern United States. That means you can make sweet, fresh raspberry muffins all summer long!
Raspberry muffins are still fantastic during the off-peak, buy you may find that the cost of raspberries is much higher during the winter and spring. But there is a simple solution to spending more money to make these dairy free raspberry muffins when the craving hits mid-winter: make a whole bunch in the summer and freeze them!
These dairy free raspberry muffins will be added to our freezer muffin stock pile, ready for the off- season and for a quick snack or breakfast on the go all year round. They will be there along with these filling and fiber-packed oatmeal flax breakfast muffins and sweet strawberry banana muffins!
Ingredients
This recipe uses common baking ingredients. The dry ingredients include all purpose flour, white sugar, baking powder, and salt.
The wet ingredients are: vanilla almond milk, vanilla extract, olive oil, and flax egg.
You will also need the star of raspberry muffins: fresh raspberries!
I do not use frozen raspberries, but you can if that's what you prefer. I love the freshness of juicy in-season raspberries so I opt for them. If using fresh raspberries too, make sure to fold them into the batter very gently so you keep as many of them intact as possible. Raspberries are a fragile fruit and fall apart easily.
Step-By-Step Directions
Making raspberry muffins from scratch is very simple. All you need is one large mixing bowl, a 12-cup muffin tin, and your measuring cups. Follow these steps:
Preheat the oven and spray 12 muffin cups with cooking spray or fill with muffin liners.
Make the flax egg by combining 3 tablespoons of water and 1 tablespoon of ground flax. Let it chill while you prepare the rest of the ingredients.
Mix the flour, sugar, salt, and baking powder in the mixing bowl. In a measuring cup, add the oil, milk, and vanilla extract and mix until combined.
Now pour the liquid ingredients into the dry and mix until the wet and dry are completely incorporated, being careful not to over mix. Add the flax egg and mix again. Add the raspberries and gently fold into the batter.
Pour into the muffin cups, filling each ⅔ of the way to the top. If you have leftover cups (you probably won't), add a couple tablespoons of water to those. This will ensure that the muffins rise evenly.
Bake your raspberry muffins for 20 minutes. To check if they're done, insert a toothpick into the center. If it comes out clean, your muffins are done! If not, bake for another 2 minutes and repeat.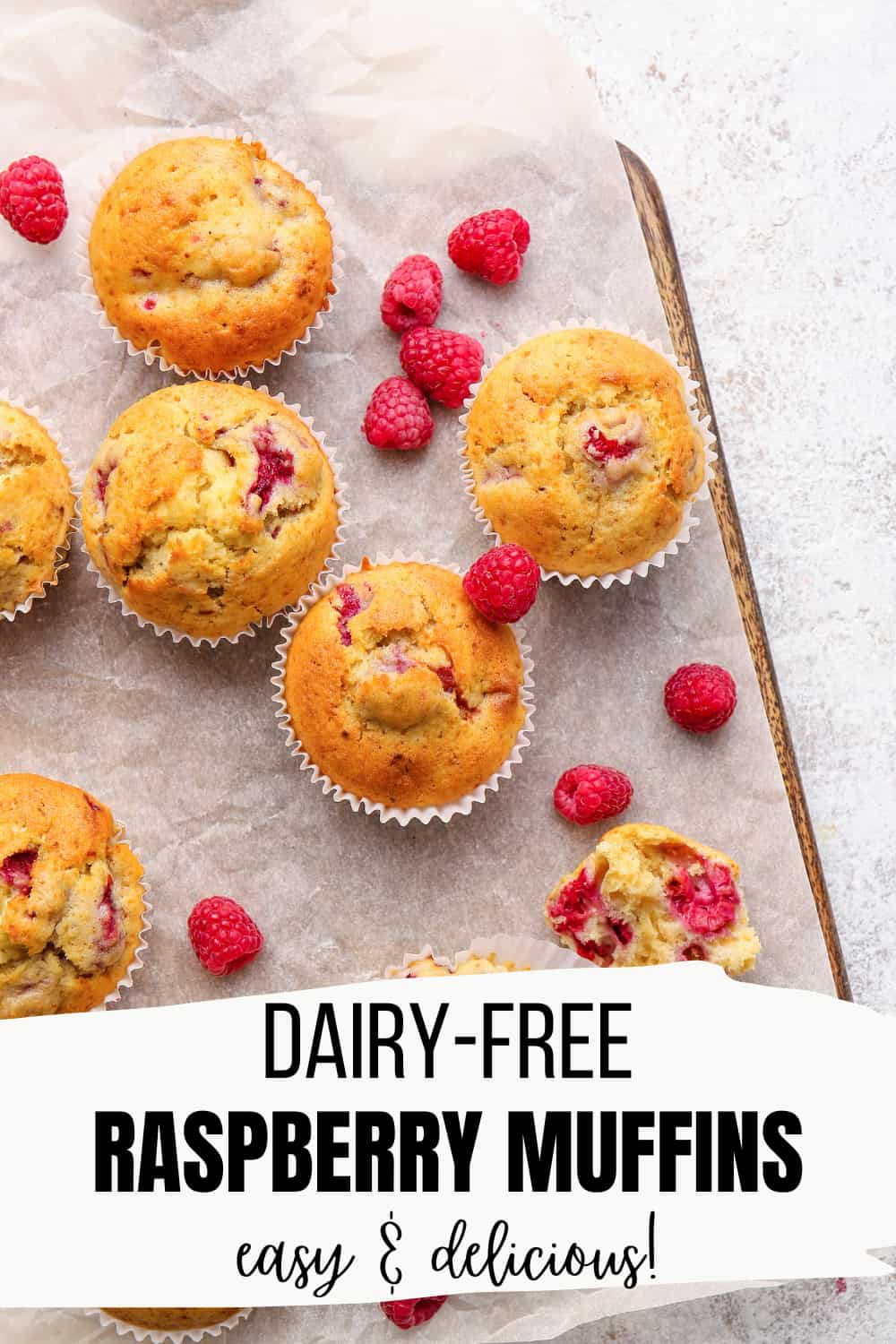 And last, enjoy! Dairy free raspberry muffins are perfect alongside a hot cup of tea, coffee, or a latte. On a hot summer day, enjoy this sweet snack with a big glass of homemade lemonade or iced green tea with honey.
If you enjoyed this recipe, make sure to give it a star rating and let me know what you thought in the comments! And follow me on Facebook, Pinterest and Instagram for more delicious recipes!
Recipe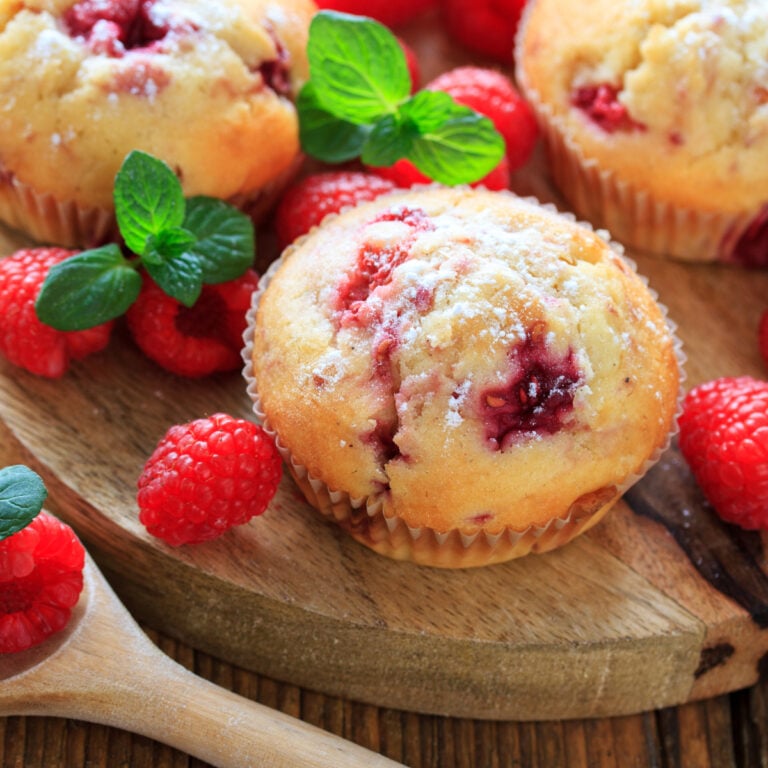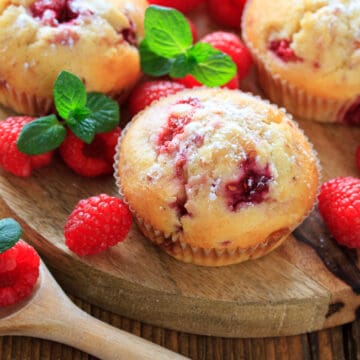 Dairy Free Raspberry Muffins
Dairy Free Raspberry Muffins are made with vanilla almond milk and flax eggs! They are incredibly moist and bursting with sweet berry flavor!
Bookmark Recipe
Saved!
Ingredients
1 ½

cup

flour

⅔

cup

sugar

2

teaspoon

baking powder

½

tsp

salt

⅓

cup

olive oil

2

teaspoon

vanilla extract

¾

cup

vanilla almond milk

1

flax egg (1 tablespoon ground flax + 3 tablespoons water)

2

cups

fresh raspberries
Instructions
Preheat the oven to 400°. Mix 1 tablespoon ground flax seed with 3 tablespoons of water. Let chill while making batter.

Mix flour, sugar, baking powder, and salt.

Add the oil, vanilla extract, and almond milk to a measuring cup and mix well. Add to the dry ingredients and mix until just combined.

Add the flax egg and mix until fully incorporated.

Fold in the raspberries, being careful not to press on them too hard to avoid crushing them.
Nutrition
Serving:
3
oz
Calories:
172
kcal
Carbohydrates:
26
g
Protein:
2
g
Fat:
7
g
Saturated Fat:
1
g
Polyunsaturated Fat:
1
g
Monounsaturated Fat:
5
g
Sodium:
189
mg
Potassium:
55
mg
Fiber:
2
g
Sugar:
12
g
Vitamin A:
7
IU
Vitamin C:
5
mg
Calcium:
68
mg
Iron:
1
mg
RELATED RECIPES