This White Cream Sauce with Milk is perfect for pastas and chicken casseroles. Made with milk instead of heavy cream, along with flour, garlic, and grated cheese. A thick creamy sauce that tastes delicious and is ready in only 10 minutes! Better and healthier than store bought cream sauce!
Jump to:
I know that if I make pasta, my kids will eat. They love pasta. When I'm too tired to even think about mealtime battles, I default to pasta. They could, and would, eat it every night, but are pretty particular about the sauce.
We will never go wrong with tomato sauce, but we all need a change every now and then, so tonight I made a white cream sauce with milk. And it was fabulous!
Making a sauce from scratch might sound overwhelming and time-consuming but it doesn't have to be.
This recipe is incredibly easy and is made with basic pantry and fridge ingredients: milk, flour, garlic, butter, salt + pepper, and parmesan cheese.
It takes less than 10 minutes to make and is super creamy and tasty. It's very similar to making a homemade mac and cheese sauce and broccoli and cheese soup.
🧾 Ingredients
For this white cream sauce with milk, you need:
minced garlic
milk
flour
butter
salt + pepper
Parmesan cheese
Milk: You can use skim, 1%, 2%, whole milk, or evaporated milk. Keep in mind though, that the higher the fat content, the richer the sauce will be.
You can also replace the milk with heavy cream if that's what you have on hand. Both are delicious, but the milk is lower in calories and fat.
Parmesan cheese: Use grated Parmesan instead of shredded, as grated incorporates better into the milk mixture. If using shredded, make sure it's freshly shredded and not packaged shredded cheese. Pre-shredded cheese is coated in preservatives that make it harder to melt without it turning rubbery or stringy.
🔪 Step-By-Step Directions
Making a white cream sauce with milk from scratch is super simple and takes about 10 minutes. While you're working on the sauce, cook your pasta of choice, and you should have dinner on the table in only 20 minutes.
INSTRUCTIONS
Melt the butter in a pan. Add minced garlic and cook for 1 minute.
Add the flour and whisk constantly for 1 more minute. This will create a roux, which looks like a white paste. Make sure the heat isn't too high. Roux burns easily.
Slowly add the milk, stirring as you pour. Keep stirring after all the milk is in the pan, until the sauce thickens a bit. Thickening usually takes a minute or two.
Once thickened, add the salt, pepper, and parmesan cheese— whisk continuously while the cheese incorporates.
Simmer for about 5 minutes. Remove from the heat right away and use on pasta, chicken, casserole, or even steamed veggies!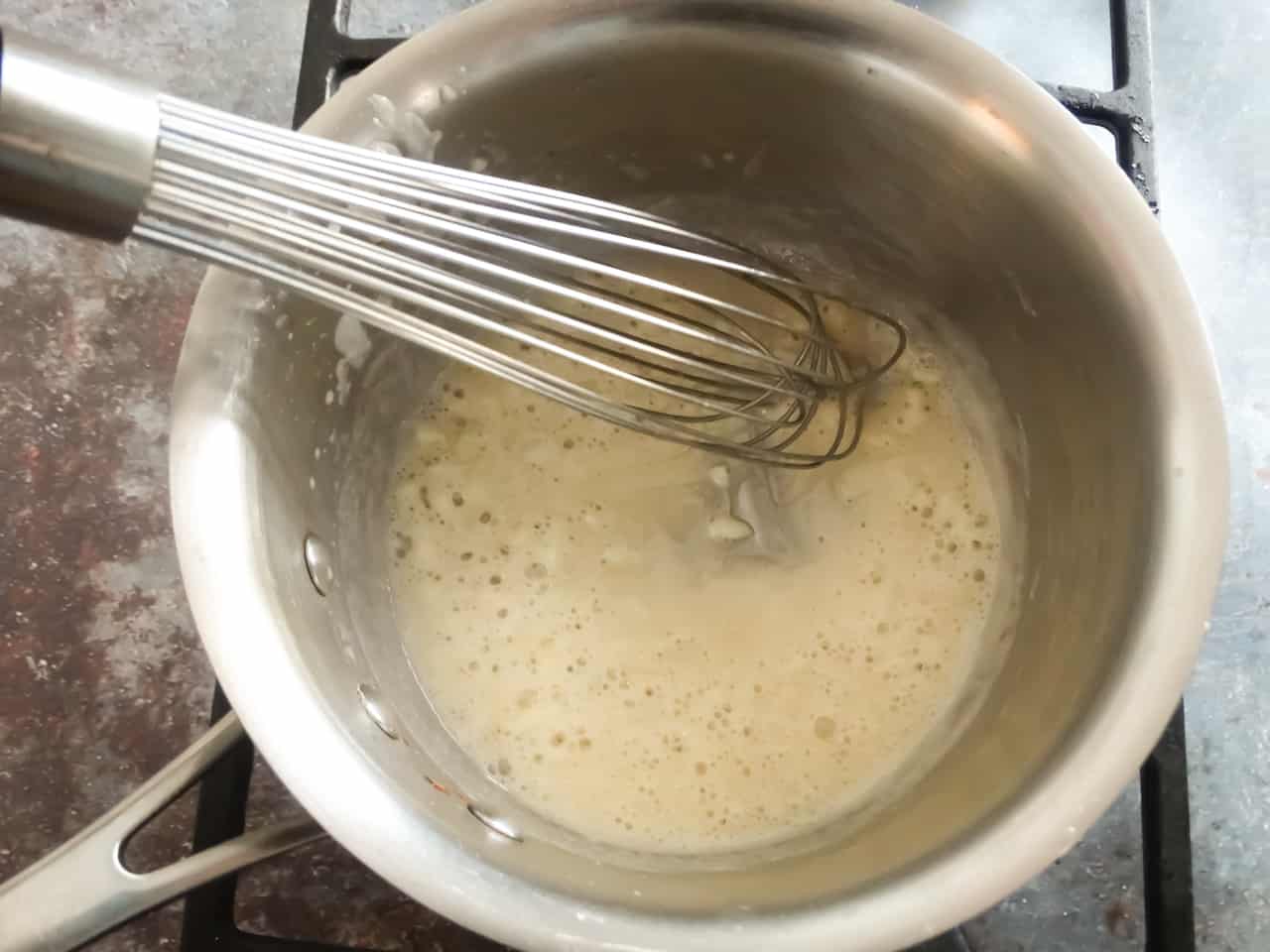 This recipe makes 2 cups of sauce, which is enough for about 12 ounces of pasta. It can be doubled, tripled, or halved. Keep all ingredient ratios proportionate.
If you like my white cream sauce with milk, you might also like my recipe for a quick homemade tomato sauce or this one for a from scratch tomato sauce that is slowly simmered.
📖 Recipe
White Cream Sauce
This White Cream Sauce uses milk, flour, butter, and garlic. It is a creamy white sauce perfect for simple pasta dinners. It is ready in 10 minutes!
Ingredients
2

tbsp

butter

2

cloves

garlic, minced

2

tbsp

flour

2

cups

whole milk

1

tsp

salt

¼

tsp

pepper

¾

cup

grated Parmesan cheese
Instructions
In a sauce pan, melt butter over medium heat. Add the minced garlic and saute for 1 minute. Add flour and whisk constantly for about 30 seconds until a paste forms (called a roux).

Slowly add the milk, being careful not to burn the roux. Whisk constantly until it becomes thick, about 1 minute.

Add salt, pepper, and parmesan cheese. Stir constantly until the cheese melts, about 2 minutes. Simmer for 5 minutes, stirring frequently.

Remove from heat immediately and add to cooked chicken, pasta, fish, or vegetables.
Nutrition
Serving:
4
oz
Calories:
174
kcal
Carbohydrates:
10
g
Protein:
12
g
Fat:
10
g
Saturated Fat:
6
g
Cholesterol:
29
mg
Sodium:
927
mg
Potassium:
190
mg
Fiber:
1
g
Sugar:
7
g
Vitamin A:
354
IU
Vitamin C:
1
mg
Calcium:
353
mg
Iron:
1
mg
🍽 Serving
This sauce is delicious on pasta and chicken. It can be drizzled over vegetables or baked salmon and shrimp.
It's also fantastic mixed into rice, especially creamy casseroles that use rice as their base.
🍽 Storing
Fridge: store your cream sauce in a mason jar or airtight container in the fridge for up to 2 days.
Freezer: store it in the freezer in a plastic bag for around 6 months. However, this cream sauce is best used fresh on the same day.
That is all you need to know about making a homemade white cream sauce with milk for pasta. It's easy peasy!
Please let me know what you think in the comments below.
And make sure to follow me on Facebook, Pinterest and Instagram for the latest recipes!
🥧 Related Recipes You'll Love