This quick and easy Homemade Lemonade recipe uses half the sugar as many traditional lemonade recipes. It's ready in less than 10 minutes and is a perfect thirst quencher on hot summer days! Made with only three simple ingredients: fresh squeezed lemons, water, and sugar.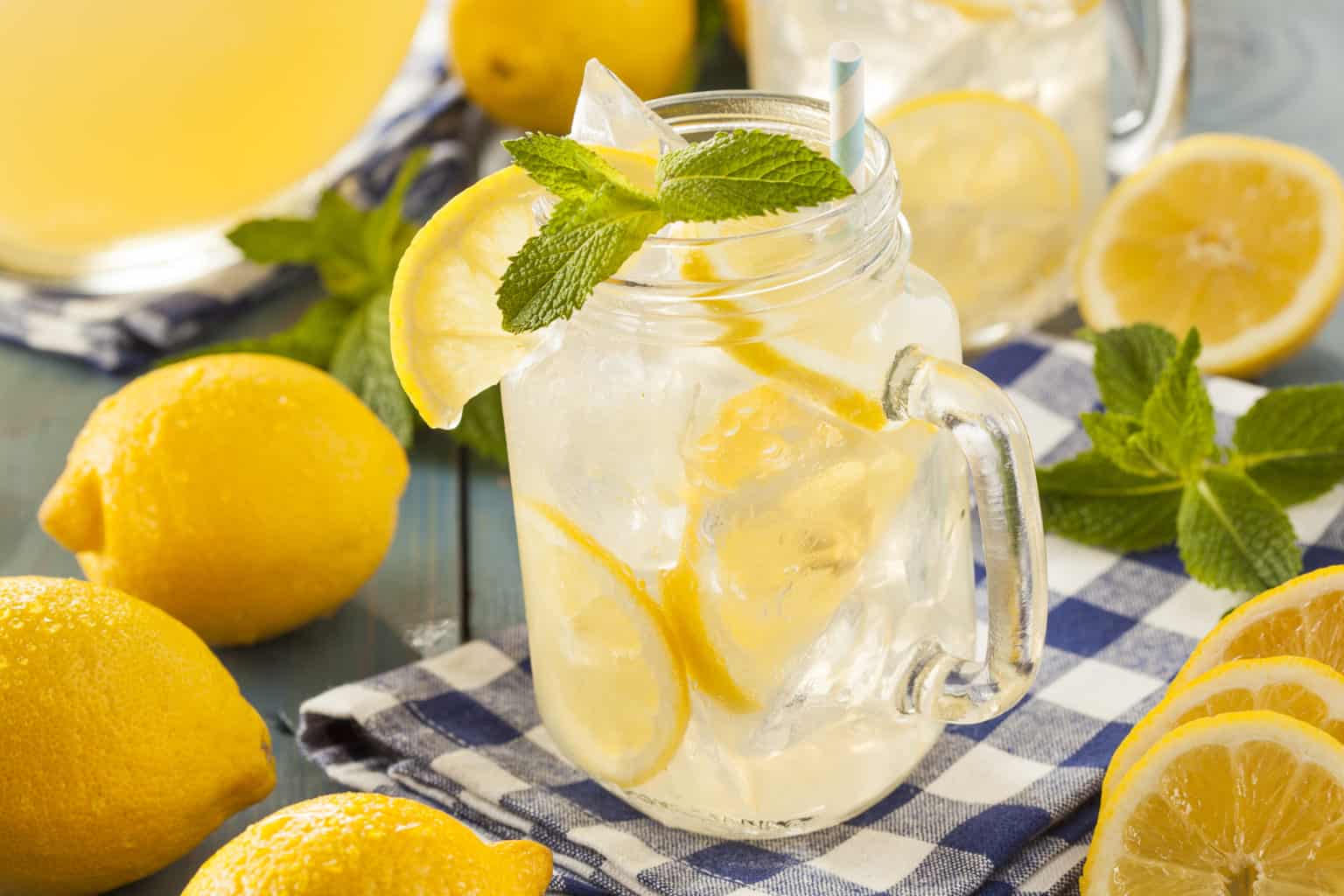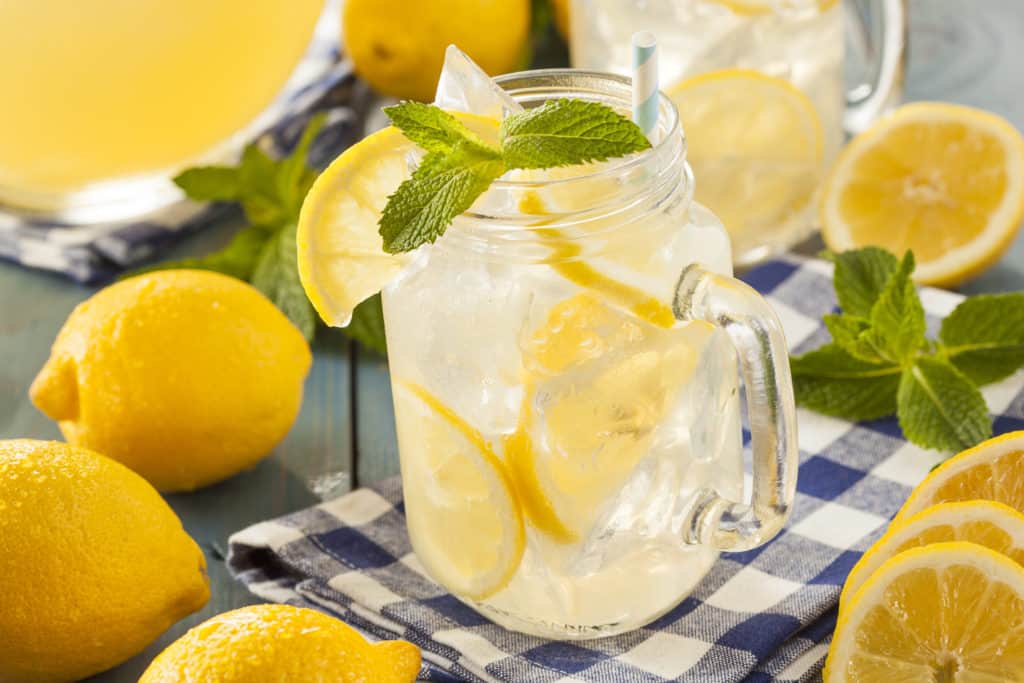 This homemade lemonade is a simple, classic favorite that uses nearly half the sugar that many other recipes use. You really can't go wrong with a classic lemonade at spring and summer BBQs, pool parties, and picnics. You can even use popsicle molds and freeze it to make lemon bars! It's refreshing nature makes any hot day feel a little less sweltering, and that is much welcome here in swampy Northern Virginia!
One of our favorite snacks on a hot summer day is this easy homemade lemonade paired with my homemade Greek yogurt drizzled with honey. No, it's not the summertime yet. It is far from it at the end of this blustery and rainy February, but this weekend my daughter drank 2 gallons of lemonade. 2 gallons in 2 days thanks to her ever-loving grandfather who will buy and give her anything she asks for.
I wasn't too worried about it because lemonade is a special summertime treat for us. Technically, we were on a mini weekend vacation, and despite it being February, it was unusually warm. I guess it seemed well suited to her that she request lemonade and drink the entire gallon solo. Then of course ask for more. And granddad happily obliged. She may not have been drinking this 3 ingredient easy homemade lemonade recipe, but at least she was drinking all natural lemonade. It's a close second, although I don't think quite as good as this "healthier" homemade lemonade with less sugar.
This weekend's lemonade fest reminded me of how much I missed the summer and making this for my family. Seeing that little one's eyes light up when she walks into the kitchen to find me squeezing lemons is priceless and melts my heart. It's the simple things, isn't it?
Once you master a homemade lemonade recipe, it will be hard to buy a store bought jug again, I promise. All you have to do is look at the ingredients in that store bought jug and you'll swear off ever buying juice again. Except for those days and weeks that are endlessly busy and barely have time to breathe, let alone squeeze lemons and oranges to make homemade juice. And that's okay! We all need a break every now and then.
But until then, you should be making this easy homemade lemonade recipe and savoring every last ounce. I also promise that it will not last long! Especially in a house full of thirsty kiddos.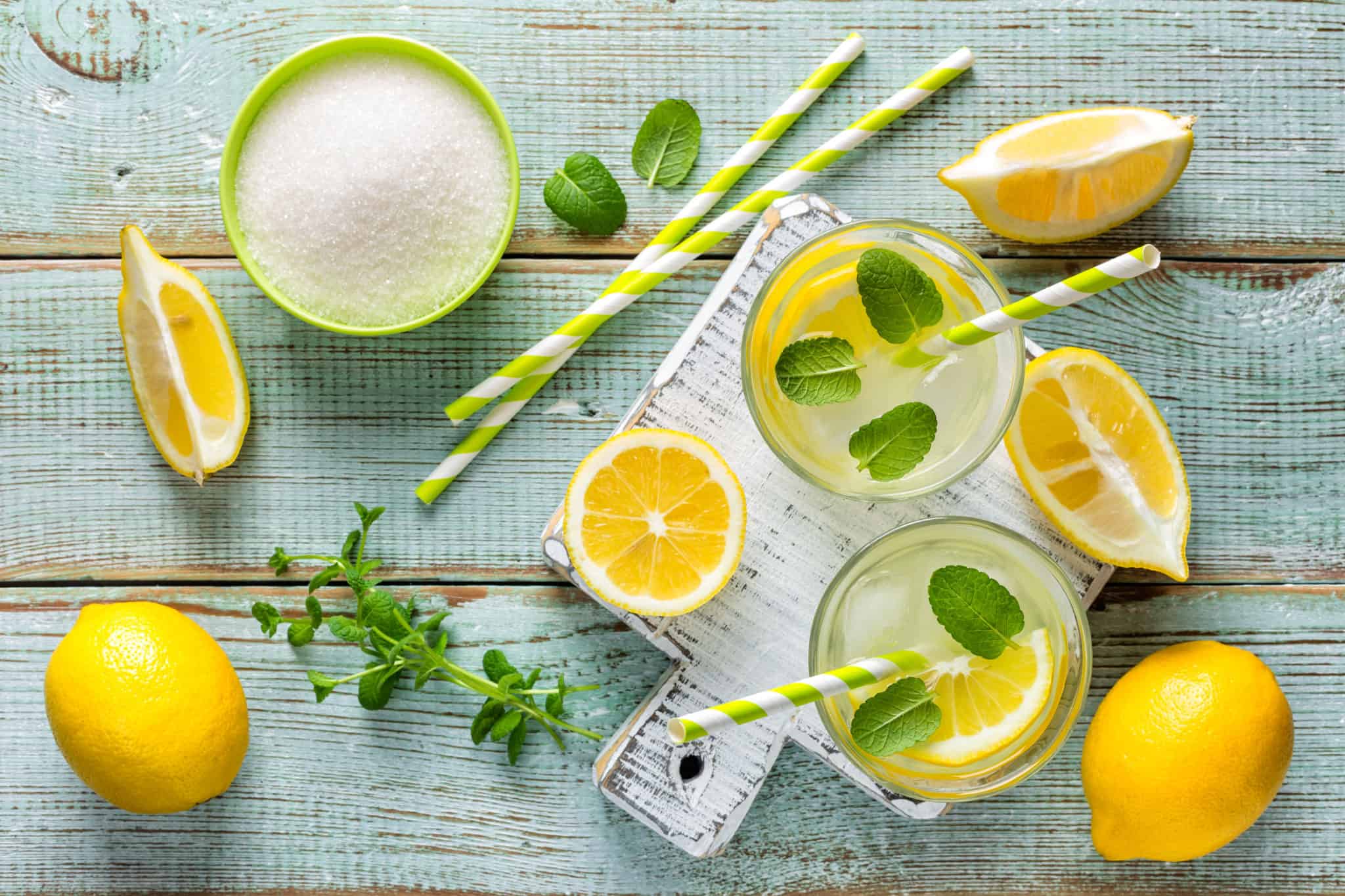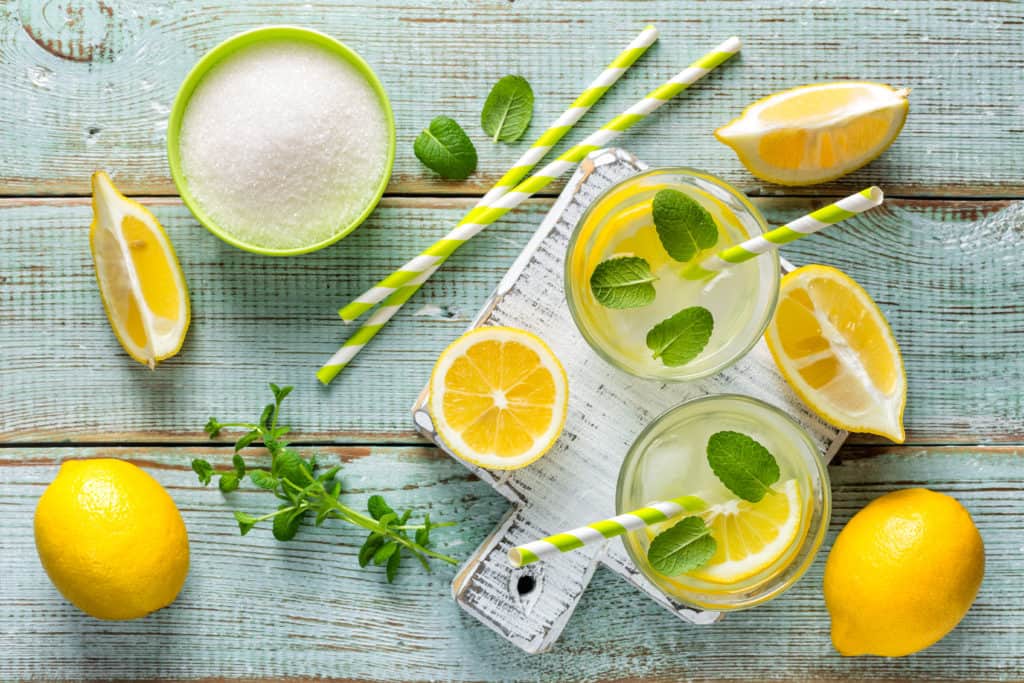 ingredients for an easy homemade lemonade recipe
You only need 3 very simple ingredients to make this easy homemade lemonade.
Lemons
Water
Sugar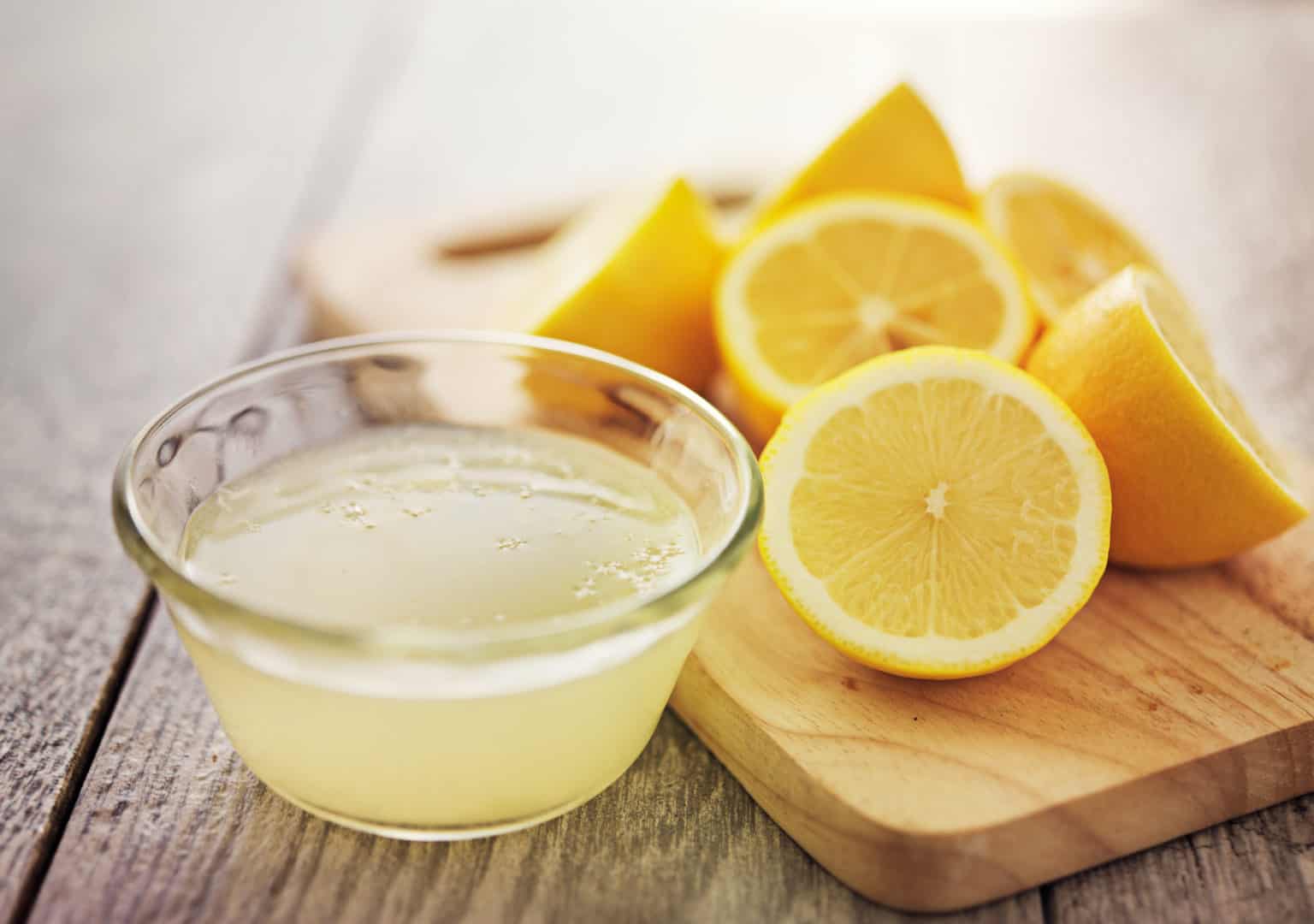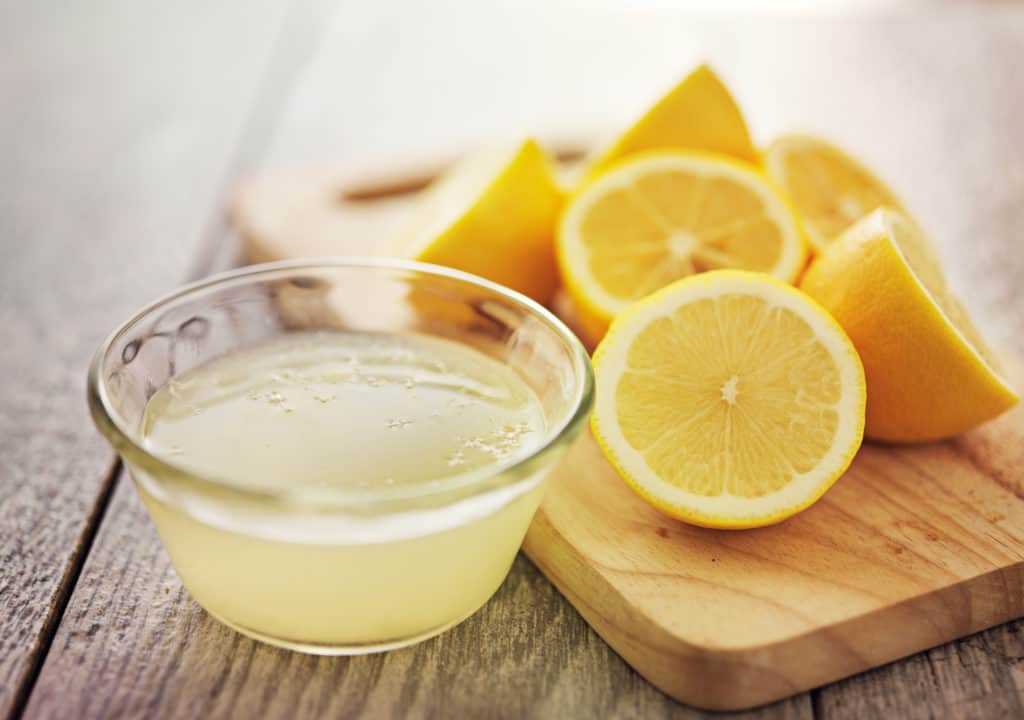 steps to making easy homemade lemonade
Making lemonade from scratch is so simple. Anyone can do it .There is no cooking ability required! I love having my daughter help me squeeze the lemons or pour in the water.
This recipe has just 3 steps and takes just 7 minutes from start to finish.
Combine 1 cup of water ½ cup of sugar in a small pot. Bring to a boil and stir until sugar has dissolved. Remove from heat.
While the sugar and water are coming to a boil, cut lemons in half and squeeze juice into a large pitcher.
Add 6 cups of cold water and the 1 cup of sugar water. Stir thoroughly. Chill in the fridge or add ice to chill immediately.
Always taste your lemonade to make sure it suits your preferences. You can always add more sugar or lemons.
You can make homemade lemonade even more refreshing by garnishing with fresh mint leaves when serving. You can also add a handful of mint leaves to the entire jug prior to chilling, if you want a homemade lemonade that has a cooling minty taste to it. Remember, though, that the longer the mint leaves sit in the lemonade, the more minty it will taste.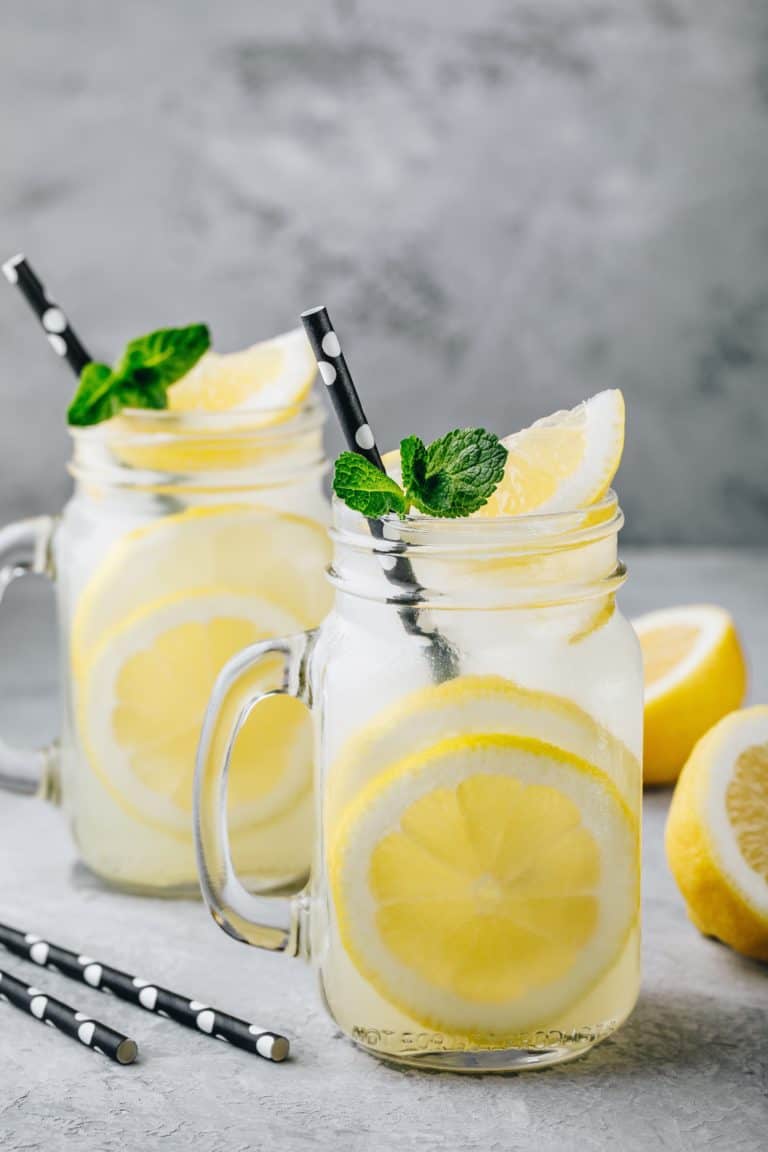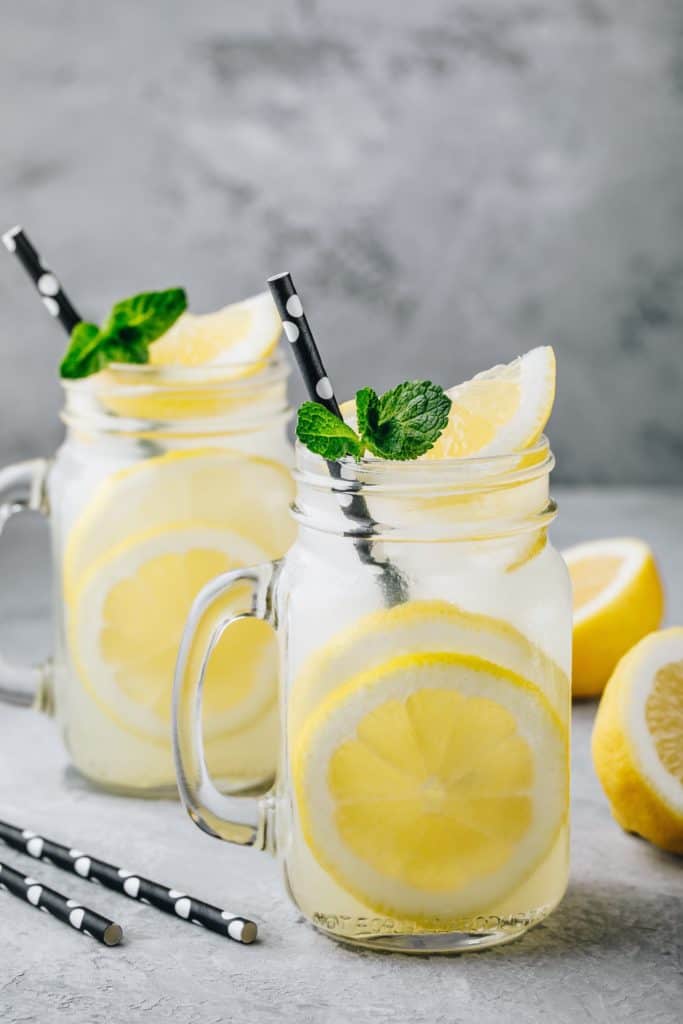 tips to making it even simpler
If your lemons don't feel very soft, roll them on the counter a few times using pressure from your hand as you roll. This will help soften them up and make squeezing out all of the juice that much easier. Plus, they won't squirt all over your kitchen if they are soft.
I also recommend being careful not to squeeze lemons if you any cuts or scrapes on your hands. It will burn like heck after a while! Always use gloves if you do.
Some homemade lemonade recipes skip the step of dissolving the sugar in the water. Don't do this! This step is crucial to getting the sugar to incorporate fully into the liquid. When we get fresh squeezed lemonade from the farmer's market, the man makes it right in front of us. It's so fun to watch! But he adds sugar crystals to the water and lemons in a shaker. Then he vigorously shakes it up to dissolve the sugar. This if totally fine if you are making one serving of homemade lemonade, but not so easy if you are making a whole jug!
kid-friendly lemonade
Next to apple juice, lemonade is one of the kid-friendliest drinks there is. If you want to keep this homemade lemonade recipe truly kid friendly thought, it's probably best to steer clear of using green garnishments. Stick with strawberry slices or maraschino cherries to get those kiddos really looking forward to this summertime treat!
Easy Homemade Lemonade
Homemade, simple, and ready in less than 10 minutes, this Easy Homemade Lemonade uses half the sugar as the traditional types. A perfect thirst quencher for summer BBQ's and parties!
Materials
½

cup

sugar

7

cups

water

7

lemons
Instructions
Bring 1 cup water and the sugar to a boil. Remove from heat and stir sugar to dissolve.

While water and sugar are boiling, cut lemons in half and squeeze into a jug, using a strainer to catch the pits and pulp.

Add the sugar water and the remaining 6 cups of water to the jug.

Chill or add ice to serve immediately.
Notes
Garnish with fresh mint if desired.
Nutrition
variations to homemade lemonade
For a homemade lemonade without refined white sugar, you can use:
honey (⅔ cup to every 1 cup of sugar)
stevia (1 teaspoon to every 1 cup of sugar)
maple syrup (¾ cup to every 1 cup of sugar)
coconut sugar
For garnishment, include extra lemons, sliced strawberries, or cherries in addition to or in place of the mint leaves.
I hope you enjoy this tasty homemade lemonade! Don't forget to follow me on Pinterest for the latest recipes. If you've made this one, comment and let me know what you think!
For more fantastic summer recipes, try