Make crunchy Air Fryer Green Beans in 8 minutes using fresh, frozen, or canned green beans. Only 4 ingredients: beans, salt, pepper, oil! Air frying vegetables is incredibly easy. It takes a fraction of the time that roasting them in the oven does. And you generally use less (and sometimes no) oil.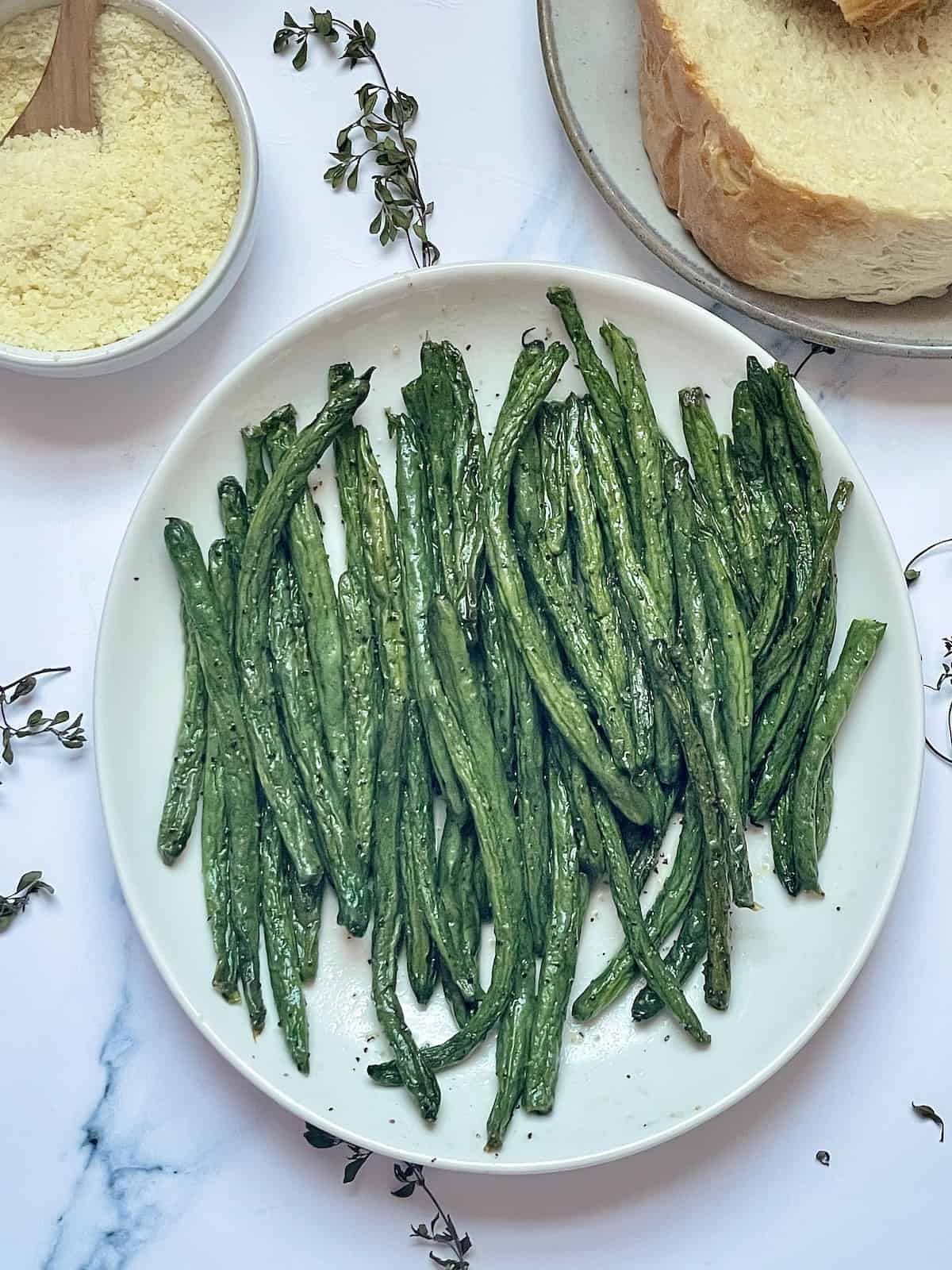 The air fryer is a fantastic kitchen appliance for making almost anything- from creamy baked sweet potatoes to cookie balls to meatball subs and quesadillas!
Vegetables stay crisp, yet tender, because they don't sit in their own juices or extra oil while cooking.
Air fryer green beans are just that- tender on the inside and crispy on the outside. This recipe uses just enough oil to coat the beans so that the salt and pepper stick nicely.
Dump them into the air fryer in a pile and let the machine cook away!
Before jumping to the recipe, scroll through this quick post to read some helpful tips that lead to perfect crispy air fryer green beans.
And while you're here, make sure to check out these easy air fryer recipes, too!
More Air Fryer Recipes You Should Try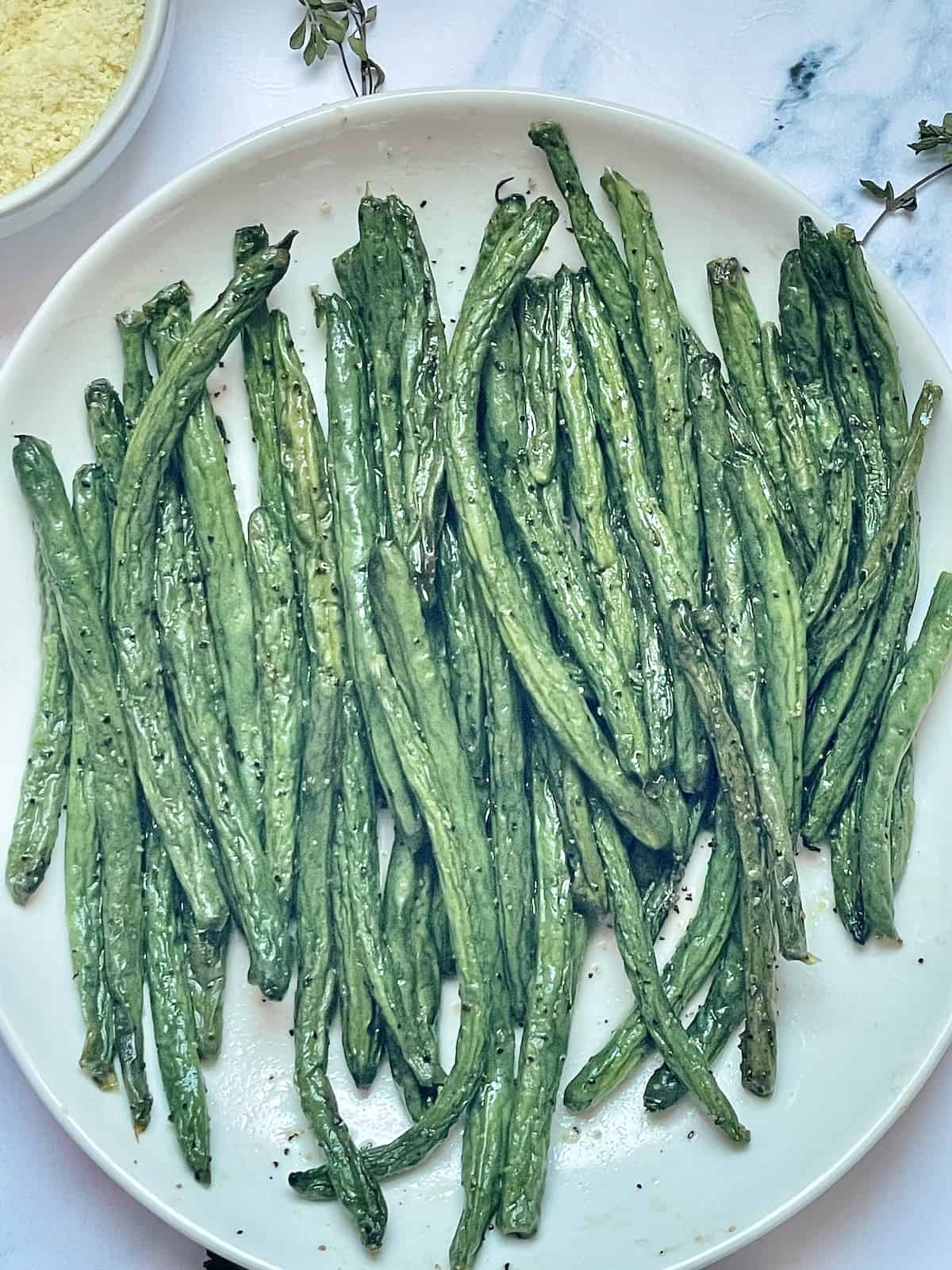 Timing and Temp
Green beans can be air fried at 375 degrees Fahrenheit whether you use fresh or frozen and whether you prefer them on the crispier or softer side.
For crunchier green beans: 8 minutes.
For softer green beans: 10 minutes.
Because vegetables can be stacked in the air fryer, you should always toss them halfway through. This will help them to evenly cook and prevent sticking.
Ingredients
This simple wholesome recipe is made with just 4 ingredients: green beans, olive oil, salt, and pepper.
Can I Air Fry Green Beans Without Oil?
You do not need to use oil when air frying green beans. You can replace the oil with a little butter or leave it out entirely. Keep in mind, though, that seasonings may not stick as well without it.
Can I Use Frozen Green Beans?
Yes. To use frozen green beans, cook for 2-3 minutes longer.
Can I Use Canned Green Beans
Yes, you can air fry canned green beans, too. Cook them at the same temperature as fresh or frozen but for only 4 minutes. Season with salt, pepper, and a little butter when they are done. Canned green beans will remain soft even when air fried.
Variations
Air fried vegetables are completely customizable with your preference for herbs, spices, and other seasonings. You control how much salt and pepper you use, which is particularly important for some diets.
This air fryer green beans recipe uses a good amount of pepper and salt. But you decrease these amounts as you wish. For sensitive palettes, you may want to start with less pepper and see how you like it.
Add Seasonings: garlic powder, paprika, thyme, and basil are all great additions.
Add Parmesan: toss the green beans with a ¼ cup of grated parmesan cheese before air frying to make them parmesan-crusted.
Add Spice: toss them in chili powder or ancho powder for a spicy version.
Step-By-Step Directions
Make them in 2 simple steps:
1. Rub the green beans in just enough olive oil to coat them. Sprinkle with salt and pepper. Toss and dump into the air fryer basket. *If you're concerned about the green beans sticking to the basket, coat it lightly with oil spray before adding them.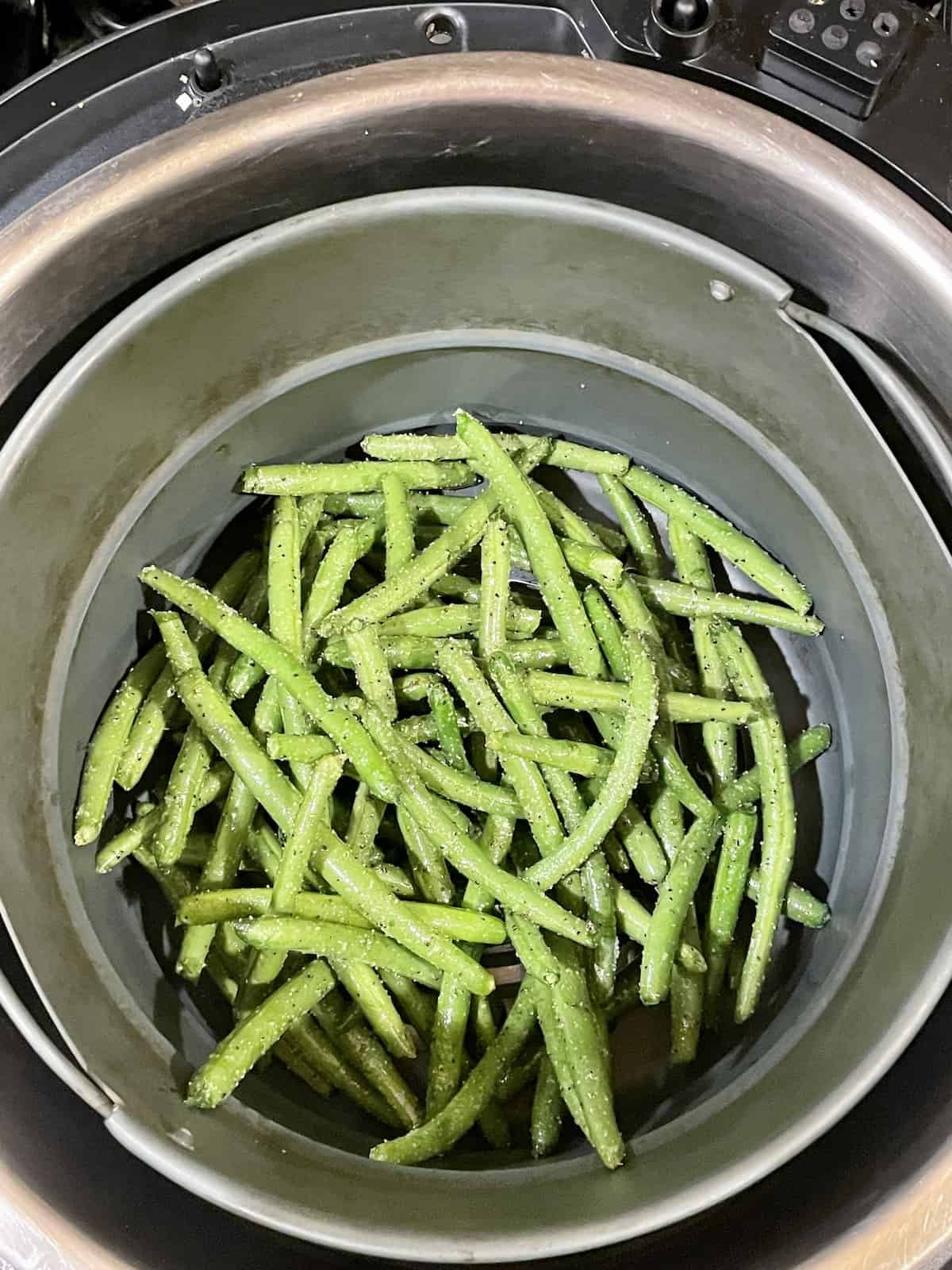 2. Set the air fryer to 375 degrees Fahrenheit for 8 minutes for crunchy green beans and 10 minutes for softer beans. Toss halfway through.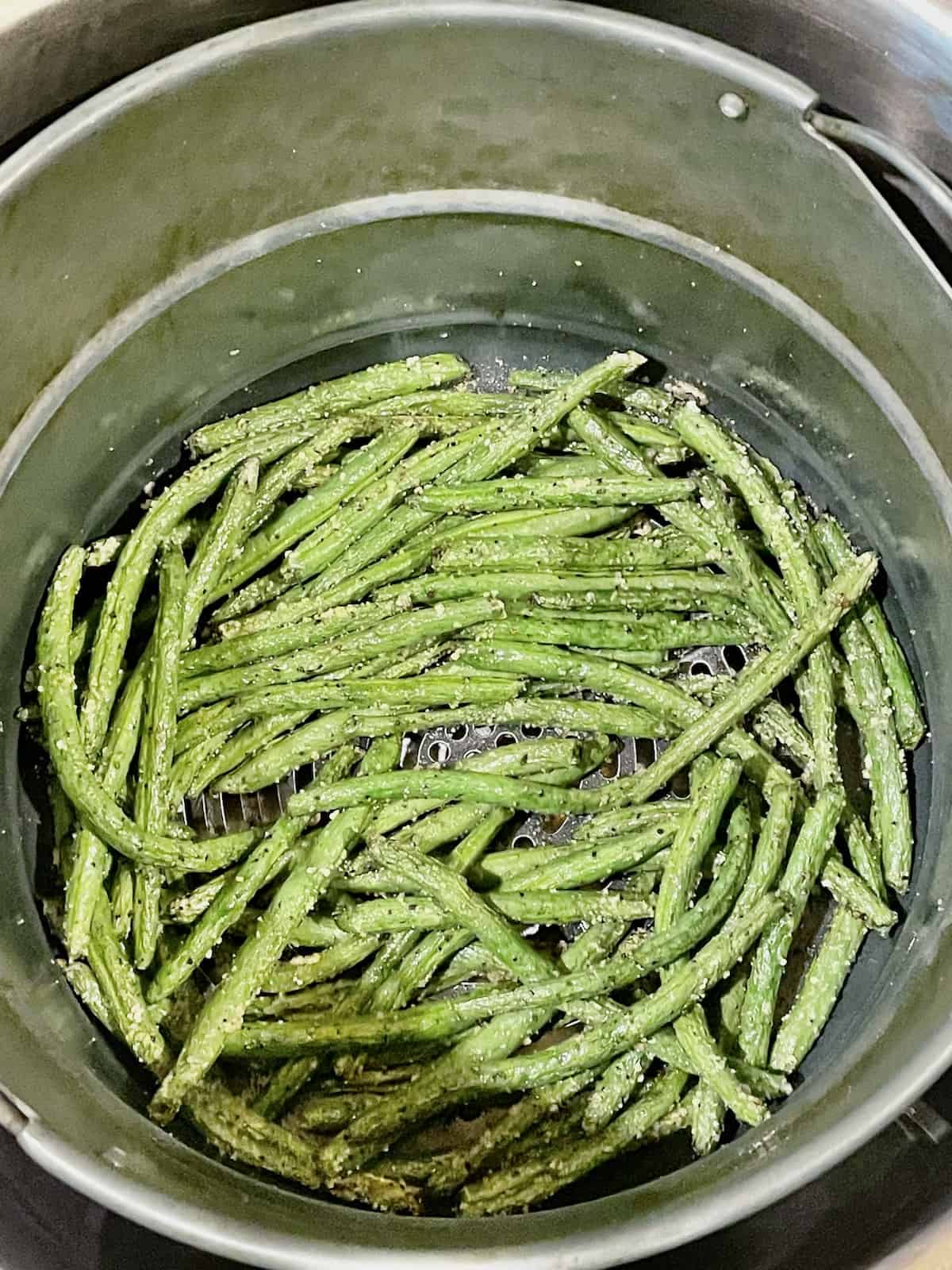 Serve with your favorite main dish, like maple glazed salmon, air fried chicken tenders, or grilled lemon-lime chicken.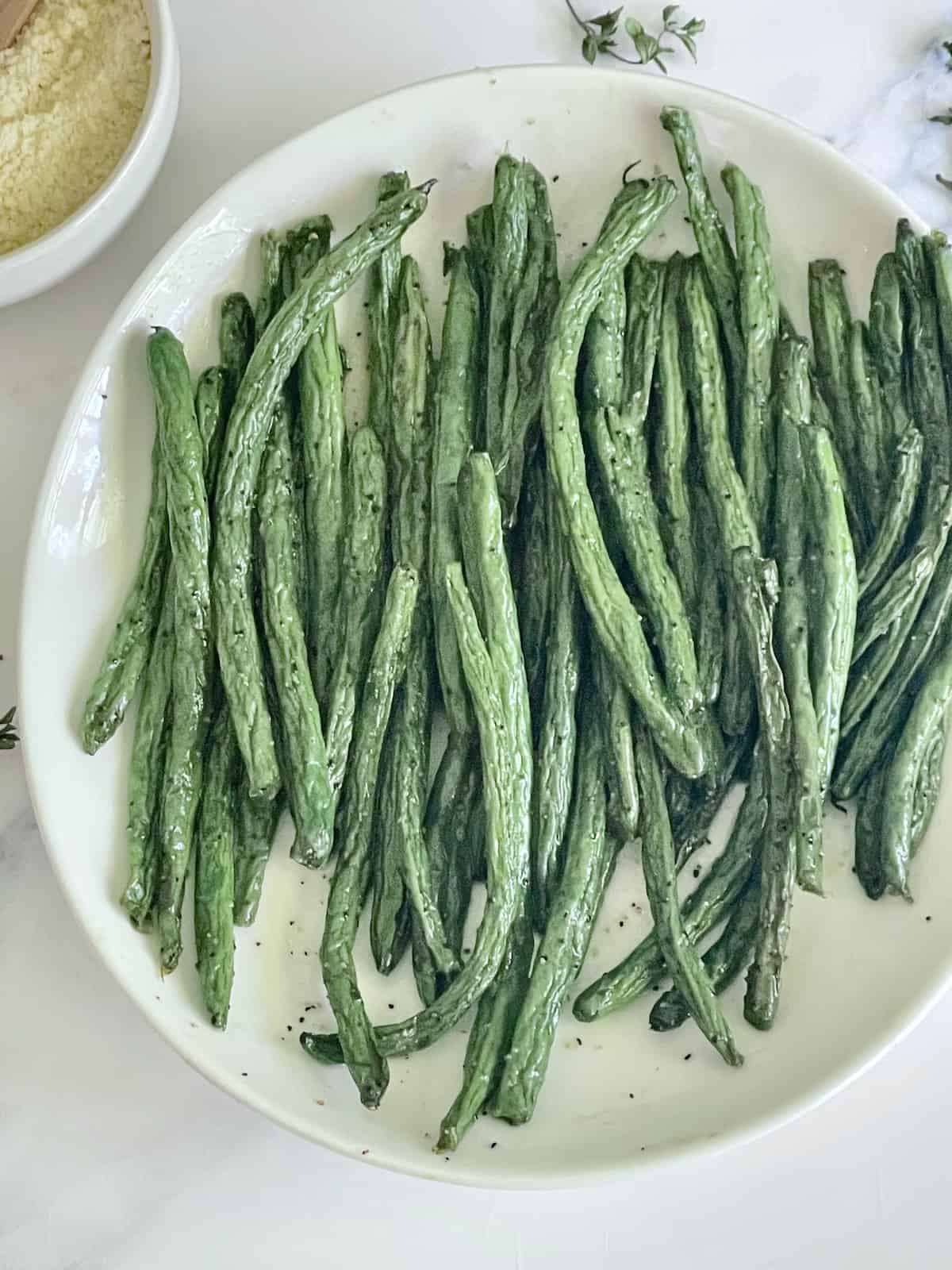 If you enjoyed this recipe, make sure to give it a star rating and let me know what you thought in the comments! And follow me on Facebook, Pinterest and Instagram for more delicious recipes!
Recipe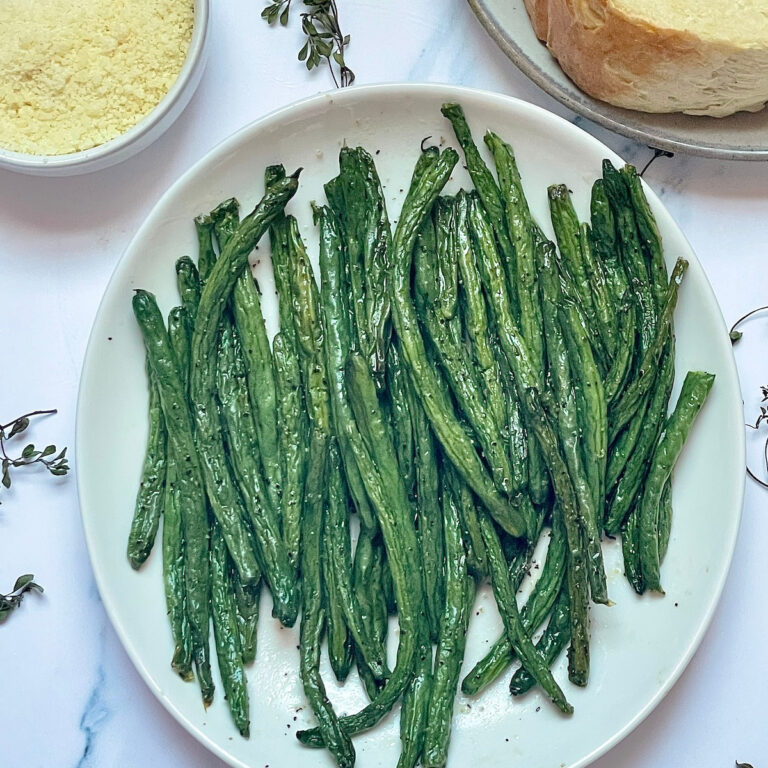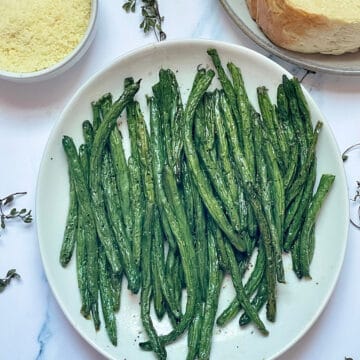 Air Fryer Green Beans
Make crunchy Air Fryer Green Beans in 8 minutes using fresh, frozen, or canned green beans. Only 4 ingredients: beans, salt, pepper, oil!
Add to My Collection
Saved!
Ingredients
1 ½

lb

green beans

olive oil, to coat

1

teaspoon

salt

½

teaspoon

pepper
Instructions
Preheat the air fryer to 375° F if your air fryer calls for preheating.

Rub the green beans with just enough oil to coat them. Toss with salt and pepper.

Put in the air fryer basket or tray and set to 375 degrees for 8 minutes. Toss halfway through. *Spray basket/tray with a light coat of oil if desired, to further prevent sticking.
Notes
For softer green beans, air fry for 10 minutes.
Nutrition
Calories:
53
kcal
Carbohydrates:
12
g
Protein:
3
g
Fat:
1
g
Saturated Fat:
1
g
Sodium:
592
mg
Potassium:
362
mg
Fiber:
5
g
Sugar:
6
g
Vitamin A:
1175
IU
Vitamin C:
21
mg
Calcium:
64
mg
Iron:
2
mg
Recommended Recipes