Homemade Margherita Pizza makes pizza night even better with healthy ingredients like fresh mozzarella and basil, tomato sauce, garlic powder, and sea salt. Baked on flatbread in the toaster, this is a quick family-friendly healthy pizza!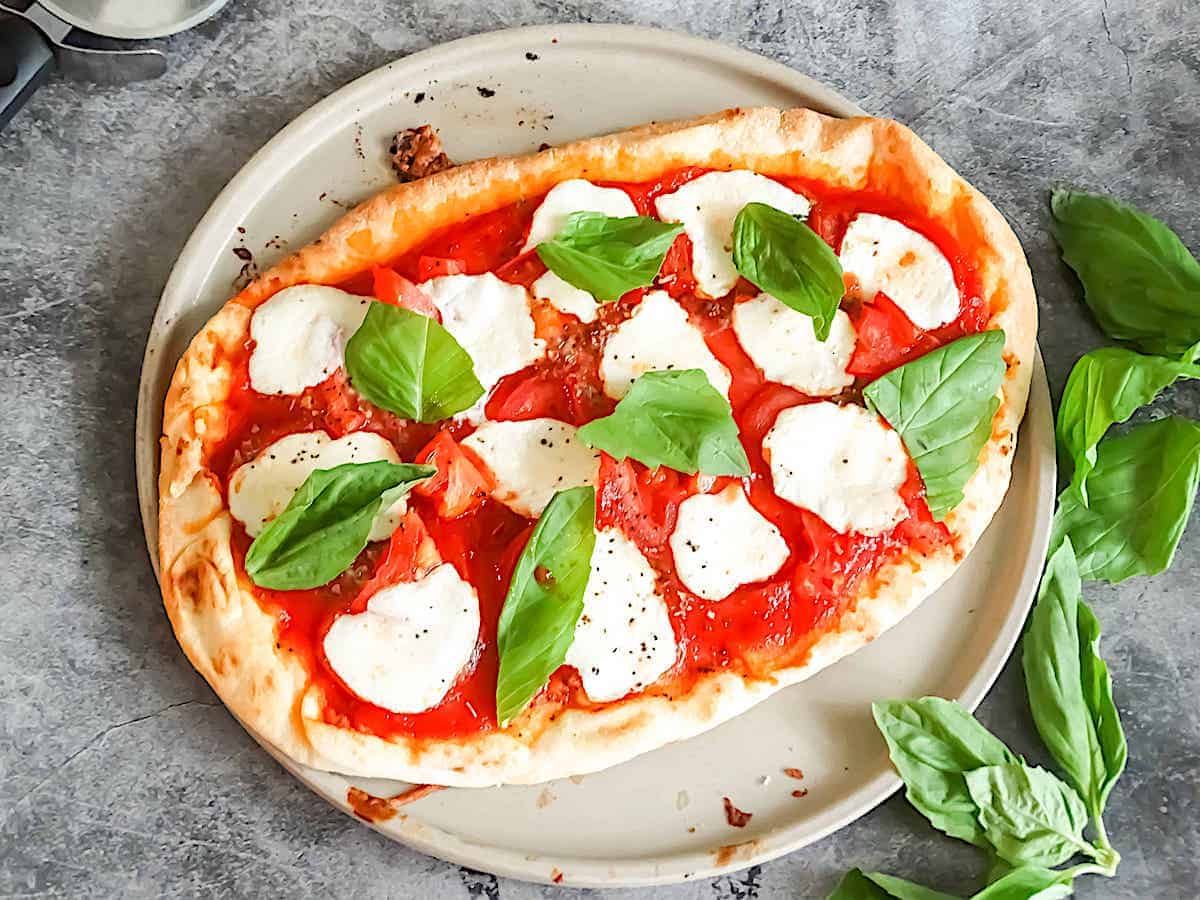 Jump to:
In this flatbread pizza recipe, tomato sauce is layered on a slice of na'an, sprinkled with oregano and garlic powder, then topped with fresh tomatoes, mozzarella, and basil.
Add a sprinkle of sea salt, pop it in the toaster for 10 minutes and you've got a quick, healthy dinner ready in just 15 minutes!
Perfect for busy weeknights or lazy weekends.
My Homemade Margherita Pizza is packed with antioxidants and vitamin C from the tomatoes. And cheese is a great place to get vitamin A and B-12. Even basil is full of vitamins and minerals.
I could eat pizza every day, for every meal. Who can resist the gooey cheesy taste of a fresh pizza?
Ingredients
You will need:
Na'an bread: you can use plain or garlic na'an, but I prefer plain so you can really taste the other ingredients.
Plain tomato sauce: I use a can of tomato sauce without any seasonings.
Fresh mozzarella slices: whole milk mozzarella is preferred because it melts better than part-skim, which tends to brown more easily.
Oregano & garlic powder: these really give the sauce a bit of a kick, so don't skip them!
Chopped tomatoes: you can also use slices. I like using plum tomatoes because they cut smaller, but you can use whatever tomatoes you have on hand.
Fresh basil leaves: I don't recommend substituting with dry basil. The fresh basil really enhances the other flavors.
Sea salt: I also don't recommend substituting with table salt. The minerals in sea salt enhance its flavor and your pizza won't be as tasty without it. Be subtle with sea salt at first. You can always add more.
Step-By-Step Directions
Making flatbread pizza is super easy! It takes minutes to prepare and minutes to bake.
First, preheat your toaster oven to it's highest setting. Mine is 450, and I think this is pretty standard. If yours has a higher setting you should cook the pizza for a few minutes less. If you prefer to use your standard oven you can do that too.
Most importantly, leave a pizza stone inside the oven. Transferring your uncooked pizza to a heated stone creates that crispy crust we want here. If you don't have a pizza stone you can use the toaster pan, but I am not sure if it will have that perfect crispy crust.
Next, layer your na'an with the tomato sauce. Sprinkle with garlic powder and oregano and place the mozzarella slices evenly around the na'an. Add your tomatoes in the gaps between the cheese and sprinkle with sea salt. Drizzle with a little olive oil, probably about a teaspoon or two.
Put on the stone and bake for 10 minutes. Remove from the toaster and lay the basil leaves on top. Let them settle into the pizza for a few minutes and then enjoy nice and warm!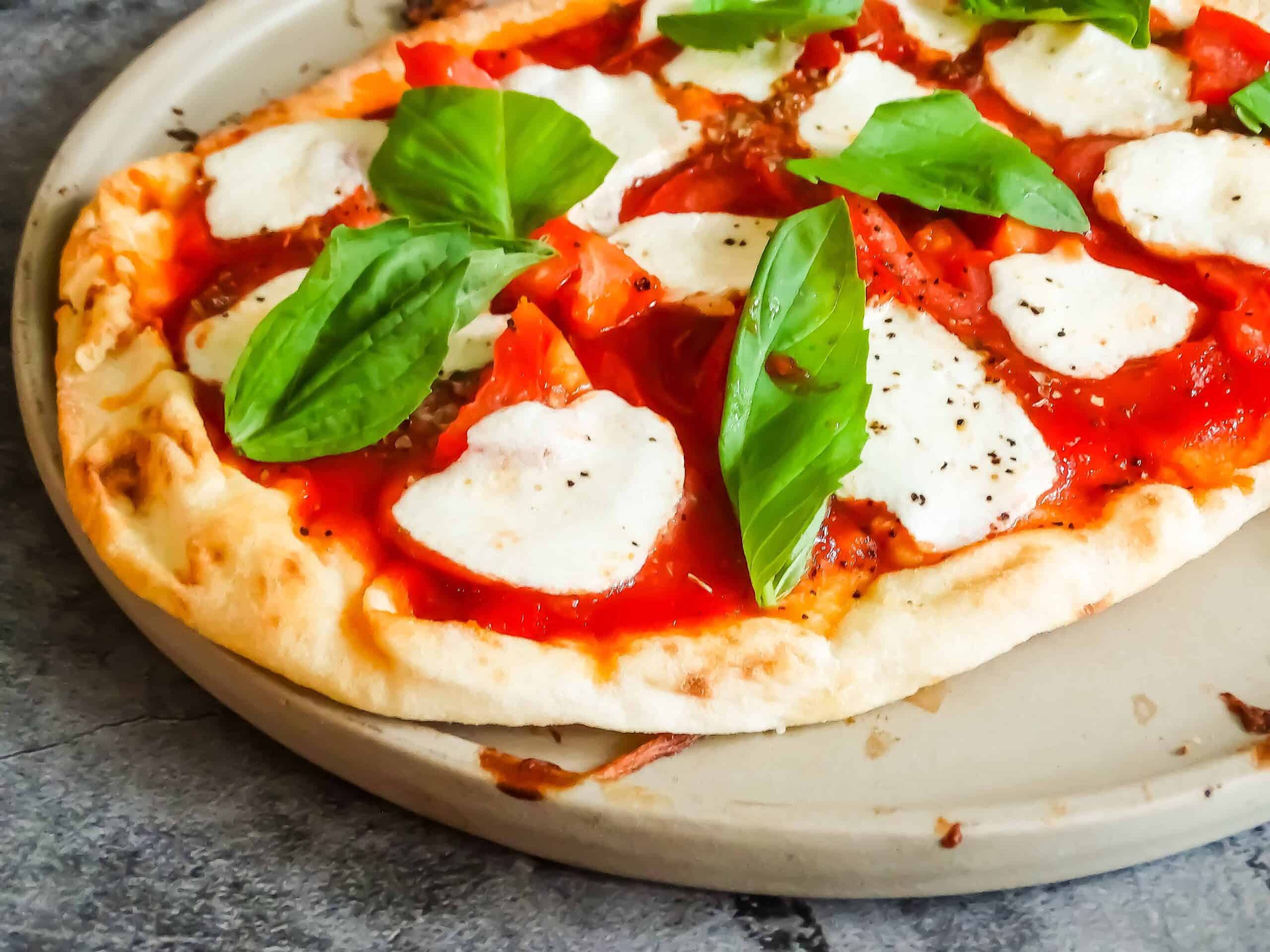 Enjoy!
Recipe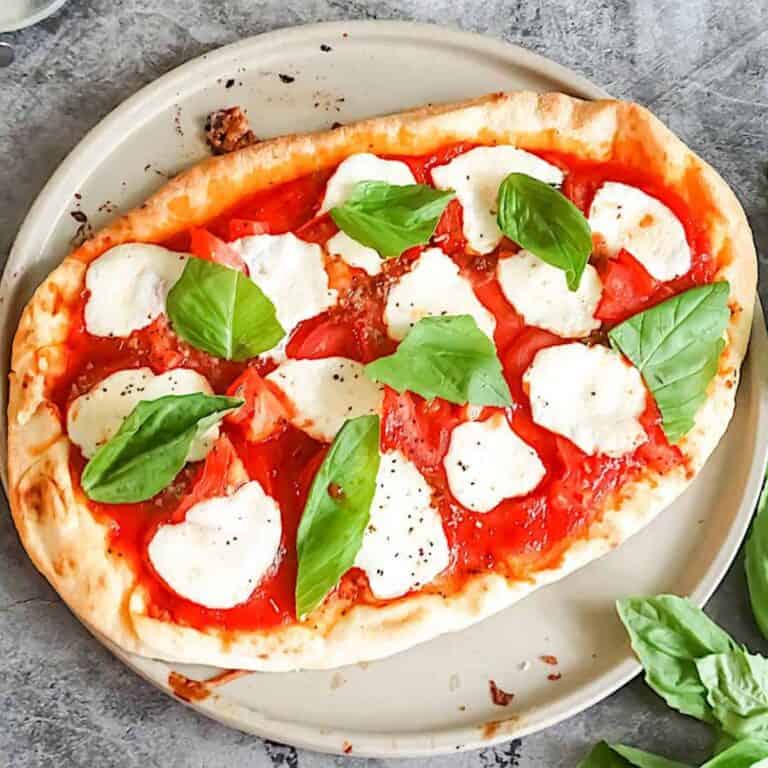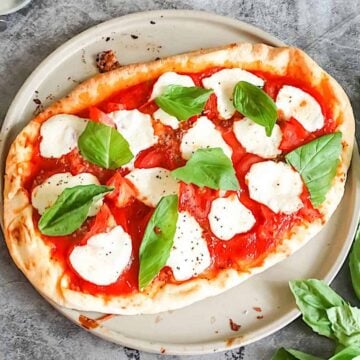 Homemade Margherita Flatbread Pizza
A quick, easy and stunningly delicious Homemade Margherita Na'an Pizza that takes less than 15 minutes and can be made in a standard or toaster oven. It makes a perfect dinner for a lazy or busy weeknight with the kids!
Ingredients
1

na'an bread

¼

cup

tomato sauce

1

tsp

garlic powder

1

teaspoon

oregano

¼-1/2

mozzarella cheese cubes or slices

¼

cup

chopped tomato

½

teaspoon

sea salt

6

basil leaves

olive oil to drizzle
Instructions
Preheat a toaster oven to 450°F or a standard oven to 500°F with a pizza stone or pan inside.

Spread tomato sauce on the na'an. Sprinkle with oregano and garlic powder.

Evenly distribute the cheese and fill in gaps with tomatoes.

Bake for 8-10 minutes on the preheated pan (or directly on the rack), then remove from oven.

Add basil leaves to the hot pizza and let settle for 2 minutes. Sprinkle with sea salt and drizzle with a small amount of olive oil.
Nutrition
Serving:
1
oz
Calories:
416
kcal
Carbohydrates:
68
g
Protein:
12
g
Fat:
10
g
Saturated Fat:
2
g
Cholesterol:
10
mg
Sodium:
2420
mg
Potassium:
384
mg
Fiber:
5
g
Sugar:
8
g
Vitamin A:
498
IU
Vitamin C:
10
mg
Calcium:
146
mg
Iron:
2
mg
If you loved this homemade margherita pizza let me know in the comments below! I'd love to hear from you.
If you enjoyed this recipe, make sure to give it a star rating and let me know what you thought in the comments! And follow me on Facebook, Pinterest and Instagram for more delicious recipes!
Recommended Recipes