Homemade Tomato Sauce is made from canned tomato sauce, crushed tomatoes, onions, garlic, and lots of herbs! Add meatballs to your simmering sauce, then serve over your favorite pasta for a yummy and easy family-friendly traditional Italian dinner.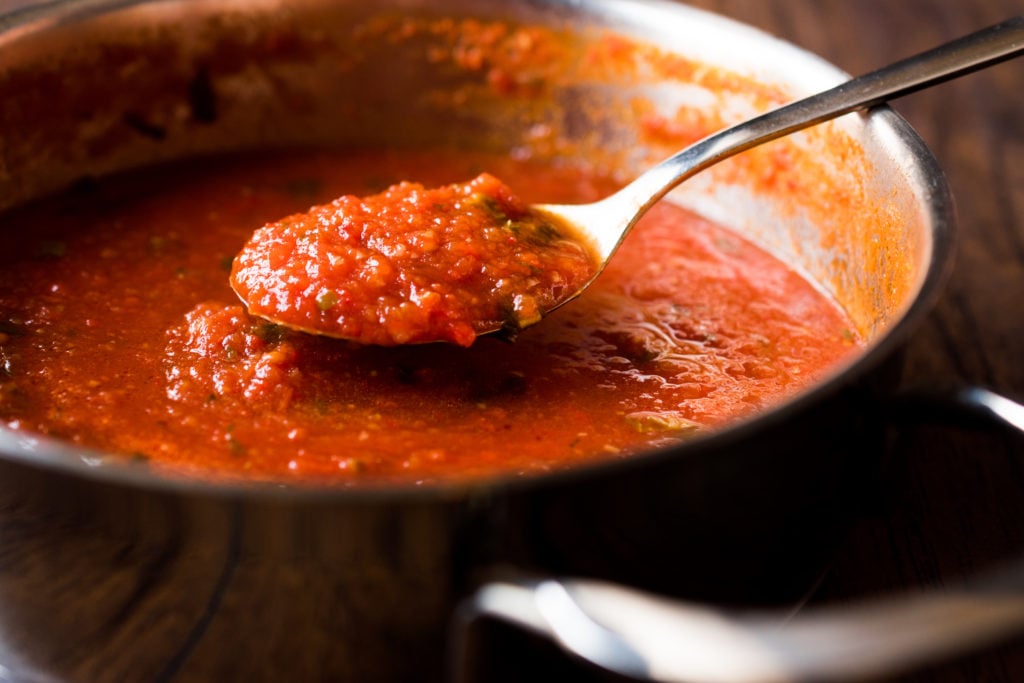 I have worked the last 10 years to make this the perfect homemade tomato sauce you'll find. Compared to store bought sauce, homemade tomato sauce simply tastes fresher and has no preservatives to keep it shelf stable. This tomato sauce recipe uses only simple ingredients and while simmering on the stove top, will fill your house with the incredible sweet aroma of onions, herbs, and tomatoes. I also have my favorite quick homemade tomato sauce using fresh tomatoes that I make in the summer when tomatoes are fresh out of the garden.
It is comfort food at its finest, and every family should have a favorite homemade tomato sauce ready to be whipped up at any time. Cook this sauce once and it'll be your new favorite!
Have you ever seen a baby or child refuse to eat spaghetti and meatballs covered in delicious tomato sauce? Yeah, me neither! That's why this meal has become the star of the messy baby photo world, spaghetti dumped all over her little head. Not only is making homemade sauce healthy and simple, but it will get eaten by everyone, including those picky little ones. If you're sick of hearing "I don't like that", add this homemade tomato sauce with spaghetti and meatballs into your dinner rotation.
It's so easy because this recipe makes a huge batch of freezer-friendly sauce. Make one giant pot at the beginning of the month and reuse the sauce for more meals later on. The sauce can be used to make meatball subs and pizza, too. Or, make your baby, toddler or preschooler homemade "spaghettio's" by adding the sauce to ditalini pasta.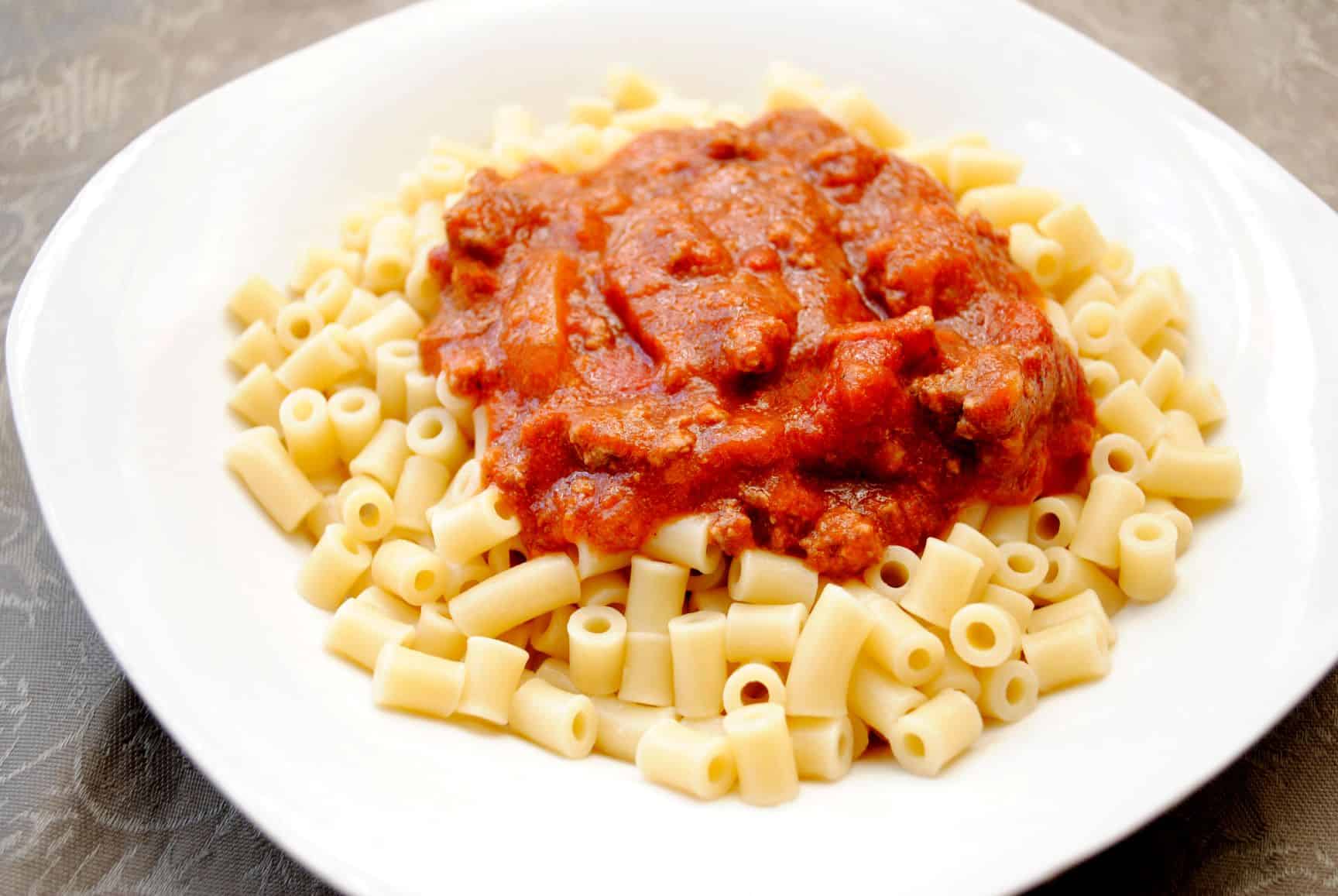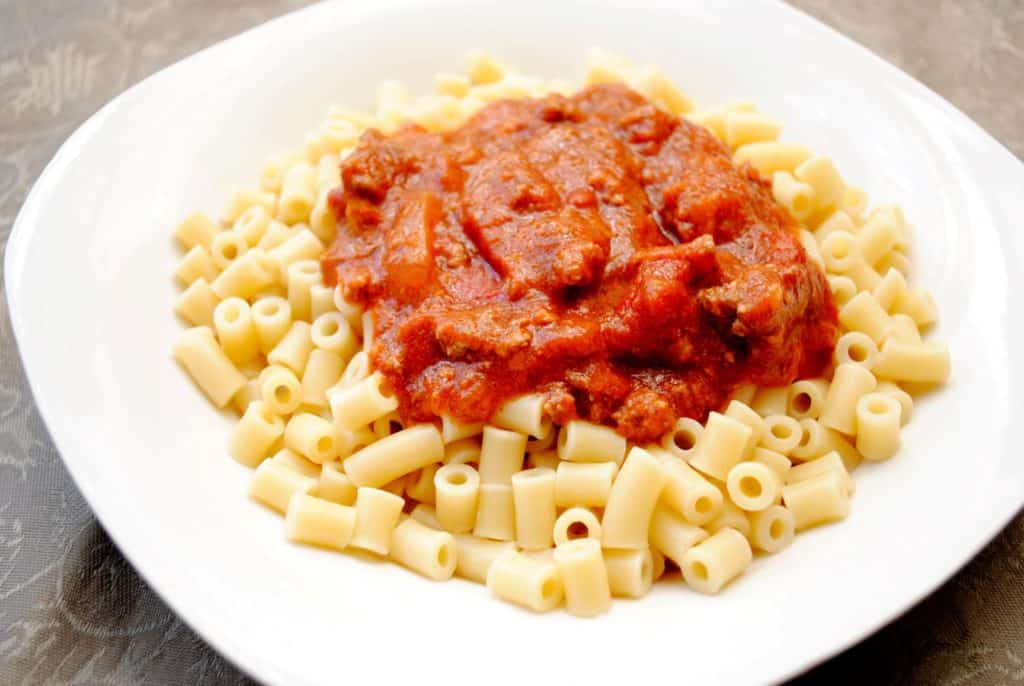 ingredients in homemade tomato sauce
This homemade tomato sauce is made with canned crushed tomatoes and plain canned tomato sauce. Keep in mind that different brands has subtle yet noticeable differences in flavor. Some are sweeter than others, like Furmano's and Giant generic sauce. Some have more of a natural tomato flavor. Use your favorite brand, but know that your homemade tomato sauce might taste slightly different than mine if we're using different brands. My favorite is Hunts so I stick with that most of the time.
In addition to crushed tomatoes and tomato sauce, you will need:
onions
garlic
olive oil
salt and pepper
dried basil
dried parsley
Italian seasoning
garlic powder
I have only ever used dried herbs in my homemade tomato sauce. If you want to use fresh herbs instead, you should triple the amount. The ratio for dried herbs to fresh herbs is 1:3. In other words, 1 teaspoon of a dried herb equals 3 teaspoons of same fresh herb. Remember that you can always add herbs but you can't take away. You can always start with smaller amounts of herbs and add more later. I especially do this with salt and pepper when I use a sauce brand other than Hunt's.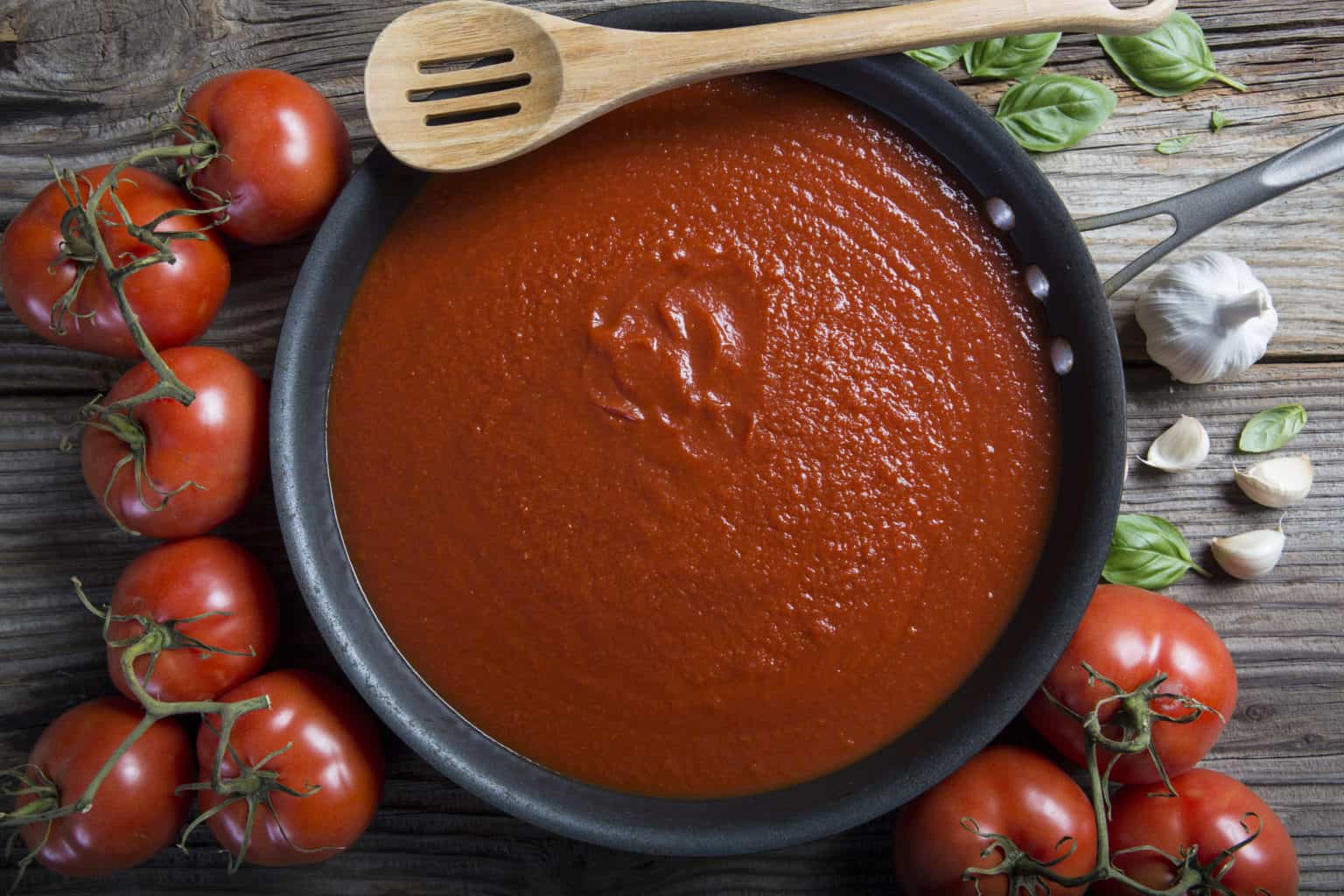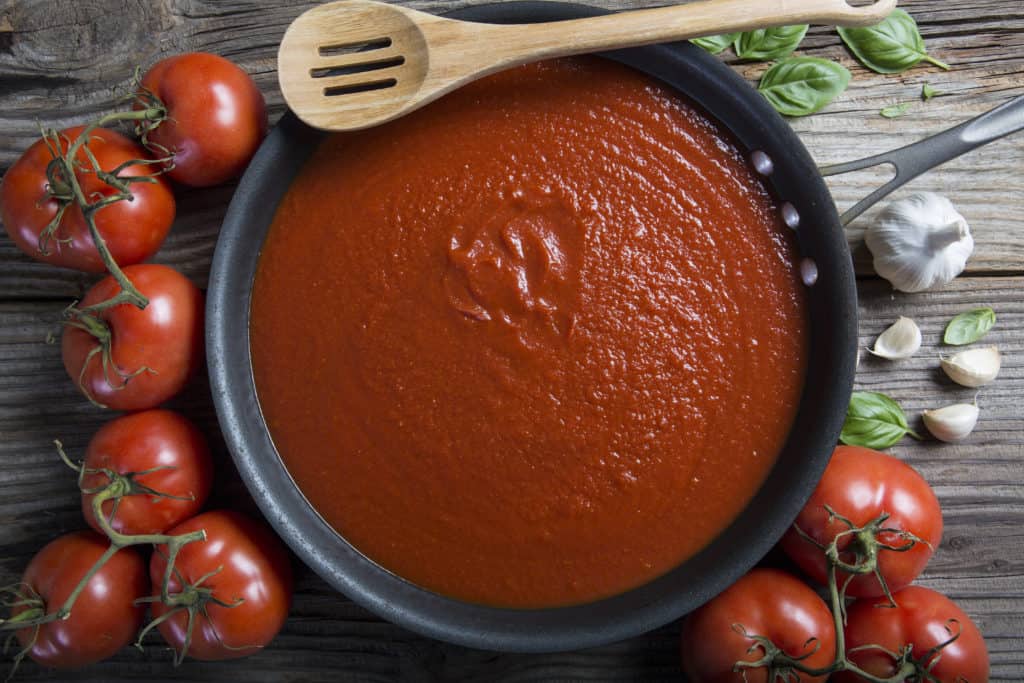 how to make homemade tomato sauce
Although making tomato sauce at home takes about 90 minutes, most of that time involves letting the sauce simmer while you do other things. It only has about 5 minutes of preparation time to dice the onions and mince the garlic and a few minutes to add herbs about an hour into the simmering process. If you're cooking meatballs in your sauce, it'll take about 10 minutes the mix the meat and roll them.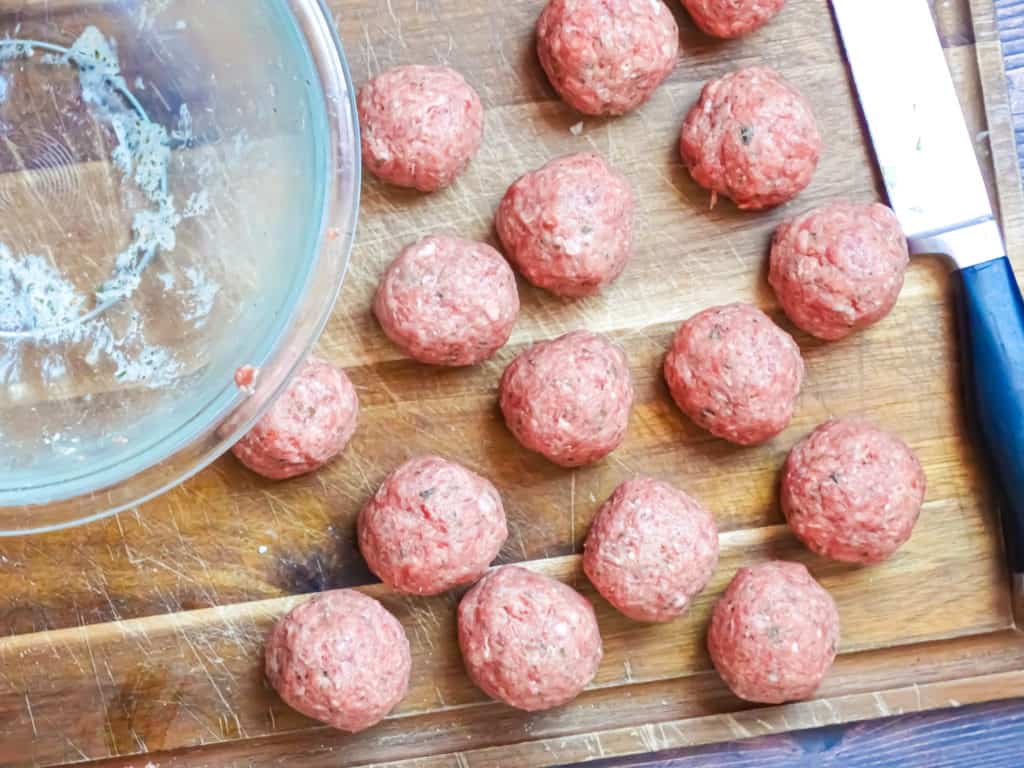 Here are the steps:
Heat olive oil in a large pot. Dice the onions and mince the garlic, then add both to the oil and saute for 3-4 minutes stirring frequently.
Add the tomato sauce, crushed tomatoes, and salt to the pot. Simmer for 60 minutes. I simmer mine uncovered here but will put on a lid if it begins to splatter. If you do this make sure to vent it and not seal the lid. Stir the sauce about every 10-15 minutes so that it doesn't burn.
Once it's simmered for 60 minutes, add the basil, pepper, garlic powder, Italian seasoning, and parsley. Stir. If you'r adding meatballs, here is when you add them. Then simmer for another 30 minutes, wiggling the pot every so often to keep the sauce from burning.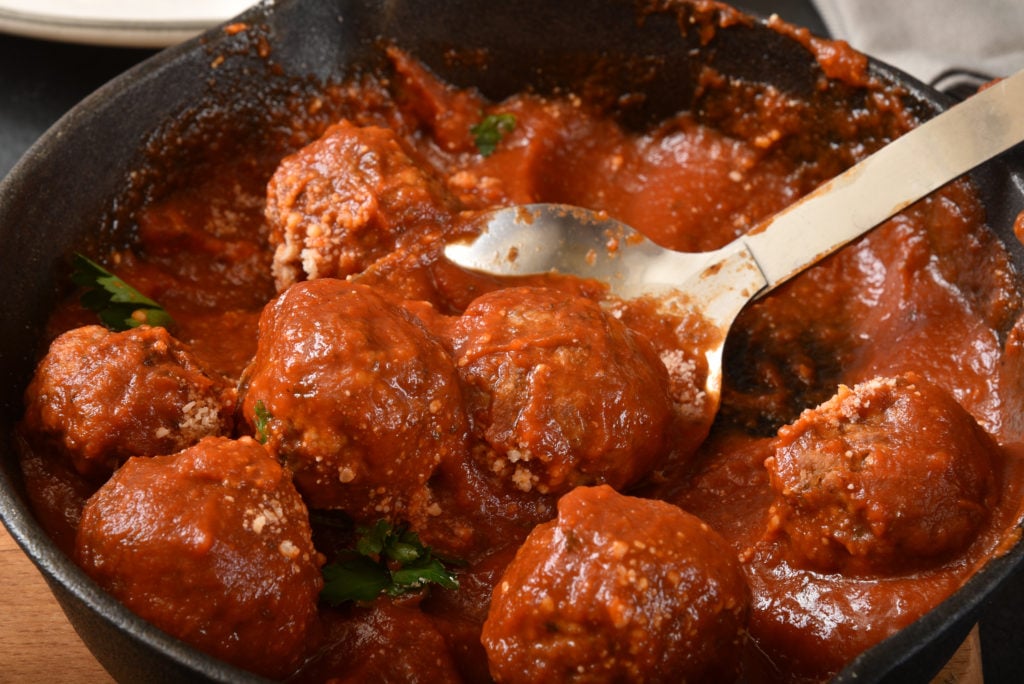 Make sure to taste your sauce a few times while it's simmering and add more herbs as needed. Do this particularly near the end when all spices, herbs, and vegetables had a chance to marry and release their full flavors into the sauce.
It's also important not to mix the sauce with a spoon if you've added meatballs until the very end. If you mix with a spoon before the meat has had a chance to cook, you risk crushing the meatballs and instead you'll have a beef-a-roni type meal.
And that is all it takes to make this delicious homemade tomato sauce. Serve it over your favorite pasta, use it in lasagna or make meatball subs! I hope you enjoy!
Recipe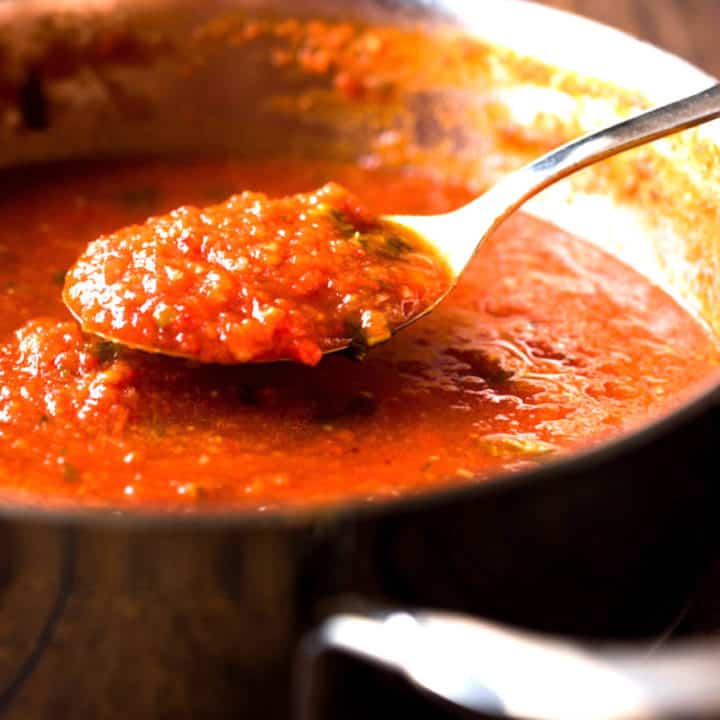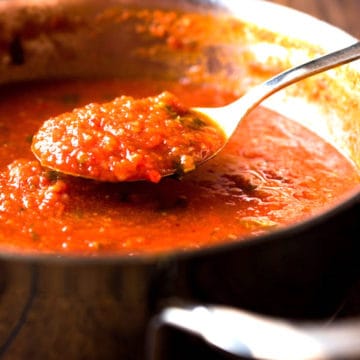 Homemade Tomato Sauce
Homemade Tomato Sauce is made from canned tomato sauce, crushed tomatoes, onions, garlic, and lots of herbs! Add meatballs to your simmering sauce, then serve over your favorite pasta for an easy family-friendly traditional Italian dinner.
Bookmark Recipe
Saved!
Ingredients
For Tomato Sauce
¼

cup

olive oil

1 ½

cup

onions, diced

10

garlic cloves, minced

2

cans (28 oz) tomato sauce

2

cans (28 oz) crushed tomatoes

2 ½

tsp

salt

1

teaspoon

basil

1 tsp

pepper

1

teaspoon

Italian seasoning

1

teaspoon

parsley

2

teaspoon

garlic powder
Instructions
In a large pot or dutch oven, heat the olive oil on medium high and add garlic and onions. Saute until translucent, 3-4 minutes.

Add the tomato sauce, crushed tomatoes, and salt. Stir and simmer for 60 minutes.

While sauce simmers, combine all ingredients for the meatballs. Add water ⅛ cup at a time and mix until slightly moist and meat sticks smoothly together when rolled. Roll meatballs into 1-2 inch balls, depending on size preference.

Add basil, pepper, Italian seasoning, garlic powder, and parsley. Stir and add the meatballs. Simmer for 30 more minutes, occasionally shaking pot gently so sauce doesn't burn and meatballs don't stick to one another.

Remove from heat and let stand for 10 minutes before serving.
Nutrition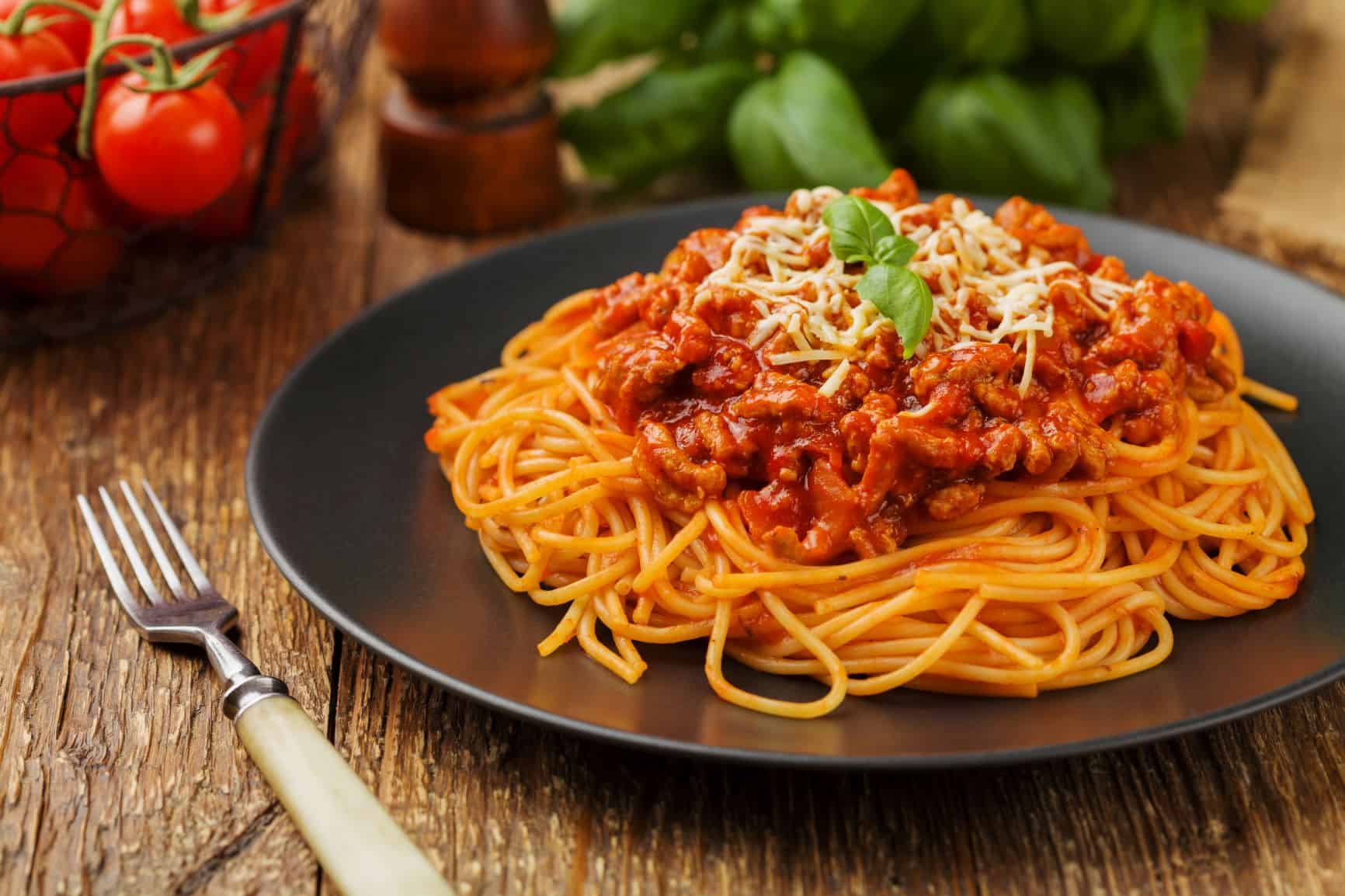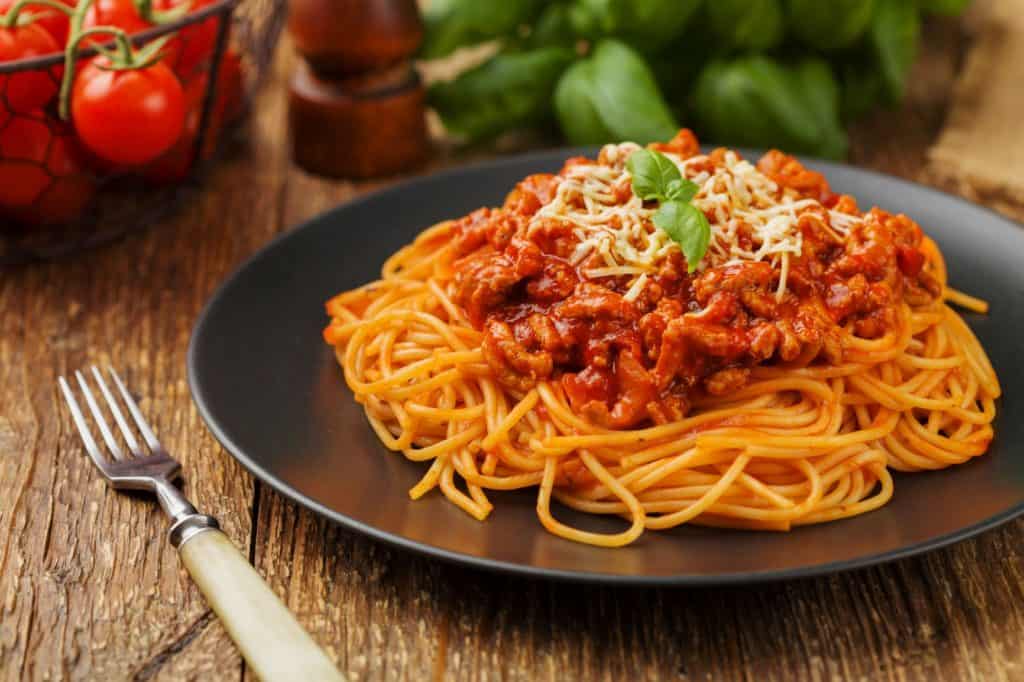 storing homemade tomato sauce
This recipe makes 10 cups of homemade tomato sauce. That is a lot of sauce! The reason I make so much sauce in one batch is to freeze about half of it. Tomato sauce freezes expectionally well, so divide it into 1 or 2 cup batches and freeze in baggies until ready to use. Homemade tomato sauce will last for about 1 year in the freezer.
You can defrost it overnight in the fridge or submerge the bags in hot water for a quick thaw. I love freezing extra sauce so that the next time we want pasta there is no waiting around for sauce to simmer.
What else can you do with leftover tomato sauce? Leftover tomato sauce isn't just for pasta! Use it on meatball or chicken parm subs, chicken parmigiana cutlets, margherita pizza, or homemade spaghetti o's for the kids.
If you made this homemade tomato sauce and loved it, let me know in the comments below! I'd love to hear from you. And don't forget to follow me on Pinterest for my latest family-friendly recipes.
Looking for more delicious pasta recipes? Try these: