This easy, delicious One Pot Ricotta Lemon Pasta is ready to eat in only 20 minutes and is a family favorite for busy nights. Pasta is tossed with a simple creamy ricotta sauce made with lemon, garlic and Parmesan. It pairs well with a green salad and a side of crusty bread.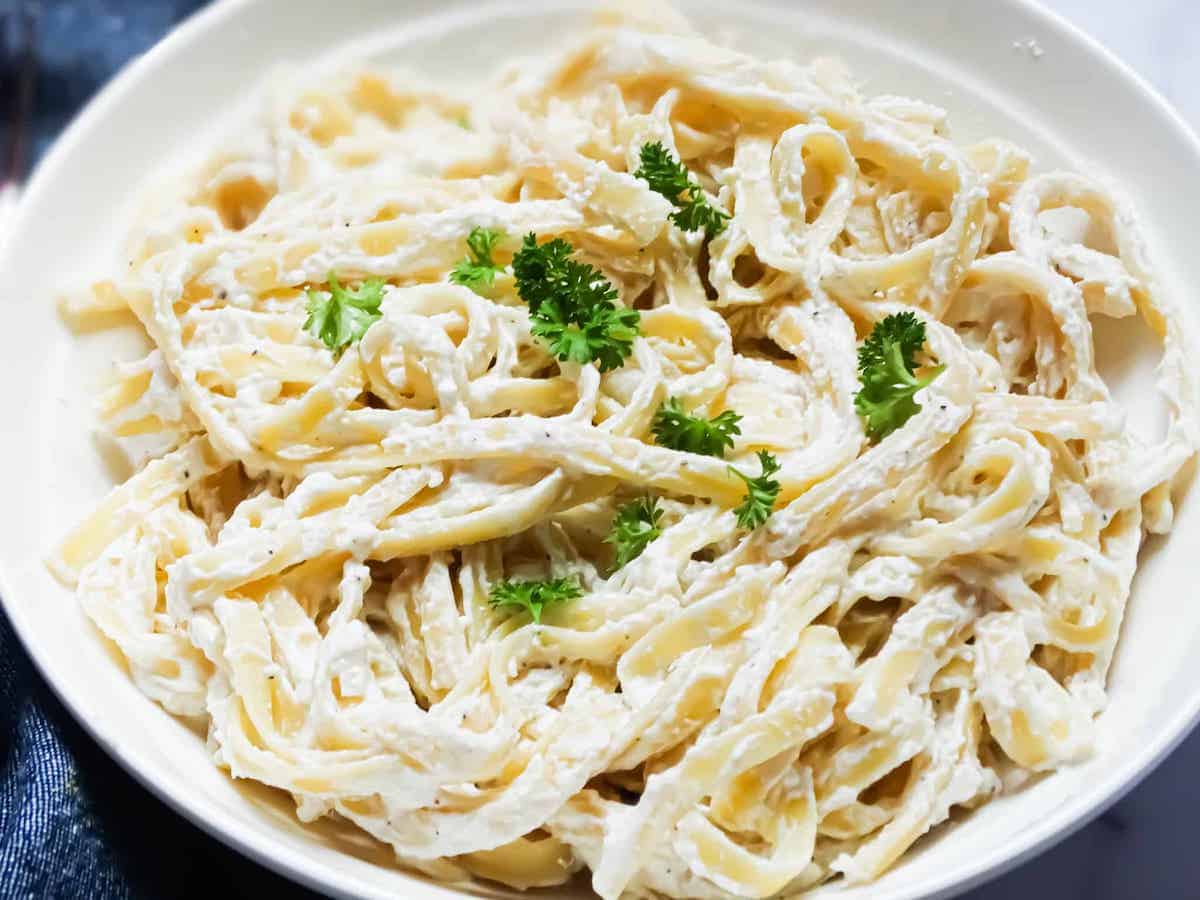 Jump to:
One-Pot Ricotta Lemon Pasta is one of our absolute favorite dinners for when we have limited food in the house or when I need to get dinner on the table fast, which is like, every night. It is incredibly simple, requiring just 4 pantry staple ingredients, not counting the pasta.
This recipe is similar to the technique used in my all-time reader's favorite butter and Parmesan pasta. I often need to find something quick to make for dinner that's suitable for adults too.
The ingredients are super simple. We usually have them on hand and I bet you do too.
Ricotta lemon pasta is a completely kid-friendly meal, even for my daughter who "doesn't like ricotta" (she doesn't even know what it is).
The creamy ricotta sauce is so full of Parmesan garlicky flavor that it resembles an alfredo sauce more than a ricotta-based sauce.
Disclaimer: My five year old daughter gobbled up 2 bowls of this for lunch, so make sure you make enough!
Typically, creamy pasta sauces are made with milk or heavy cream. You can even make a creamy pasta sauce by pureeing walnuts and simmering the walnut puree with garlic and butter, like I do with this 4-ingredient walnut cream sauce.
With this one-pot ricotta lemon pasta recipe, we are creating a rich, creamy ricotta sauce by blending whole milk ricotta cheese and Parmesan with a little bit of olive oil and lemon juice. Then we saute it with minced garlic and toss it with al dente fettuccine.
It's delicious, easy, family-friendly, and ready to eat in only 20 minutes!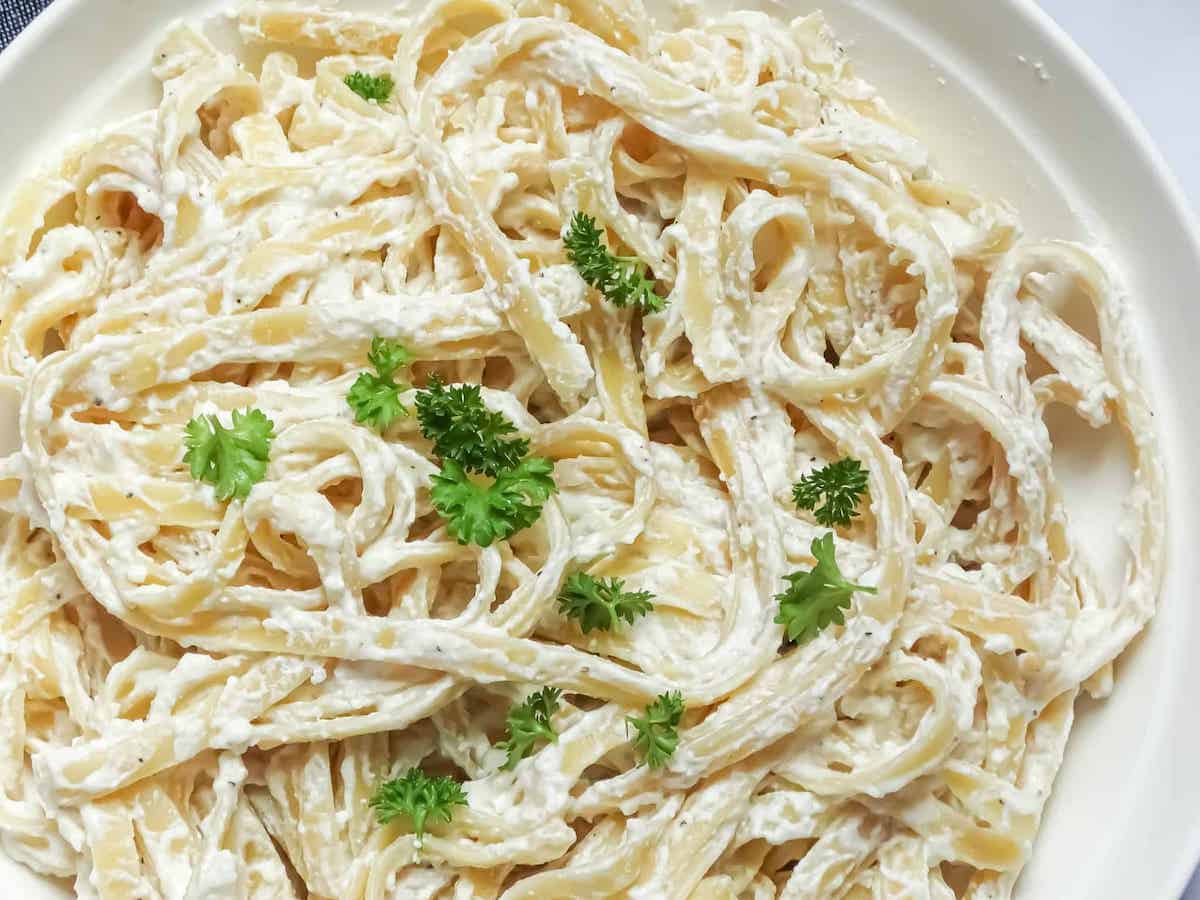 Ingredients
To make ricotta lemon pasta, you'll need pasta, ricotta cheese, Parmesan cheese, salt + pepper, fresh garlic cloves, and lemon juice.
I use fettuccine or linguine but you can use whatever you have on hand. I have only made it using long noodles because I like how the sauce sticks to those.
I recommend using whole milk ricotta cheese because it will taste a little more rich than part skim ricotta.
You can use a fresh squeezed lemon or bottled lemon juice. I have used both and cannot notice that much of a difference. The lemon flavor is so subtle in this ricotta lemon pasta that you probably won't notice either.
As for the Parmesan, use grated rather than shredded. Grated Parmesan helps to create the creamy ricotta sauce that we are going for here, but shredded will not do this as much.
You shouldn't need to alter any ingredients to keep this ricotta lemon pasta kid-friendly. Depending on your kid's preferences, maybe try a fun shaped pasta, like wagon wheels or bow ties instead of the fettuccine.
Step-By-Step Directions
Here are the steps to making this one-pot ricotta lemon pasta:
In a large shallow pot (not a frying pan), boil salted water and cook the pasta al dente, or slightly hard. Drain the pasta and set aside. Make sure to reserve at least 1 cup of the pasta water when draining. The starchy water will help bind the ricotta sauce and keep it creamy.
While the pasta cooks, mix the ricotta, Parmesan, salt, pepper, and lemon juice.
To the pot, add a little olive oil and saute the minced garlic for about 1 minute, until it's fragrant. Add the ricotta mix and let it heat through, stirring constantly. Add ½ cup of the reserved pasta water.
Add the pasta back to the pot and toss to thoroughly coat the in the ricotta sauce. If there isn't enough sauce or it's dried out slightly, add more reserved starchy water, ¼ cup at a time until you are happy with the amount of sauce.
Serving
Serve sprinkled with fresh parsley, oregano, or more Parmesan cheese. It's great served with a salad or crusty bread, like focaccia.
Ricotta lemon pasta is best when served immediately, as the sauce will lose it's creaminess when stored in the fridge for later. My family definitely has eaten this as leftovers, and while it is still absolutely delicious, it does lose the creamy pasta sauce texture that it had.
Recipe
One Pot Ricotta Lemon Pasta
This easy, delicious One Pot Ricotta Lemon Pasta is ready to eat in only 20 minutes and is a family favorite for busy nights. Pasta is tossed with a simple ricotta lemon sauce made with garlic and Parmesan. It pairs well with a green salad and a side of crusty bread.
Ingredients
12

oz

fettuccine or linguine

or other long pasta

1 ½

cups

ricotta cheese

1

teaspoon

salt

¼

teaspoon

pepper

1

tablespoon

lemon juice

⅓

cup

grated parmesan cheese

2

cloves

minced garlic

½ - 1

cup

reserved pasta water
Instructions
Bring well-salted water to a boil over high heat in a large pot and cook pasta al dente. Drain, reserving 1 cup of pasta water for use later. Set pasta aside.

While pasta cooks mix the ricotta, salt, pepper, parmesan cheese, and lemon juice in a large mixing bowl.

Add 1 tablespoon of oil to the pot and cook minced garlic over medium heat for 1 minute. Add the ricotta mix and stir constantly until heated through. Add ½ cup of reserved pasta water and stir until combined well and creamy.

Turn off the heat and add the pasta to the sauce. Toss to equally distribute the sauce. If the pasta seems too dry, add additional reserved water.

Serve warm, with a green salad and a side of crusty bread.
Nutrition
Serving:
4
ounces
Calories:
526
kcal
Carbohydrates:
65
g
Protein:
25
g
Fat:
18
g
Saturated Fat:
10
g
Polyunsaturated Fat:
2
g
Monounsaturated Fat:
5
g
Trans Fat:
1
g
Cholesterol:
126
mg
Sodium:
823
mg
Potassium:
331
mg
Fiber:
3
g
Sugar:
2
g
Vitamin A:
536
IU
Vitamin C:
2
mg
Calcium:
298
mg
Iron:
2
mg
I hope that you've enjoyed this recipe! Let me know how it turned out! I'd love to hear from you.
If you enjoyed this recipe, make sure to give it a star rating and let me know what you thought in the comments! And follow me on Facebook, Pinterest and Instagram for more delicious recipes!
Recommended Recipes