Beat those winter blues with the ultimate comfort food: homemade Creamy Mac and Cheese! This kid's favorite takes only 20 minutes and can be served as a complete family friendly dinner or a side dish for a family dinner or winter holiday. Made with evaporated milk, cream cheese, and whole milk for the creamiest homemade mac and cheese you'll ever have.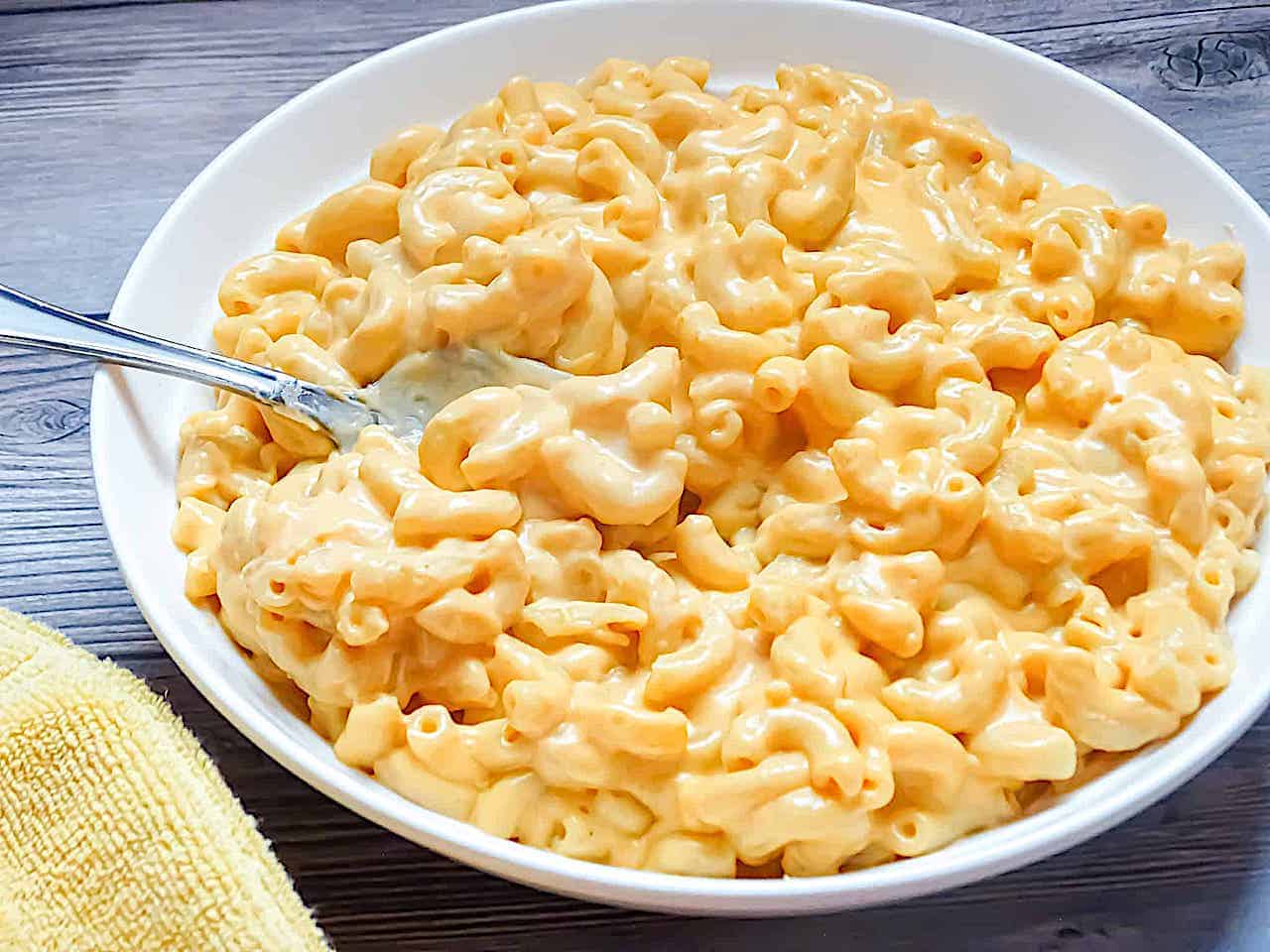 I cannot tell you how many times I've made mac and cheese since my children were born.
I never had homemade creamy mac and cheese as a kid. We were an out-of-the-box Kraft mac and cheese family, so making mac and cheese from scratch was entirely new to me when my daughter was born.
While I credit most of my cooking ability to watching and helping my own mother and grandmother make from scratch recipes throughout my childhood, for some reason mac and cheese wasn't in their recipe rotation.
I've picked up a natural ability to simply know how to cook from them. But homemade mac and cheese was something I had to learn, and fail at, before perfecting the most amazing, flavorful creamy mac and cheese sauce you'll ever have!
When my first daughter started eating real food she absolutely, positively fell in love with pasta. It was ALL she wanted for as many months and years as I can remember, and pasta is still one of her favorite dinners.
So my goal years ago was to make a simple homemade creamy mac and cheese sauce that my toddler going through her pasta-only stage would eat and love.
Once I had that down, I tried to make my homemade mac and cheese more well-rounded by sneaking in grated carrots and green beans. This worked great and she ate a ton of carrots and green beans for about 6 months!
After those 6 months of carrot-eating bliss, she started noticing the "orange stuff" in her mac and cheese. And as every kid probably decides at some point, she suddenly no longer liked vegetables, especially carrots. Okay then.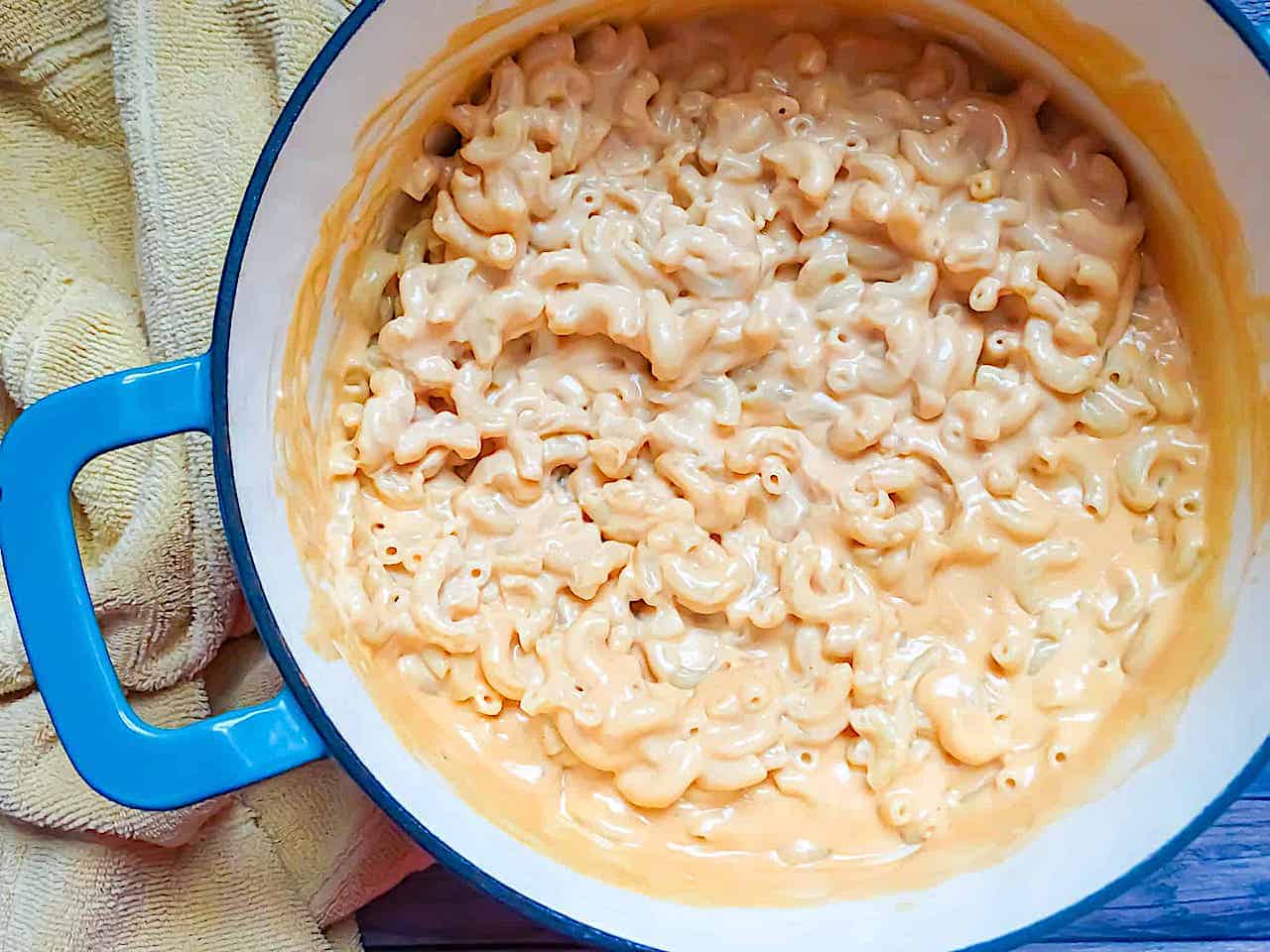 I moved onto a new recipe, hidden cauliflower mac and cheese, which was a success until recently when she started questioning what those "crispy things" were in her pasta.
Darn. All good things must come to an end.
So here we are, back at square one. Which apparently is fine with everyone in my house, because this creamy mac and cheese is just so damn good. And plus, we have a new baby who was just introduced to the scrumptious mac and cheese world. We might as well start back at the beginning with plain ultra creamy mac and cheese!
Ingredients
To give the best creamy mac and cheese its amazing creamy texture, you need:
evaporated milk
cream cheese
whole milk
flour
butter
paprika
To give this creamy mac and cheese it's irresistible cheesy flavor, you need:
extra sharp cheddar cheese
white cheddar cheese.
You should really not use bagged shredded cheddar, as it does not melt as nicely as a fresh block of cheese. I also shred mine finely so that it melts quicker.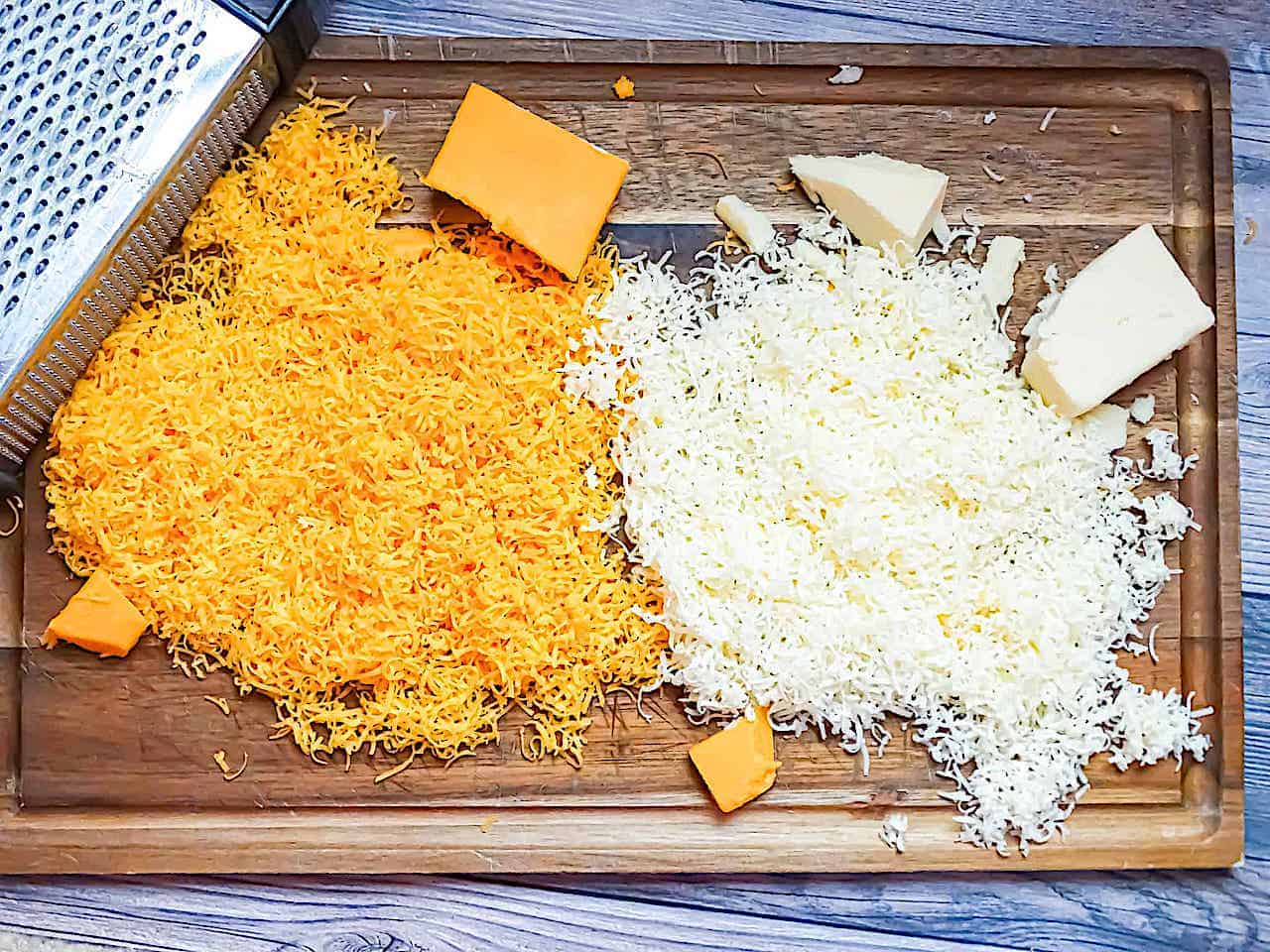 The best mac and cheese always starts with a roux made of butter and flour. I add paprika to season my roux. Not only does the paprika give mac and cheese a stronger taste, but it gives it a fabulous yellow-orange hue.
And you'll need your favorite short pasta. You can never fall short with the classic elbows for mac and cheese. We love making this with bow ties and wagon wheels, too. The kids always think those are fun to eat!
Step-By-Step Directions
Making this creamy mac and cheese from scratch only takes 20 minutes and is not difficult. Here's how to do it:
Bring a large pot of salted water to a boil (cover so it boils quickly).
While the water boils, melt the butter over medium heat in a large shallow pan until it's foamy.
Add the flour and paprika and whisk constantly until a paste forms, about 1 minute.
Add the whole milk, evaporated milk, and cream cheese. Whisk frequently, breaking up the cream cheese with a wooden spoon. Bring to a low bubble. This takes about 5-6 minutes. If the cream cheese is still a little crumbly, that's okay. It will continue to melt during the next step. Your water should be boiling by the end of this step. Add pasta to the boiling water and cook 8-10 minutes. Drain.
Add the cheese 1 cup at a time to the milk mixture, whisking constantly until it's melted and smooth, about 3 minutes total.
Season with salt and let boil for 2 more minutes while whisking constantly.
Add sauce to the pasta and serve.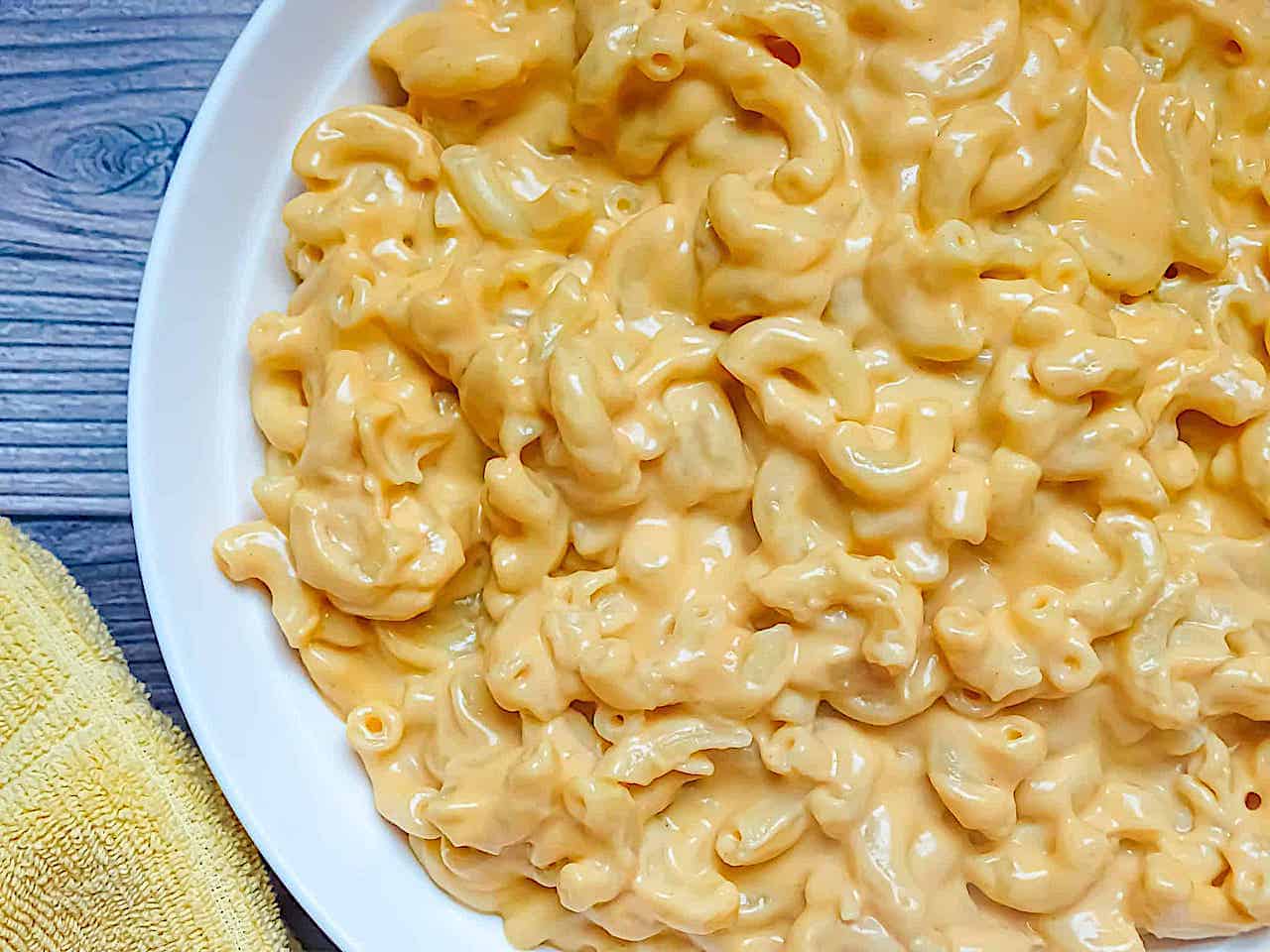 Variations
You can always turn this creamy mac and cheese recipe into something a little different to suit your family's tastes.
To the sauce, you can make these simple changes:
Add a little bit of pepper with the salt
Use all white cheddar cheese for a white cheddar mac and cheese
Use all extra sharp yellow cheddar cheese
You can add these veggies to the boiling pasta water for a hidden veggie mac and cheese dinner: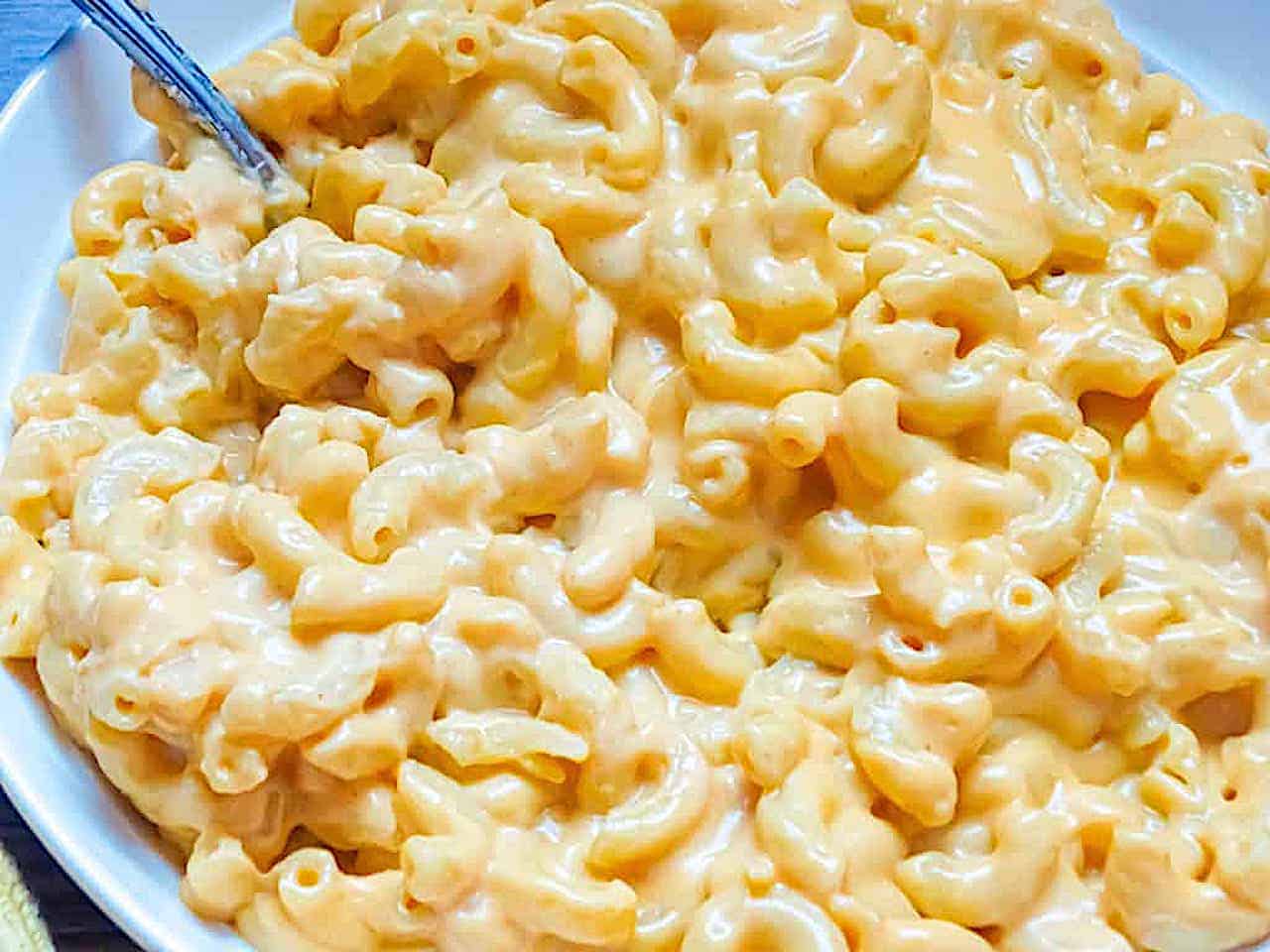 And to the whole meal itself, you can season with salt and pepper at the end as much as you'd like.
Another option is to mix the pasta and sauce in a casserole dish, top with breadcrumbs and extra cheese, and bake at 400 degrees for about 10 minutes. This will make a crispy baked creamy mac and cheese dinner!
You can also use mini muffin tins to bake it for bite sized creamy mac and cheese cups. This would be so fun for the kids to eat or a great idea for parties or sleepover nights.
Serving
Serve this ultimate creamy mac and cheese immediately or warmed in the microwave. You'll notice that the sauce will appear to "crumble" or lose its creaminess after a little while of sitting. Don't worry! As soon as you warm it up the creaminess will come back.
You can store it in the fridge for about 5 days. This recipe freezes wonderfully. Sometimes I make a ton and freeze extras in the deep freezer for around 6 months.
If you enjoyed this recipe, make sure to give it a star rating and let me know what you thought in the comments! And follow me on Facebook, Pinterest and Instagram for more delicious recipes!
Recipe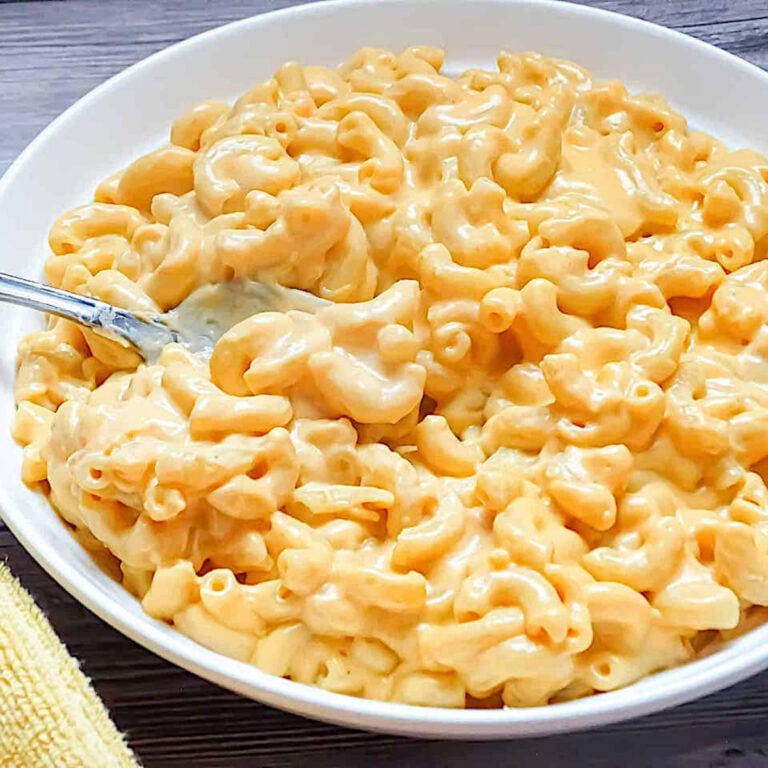 The Best Creamy Mac and Cheese
This is the best homemade Creamy Mac and Cheese that you'll ever have! The favorite kids classic takes only 20 minutes and beats any boxed mac and cheese out there. Made with evaporated milk, cream cheese, and whole milk for the creamiest homemade mac and cheese you'll ever have.
Add to My Collection
Saved!
Ingredients
16

ounces

elbow pasta

4

tbsp

butter

¼

cup

flour

1

tsp

paprika

1

cup

whole milk

12

ounces

evaporated milk

4

ounces

cream cheese

2

cups

white cheddar cheese

finely shredded

2

cups

extra sharp cheddar cheese

finely shredded

1

teaspoon

salt

pepper

to taste
Instructions
Bring large pot of salted water to a boil and cook the macaroni according to package.

Meanwhile, melt the butter over medium heat in a large shallow pan until foamy. Add the paprika and flour and whisk until a paste forms, about 1 minute.

Add the whole milk, evaporated milk, and cream cheese. Whisk frequently, breaking up cream cheese with a wooden spoon. Cook until it bubbles, about 6 minutes.

Add the cheese 1 cup at a time, whisking constantly, until smooth, about 3 minutes total.

Season with salt and bring to a boil. Simmer for 2 minutes while whisking.


Add sauce to cooked pasta. Serve immediately or store in the fridge for up to 5 days (or the freezer for 6 months)
Nutrition
Serving:
4
oz
Calories:
421
kcal
Carbohydrates:
35
g
Protein:
17
g
Fat:
23
g
Saturated Fat:
13
g
Polyunsaturated Fat:
1
g
Monounsaturated Fat:
5
g
Trans Fat:
1
g
Cholesterol:
68
mg
Sodium:
540
mg
Potassium:
247
mg
Fiber:
1
g
Sugar:
5
g
Vitamin A:
735
IU
Vitamin C:
1
mg
Calcium:
384
mg
Iron:
1
mg