This delicious walnut cream sauce is made without any dairy products as a creamy vegan option for pastas and fish. It can be easily turned into a non-vegan walnut cream sauce by adding a bit of butter. This recipe is so simple and uses fresh ingredients. To make, blend all ingredients in a food processor and then heat on the stove for a few minutes to warm. Use on your favorite pasta, rice, fish and more.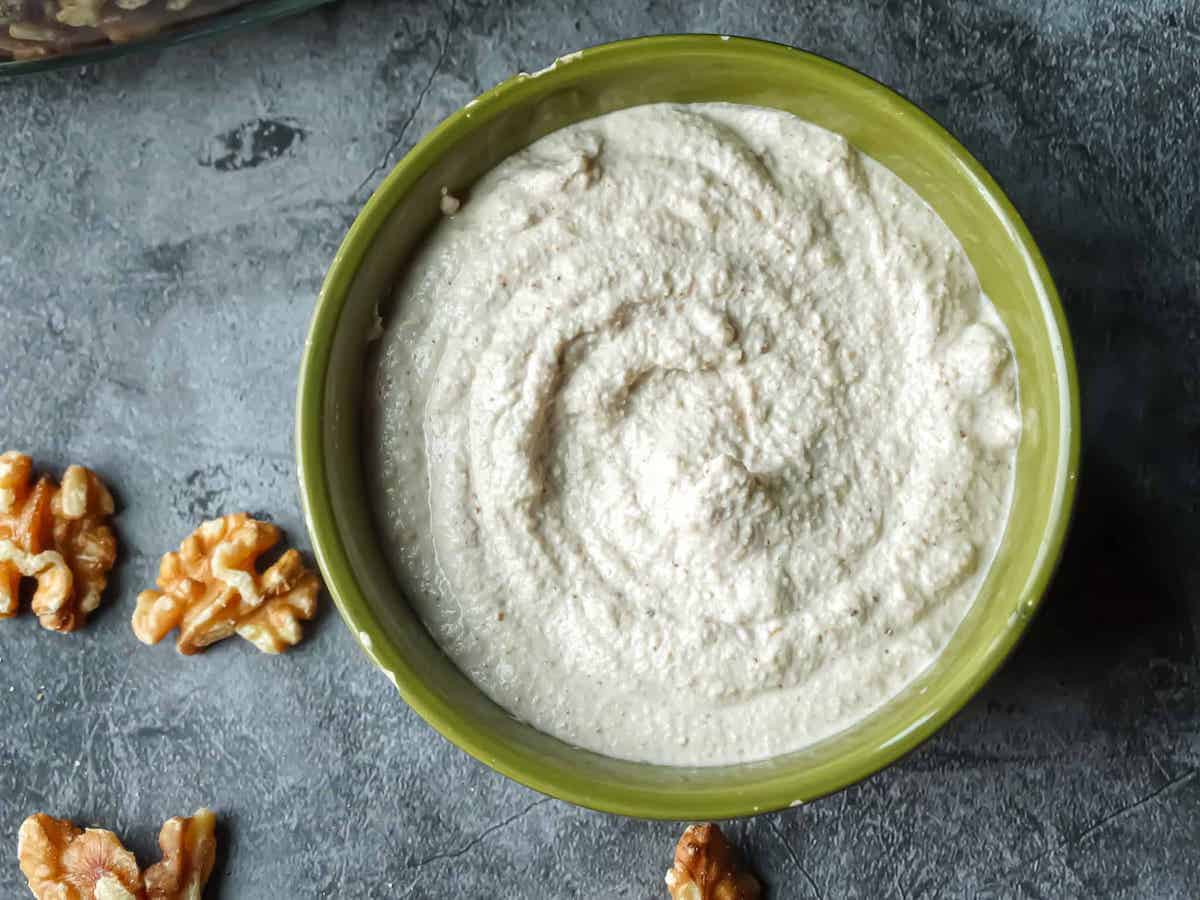 Tonight I am using a walnut cream sauce on top of our fettuccine pasta instead of the usual tomato or cream-based white sauces. Why? Because we have a gigantic jar of walnuts just begging to be used and I am becoming increasingly interested in replacing some of our food choices with healthier vegan or vegetarian alternatives.
Plus, it's such a satisfying feeling to know that you can make something so delicious completely from scratch. Homemade walnut cream sauce beats any store bought jar filled with much more beyond the four ingredients we're using here tonight.
I am also trying to see how many "different" and healthier foods I can trick my kids into eating. 🙂 Of course they love their homemade lemonade with less sugar than the store bought jugs and iced green tea with honey. But could I really get them to think walnut cream sauce was a cheesy, creamy white buttery pasta sauce? Tonight 1 out of 2 kids fell for it. So I'll keep on trying, maybe with a creamy cashew sauce next.
But for now, let me tell you how to make this simple, tasty, wholesome creamy walnut sauce.
Ingredients
The star of this sauce is, you guessed it, walnuts! If you're keeping it vegan, this recipe uses just 4 ingredients: walnuts, garlic, onions, salt.
If you're not concerned about having a vegan walnut cream sauce and want a slightly richer sauce, you can add a few tablespoons of butter. I've made it both with and without the butter and I love it both ways.
There are plenty of benefits to using walnuts over heavy cream or cheese. You can consider walnuts a super plant food full of essential healthy fats like Omega-3s and antioxidants. They are known to combat inflammation caused by different illnesses, like diabetes, cancer, Alzheimer's, and heart disease.
Not to mention, walnuts are quite tasty and can be used in many different ways. Use them in baking, eat them raw, add them to overnight oats or a bowl of late-night ice cream. We also love chopping walnuts into tiny pieces and adding them to homemade fudge brownies or chocolate pudding!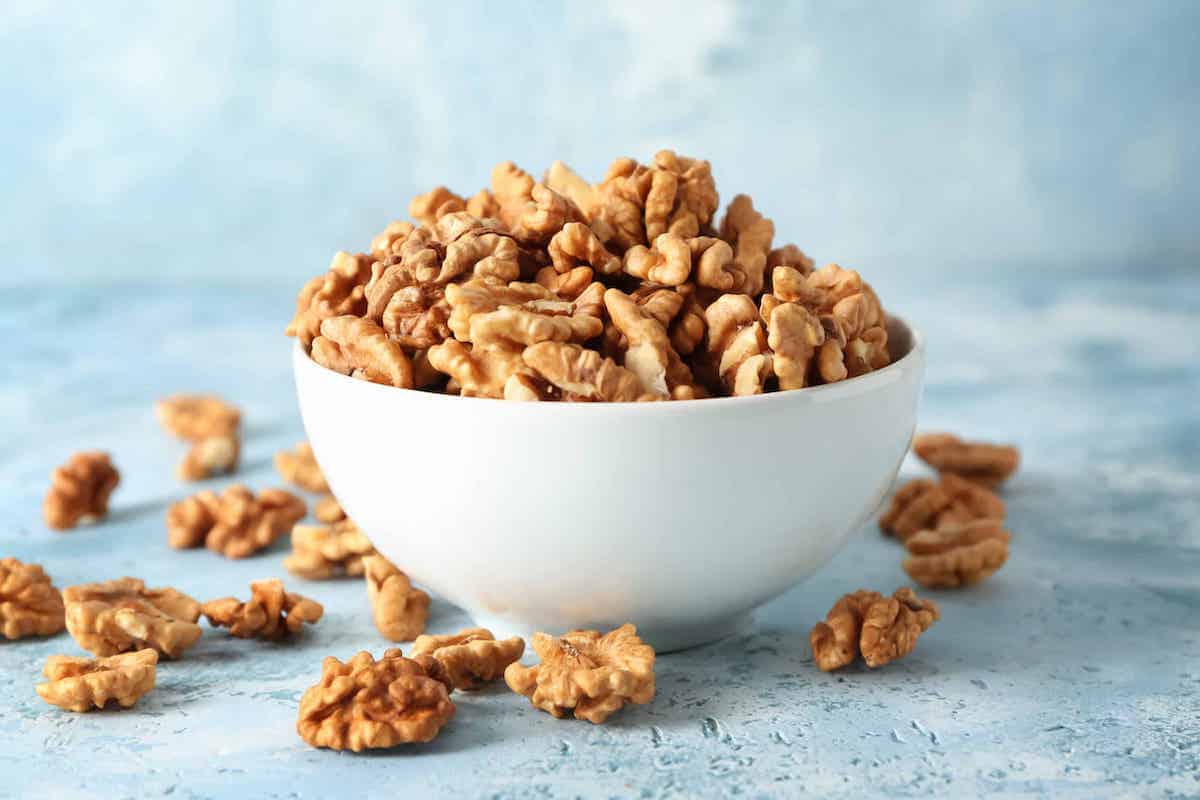 How to Make Walnut Cream Sauce
It is incredibly easy to make this walnut cream sauce. It's made in 2 steps:
Blend all ingredients in a food processor until smooth and creamy, adding water as needed until you reach your desired creaminess.
Heat on the stove for a few minutes, adding the butter if using and seasoning with additional salt if desired.
See how simple that is? Walnut cream sauce is one of the quickest and easiest homemade sauces you will ever make! The recipe makes about 12-16 ounces of sauce, depending on how much water you add. It should be enough sauce for a pasta meal for a family of 4.
Tips For Making It
The sauce will not process to a completely smooth consistency, and it's not supposed to. The ground walnuts will turn to a paste, and while the addition of water helps to smooth and thin the walnut paste, you will see teensy tiny bits of walnut.
I do not only heat the sauce to warm it for serving, but to cut out some of the raw garlic taste. Feel free to heat for slightly longer than 2 minutes to cook out some of the potent garlic flavor. Just make sure to stir frequently, as it warms quickly and may burn easily.
You can also season with a little pepper if you'd like. I think that the garlic gives the sauce just the kick that it needs, so I do not add pepper.
Now speaking of garlic, it is one of my most loved foods. But it came be overpowering if you're not used to it or if you don't love it as much as me. This walnut cream sauce does not contain a ton of garlic, but if you've gone through the steps and find that it's too much garlic for you or is still a little bitter, trying adding some fresh herbs. Parsley, basil or cilantro will help to tone down that last bit of bitterness. You can also squeeze a little bit of lemon juice into the sauce.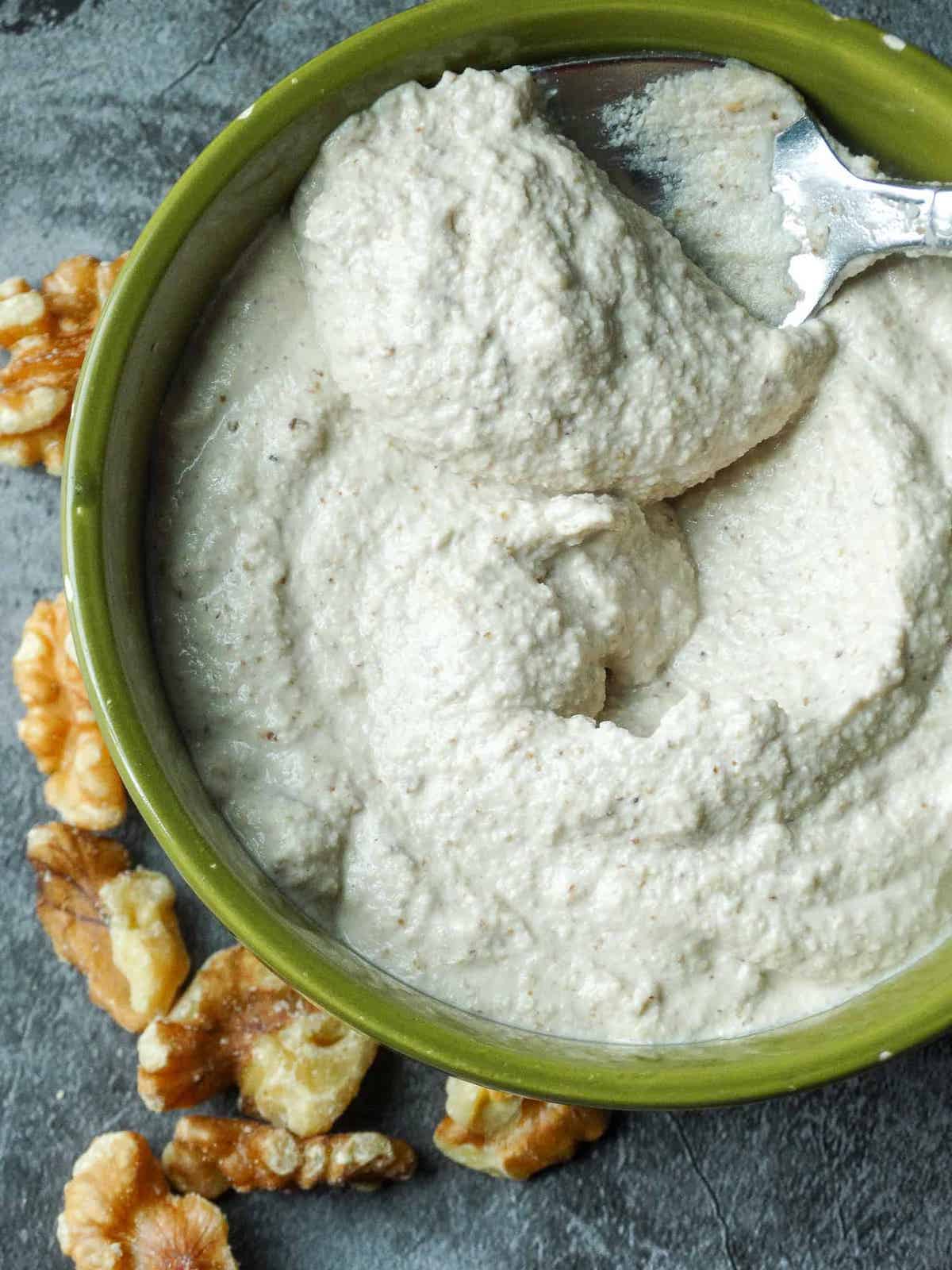 Serving
Our favorite way to serve walnut cream sauce is tossed with fettuccine or angel hair (or shells and bow ties for the little ones). It is also wonderful drizzled over spinach, kale, or asparagus and layered on top of freshly baked salmon.
You can add a few pinches of fresh basil leaves to your pasta or fish, too, for a little more zing.
Storing
Store your walnut cream sauce in a mason jar or airtight container in the fridge for up to 3 days. You can store it in the freezer in a plastic bag for around 6 months. I do find that walnut cream sauce is best used fresh, and freezer sauce is second best.
Recipe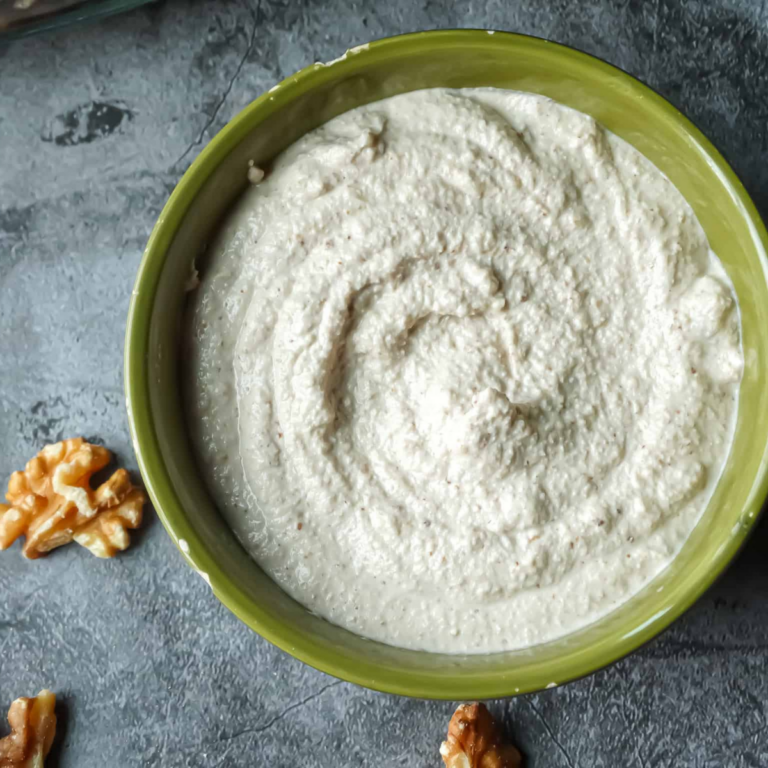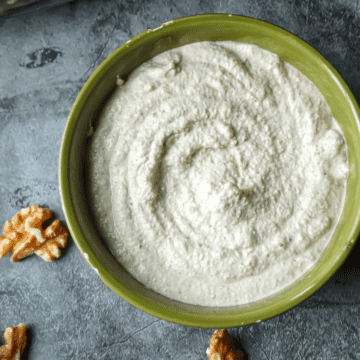 Walnut Cream Sauce
Walnut Cream Sauce is a vegan alternative to cheese or milk based pasta sauces. Simple, fresh ingredients and ready to eat in less than 10 minutes. Add butter for a richer, non vegan option.
Bookmark Recipe
Saved!
Ingredients
2

cups

walnuts

3

garlic cloves

¼

cup

onion

½

teaspoon

salt

½-1

cup

water

2

tablespoon

butter

optional
Instructions
Blend all ingredients in a food processor or blender, adding water ¼ cup at a time until desired creaminess is reached. Add additional water if needed.

Warm on the stove on medium heat for 2 minutes. If using butter, add now. Season with additional salt as desired.

Serve on pasta, fish, or drizzled over your favorite meal.
Notes
Calorie count is for ¼ cup of sauce.
Nutrition
Serving:
2
oz
Calories:
293
kcal
Carbohydrates:
6
g
Protein:
6
g
Fat:
29
g
Saturated Fat:
5
g
Polyunsaturated Fat:
19
g
Monounsaturated Fat:
4
g
Trans Fat:
1
g
Cholesterol:
10
mg
Sodium:
229
mg
Potassium:
189
mg
Fiber:
3
g
Sugar:
1
g
Vitamin A:
125
IU
Vitamin C:
1
mg
Calcium:
44
mg
Iron:
1
mg
If you enjoyed this recipe, make sure to give it a star rating and let me know what you thought in the comments! And follow me on Facebook, Pinterest and Instagram for more delicious recipes!
RELATED RECIPES