Mini Potato Bites are so fantastically simple and delicious, and are a go-to appetizer when I need something that satisfies everyone. Mini potato bites are a great recipe for busy moms and dads who are looking for a quick, easy, and kid-friendly (yet tasty and satisfying to adults, too!) finger food for a party or holiday gathering.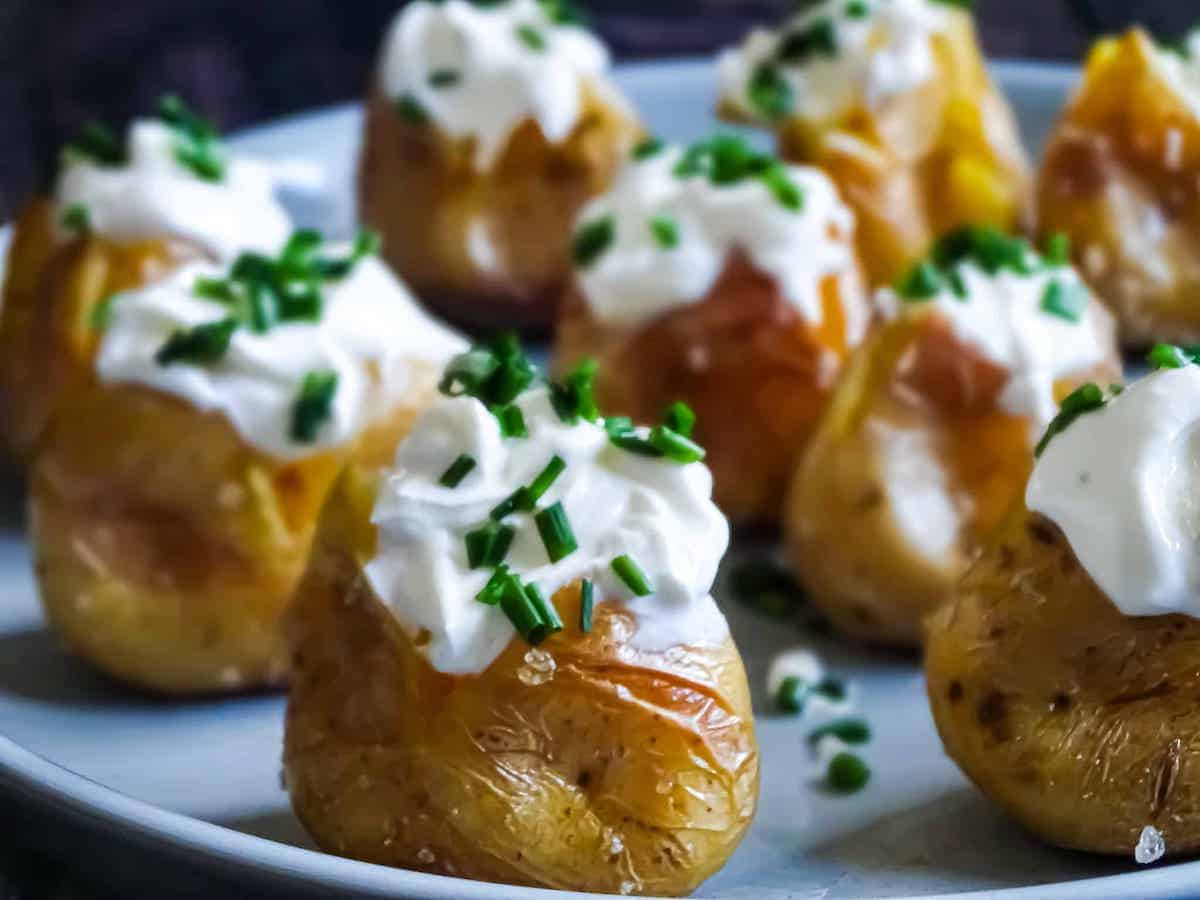 Jump to:
I love making these cute mini potato bites for our Super Bowl party every year, whether we are the party hosts or guests. This year we decided they would also be a finger food during our small Thanksgiving dinner, and I know that our family will gobble them up!
I made these today just to see if I could trick my oldest daughter into eating a potato. If it's small and cute I thought she might have forgotten how much she hates potatoes (she didn't). I knew these were easy, but I hadn't made them in a year and forgot just how simple they are. Since the end result looks so fancy.
Mini potato bites are delicious served warm straight from the oven or at room temperature. So if you are bringing mini potato bites to a party, there is no need to keep them warm as you travel or warm them up when you arrive. And if you're the one hosting, you can plan for them to be ready when guests are set to arrive or have them ready to go ahead of time.
These options will make your party planning less stressful!
What makes mini potato bites so fantastic for gatherings?
They take about 5-10 minutes of hands on work, so you can spend more time fiddling with other party planning activities.
You can make a variety of potatoes, like some with sour cream & chives, some with cheddar & chives, some with cheddar, bacon, & chives....you get my point!
You do not need to time them to be ready and warm when guests arrive. This is my favorite reason. How can one have everything hot out of the oven at the same time? That's way too much work for busy parents! Who are probably trying to tame the children as they cook...
They are baby and kid-friendly. This is my second favorite reason. Don't you hate bringing your baby to a party and everything is spicy or hard and unfit for a tiny child to eat? I do. These mini potato bits are so soft inside, mash them up a little and you've got mashed potatoes for baby! They also fit right into the hands of younger children, who think that's fun!
They are inexpensive. Mini potato bites cost about $5-7 depending on the toppings you pick. Who doesn't love a delicious, fancy party dish that also doesn't cost an arm and a leg??
Ingredients and Substitutions
You only need three basic ingredients to start:
a bag of mini potatoes (which is usually about 20 potatoes)
olive oil
coarse salt (if you don't have coarse salt, table salt works fine)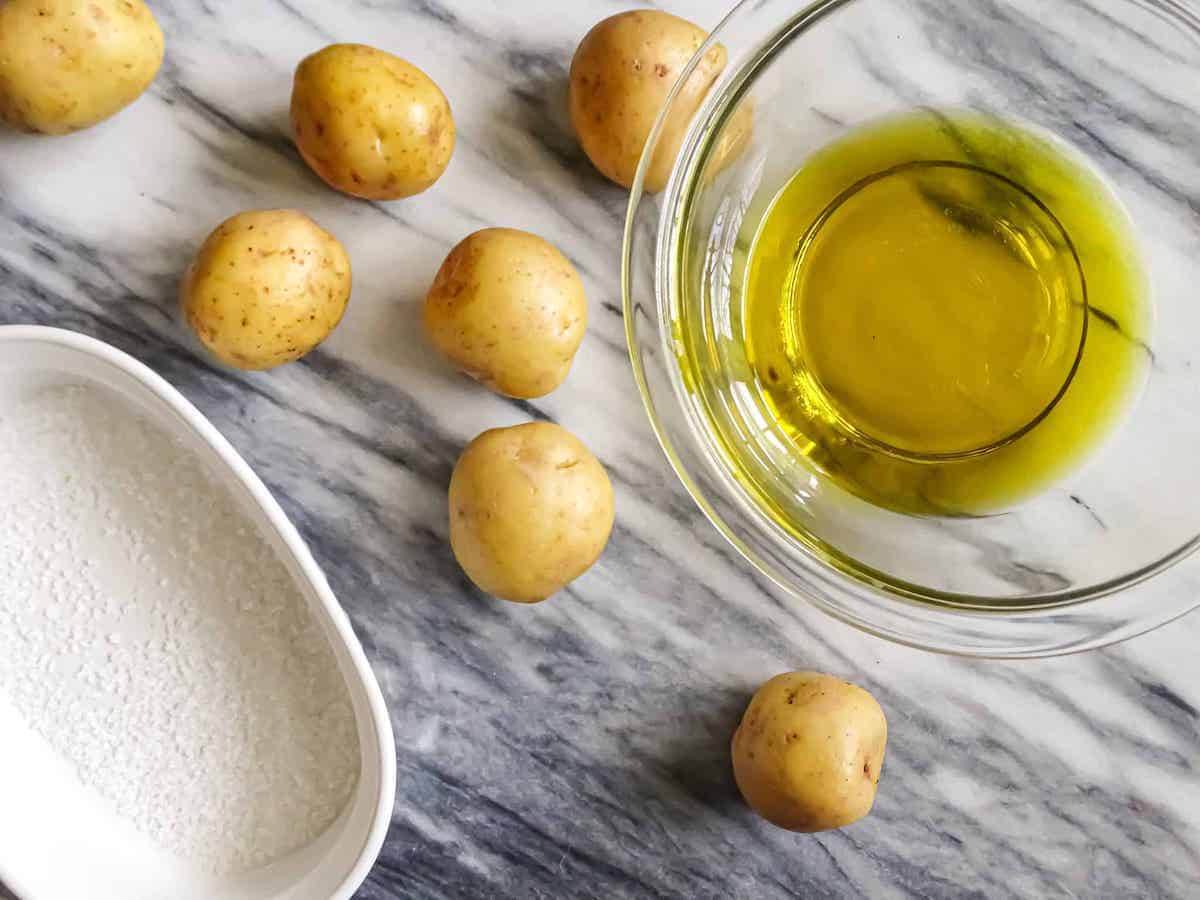 🧈 Toppings
Then decide what toppings you'd like. I usually make at least half topped with sour cream and chives or cheddar, sour cream, and chives.
There are other topping options, too. I like choosing 3 different potato bite toppings. One for the kids, one for the non-picky adults, and one for the picky eaters.
For kid-friendly potatoes, some great toppings are:
cheddar cheese
butter, salt, and pepper
cheddar and bacon bites
cream cheese
For non-picky adults, topping suggestions are:
sour cream and chives
cheddar, sour cream, and chives
cheddar, bacon bites, and chives
cheddar, sour cream, bacon bites
cream cheese and chives
For the picky eaters, great toppings are:
butter, salt, and pepper
cheddar cheese
cheddar cheese and chives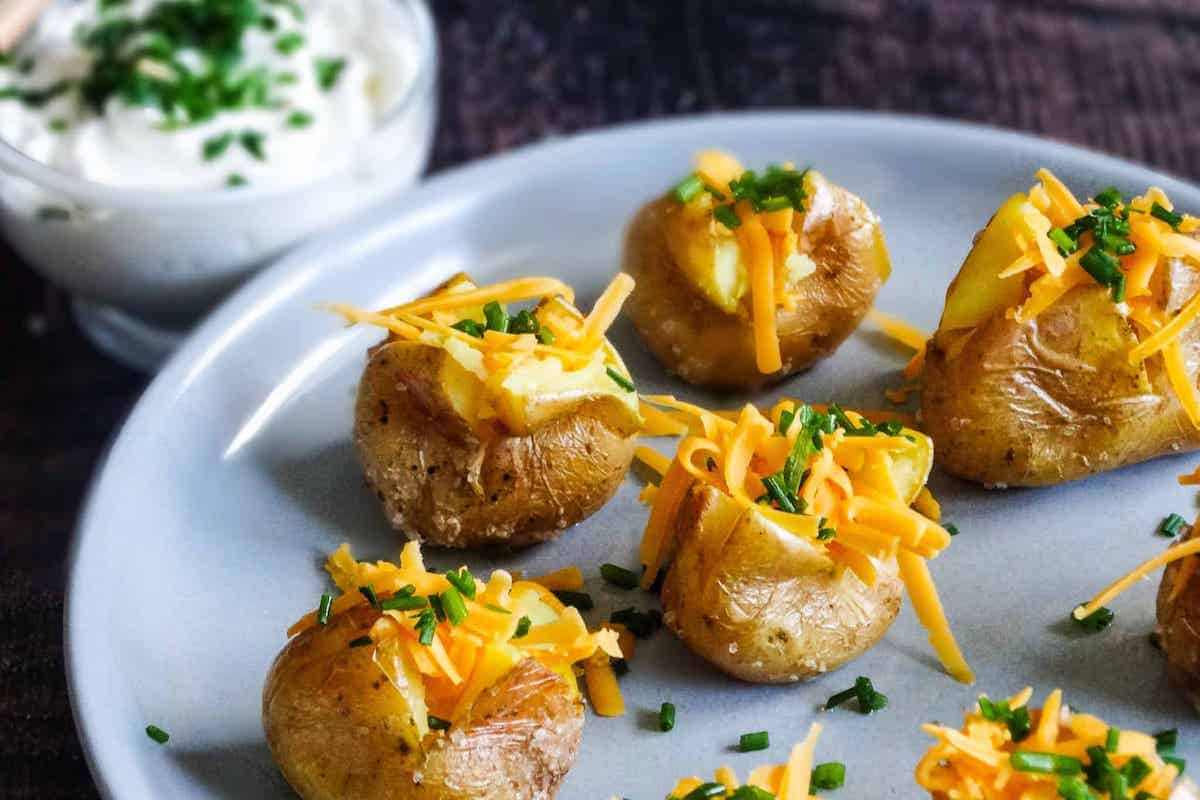 Step-By-Step Directions
Mini potato bites are incredibly simple to make.
First, dip the potatoes into olive oil and roll in coarse salt. Put on a baking sheet and bake at 350 for about 45-50 minutes. You'll know they are done when a fork easily pierces a potato.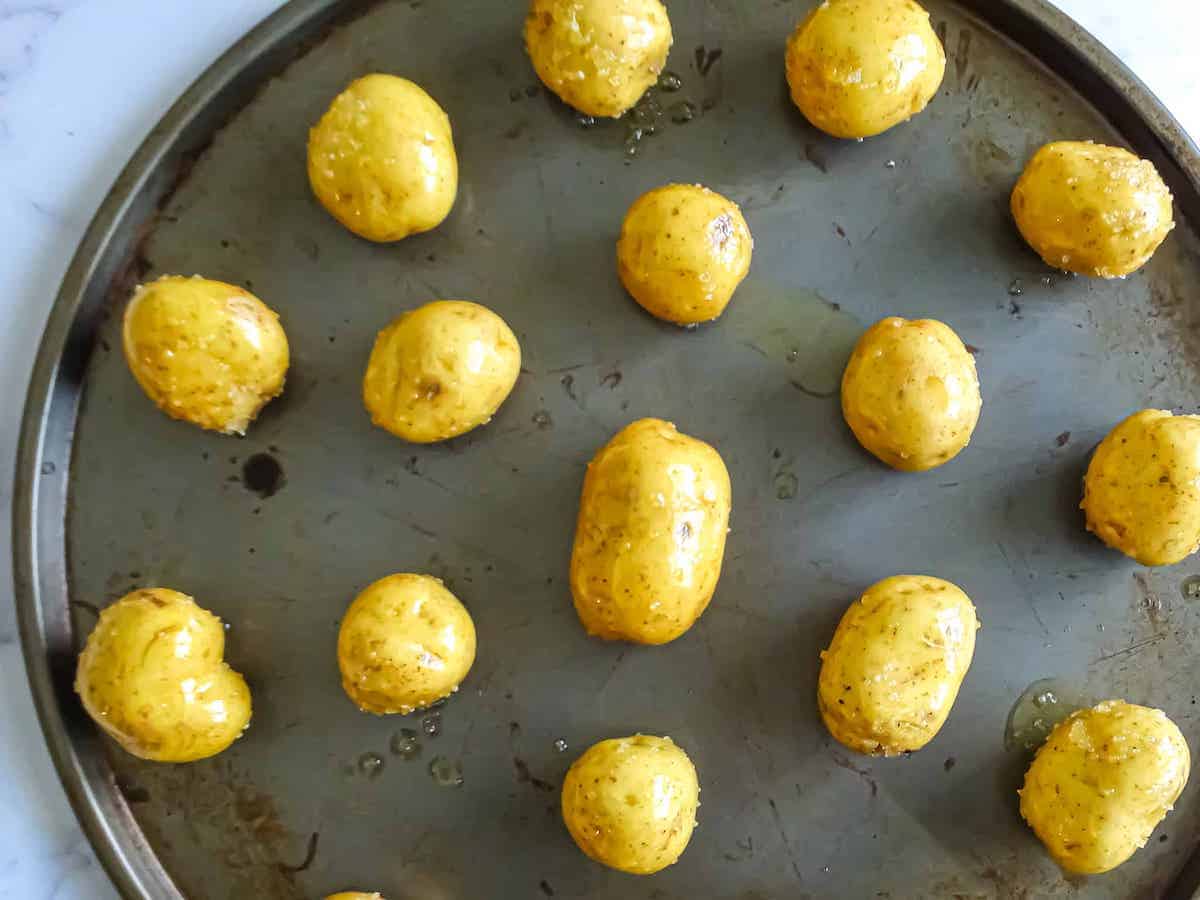 Next, slice a cross in the top of each potato. Do this while the potatoes are still hot. They are easier to smash when warm, straight out of the oven.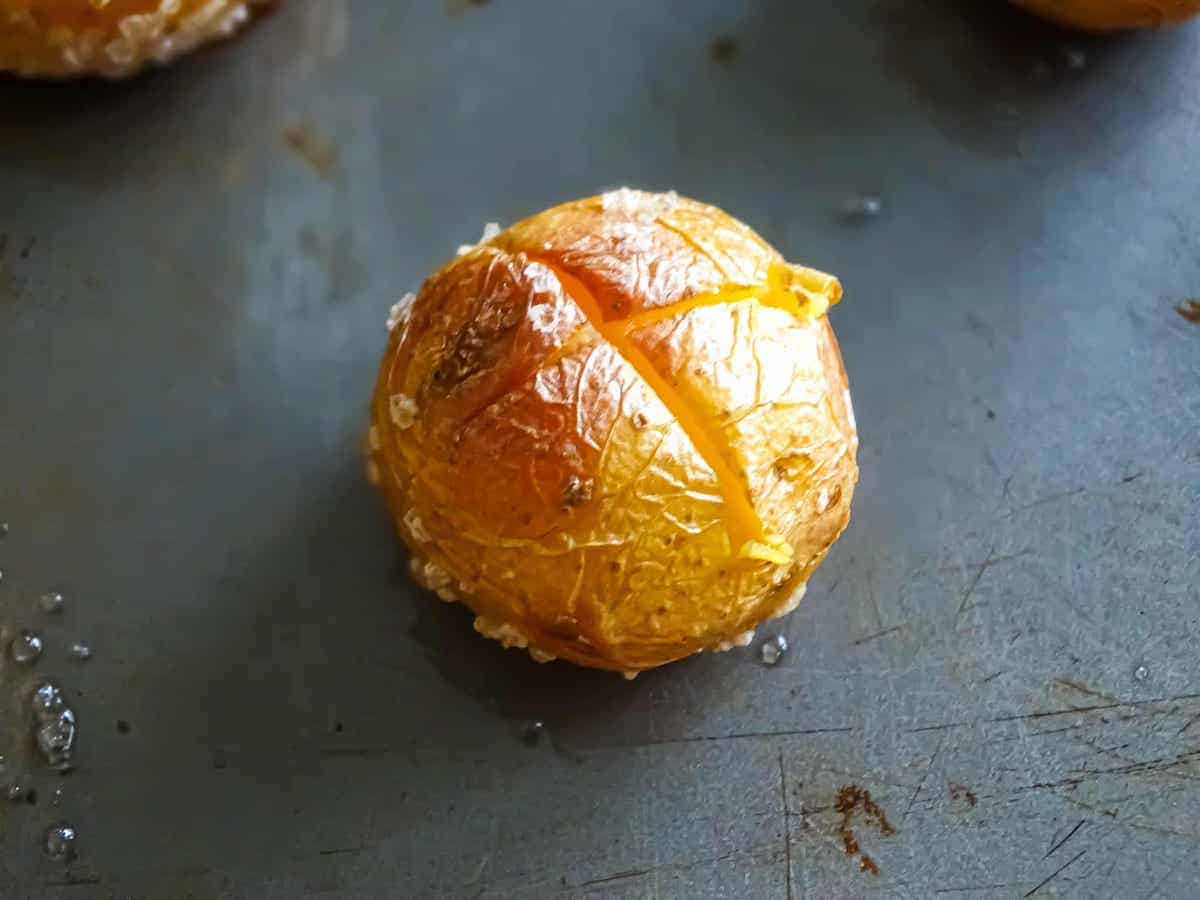 Now gently press the potatoes together to smash the insides up a little bit, so they look like this: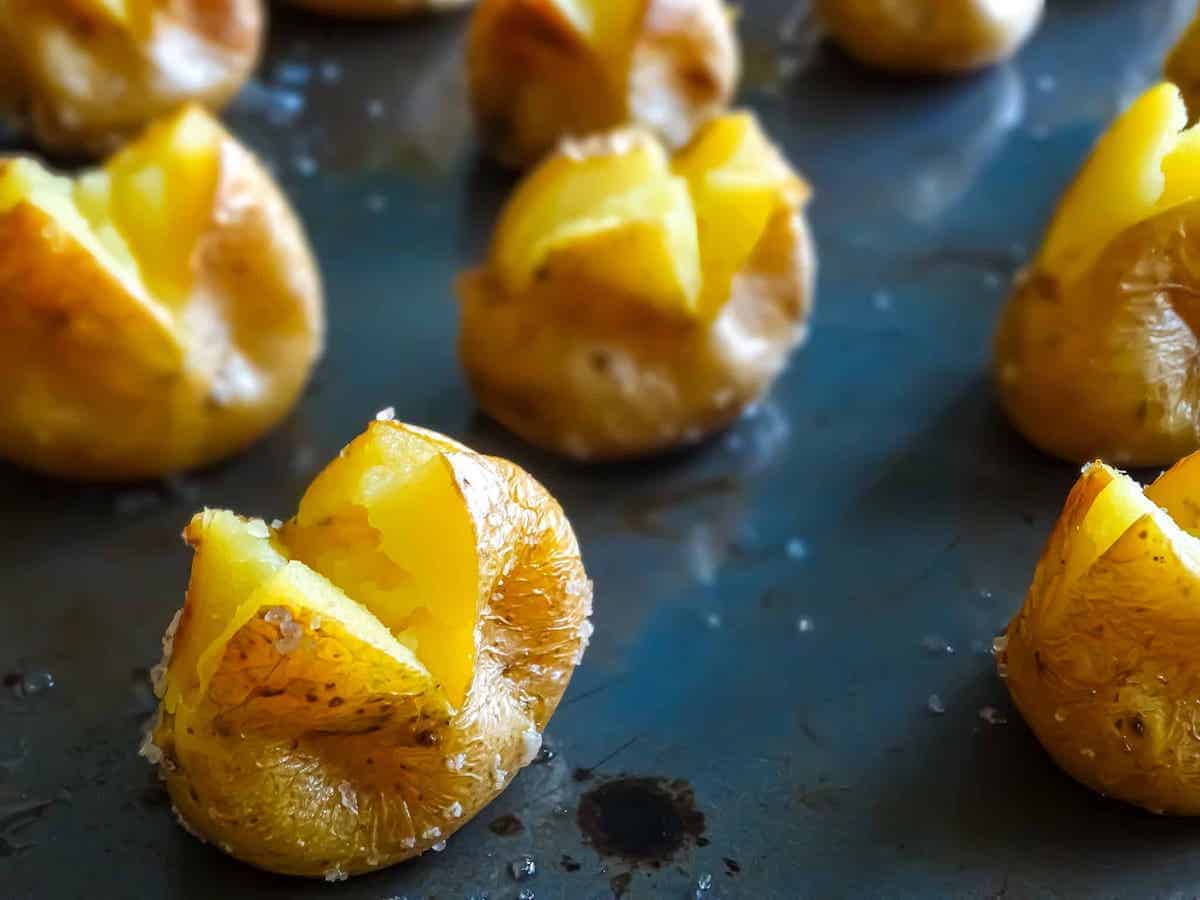 Dollop the sour cream and cheddar (or other toppings) into the potato. Sprinkle with chives and serve warm or at room temperature.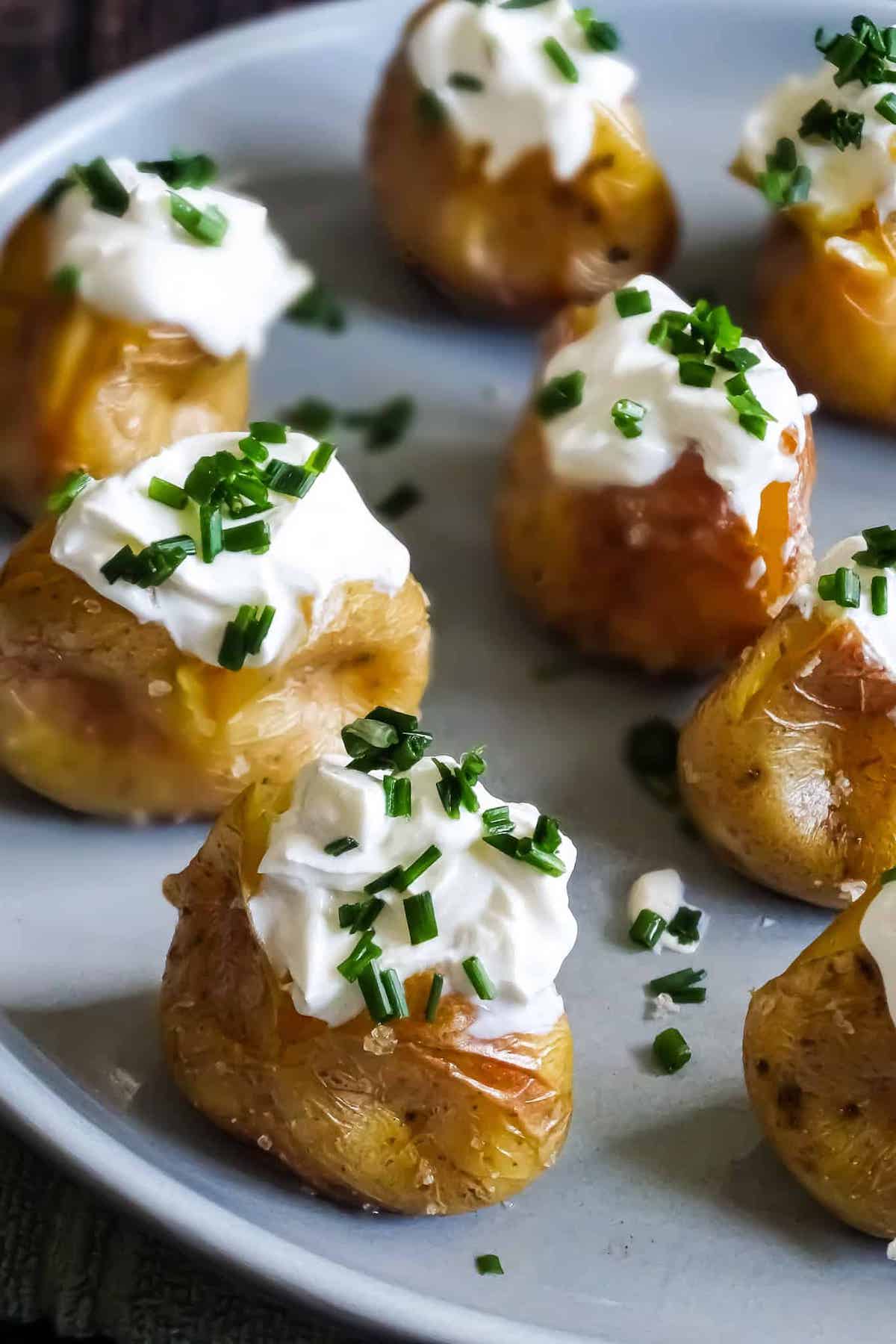 Enjoy! I hope that you find these mini potato bites to be as delicious as I do.
Recipe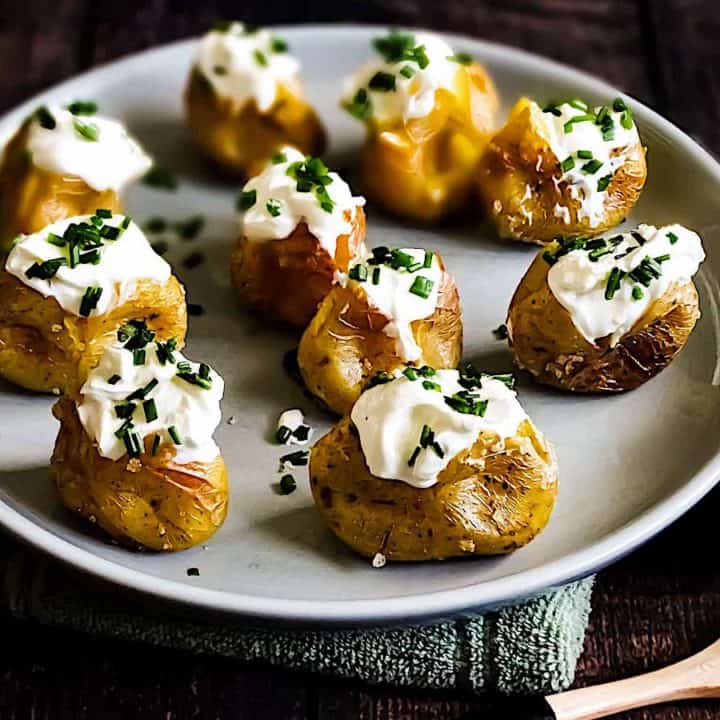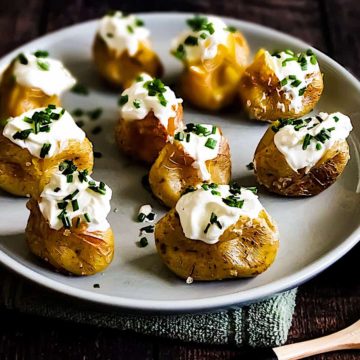 Mini Potato Bites
Mini Potato Bites are a fantastically simple party finger food. They are super easy and loaded with tasty cheddar cheese, sour cream and chives.
Ingredients
1

bag

mini potatoes (about 20)

2

tablespoon

coarse salt

⅓

cup

olive oil

1

cup

sour cream, plus more for serving

½

cup

chives, chopped

½

cup

cheddar cheese, shredded
Instructions
Preheat the oven to 350°.

Wash and dry potatoes. Dip in olive oil, roll in the salt, and place on a baking sheet.

Bake for 45-50 minutes, until a fork easily pierces the potatoes.

Slice a cross in each potato and gently squeeze the potato to push the insides up so that it is "smashed".

Top with a little cheddar cheese, sour cream, and chives. Serve warm or at room temperature, with extra sour cream on the side.
Notes
For picky eaters, don't add the sour cream directly to potatoes. Serve on the side. 
Nutrition
Serving:
2
potatoes
Calories:
150
kcal
Serving and Storing
In addition to serving them already with the toppings on, create a mini potato bites bar. Leave the potatoes plain or add a little butter and pepper once you smash them open. Then have all of the offered toppings served on the side.
Store leftover potatoes in the fridge, if you have any! Since you'll warm them up in the toaster or microwave, remove any sour cream prior to storing.
If you tried this fantastic recipe, let me know what you thought in the comments! I'd love to hear how they turned out for you.
For more delicious recipes, follow me on Pinterest, Facebook, and Instagram! And if you loved this recipe make sure to give it a star rating!
Related Recipes You'll Love