Make spaghetti night even easier with this Instant Pot Spaghetti and Meat Sauce recipe! It's a true 1 pot Instant Pot pasta recipe. There's no need to drain the pasta, and ground beef is cooked right into the noodles and sauce, all in less than 30 minutes! Turn a classic family favorite into mom's (or dad's) favorite by making Instant Pot spaghetti!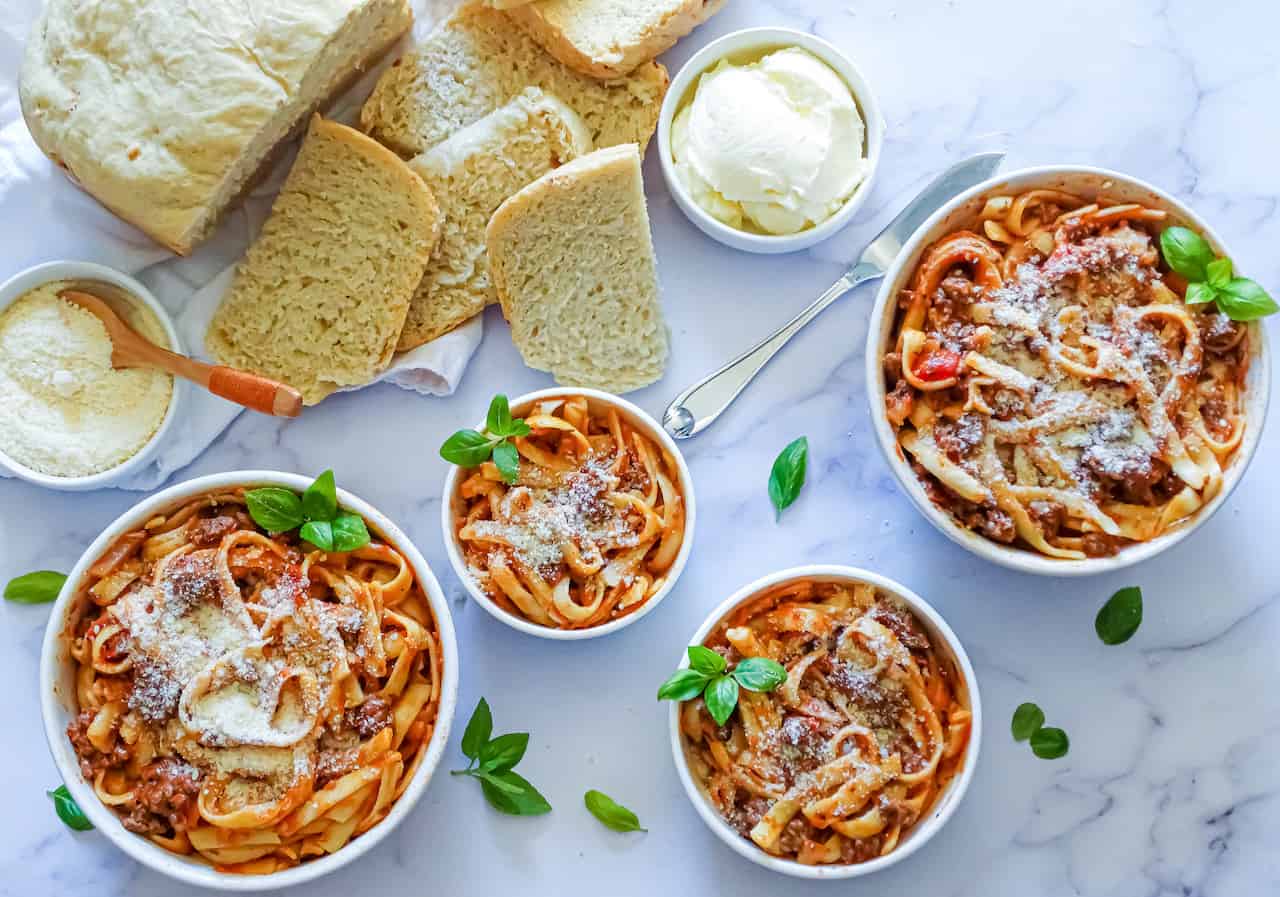 Jump to:
Every time I break out my Instant Pot, I fall in love with it more and more. It's fantastic on busy nights. Or even on lazy days, when the thought of dirtying a whole bunch of pots and pans is more than I can handle.
While making spaghetti is already pretty easy, the Instant Pot makes it even easier. This Instant Pot spaghetti recipe cooks ground beef right into the sauce, so there is no need to make meatballs separately.
It is also a true one pot pasta recipe. When making spaghetti you usually need a pot to cook the spaghetti, a colander to drain the spaghetti, and maybe a separate pot to cook the meatballs and sauce.
But with this Instant Pot spaghetti, you sauté ground beef first, then add sauce, water and pasta and pressure cook it.
There is no draining necessary and it is all cooked in the same pot without any removing ingredients in between or cleaning any pieces.
I have the 6 Quart Instant Pot Duo Nova. It isn't just a pressure cooker though. It comes with different functions, including the slow cook program. The slow cooker is another one of my favorite fall and winter kitchen appliances!
If you are a huge fan of the slow cooker and air fryer, especially in the winter or during the school year, there is an Instant Pot that comes with a built-in air fryer!
Our favorite Instant Pot recipes are kid-friendly chili and broccoli cheddar mac n cheese.
Since homemade spaghetti and meatballs is one of my family's favorite meals whether it's spring, summer, fall or winter, I have perfected recipes in many different ways.
In the summer I like to make a fresh tomato sauce spaghetti recipe, while in the winter we often make this incredibly delicious slow-simmered tomato sauce with spaghetti and meatballs.
In fact, as we speak I am slow cooking a tomato sauce using sweet grape tomatoes, so that recipe will be soon to come!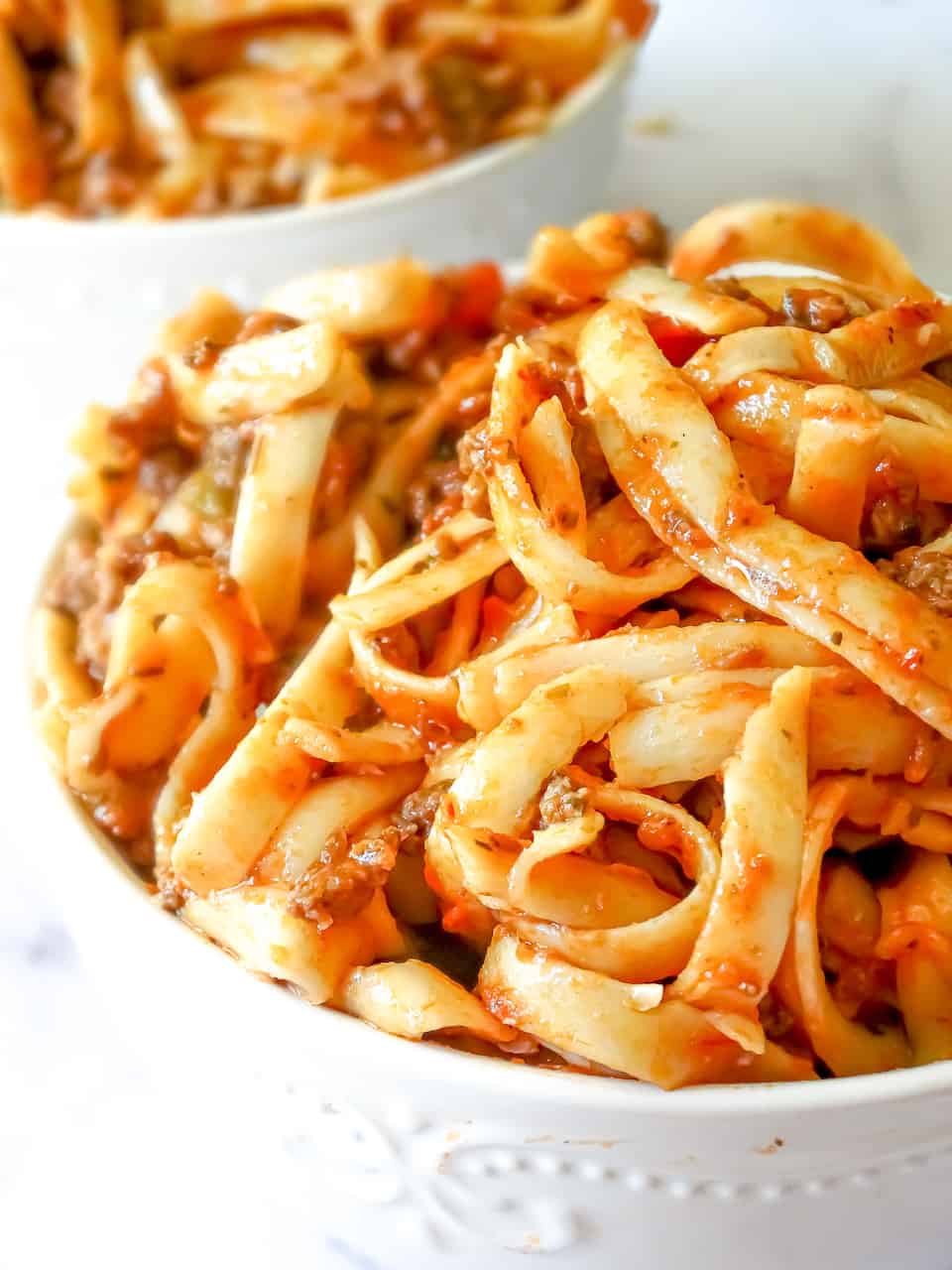 📋 Ingredients
To make Instant Pot spaghetti you need:
pasta noodles (I use fettuccine because I love the texture, but use spaghetti, linguini, etc.)
ground beef
salt + pepper
garlic powder, onion powder, parsley + oregano
your favorite jar of sauce
olive oil
💭 Expert Tips
Use any type of pasta noodle (except angel hair). You may need to adjust the cooking time if not using fettuccine. For instance, elbow noodles pressure cook for 5 minutes and spaghetti for 6. I don't recommend using angel hair or thin spaghetti because it is so thin that it may turn to mush.
You can make this even more kid-friendly by making "homemade spaghetti-Os" using ditalini and pressure cooking for 3 minutes.
Add the pasta to the pot in varying directions and make sure to add oil before the water and sauce. The olive oil prevents sticking. You can add a little bit of oil between each layer of noodles to further ensure they won't stick together. Even if some noodles do, once the spaghetti is done cooking a few good stirs should break up the stuck noodles.
Use 2 jars of sauce for a saucier spaghetti. Don't increase any other ingredients, though.
Break up the ground beef into small pieces as it sautés for quicker cooking.
Don't drain the excess fat after the beef browns for a more flavorful base. There is a lot of flavor in the grease from browning, albeit it that it's not healthy to consume too much fat. Since I use a lean 90% beef, there is virtually no fat for me to drain, so I leave it in the pot to add flavor to the sauce. Unless you have a huge amount of fat after browning, I'd leave it alone.
Don't be stingy when seasoning the ground beef. Even though you will add a flavorful sauce to the meat, seasoning it while it browns is a surefire way to make any Instant Pot spaghetti recipe taste as though you're eating "ground meatballs" rather than plain browned beef.
Use your favorite jarred pasta sauce or make your own homemade tomato sauce for an Instant Pot spaghetti you're sure to love!
When done pressure cooking, the sauce may appear to be watery. Give it a few good stirs and let it rest for a couple minutes. The pasta will absorb any leftover water.
🔪 Step-By-Step Directions
The first step to making Instant pot spaghetti is sautéing the beef and herbs until completely browned, about 10 minutes. I also throw a few handfuls of cherry or grape tomatoes in for more texture and sweetness.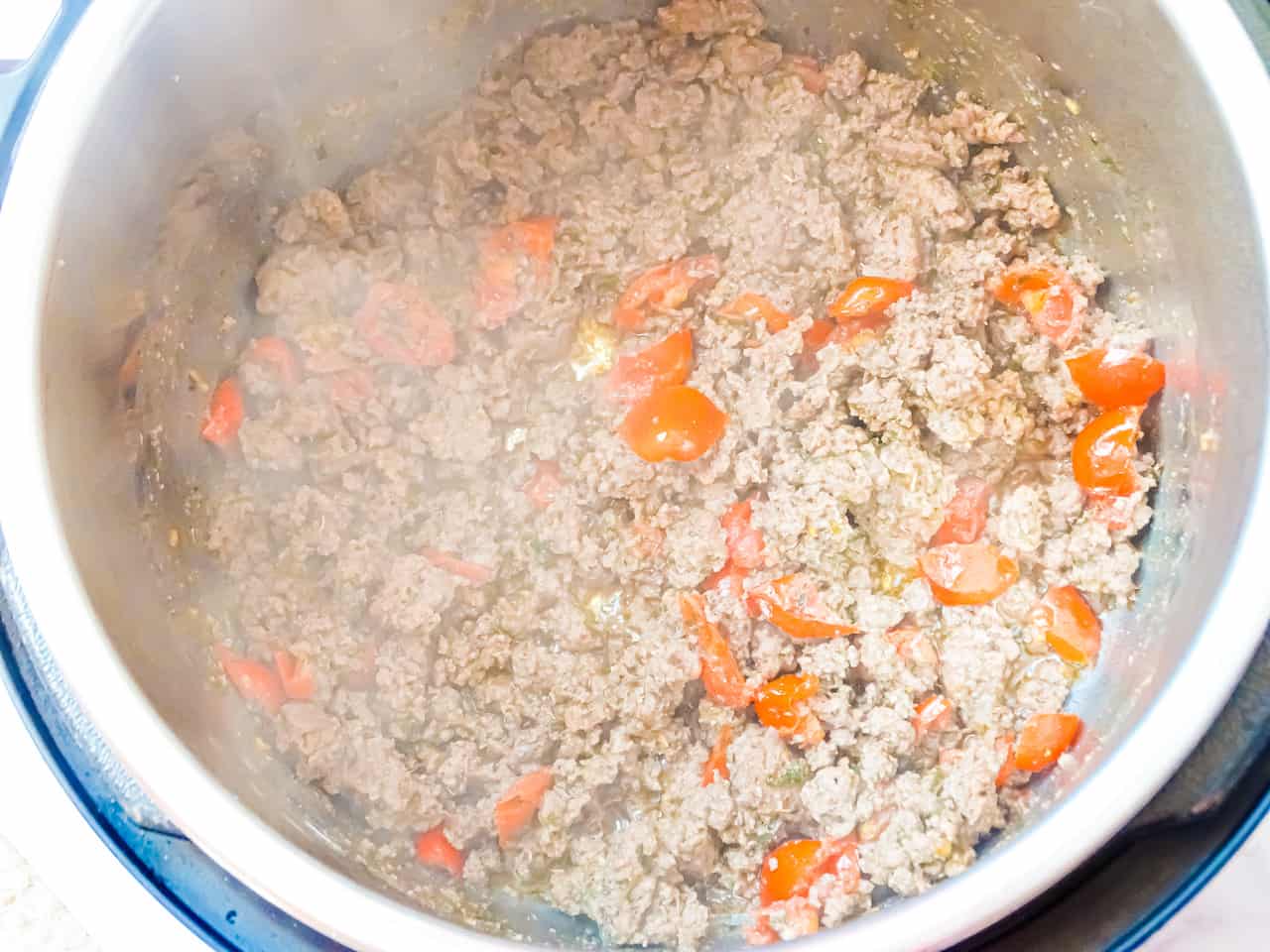 Once the beef is brown, drain out the extra grease if desired (see above note). Scrape off any stuck pieces from the bottom of the pot to ensure they do not burn during pressure cooking. You can do this by adding a little bit of water, turning to pot back to saute and letting the hot liquid loosen the bits as you scrape.
Then break the pasta in half and layer it in varying directions over the beef. Add the olive oil in portions on top of each layer of pasts.
Then add tomato sauce and water. Press down on the noodles to ensure they are covered by the water.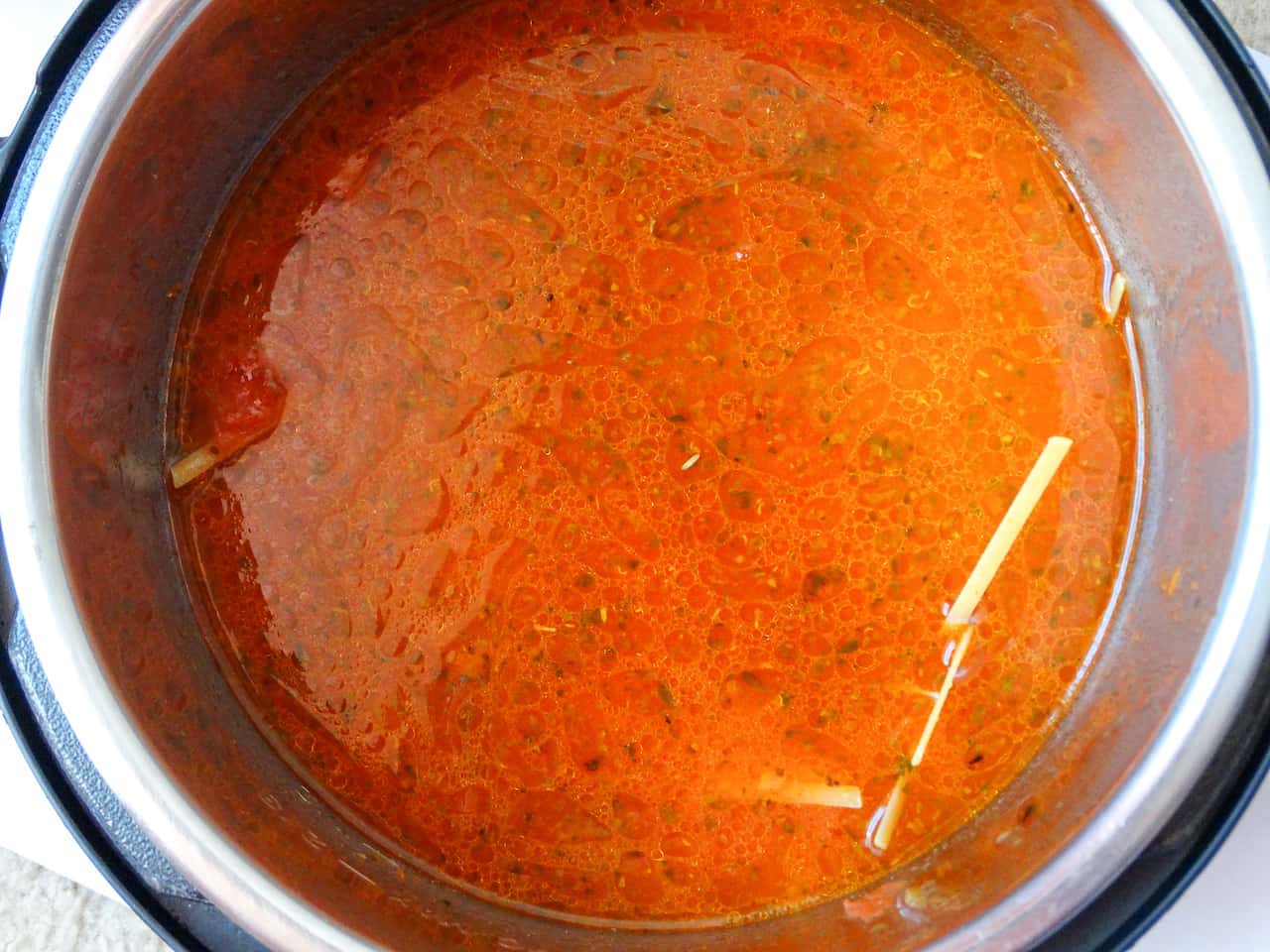 Close the lid and set to pressure cook on high for 6 minutes for spaghetti pasta and 8 minutes for fettuccine or linguine. For a less tender pasta, reduce cooking time 2-3 minutes.
Do a quick release when finished, then stir the pasta.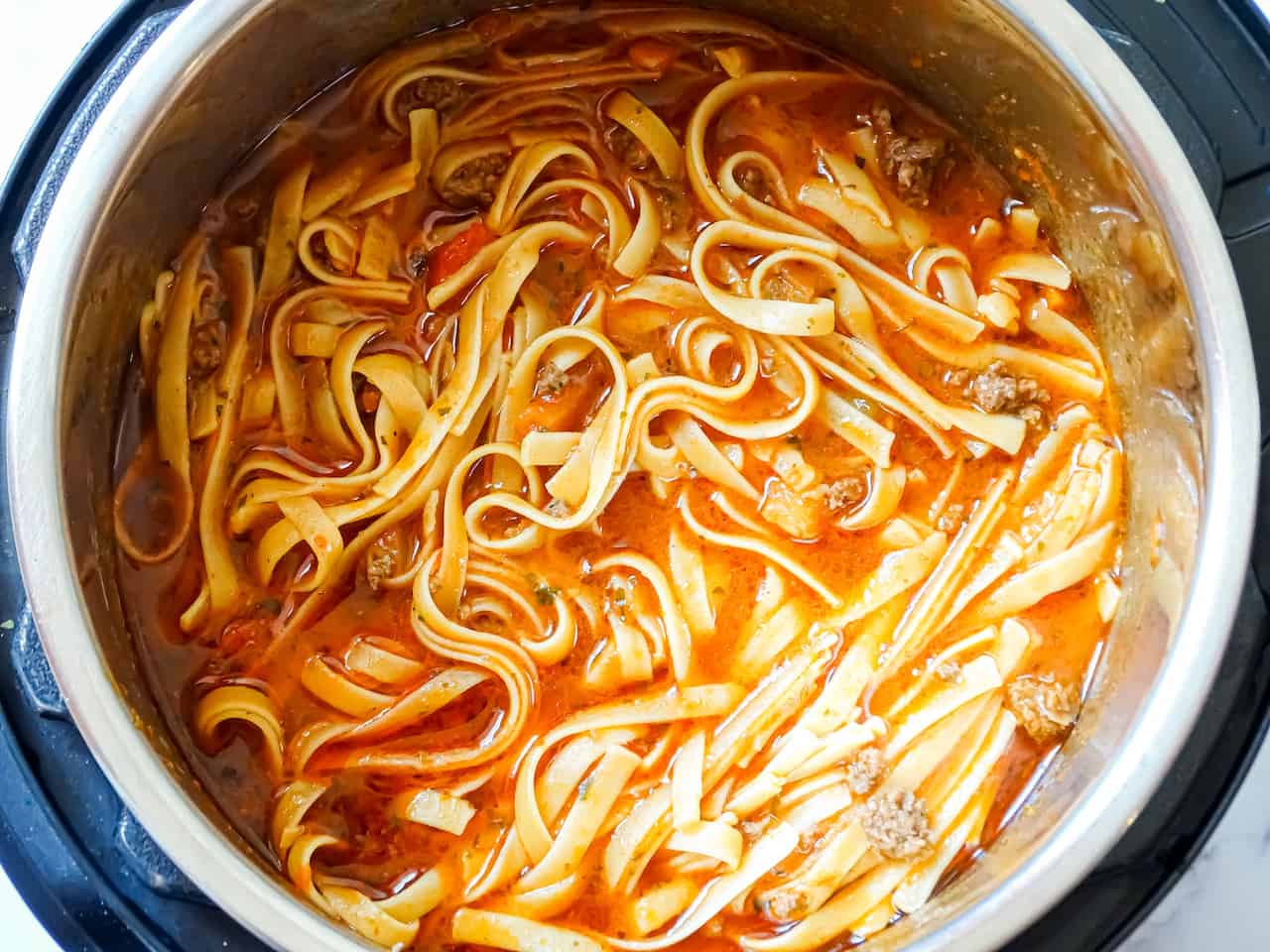 Top each bowl with shredded or grated parmesan cheese and enjoy!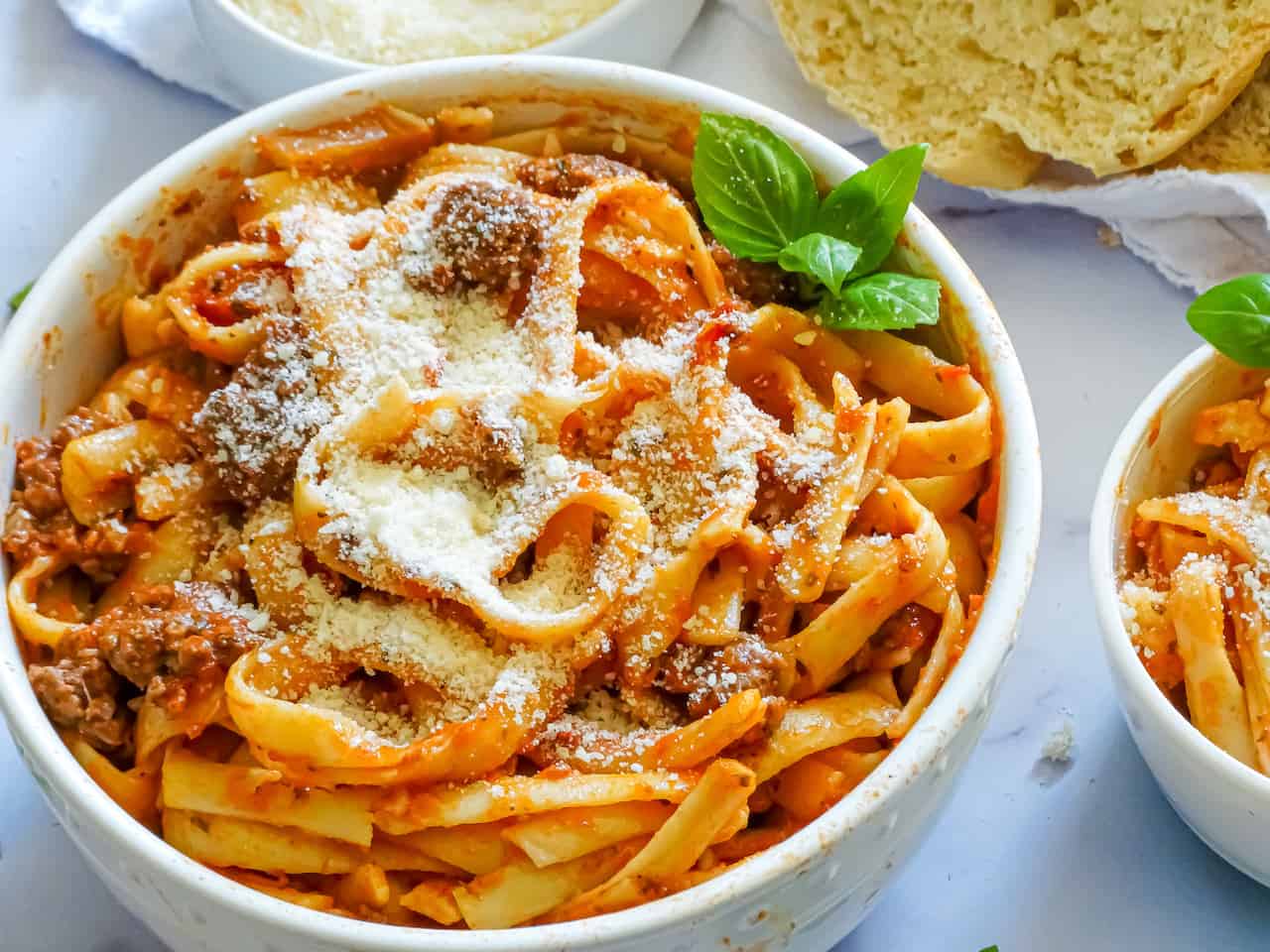 📖 Recipe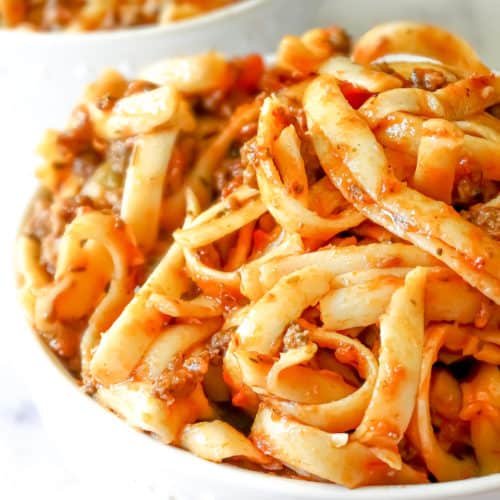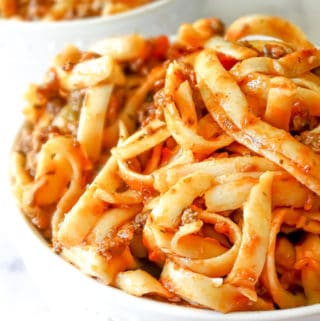 Instant Pot Spaghetti with Meat Sauce
Make spaghetti even easier by making it a true 1 pot meal in the Instant Pot!
Ingredients
1

lb

ground beef

1

tsp

salt

½

tsp

pepper

2

tsp

garlic powder

1

tsp

onion powder

2

tsp

oregano

2

tsp

parsley

16

oz

spaghetti, fettuccine, or linguini

2

tbsp

olive oil

3

cups

pasta sauce (one 24 oz jar of your favorite red sauce) *use 6 cups for a saucier pasta

5

cups

water
Instructions
Set the Instant Pot to sauté for 10 minutes. Add the beef, salt, pepper, garlic powder, onion powder, oregano, and parsley. Mix and break up the beef with a wooden spoon. Cook until browned, about 10 minutes. Turn off sauté setting.

Mix the beef mixture well to loosen any brown bits and beef from the bottom of the pot. Drain excess grease if there is any. Break the pasta in half and add to the pot, layering in varying directions. Add a portion of the oil over each pasta layer. Then add sauce, followed by water. Push the pasta under the liquid but don't mix.

Set to pressure cook on high for 8 minutes for fettuccine/linguine and 6 minutes for spaghetti. Do a quick release of the steam, remove cover and stir. Hint: if the pasta seems too watery, don't worry! After you stir it and as it sits, the pasta will absorb the sauce. You may even want to add an additional jar of sauce, if you prefer a more saucy pasta.
Notes
*nutritional information may vary depending on the type of sauce chosen
For an al dente pasta, remove 2-3 minutes off of pressure cooking time.
For saucier pasta, add 6 cups of sauce instead of 3.
Nutrition
Serving:
8
oz
Calories:
550
kcal
Carbohydrates:
65
g
Protein:
25
g
Fat:
21
g
Saturated Fat:
7
g
Cholesterol:
54
mg
Sodium:
1096
mg
Potassium:
799
mg
Fiber:
5
g
Sugar:
7
g
Vitamin A:
542
IU
Vitamin C:
9
mg
Calcium:
62
mg
Iron:
4
mg
🍽 Serving and Storing
This recipe makes a large pot of spaghetti, perfect for a family of 5-6 people. But for smaller families, the leftovers make easy work lunches.
It is especially good with garlic bread or other crusty breads for dipping into the sauce.
Instant Pot spaghetti will stay delicious in your fridge for up to 1 week. It is not freezer friendly.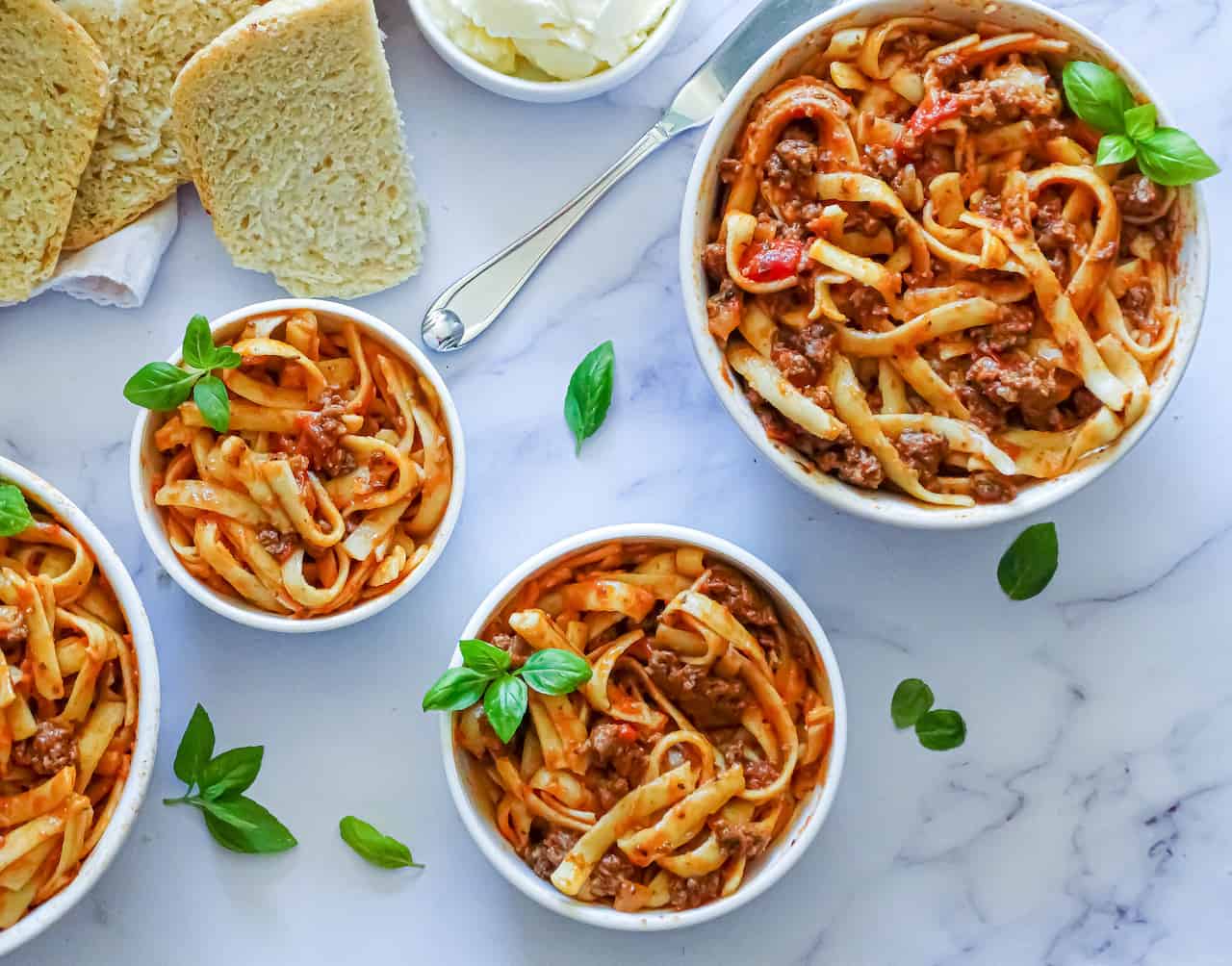 That's all there is to making this delicious recipe! I hope you enjoy it!
If you've tried it, I'd love to hear how it turned out! Let me know in the comments below.
And don't forget to follow me on Facebook, Pinterest and Instagram for the latest recipes and more!
🥘 Recommended Recipes