Homemade Spinach Pasta Dough for the Bread Machine is easy peasy! Steam fresh spinach and add all ingredients to the bread machine. Roll out and cut or put through a pasta roller, then cook your fresh pasta in minutes! Top with your favorite light sauce or butter and Parmesan cheese.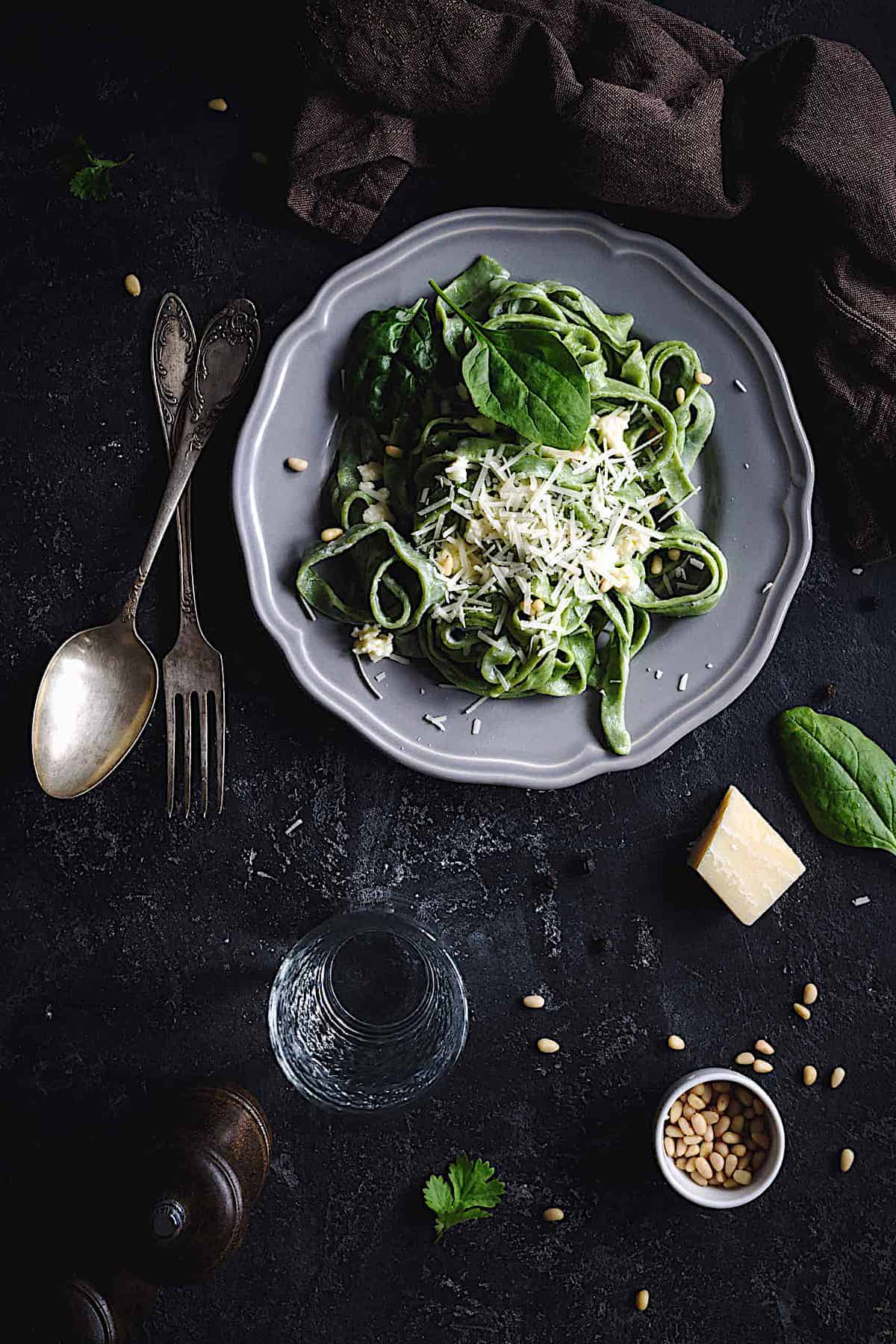 Making homemade spinach pasta dough is yum and fun! Fresh pasta tastes much better than boxed pasta and is such a fun experience, especially to have with your children (or maybe as a romantic date night activity).
You can make pasta dough by hand rather than in the bread machine if you don't have one. And if you don't have a pasta cutter, you can roll it out and cut it by hand too, as I do.
Homemade spinach pasta is an excellent way to get your pasta-loving family to unknowingly eat their cancer-fighting green veggies.
We call this spinach pasta "green pasta". My kids don't know it's made with spinach, and that's okay with me.
MORE BREAD MACHINE RECIPES TO TRY
Serving
Spinach pasta is great with a homemade sauce. Some great recipes to try with this pasta are:
Ingredients
This homemade spinach pasta dough for the bread machine is similar to this Cuisinart recipe. But I've made a few tweaks and adjustments that I felt made it even better.
Don't get me wrong, Cuisinart's recipe is delicious. I just preferred mine with a little more spinach and 1 type of flour.
This simple recipe only uses 4 main ingredients: fresh spinach, flour, eggs, and salt.
You'll also need a small amount of olive oil and water to puree the spinach, but that's it.
Simple, whole ingredients. Fresh and healthy!
Step-By-Step Directions
Making pasta dough, no matter the flavor, is easier than ever when using a bread machine.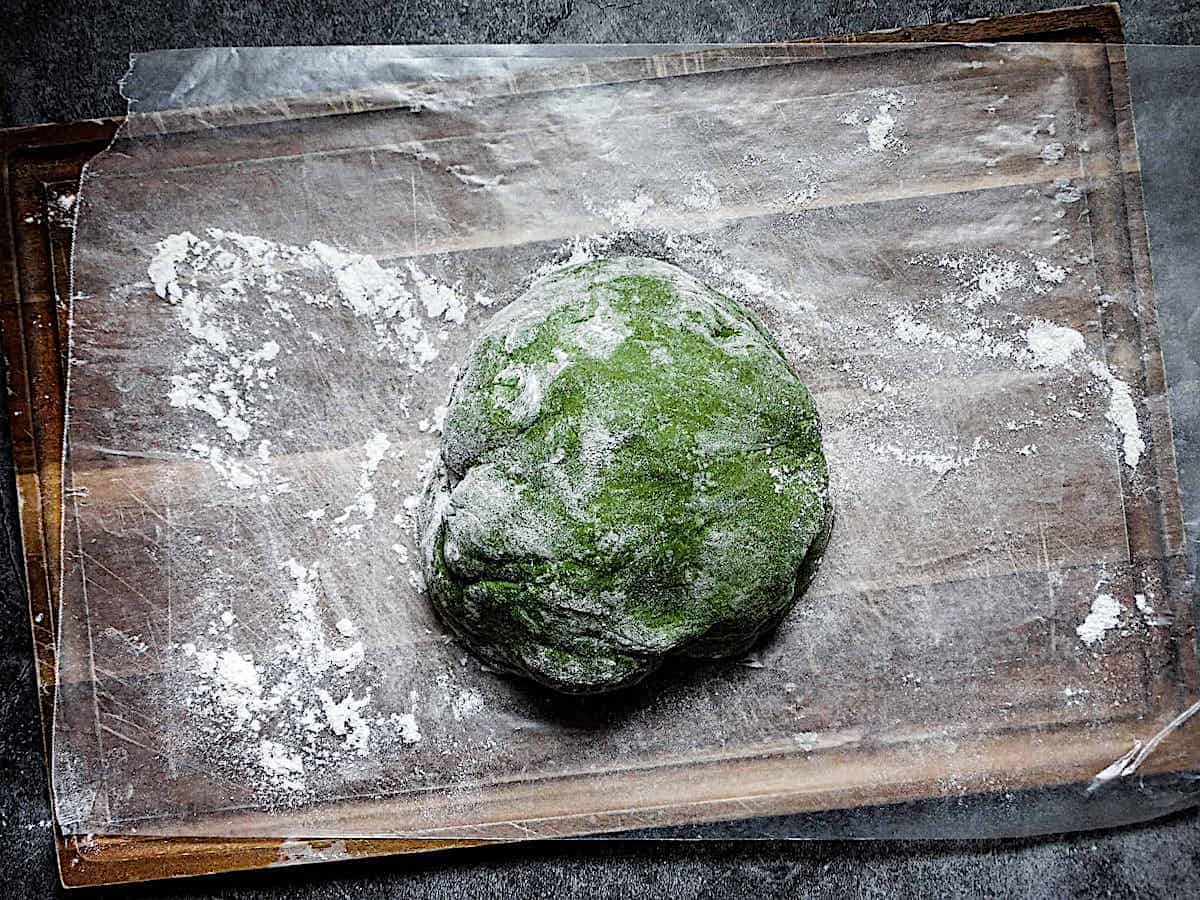 First, you need to steam the spinach. Then puree it with a food processor or blender. You'll need to add a couple tablespoons of water and olive oil to the spinach while pureeing. It'll be nice and smooth when done.
Second, add the spinach, eggs, salt, and flour to the pan of the bread machine in that order (for Cuisinart machines). If using a different brand, add the ingredients in the order that your brand requires.
Third, set the function to "pasta dough" and press start. It takes roughly 20 minutes for the bread machine to work it's magic and turn those simple ingredients into a fresh, homemade spinach pasta dough.
Once the cycle has completed, let the dough rest for 30 minutes.
While it's resting, flour your pasta rolling and cutting surface if shaping the pasta noodles by hand.
If you are cooking your pasta right away, bring a large pot of water to a boil.
The other option is to dry the pasta and store it for later use. King Arthur flour has a helpful explanation for how to do this.
Cutting Pasta Dough
When the dough has finished resting, you will roll and cut it. This is where pasta dough making can be labor intensive if you don't have a pasta cutter.
It took me about 20 minutes to roll and cut my dough.
First, separate the dough into 2 balls. It will be easier to work with smaller dough balls than 1 large one.
On the floured work surface, knead the ball a few times and then begin to stretch it out, pressing down on the center and pushing outward.
When the dough has been flattened to about 2 inches, begin rolling it out with a rolling pin as you would cookie dough. If the dough pulls back and shrinks up on you, let it rest for 5 minutes and then roll it out again.
When the dough is about ¼ inch thick, it's time to cut. You can choose how wide and long to cut the noodles.
The easiest way to cut the dough without a pasta roller is with a pizza cutter.
It's easy to stretch homemade pasta dough, so if you end up with noodles thicker than you'd like, stretch them out a bit to make longer, skinnier noodles.
Or, cut them into shorter noodles if they are too long. There really is no right way for your noodles to look so don't worry if they don't look perfect and out of the box.
Cooking Pasta Dough
Add the cut noodles to the boiling water and cook for 4-6 minutes.
Fresh homemade pasta takes much less time to cook than dry pasta. The duration depends on the thickness and shape of your noodles. Taste the noodles while they cook to determine when they are done.
Enjoy!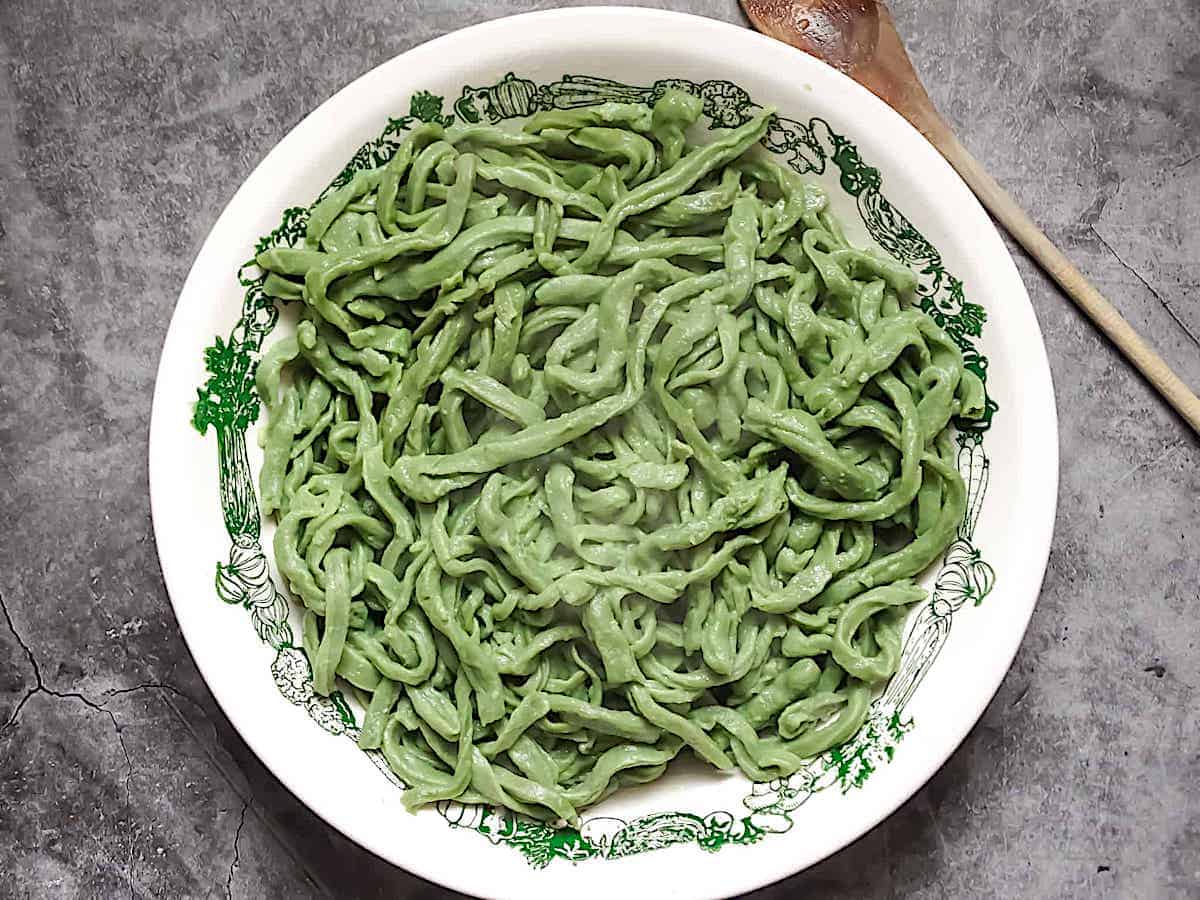 If you enjoyed this recipe, make sure to give it a star rating and let me know what you thought in the comments! And follow me on Facebook, Pinterest and Instagram for more delicious recipes!
Recipe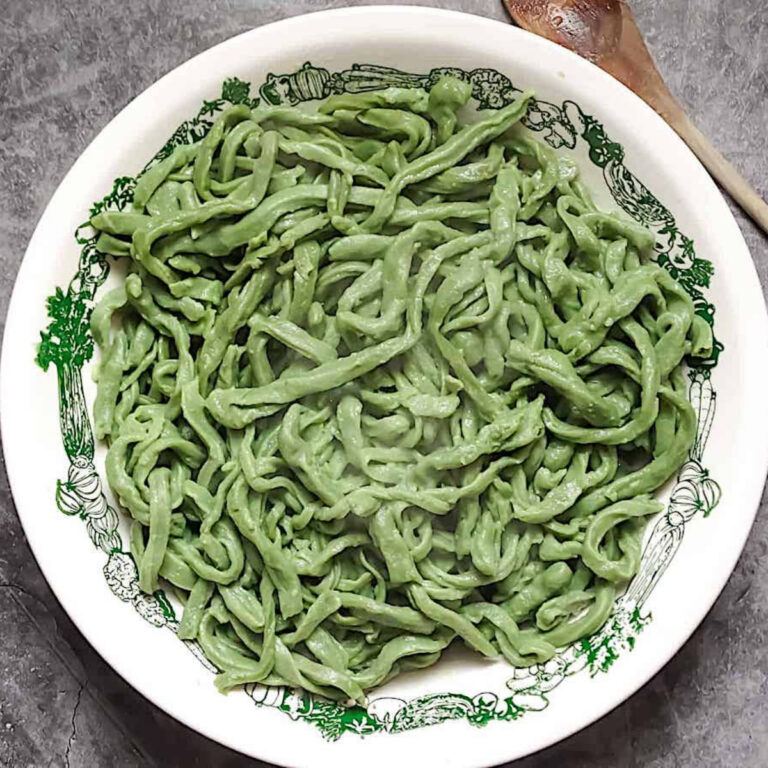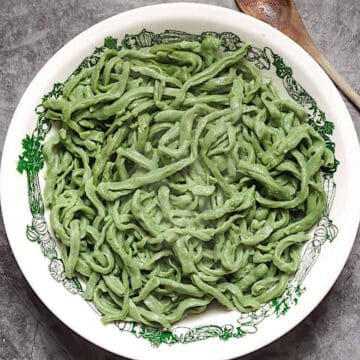 Bread Machine Homemade Spinach Pasta Dough
Bread Machine Homemade Spinach Pasta Dough is easy peasy! Steam fresh spinach and add all ingredients to the bread machine. Roll out and cut or put through a pasta roller, then cook your fresh pasta in minutes! Top with light sauce or butter and cheese.
Save To My Collection
Saved!
Equipment
pasta roller & cutter

optional
Ingredients
12

ounces

fresh spinach

1

tablespoon

olive oil

4

eggs

1 ½

teaspoon

salt

4

cups

all purpose flour
Instructions
Steam spinach. Puree spinach with olive oil and about ⅛ cup of water until smooth.

To the bread pan, add spinach, eggs, salt, and flour in this order. Set to the pasta dough function and press start. When finished, let dough rest for 30 minutes.

If rolling and cutting pasta dough by hand, dust your surface with flour. Break dough into 2 pieces. Roll dough with a rolling pin starting at the center and rolling out until ¼ inch thick. With a pizza cutter, slice to form skinny noodles.

Add cut pasta to salted boiling water. Cook 4-6 minutes. Serve with your favorite pasta sauce or dry for later use.
Notes
Calorie and nutritional information is for plain spinach pasta. Nutritional information varies depending on sauce used.
Nutrition
Serving:
4
oz
Calories:
227
kcal
Carbohydrates:
40
g
Protein:
8
g
Fat:
4
g
Saturated Fat:
1
g
Trans Fat:
1
g
Cholesterol:
65
mg
Sodium:
402
mg
Potassium:
268
mg
Fiber:
2
g
Sugar:
1
g
Vitamin A:
3285
IU
Vitamin C:
10
mg
Calcium:
51
mg
Iron:
4
mg