This easy, delicious Pasta with Butter and Parmesan is my take on the classic Italian dish Cacio e Pepe. Spaghetti is topped with a simple Parmesan and pepper butter sauce. You control the amount of pepper, which makes this a great dinner for kids. And it's ready in under 20 minutes!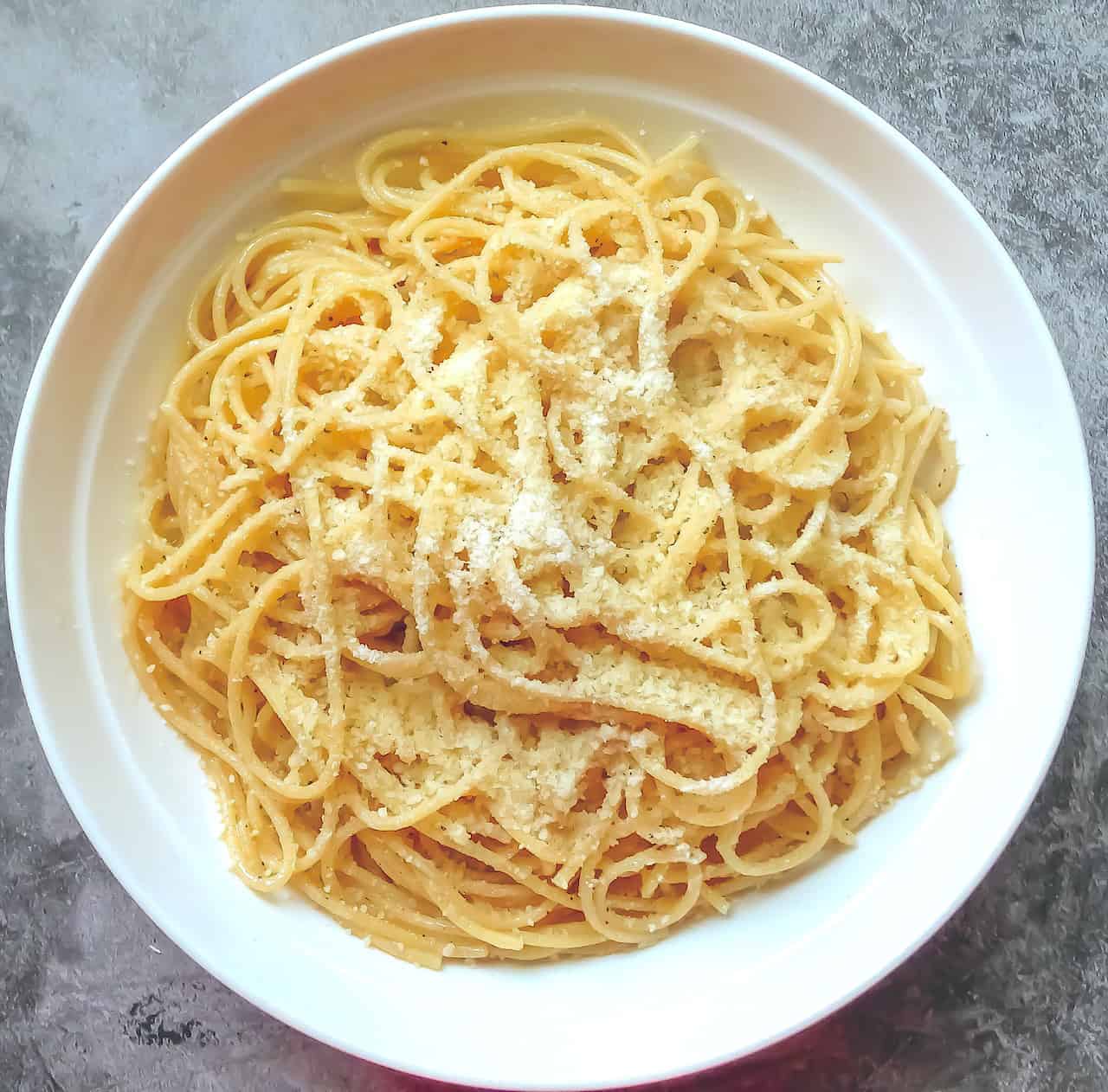 Jump to:
Pasta with Butter and Parmesan is my absolute favorite dinner for when we have limited food in the house or when I need to get dinner on the table fast. It's a hit with kids and adults and is a great dinner for a busy weeknight or a lazy kind of day.
Let's face it. That's basically every night when you have small children or work during the day.
Pasta with Butter and Parmesan is so simple and quick that you'll wonder where there incredible flavor comes from. (the cheese of course!). It's made with only 4 ingredients and comes together in about 20 minutes.
This recipe was inspired by Alton Brown's Cacio e Pepe. I developed this version of pasta with butter and parmesan when my daughter was in her "I only eat pasta" phase. I was pregnant and way too low on energy to have dinner time battles.
But I needed to find something quick and suitable for adults too. The hubby and I were not keen on eating plain pasta or mac n cheese every night like she was. And I certainly did not want to make her a separate meal every night.
Disclaimer: My daughter gobbles up 3 bowls of this, so make sure you have enough!
It is so good that I can never resist a second bowl either. Try it for yourself, I bet you'll want to gobble it up too!
Ingredients
The ingredients are super simple. We usually have them on hand and I bet you do too. Even though the traditional version of cacio e pepe uses a ton of pepper that young kids might not like so much, you can use a lot less without compromising its deliciousness. Just add extra pepper to individual bowls once you've served your kids.
To make Pasta with Butter and Parmesan, you need:
Pasta noodles
Butter
Pepper
Parmesan cheese
Tips
I use fettuccine or spaghetti noodles but you can use whatever pasta you have on hand. I have only made it using long noodles because I like how the sauce sticks to those.
Pasta noodles are actually shaped for different purposes, but any noodles will do well with a butter and parmesan sauce. If you'd like to read more about different pasta shapes and their purposes, you can do that here.
Use grated Parmesan cheese rather than shredded. Grated Parmesan will form the texture that makes this pasta with butter and Parmesan fantastic!
Keep it kid-friendly by using a little less pepper than the recipe calls for at first. You can add pepper to the adults' bowls at the end. Remember, you can always add but you can't take away!
Before adding the cheese to the butter, remove the pot from the heat. This will decrease the amount of cheese clumps you get.
Add the cheese in small amounts to further decrease the amount of clumps.
Save water from the drained pasta to add to the butter sauce, in case the pasta is too dry for your liking at the end. This starchy water also adds more flavor to the peppery butter sauce.
Step-By-Step Directions
Here are the steps to making Pasta with Butter and Parmesan:
In a large shallow pot (not a frying pan), boil salted water and cook the pasta al dente, or slightly hard. Drain the pasta and set aside, reserving at least 1 cup of the pasta water. The starchy water will help bind and thicken the butter sauce at the end.
In the same pot, melt the butter over medium heat. Add the pepper and toast it for about 1 minute stirring frequently. Take the pot off the heat and slowly add the cheese. Whisk continuously as you add the cheese. It will still be crumbly after, so don't worry if it doesn't dissolve completely. If you add it all at once though, it will end up a clumpy mess.
Then add the pasta and toss with the butter sauce. If there isn't enough sauce, add the reserved starchy water, ¼ cup at a time until you are happy with the amount of sauce.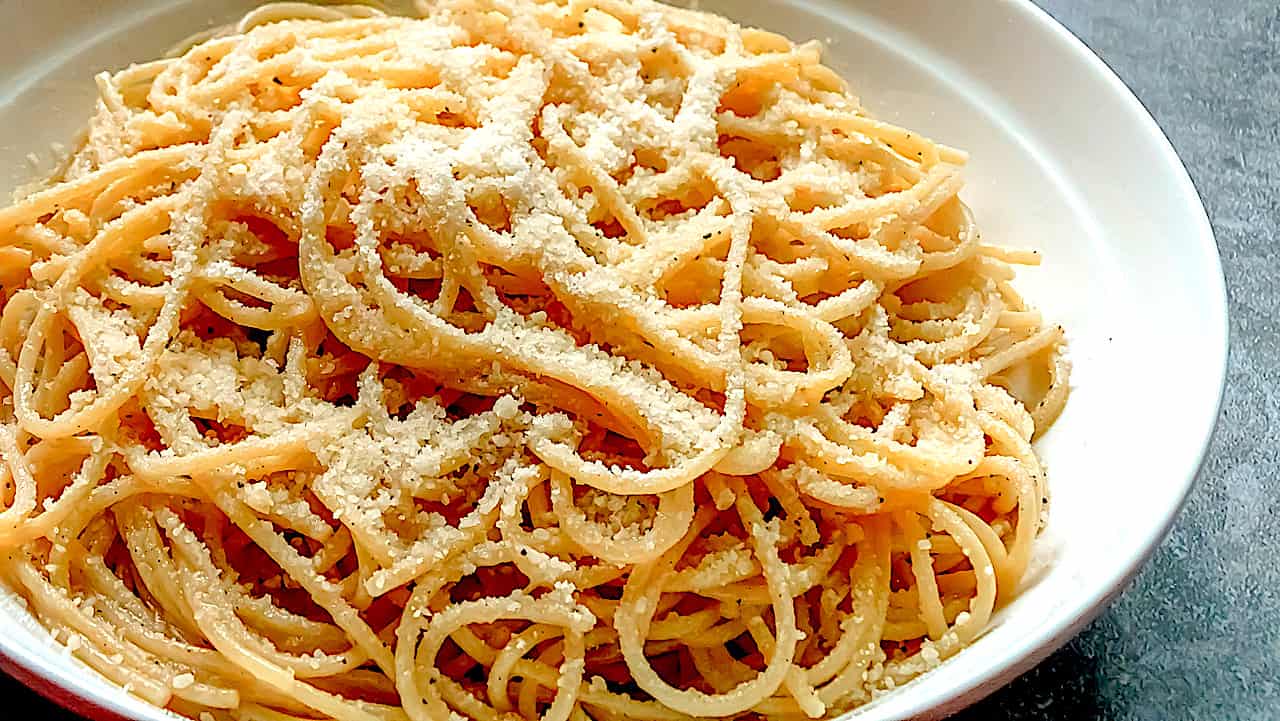 And that is how you can make this Pasta with Butter and Parmesan in just 20 minutes. I hope you enjoy it!
Recipe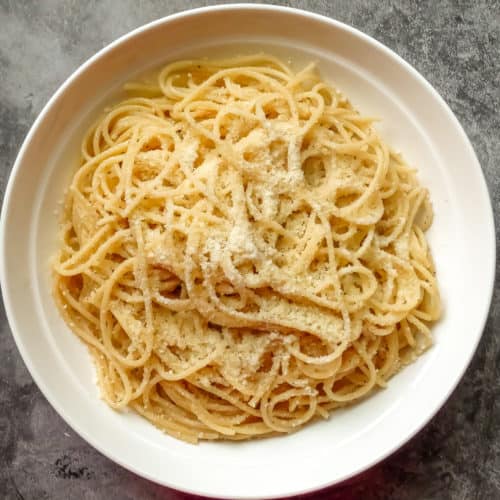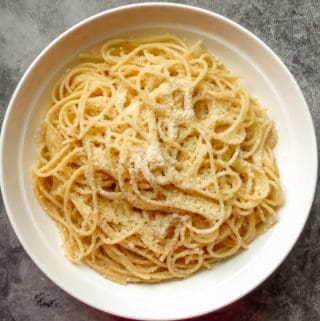 Pasta with Butter and Parmesan
This easy, delicious Pasta with Butter and Parmesan is my take on the classic Italian dish Cacio e Pepe. Spaghetti is topped with a simple Parmesan pepper butter sauce. It pairs well with a green salad and a side of crusty bread.


Print
Pin
Rate
Add to Collection
Go to Collections
Instructions
Bring well-salted water to a boil over high heat in a large pot. Add pasta and cook until al dente. Drain, reserving the water for later use. Set the pasta aside.

Melt butter in the same pot. Add pepper and toast over medium heat for 1 minute stirring frequently.

Remove from the heat. Slowly add ½ of the Parmesan, whisking continuously to incorporate into the butter.

Add ½ cup reserved pasta water and the remaining Parmesan. Whisk until combined.

Add pasta to the sauce and toss. If the pasta seems too dry, add reserved water ¼ cup at a time until desired consistency is reached.

Serve warm, with a green salad and a side of crusty bread.
Nutrition
Serving:
4
ounces
|
Calories:
503
kcal
That's all you need to know about making this Pasta with Butter and Parmesan! If you've made it, let me know what you thought in the comments below.
And don't forget to follow me on Facebook, Pinterest and Instagram for the latest recipes and more!
Related Recipes