Knowing how to make homemade pizza dough is ideal for anyone who loves eating their share of pizza! It's less costly than takeout and is easy to make once you know which is the best flour for pizza dough to make your favorite type of crust. I give you 5 types of pizza crust options in this informative article.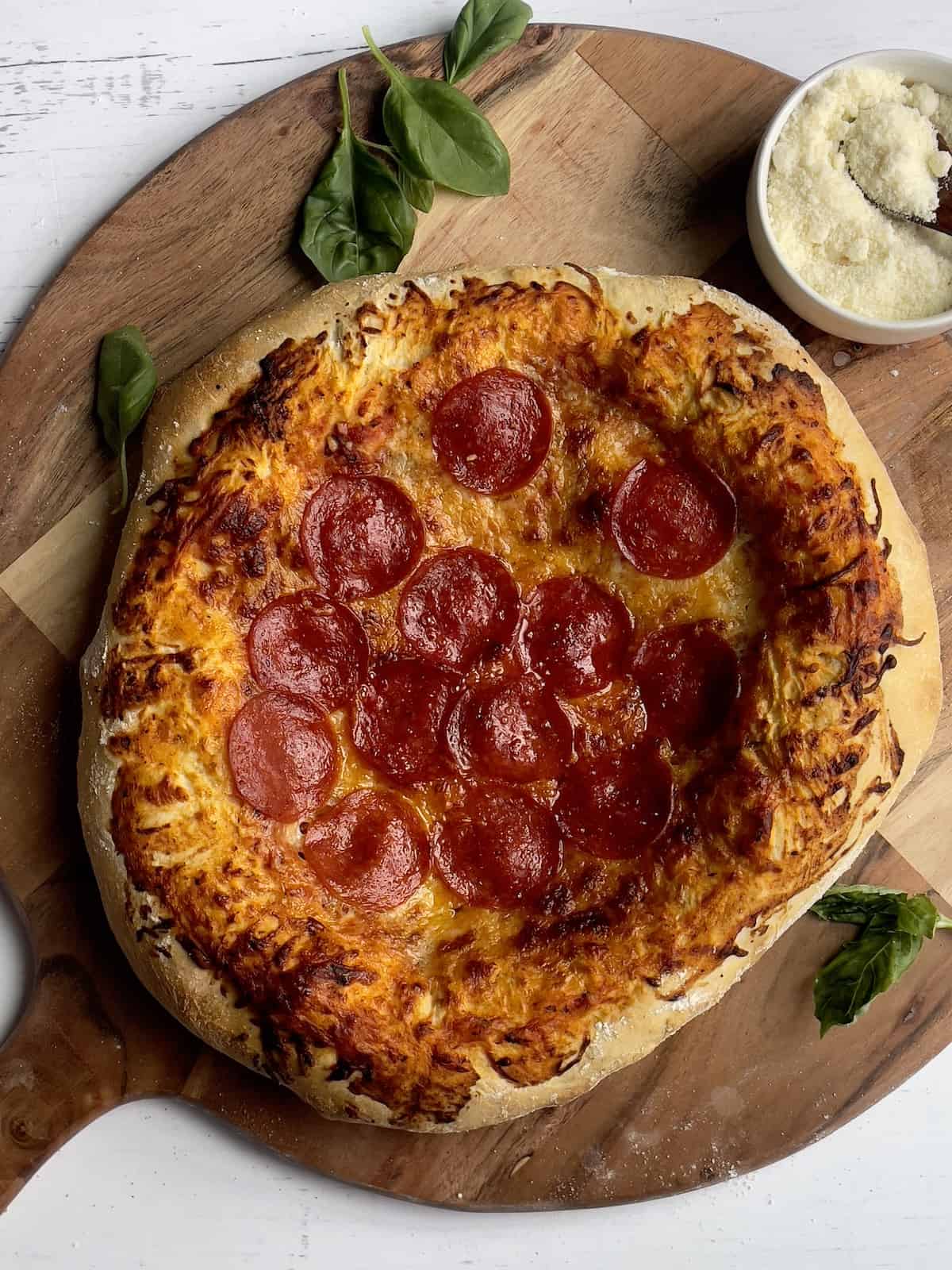 Jump to:
Why Flour Matters
Anyone can master making homemade pizza dough. It's one of the simplest yeasted breads to make. Pizza dough consists of only a few ingredients- flour, water, yeast, salt, and olive oil. Flour plays an important role, and the type you use will affect the end result.
The best flour for pizza dough is subjective. Once you know how the different type of flours can affect your pizza crust, you'll be able to find the one that suits your preferences. And be able to make your perfect homemade pizza! Pizza dough can easily be made by hand or in a bread maker.
Before choosing which flour to use, it's important to understand the role of gluten content and its role in making homemade pizza dough.
The Role of Gluten
Various flours contain different protein content. The protein content in any given flour is equivalent to the amount of gluten in that flour. Flours with low protein content have a low gluten content. And flours with high protein content also have a high gluten content.
What does this mean for pizza dough? Gluten gives dough it's stretchy consistency. It also gives the crust texture once baked. The less gluten in your flour, the crispier the crust will be. The higher the gluten content the chewier the crust will be.
Here are the most common types of flours and how your dough will turn out when using them.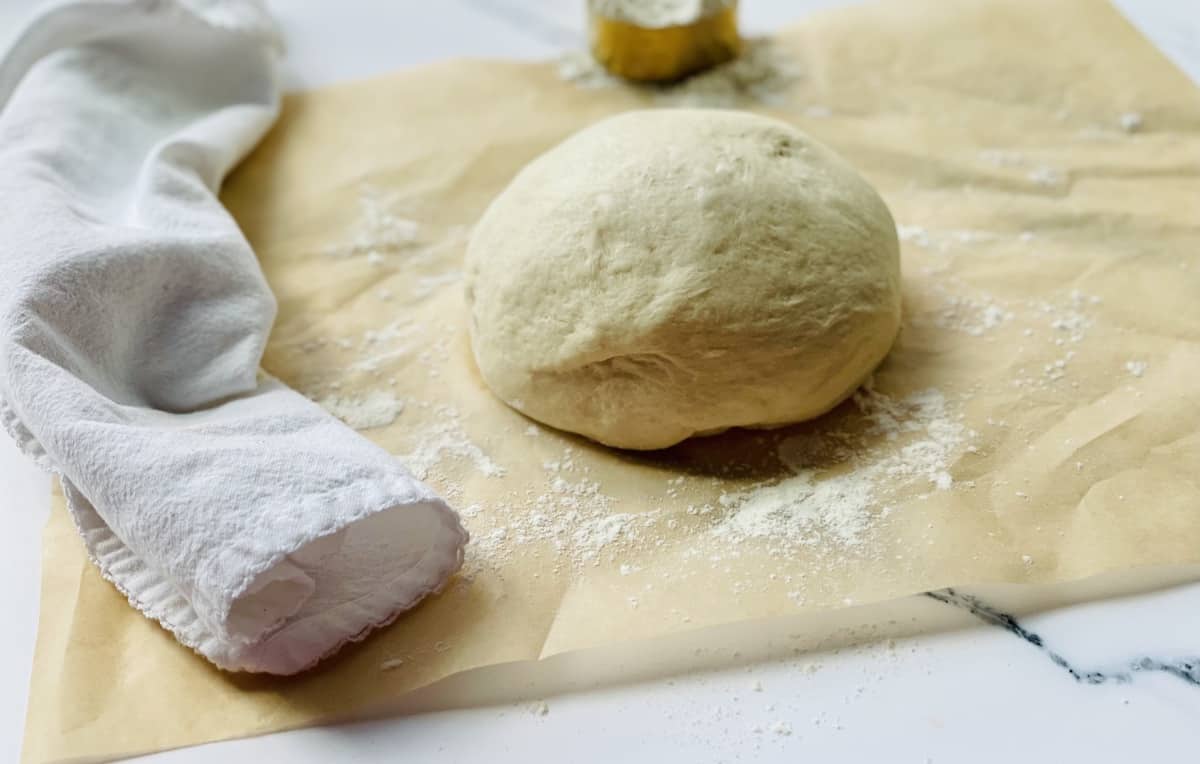 All Purpose Flour: Crispy Thin Crust
All-purpose flour will create a crispy crust with a little chew to it.
All-purpose flour is known to be ideal for just about anything because it's gluten content falls in the mid range, about 9-11%. A dough made with all-purpose flour will be slightly stretchy before baked, so be careful when stretching it into the pizza. It is subject to easy tearing.
A crispy thin crust is ideal for making New York-style pizza.
Bread Flour: Chewy Crust
Bread flour will create a very chewy bread-like crust.
Bread flour has a high protein content, which means a higher gluten content, usually between 11 and 14%. It's ideal for making light and airy breads and pizza crusts. The dough will stretch more easily and rise higher than when using all-purpose flour, resulting in a puffy crust.
A chewy, airy crust is perfect for traditional homemade pizza, Chicago-style deep dish and Sicilian pizza recipes.
00 Flour: Crispy and Chewy Crust
Double zero, or "00" flour, will create a nice balance of crispy, soft and chewy.
Double zero flour also goes by the names Italian double zero 00 or Tip 00 flour and contains about 12% gluten. My favorite is Antimo Caputo Chef's Flour.
What makes it different than bread flour if the gluten content is the same? It's a finely ground Italian flour typically made with durum wheat, which creates a stronger crust than those made with bread or all-purpose flour. Dough made with 00 flour won't be as stretchy either, resulting in the perfect combination of crispy and chewy. It will be flavorful and soft on the bottom.
This flour is perfect for making authentic Neapolitan-style pizza.
Whole Grain Crust
Whole grain flour creates a nutty flavor and grainy texture in pizza crust.
Whole grain or whole wheat flours have a higher protein content than the above white flours, at about 14%. If you use a whole grain flour on it's own, you'll get a very chewy crust that probably won't be enjoyable.
Therefore, use whole wheat flours in combination with any of the above flour. For every 1 cup of white flour, use ½ to 1 cup of whole grain flour. This is a great recipe to try.
Gluten-Free Crust
There are two options for making gluten-free pizza dough. The first is a naturally gluten-free flour that creates a thin, cracker type crust. The second is using a gluten-free flour blend that has been created to act like traditional flours in terms of protein content, gluten content, and rising.
Almond flour is ideal for making a thin and crispy gluten-free crust. Here is a great recipe using almond flour.
Gluten free bread flour is perfect for making a crust similar to that of traditional bread or all-purpose flour. This recipe uses a gluten-free flour blend to make a chewy and thick crust.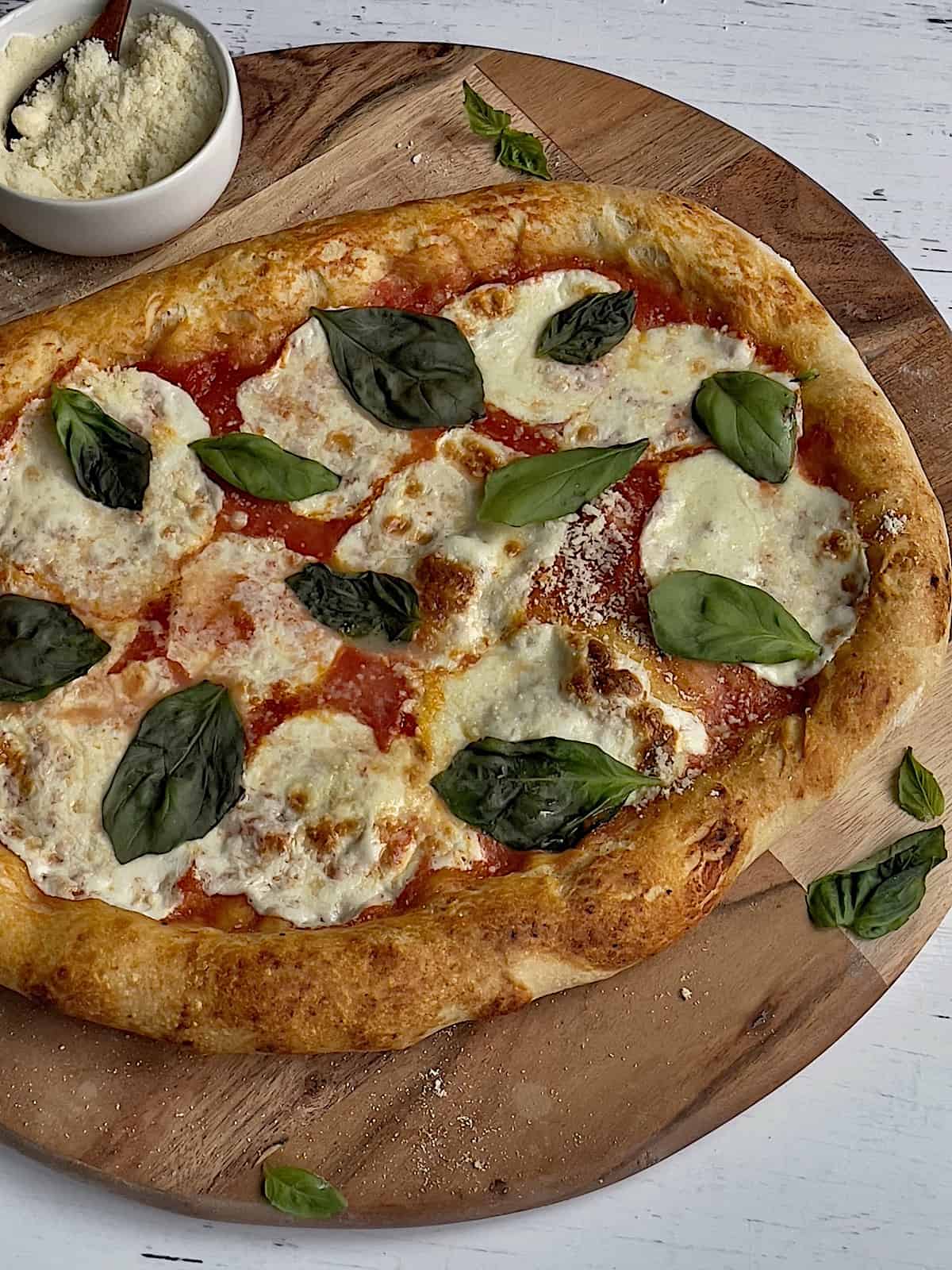 Now that you've learned that the best flour for making homemade pizza dough is really based on your tastes, it's time to choose and get cooking! Whether you choose a flour to create a classic pizza crust, a crispy New York style thin crust, or whole wheat crust, the result will be delicious.
Make sure to me on Pinterest, Facebook, and Instagram for more recipe ideas!
PIZZA RECIPES YOU'LL LOVE