White Pizza with Tomato and Basil makes a quick and simple delicious lunch or dinner that never disappoints. With only a few fresh ingredients, this pizza recipe is ready in less than 20 minutes and is perfect for an easy meal on a laid back day.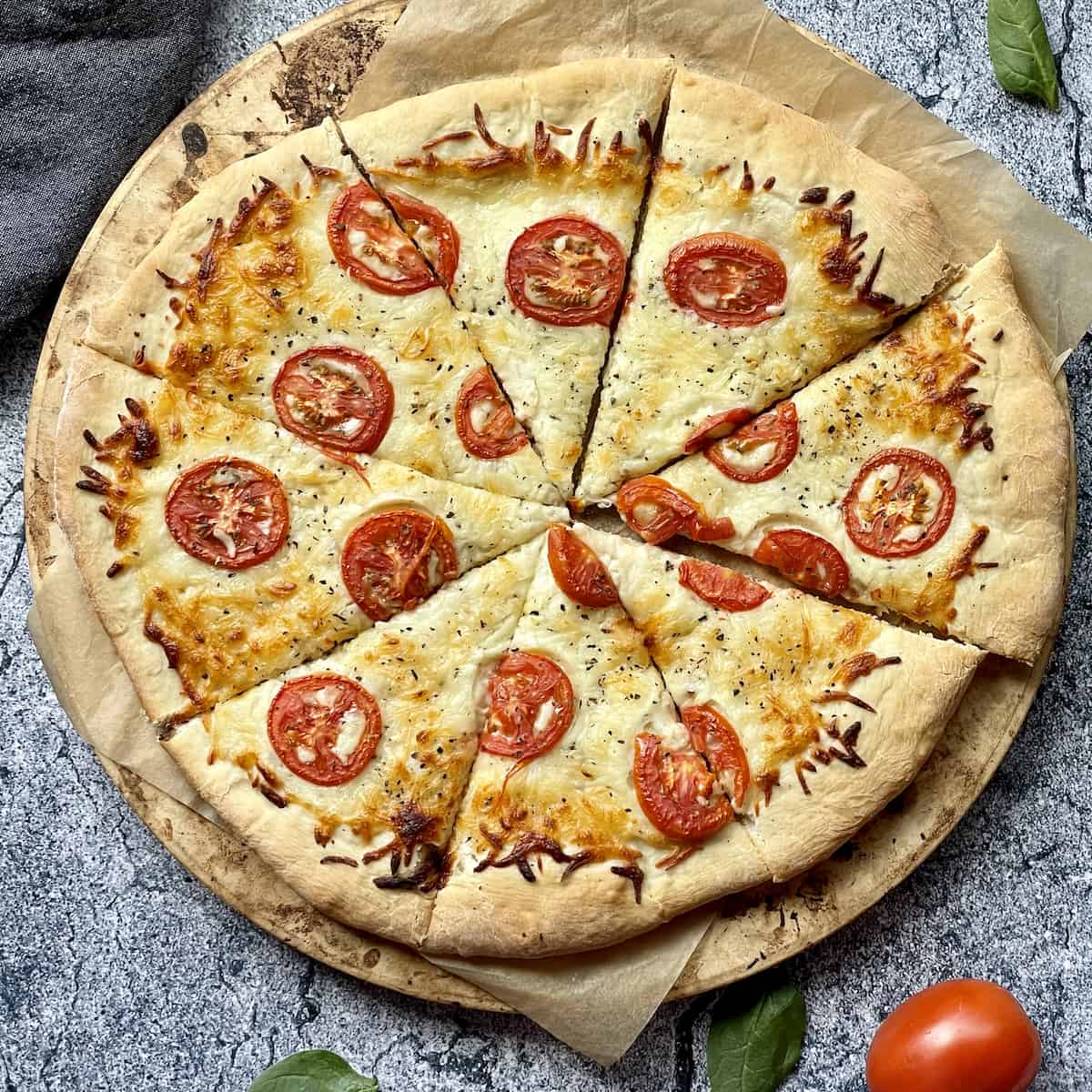 Jump to:
This White Pizza with Tomato and Basil is one of my go-to quick, easy, and delicious lunches. It's also my go-to when I am making lunch for visitors, and I always make sure that it's fresh out of the oven for hungry family members when they arrive after traveling to see us.
White pizza with tomato and basil has never disappointed. It's so simple, so easy, and so perfect for a quick lunch that not only looks fantastic, but is fantastic tasting too!
I've been making this pizza for what feels like forever, and it never gets old or boring. This healthy and vegetarian pizza is perfectly kid-friendly and is a great lunch for families.
It's technically a "sauce-less" pizza, with a topping comprised of just mozzarella cheese, tomatoes, and basil. It's so easy that anyone can make it...and make it great! Even the worst cooks can make this white pizza in a flash.
There are no fancy fixings needed: the warm roasted tomatoes and basil give this white pizza with tomato and basil a fresh, robust and summery flair.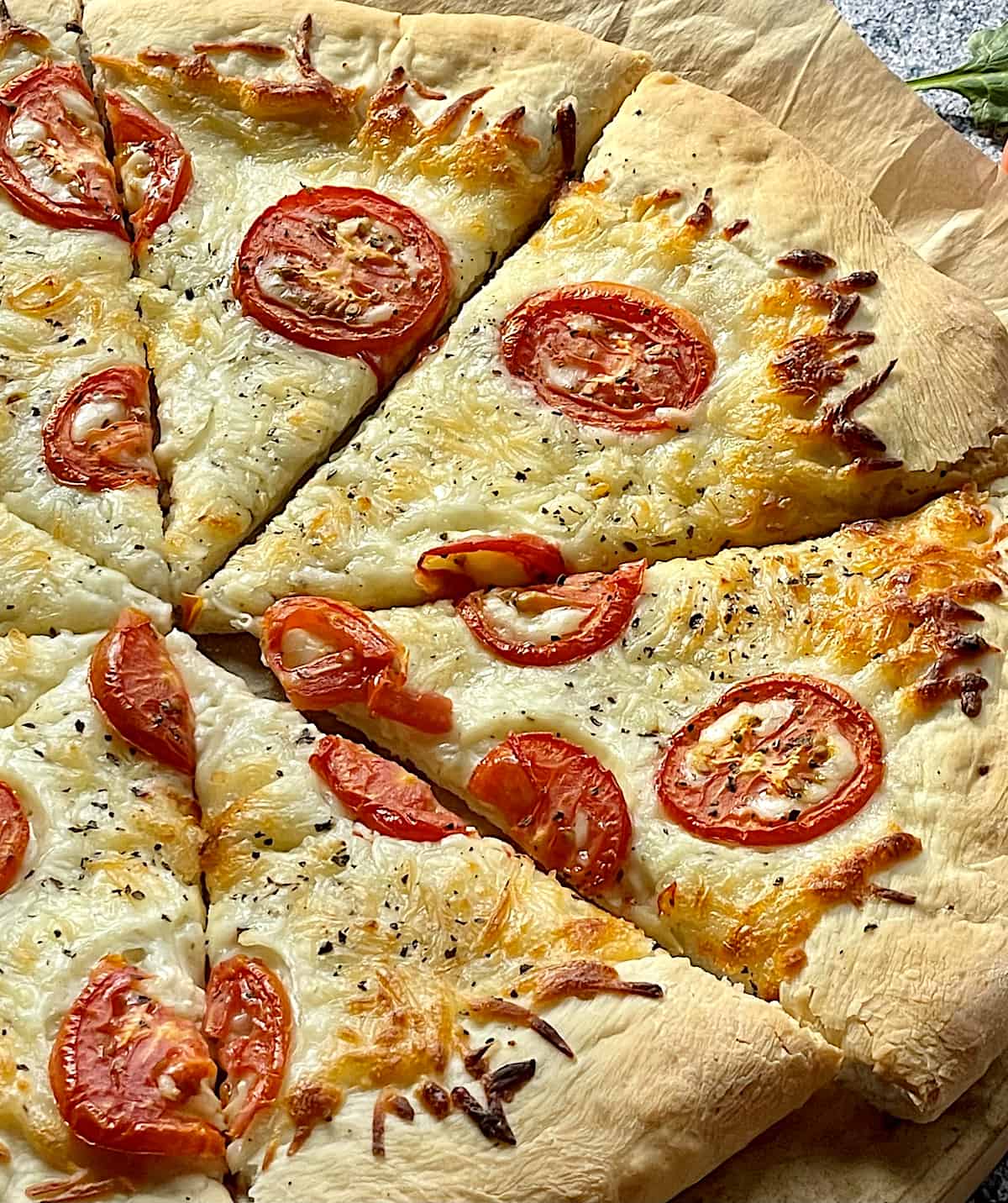 Ingredients
White pizza with tomato and basil is made with simple fresh ingredient:
pizza dough
mozzarella cheese
garlic powder + pepper
tomatoes
basil leaves
Other than the pizza dough and basil leaves, most of us have these ingredients on hand all of the time.
If you have a little time and a bread machine, you can make this thin crust pizza dough instead of buying it. I use my bread machine all the time to make pizza dough. I always make a double batch and freeze half. We eat pizza a lot, so pizza dough is something I always like to have on hand.
White pizza with tomato and basil tastes best when fresh basil leaves are used. Fresh basil is easy to find in the spring and summer here in Virginia, but are iffy in the fall and winter.
When I can't find fresh basil I use this lightly dried basil. If you can't find either fresh or lightly dried basil, it's fine to use dried but make sure to use less.
As for the mozzarella cheese, using a fresh mozzarella ball that you grate yourself will have a slightly stronger flavor. But it's such a minimal difference that it really doesn't matter if you grate the cheese yourself or buy a bag of shredded cheese. Of course, to save on time use a bag of shredded mozzarella. Usually this is what I do and it always tastes amazing.
What kind of tomatoes are the best to use for pizza?
I love a juicy garden tomato on pizza, and on most things! Not only do garden tomatoes smell amazing, they have a sweet and powerful flavor that is released even more when they are cooked.
My second favorite tomato to use on white pizza is a plum tomato. They aren't as juicy and pulpy as garden tomatoes, so they require less time to soak off the juice than the garden tomatoes.
Make sure that you press the sliced tomatoes between 2 paper towels before putting on the pizza. If you don't, they will release too much juice into the cheese and you'll get a soggy pizza and watery cheese.
Step-By-Step Directions
White pizza with tomato and basil is made in only a few easy steps.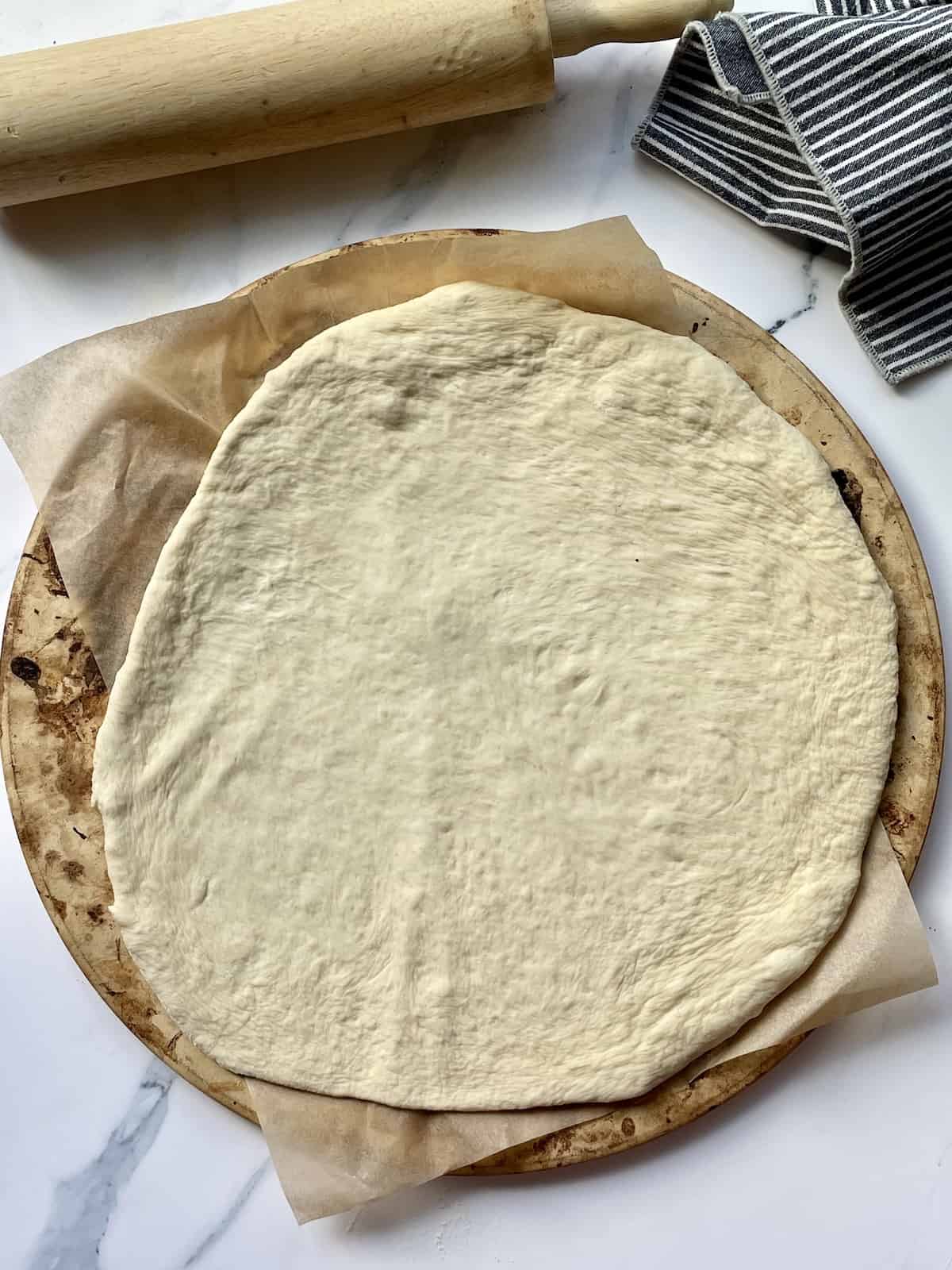 Preheat the oven to the temperature on your pizza dough instructions (or 400 for homemade pizza dough).
Roll the dough onto a baking sheet. Prebake before topping if that is what the package indicates. While dough pre-bakes, slice the tomatoes thinly and press between paper towels for 5 minutes.
Sprinkle the pepper and garlic powder onto the dough. Then layer with all but ½ cup of the cheese. Evenly place tomatoes over the cheese then top with remaining cheese.
Bake for 8-10 minutes, until crust begins to brown and cheese is melted.
Remove from the oven and sprinkle with torn basil leaves.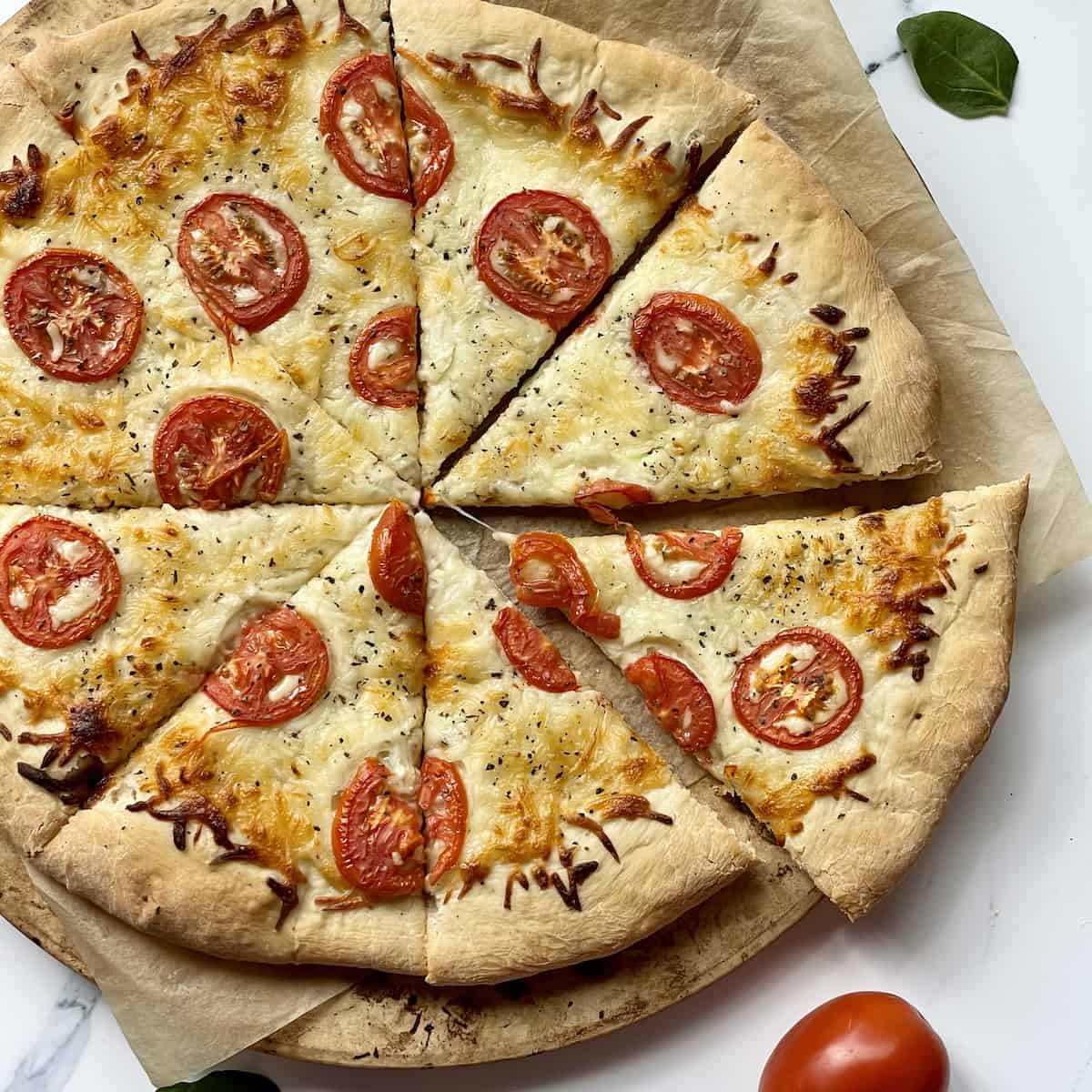 Then cool, cut, and enjoy your white pizza with tomato and basil!
Recipe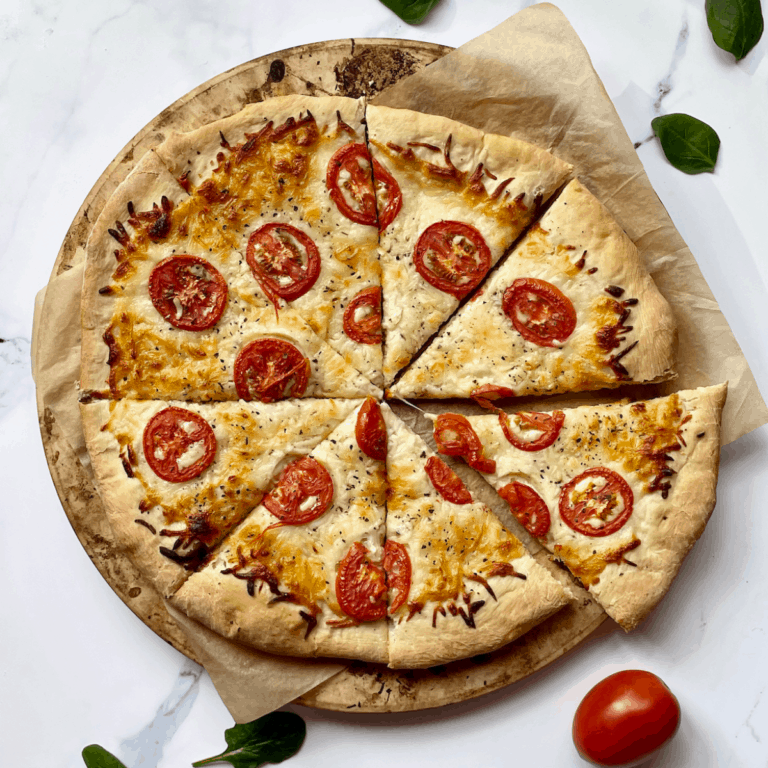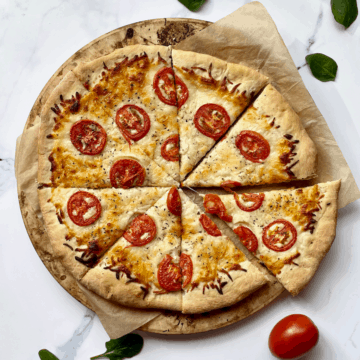 White Pizza with Tomato and Basil
White Pizza with Tomato and Basil makes a quick and simple delicious lunch that never disappoints. Uses only a few fresh ingredients and is ready in less than 20 minutes!
Bookmark Recipe
Saved!
Instructions
Preheat the oven to 400°F. Roll the dough onto a baking sheet or pizza stone. If using store bought dough, prebake as the package indicates.

Sprinkle the dough evenly with garlic powder and black pepper. Top with all but ½ cup of mozzarella cheese. Layer on sliced tomatoes, then the remaining cheese.

Cook for 10-12 minutes, until cheese is melted and crust begins to brown. If using homemade dough, increase cooking time to 17-20 minutes.

Remove from oven and add fresh basil leaves. Let cool for 5 minutes before slicing and serving.
Nutrition
Serving:
1
slice
Calories:
250
kcal
Carbohydrates:
25
g
Protein:
13
g
Fat:
11
g
Saturated Fat:
6
g
Cholesterol:
33
mg
Sodium:
618
mg
Potassium:
73
mg
Fiber:
1
g
Sugar:
4
g
Vitamin A:
439
IU
Vitamin C:
2
mg
Calcium:
214
mg
Iron:
2
mg
This pizza tastes great the next day. Store leftovers in the fridge and warm in a toaster for a few minutes when ready to eat.
If you want to play around with the ingredients in my white pizza with tomato and basil recipe, you can try these substitutions or additions:
add dollops of ricotta on top of the mozzarella
top with parmesan cheese
spread ricotta on the dough as the first layer for a more "saucey" pizza
add fresh basil leaves prior to cooking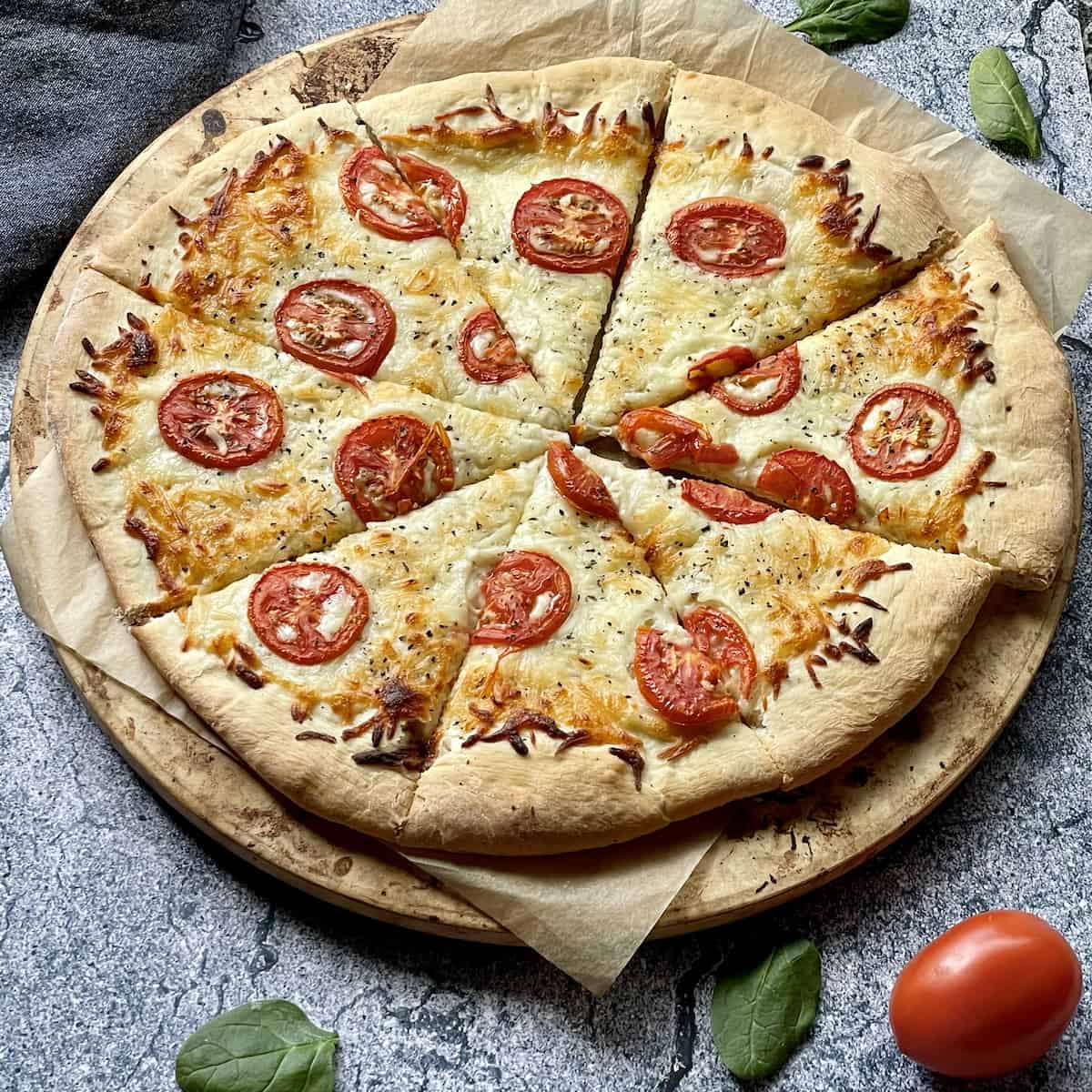 If you made this white pizza with tomato and basil, I'd love to hear from you! Leave me a comment and let me know what you did differently, what you loved, of any questions you have.
If you enjoyed this recipe, make sure to give it a star rating and let me know what you thought in the comments! And follow me on Facebook, Pinterest and Instagram for more delicious recipes!