Instant Pot Vegetable Soup is a great way to use up vegetables that your kids love or trick them into eating ones they don't! The secret with Instant Pot Vegetable Soup is in the broth: follow my instructions for a mouth-watering broth and the vegetable soup will be the best you've made!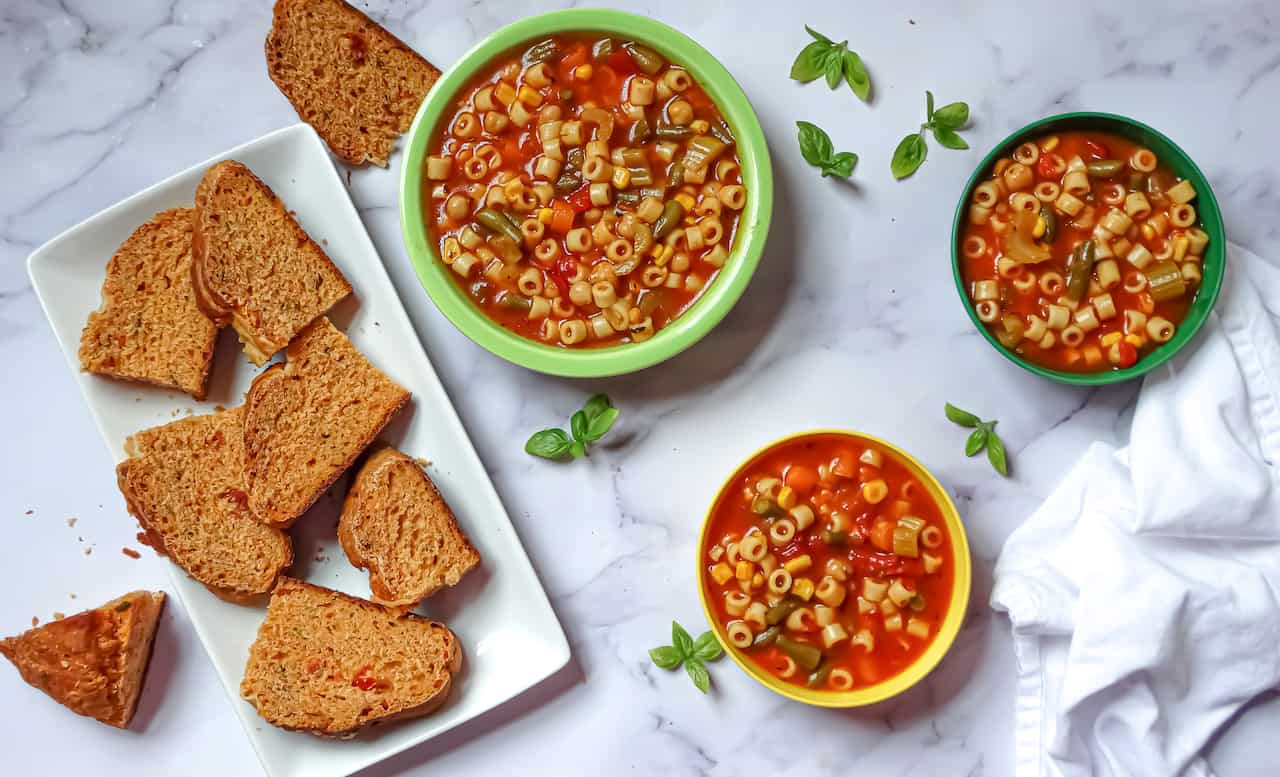 Jump to:
We know that vegetable soup is a perfect "cleaning out the fridge" soup. Throw whatever veggies and beans you've got lying around in there and you've got vegetable soup.
But not if your broth is tasteless.
Vegetable soup is surprisingly one of my kids' favorite soups. But they probably wound't love it enough to gobble down all of those vegetables if the broth wasn't amazing.
The secret to an amazing, kid-friendly Instant Pot Vegetable Soup is the broth.
Follow my recipe for the broth base and you'll have an incredible broth flavor that isn't impacted by the vegetables or beans you choose.
Your kids will love it. You will love it. And I hope it will become one of your go-to soups with cold and dreary winter days!
⭐️ Instant Pot Benefits
Making vegetable soup is very simple, especially when using lots of canned veggies to eliminate all that chopping and dicing. But why not make it even easier and quicker with the Instant Pot?!
I first made vegetable soup in the Instant Pot after a very long day of shopping and forgetting to plan dinner. We got home with just 30 minutes to spare before I knew the kids would be hungry. There was no time to think, prepare, and cook. Ordering out wasn't an option either because we had stuffed our faces with calzones and pizza for lunch. 🍕
Of course the cabinet was full of canned vegetables, so vegetable soup it was! But in the Instant Pot this time, because those hungry angels were starting to turn into animals real quick...
There are many reasons why I love my Instant Pot Duo Nova. The most obvious reason is because it cooks foods in much shorter times by using the pressure cooker feature.
But there are many other reasons it's an awesome appliance to have. It's big enough to make a full dinner for a family of 6 or side dishes and snacks for large parties. It's not too big to store nor does it take up too much room on the counter.
With busy virtual school days back, the Instant Pot is a must have. Just like my favorite kitchen gadget the Crock Pot.
The Instant Pot can be left on in the background while you work from home, school your kids, or otherwise enjoy your day.
So if you're here reading about how to make Instant Pot Vegetable Soup but are opting for the slow cooker or stove top methods below, consider adding an Instant Pot to your appliance list soon. You will not regret it!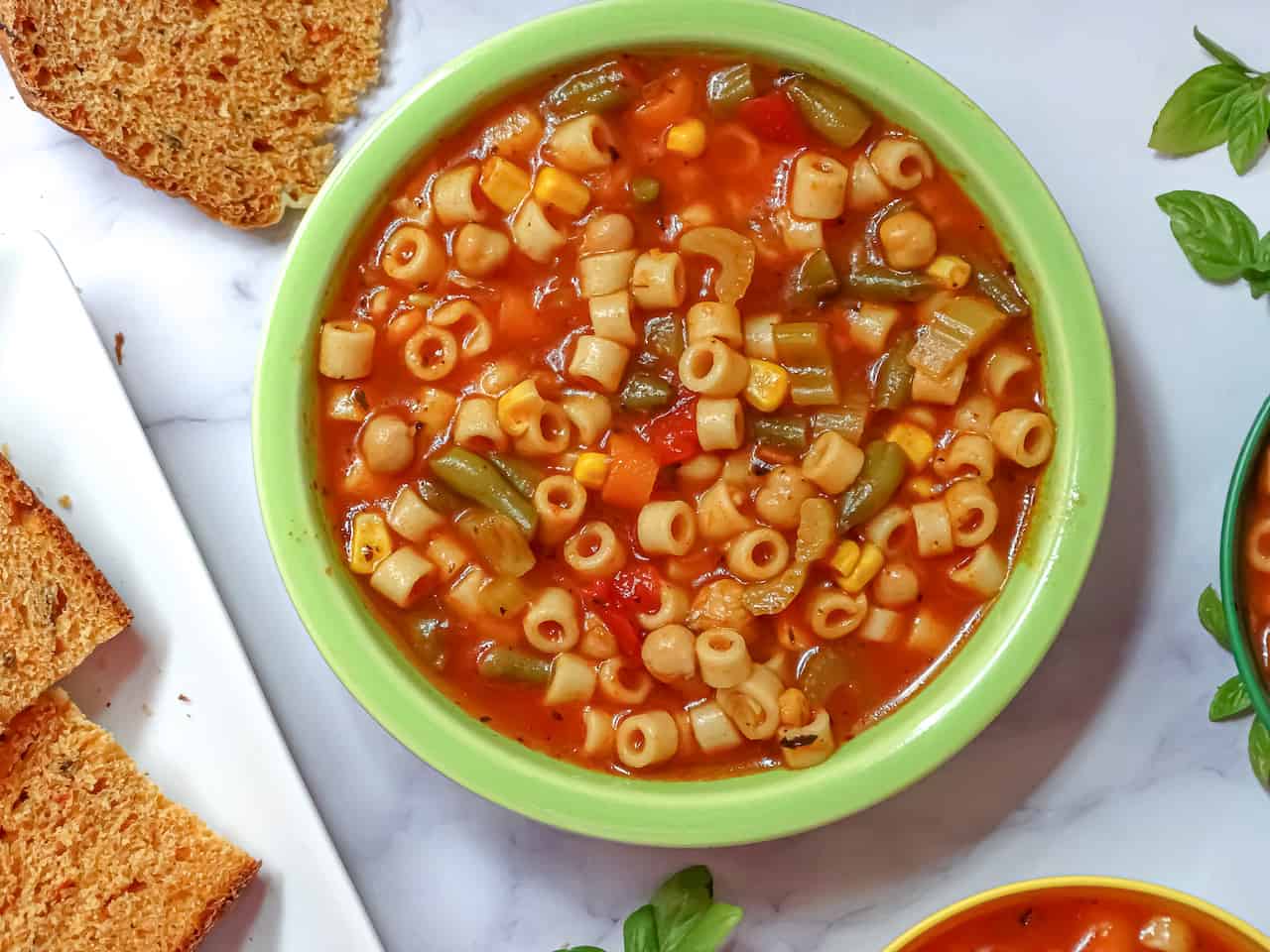 📋 Ingredients
To make Instant Pot Vegetable Soup, you need:
onion
garlic
celery
carrots
vegetable broth
vegetable juice
diced tomato cans
green beans
corn
chickpeas
ditalini pasta (or other short pasta)
parsley
thyme
basil
pepper
salt
Always use fresh celery, garlic, and onion. This gives the broth fantastic flavor.
What kicks up the flavor in the broth for Instant Pot Vegetable soup is a combination of vegetable broth, vegetable juice, and the tomato juice from the diced tomato cans.
Then the spices come together to amp it up even more, leaving you with a vegetable soup so good that everyone will want seconds!
📖 Recipe Variations
There are many substitutions for the vegetables. Keep it super easy by using canned veggies or chop up fresh vegetables that are about to expire. I always use canned corn, tomatoes, and green beans. But peas, potatoes, asparagus, and any others that you love are perfect for vegetable soup.
Change up the legumes also. Instead of chickpeas, use cannelloni beans or kidney beans. I think any kind of bean works to make this soup heartier, healthier, and full of protein.
You can make this with or without the pasta, or even add ground beef or Italian sausage!. If you want to add meat, brown it in the Instant Pot before following the recipe as written. Once it's browned, keep it in the Instant Pot and start the recipe as is.
🔪 Instant Pot Instructions
Here is how to make Instant Pot Vegetable Soup quickly, in only 30 minutes:
First, saute the onion, celery, garlic, and carrots in olive oil for 3 minutes.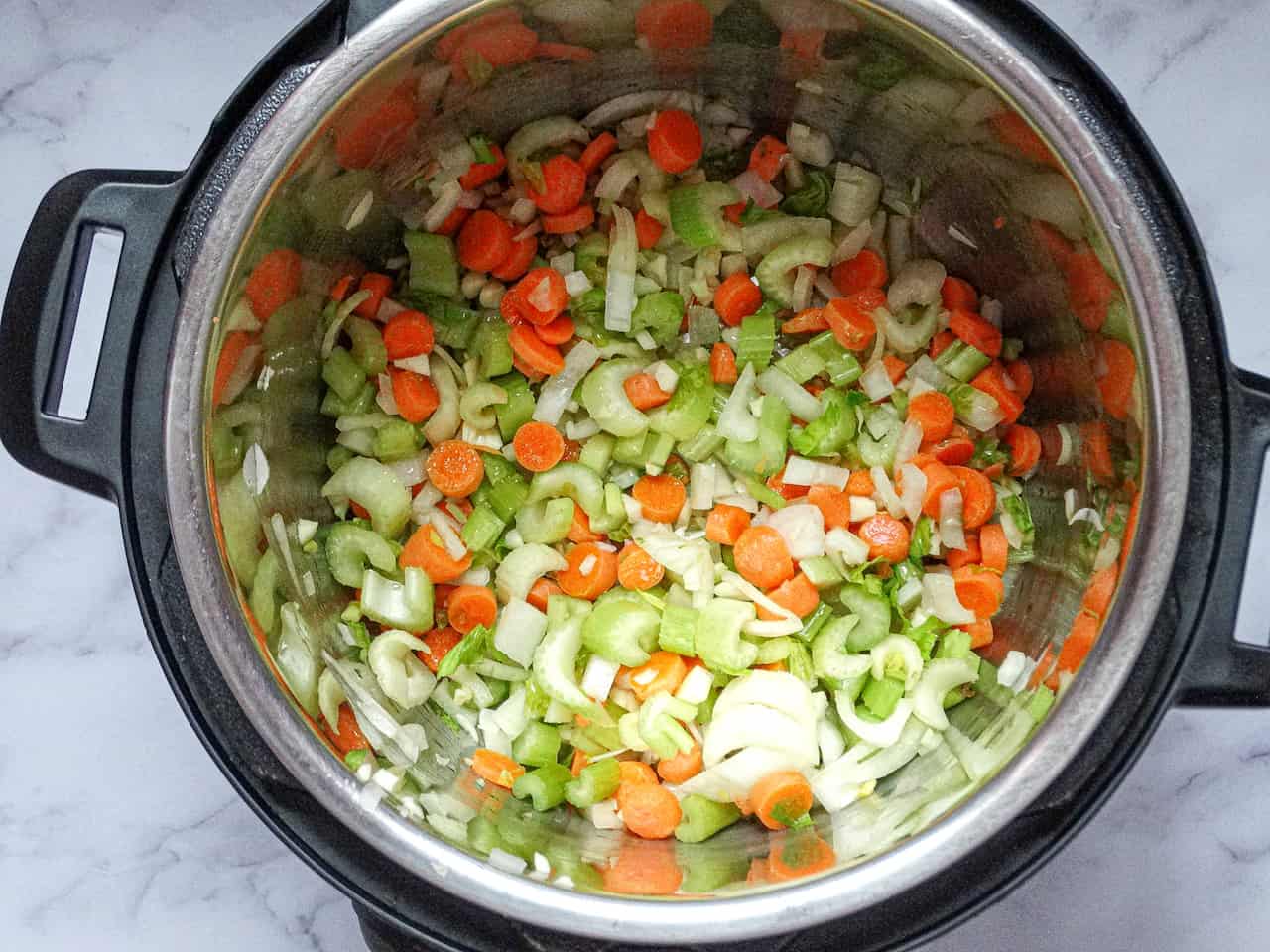 Second, add the tomatoes, vegetable broth, vegetable juice, and spices. Pressure cook on high for 10 minutes.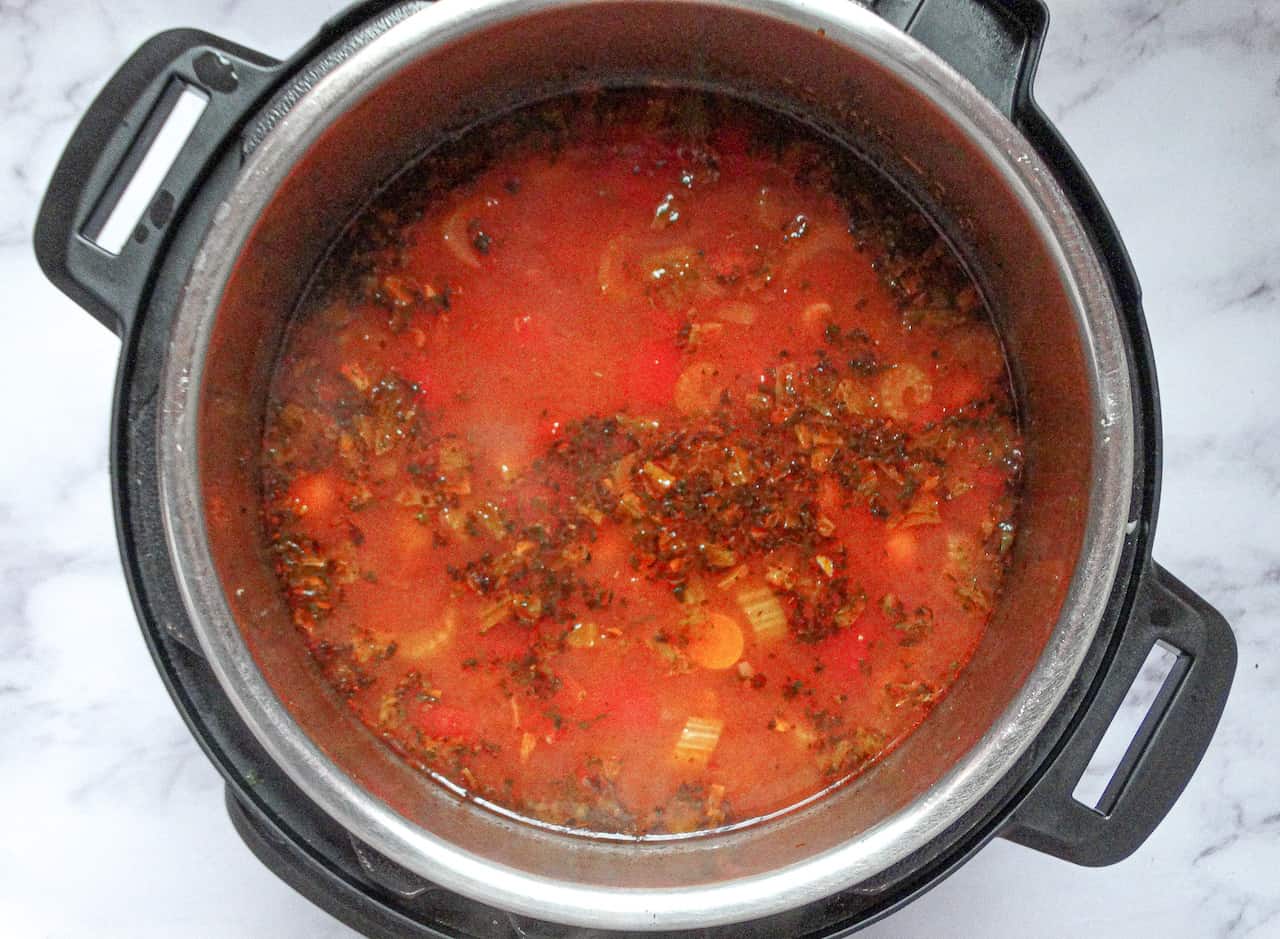 Do a quick release and add the canned veggies, chickpeas (or beans) and ditalini. give it a good stir. Set to saute for 6 minutes.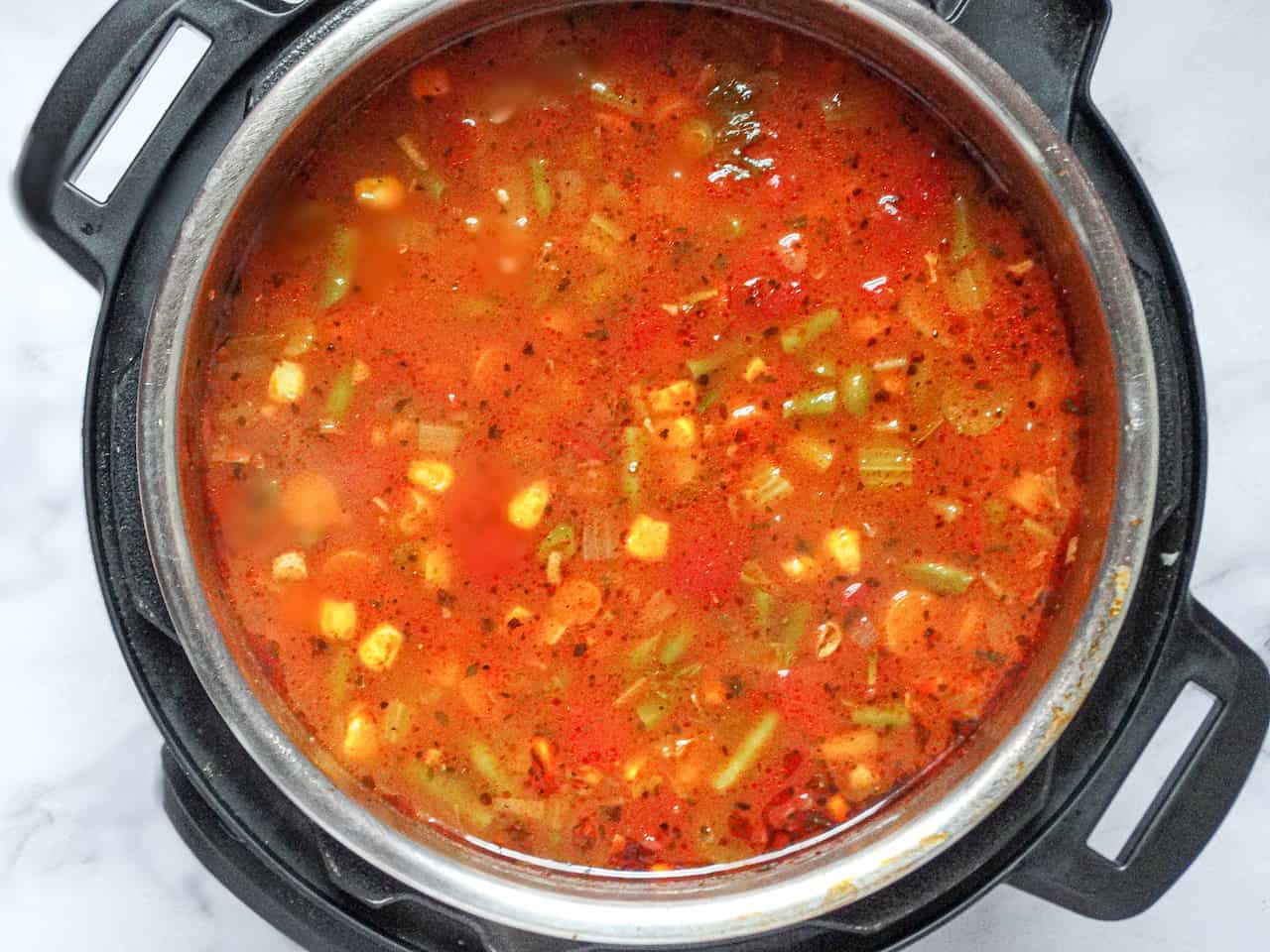 Then serve and enjoy!
As it stands, the pasta may soak up too much broth for your liking. Simply add 1 cup of vegetable broth with ½ cup tomato juice along with a little salt to make more broth.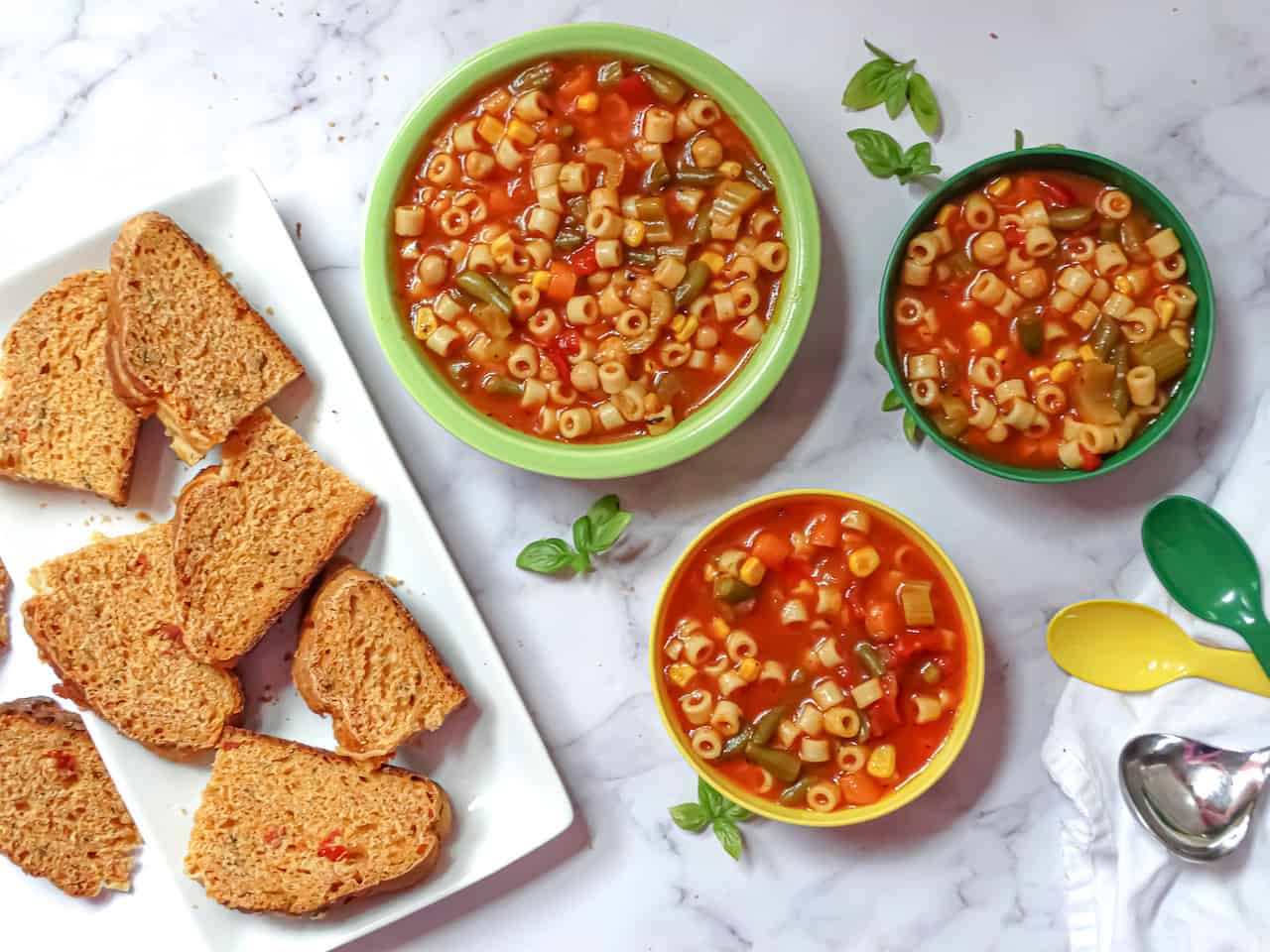 📖 Recipe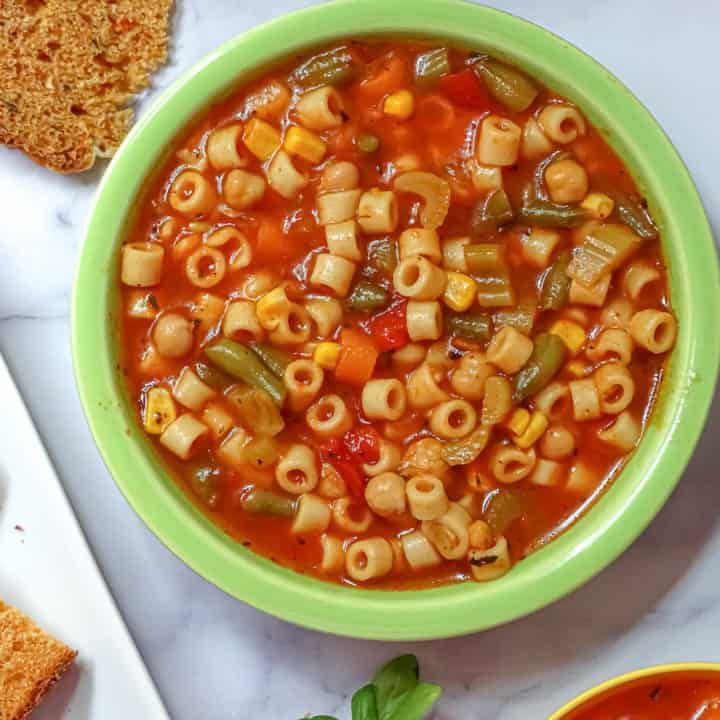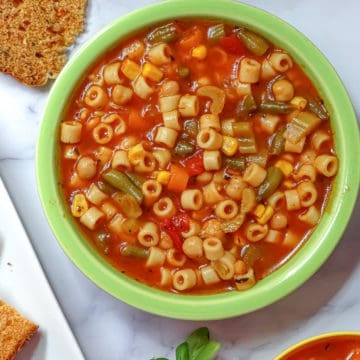 Instant Pot Vegetable Soup
Instant Pot Vegetable Soup is one of the easiest meals to make in only 30 minutes! It's also the best way to get your kids to eat a plentiful amount of their favorite (or hidden) healthy vegetables!
Ingredients
2

tbsp

olive oil

1

large onion, diced

5

garlic cloves, minced

5

celery stalks, chopped

3

carrots, chopped

4

cups

vegetable juice

6

cups

vegetable broth (or 6 cups water + 6 bouillon cubes)

1

15 oz can diced tomato + juices

1 ½

tsp

parsley

1 ½

tsp

thyme

1

tsp

basil

1 ½

tsp

salt

¼

tsp

pepper

1

15 oz can corn

1

15 oz can green beans

1

15 oz can chickpeas

1 ½

cups

uncooked ditalini pasta (or other short pasta)
Instructions
In the Instant Pot, heat the oil on saute mode. Add onions, garlic, celery and carrots.. Cook for 3 minutes.

Add the vegetable juice, broth, tomatoes and spices. Set to pressure cook on high for 10 minutes.

Do a quick release and set back to saute mode. Add the ditalini and canned corn, green beans, and chickpeas. Give it a good stir and cook 6 minutes.
Notes
My veggies of choice are: corn, carrots, spinach, chickpeas, green beans, and tomatoes. Use your favorite beans and veggies to suit your preferences.
You can use fresh veggies instead of canned or frozen. Add fresh veggies to the oil with the onions and garlic to soften them prior to pressure cooking.
The noodles may soak up some broth. Add ½ cup vegetable juice plus 1 cup of broth as needed to have more broth. 
Nutrition
Serving:
16
oz
Calories:
201
kcal
Carbohydrates:
35
g
Protein:
6
g
Fat:
4
g
Saturated Fat:
1
g
Sodium:
1372
mg
Potassium:
417
mg
Fiber:
3
g
Sugar:
8
g
Vitamin A:
5230
IU
Vitamin C:
40
mg
Calcium:
44
mg
Iron:
1
mg
🍲 Slow Cooker Instructions
To make vegetable soup in the slow cooker instead of the Instant Pot, follow these steps:
Add all ingredients except for the pasta and beans to the slow cooker.
Set on high for 6 hours or low for 8 hours.
With 30 minutes left add the pasta and beans. Give it a good stir.
Then enjoy! If the pasta soaks up too much of the broth, add more vegetable broth and vegetable juice 1 cup at a time. That's all there is to it!
🥘 Stove Top Instructions
To make vegetable soup on the stove, add oil to a large pot and heat the onions, garlic, carrots, and celery on medium for 5 minutes.
Next add the broth, vegetable juice, all herbs and seasonings, tomatoes, green beans, corn, and any other veggies you've chosen.
Simmer for 90 minutes, adding the pasta and beans with 15 minutes left.
You can see the full instructions for stove top vegetable soup here.
💭 Expert Tips
There are a few things to keep in mind when making Instant Pot Vegetable Soup:
use fresh onion, garlic, and celery to make the broth base
replace the chickpeas with your favorite bean
use the juices from the canned tomatoes for more flavorful broth
use any short pasta, or no pasta all.
the pasta will soak up broth as the soup sits, so you may need to add a combination of vegetable broth and vegetable juice if you have leftovers (add in increments of 1 cup vegetable broth and ½ cup vegetable juice)
🍽 Serving and Storing
Serve Instant Pot Vegetable Soup with a green salad and homemade bread. Garlic bread and tomato basil bread are excellent choices for dipping. But the kids love saltines or oyster crackers, and sometimes even plain white sandwich bread!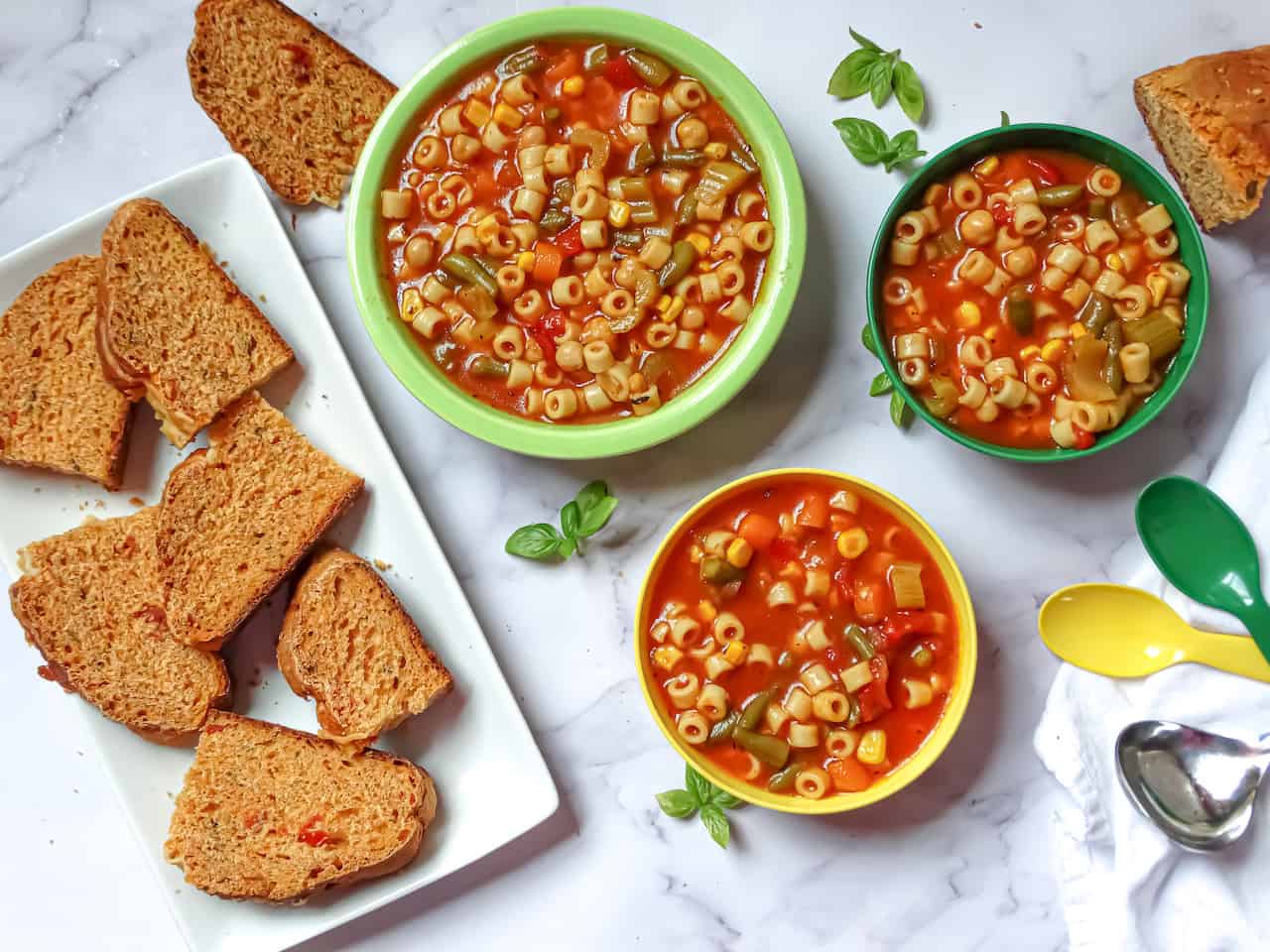 I hope you enjoy this Instant Pot Vegetable soup (or slow cooker, or stove top!). If you gave it a try, let me know in the comments below. I'd love to hear from you!
Make sure to follow me on Facebook, Pinterest and Instagram for the latest recipes and more!
🥧 Related Recipes You'll Love