This homemade vegetable soup is full of delicious and nutritious vegetables and protein-packed beans and ditalini pasta. V8 vegetable juice enhances the flavor and adds even more vitamins and minerals. This recipe makes a huge batch to eat not just for dinner, but for lunch throughout the week or to freeze for an easy meal later on. It's simple to make and loved by the whole family!
My family loves soup and homemade vegetable soup is a definite winner in my house! It's perfect for cold winter nights when all you want to do is cozy up on the couch with a blanket and Netflix. This homemade chicken noodle soup is also a pleasantly perfect classic, also great for curling up on the couch with!
Homemade vegetable soup is not just a fantastic way to get your whole family (kids included!) to eat a ton of vegetables in one sitting, but to eliminate a whole lot of processed junk you get from eating canned soup. It's also inexpensive to make this gigantic pot of soup, so it's economical and budget-friendly too.
It's simple to make on the stove top: just 10 minutes of prep time and 90 of stand by time.
You can opt for Instant Pot version if you want your soup done even quicker- in about 30 minutes.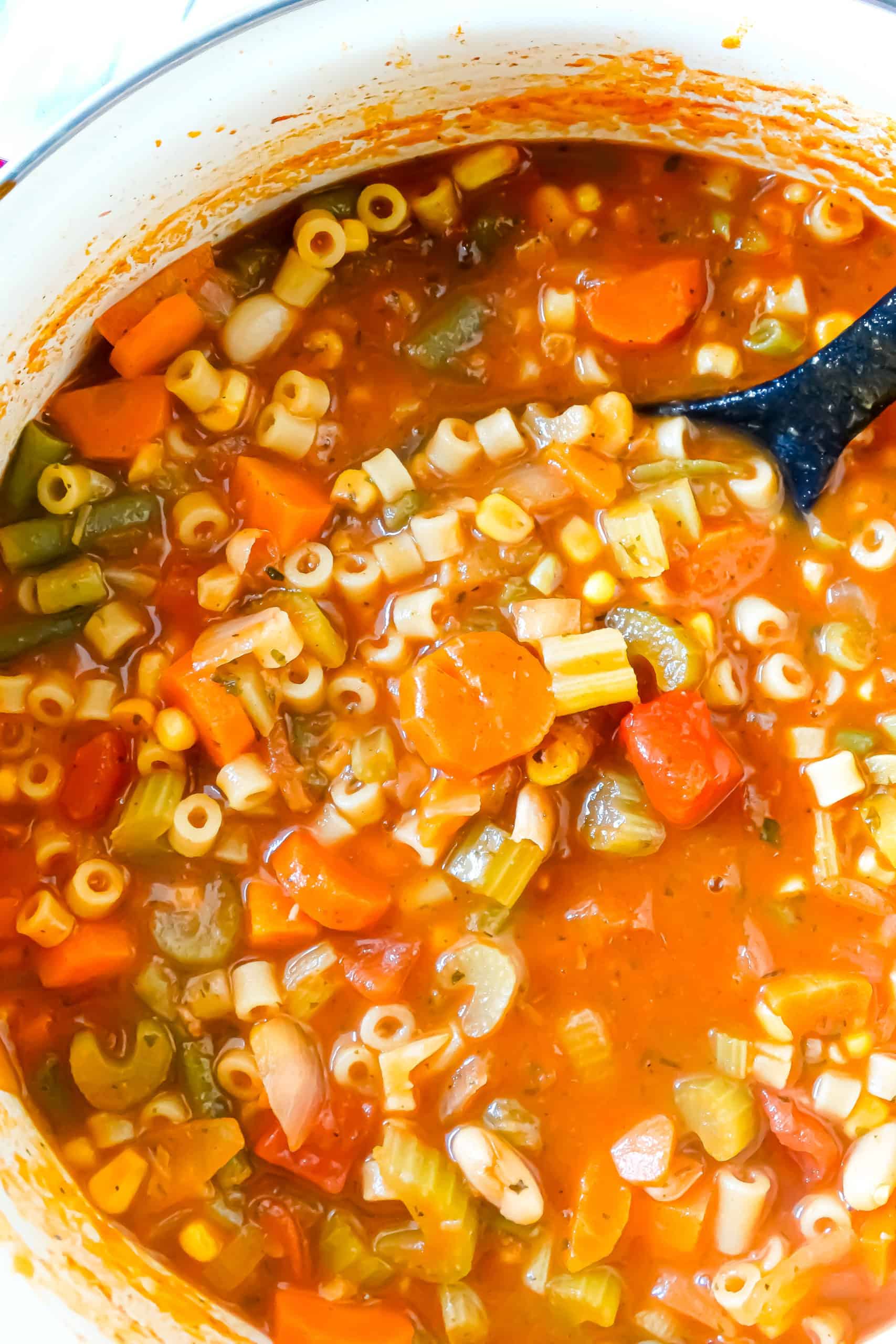 Ingredients
Homemade vegetable soup is an excellent way to use leftover veggies or veggies that are about to go bad. I hate doing my weekly fridge clean out and throwing away vegetables we forgot about or never got the chance to use before they went bad. I like to make this when I have a bunch of vegetables or beans leftover from other meals.
You can use frozen, fresh, or canned vegetables. The choice is completely yours! But keep in mind that fresh will take a little longer to cook than the canned or frozen counterparts, depending on the vegetables.
I always use fresh carrots, celery, onions, and garlic because these help create a flavorful and rich broth base. Aside from using these four vegetables, you can vary the others. Homemade vegetable soup is great because you can use other veggies that you have on hand.
I choose canned corn, tomatoes, and green beans, although you can easily replace them with frozen without altering cooking time. I also use canned white beans for simplicity, but if you want to use dry beans, that's fine too! You will need to soak and boil them though, and that will add a lot of time. Feel free to use red or pink beans instead of white. You can also replace the beans with chickpeas, too.
I highly recommend using V8 brand vegetable juice to really enhance the flavor of the broth. I tried this recipe once using a generic brand and it just wasn't the same.
Instructions
Making homemade vegetable soup is pretty easy. Chopping all the vegetables, gathering the herbs, and opening the cans takes about 10 minutes. Then, add oil to the pot and heat the onions, garlic, carrots, and celery on medium for 5 minutes. Next add the broth, vegetable juice, all herbs and seasonings, tomatoes, green beans, corn, and any other veggies you've chosen.
Simmer for 90 minutes, adding the ditalini and white beans with 15 minutes left. (I add the beans now so they don't turn to mush) Make sure to taste at the end and adjust the seasonings as you see fit. I usually add a little salt and basil to suit my families taste buds.
To make this soup even simpler, or to have it ready when you get home from work on a busy weeknight, dump all ingredients other than the ditalini in a crock pot. Cook on low for 8-10 hours, and add the ditalini during the last 20 minutes. (hint: you will need to half the recipe for a standard 4-quart slow cooker)
Variations
Choose the vegetables and beans that you have on hand or change what I recommend based on what you like. You can also use chicken broth instead of vegetable broth. But, I have not yet tried this, so I cannot guarantee it will be as good as this.
Also, this soup recipe is already kid-friendly based on the vegetables my kids love. Make it kid-friendly for yours based on what they love! I find that the softer and smaller the vegetables are, the more likely they will be to eat everything (or mostly everything!).
When I chop the veggies really small and not in their "typical shape", I can trick them into eating what they normally wouldn't. 🙂 For instance, my 4-year old doesn't like celery. But if I roughly chop them into little squares and odd shapes rather than the classic U shapes, she has no idea they are there.
If you enjoyed this recipe, make sure to give it a star rating and let me know what you thought in the comments! And follow me on Facebook, Pinterest and Instagram for more delicious recipes!
Hearty Homemade Vegetable Soup
Hearty Vegetable Soup is a perfect warming meal for a cold winter evening. This soup is incredibly flavorful and super-packed with veggies and protein. It's light on calories, healthy, and easy. Using V8 juice enhances the taste of the broth, making it one of the best vegetable soups you'll make!
Ingredients
2

tablespoon

olive oil

2

onions

chopped

5

garlic cloves

minced

5

celery stalks, plus leaves

chopped

5

carrots

chopped

6

cups

vegetable broth

4

cups

V8 vegetable juice

1

13 oz diced tomato cans

½

13 oz can of green beans

12

oz

can of corn

1 ½

tsp

parsley

1 ½

teaspoon

thyme

1 ½

teaspoon

salt

¼

teaspoon

pepper

1 ¼

teaspoon

basil

½

13 oz can of cannelloni beans

3

oz

ditalini pasta

uncooked
Instructions
In a large stock pot, heat olive oil on medium heat and add carrots, celery, garlic, and onions. Cook until tender-crisp, about 5 minutes.

Add canned tomatoes (and their juices), corn, green beans, vegetable broth, vegetable juice, salt, pepper, thyme, basil, and parsley. Simmer on low for 75 minutes, stirring occasionally.

Add cannelloni beans and ditalini pasta. Stir and simmer for 15 minutes more, stirring often.

Remove from heat, taste, and adjust seasonings as needed. Serve with crusty bread.
Notes
Storing: freeze leftovers for 6 months or store in the fridge for up to 7 days.
Omit pasta and increase the amount of vegetables for a lower carb version. 
Nutrition
Serving:
8
oz
Calories:
129
kcal
Carbohydrates:
23
g
Protein:
3
g
Fat:
3
g
Saturated Fat:
1
g
Polyunsaturated Fat:
1
g
Monounsaturated Fat:
2
g
Sodium:
1164
mg
Potassium:
456
mg
Fiber:
3
g
Sugar:
9
g
Vitamin A:
6313
IU
Vitamin C:
37
mg
Calcium:
50
mg
Iron:
1
mg