Change up your Taco Tuesday nights with this easy oven baked fajitas recipe. Toss chicken strips, onion, and peppers with olive oil and taco seasoning and bake together on a sheet pan. Not in the mood for chicken? Swap the chicken for beef strips! It takes only 18 minutes to cook and less than 10 minutes to prepare. That means a delicious dinner ready to eat in 25 minutes! With barely any clean up and fresh, simple ingredients, oven baked fajitas are a fantastic busy weeknight dinner.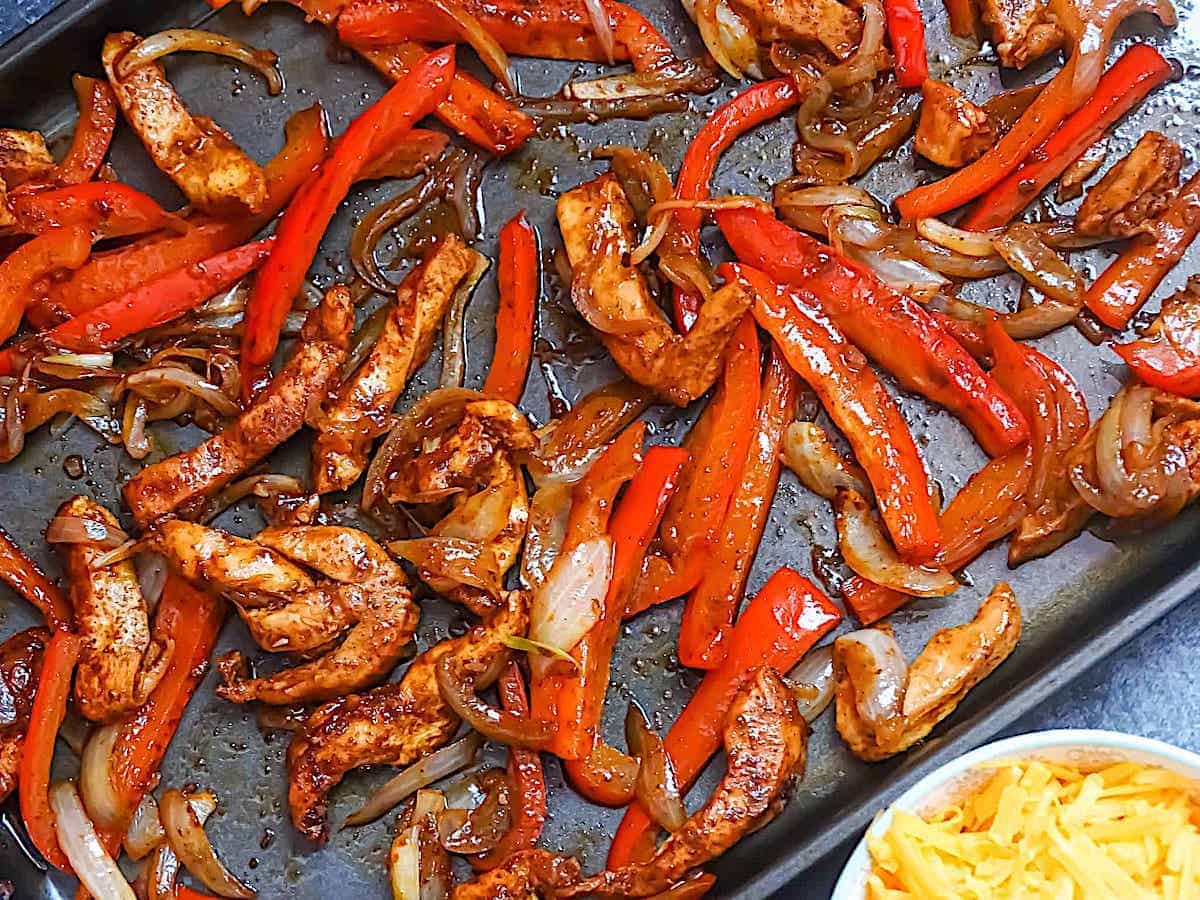 Jump to:
*This page contains affiliate links for which I may earn a commission.
If you're short on time, energy, or ingredients. this freezer-friendly easy baked fajitas recipe is for you. With only 5 ingredients and essentially no clean up, anyone can make this in no time at all, even on the busiest of nights.
Mexican dinners are always a welcome meal. Comforting. Flavorful. Simple.
While we love classic Mexican recipes, I often turn twist them into other "healthier" meals. Such as I did with these Mediterranean quesadillas and broccoli, egg, and cheese burritos.
For a really simple, fast lunch, my kids love the classic cheesy quesadilla!
And when we're looking for a Mexican meal that's packed with nutrition, is quick, and easy to get my kids to eat, we turn to this one pan oven baked fajitas recipe.
Not only is this meal perfect for a hungry, busy family, but for meal prepping too. Because oven baked fajitas take only 25 minutes and are inexpensive even when making large portions, they are great to make ahead of time for the week.
Oven baked fajitas also freeze well, so freeze the leftovers now and enjoy them later on. Simply defrost them, warm them in the toaster or microwave, and you've got a meal in minutes.
S go ahead and give these easy chicken fajitas on a sheet pan a try, whether for dinner or meal prepped lunches. I bet you'll love how easy and tasty they are!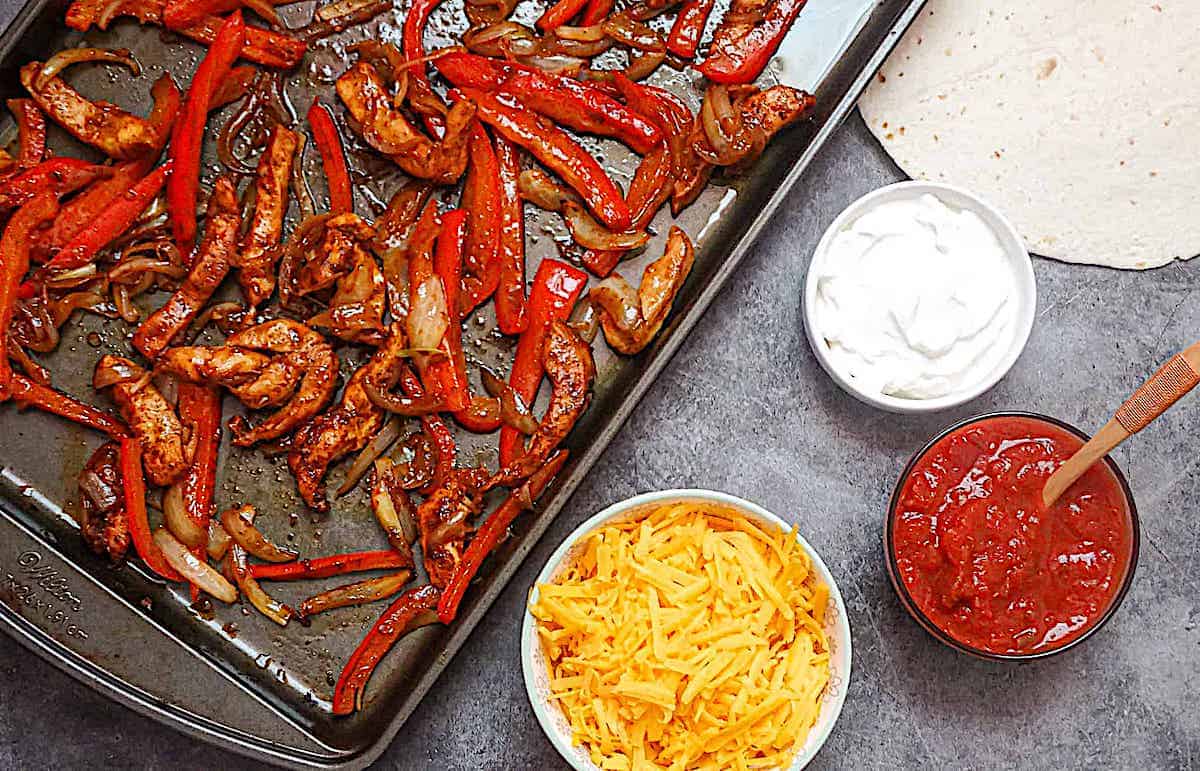 Ingredients
The main ingredients needed to make baked fajitas on a sheet pan are:
boneless, skinless chicken cut into strips
bell peppers of any color cut into strips
onion
taco seasoning
tortilla wraps
I like using red and green bell peppers, but you can certainly use yellow and orange too.
Sour cream, cheddar cheese, salsa, guacamole, and lettuce are optional. While not necessary with fajitas, they definitely add a ton of flavor.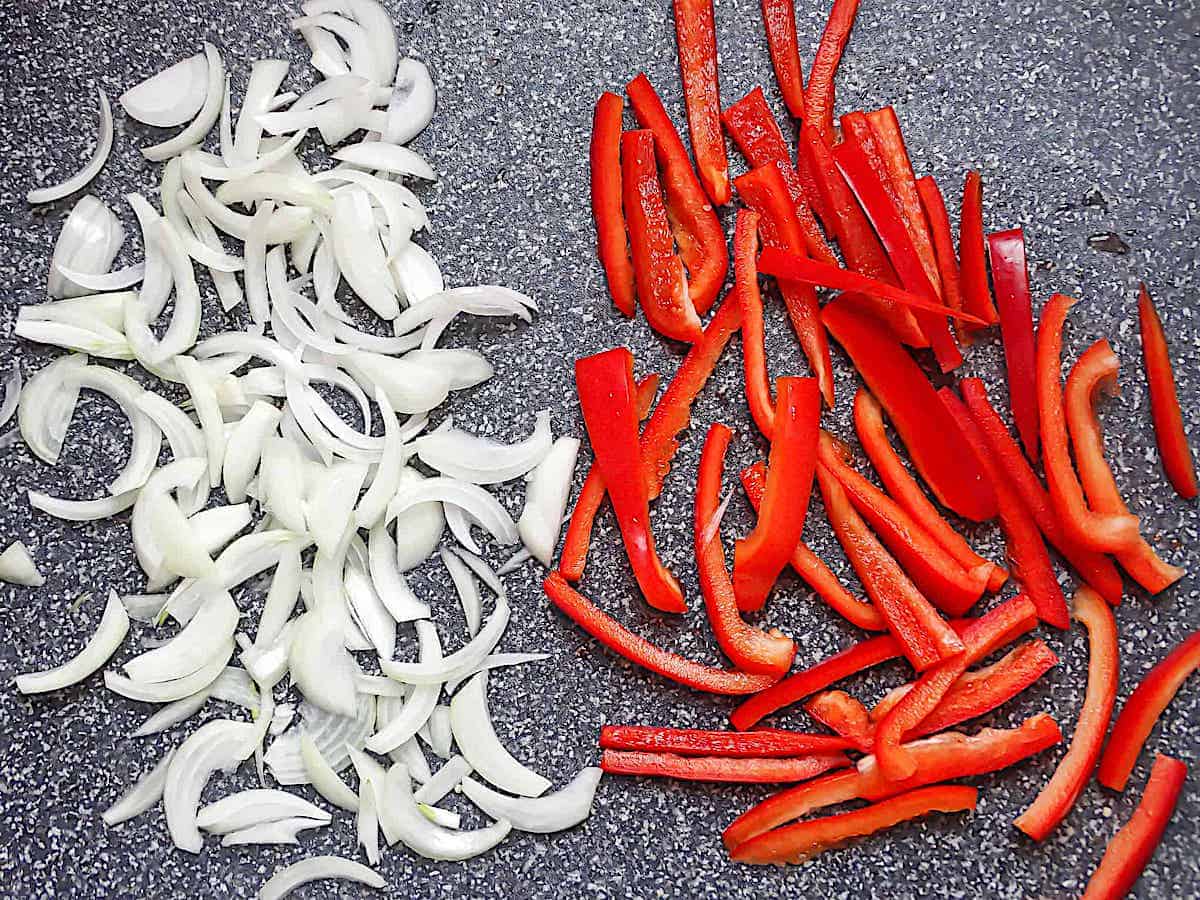 It's simple to customize baked fajitas based on your vegetable and meat preferences.
For variations to the vegetables:
add corn
use an assortment of bell peppers in orange, green, yellow, and red
use red onions instead of sweet onions
For the meat:
replace half or all of the chicken with beef strips
replace the chicken with shrimp (but don't add the shrimp to the pan until there's 5 minutes left)
Step-By-Step Directions
Baked chicken fajitas are made in 2 steps.
First, preheat the oven and line a baking sheet with parchment paper or foil. Then prepare your ingredients.
Cut the chicken into thin strip. Wash, cut, and slice the bell peppers and onions. Slice them into thin strips so that they will be well-cooked in only 18 minutes. ⅛ to ¼ inch thick is perfect.
Second, toss the chicken, peppers, and onions with olive oil and the taco seasoning.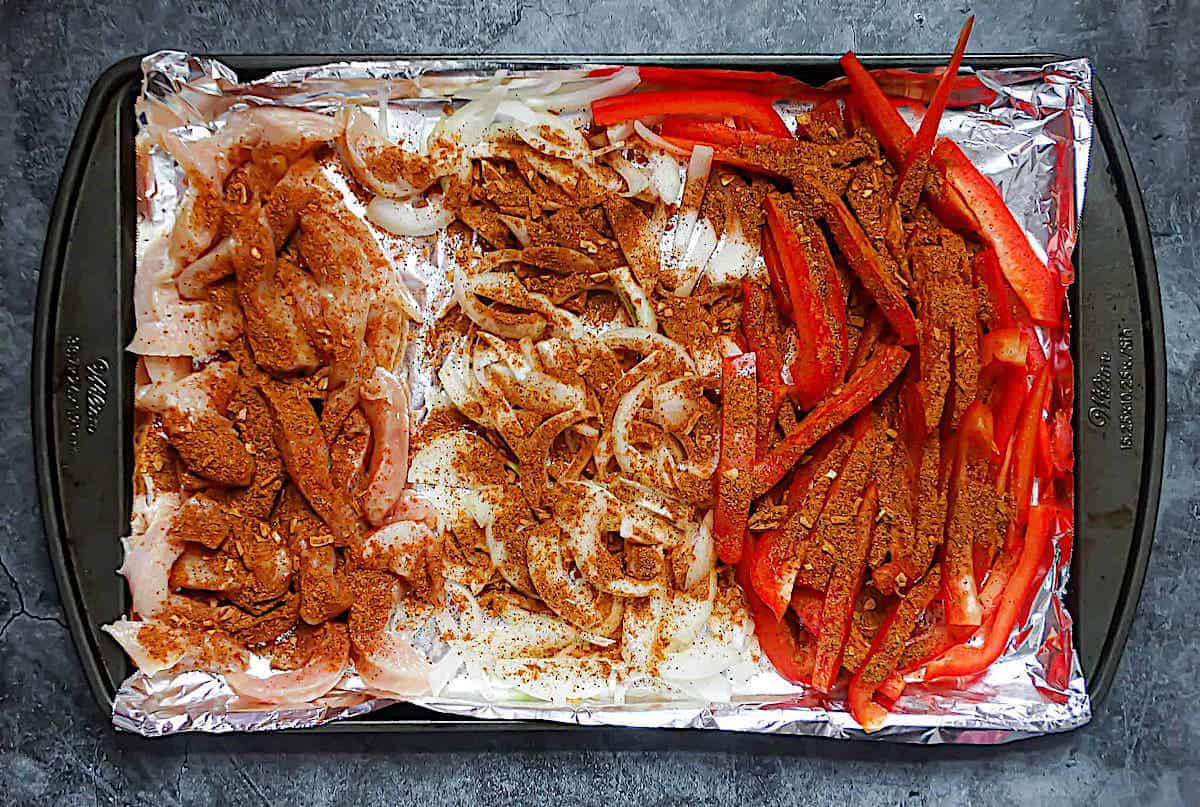 Bake for 18 minutes.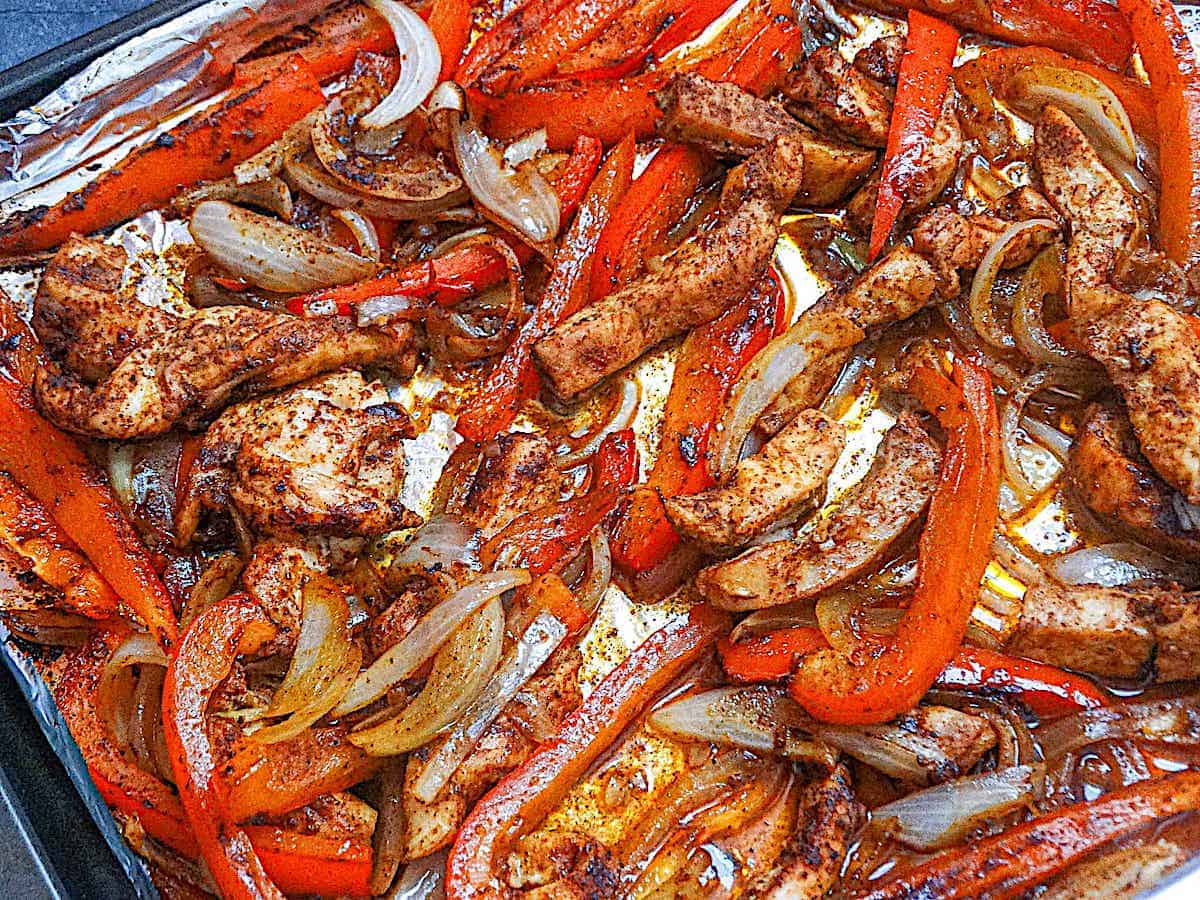 Warm the tortillas in the microwave for 10 seconds. Serve the pepper/onion/chicken mix with your choice of toppings.
The best part about making fajitas on 1 sheet pan? When you're done, you'll only have one pan to clean and lots of extra time to enjoy with your family.
Recipe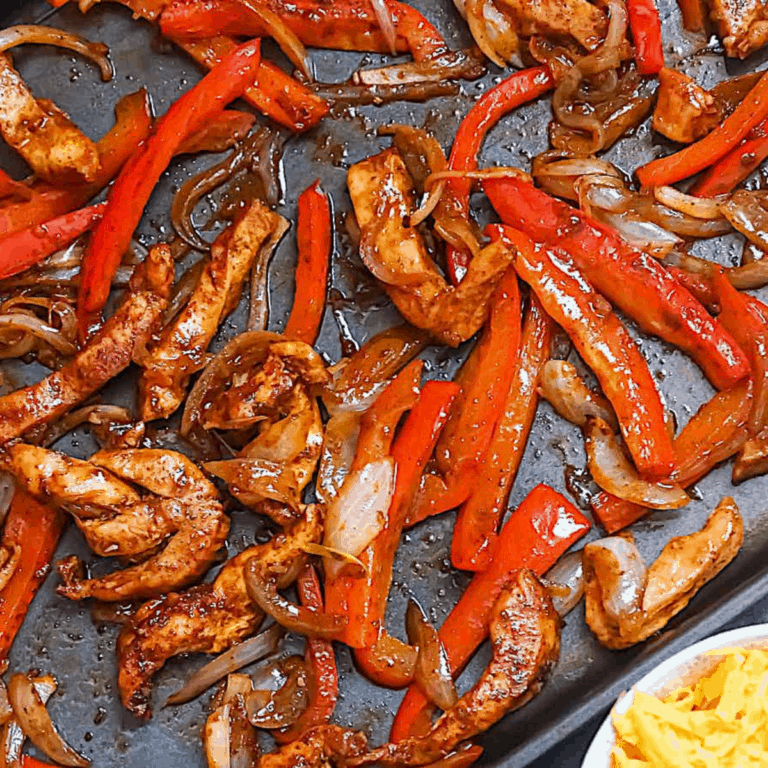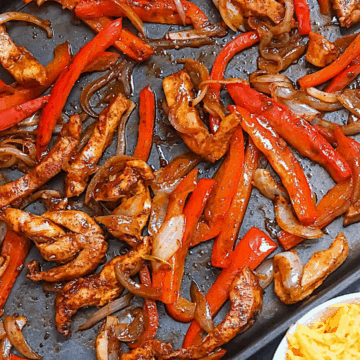 Baked Fajitas
Change up your Taco Tuesday nights with this easy oven Baked Fajitas recipe! Toss chicken strips, onion, and peppers with olive oil and taco seasoning and bake together on a sheet pan. It takes only 18 minutes to cook and less than 10 minutes to prepare. That means a delicious dinner in 25 minutes!
Add to My Collection
Saved!
Ingredients
1

lb

boneless skinless chicken, thinly sliced

2

bell peppers color of choice, thinly sliced

1

sweet onion, sliced

3

tablespoon

olive oil

1

packet taco seasoning

8

tortilla wraps

cheddar cheese, to serve

sour cream, to serve

salsa, to serve
Instructions
Preheat oven to 425°. Line a baking sheet with foil.

Add the chicken, onions, and peppers to the baking sheet. Toss with oil and taco seasoning.

Serve with warm tortillas, salsa, cheddar cheese, and sour cream.
Notes
As a variation, replace half or all of the chicken strips with beef strips.
Nutrition
Serving:
6
oz
Calories:
224
kcal
Carbohydrates:
20
g
Protein:
15
g
Fat:
9
g
Saturated Fat:
2
g
Cholesterol:
36
mg
Sodium:
286
mg
Potassium:
368
mg
Fiber:
2
g
Sugar:
5
g
Vitamin A:
960
IU
Vitamin C:
41
mg
Calcium:
45
mg
Iron:
1
mg
How To Make It Kid-Friendly
For kids (or adults) who have trouble eating the vegetables, you can simply remove the peppers from their tortillas or chop them up into small pieces.
Or, stuff the tortillas with mild salsa or guacamole instead, so they will still get vitamins and minerals from the tomatoes and avocado.
Another kid-friendly tip is to let your children stuff their own tortillas. This makes it fun for them and makes them feel like they are deciding what to eat. Kids love to feel like they have a choice in their decisions.
Baked fajitas, and many other Mexican recipes, are recipes that easily allow your kids a choice, since there are so many topping options you can give them.
I also have these fun and handy taco holders, which make it so much easier to stuff tortilla wraps and taco shells. This is especially true for children and their small hands.
Serving
You can serve oven baked fajitas with your favorite choice of toppings. Some options are:
rice
salsa
guacamole
sour cream
crema
cheddar or Mexican cheese
This recipe is freezer-friendly, so if you have leftovers or want to make a big batch for a quick homemade dinner later on, store in freezer bags for up to 6 months. Thaw in the fridge overnight or on the counter for a few hours.
Fajitas will last in the fridge tightly covered for around 5 days.
I hope you enjoy!
If you made my oven baked fajitas I'd love to hear what you think, so leave me a comment and let me know.
If you enjoyed this recipe, make sure to give it a star rating and let me know what you thought in the comments! And follow me on Facebook, Pinterest and Instagram for more delicious recipes!
Related Recipes You'll Love