Bread Machine Apple Bread with Honey and Apple Cider is a delicious fall bread that is perfect for making with those fresh, juicy orchard apples! The bread machine makes it simple: put all your ingredients in the machine, set to start, and let the machine mix and bake for you. Enjoy the smell of freshly baked apples while it cooks!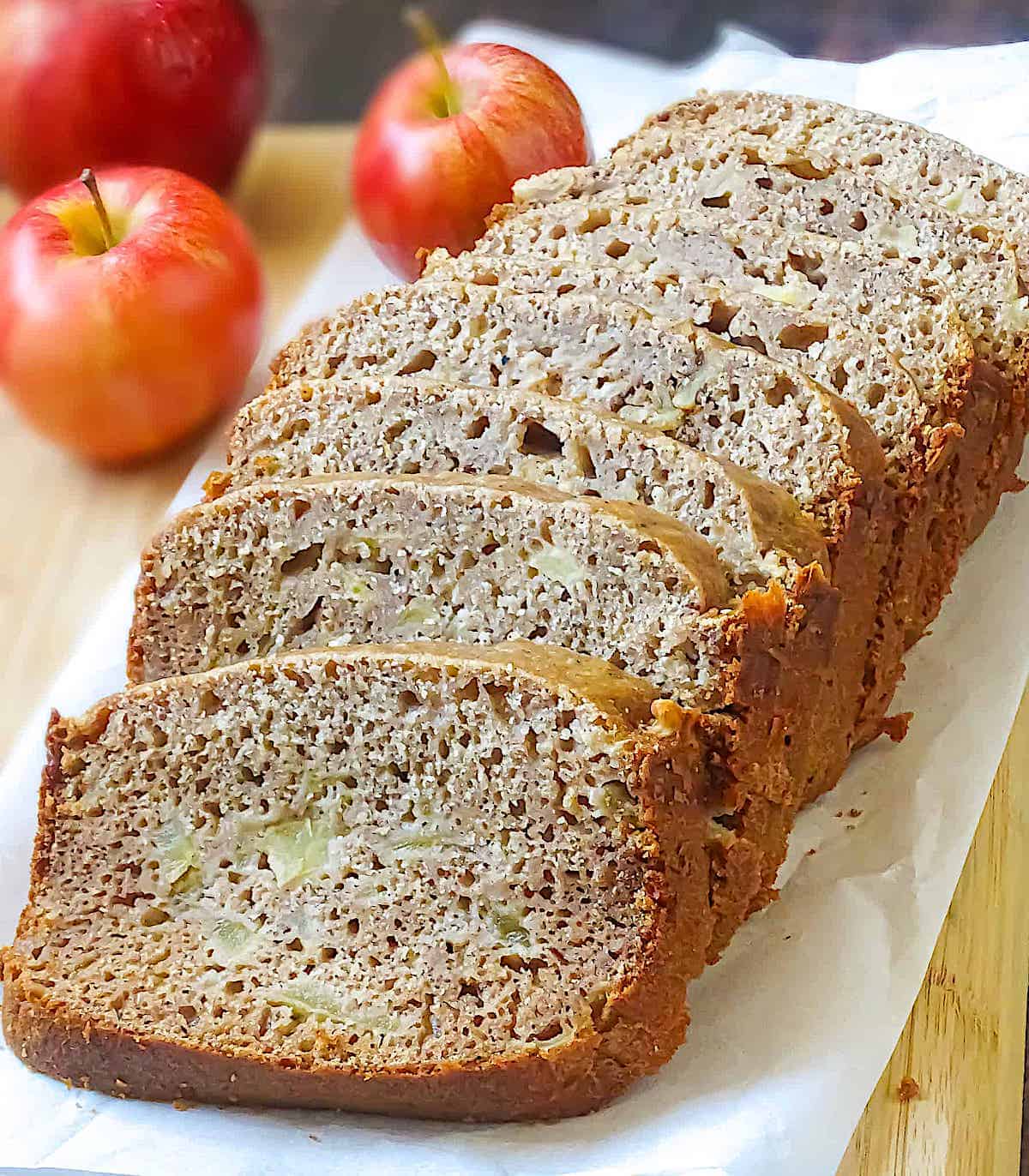 Jump to:
Bread Machine Apple Bread is an awesome treat for using fresh picked orchard apples.
This apple bread is made with sweet, chopped apples and apple cider. Rather than processed white sugar, I make this bread with local farm stand honey.
It's spiced with a homemade apple pie seasoning for extra warmth and comforting fall flavor.
I am accustomed to using sweet, juicy fruits and nutritious seasonal vegetables in baking. Like strawberries, raspberries, peaches, blueberries, zucchini and pumpkin.
Rather than only slicing apples for my kids, we all enjoy caramel apple muffins or apple nachos.
Other Fruit and Vegetable Bread Machine Recipes:
Even More Fruit-Filled Baked Goods!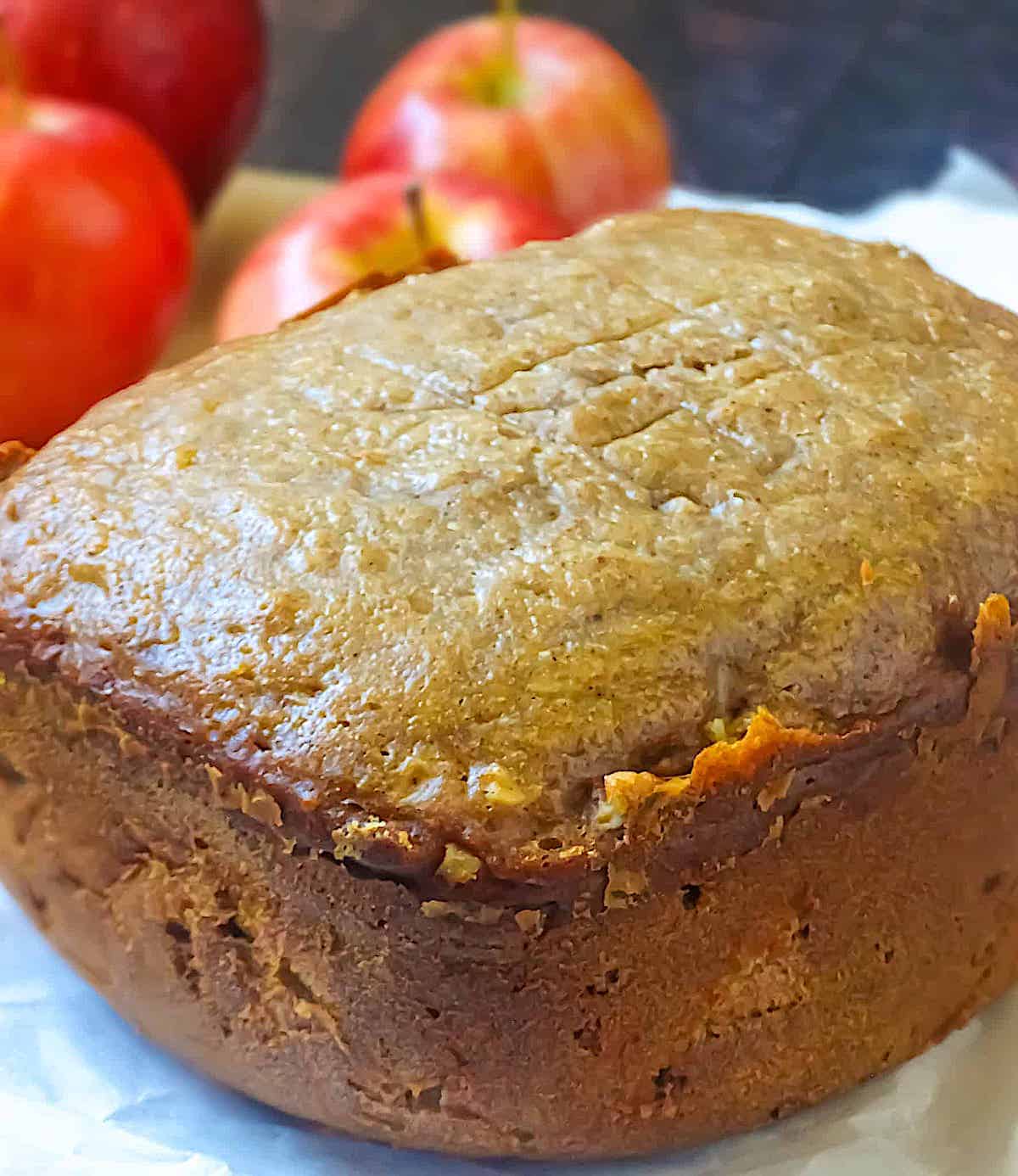 I love my bread machine as much as I love my crockpot. I use it all of the time. It's fair to say that many days you'll find my crockpot plugged in on one side of the counter and the bread machine on the other side.
Bread machines are super easy to use and save you so much time on preparation, mixing, kneading, and baking. I have a Cuisinart Automatic Bread Maker.
Why do I love making bread in the bread machine? It's so simple! Especially when you use the quick bread function like this recipe does. It's just a matter of adding all ingredients to the pan, pressing start, and waiting.
I love the bread machine because everything is automatic. Cooking times are pre-programmed, so I don't have to worry about something not being cooked enough (or over baking a recipe).
If you cook with your kids frequently, the bread machine is a great tool to teach them to use. If your kids are like my daughter, they'll be fascinated as they watch the ingredients mix together to form a dough.
It's a great science and STEM activity for days at home. It's also a relatively safe kitchen tool, as there are no sharp pieces. All kids need to do is add ingredients to one attached bowl. There's little chance they'll knock anything over or spill any ingredients.
📋 Ingredients
To make bread machine apple bread you need:
Fresh Apples: sweet red apples are the best in my opinion, but you can use your favorite.
Apple Cider: fresh pressed, natural apple cider gives the best flavor.
Honey: organic or local honey will ensure that you are using "real" honey and not the sugar-filled processed stuff. And you'll be supported a local farm stand!
Milk: any kind of milk in baking works great, so I use plain almond of low fat dairy, but the preference is yours!
Olive Oil: I use olive oil rather than butter to cut down on calories and for added health benefits.
Cinnamon/Nutmeg/All Spice: this combination makes a great apple pie spice, but you can also use a store bought apple pie mix.
Then you'll need your traditional baking ingredients: all purpose flour, salt, baking powder, eggs, and vanilla extract.
🍽 Equipment Needed
If you have a bread machine that's different than my Cuisinart Automatic Bread Maker, it's important to read the instructions so you know the order your ingredients should go in.
My recipe here is for the order that Cuisinart recommends for their machines. You can still follow my recipe, but change the order that you add the ingredients to the pan.
While a bread machine is a pricey purchase, it is well worth it! My machine is well-used and loved and will be for years to come.
If you don't have a bread machine, no worries! Read on for how to make this apple bread in the oven.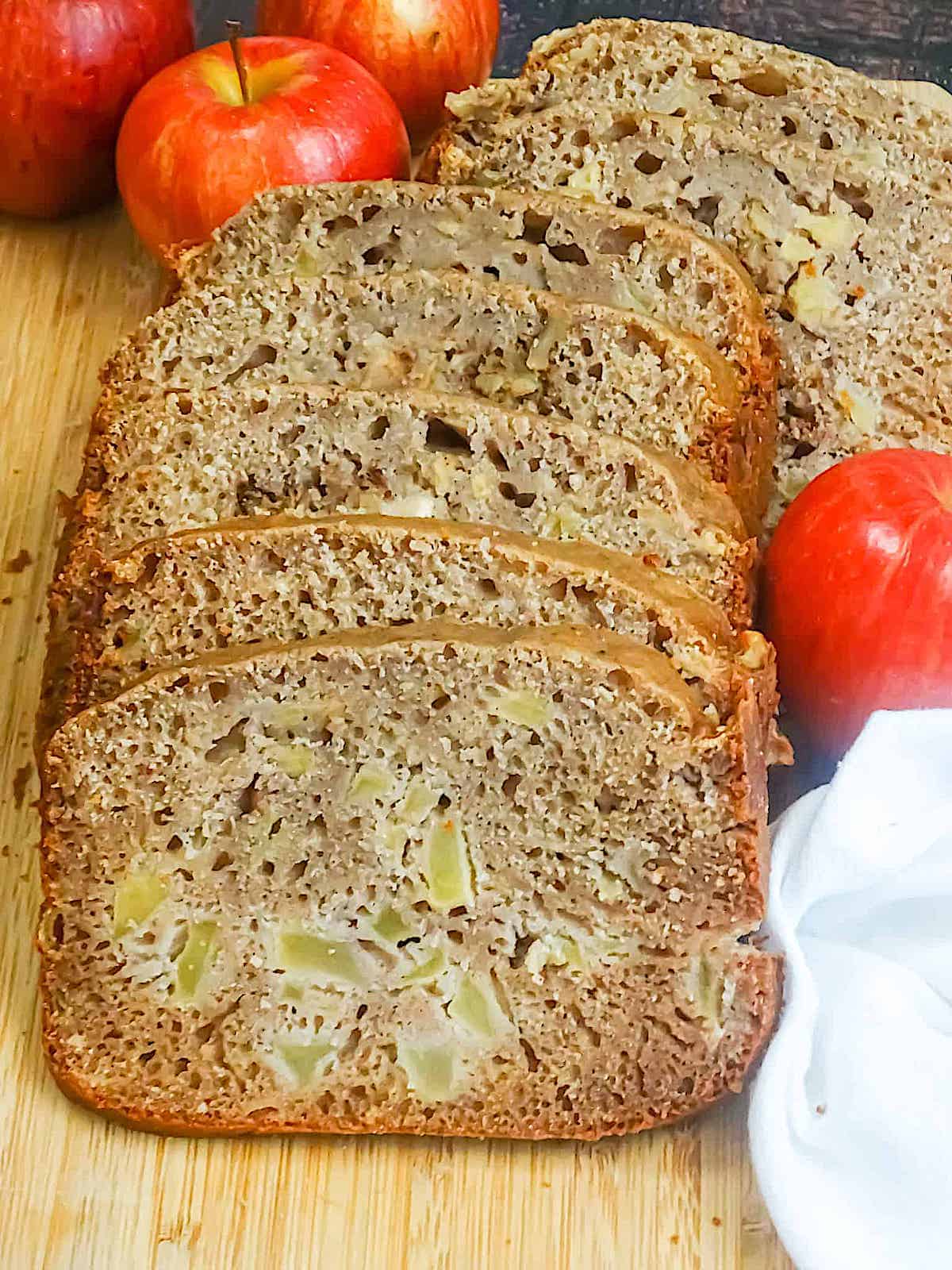 Making bread machine apple bread requires just a few easy steps:
Spray the bread pan with cooking oil (don't forget this!).
Add all ingredients in the order they are listed. If you haven't already, secure the pan to the machine. Select the quick bread function and press start. As the batter kneads, scrape the flour that sticks to the sides down into it.
When the machine beeps, the kneading cycle is over. You can remove the kneading paddle now (or once the bread has baked).
Once the baking cycle is complete, transfer the loaf to a wire rack to cool for 10 minutes before slicing. If you did not remove the kneading paddle earlier, remember to remove it now.
🔪 By Hand Instructions
Don't have a bread machine? That's okay! You can still easily make this apple bread recipe by hand.
Mix the dry ingredients first.
Mix the wet ingredients (including the apple).
Add the wet to the dry and mix just to combine.
Bake in a greased bread pan for 45-60 minutes at 350 degrees. Ovens vary greatly, so start checking it with a toothpick at the 45 minute mark.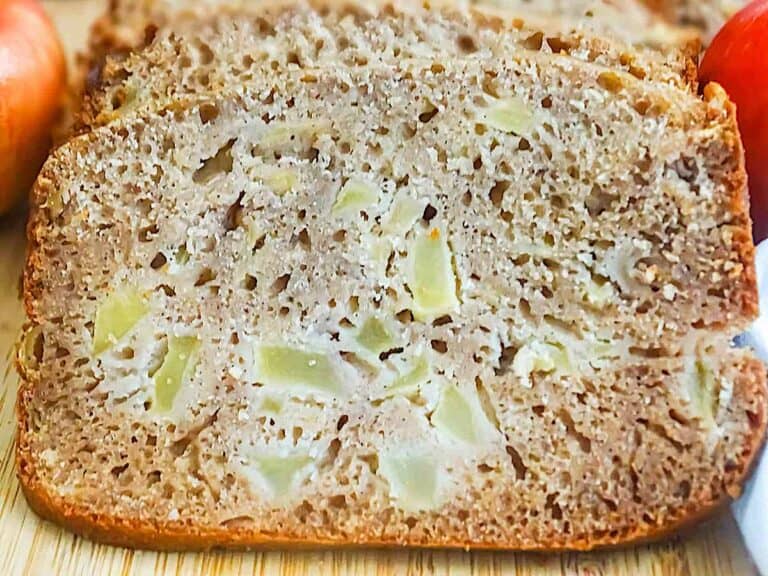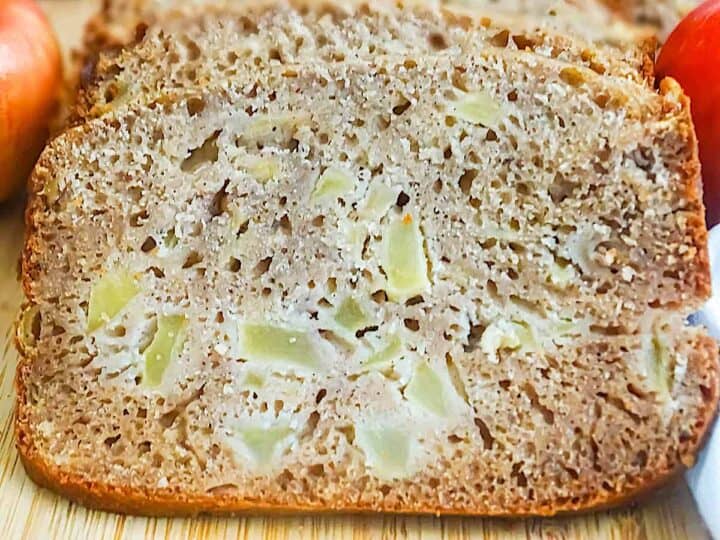 📖 Recipe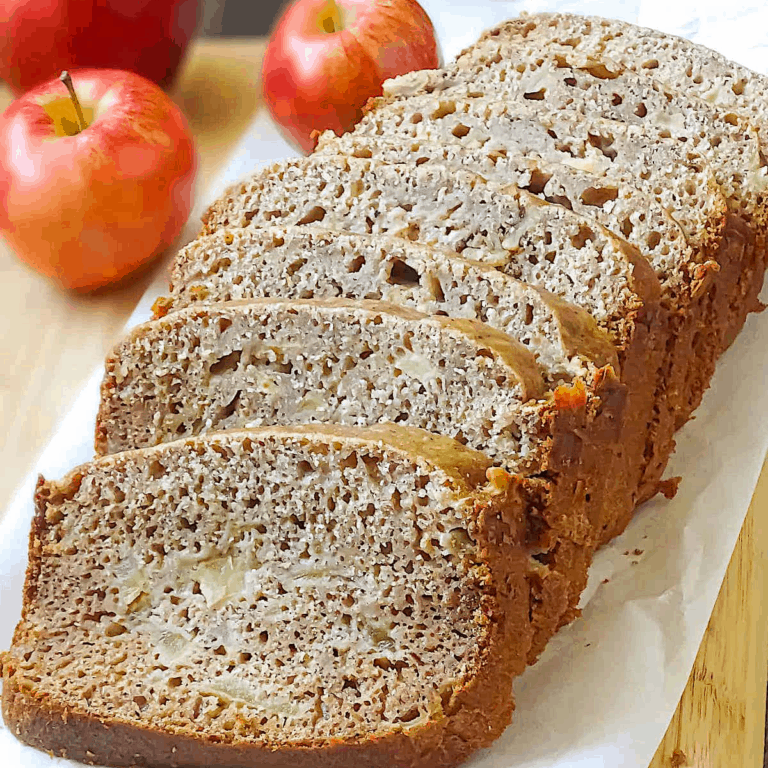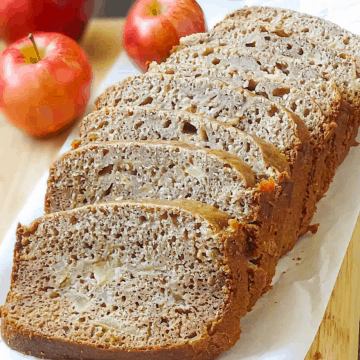 Bread Machine Apple Bread with Honey and Apple Cider
Bread Machine Apple Bread is easily made by adding all ingredients to the bread machine, then letting it mix, knead, and bake. Super tasty and super moist!
Ingredients
¼

cup

olive oil

1

tsp

vanilla extract

½

cup

milk

½

cup

apple cider

2

eggs

¾

cup

honey

2

cups

all purpose flour

2

tbsp

baking powder

¾

tsp

cinnamon

¾

tsp

nutmeg

½

tsp

all spice

¾

tsp

salt

2

cups

peeled and diced apples
Instructions
Spray the bread machine pan with oil. Add all ingredients in the order listed.

Set to "quick bread" function and press start, While in the kneading stage, scrape the sides of the pan with a spatula to incorporate all flour into batter.

When baking cycle is complete, transfer bread to a wire rack to cool. Carefully remove the kneading paddle, cut into slices and serve.
Notes
Store sliced bread in an airtight container for 3 days at room temperature or in the freezer for up to 6 months.
Nutrition
Serving:
1
oz
Calories:
108
kcal
Carbohydrates:
19
g
Protein:
2
g
Fat:
3
g
Saturated Fat:
1
g
Trans Fat:
1
g
Cholesterol:
14
mg
Sodium:
187
mg
Potassium:
46
mg
Fiber:
1
g
Sugar:
11
g
Vitamin A:
34
IU
Vitamin C:
1
mg
Calcium:
71
mg
Iron:
1
mg
🍽 Serving and Storing
Bread machine apple bread is fantastic served warm, with butter, cream cheese, apple butter, or a little fruit jam.
It is perfect along with a hot cup of tea or coffee, and is great for breakfast, snack time, or dessert.
Store bread in an airtight container at room temperature for up to 3 days. You can store it in the fridge for about 1 week and in the freezer for roughly 6 months.
Bread is very freezer friendly and is my preferred way of storing all of my breads. Since we are a small family of 4, an entire loaf of bread doesn't get eaten too quickly so the freezer is where half usually ends up.
This makes busy mornings so easy, when I all I need to do is pop open the freezer and defrost my pre-made bread for breakfast.
I hope that you've enjoyed this easy bread machine apple bread recipe. Did you love it? Let me know what you thought in the comments.
Make sure to follow me on Facebook, Pinterest and Instagram for the latest recipes and more!
🥘 Recommended Recipes