Sweet Potato Chickpea Hash with avocado slices and fried egg is seasoned with everything bagel seasoning and served as a nutrient-packed, vegetarian (almost-vegan!) breakfast casserole. This healthy, yet hearty, meal is ready in just 20 minutes and can be served for lunch or dinner, too. It's also a quick and easy choice for weekly meal prepping!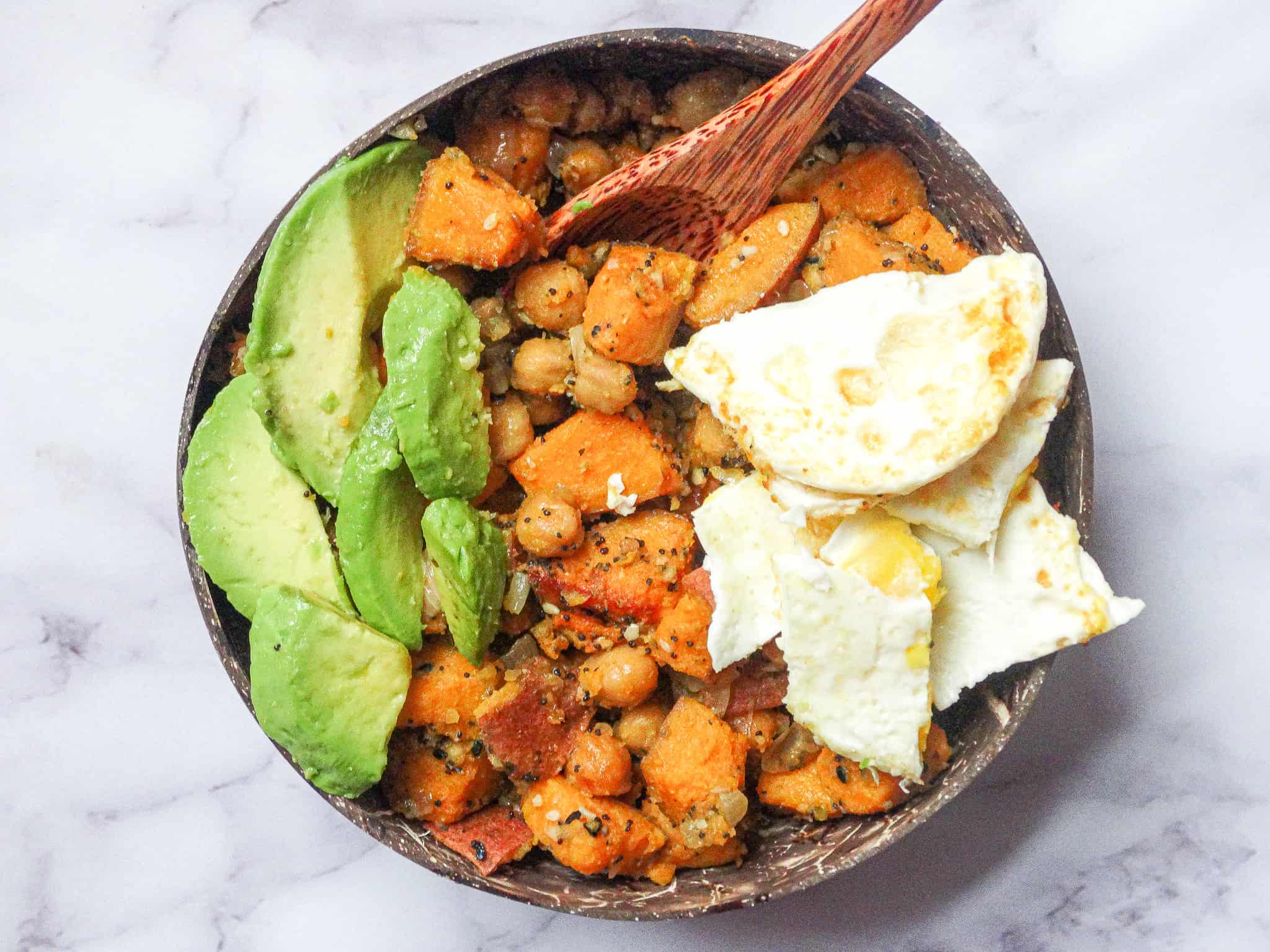 Have you heard of this amazing Okinawa diet?? If not, let me explain a little bit. The people of Okinawa, Japan live the longest of everyone in the world, like to over 100. You might be thinking, who the heck wants to live to be over 100?? But the thing is that they have so few health problems, that they aren't living to such an old age in failing health and poor conditions. They thrive!
The Okinawa diet is so different than a traditional Western diet. It is STRICT and just way to restrictive for me, or any American probably, to follow. It's high in carbs, and this is where most of the calories come from. But it includes virtually no fat.
And guess what a traditional Okinawa diet is based around? Sweet potatoes! So what I can take away from this wondrous diet is to eat more sweet potatoes. Now I am here thinking of all the less-than-stellar foods I can replace with sweet potatoes. Or just all the different fun ways we can eat sweet potatoes, like in this sweet potato chickpea hash!
Let's not forget about those chickpeas. We love chickpeas. Although not part of the Okinawa diet, they are a wonderful option for getting your protein and nutrients if you don't eat meat. They can easily be turned into the base of a full meal. We've made chickpea and bean burritos, and even ate these simple everything bagel seasoned crispy roasted chickpeas for lunch!
Sweet potato chickpea hash makes a fabulous family-friendly and nutrient-packed breakfast casserole. It is also excellent when served at brunch or for lunch (and even on "breakfast for dinner" nights). When I eat this for breakfast, I am not hungry again until lunch. And I love that! This recipe definitely keeps snacking at bay, and since I am STILL trying to lose that baby weight from 15 months ago (ugh) I could use all the help I can get.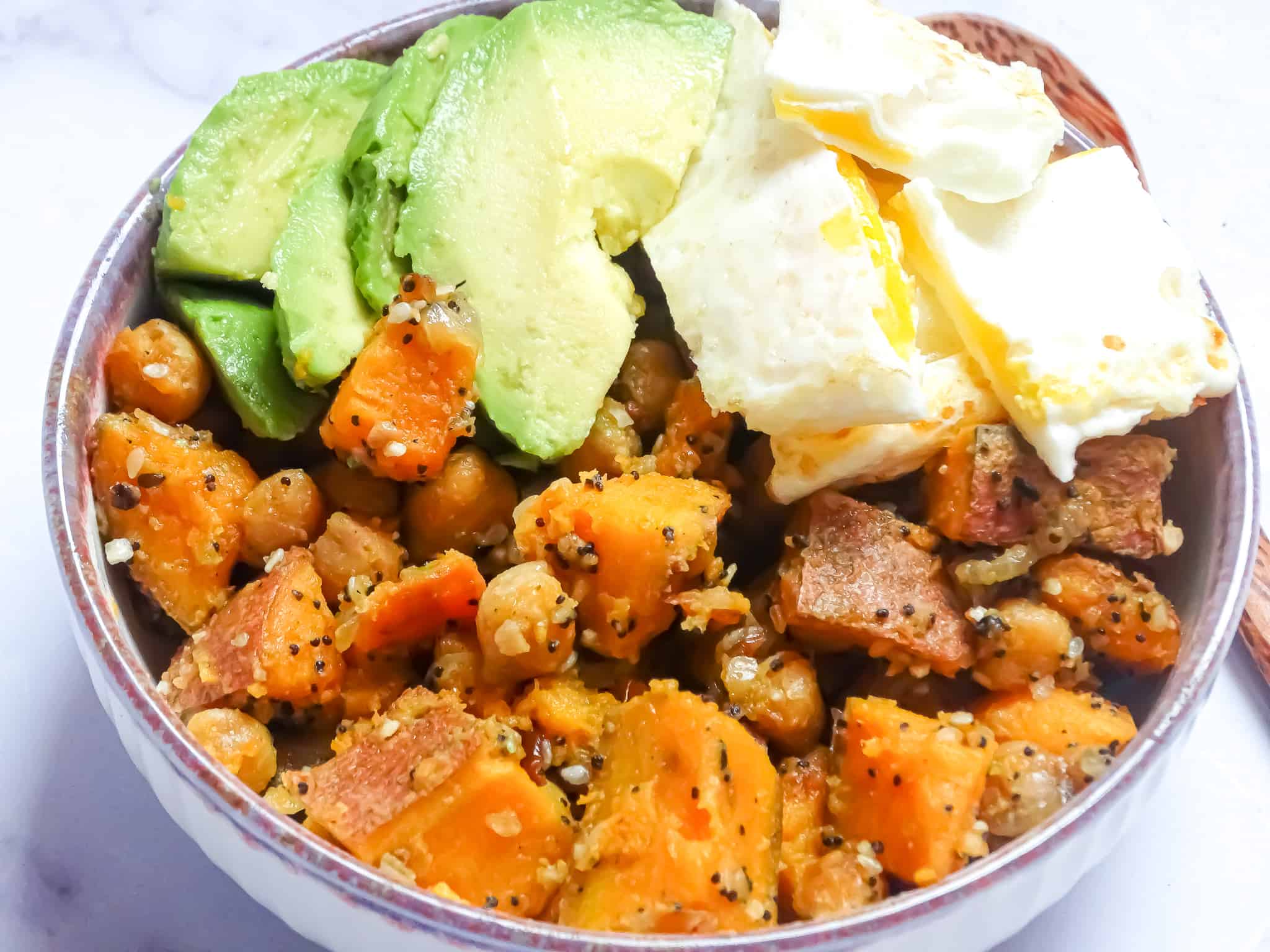 ingredients in sweet potato chickpea hash
The main ingredients in this sweet potato chickpea hash recipe are:
diced sweet potatoes
chickpeas
diced onions
olive oil
You will need these ingredients to season your casserole:
everything bagel seasoning
garlic powder
salt + pepper
To serve your sweet potato chickpea hash, you'll also need:
fried (or scrambled) eggs
avocado slices
health benefits of sweet potatoes
The health benefits of sweet potatoes are rather incredible. They provide us with an excellent dose of fiber and countless vitamins and minerals, especially vitamins C and B. Sweet potatoes are packed with the antioxidant beta-carotene, which we mostly hear about from carrots. And any diet high in this antioxidant is said to help keep cancer away! What's not to love about the sweet potato?
why you should love chickpeas
Pairing sweet potatoes with chickpeas will give you a powerhouse punch of protein. Chickpeas are incredibly rich in fiber and protein and will keep you feeling satisfied for hours. So if you don't eat a lot of meat, adding chickpeas to your diet will help you get your daily dose of protein. They are a versatile legume and can be added to salads, burritos, rice bowls, and the like. Chickpeas can be mashed to make humus or veggie burgers, and can even be easily roasted to crisp little balls seasoned with your favorite spices. There are so many health benefits to eating chickpeas, that you really can't go wrong with them!
I love making crispy roasted chickpeas for my kids. They are a perfect, easy to chew finger food for my baby, and they are so good for their little growing bodies!
variations to sweet potato chickpea hash
Make your sweet potato chickpea hash vegan by eliminating the eggs. How easy is that?!
This recipe should also already be gluten-free, so it's great for anyone with gluten intolerance. BUT, be careful with the everything bagel seasoning as it may contain gluten. Try to find one that is marked "gluten free".
Some other great additions or substitutions in this hash are:
cook bacon til crisp and break up into "bacon bits"
use a red onion in place of the sweet onion (or eliminate the onion completely)
use a few minced garlic cloves instead of garlic powder
sprinkle a little cheddar cheese or feta cheese right before serving
how to make sweet potato chickpea hash
Sweet potato chickpea hash is made in just 2 easy steps and is ready in barely 20 minutes. First cut the potatoes in small pieces, dice the onions, and rinse + dry the chickpeas. Try to cut the potatoes into ½ inch pieces or smaller. They should all be roughly the same size so they cook for the same amount of time.
Then follow these instructions:
Add the sweet potatoes, onions, chickpeas, salt, pepper, garlic powder, and olive oil to a large pan. Toss and cook on medium-high for 15 minutes. You can cover it for the first half so that the potatoes cook all the way through at a quicker pace. And make sure not to stir too much! You want the potatoes to become caramelized on a few sides.
Sprinkle on the everything bagel seasoning, toss, and cook for another 2 minutes.
While the potatoes, onions, and chickpeas cook, slice an avocado into thin pieces or chunks. Pan fry or scramble the eggs.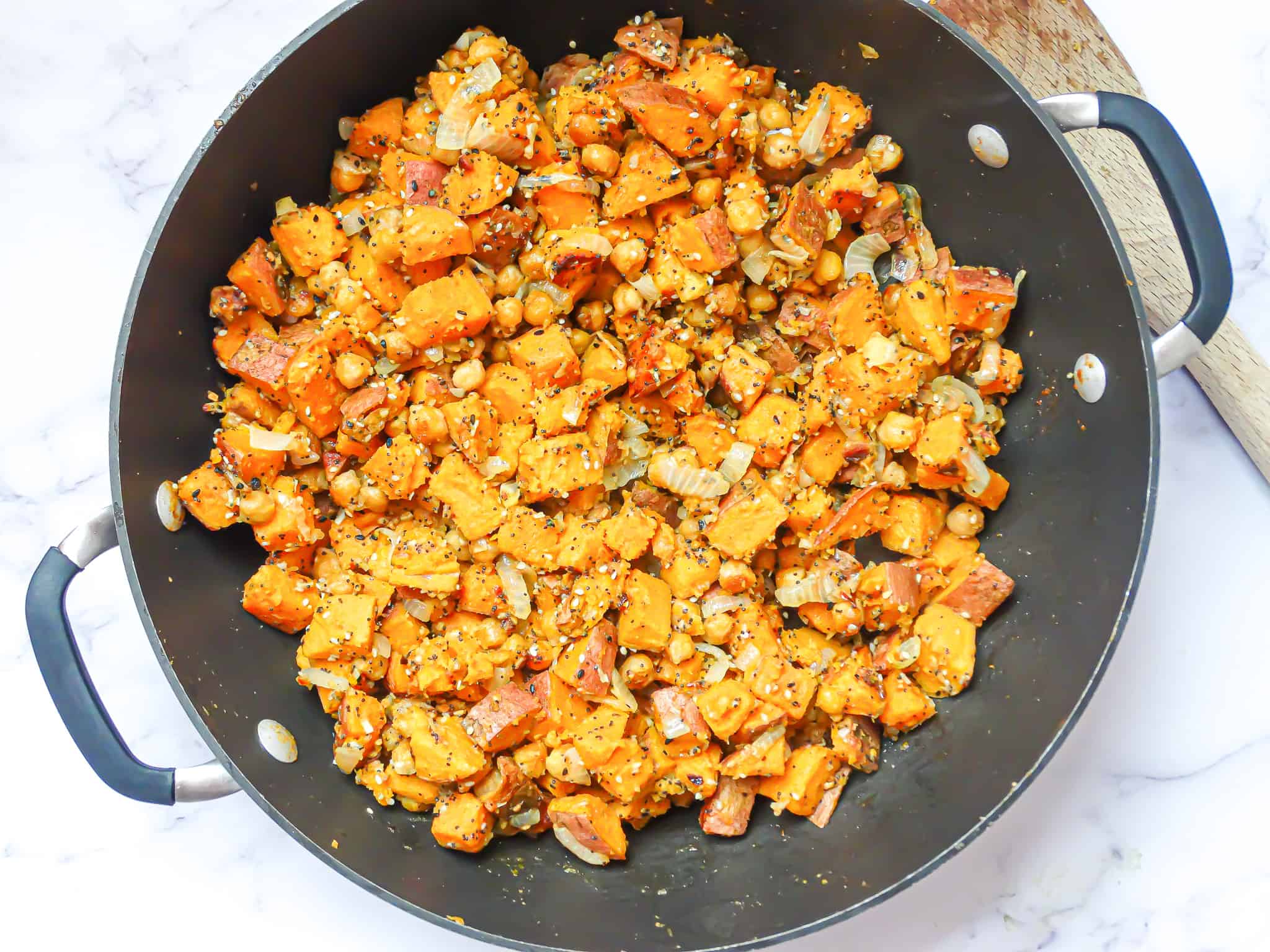 Once the sweet potato chickpea hash is moved to individual serving bowls, add 1 fried egg and a few slices of avocado to each bowl. And enjoy!
P.S. The absolute best bites are the ones with a little egg, a little avocado, and a little sweet potato chickpea hash in them! Delicious!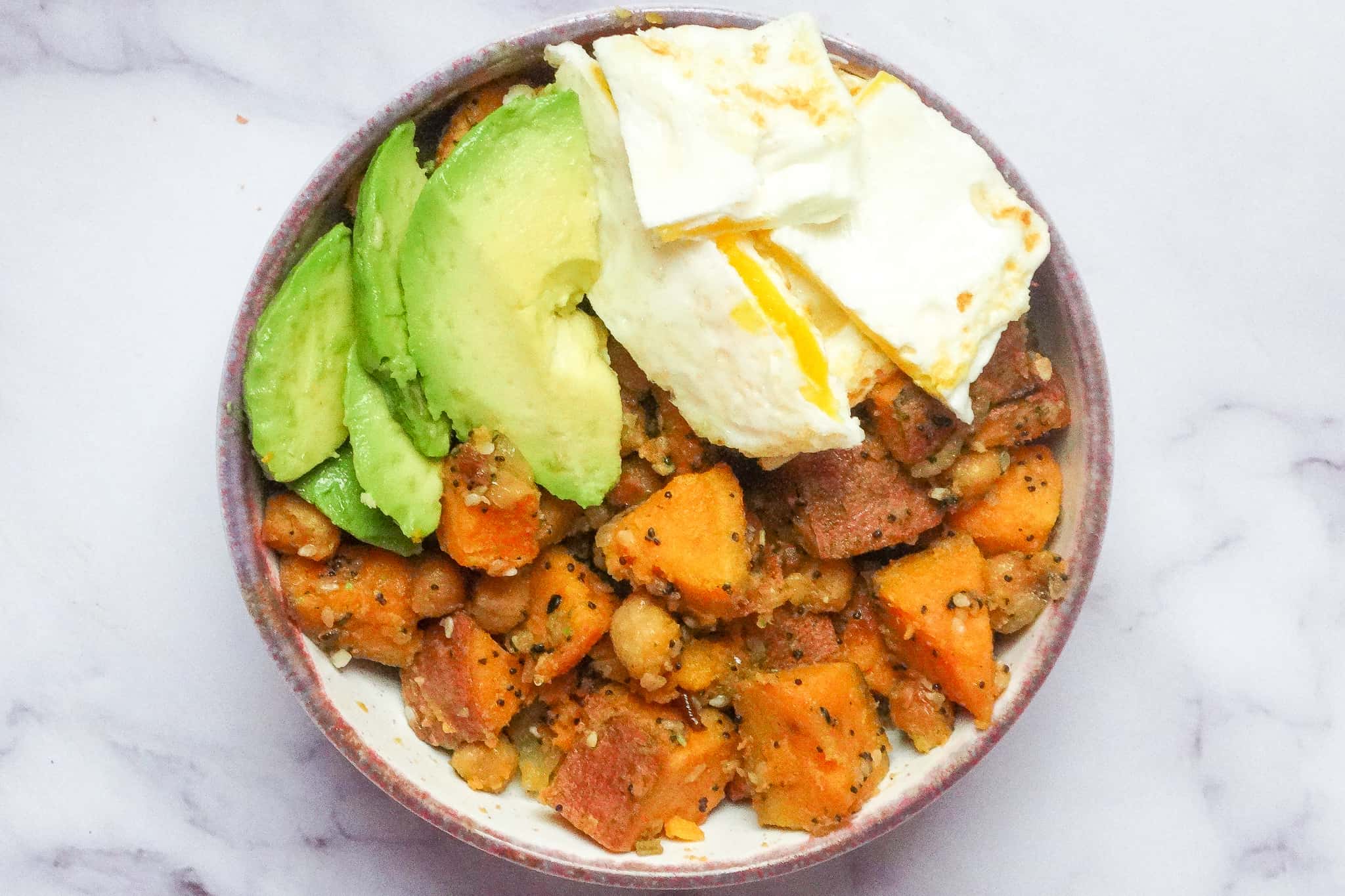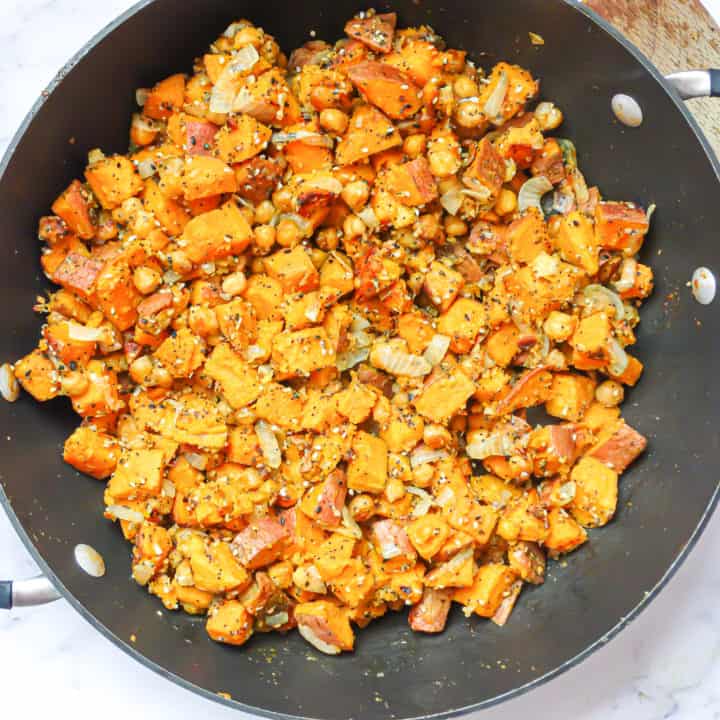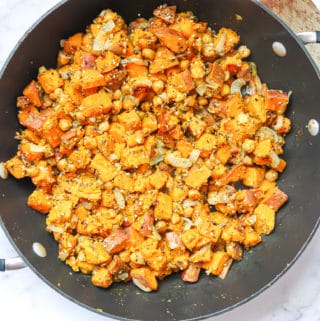 Sweet Potato Chickpea Hash with Everything Bagel Seasoning
Sweet Potato Chickpea Hash with Everything Bagel Seasoning is a simple and quick yet fantastic breakfast or lunch casserole. It's vegetarian and family-friendly, and is packed with nutrients and few calories. Enjoy this nutrient-dense recipe as a meal prep option, too!
Ingredients
3

sweet potatoes, chopped into small pieces

1

small sweet onion, diced

1

15 oz can

chickpeas, rinsed and dried

4

tablespoon

olive oil

1-2

tablespoon

garlic powder

2

teaspoon

salt

¼

teaspoon

pepper

2

tablespoon

everything bagel seasoning

1

large avocado

6

eggs
Instructions
In a large pan, combine sweet potatoes, onion, olive oil, chickpeas, garlic powder, salt, and pepper. Saute on medium-high heat for 15 minutes, stirring occasionally.

Meanwhile, slice the avocado into thin pieces and fry eggs in a pan.

Add the everything bagel seasoning, mix to the sweet potato chickpea hash and saute for another 2 minutes.

Serve with sliced avocado and fried egg.
Nutrition
making "kid-friendly" sweet potato chickpea hash
My trick to making sweet potato chickpea hash kid-friendly is simple: let them help. Kids get so excited when helping make their own meal, so let them be the chef!
First, let them add the chickpeas and sweet potatoes to the pan while cooking. Chickpeas probably aren't a food that many kids are used to, so touching it and inspecting it firsthand is the best way for them to be introduced to this wonderful legume.
Second, let kid's control their own seasonings. Don't add the everything bagel seasoning until the casserole is in serving bowls, and let them sprinkle on their own.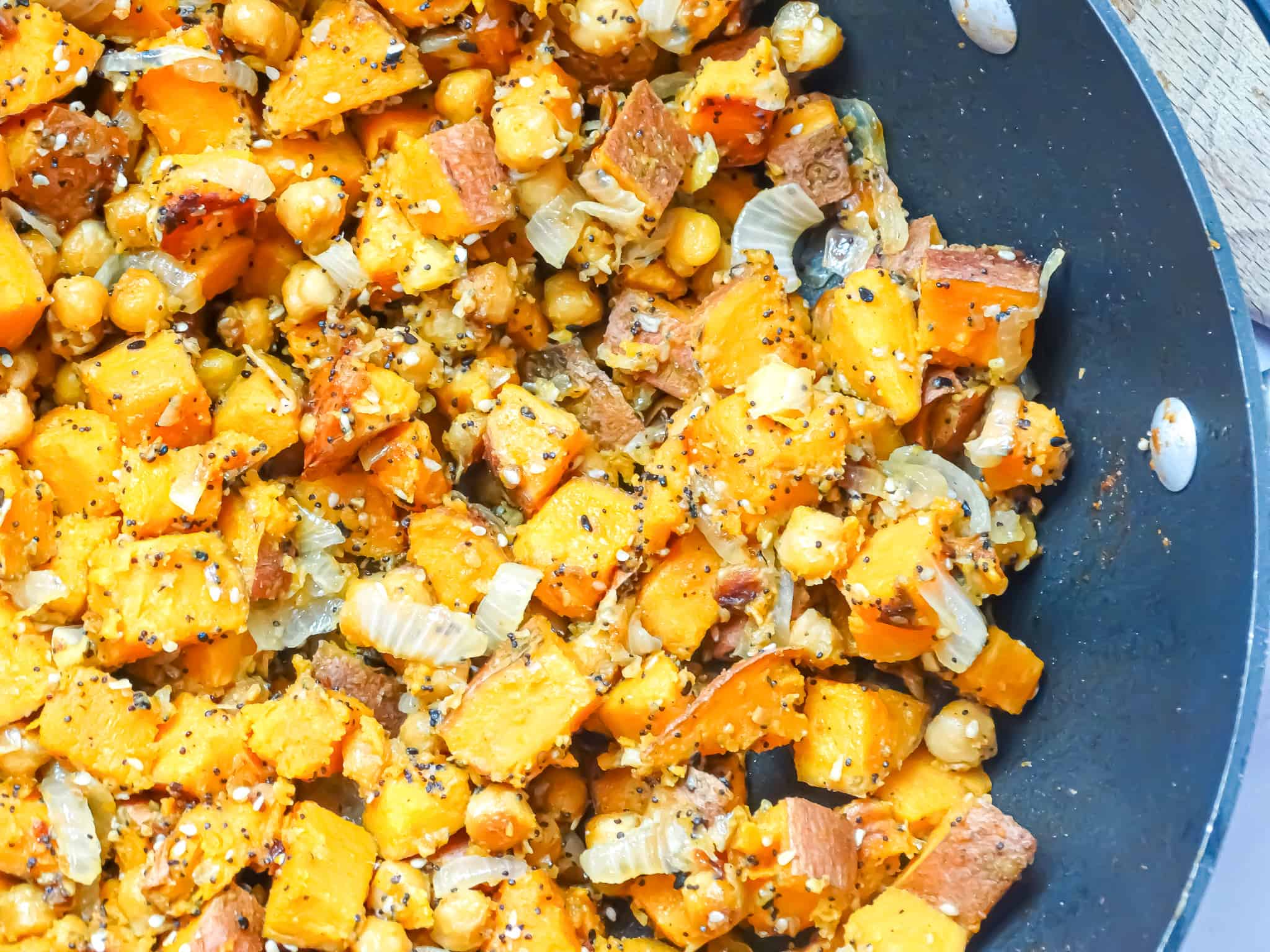 And that's how to make this delicious sweet potato chickpea hash for the whole family to enjoy! I hope you find it as tasty as I do.
For more delicious recipes, follow me on Pinterest, Facebook, and Instagram! And if you loved this recipe make sure to give it a star rating!
RELATED POSTS