Strawberry Lemon Bread is a super moist and perfectly lemony bread recipe. It's made with fresh chopped strawberries, fresh squeezed lemons, and lemon zest. A delicious summer snack or treat!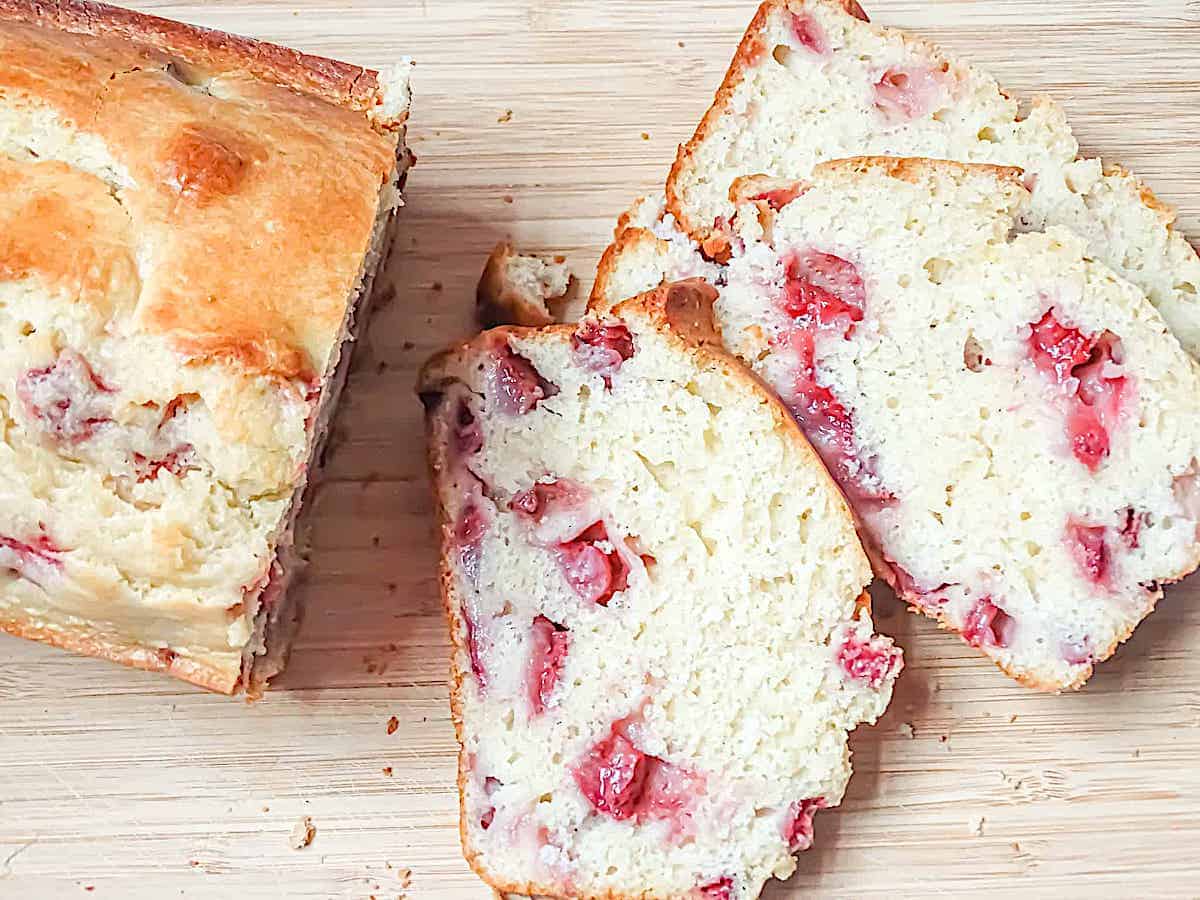 Jump to:
Strawberry Lemon Bread is a super moist and refreshing bread filled with juicy strawberries and tangy lemon.
This delicious bread is incredibly moist and packed with sweet strawberry flavor. Lemon juice and lemon zest give it a refreshing tangy taste, making it a perfect summer dessert.
When the summer farmer markets fill with ripe seasonal fruits, it's the perfect time for making lots of fruity breads, muffins, and snacks.
Lemon bars with a soft-baked crust and tasty fruit-filled muffins are perfect to take on picnics and to pool parties and barbecues.
Pair strawberry lemon bread with a glass of cool lemonade or iced green tea and enjoy on a warm summer day.
A quick bread is batter-type bread rather than a yeast bread. Quick breads get their leavening (rising) from baking powder, eggs, and in some cases, baking soda.
They are very similar to muffins and are more cake-like than bread-like. Generally, quick breads are baked in loaf pans or muffin tins.
I bake quick breads in muffin tins for just-right proportions, meal prepping, and for already proportioned freezer storage.
You can even bake them in mini muffin tins, like I did with these chocolate banana bread bites. They are the perfect size for kids' snacks and lunch boxes!
Quick breads are easy breads to make and are perfect for beginning bread makers.
They are a fun bread with endless options for add ins. You can easily create your own quick bread recipe, as long as you follow the no-fail formula for ingredient ratios.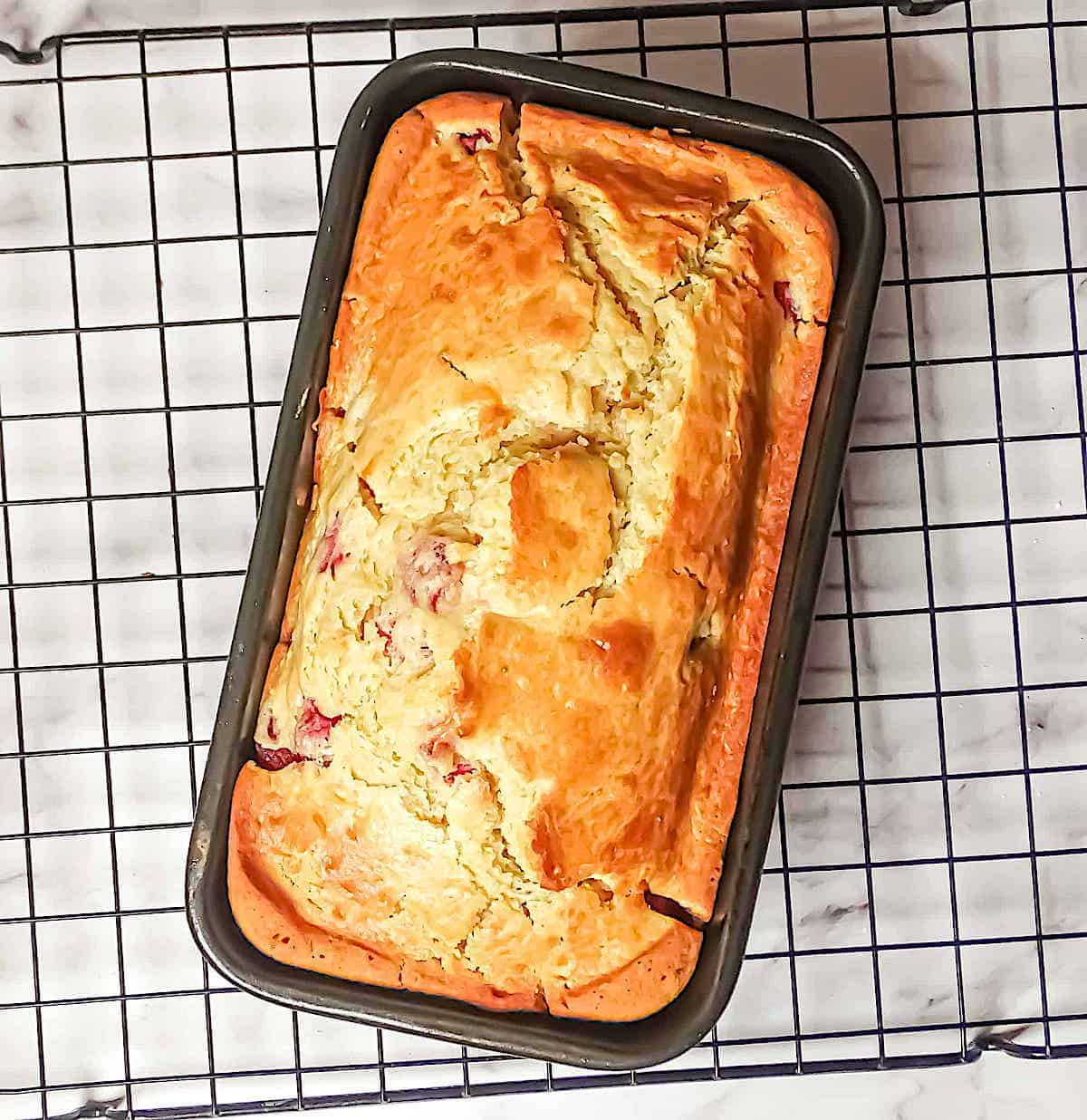 💡No-Fail Quick Bread Formula
You can easily turn this strawberry lemon bread into your own version of quick bread by following the appropriate ingredient ratio.
This is a no-fail formula for making all different flavors of super moist and delicious quick breads.
Begin with 2 cups of flour. This makes 1 large loaf. Increase or decrease the ingredients proportionality when making a smaller or larger loaf.
For every 2 cups of flour use:
Dry Ingredients
Sweeteners: ¾ cup
Leavening agent: 1 tbsp of baking powder
Salt: ¾ tsp
Spices: up to 2 teaspoon using a combination of ginger, cinnamon, nutmeg, cloves, and cardamom
Dry Add-Ins (use a total of 2 ¼ cup)
Fruit: apple, mango, strawberry, blueberry, cherry, raisin, raspberry, apricot, cranberry
Nuts: walnuts, pecans, pistachios, or other nuts
Chocolate chips: milk, dark, white, mint, semi-sweet, peanut butter, butterscotch
Other: shredded coconut, chia seeds, poppy seeds
Wet Ingredients
Wet Add-Ins (optional, use up to ½ cup and reduce milk by amount you use)
lemon juice
mashed banana
applesauce
pumpkin
zucchini
carrot
Fat (a total of ½ cup)
Oil: olive oil, coconut oil, or other type of oil
Butter: unsalted butter or ghee
Additional Flavorings (optional, limit to one)
Zest: lemon. lime, orange
Extracts: almond, orange, lemon, peppermint
*My favorite add in here is lemon zest to make different types of lemonade bread
👩‍🍳 Quick Bread Step-By-Step
Once you've decided on your ingredients, the process of making quick bread goes like this:
Combine the dry ingredients.
Combine the wet ingredients and add-ins. Add to the dry.
Add the fat.
Fold in the dry add-ins.
Bake!
This list was adapted from Fine Cooking. For more details on how to create your own quick bread, see this informative post.
In addition to baking it in the loaf pan or muffin tins, you can use your bread machine on the quick bread cycle.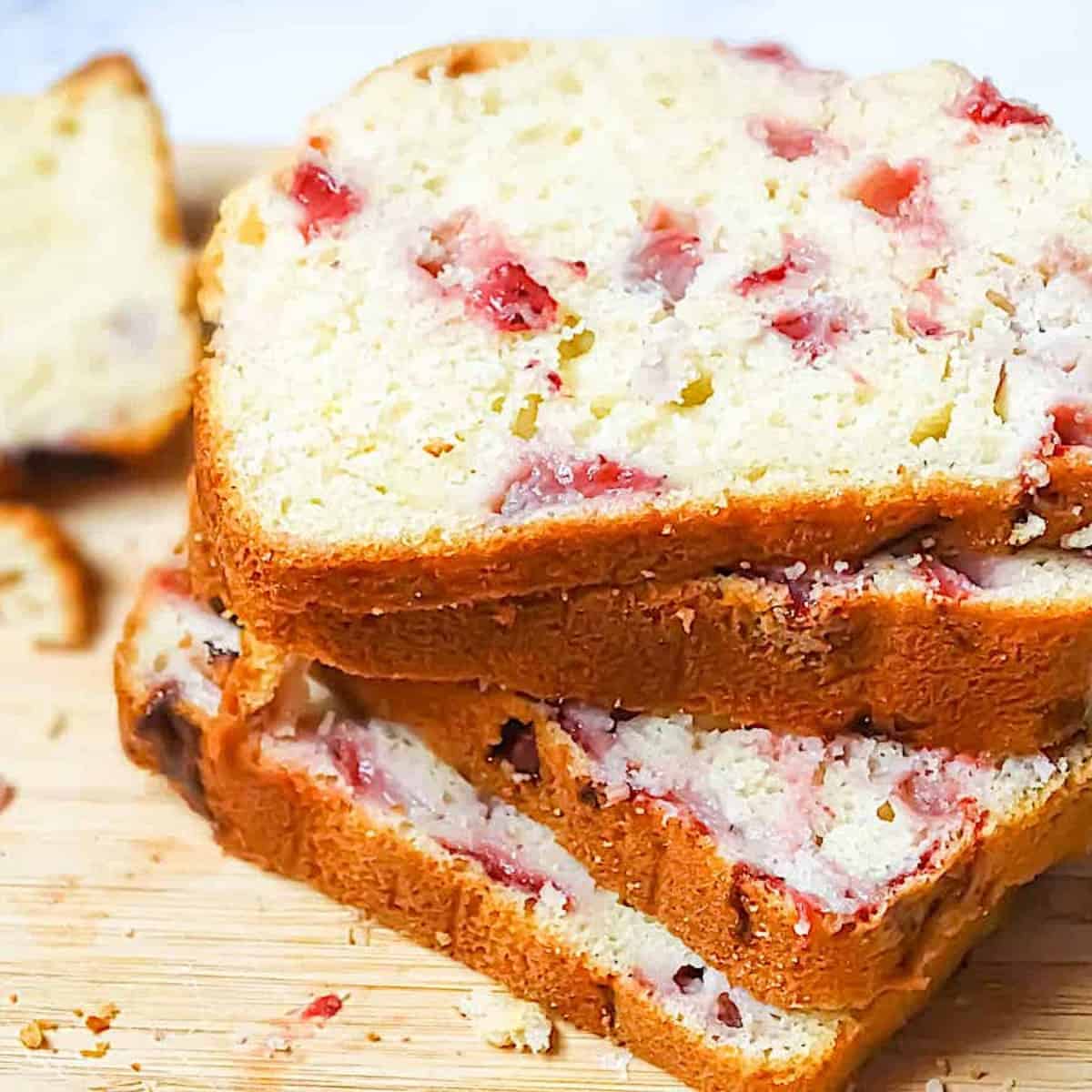 Ingredients
To make this strawberry lemon bread, you need:
fresh strawberries
freshly squeezed lemons and grated lemon zest
all purpose flour
white sugar
ground ginger
salt + baking powder
olive oil
milk
eggs
vanilla extract
Here are some simple substitutions if you are missing an ingredient from the list.
Replace the olive oil with butter or coconut oil
Use flax eggs instead of regular eggs
Replace cow's milk with plain or vanilla almond milk, or use homemade buttermilk
Use cinnamon or nutmeg instead of ginger
Replace the white sugar with brown sugar
Replace some of the strawberries with blueberries for an extra fruity sweet bread!
Lemon bread recipes are delicious with not only ginger, but with nutmeg or cinnamon, or a combination of both.
They are also fantastic with a variety of fruits, so feel free to add another berry, like blueberries or raspberries to the batter.
Just make sure to keep your chopped fresh fruits at no more than 1 ½ cups for every 2 cups of flour when making quick bread.
Step-By-Step Directions
Strawberry lemon bread is a 3 step recipe:
Mix all of the dry ingredients together in a large bowl. This is the flour, sugar, salt, baking powder, and ginger.
Make a hole in the center and add the milk, eggs, vanilla extract, olive oil, lemon juice, and lemon zest. Mix to incorporate into the dry ingredients.
Add the strawberries and fold into the batter.
Last, pour the batter into a greased bread pan and bake for 50-60 minutes. The time depends mostly on your oven, so check if it's done by inserting a toothpick into the center.
The bread will be a beautiful golden brown on the top, with bright red plump strawberries peeping through. The toothpick will come out clean when finished.
Enjoy!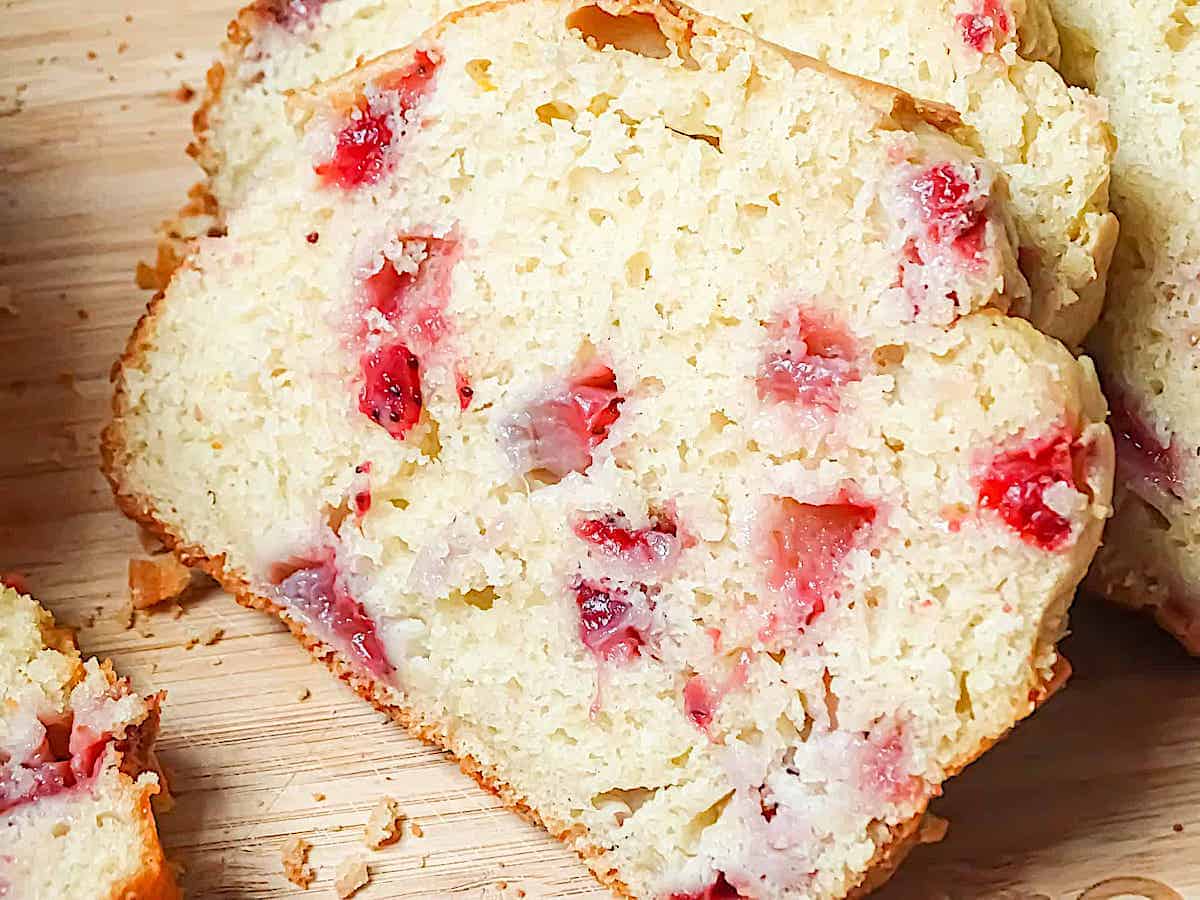 Recipe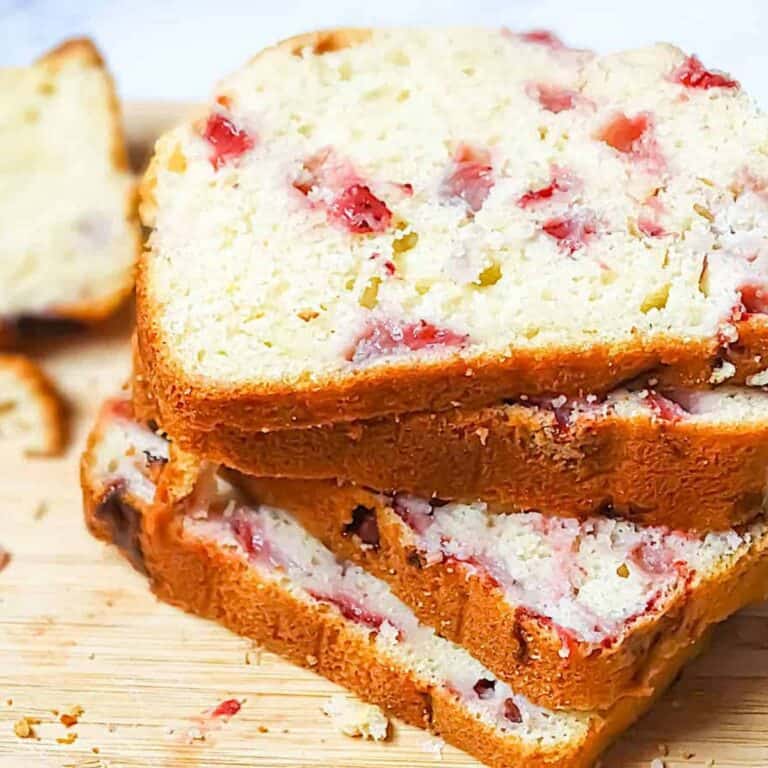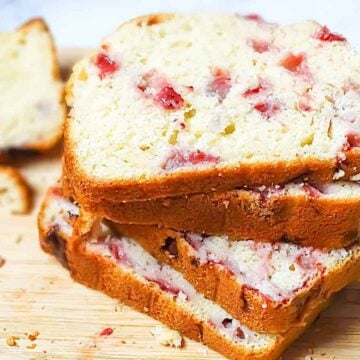 Strawberry Lemon Bread
Strawberry Lemon Bread is super moist and perfectly lemony, made with fresh chopped strawberries, fresh squeezed lemons, and lemon zest. A delicious summer snack or treat!
Bookmark Recipe
Saved!
Ingredients
2

cups

flour

¾

cup

sugar (white or coconut sugar)

1

tablespoon

baking powder

¾

teaspoon

salt

¾

teaspoon

ginger

7

ounces

milk

2

eggs

½

cup

olive oil

1

teaspoon

vanilla extract

1

tablespoon

lemon zest

2

tablespoon

lemon juice

1 ½

cups

fresh strawberries, chopped
Instructions
Preheat the oven to 350° F.

In a large bowl combine flour, sugar, baking powder, salt, and ginger.

Make a hole in the center and add the milk, eggs, olive oil, vanilla extract, lemon juice, and lemon zest. Mix until combined.

Fold in the strawberries.

Spray a loaf pan with cooking spray or grease well with butter. Bake for 50-60 minutes, until a toothpick inserted into the center comes out clean. Let rest for 30 minutes before removing from pan.
Air Fryer Instructions
Follow steps 1-4 above. Preheat to 350° F on the bake setting if your air fryer has one. If your air fryer does not have a preheat setting or a bake setting, skip this step.

Spray pans with cooking spray. Fill halfway with the batter and follow the times below for cook times.

Mini loaf pans: 10-15 minutes, check at the 10 minute mark. This recipe makes 4.Mini bundt pan: 20 minutes. This recipe makes 2.Silicone cups: 5-7 minutes, check at the 5 minute mark. This recipe makes 24.

Remove from the air fryer and let cool for 10 minutes before removing from the pan.
Nutrition
Serving:
1
slice
Calories:
232
kcal
Carbohydrates:
31
g
Protein:
4
g
Fat:
11
g
Saturated Fat:
2
g
Trans Fat:
1
g
Cholesterol:
29
mg
Sodium:
270
mg
Potassium:
87
mg
Fiber:
1
g
Sugar:
14
g
Vitamin A:
69
IU
Vitamin C:
12
mg
Calcium:
89
mg
Iron:
1
mg
Serving
Serve strawberry lemon bread with whipped cream or cool whip, or toasted with a dab of butter or cream cheese.
Counter Storage: keep in an airtight container at room temperature for up to 3 days.
Fridge Storage: keeps in the fridge for about 2 weeks.
Freezer Storage: store in a freezer baggie for around 6 months.
I hope that you've enjoyed making this incredibly scrumptious strawberry lemon bread! Let me know how it turned out in the comments below. I'd love to hear from you.
If you enjoyed this recipe, make sure to give it a star rating and let me know what you thought in the comments! And follow me on Facebook, Pinterest and Instagram for more delicious recipes!