Cauliflower Rice Stir Fry tossed with garlic butter chicken and carrots is ready in only 25 minutes! A perfect one-pot, veggie-packed quick and simple stir-fry for a busy weeknight. The whole family will enjoy this sweet and tasty nutrient-loaded cauliflower rice stir-fry.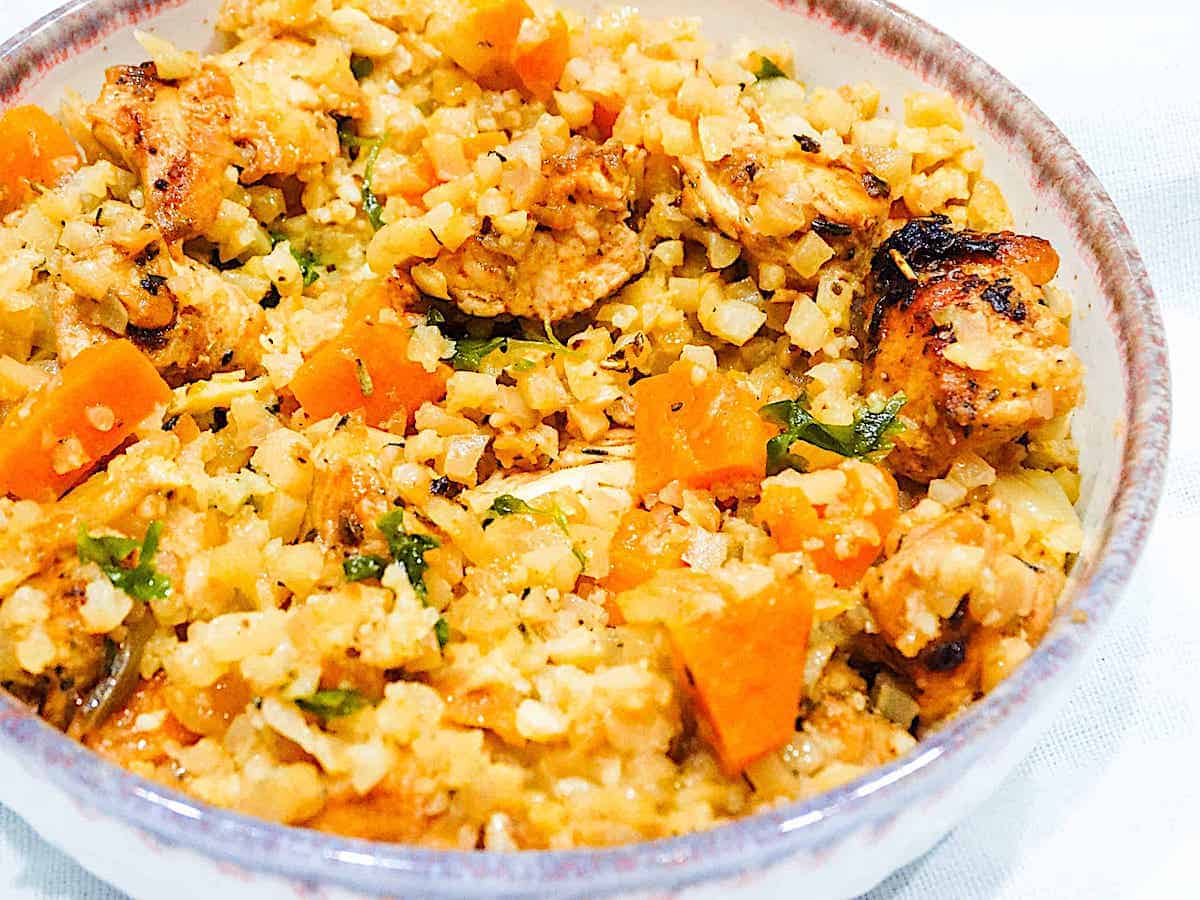 Jump to:
I love one pot meals! And even more, I love one pot meals that literally take minutes to throw together. Cauliflower rice stir fry is exactly this, plus it gives your family a double dose of veggies.
This cauliflower rice stir fry is a sneaky way to get your children to eat not just 1 vegetable at dinner, but 2.
It's a grain free recipe, so carbs are limited. This makes it a light dinner, great for around those winter holidays loaded with sweet and tasty treats! You'll not only love how this cauliflower rice stir fry tastes, but how it makes you feel.
This cauliflower rice stir fry recipe uses frozen cauliflower rice. Frozen cauliflower rice has became a lifesaver for me. I keep a large bag of individual servings from Sam's Club in the freezer at all times.
I love it because frozen cauliflower rice doesn't need to be defrosted. You can fry it right from frozen or steam it in the microwave. The package I get can be steamed in the microwave or pan-fried for only 5 minutes straight from the freezer. This reduces prep time significantly, and who doesn't love that?
Back before I had children and a lot more free time, I used to grate a head of cauliflower into perfect little rice-looking pellets, slowly fry it or saute it, and turn it into the base of a simple "rice bowl".
Grating cauliflower doesn't really take that long if you have the time, but sometimes we just don't.
Example: hungry children who need to eat, do homework, and get in the bath and go to bed in less than 2 hours after you get home from work.
🧾 Ingredients
For this cauliflower rice stir fry, you need:
frozen cauliflower rice: or grate a full head using a cheese grater
grated carrots: using a vegetable peeler to grate them into thin pieces reduces cooking time (and makes them softer for picky vegetable eating children) but you can also chop them
minced garlic: i use a good amount of garlic, but if you don't have a love for garlic like me, use a little less (try 6 cloves instead of 8)
cubed chicken: my trick is to cut the chicken into ¼-1/2 inch pieces to reduce cooking time
chicken broth: or use chicken flavored cubes and water to make your own
lemon: lemon, garlic, and butter mixed with grated Parmesan make a very tasty and fresh sauce
grated Parmesan: I don't recommend substituting with fresh because it melts differently
diced onion
butter & herbs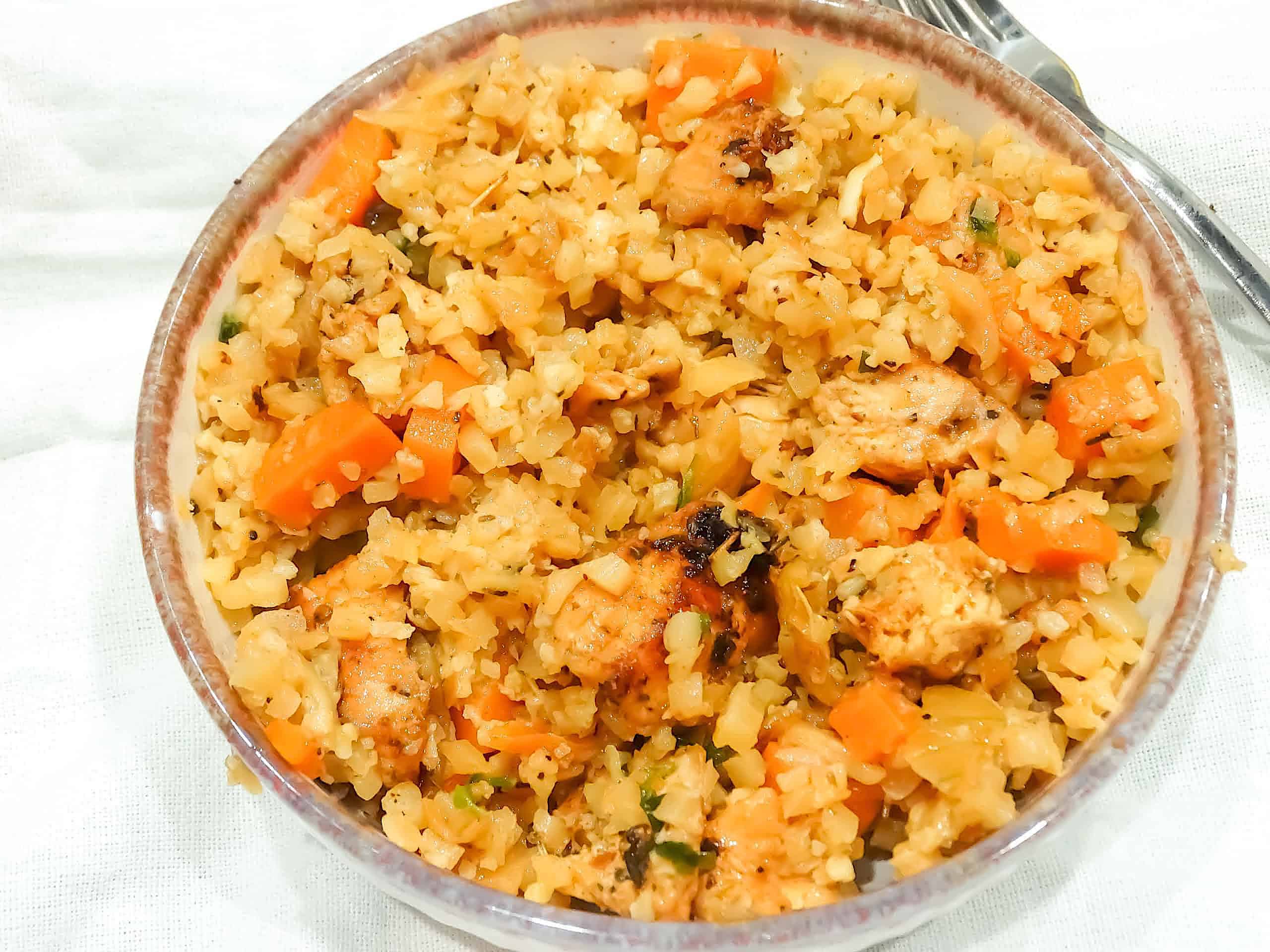 🔪 Step-By-Step Directions
Making cauliflower rice stir fry couldn't be easier!
First, cook the diced chicken, the herbs, paprika, salt, and butter in a wok or large pan. Cook for approximately 6 minutes, flipping half-way through. I don't flip it more than this so that the sides brown nicely and I'm left with flavorful brown bits on the pan and crusted on the chicken. This little trick gives the whole meal such big flavor.
When the chicken is done, remove it from the wok. To the same pan, add more butter, the carrots, and the onions, cooking until they soften and begin to brown. This takes only about 4 minutes.
Next, add the garlic and cook for just 1 more minute. Garlic burns quickly, so be careful. A good rule of thumb when cooking garlic in a pan is to stop the process once it becomes fragrant.
Now add the frozen cauliflower rice and chicken broth to the vegetables and cook from 5 minutes. Before adding the cauliflower, break apart as much of it as you can, then use a spoon to break apart the remainder while it's cooking. Because it's frozen you'll need to rotate it frequently.
Once the cauliflower is heated through, remove from the heat and add the Parmesan cheese and lemon.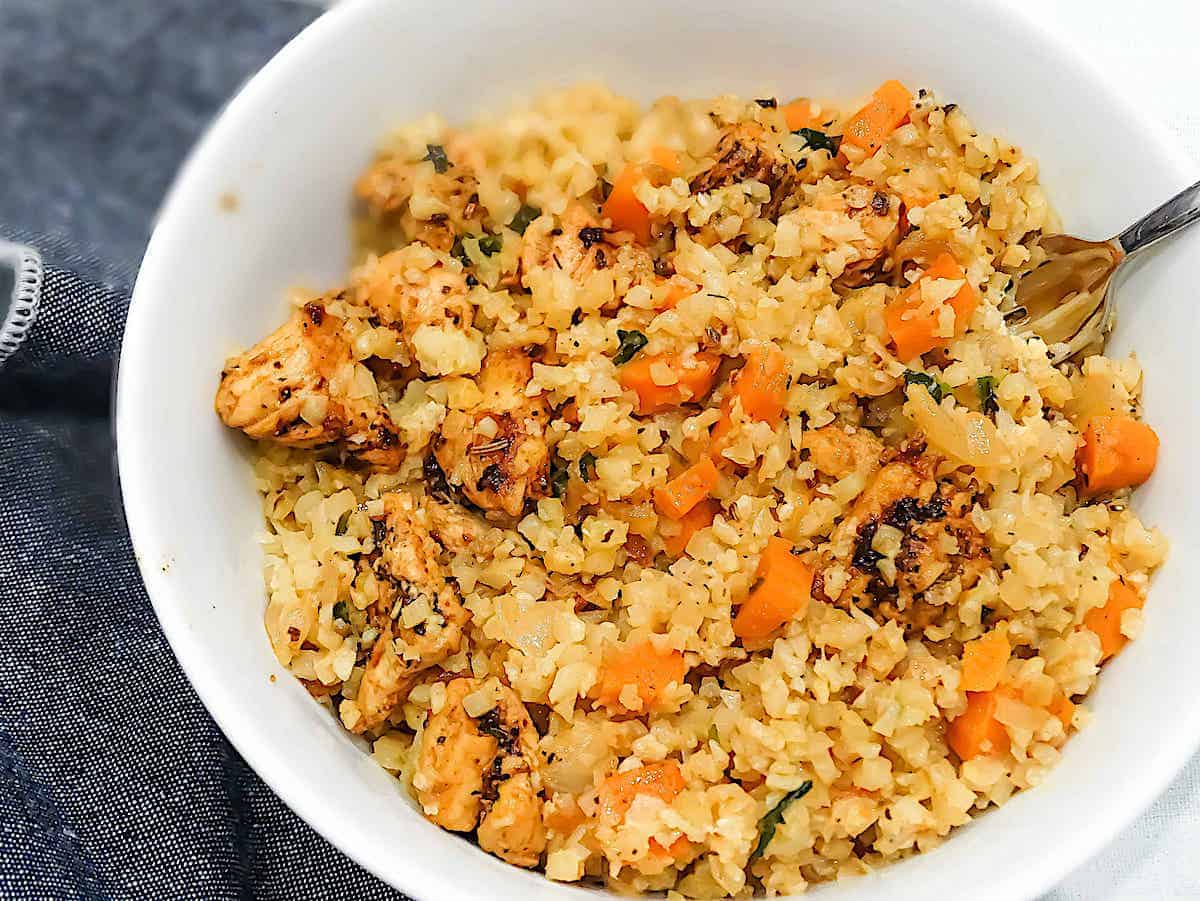 And there you have a healthy, family-friendly cauliflower rice stir fry in only 25 minutes!
Enjoy!
📖 Recipe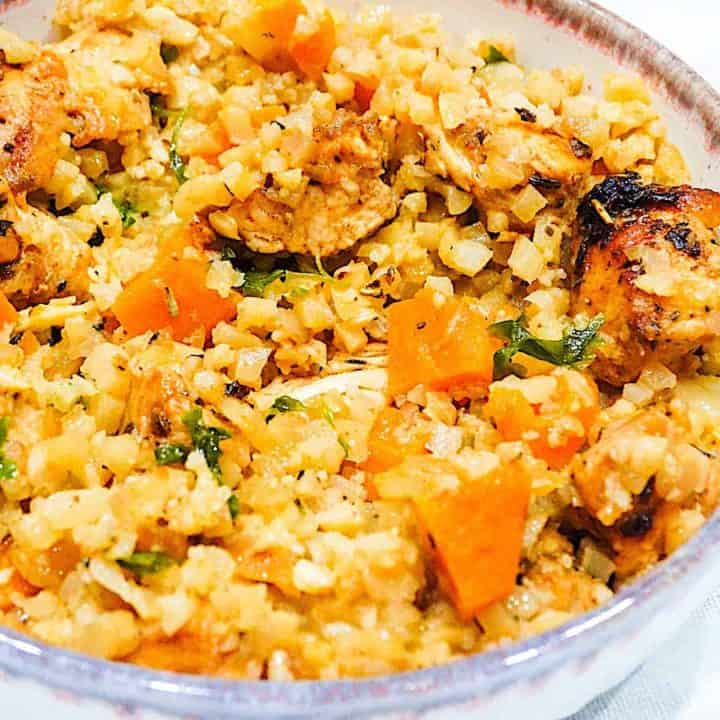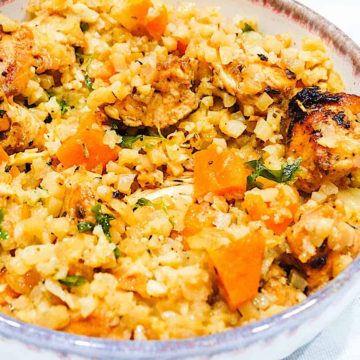 Garlic Butter Chicken and Cauliflower Rice Stir Fry
A perfect veggie-packed quick and simple stir-fry that is ready in only 25 minutes! Chicken and Garlic Butter Cauliflower Stir-Fry is a perfect weeknight meal that the whole family will enjoy. Sweet and delicious, the kids won't even know they're eating cauliflower!
Ingredients
For the chicken:
6

tbsp

butter

2

large chicken breasts

2

tsp

paprika

1

tbsp

Italian seasoning

2

tsp

salt

½

tsp

pepper
For the cauliflower rice:
2

tbsp

butter

1

cup

onions, chopped

2

carrots, chopped

8

garlic cloves, minced

2

tbsp

fresh parsley

10

oz

frozen cauliflower rice

¼

cup

chicken broth

½

cup

Parmesan cheese

½

lemon
Instructions
Cut the chicken breasts into ½ inch cubes.

In wok or large pan, melt 6 tbsp of butter over high heat. Add the chicken, paprika, salt, pepper, and Italian seasoning. Cook, flipping once, 3 minutes per side. Remove chicken and juices from pan when done.

Add 2 tbsp of butter to the pan and melt. Add the onions and carrots and cook 4 minutes, until onions begin to caramelize and carrots become tender-crisp.

Add the garlic and parsley to the wok and cook 1 more minute, until garlic is fragrant.

Add the cauliflower rice and chicken broth to the vegetable mix and cook 5 minutes, breaking apart the cauliflower with a spatula as it warms. Stir frequently.

Remove from the heat and add the Parmesan cheese. Squeeze lemon on top and mix well. Toss with the chicken and serve warm, with additional fresh parsley if desired.
Nutrition
Serving:
6
oz
Calories:
385
kcal
🍽 Serving and Storing
Cauliflower rice stir fry keeps well in the fridge for around 2 days. It is also freezer-friendly for up to 6 months.
I hope that you enjoy this delicious recipe! If you've made it, let me know what you thought in the comments below.
Make sure to follow me on Facebook, Pinterest and Instagram for the latest recipes and more!
🥧 Related Recipes You'll Love