Easily make homemade buttermilk by combining milk and vinegar. Use your buttermilk as a substitute for milk or store bought buttermilk in your favorite recipes!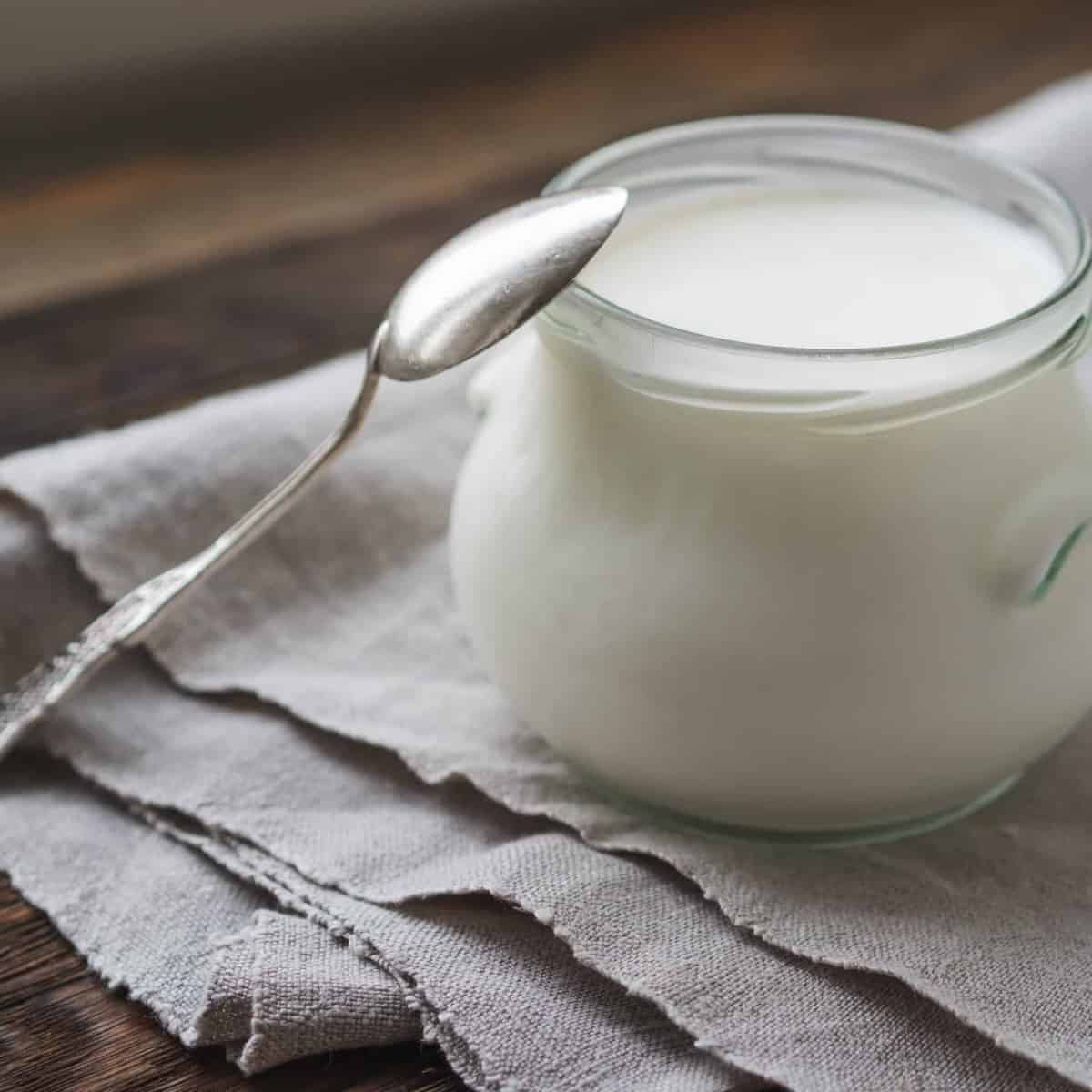 Making a homemade buttermilk substitute when a recipe calls for buttermilk is incredibly easy! Maybe you don't have buttermilk on hand and only realize as you're making that delicious cake, or you'd rather make a 2-ingredient buttermilk instead of buy a store bought version.
Using only milk and vinegar, you can make your own- just mix together and let it rest for a few minutes.
Add to your recipe, and enjoy! It adds tenderness and moisture to baked goods and can also produce a better rise. So even when a recipe calls for just plain regular milk, you can use buttermilk instead to create an even tastier version!
What is buttermilk?
Buttermilk is a fermented dairy drink. Traditionally, it was the liquid left over after churning butter from cream. Today the buttermilk that you find in the grocery store is made by adding a cultured bacteria to milk and allowing it to ferment.
What does buttermilk taste like?
buttermilk has a sharp, not necessary sweet, flavor.
What is buttermilk used for?
Because of it's tangy taste, buttermilk adds a depth to baked goods. It makes pancakes, biscuits, cakes, cookies, and even quick rising breads more moist and tender while strengthening their rise. Buttermilk also leads to less browning than when using milk. Buttermilk is a good choice if you want a tangy, tender, and well-risen end product.
What is the difference between milk and buttermilk?
While regular milk is a fresh dairy product made from cows, buttermilk is a fermented liquid created by culturing and fermenting milk (or straining the liquid leftover after churning butter).
Using Homemade Buttermilk
You can use this buttermilk when you don't have store bought buttermilk on hand or when you have a hard time finding it.
USE BUTTERMILK IN THESE DELICIOUS RECIPES:
How To Make Homemade Buttermilk
Making a buttermilk substitute using milk and vinegar is tremendously easy. In 1 step and just 10 minutes you can have a great buttermilk substitute ready to add to your recipe.
Add 1 tablespoon of white vinegar to every 1 cup of milk. Let the milk and vinegar sit for 5-10 minutes. The milk will begin to curdle and thicken slightly. Once you see this start to happen, it's ready to use.
Milk: use any fat content, such as whole or skim, or anything in between.
Vinegar: white or apple cider vinegar are both acceptable.
Tips
Homemade buttermilk is more acidic than regular milk. Because of its acidity, buttermilk will lessen the amount of carbon dioxide released when baked and will affect leavening. So it's important to change the amount of baking powder and baking soda in your recipe when substituting.
For every 1 cup of homemade buttermilk that you use, reduce the baking powder by 2 teaspoons and add ½ teaspoon of baking soda.
Storing
Store in a tightly sealed jar for up to 2 weeks in the fridge.
Enjoy!
Recipe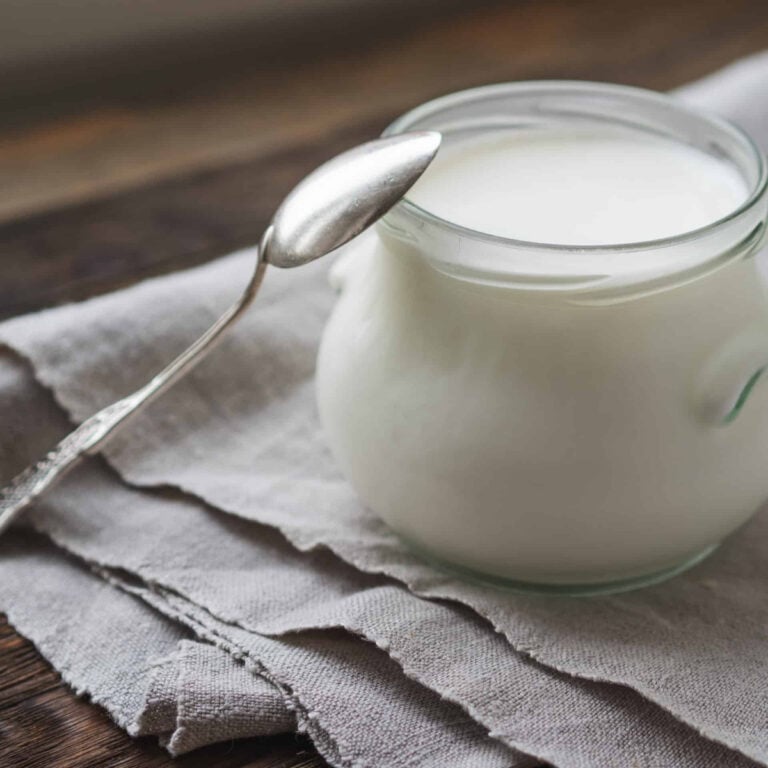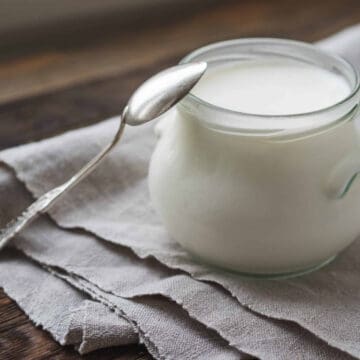 Homemade Buttermilk Recipe
Easily make homemade buttermilk by combining milk and vinegar. Use your buttermilk as a substitute for milk or store bought buttermilk in your favorite recipes!
Bookmark Recipe
Saved!
Ingredients
1

cup

milk

1

tablespoon

white vinegar
Instructions
In a jar or bowl, add milk and vinegar.

Let sit at room temperature for 5 to 10 minutes, until the milk begins to slightly curdle and thicken.
Notes
Store in a tightly sealed container in the fridge for up to 2 weeks.
Nutrition
Calories:
152
kcal
Carbohydrates:
12
g
Protein:
8
g
Fat:
8
g
Saturated Fat:
5
g
Polyunsaturated Fat:
1
g
Monounsaturated Fat:
2
g
Cholesterol:
24
mg
Sodium:
105
mg
Potassium:
322
mg
Sugar:
12
g
Vitamin A:
395
IU
Calcium:
277
mg
Iron:
1
mg
That is how you can easily make a buttermilk substitute and use it in your favorite baking recipes. If you've made it let me know in the comments below. I'd love to hear how it worked out and what recipe you used it in!
If you enjoyed this recipe, make sure to give it a star rating and let me know what you thought in the comments! And follow me on Facebook, Pinterest and Instagram for more delicious recipes!
MORE RECIPES TO ENJOY