These easy Crispy Fried Pickles are pan-fried in a flavorful cornmeal and flour mix. Better than restaurant fried pickles and ready in just 10 minutes. They are perfect for a quick party finger food, snack, or appetizer. Disclaimer: they are addicting!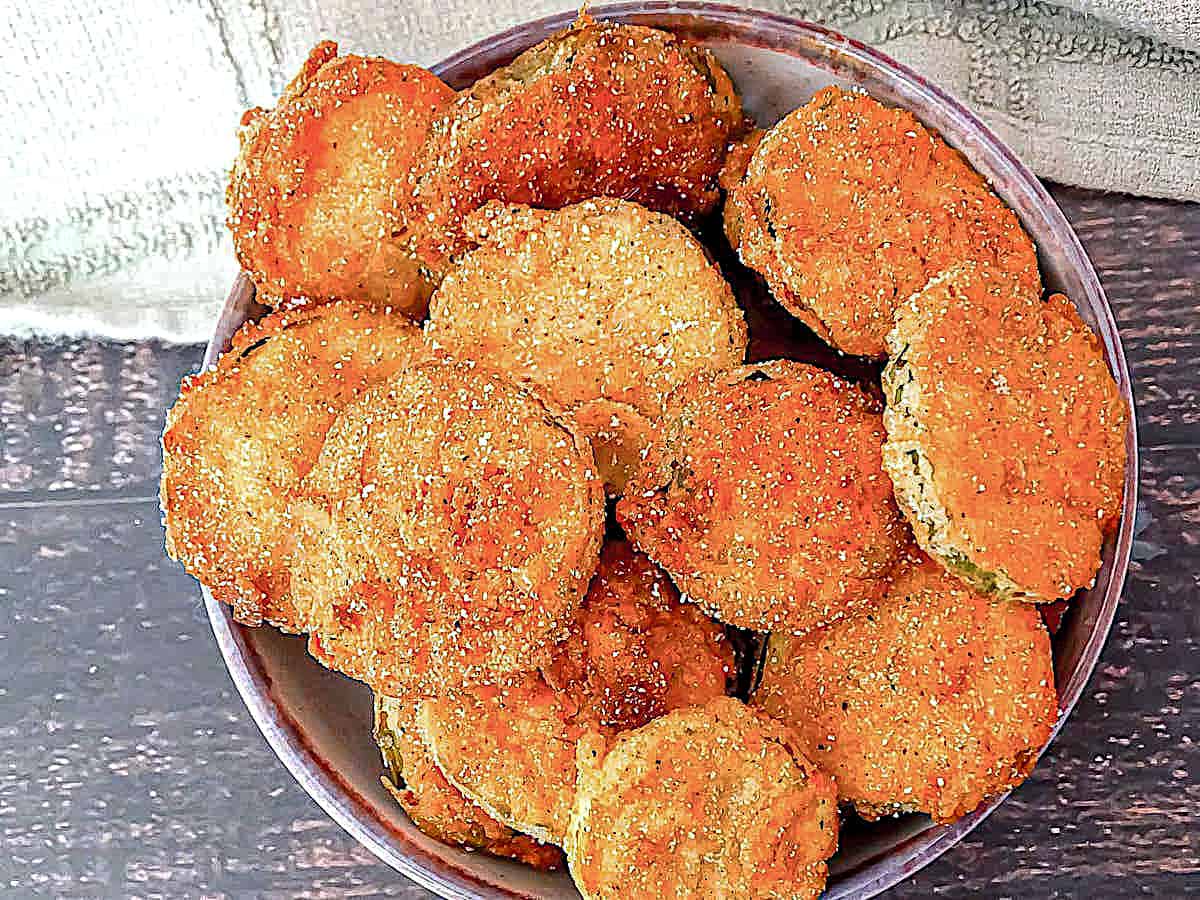 Jump to:
Fried pickles are my all time favorite food. Actually, pickles in general are the best thing that has ever been discovered. If it can be served with a pickle, I get a pickle.
Fact: I have a pickle obsession.
If you have a pickle obsession like me, then these fried pickles might become your new favorite recipe.
Until tonight, my favorite fried pickles were from Buffalo Wild Wings. Their zesty southwestern dipping sauce is amazing, and those fried pickles are totally addictive.
But now this is my favorite recipe. The breading is made with a combination of flour and cornmeal, plus paprika and garlic powder. The pickles are dredged in buttermilk, giving them an extra dose of flavor.
It uses the same batter that is used for fried asparagus spears, but these are double-coated. This makes the batter stick to the pickle perfectly.
The hardest about making these fried pickles was not eating the pickle slices as they sat on the counter in preparation to be fried! I ate a lot of those.
Ingredients
You don't need much to make perfect crispy fried pickles, but you do need an excellent breading and a great frying method.
The breading for this recipe is made with part cornmeal and part flour. The cornmeal and flour are mixed with salt, paprika, and garlic powder to make a tasty breading.
This breading is not spicy so it's perfectly kid-friendly. If you'd like a little spice to your fried pickles, add a small amount of cayenne powder.
The pickles are also dredged in a buttermilk and egg mixture, so you'll need those too. If you don't keep buttermilk in your pantry stock, easily make it by combining milk with a little vinegar.
And of course you will need pickles. You can use a jar of sliced deli pickles or buy them whole and slice them yourself. Your favorite pickle will do just fine.
If you're slicing your own pickles, there is no need to worry about slicing them all the same thickness. You are not really cooking the pickle here, so you shouldn't worry that some will cook faster than others if they aren't uniform in size or thickness.
Last but not least, you'll need a large pan filled ½ inch deep with vegetable oil.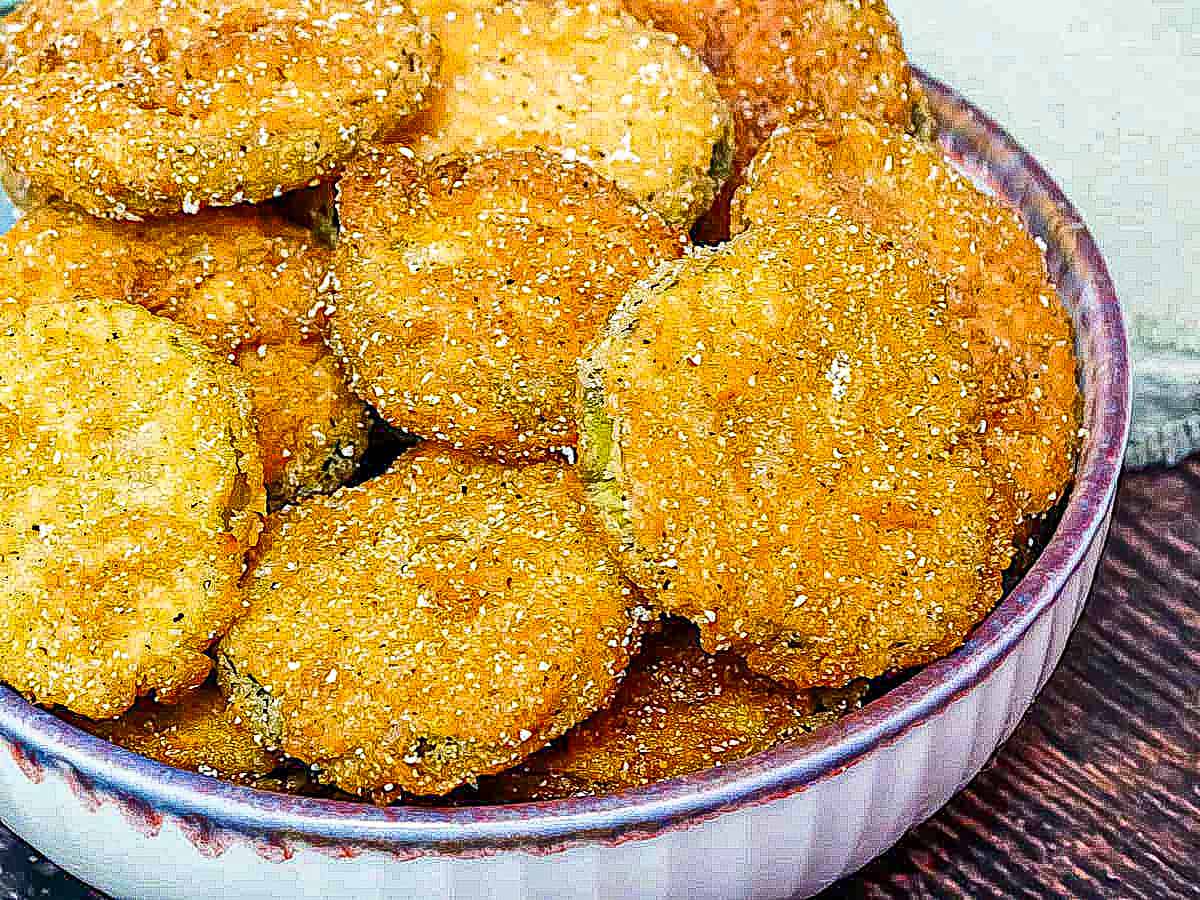 How To Make It Kid-Friendly
This fried pickles recipe is kid friendly as written. If you are modifying it, keep the heat spices out. This includes spices like red pepper flakes, cayenne, Cajun, black pepper. Unless of course you know your kids can tolerate spiciness.
Step-By-Step Directions
When making pan fried pickles, it is important to have an excellent method. This is easy to accomplish but you want to make sure to follow the steps entirely.
First, make sure the pickle slices are completely dry. This is key because you will coat them in the breading first and it will stick better to dry pickles.
Soak them between paper towels for 10 minutes. If you plan early enough, remove them from the paper towels and let air dry on a wire rack until you're ready to fry them. I usually let mine air dry for a couple hours.
While the pickles are drying, heat enough oil to fill your pan ½ inch deep. Let it heat up on medium-high for 10 minutes.
The key to a nice deep brown crispy fried pickle is to submerge them in smoking hot oil.
While the oil is heating, make the breading by combining cornmeal, flour, salt, paprika, and garlic powder. In another bowl, combine a beaten egg and the buttermilk.
If you are making your buttermilk, add 1 teaspoon of vinegar to ½ cup of milk and let it sit for 10 minutes to curdle.
Then add the homemade buttermilk to the egg and mix well.
Breading Pickles
Next you will coat the pickle slices in the breading and buttermilk/egg mixture. Work in batches big enough to fit them in the pan in a single layer.
Coat a batch of pickles with the cornmeal/flour mix, then dredge in the buttermilk/egg mix, and then coat in the cornmeal/flour mix again.
Make sure to shake off extra breading and buttermilk between each transfer. I do this part with my hands instead of a fork or tongs. It's much easier and faster this way.
Next, lower the heat to medium and put the breaded pickles in the hot oil. Fry on each side for about 2 minutes.
You'll know they are finished when the breading is a nice deep brown. Remove them with a slotted spoon so the excess oil drains off.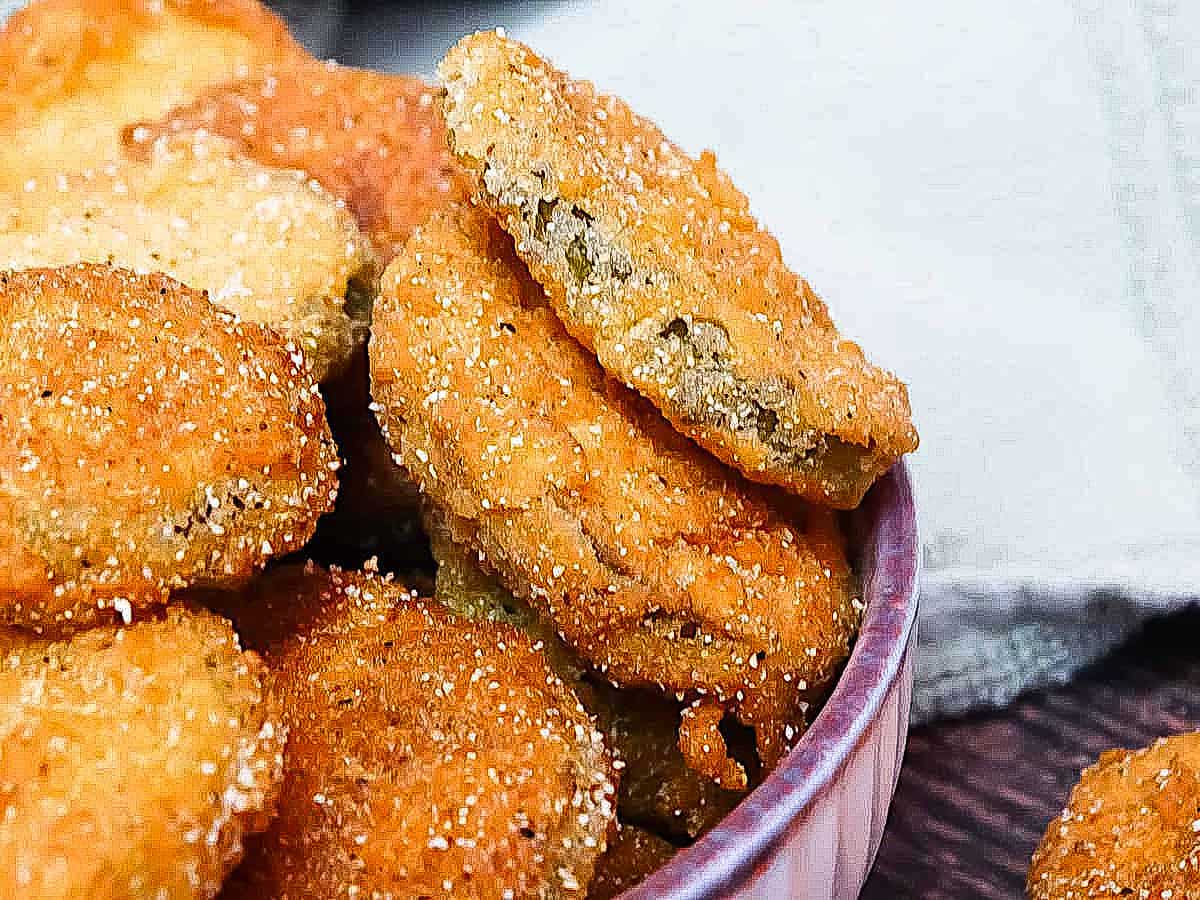 And that's all there is to making these fantastic fried pickles!
Serving
Fried pickles are a great party snack, but that doesn't mean you can't make them as a regular snack to munch on throughout the day.
My favorite time to make fried pickles is as a side for buffalo wings. The are delicious plain or dipped into a ranch or blue cheese dressing. Another idea is to mix a little Cajun seasoning with ranch dressing or make a homemade zesty ranch dipping sauce.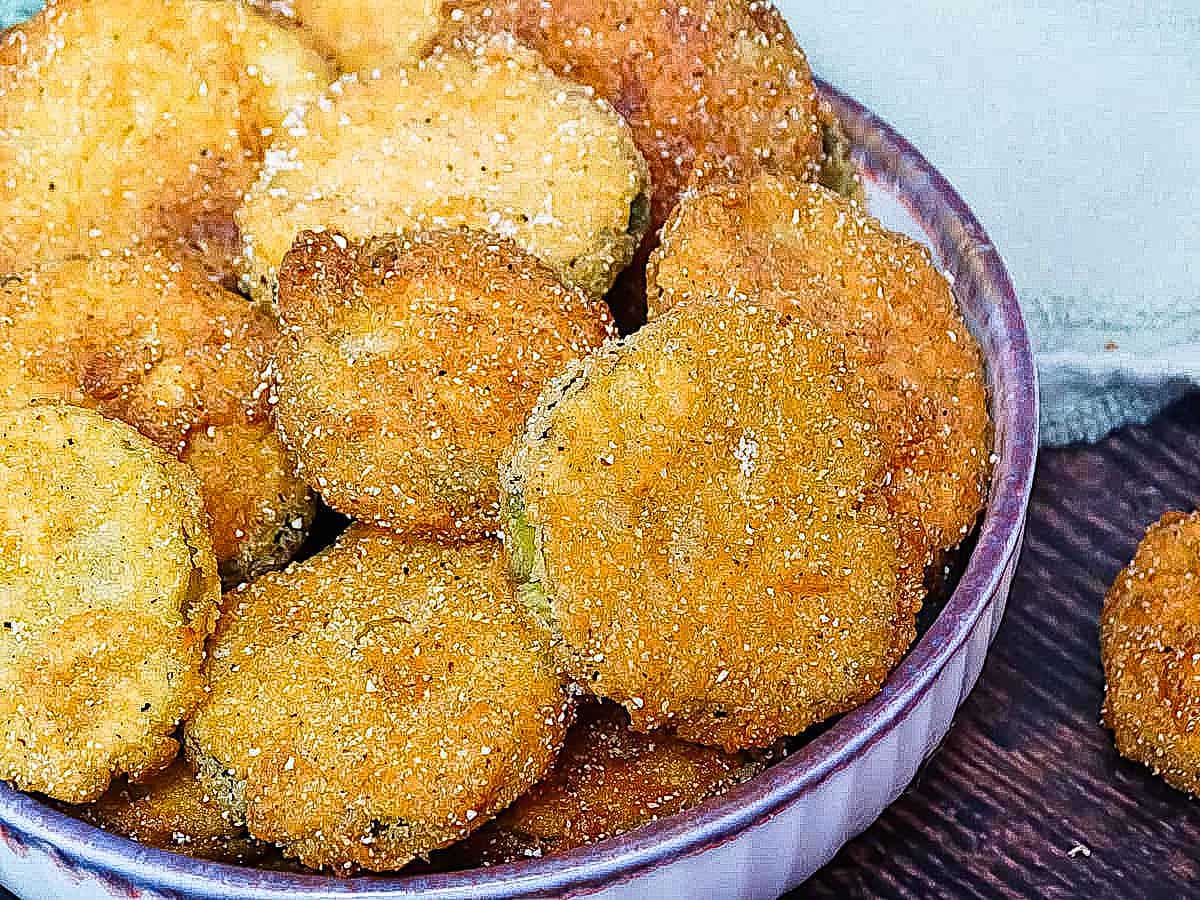 If you enjoyed this recipe, make sure to give it a star rating and let me know what you thought in the comments! And follow me on Facebook, Pinterest and Instagram for more delicious recipes!
Recipe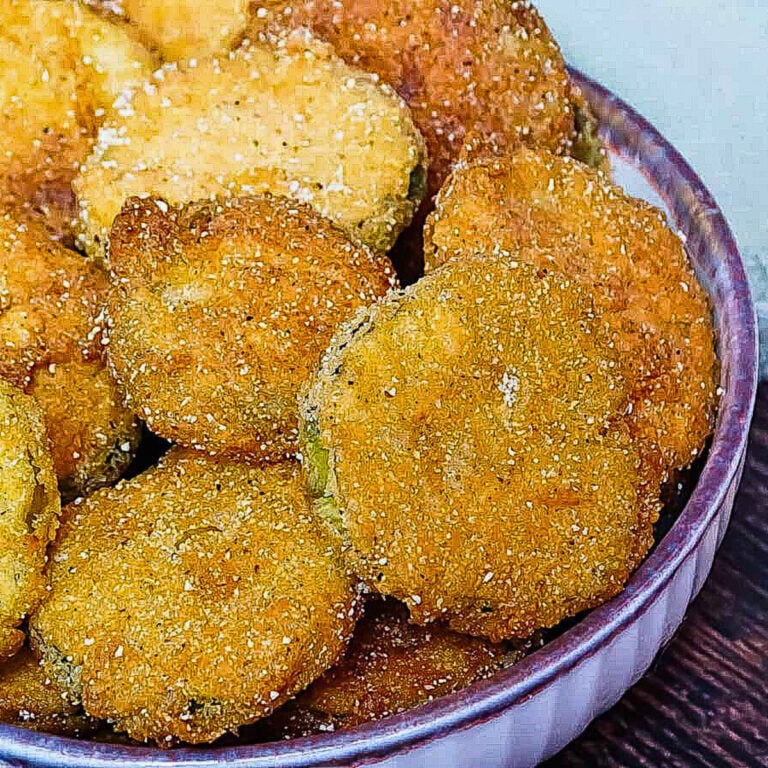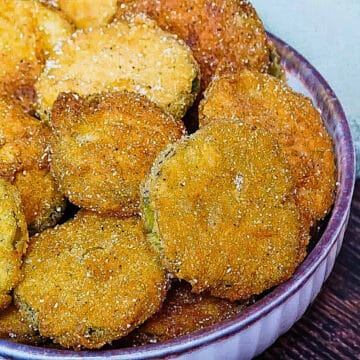 Fried Pickles
Crispy Fried Pickles are pan-fried in a flavorful cornmeal and flour mix. Perfect for a quick party finger food, snack, or appetizer!
Bookmark Recipe
Saved!
Ingredients
vegetable oil

3

cups

sliced dill pickles

½

cup

flour

½

cup

cornmeal

¾

teaspoon

salt

½

teaspoon

pepper

½

teaspoon

paprika

½

teaspoon

garlic powder

½

cup

buttermilk (or ½ cup milk + 1 teaspoon vinegar)

1

egg
Instructions
Fill a wide pan with oil ½ inch deep. Heat for 10 minutes on high. Dry the pickles between 2 paper towels as the oil heats.

In a large bowl mix the flour, cornmeal, salt, pepper, paprika, and garlic powder.

In another bowl mix the egg and buttermilk. (make buttermilk substitute by mixing ½ cup milk and 1 teaspoon white vinegar).

In batches, coat the pickles in the cornmeal/flour mix, then dredge with the buttermilk, and then coat in the cornmeal/flour mix again. Shake off excessive egg and flour as you go.

Add coated pickles to the oil and fry for 3-4 minutes, flipping halfway through. Pickles should be a golden brown when finished. Serve warm, plain or with a dipping sauce of choice.
Nutrition
Serving:
8
oz
Calories:
296
kcal
Carbohydrates:
40
g
Protein:
8
g
Fat:
12
g
Saturated Fat:
8
g
Cholesterol:
55
mg
Sodium:
1855
mg
Potassium:
259
mg
Fiber:
5
g
Sugar:
2
g
Vitamin A:
367
IU
Vitamin C:
2
mg
Calcium:
68
mg
Iron:
3
mg