Not much is tastier than a bacon and cheese combo! Cheesy Garlic Pull Apart Bread with Bacon is loaded with crispy bacon, cheddar and monterey jack cheeses, chives, parsley and garlic butter. Mix with pizza dough balls and cook until perfectly golden brown. This bread is great as a holiday party appetizer, game day appetizer, or a snacking bread for your family any day of the week.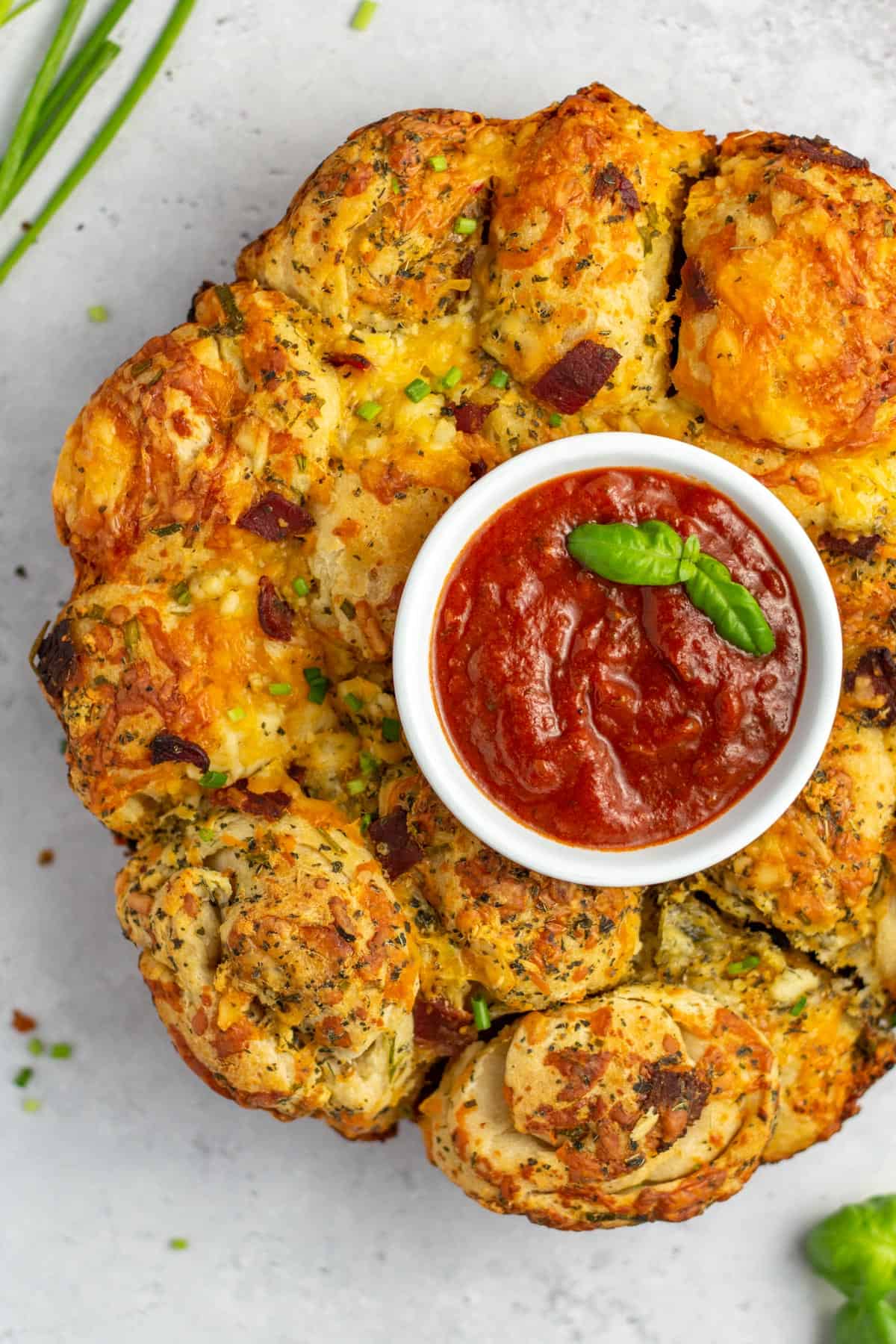 Cheesy Garlic Pull Apart Bread with Bacon is an out of this world, full of flavor bread recipe that will be eaten so quickly you better make sure you have an extra loaf! It makes a delicious breakfast and brunch bread, especially for busy holiday mornings when no one wants to cook or clean anything extra.
Pull apart breads make great holiday and party appetizers (no knife needed). My favorite pull apart breads are cheesy breads made completely from scratch. I make this cheesy garlic pull apart bread, complete with the best 5 star homemade pizza dough but make it simple with using store bought pizza dough.
This bread is not only stuffed with lots of shredded cheddar and monterey cheese, but with lots and lots of bacon!
Serve it with pizza and cheese dipping sauces and it's the ultimate crowd pleasing appetizer.
Bacon. Cheese. Pizza. Garlic. 4 of the best foods on the planet combined into one!
And it's seriously easy to make. Combine all of the ingredients, dump into the pan, and bake.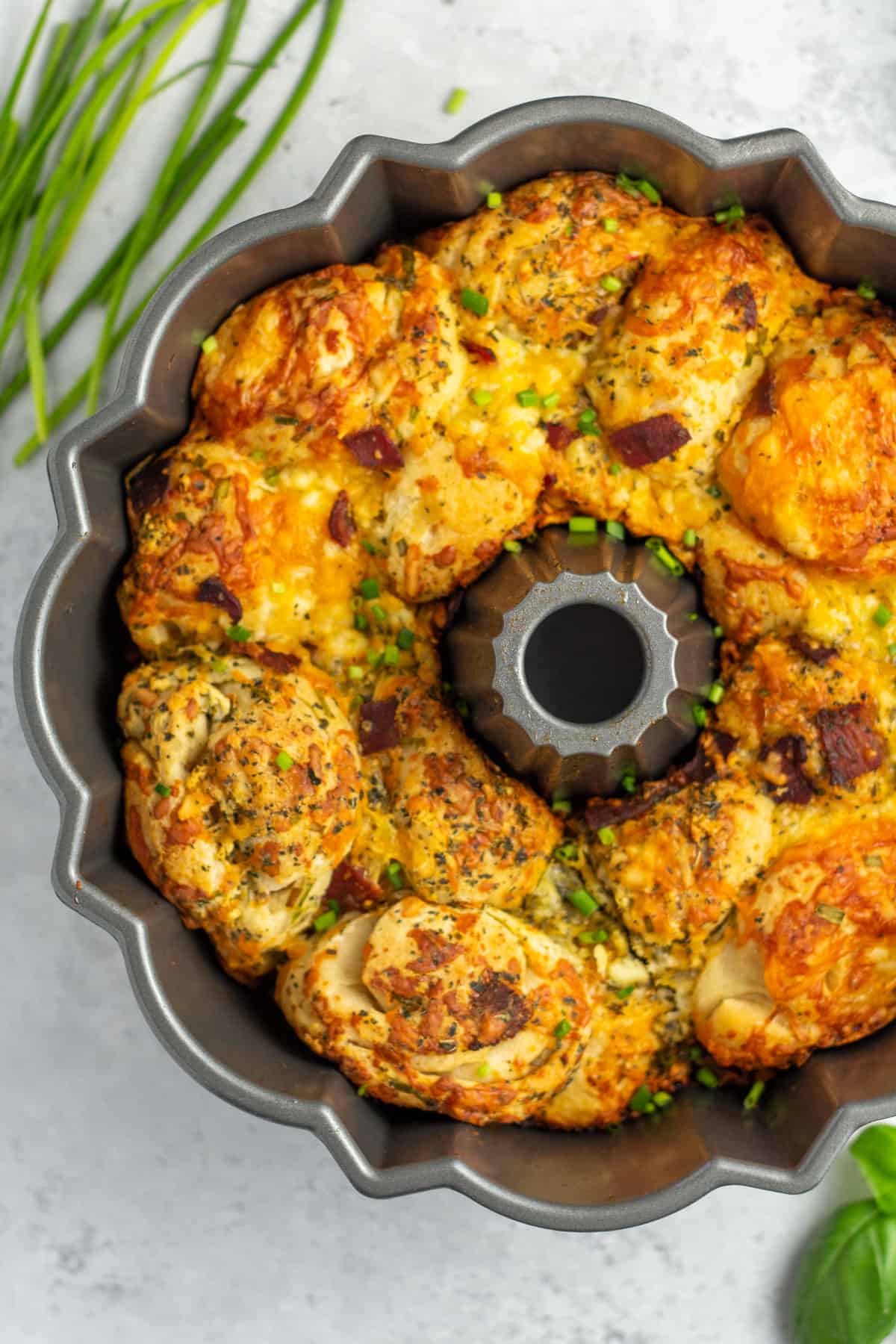 If you're new to making bread or have never made a cheesy bread or pull apart bread, you may have questions about how it's done. I've put together answers for the most common questions readers have about making cheesy breads, particularly pull apart breads.
How do you make cheesy bread from scratch?
The best way to make cheesy bread from scratch is to have a really great homemade pizza dough recipe. For my pull apart bread recipes, I use a bread machine pizza dough. If you don't have a bread machine, here are the instructions for making pizza dough by hand in 30 minutes.
If you'd like to opt for a quicker cheesy bread, use 2 packages of store bought pizza dough.
Once you have the dough, cut it into 1-2 inch pieces and shape them into balls. Mix the dough balls with lots of shredded cheese and a little bit of butter. Put the mix into a pan and bake. You can use a bundt pan or loaf pan.
If you don't have a bundt or loaf pan, a baking sheet will work. Dump the dough balls on the baking sheet and press them together with your hands. The dough will be sticky so the balls will easily stick together.
Over all, the key to making it is to use lots of shredded cheese, pizza dough, and butter.
Why is pull apart bread called monkey bread?
Pull apart bread is commonly called monkey bread because it's pulled off the loaf with the fingers and eaten without any utensils. Just as monkey's eat with their hands, people eat pull apart with their hands, too. But when most people talk about "monkey bread", they are referring to bundt pan pull apart bread made with biscuits, cinnamon, sugar, brown sugar, and sometimes nuts.
We've since taken this traditional sweet monkey bread recipe and varied it to make a bacon-filled, cheese covered breakfast and snacking bread.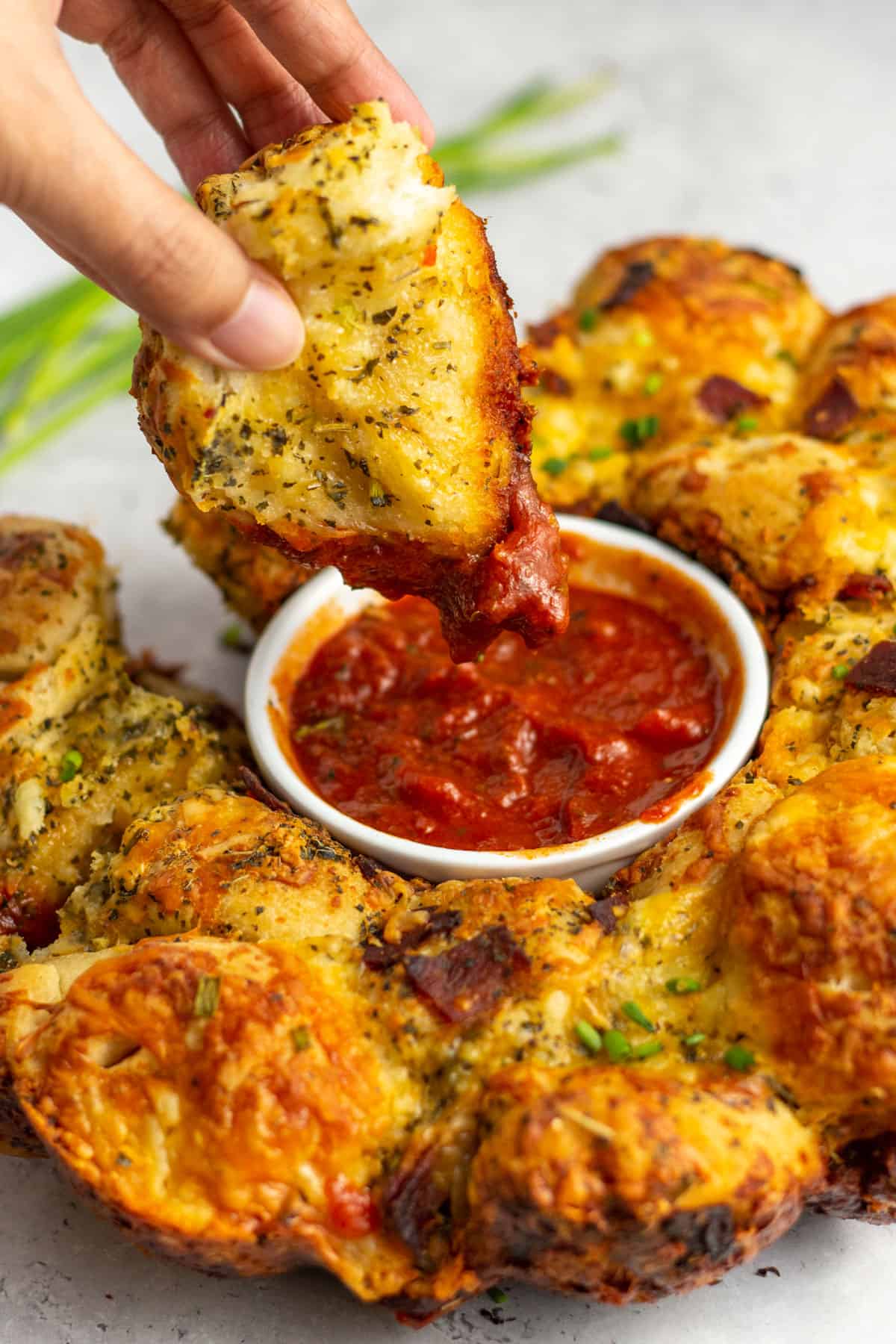 Ingredients
You'll need:
Pizza dough: store bought for ease or homemade
Cheddar cheese: extra sharp for best flavor
Monterey jack cheese
Garlic
Bacon: cooked til crispy, do not use raw!
Butter
Parsley & chives
I use extra sharp yellow cheddar cheese. Any sharpness of cheddar cheese will do fine, as will white cheddar cheese. You can also use all cheddar instead of monterey jack. Feel free to vary the types of cheese you use and replace the cheddar and monterey with your favorite shredded cheeses.
You'll also need a large bundt pan or a baking sheet. I use a bundt pan for my pull apart breads because of the look. A baking sheet is fine too (see above for how to use a baking sheet).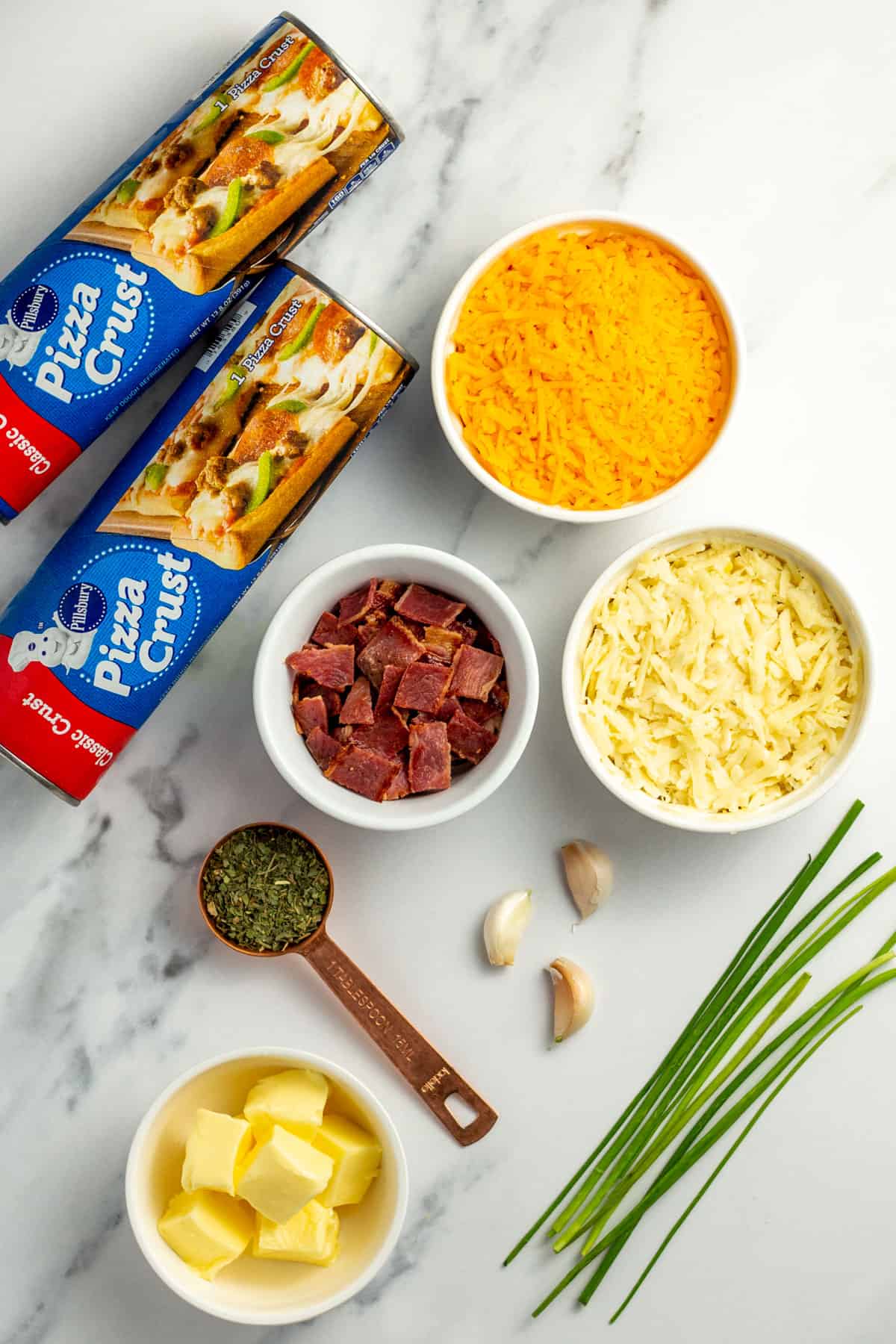 Step-By-Step Directions
STEP 1: Roll out the pizza dough and break it into small pieces. Roll the dough into balls and put them in a well oiled mixing bowl.
STEP 2: Break the cooked bacon into pieces and add it to the bowl of dough. Then add the cheeses and chives.
STEP 3: In a small bowl, melt the butter. Mix the butter with the parsley and crushed garlic. Pour into the bowl of dough and bacon. Mix until all ingredients are distributed evenly. Transfer to a well greased bundt pan.
STEP 4: Bake for 40 minutes at 350 degrees Fahrenheit. Let the bread cool in the pan for 10 minutes before removing to a serving dish.
Serve warm, straight from the oven for the best tasting cheesy garlic pull apart bread. Enjoy!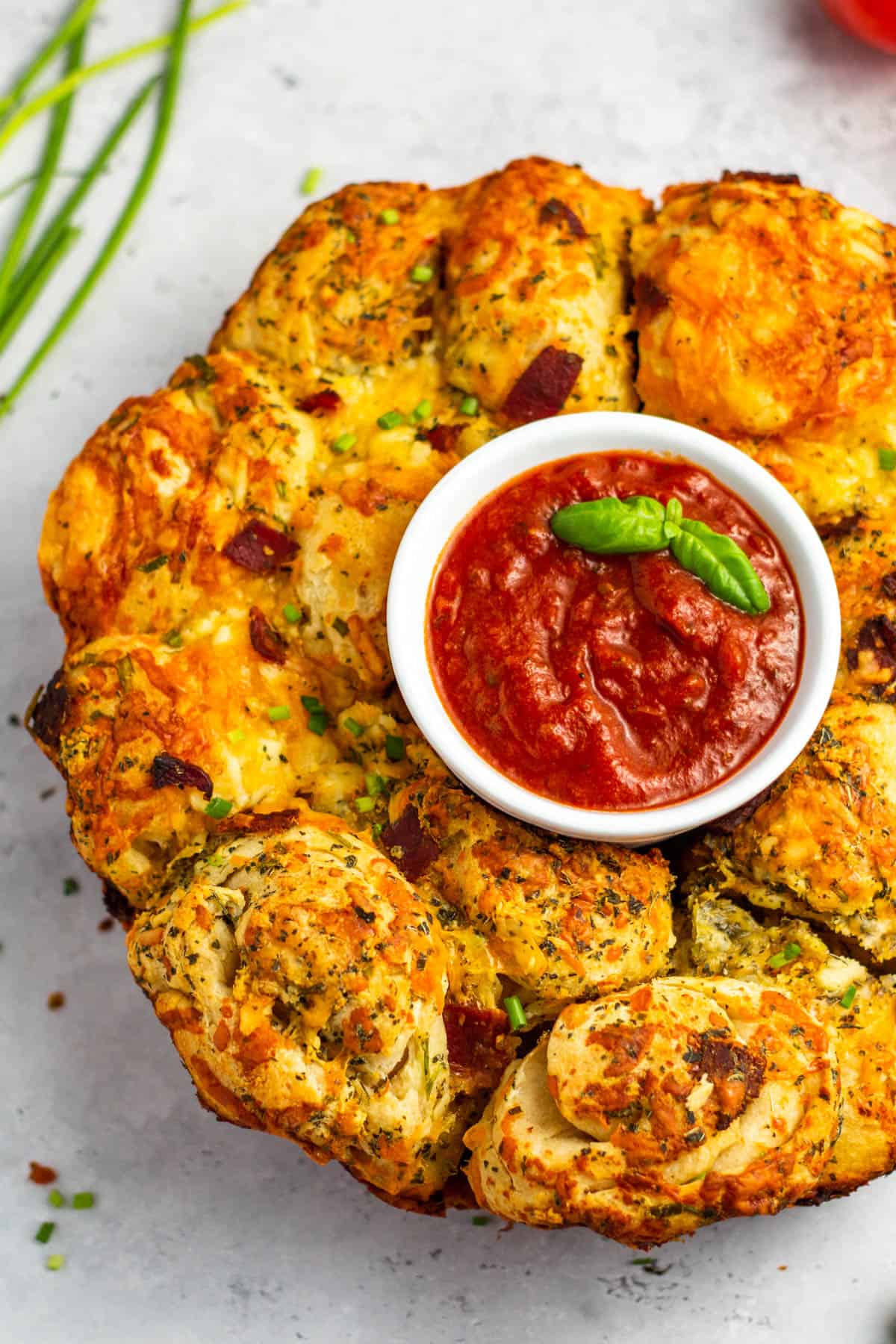 Serving
While this bread is fantastic eaten plain, it is great served with sauces for dipping. My kids love dipping it in pizza sauce. My husband and I like using a cheese dipping sauce. Nacho cheese sauce is also great.
It's also best eaten the day that it's made. If not eaten immediately, warm up the leftover pieces before eating. This will soften the bread up again and re-crisp the bacon a little. The best way to warm up it is in the toaster for 2-3 minutes. The microwave for about 15 seconds is the second best option.
If you enjoyed this recipe, make sure to give it a star rating and let me know what you thought in the comments! And follow me on Facebook, Pinterest and Instagram for more delicious recipes!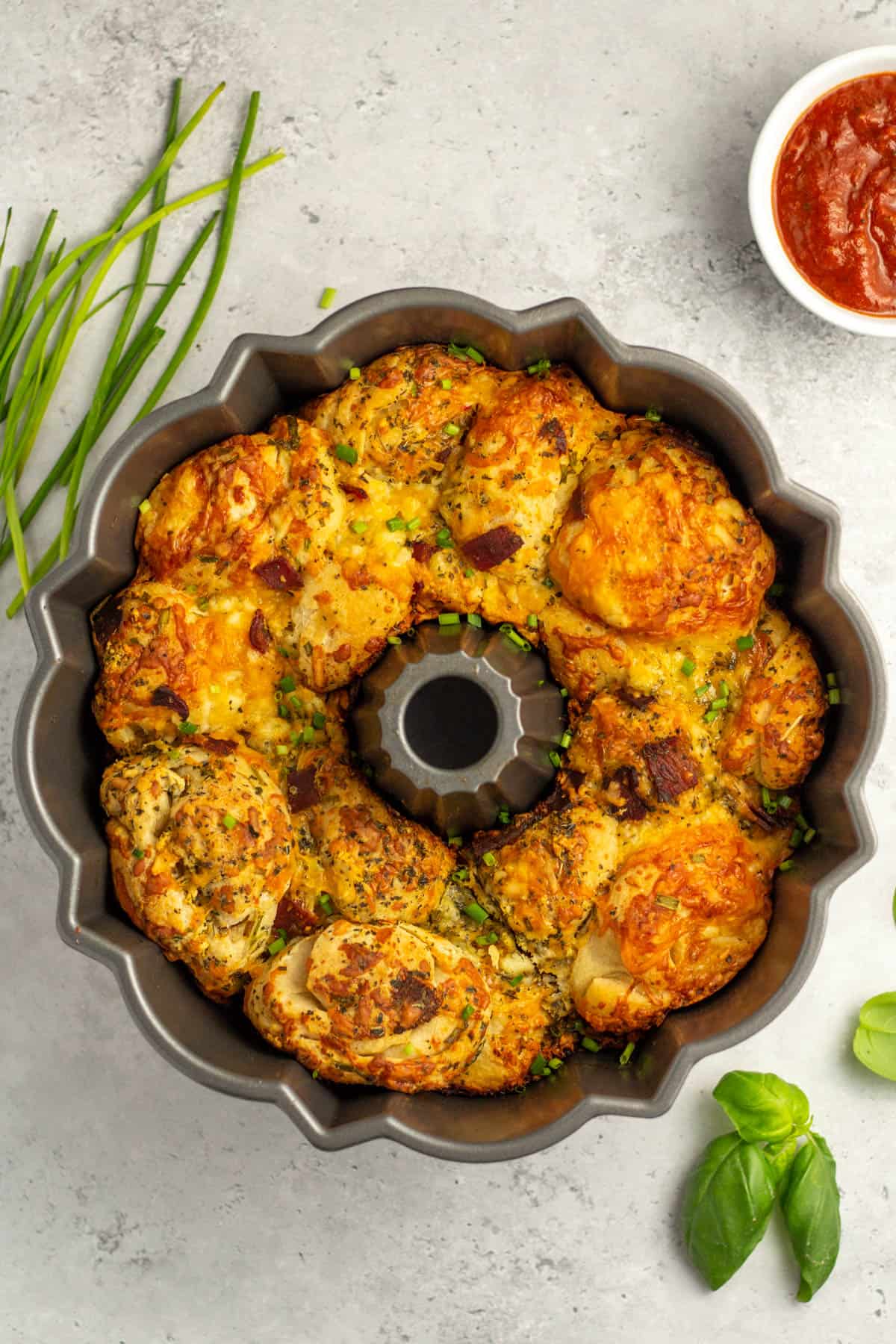 Recipe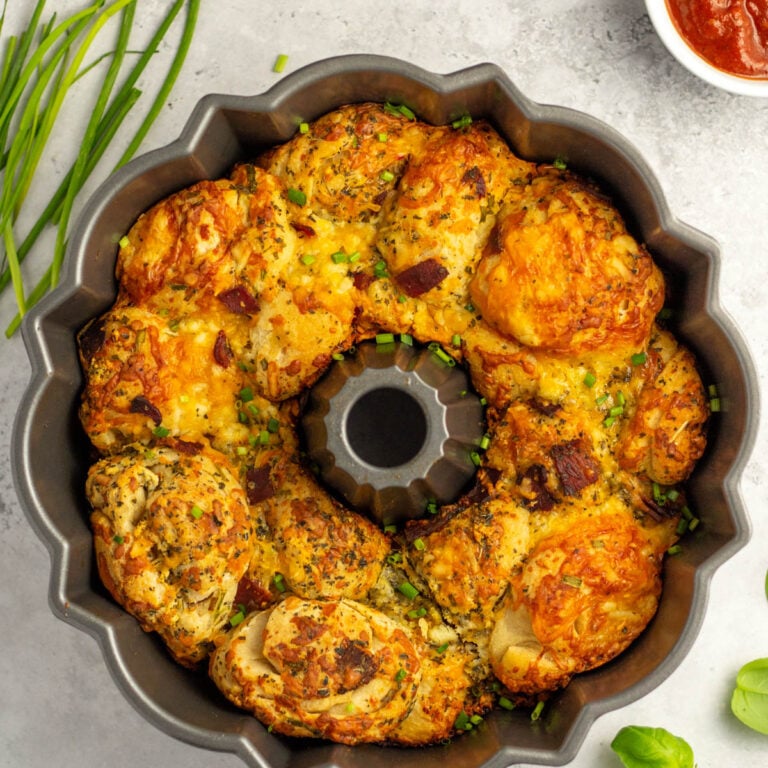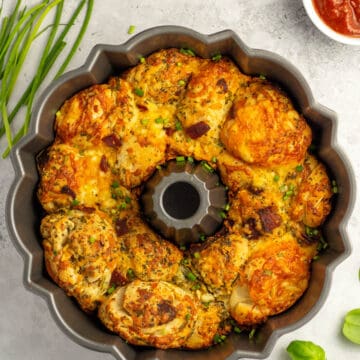 Cheesy Garlic Pull Apart Bread with Bacon
Cheesy Garlic Pull Apart Bread with Bacon is loaded with crispy bacon, cheddar and monterey jack cheeses, chives, parsley and garlic butter. Mix with pizza dough balls and cook until perfectly golden brown.
Bookmark Recipe
Saved!
Ingredients
2

pizza dough packages

5

cooked bacon slices

broken into pieces

2

cups

cheddar cheese

shredded

1

cup

monterey jack cheese

shredded

2

tablespoon

chives

3

garlic cloves

mashed

5

tablespoon

butter

1

tablespoon

dried parsley
Instructions
Preheat the oven to 350°F and coat a bundt pan with butter.

Cut the pizza dough into 1-2 inch pieces. Roll into balls and put in a well greased mixing bowl. Add the cooked bacon pieces, chives, cheddar cheese, and monterey jack cheese to the bowl of dough. Mix well.

In a separate bowl, melt the butter and mix in the garlic and parsley. Add to the dough and mix well.

Transfer to the bundt pan and spread dough evenly around the pan. Bake for 40 minutes.

Let cool in the pan for 10 minutes before removing. Serve plain or with your choice of dipping sauces.
Notes
*This recipe can be made smaller by cutting all ingredients in half and using a small pan.
Serve the day it's made for the best results. If serving at a later time, warm in the toaster or microwave.
If not using store bought dough, you can make this pizza dough in the bread machine or this by hand recipe.
You can use all cheddar cheese or another combination of shredded cheeses, such as pizza blend or mexican blend. Make sure to always use a total of 3 cups.
Nutrition
Serving:
1
oz
Calories:
248
kcal
Carbohydrates:
24
g
Protein:
10
g
Fat:
13
g
Saturated Fat:
7
g
Polyunsaturated Fat:
1
g
Monounsaturated Fat:
3
g
Trans Fat:
1
g
Cholesterol:
33
mg
Sodium:
554
mg
Potassium:
40
mg
Fiber:
1
g
Sugar:
3
g
Vitamin A:
325
IU
Vitamin C:
1
mg
Calcium:
159
mg
Iron:
2
mg
RELATED RECIPES