Syrian Potato Salad with Lemon and Mint is a light and refreshing traditional Middle Eastern side dish dressed with lemon and olive oil then tossed with all spice, fresh mint, and parsley. Perfect for any BBQ, spring or summer meal! Light on calories and big on taste!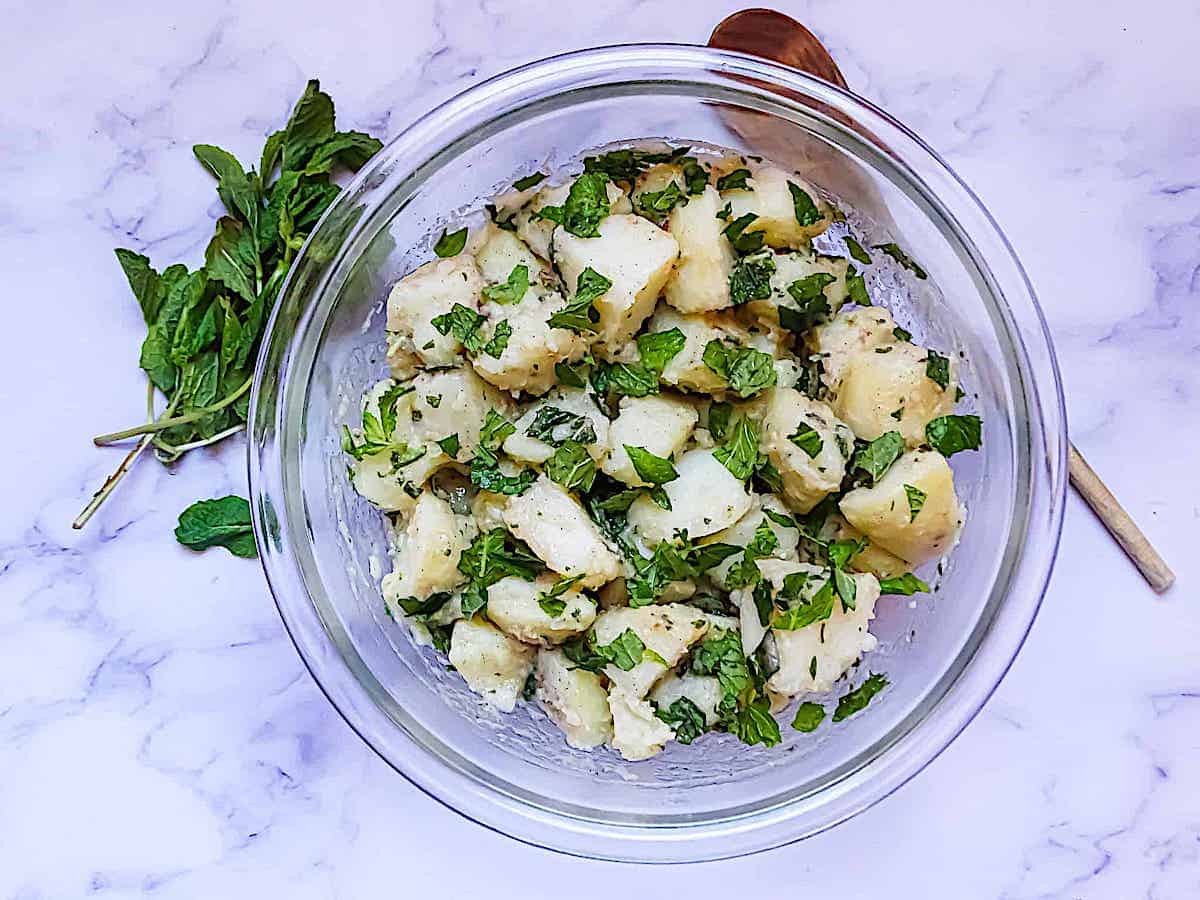 Jump to:
Syrian Potato Salad is a recipe that comes from my family's "Cookin' Good with Sitto" book. With its light dressing and crisp flavor, it's a refreshing salad great for barbecues and family picnics.
It's a Middle Eastern recipe book that includes all of the basics for being able to make delicious, traditional Syrian meals. The recipes are authentic crowd pleasers developed by my very own Middle Eastern family decades ago.
They remain timeless masterpieces that we enjoy eating on holidays, family gatherings, and summer BBQs. My Syrian grandmother has taught me how to make many of her best, favorite traditional Middle Eastern meals.
Some of our favorites are stuffed cabbage, stuffed grape leaves, stuffed peppers and baby lamb meatballs cooked in tomato sauce.
Ingredients
To make a traditional Syrian potato salad with lemon, you need fresh mint, fresh parsley, ground allspice, russet potatoes, lemon juice, olive oil, and salt.
All spice is a staple in the kitchen of a Syrian house, as it's used to season many of the meats and vegetables.
Lemon juice, olive oil, and garlic are also staples that anyone wanting to make traditional Middle Eastern recipes should have on hand.
Use any potato that you'd like. Golden potatoes and baby potatoes are also great choices.
You can make your potato salad using a combination of mint and parsley or only mint or only parsley.
If you don't have fresh herbs, you can use dried but make sure to use 3 times less the amount of dried herbs. So if you're using 1 cup of fresh herbs, you would use ⅓ cup of dried.
Step-By-Step Directions
It is incredibly simple to make potato salad with lemon and mint. In just 3 steps, you'll have the potato salad ready to go.
First, peel the potatoes, cut them into quarters, and boil them. Put in a pot with enough water to cover and bring to a boil on high heat. Boil them for at least 20 minutes and then test if they are done by poking with a fork. If the fork easily pierces the potato, they are done. If not, boil in 5 minute increments until they are cooked through.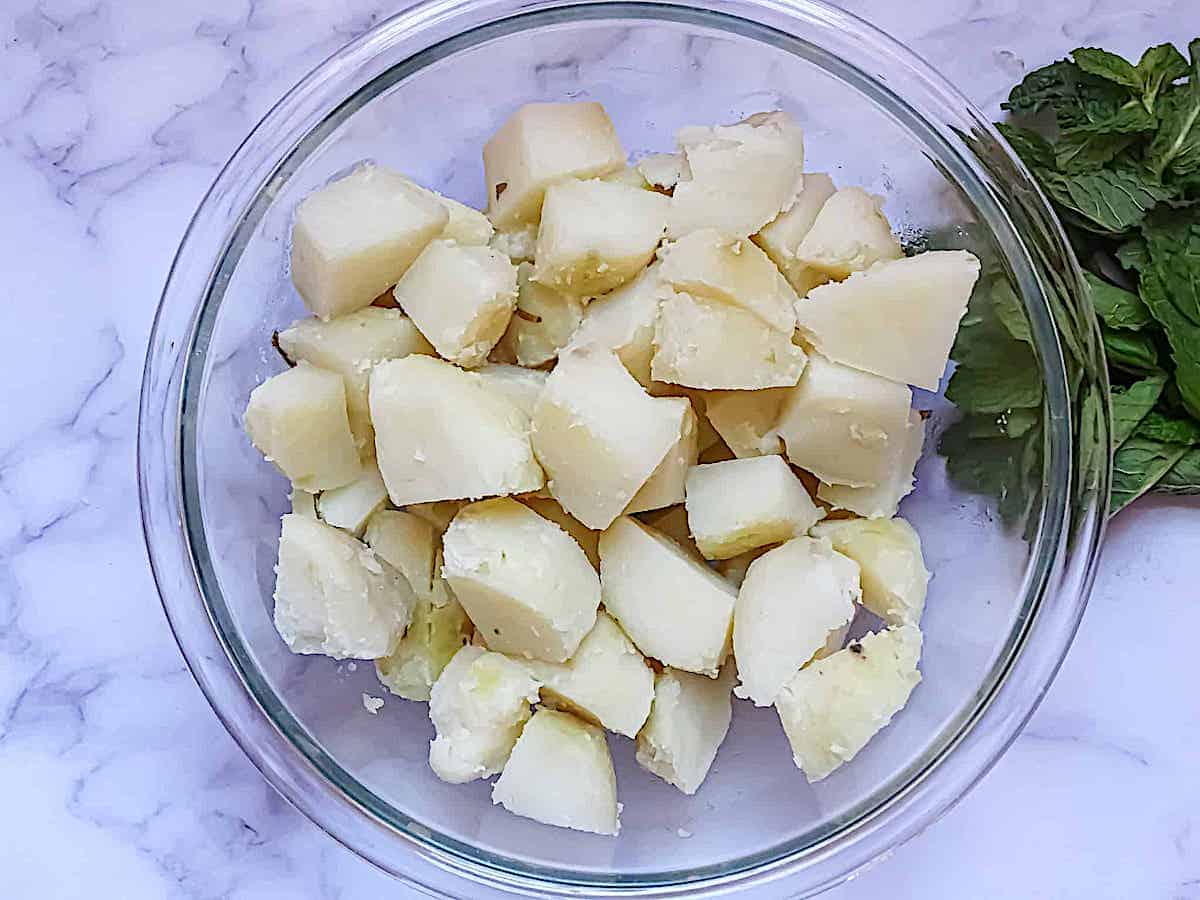 Second, cut the potatoes in small cubes (the size is up to you). Toss with the olive oil, lemon juice, all spice, mint, parsley, and salt. Allow to chill before serving for the best taste.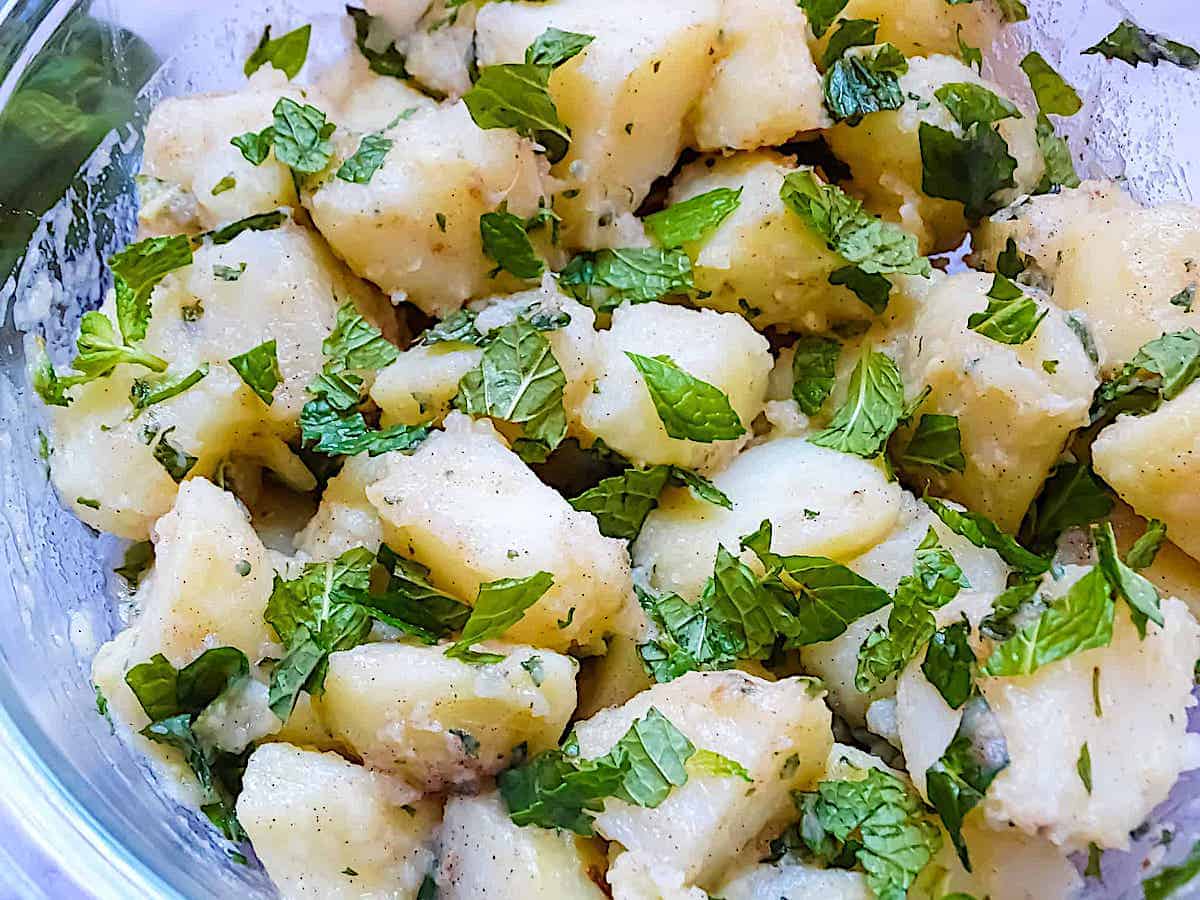 Serving
Potato salad with lemon and mint tastes best when you allow the flavors to marry by chilling for a few hours before serving. Right before serving give it one last toss to evenly coat all of the potatoes with the dressing and herbs. Give it a taste and season more if needed.
Syrian potato salad with lemon and mint does not have to be cold to be served. It is delicious when it comes to room temperature, so it's a great refreshing addition to BBQ, picnic, or poolside party.
Storing
This potato salad is always best served a few hours after making. But you can store it in the fridge covered tightly with plastic wrap. It will keep well for 2 days before the potatoes start to soften a little too much to enjoy.
Recipe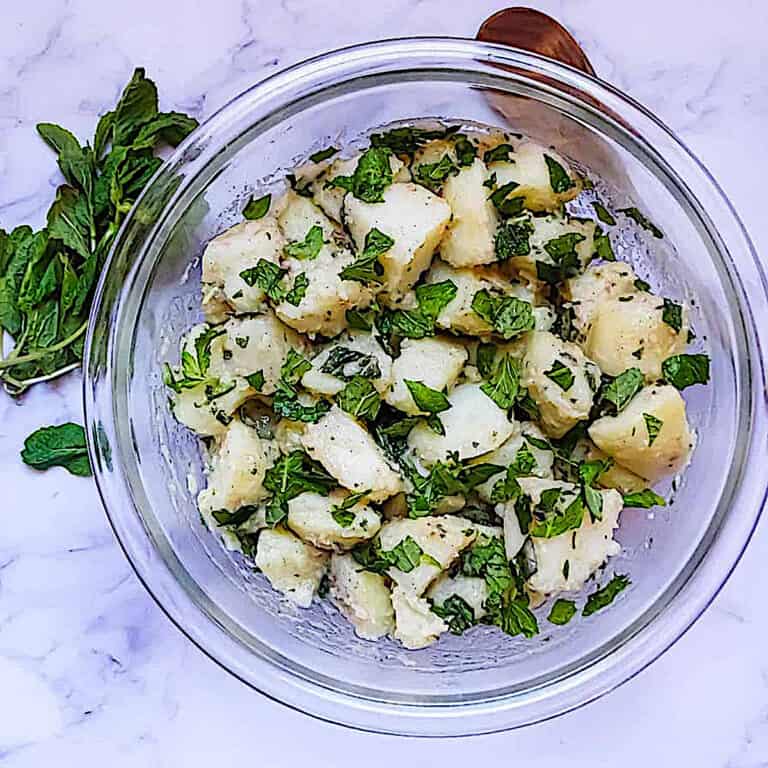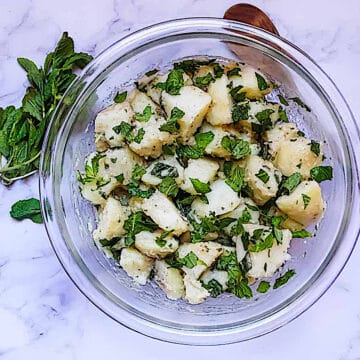 Syrian Potato Salad with Lemon and Mint
Syrian Potato Salad with Lemon and Mint is a light and refreshing traditional Middle Eastern side dish. Perfect for any BBQ, spring or summer meal! Light on calories and big on taste!
Bookmark Recipe
Saved!
Ingredients
3

large russet potatoes

¾

cup

lemon juice

¼

cup

olive oil

1

cup

fresh mint, cut coarsely

3

tablespoon

fresh parsley, cut coarsely

1

teaspoon

allspice

salt to taste
Instructions
Peel and quarter potatoes. Simmer for 20-30 minutes in a large pot, until a fork easily pierces potatoes.

Cut potatoes into smaller pieces. Toss with the lemon juice, olive oil, herbs, and spices.

Chill and taste before serving, adding lemon and herbs as desired.
Notes
For the best taste, allow to chill for a few hours so the flavors marry.
Leave out the parsley and use all mint, or leave out the mint and use all parsley.
Nutrition
Serving:
8
oz
Calories:
175
kcal
Carbohydrates:
22
g
Protein:
3
g
Fat:
9
g
Saturated Fat:
1
g
Sodium:
11
mg
Potassium:
537
mg
Fiber:
3
g
Sugar:
2
g
Vitamin A:
493
IU
Vitamin C:
38
mg
Calcium:
38
mg
Iron:
1
mg
If you enjoyed this recipe, make sure to give it a star rating and let me know what you thought in the comments! And follow me on Facebook, Pinterest and Instagram for more delicious recipes!