This quick-to-make Pan Seared Herb Chicken has minimal ingredients but is packed with a tasty punch. Serve with steamed veggies and couscous for an easy and healthy 20-minute weeknight meal.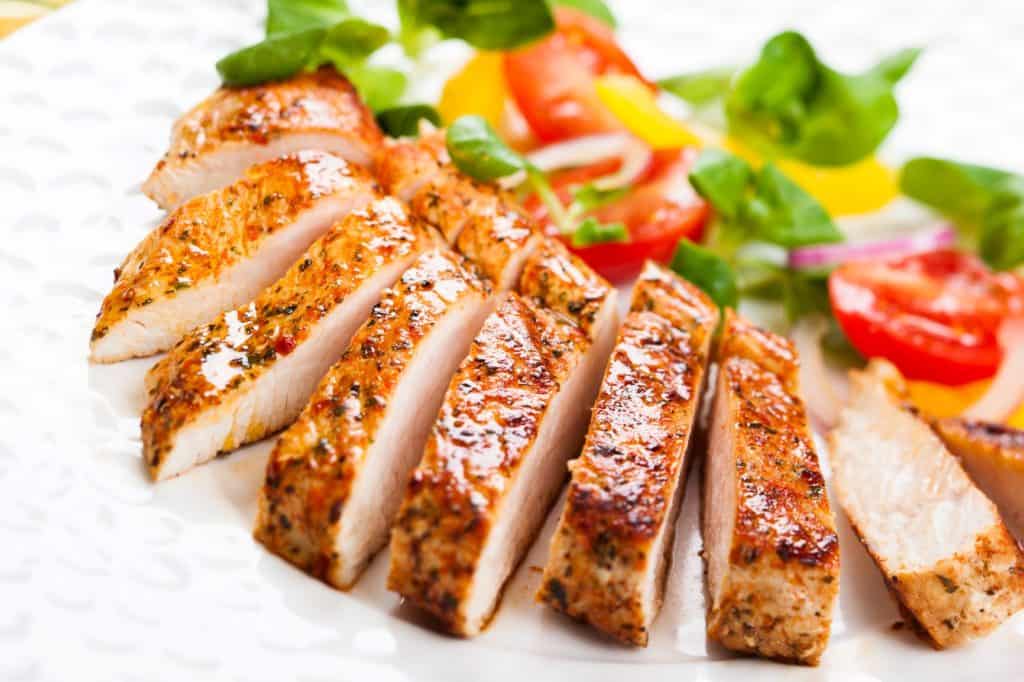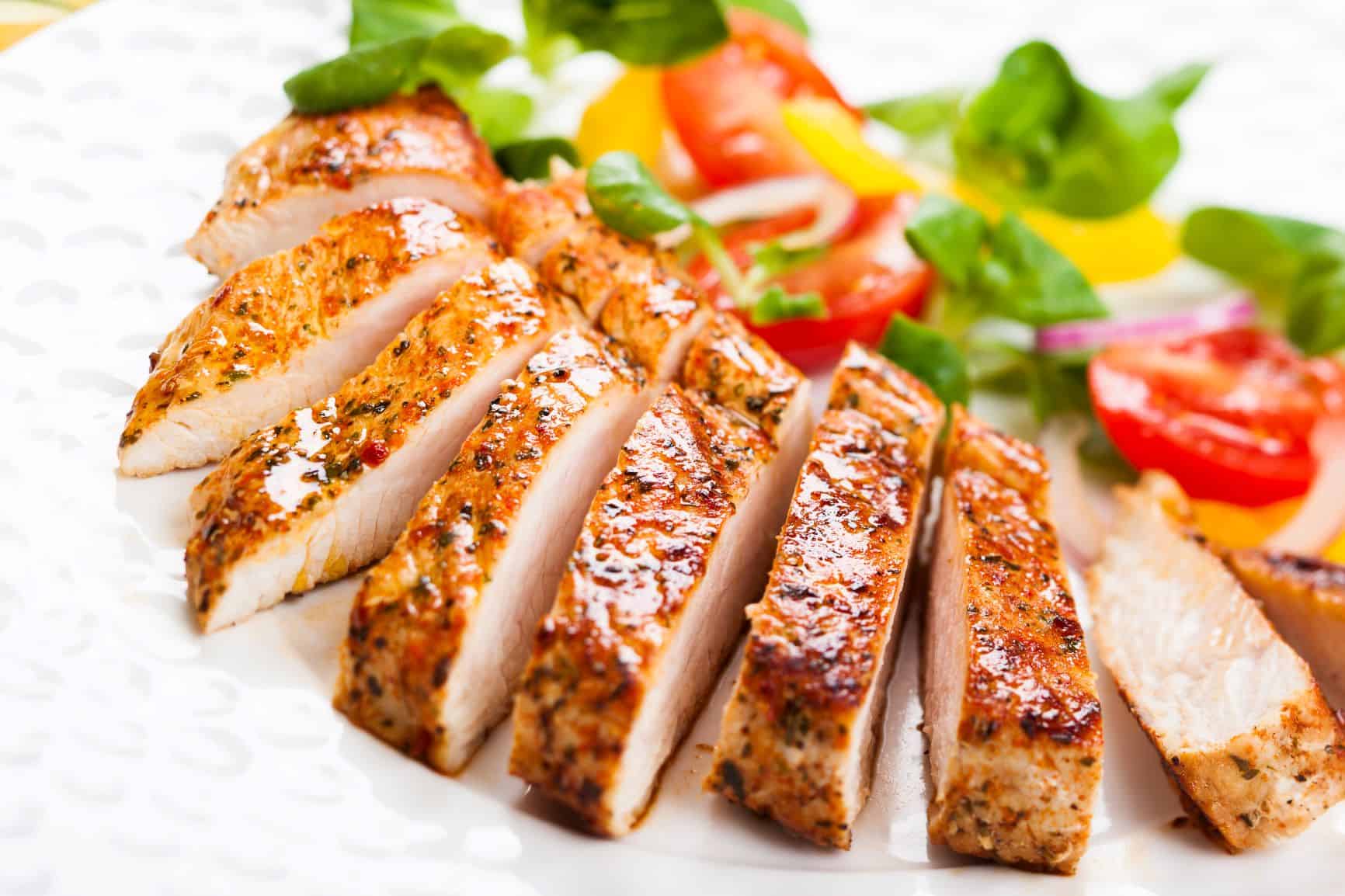 Pan Seared Herb Chicken is the perfect pleasing weeknight meal for 3 reasons:
It takes less than 20 minutes
It's made with pantry staples
It's made with dirtying only 1 kitchen gadget, a pan
This is one of my family's favorite go-to meals when we don't want to put much thought into what's for dinner. It's incredible how a few on-hand pantry staples can transform into a healthy and hearty delicious meal. The first time I made this I wasn't sure if was going to be good. It was almost too easy. Too basic.
But then my neighbor stopped by for a second as the chicken was frying and said the house smelt amazing. Then my husband snuck a taste when I stepped out of the room and said it tasted amazing.
And it was amazing. Just like that, 20 minutes later a few ingredients came together like magic and this amazing pan seared herb chicken was created.
So what's cookin tonight, good lookin? Hopefully this scrumptious pan seared herb chicken! (and maybe this garlic butter chicken and cauliflower rice with veggies skillet meal tomorrow?)
ingredients in pan seared herb chicken
The best part about pan seared herb chicken is that it used ingredients you likely have stocked in the pantry or fridge year round:
butter
apple cider vinegar
oregano
garlic powder
salt + pepper
And of course, you'll need boneless skinless chicken breasts.
It doesn't seem like much, but this herb chicken proves that less is more. If you ever think you're short on ingredients, a few spices, an acid, and a flavorful fat can do wonders for chicken and fresh veggies. Some of my best and my family's favorite recipes come from days like those of the creation of this herb chicken. The days when I thought I had nothing to cook. So I had to be creative in finding ways to turn what I did have into a full and tasty kid-friendly meal. Just like this kielbasa pasta recipe or this beef broccoli ramen noodle stir fry. Delicious!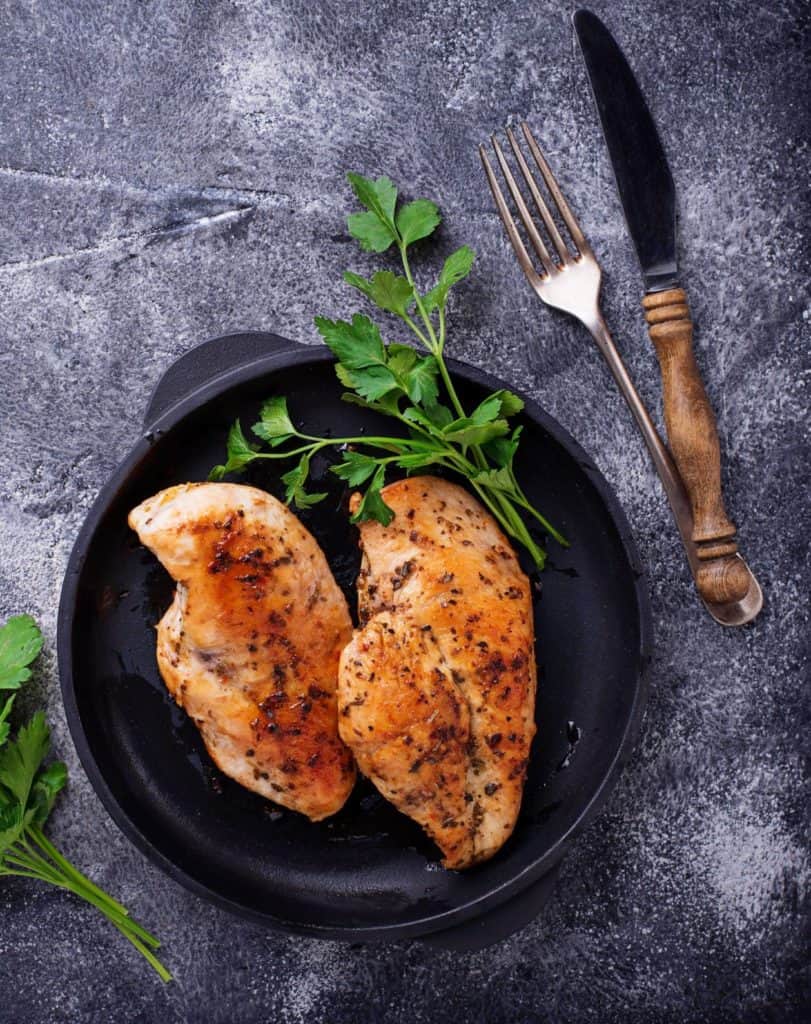 how to make a deliciously simply pan seared herb chicken
It couldn't be easier to make a pan seared herb chicken. There is ZERO preparation and almost no clean up. Since we are searing the chicken in a pan on the stove top, you are only cleaning one pan. Yay!
The entire dinner will be ready in only 20 minutes, nice and warm and ready to eat!
The steps are:
In a frying pan, heat a small amount of oil or cooking spray for a minute or so over medium heat.
Add the chicken breasts and sprinkle both sides with the salt, pepper, garlic powder, and oregano. Cook 7 minutes one side and flip.
Cook another 5 minutes. Both sides should be golden brown.
Lower the heat and add butter and apple cider vinegar. Cook 3 minutes, brushing the herb chicken with the butter and vinegar sauce.
Remove from pan and scrape brown bits into the sauce. Serve drizzled with remaining sauce.
To keep this an easy 20-minute family friendly dinner, I serve the herb chicken over plain couscous and steamed broccoli, all drizzled with the extra sauce and yummy bits from the chicken pan. While the chicken is frying, you can get the broccoli cooking in the steamer and prepare the couscous (which only takes about 7 minutes). Make it even easier (and keep clean up a breeze) by buying frozen steamable broccoli and popping a bag in the microwave for 5 minutes.
Recipe
Pan Seared Herb Chicken
This quick-to-make chicken has minimal ingredients but is packed with a tasty punch. Serve with steamed veggies and couscous for an easy and healthy 20-minute weeknight meal.


Instructions
Spray or coat a large pan with cooking oil and heat for a minute on medium.

Add chicken breasts to the pan and sprinkle the top side with half the oregano, garlic powder, salt, and pepper.

Flip and sprinkle with the remaining spices.

Fry on 1 side on medium-high heat, about 7 minutes

Flip and fry for about another 5 minutes, until both sides of chicken are golden brown.

Add butter and apple cider vinegar. Lower the heat to medium-low and cook for 3 minutes, brushing the chicken with the butter and vinegar frequently.

Remove from pan to a serving dish and drizzle with any remaining sauce. Scrape the pan to capture the flavorful browned bits from the bottom, too!

Serve warm, over rice or couscous, and with steamed veggies.
Nutrition
Pan seared herb chicken keeps well in the fridge for up to 1 week. I like to make this chicken for meal prep, too, since it's so simple and keeps well for the full week.
And that's all you need to know about making an easy pan fried herb chicken recipe. Let's start cooking!
Did you enjoy this pan seared herb chicken recipe? Let me know in the comments below! Don't forget to follow me on Pinterest for the latest recipes and more!
Do you love 30 minute dinners? You should try: