Chicken Alfredo Pasta Casserole is a simple dinner made from pre-ready ingredients like rotisserie chicken and frozen tortellini. It's ready in 30 minutes and uses only 1 pan for easy clean up and quick preparation. Mix frozen tortellini with chopped spinach and shredded rotisserie chicken, then toss with an easy homemade garlic alfredo sauce made from butter, heavy cream, milk and parmesan.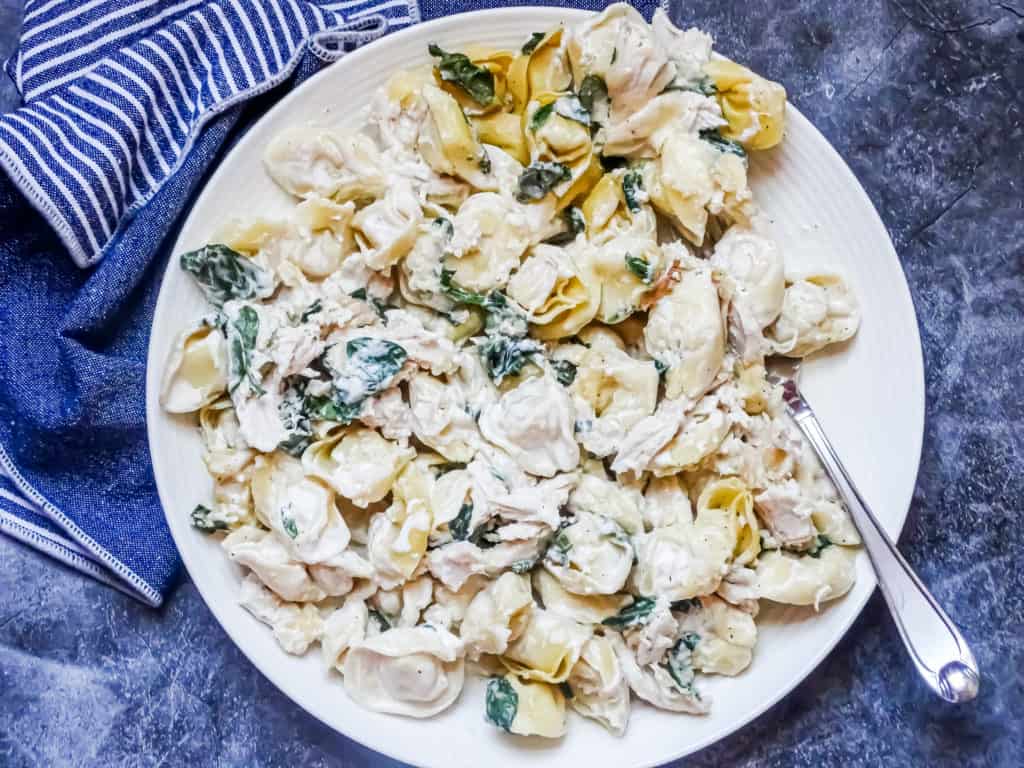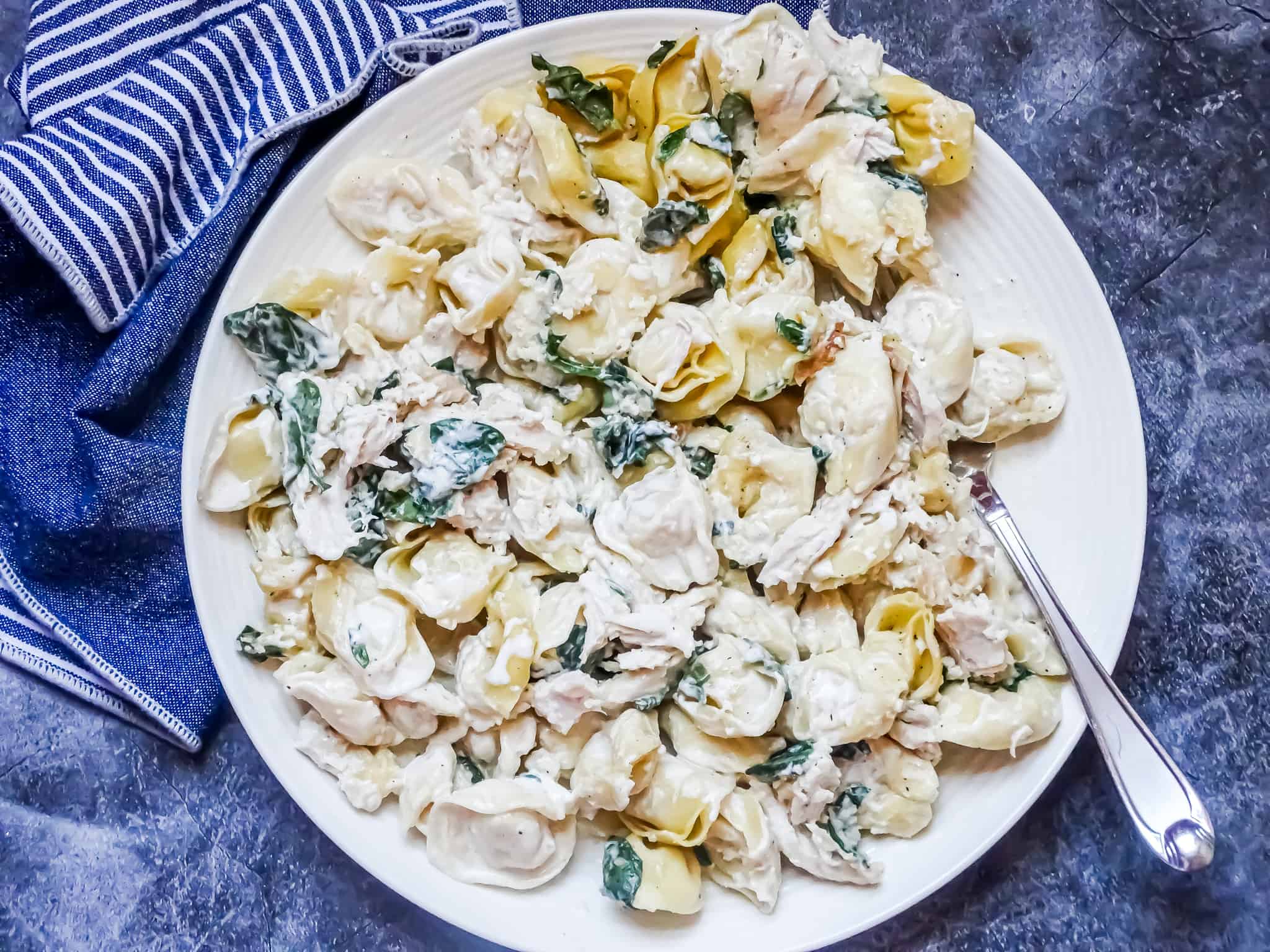 I am a huge fan of quick dinners and an even bigger fan of quick dinners made with the fewest preparation or dirtying of utensils, bowls, and cutting boards.
This simple, yet mouth-watering chicken alfredo pasta casserole checks both of those boxes, and then some. If you've got a busy after school/after work life or don't have the passion for cooking to spend hours making dinner completely from scratch, chicken alfredo pasta casserole is for you!
This easy dinner is perfect for me and you if you need a dinner that you can make:
with a toddler hanging onto your leg
with another child calling "mommy" (or "daddy") from the living room every 45 seconds
when you have another child (or all children) who are HANGRY, and there will soon be tears if dinner isn't ready like 5 minutes ago
and a husband that wants to know "when's dinner gonna be ready?"
because it's simple enough that even with every distraction you can think of, you can hardly mess it up
If that sounds like you, this chicken alfredo pasta casserole is what you need for dinner tonight!
You can also make Instant Pot fettuccine alfredo, for an easy vegetarian version.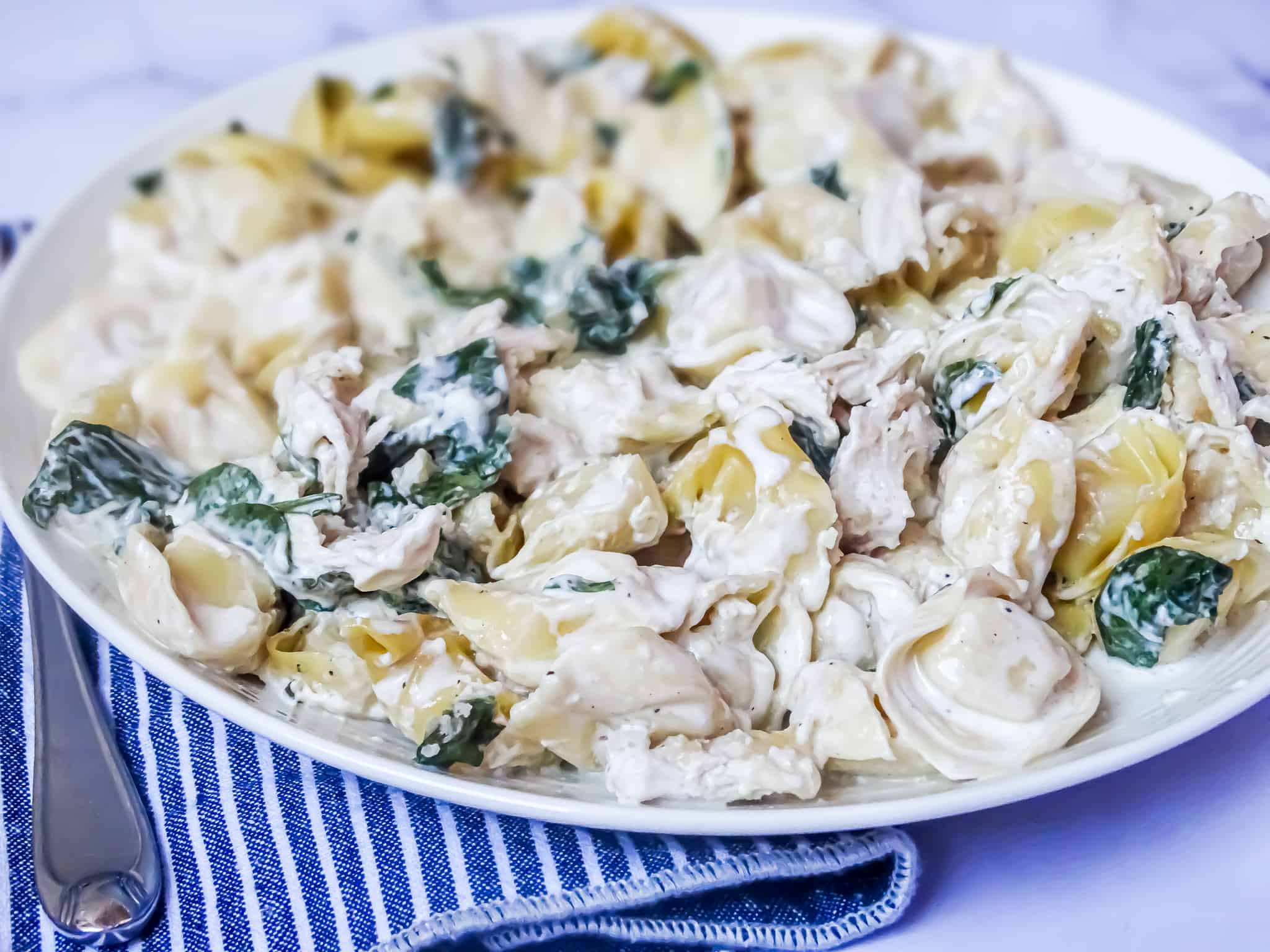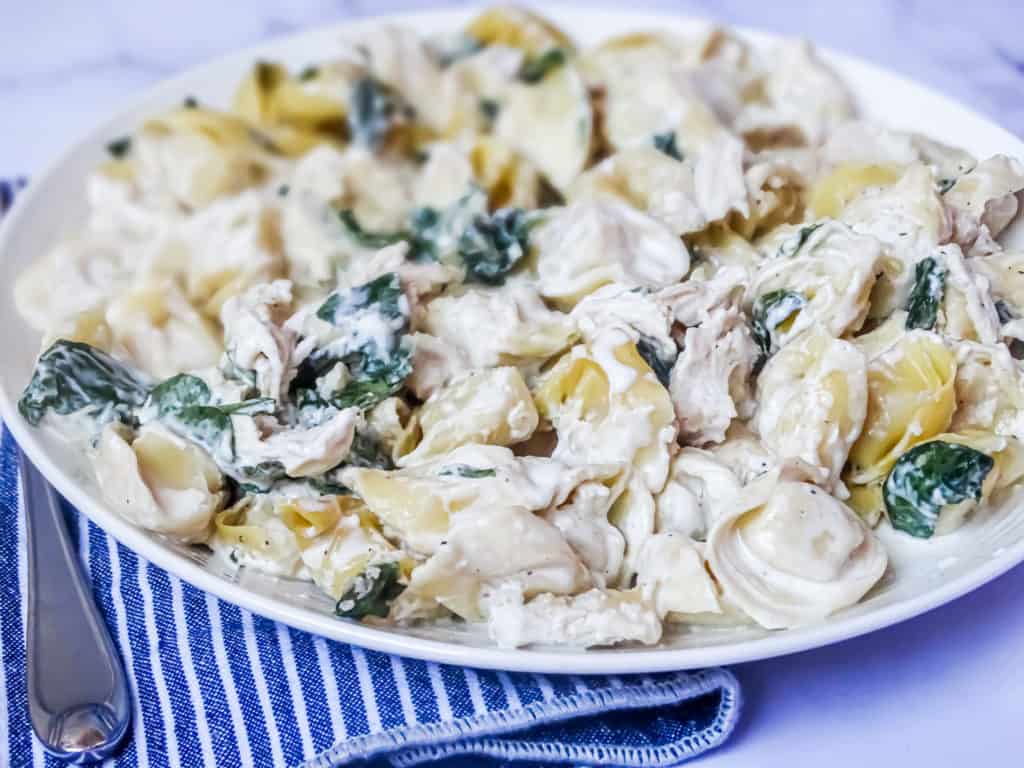 You will love this pasta casserole because:
it preps in 5 minutes and cooks in 25 (30 minutes total!)
you need only 1 glass baking dish and 1 measuring cup
it bakes frozen tortellini right in the pan, there's no need to pre cook them and waste time or dirty another pot
you can hide a veggie right in the sauce for picky eaters
it uses rotisserie chicken, so all you need to do is pull the already cooked and seasoned chicken out of the package
it's pasta, and who doesn't love pasta!
Chicken alfredo pasta casserole layers torn spinach, frozen tortellini, and rotisserie chicken and tosses it with a creamy garlic alfredo sauce made with butter, heavy cream, milk, and parmesan.
There are many recipes for alfredo casseroles that call for boiling the sauce on the stove prior to adding it to the other ingredients. But not this one! This chicken alfredo pasta is truly a one pan meal.
How To Make It Kid-Friendly
While I try my best to hide torn spinach underneath all those delicious tortellini, my daughter will notice if she's not distracted. Sometimes she doesn't mind and other times she wants nothing to do with spinach.
Dinner time is much more relaxing when I don't try to force her to eat them, so I simply pick the spinach out. This recipe calls for just the right amount of spinach to be able to do that. There isn't too much, but there isn't too little.
If you think your kids won't eat the spinach and you don't want to fiddle around with picking it out, put the spinach on one side of the casserole.
Then you have a veggie-less chicken alfredo pasta for the picky ones and a veggie-filled chicken alfredo pasta for the non-picky ones.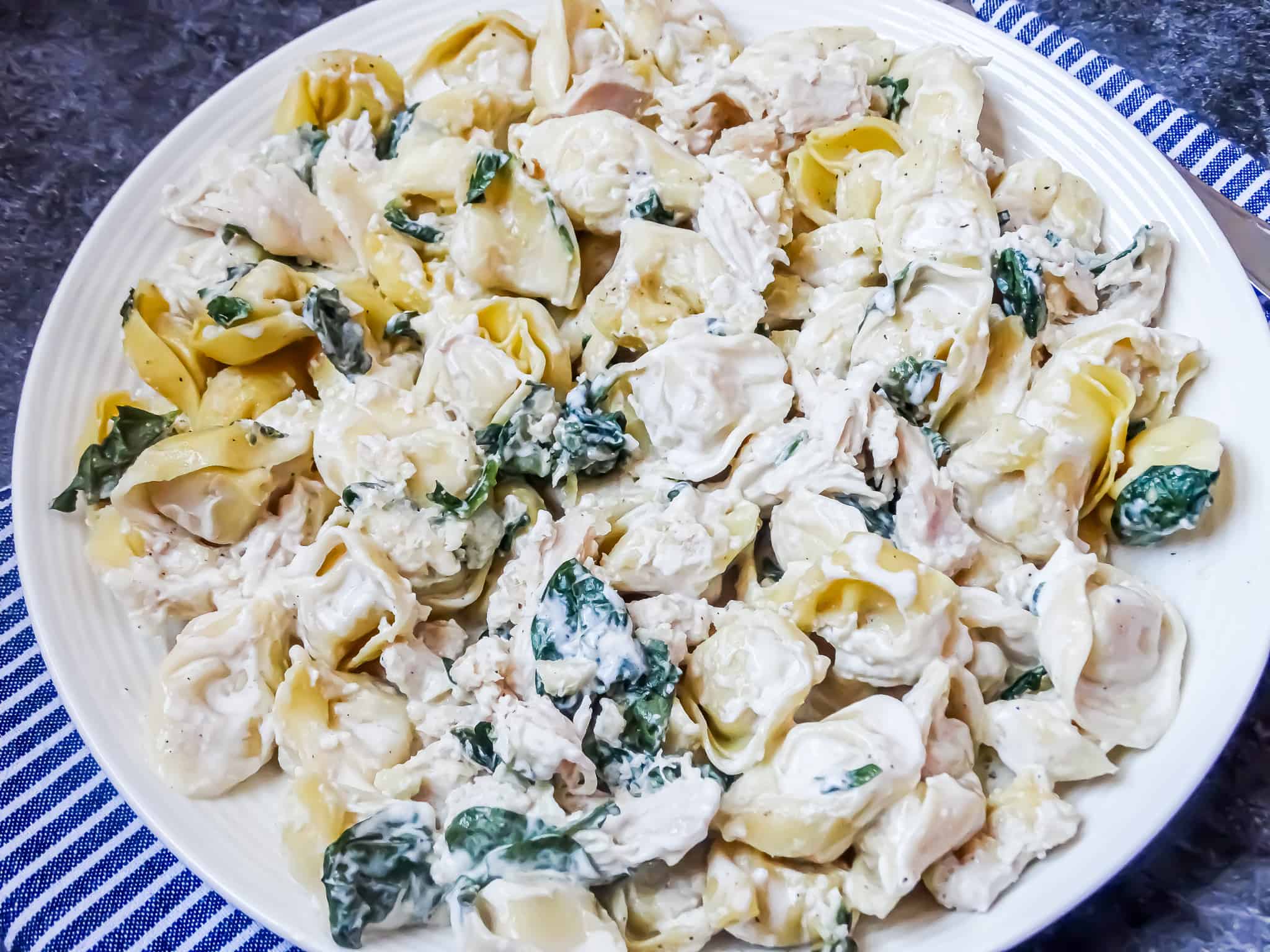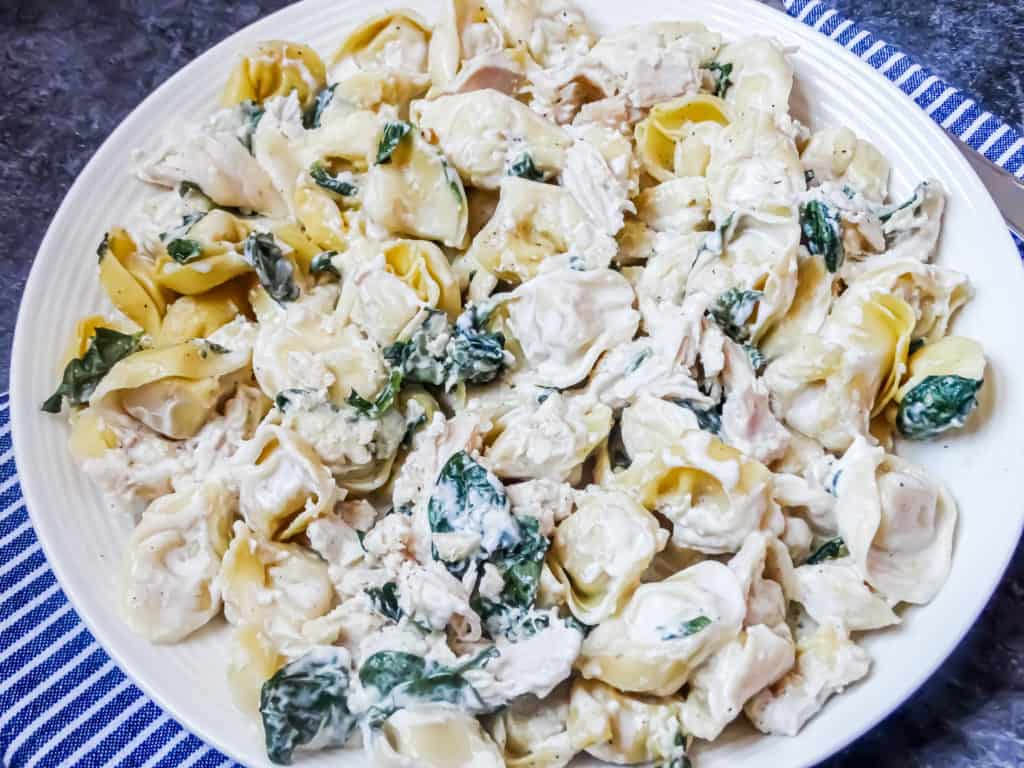 Ingredients
This recipe calls for easy ingredients:
rotisserie chicken
frozen tortellini
fresh chopped spinach
heavy cream
milk
butter
grated parmesan cheese
minced garlic
salt and pepper
Can I use frozen spinach? Yes! I would recommend squeezing it out between paper towels though for a few minutes to reduce the amount of water. Frozen spinach may make the sauce too watery compared to fresh spinach.
Can I use fresh tortellini? Yes! I use frozen tortellini because they are less expensive than fresh and they are a staple freezer item in my house.
What milk is best? I use whole milk when making alfredo sauce, but if you want a sauce with fewer calories, reduced fat or skim milk will do fine. I have never used a non-dairy milk, so I cannot speak to how it would turn out using soy, almond, oat, etc.
If you don't have a rotisserie chicken, other cooked leftover chicken that is lightly seasoned will be perfect. I have also made this with raw chicken strips, and the chicken cooks completely in the time the recipe allots. However, my preference is to use precooked rotisserie chicken because it's quicker and less messy to pull a rotisserie chicken off the bone than it is to trim and cut raw chicken breasts.
Step-By-Step Directions
Chicken alfredo pasta casserole is made in these easy steps:
Preheat the oven to 400 degrees and brush a glass baking dish with melted butter.
Add chopped spinach, tortellini, and rotisserie chicken to the baking dish.
In a large measuring cup, combine heavy cream, milk, salt, pepper, garlic, and parmesan. Pour over the casserole and mix to evenly coat.
Cover with foil and bake 20 minutes. Let stand 5-10 minutes before serving, for the sauce to thicken.
Serve this delicious chicken alfredo casserole with a side of garlic bread and a salad. Enjoy!
Hint: make just the alfredo sauce and use it on your favorite pasta for another easy dinner idea! To make just the garlic alfredo sauce, combine the heavy cream, milk, butter, parmesan, garlic, salt and pepper in a pot and heat on medium until it bubbles. Simmer for 5 minutes, remove and toss with your favorite pasta.
You can make a similar pasta in the Instant Pot, too, if you'd prefer.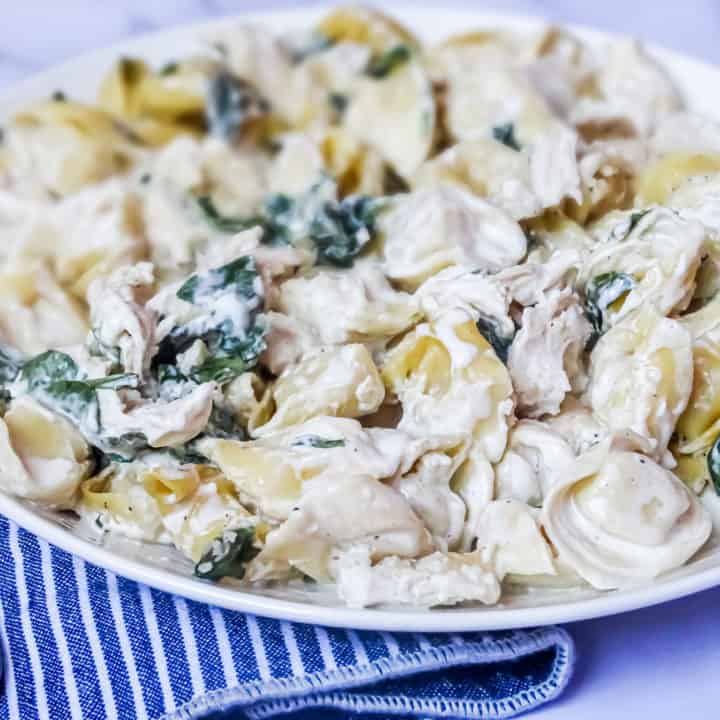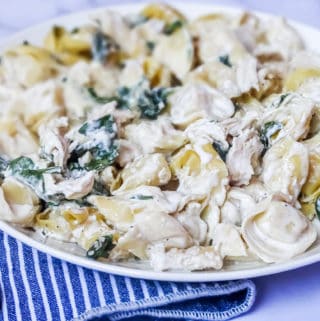 Chicken Alfredo Pasta Casserole
One pan Chicken Alfredo Pasta Casserole is incredibly simple, using rotisserie chicken, frozen tortellini and fresh spinach all baked in the oven. Bake in a milk-garlic-cream alfredo sauce for an easy, 30 minute dinner!
Ingredients
2

tablespoon

butter

24

oz

frozen tortellini

1

cup

fresh spinach, chopped

1

cup

rotisserie chicken, shredded

2

cups

heavy cream

½

cup

milk

4

cloves

garlic, minced

1

teaspoon

salt

½

teaspoon

pepper

½

cup

grated parmesan cheese
Instructions
Preheat the oven to 400°F and grease a large baking dish with butter.

Add tortellini, spinach, and rotisserie chicken to the dish and mix.

In a large measuring cup, combine heavy cream, milk, salt, pepper, garlic, and parmesan. Stir and pour over tortellini mix. Toss to evenly coat.

Cover with foil and bake for 20 minutes. Let stand 5-10 minutes before serving.
Nutrition
Serving:
12
oz
Calories:
555
kcal
Carbohydrates:
41
g
Protein:
22
g
Fat:
34
g
Saturated Fat:
19
g
Polyunsaturated Fat:
1
g
Monounsaturated Fat:
7
g
Trans Fat:
1
g
Cholesterol:
129
mg
Sodium:
878
mg
Potassium:
170
mg
Fiber:
3
g
Sugar:
5
g
Vitamin A:
1387
IU
Vitamin C:
2
mg
Calcium:
243
mg
Iron:
2
mg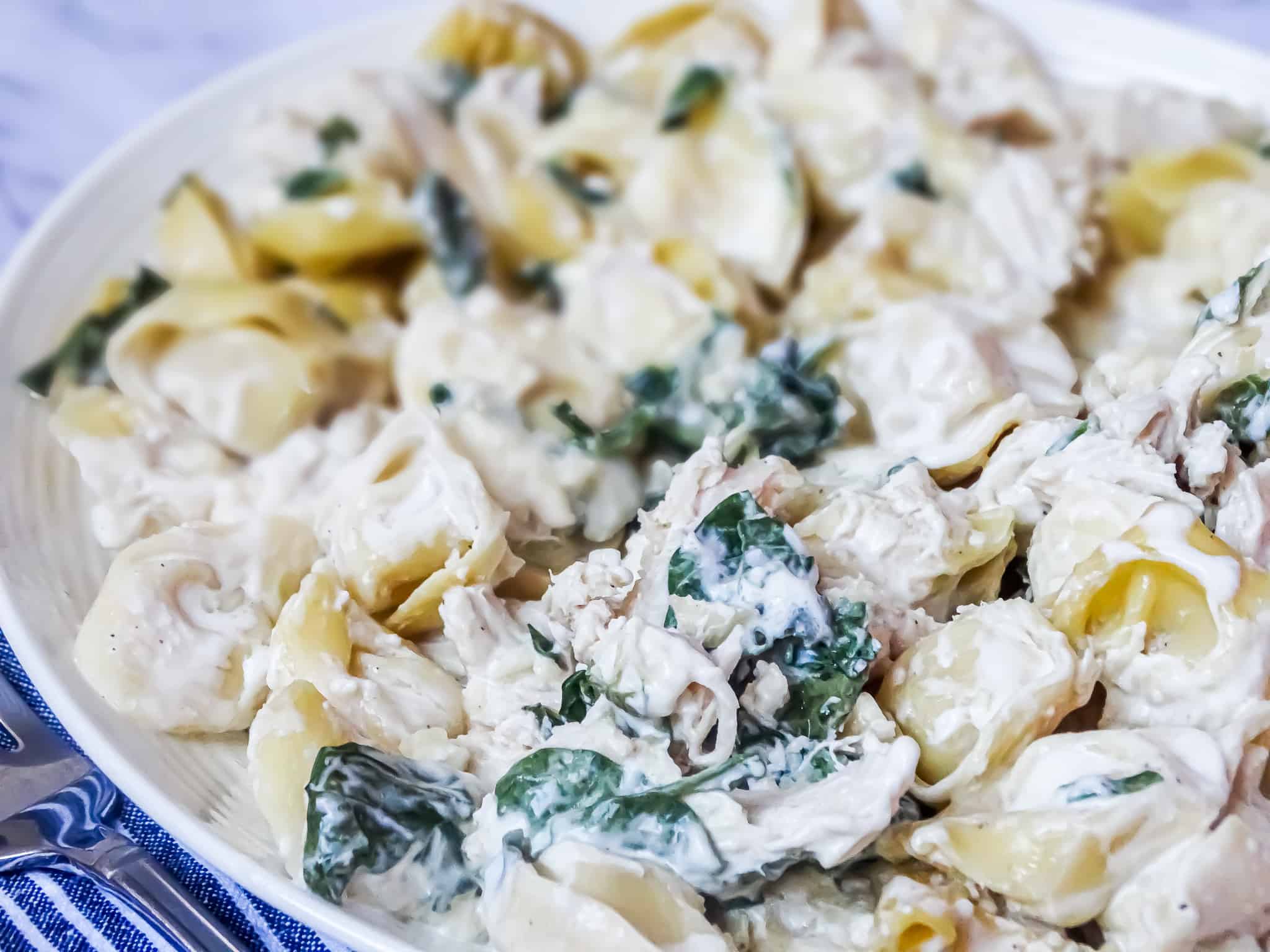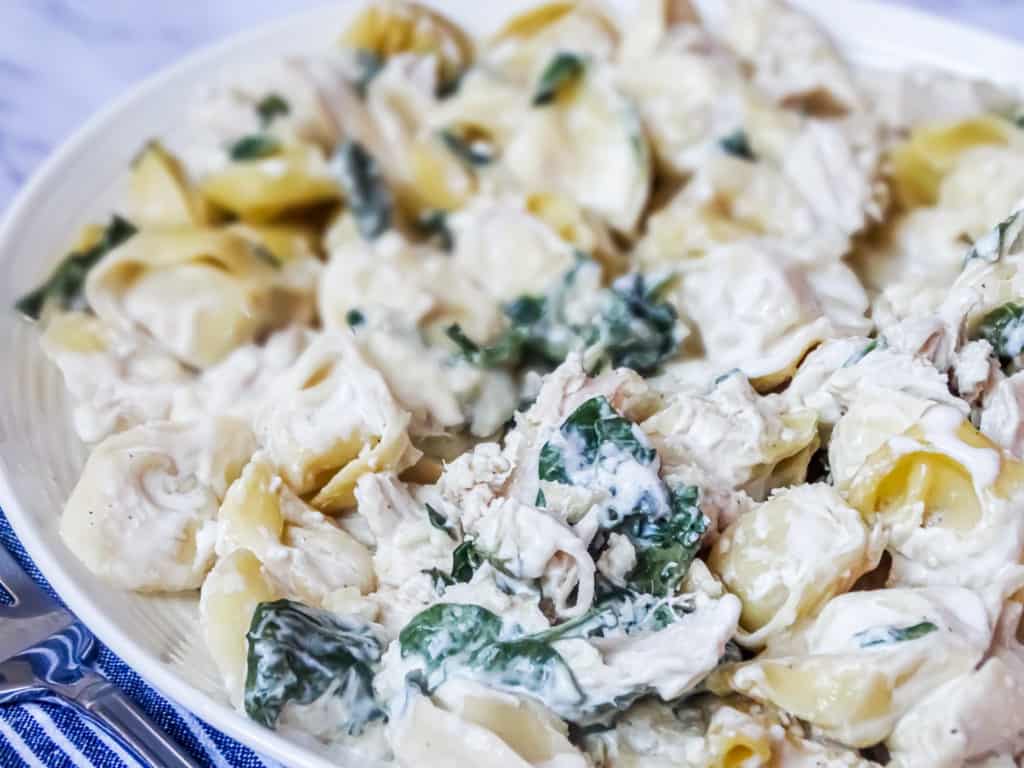 How to Store
This recipe can be safely kept in the fridge for around 3 days before the alfredo sauce and tortellini begin to dry out. You may notice separation of the cheese and cream in the alfredo sauce, but once you warm it up and mix it together, the sauce will come back together.
If you have extra alfredo sauce or made the alfredo sauce separate to store for later use, it should be kept in the fridge for no more than 5 days. Beyond 5 days, the heavy cream and cheese will no longer be good to consume.
Chicken alfredo pasta casserole does not freeze well, so I would not recommend this.
I hope that you enjoy this recipe and come back for more tasty recipes! If you enjoyed this chicken alfredo pasta casserole, let me know in the comments below!
If you enjoyed this recipe, make sure to give it a star rating and let me know what you thought in the comments! And follow me on Facebook, Pinterest and Instagram for more delicious recipes!
Recommended Recipes