These Homemade Meatballs are a delicious and traditional Italian family-friendly recipe. Easy to make, easy to eat, and loved by the entire family. They are a perfect meal for babies just learning to chew because they are incredibly tender, moist, and tasty! Homemade meatballs make an excellent finger food for all kids and a hearty comforting dinner for everyone!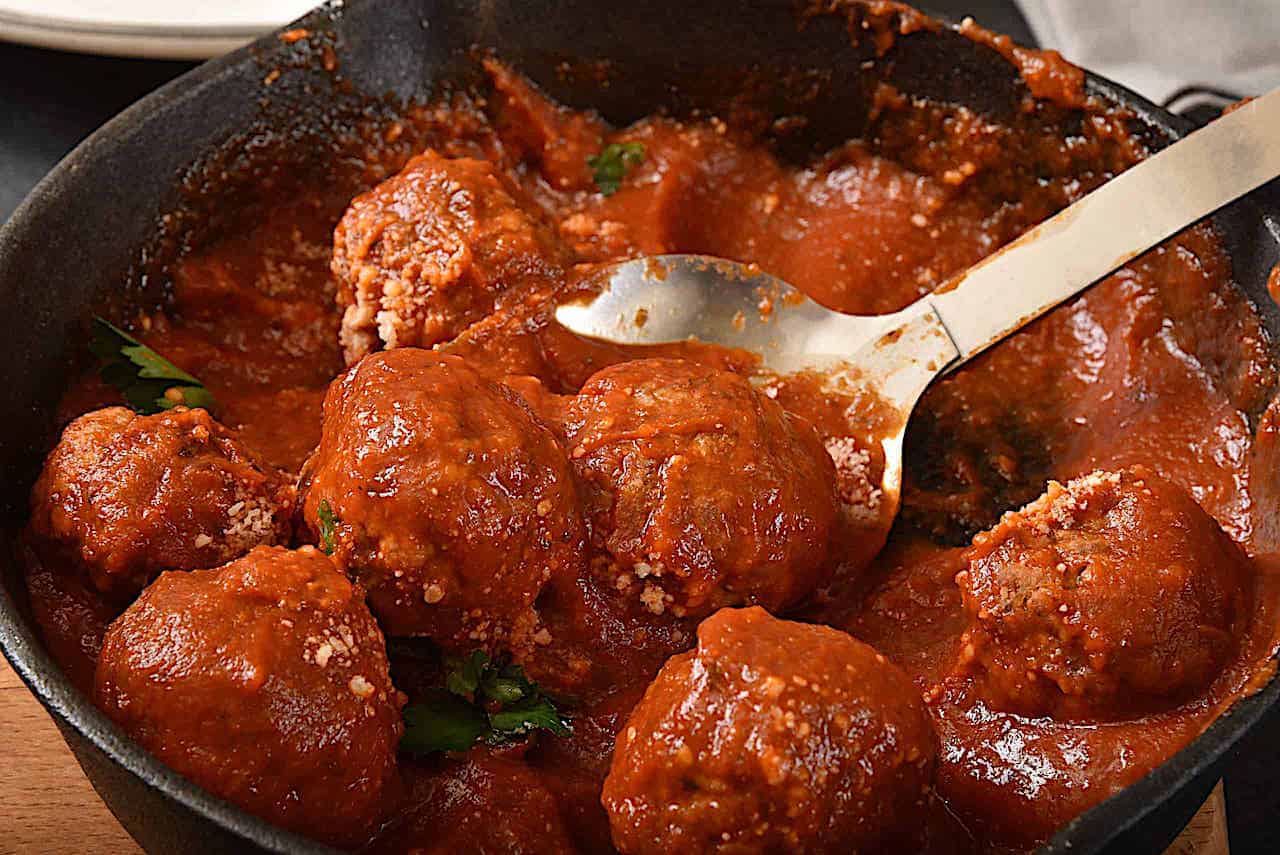 Jump to:
When my daughter turned 2 she started a "pasta only" phase. This lasted for a long time, probably almost a year. It started with mac and cheese and then transformed to spaghetti and meatballs.
So we ate a lot of pasta and I cooked a lot of homemade meatballs, spaghetti, and tomato sauce. Thank gosh that by then I had perfected my homemade meatballs, sauce, and spaghetti!
She's been out of that stage for a while now, but spaghetti and meatballs is still one of her favorite dinners so she requests it frequently. Who could blame her? And now that the other baby is quickly advancing to her inevitable pasta loving days, I am prepared to make a lot more of these homemade meatballs and spaghetti. I am keeping the pantry stocked with tomato sauce, tomatoes, and herbs, and the freezer stocked with ground beef.
Traditionally, I cook my homemade meatballs in my homemade tomato sauce for the absolute best tasty outcome. But you can use jarred sauce to save yourself time.
If you prefer skipping the sauce and baking the meatballs, they take about 20 minutes. To see how to do both, keep on reading!
Why do we love homemade meatballs?
Because a little bit goes such a long way! 2 pounds of ground beef can make between 30 and 35 meatballs. That means your pot of tasty homemade meatballs can feed 10 people in one sitting or a family of 4 for about 3 dinners.
How else can you use this meatball recipe?
We also love homemade meatballs because you aren't limited to having a spaghetti and meatball meal with them. Use them for meatball subs, meatball sliders, in pasta bakes, or serve them as a finger food at parties!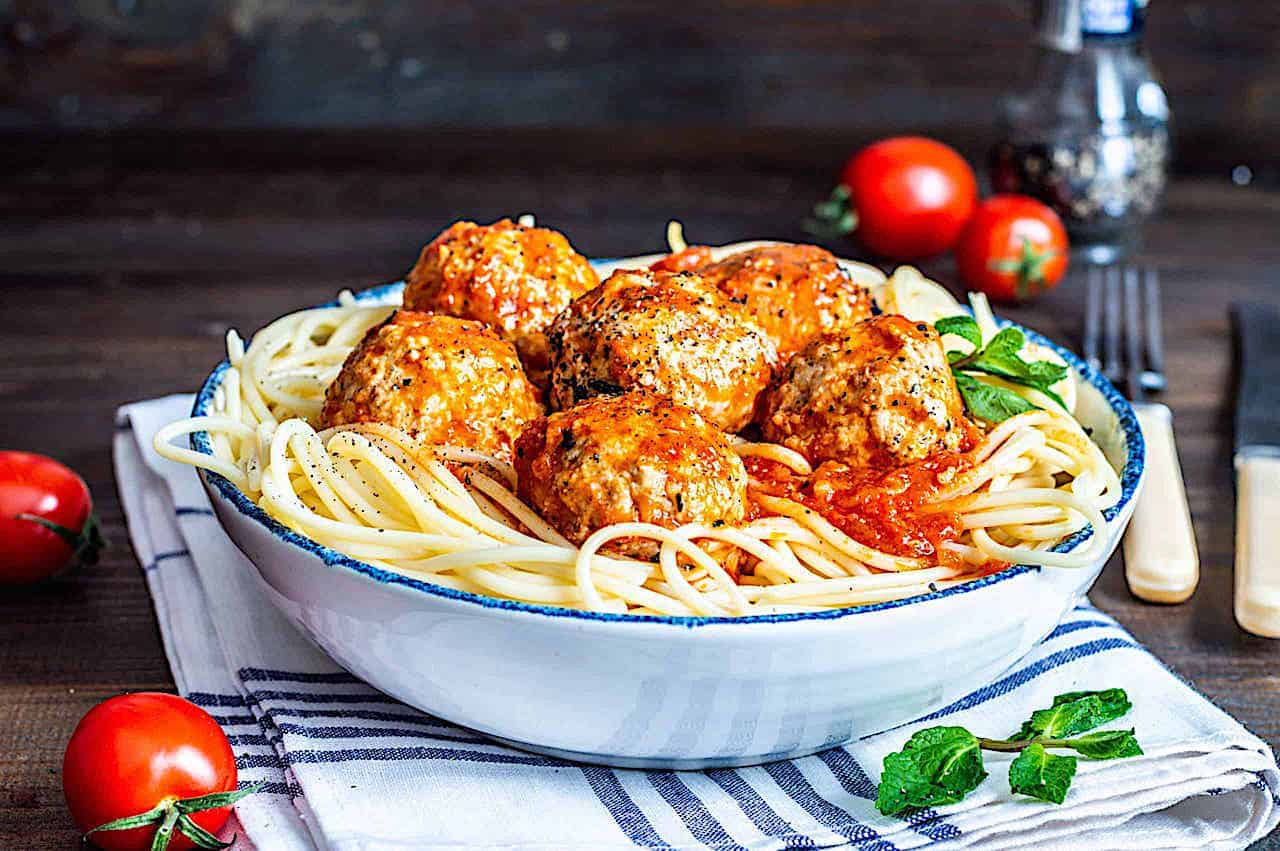 Ingredients
This homemade meatball recipe is made with:
ground beef (85% recommended)
Parmesan cheese
Italian-style breadcrumbs
parsley
garlic powder
pepper
egg
I use 85% lean ground beef because this makes the most tender meatball. If you go any leaner than this you risk having a tough and chewy meatball. Also make sure to use Italian-style breadcrumbs, but if you only have plain you can mix in a tablespoon of Italian seasoning.
This meatball recipe calls for dried herbs but if you prefer fresh you'll need to increase the amount. The ratio for dried herbs to fresh herbs is 1:3. In other words, 1 teaspoon of a dried herb equals 3 teaspoons of same fresh herb.
To cook your meatballs you'll either need to also make this homemade tomato sauce, use jarred sauce, or bake them in the oven.
While the recipe I have here makes about 30 meatballs, you can cut it in half and keep all ingredients proportionate.
Step-By-Step Directions
Making homemade meatballs is a two-step recipe. What's easier than that??
First, mix all of your ingredients, adding water about ¼ cup at a time until the meat mixture is sticky, yet pliable and smooth.
Then roll the meatballs into 1-2 inch balls and either cook for 30 minutes in tomato sauce as the sauce simmers.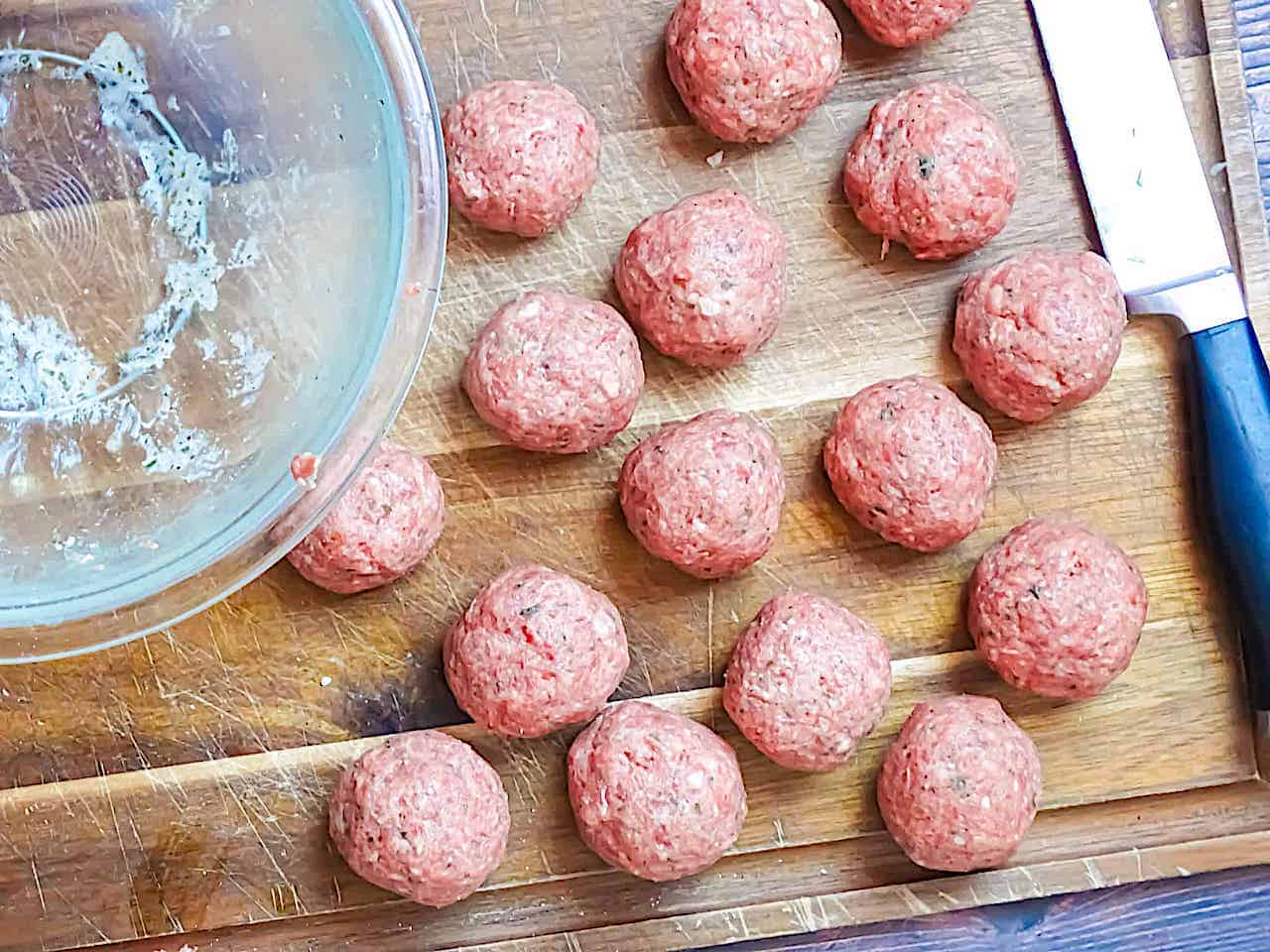 Prefer to bake them?
If you prefer to bake your homemade meatballs, set the oven to 400 degrees and line a baking sheet with parchment paper or foil. Cook for 20 minutes. You can then toss them with your favorite sauce, eat as a snack, or use however you prefer.
I always prefer to cook my meatballs directly in sauce. I think they come out much more tender and tasty this way. But baked meatballs are a close second, so no worries if this is what you chose.
Serve your homemade meatballs and sauce over spaghetti or any other pasta. Everything works here. I hope that you not only enjoy eating these meatballs, but making them too!
Recipe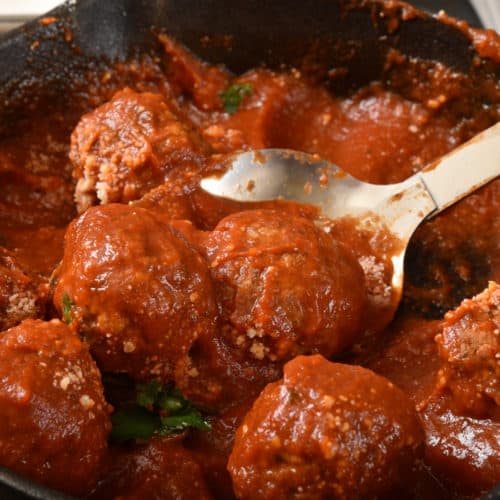 Homemade Meatballs
These Homemade Meatballs are a delicious and traditional Italian family-friendly recipe. Easy to make, easy to eat, and loved by the entire family.
Bookmark Recipe
Saved!
Ingredients
For the Sauce (Optional)
¼

cup

olive oil

1 ½

cup

onions

10

garlic cloves

2

cans (28 oz) tomato sauce

2

cans (28 oz) crushed tomatoes

2 ½

teaspoon

salt

1

teaspoon

basil

1

teaspoon

pepper

1

teaspoon

Italian seasoning

1

teaspoon

parsley

2

teaspoon

garlic powder
Instructions
Combine all ingredients for the meatballs. Add water ⅛ cup at a time and mix until slightly moist and meat sticks smoothly together when rolled. Roll meatballs into 1-2 inch balls, depending on size preference.

If making homemade sauce, heat the olive oil on medium high in a large pot and add garlic and onions. Saute until translucent, 3-4 minutes. Add the tomato sauce, crushed tomatoes, and salt. Stir and simmer for 60 minutes. Add basil, pepper, Italian seasoning, garlic powder, and parsley. Stir and add the meatballs. Simmer for 30 more minutes, occasionally shaking pot gently so sauce doesn't burn and meatballs don't stick to one another.

If using jarred sauce, add 2 large 24 ounce cans to a pot. Bring to a simmer on medium heat. Add meatballs and simmer for 30 minutes, shaking the pot gently to prevent them from sticking to the bottom.

Remove from heat and let stand for 10 minutes before serving.
Notes
Alternatively, bake your meatballs at 400 degrees for 20 minutes. Then toss with your favorite sauce or eat plain.
Nutrition
Serving:
2
oz
Calories:
45
kcal
How to Store
Meatballs keep well in the fridge for about 1 week.
They are one of my favorite freezer-friendly meals. Put the meatballs in a freezer baggie and toss them in the freezer. They last for around 6 months. You can defrost them overnight in the fridge or sit them on the counter at room temperature for a few hours.
If you've cooked your meatballs in my homemade tomato sauce, the sauce also freezes beautifully. Put any extra in a freezer baggie and lay flat in your freezer. It will keep well for nearly one year and it defrosts quickly. I always make sure to have frozen sauce for the nights that I don't feel like cooking or need a really easy, fast meal!
If you made these homemade meatballs and loved them, let me know in the comments below! I'd love to hear from you.
If you enjoyed this recipe, make sure to give it a star rating and let me know what you thought in the comments! And follow me on Facebook, Pinterest and Instagram for more delicious recipes!
Related Recipes You'll Love