If you love all-things pumpkin, these moist and fluffy Pumpkin Spice Muffins are for you! They are made with real pumpkin and pumpkin spices. They are perfect alongside a hot latte on a crisp fall morning. Eat for breakfast, a mid-morning snack or even dessert. They are super-easy and a guaranteed crowd pleaser!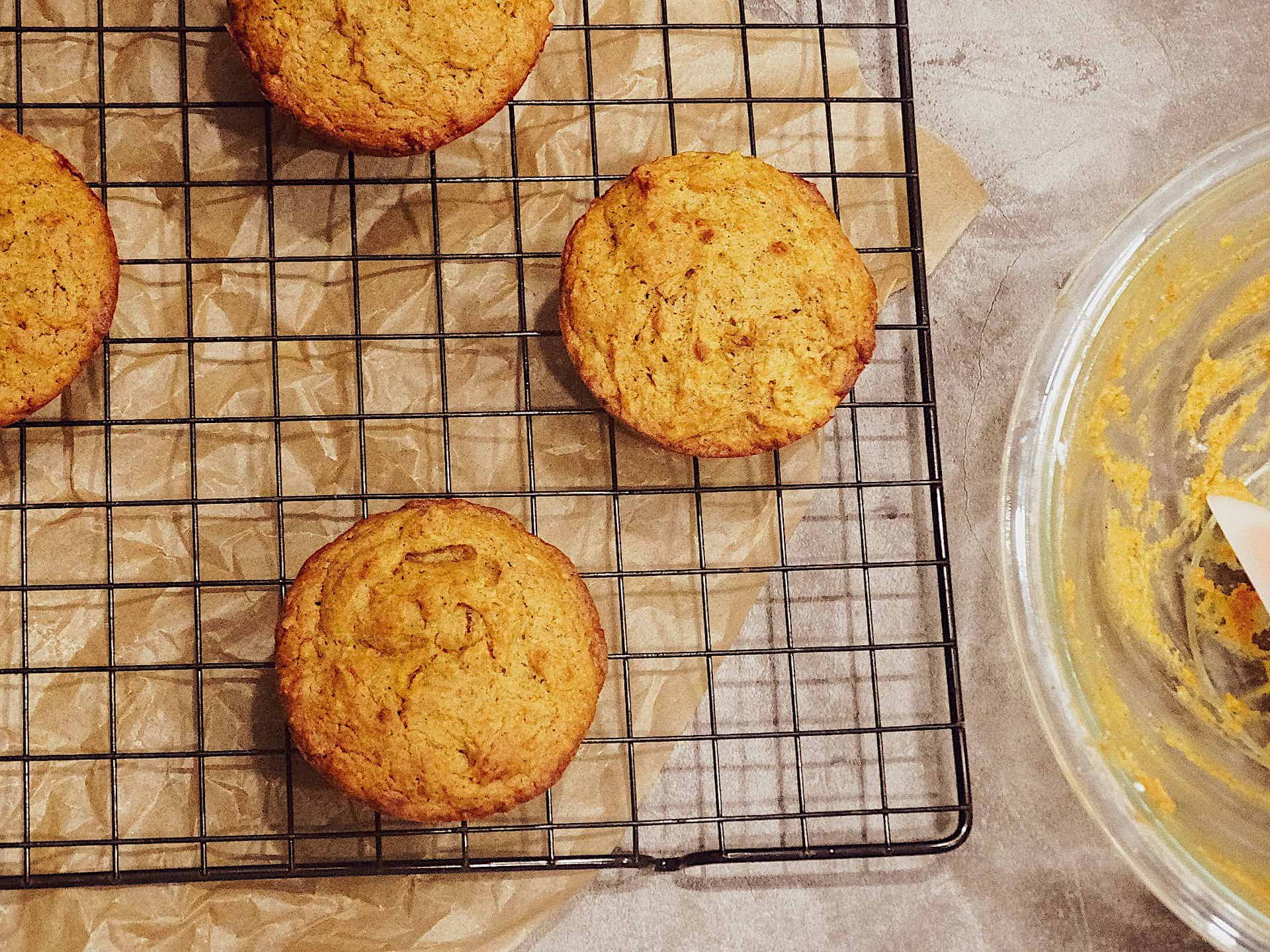 Jump to:
Pumpkin Spice Muffins are the perfect treat to get you in a festive Fall mood. Eat them in your kitchen with a pumpkin latte or a chai tea, or in the car on your way to work, or on your way to the pumpkin patch with the family!
Fall is finally here and we've been delighting in pumpkin spice lattes and pumpkin muffins. Bring on everything pumpkin!
It doesn't get much better than waking up on a lazy fall weekend morning, a chill in the air, grabbing your robe and slippers and walking downstairs to piping hot coffee and a warm pumpkin spice muffin.
A jumbo pumpkin spice muffin, that is! This recipe makes 6 jumbo size muffins because we do eat them for breakfast. But make them in standard size tins or even mini muffin tins and adjust the cooking time. I give tips for this below.
These pumpkin spice muffins are a hit with the kids in the morning, and I don't blame them. Who wouldn't want a muffin for breakfast? We love eating pumpkin spice muffins as a quick and easy breakfast, that still contains a delicious orange vegetable.
We've began alternating between these pumpkin spice muffins and a pumpkin cream cheese filled muffin for many of our fall breakfasts. I don't believe you can ever have enough pumpkin this time of year!
Ingredients
To make pumpkin spice muffins you need:
Pumpkin puree: 100% pumpkin, not pumpkin pie filling. Use homemade for the best flavor.
White sugar
Coconut oil
Pumpkin spice: if you don't have it, this recipe is great.
Vanilla extract
All-purpose flour
Egg
Baking powder
Baking soda
Salt
Why both baking soda and powder? If you're wondering whether you really need both the answer is YES! You can read more about why in this post by Brian Geiger on Fine Cooking.
You can make these easy variations to this recipe without changing the bakery style texture or delicious pumpkin flavor.
Use brown sugar in place of white sugar
Use olive oil instead of coconut oil
Make dairy free by using a flax egg instead of a chicken egg
Add 1 cup of chocolate chips to make a chocolate pumpkin muffin
Step-By-Step Directions
Pumpkin spice muffins are super easy and take just 25 minutes to make. They are also made in 1 bowl for easy clean up!
Here are the steps:
In a large mixing bowl. combine the flour, pumpkin spice, baking soda, baking powder, sugar and salt. Mix until combined well.
Make a hole in the center of the dry ingredients. Add the oil, eggs, vanilla extract, and pumpkin puree. Mix just long enough to combine.
Spray a muffin tin with cooking oil or grease it with butter. You can also line the cavities. Scoop the dough into each hole so each is just about full.
Bake for approximately 20 minutes, until a toothpick comes out clean. If they aren't done at the 20 minute mark, check them every few minutes until the toothpick is clean.
Tips
Be careful not to overmix the batter. Or you may end up with tough and dense muffins.
The batter should be thick and not runny. The thick batter creates a moist and fluffy perfect bakery style muffin.
For standard size muffins, bake for 15 minutes. For mini muffins, back for 10 minutes. Because ovens and altitudes vary, always check for doneness with a toothpick. If they need longer than the suggested time, put back in the oven for 2 minute increments.
Make a double or triple batch of the jumbo pumpkin spice muffins. Do this on the weekend so that they work as a full breakfast at home or a quick and easy breakfast on the go during the week.
Fill empty muffin cups with 2 tablespoons of water. This ensures that the muffins rise evenly.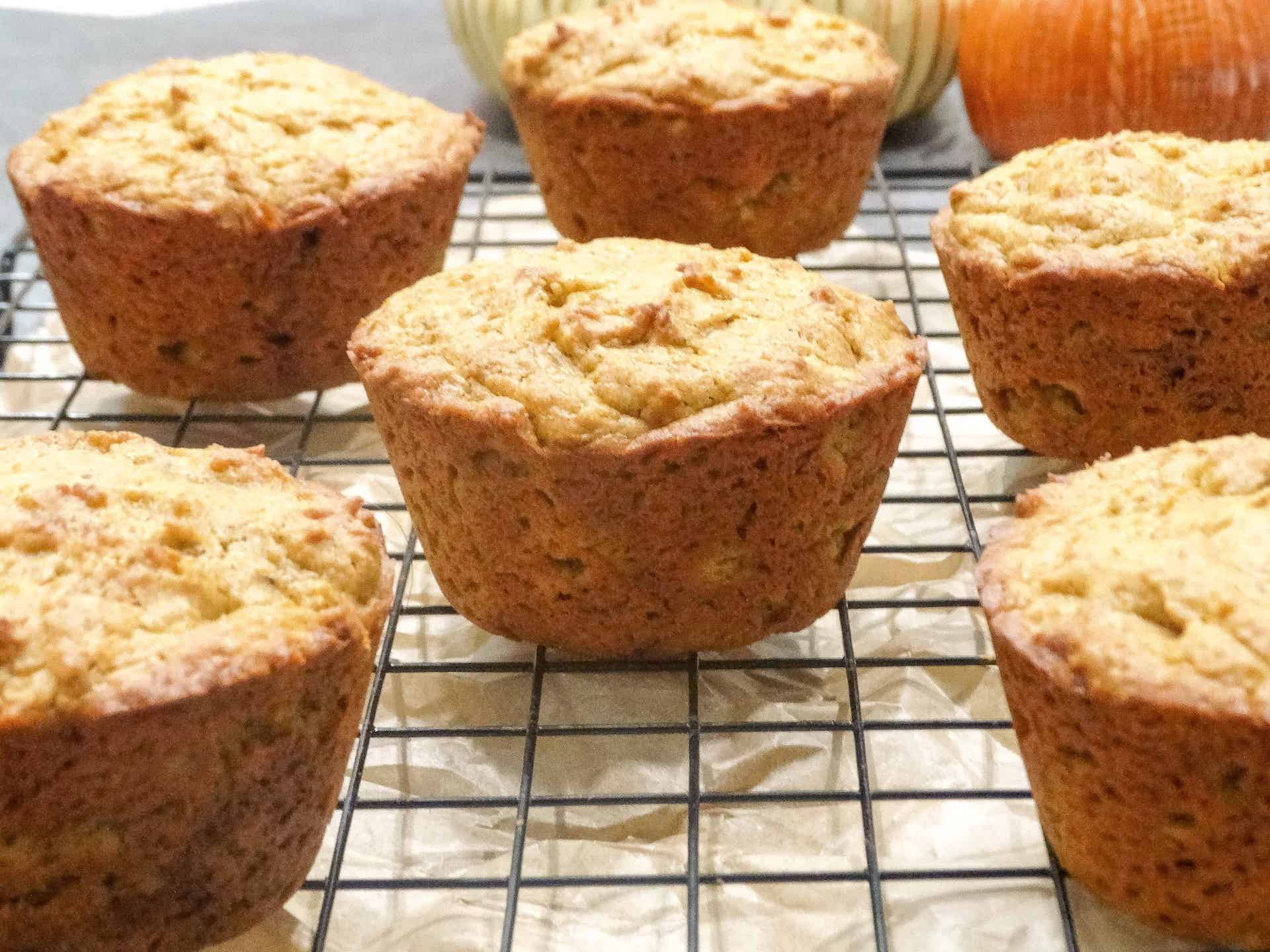 Happy Baking!!
Recipe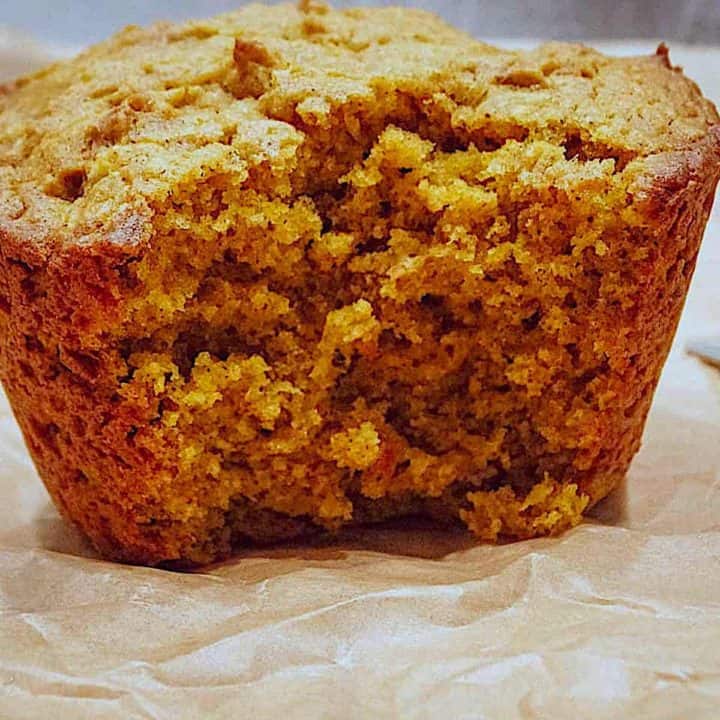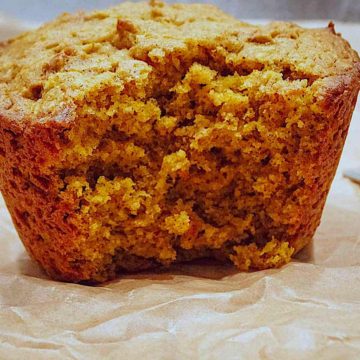 Pumpkin Spice Muffins
For a healthier muffin, these Pumpkin Spice Muffins are made with real pumpkin, coconut oil, and slightly less sugar than traditional muffins. Perfect for when you need a quick or on-the-go breakfast or snack! They freeze beautifully, so make a big batch as a go-to for busy days!
Instructions
Preheat the oven to 350°.

Spray a 6 cavity jumbo muffin tin with oil or grease with butter.

In a large bowl, mix the flour, sugar, baking powder, baking soda, pumpkin spice, and salt.

Make a hole in the center and add the oil, egg, vanilla extract, and pumpkin puree. Mix until just combined with the dry ingredients.

Fill muffin cavities ⅔ full with batter and bake for 20 minutes, or until a toothpick inserted into the center comes out clean.
Nutrition
Serving:
1
muffin
Calories:
310
kcal
Serving
Pumpkin spice muffins are perfect for anytime of the day. Enjoy them with coffee, tea or hot chocolate. For breakfast, snack, or dessert! They make a nice addition to Thanksgiving morning breakfast or dessert menus.
If not serving right away, store in an airtight container for up to 2 days or freeze in baggies or plastic wrap for about 6 months.
That's all there is to making these delicious bakery style jumbo muffins! I hope that you enjoy.
Have you tried these pumpkin spice muffins? Let me know what you think in the comments!
If you enjoyed this recipe, make sure to give it a star rating and let me know what you thought in the comments! And follow me on Facebook, Pinterest and Instagram for more delicious recipes!
RELATED RECIPES