Pizza Poppers, or mini pizza bites, are a fun and kid-friendly finger food for your next party! Mozzarella cheese and pizza sauce are stuffed inside pizza dough and baked in an irresistible butter herb sauce. Pizza poppers can be customized to include your favorite pizza toppings, like pepperoni or sausage. Ready in less than 20 minutes, they are a delicious snack that adults and kids can't get enough of!
Jump to:
Last week my little one was extremely excited to make a new fun pizza recipe. As excited as we are for pizza night, "pizza poppers" sounded extra fun for my kids. There was lots of running around the kitchen in excitement!
Pizza poppers are a change from the homemade garlic knots that we make a little too often. You can bake pizza poppers with the dough squished together as pull apart pizza bites, or simply bake them in individual dough balls. They are fantastic either way!
For special occasion parties, like the Super Bowl or Valentine's Day, shape the balls into a football or heart for added fun.
They take only minutes to prepare using basic pizza ingredients and a few minutes to cook. You can have them ready to serve in less than 20 minutes.
Even better, they do not have to be served fresh out of the oven. Pizza poppers taste just as great when warmed up in the toaster or microwave the next day.
If you make them ahead of time for parties, they are delicious at room temperature. You don't have to worry about timing them to be ready as your party starts, or keeping them in a warmer.
They're an easy party food that both kids and adults go crazy for. But they are also a fantastic snacking food for a lazy weekend or movie night with the family.
Ingredients
To make pizza poppers, you need:
a can or package of pizza dough
pizza sauce
mozzarella cheese
pepperonis or other toppings of your choice
In addition to popular pepperoni as a pizza topping, ham, meatballs, and sausage make great mini pizza bite stuffing.
If you want to go meatless, try spinach and ricotta, spinach and feta, chopped tomatoes, diced peppers, or tomato and basil.
You can also make plain pizza bites with just the pizza sauce and mozzarella.
I find the best pizza dough to use is a classic dough versus a thin crust. My preference is for an artisan dough instead of a brand like Pillsbury. There isn't anything wrong with using Pillsbury or your grocery store's generic version of it. But the artisan dough tends to get a little more crispy.
If you're feeling really motivated, you can even make homemade pizza dough. You can do so in a bread machine or by hand.
Step-By-Step Directions
Making pizza poppers is simple and fun. Let your kids help
First, roll or spread the dough and cut into 24 squares.
Next, separate the squares and dollop about 1 teaspoon of pizza sauce on the dough. Top with a few teaspoons of mozzarella cheese, or more if you'd like them super cheesy.
Then fold the corners diagonally over each other. Press the seams together to pack all that delicious cheese and sauce inside. Flip the pizza balls over so the seams are facing down.
On a baking sheet, shape them into into a circle, ring, or other shape with the pizza balls touching each other. You can leave a small gap in the middle for a bowl of pizza sauce.
For game day or the Super Bowl, I shape mine into a football.
If you'd rather not make pull apart pizza poppers, put them on a baking sheet about 2 inches from each other.
Once the pizza poppers are arranged on the baking sheet how you'd like, make the herbed butter sauce. Melt the butter and mix it with salt, garlic powder, and parsley. Brush it generously on the pizza bites, coating all sides.
Feel free to also sprinkle with Parmesan cheese.
Bake at 425 degrees for 10-12 minutes, until they are golden brown.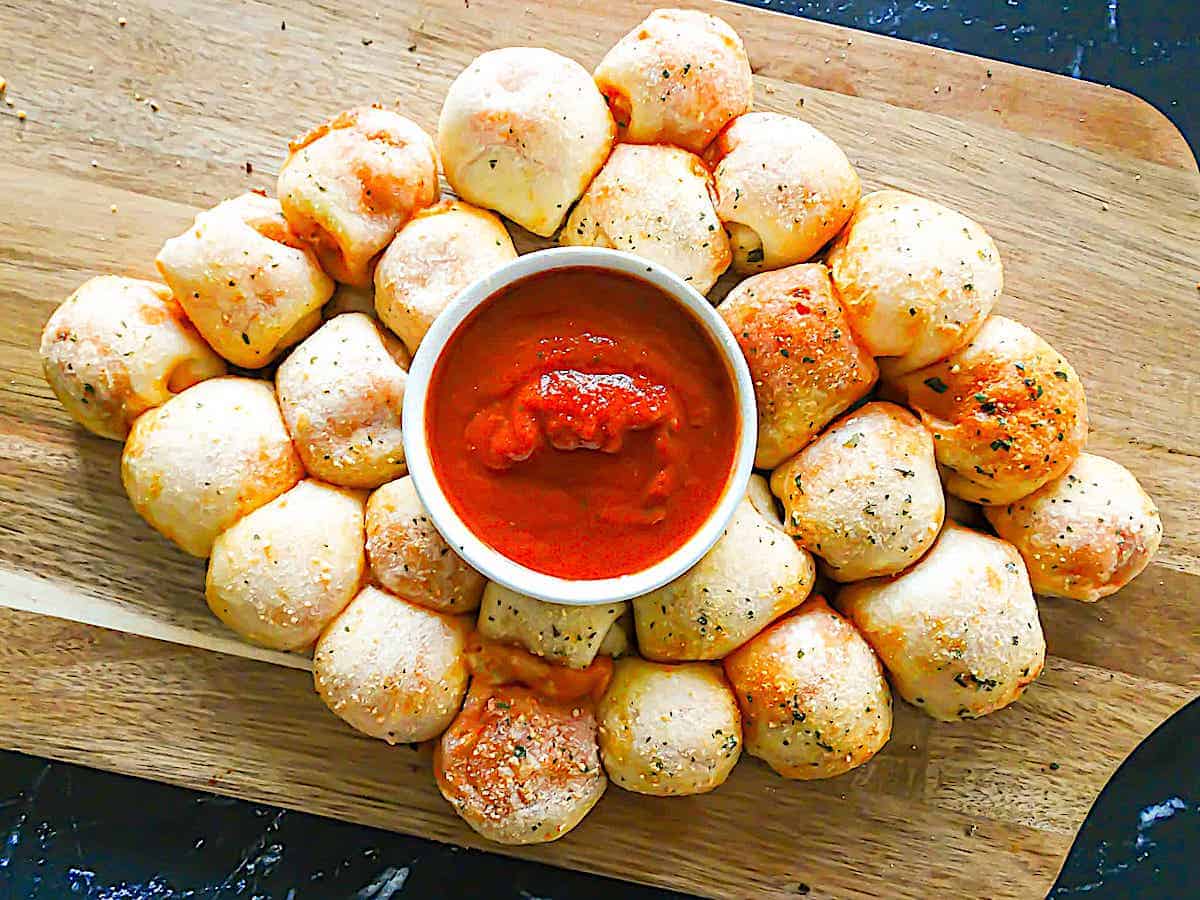 Then serve and enjoy!
Recipe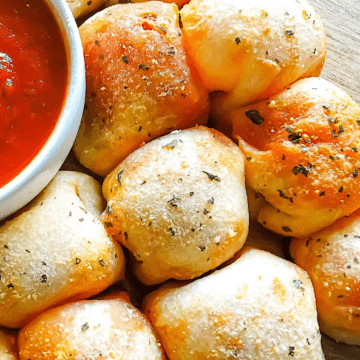 Pull Apart Pizza Bites
Pizza poppers, or mini pizza bites, are a fun and kid-friendly finger food for your next party!. Pizza sauce and mozzarella cheese are stuffed in pizza dough balls and baked in an irresistible herb and butter sauce. Pizza Poppers can be customized to include your favorite pizza toppings. Ready in less than 20 minutes!
Ingredients
1

can/package of pizza dough

½-1

cup

pizza sauce, plus more for serving

½-1

cup

mozzarella cheese

pepperonis (or other stuffing "toppings" of choice)

2

tablespoon

melted butter

½

teaspoon

salt

½

teaspoon

garlic powder

½

teaspoon

parsley

Parmesan (optional)
Instructions
Preheat the oven to 425°.

Spread the dough into a square and cut into 24 squares.

On a greased or parchment lined baking sheet, place the dough squares and layer in this order: 1 teaspoon pizza sauce, 1-2 teaspoons mozzarella cheese, 1-2 pepperonis (or 1-2 teaspoons of your favorite toppings).

Shape into a circle, ring, or other fun shape with as many sides of the dough balls touching each other as possible.

Melt the butter and combine with salt, garlic powder, and parsley. Brush generously on pizza bites. Sprinkle with Parmesan if desired.

Bake 10-12 minutes, until golden brown. Serve with a pizza sauce for dipping.
Nutrition
Serving:
1
oz
Calories:
57
kcal
Carbohydrates:
8
g
Protein:
2
g
Fat:
2
g
Saturated Fat:
1
g
Cholesterol:
4
mg
Sodium:
216
mg
Potassium:
19
mg
Fiber:
1
g
Sugar:
1
g
Vitamin A:
67
IU
Vitamin C:
1
mg
Calcium:
12
mg
Iron:
1
mg
Serving
Serve them fresh out of the oven or at room temperature with a side of pizza sauce for dipping. Allowing the poppers to stand at room temperature for 10 or 20 minutes lets the butter sauce soak into the dough, making them even more mouth-watering.
How do you transfer pull apart pizza bites from the baking sheet to a serving platter?
Using a pizza peel is ideal. This giant spatula is perfect for removing pizzas from a pizza stone in the oven and transferring them to a cutting board.
If you don't have a pizza peel, carefully loosen the pizza poppers from the baking sheet using a spatula. Keep them on the baking sheet while sliding your serving platter underneath them. This method is easier for any pull apart pizza or bread recipe.
Mini pizza bites can be stored at room temperature for a few hours or in the fridge for about 5 days. They freeze very nicely, so if you have a lot leftover or want to make a big batch to freeze, store them in plastic freezer bags for about 6 months.
And that's all there is to making pizza poppers. Easy, right?
If you tried these pizza poppers and loved them, let me know in the comments below. I'd love to hear what toppings you stuffed yours with!
For more delicious recipes, follow me on Pinterest, Facebook, and Instagram! And if you loved this recipe make sure to give it a star rating!
Related Recipes You'll Love