Homemade easy garlic knots are an irresistible crowd pleaser. Made with pizza dough, they are baked until golden brown and then brushed with a delicious garlic butter parmesan sauce. A perfect party food and a fantastic game day finger food to satisfy the hungry men. Homemade garlic knots are a cost effective alternative to catering, and they are ready to eat in only 15 minutes!
Jump to:
Is it just me or is Italian food one of the most comforting foods there is? Think about it..spaghetti and meatballs...pizza...lasagna...alfredo...chicken parmigiana...wine... and GARLIC KNOTS!
You should definitely make these easy garlic knots for your next party. Kids and adults will love these tasty little buttery knots, guaranteed. They are a perfect finger food for game day gatherings where there are lots of hungry men!
But don't save this easy garlic knots recipe just for that. Make them on your next pizza night, too, for the perfect compliment to that delicious cheesy homemade pizza.
Garlic knots can be made large or small, using homemade or store bought dough.
Making them is incredibly simple and quick. You can have these buttery and soft homemade garlic knots ready to serve before your catering order would even leave the restaurant. They are ready in only 15 minutes.
Make them mini sized for bigger crowds or when there will be lots of finger foods. And large when it's just you and the family on a Friday night. Mini garlic knots are also perfect for kids' little mouths!
Plus, these easy garlic knots are less expensive to make than they are to buy. It costs not even $5 to make 24 average size or 48 mini garlic knots. That's a whole lot of garlic knots for barely any money spent.
The only downside? You won't be able to eat just one.
Ingredients
What you'll need: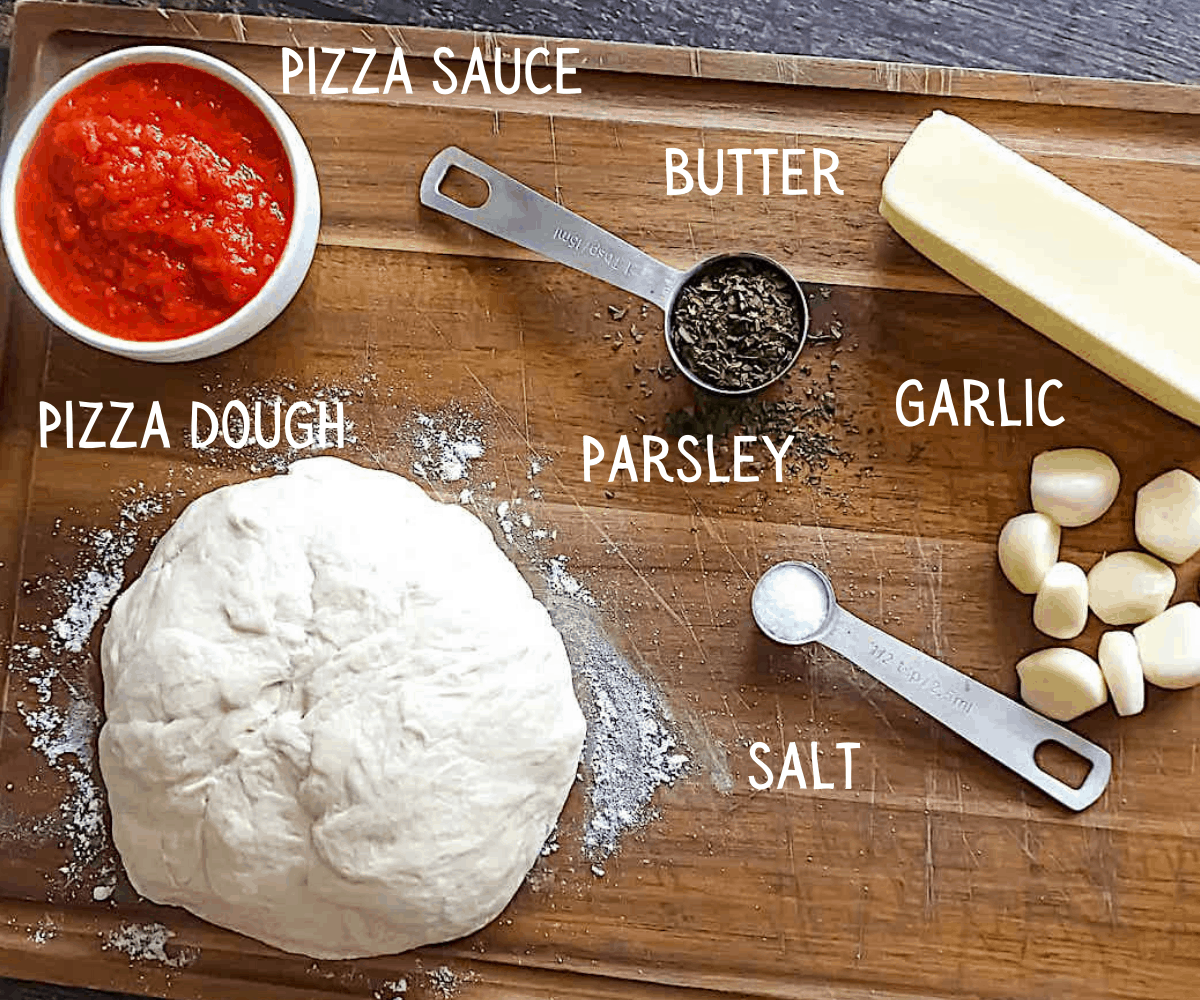 One can of pizza dough will make 12 knots and 2 cans, as this recipe calls for, will make 24 knots. My favorite dough for these is classic Pillsbury pizza dough.
Step-By-Step Directions
To make this simple recipe, you first need to oil a baking sheet or line it with parchment paper.
Roll each can of pizza dough into a square and use a pizza cutter to make 12 even slices of dough.
Roll each slice between your palms so that it looks like a big worm, and then tie it into a knot. Your knots don't have to be perfect, as you can see in the picture below.
My daughter loves helping with this part. Even though she's not very good at it, it's exciting for her to see a recipe coming together. And I love that!
If you're making mini knots, slice your dough into the 12 pieces and then cut them each in half to make 24. Don't worry if your cuts made less than this, sometimes I make less because my slices are larger. And that's totally fine.
Bake large knots for 10-12 minutes. For mini knots, bake about 6 minutes.
While the knots are baking, melt butter in a saucepan. Add minced garlic and cook for about 1 minute. Then add parsley and salt.
When they are finished baking, brush with the garlic butter sauce. You should be very generous here so that the entire knot (minus the bottom) is coated with garlic butter.
Then sprinkle with Parmesan cheese.
Transfer to a serving platter with pizza or marinara sauce for dipping.
Enjoy!
Recipe
Homemade Garlic Knots
Homemade easy garlic knots are baked until golden brown and then brushed with a delicious garlic butter sauce. They are a perfect party food and a fantastic Super Bowl finger food to satisfy the hungry men. A cost effective alternative to catering and ready to eat in only 15 minutes!
Ingredients
2

pizza dough packages

12

tablespoon

butter

4

garlic cloves, minced

1

teaspoon

salt

1

tablespoon

parsley

parmesan cheese

1

cup

pizza sauce
Instructions
Preheat oven to 375° (or temperature on package) and grease a baking sheet.

Roll out pizza dough and cut each package into 12 (or 24 for mini garlic knots) pieces. Roll into tube shaped pieces. Tie each into a knot and put on the baking sheet.

Bake for 10-12 minutes (or 6-8 for mini), or until golden brown.

While baking, melt the butter in a saucepan over medium heat. Add garlic and saute for 1 minute. Remove from heat and stir in salt and parsley.

Baste each garlic knot generously with the garlic butter sauce, coating all sides except the bottom. Sprinkle with Parmesan.

Serve immediately or let sit at room temperature until ready to serve.
Notes
Store leftovers in the fridge for up to 3 days or in the freezer for up to 6 months. 
*Calorie count is for 1 large garlic knot.
Nutrition
Serving:
2
oz
Calories:
176
kcal
Carbohydrates:
33
g
Protein:
6
g
Fat:
3
g
Saturated Fat:
1
g
Cholesterol:
2
mg
Sodium:
788
mg
Potassium:
92
mg
Fiber:
1
g
Sugar:
6
g
Vitamin A:
140
IU
Vitamin C:
2
mg
Calcium:
22
mg
Iron:
2
mg
Serving
I think these taste best when they are made ahead of time (about an hour or so) and sit at room temperature until served. When they first come out of the oven, the knots will be slightly crisp. But once the sauce is brushed on them, they soften and marinate in the mouth-watering garlic parmesan sauce.
They can be served right at room temperature. You can also warm them for about 10 seconds in the microwave. And don't forget to slightly warm the sauce.
Store leftovers in the fridge for about 3 days and warm them in the microwave or toaster before eating.
Can garlic knots be frozen?
Yes, they freeze well for about 6 months. Defrost them in the fridge overnight or on the counter for an hour or so before serving.
That's all there is to making your own homemade garlic knots. If you made them and loved them, please let me know in the comments below. I'd love to hear from you!
If you enjoyed this recipe, make sure to give it a star rating and let me know what you thought in the comments! And follow me on Facebook, Pinterest and Instagram for more delicious recipes!
Related Recipes You'll Love