Celebrating Pride month? Throwing a unicorn party? Or just looking to have some fun with your kids in the kitchen? This beautiful, scrumptious and fun Vanilla Glazed Rainbow Swirl Cake recipe is for you!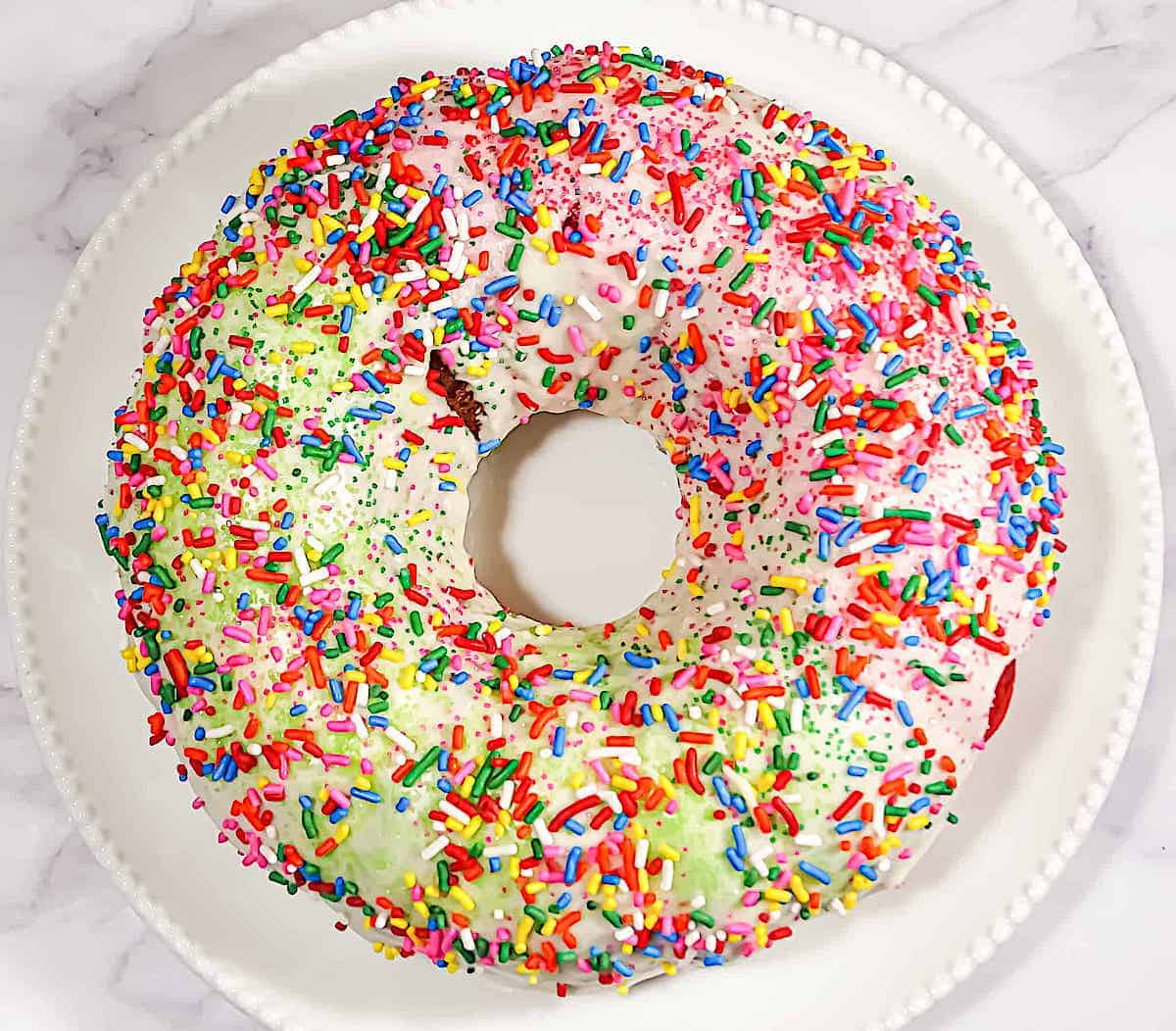 Jump to:
Vanilla glazed rainbow swirl cake is a colorful, easy party cake for a rainbow-themed party, Pride celebration, St. Patrick's Day party, and any other occasion where a bright and colorful dessert is necessary!
It's easily made by using boxed white cake mix, an assortment of food coloring, and a 4-ingredient homemade vanilla glaze.
A double coating of sweet vanilla glaze hides the fact that you're using boxed cake mix— it'll taste like a hand made cake!
With a rainbow of food coloring added to the batter and you'll have a beautiful cake that looks and tastes professionally made.
Essentially, this rainbow swirl cake comes together with just 6 ingredients. It's a beautiful bundt cake that will impress your guests.
It's super easy, super fun, and super delicious!
I hope this cake become one of your favorites, and you'll serve it at your next party along with some of our other favorite party foods: a kid-friendly charcuterie board, mini pizzas and garlic bacon bread.
I'd love to hear what you thought about this cake. Don't forget to follow me on Facebook, Pinterest and Instagram for the lates recipes. I hope that you enjoy this recipe!
For a no-fail recipe, make sure to follow these tips and tricks.
Grease the bundt pan with spray oil immediately before pouring in the batter. Any earlier and the oil will fall to the bottom of the pan. Then you run the risk of the cake sticking to the pan instead of sliding out easily.
Be generous with the oil spray. You really can't grease the bundt pan too much.
Cool the cake in the pan for only 10 minutes before removing. Any longer and it may stick.
To speed up the cooling process before glazing, cool the cake that's been removed from the bundt pan in the fridge.
For a thickly coated cake, drizzle on the glaze twice. Set the icing in the fridge before coatings.
Add the sprinkles immediately after glazing so they stick to the icing.
Cool and glaze the cake on the platter you intend to serve it on. By doing this, the icing will remain completely intact and undisturbed. A bundt cake is fragile when being moved, so the less transferring from one place to another, the better.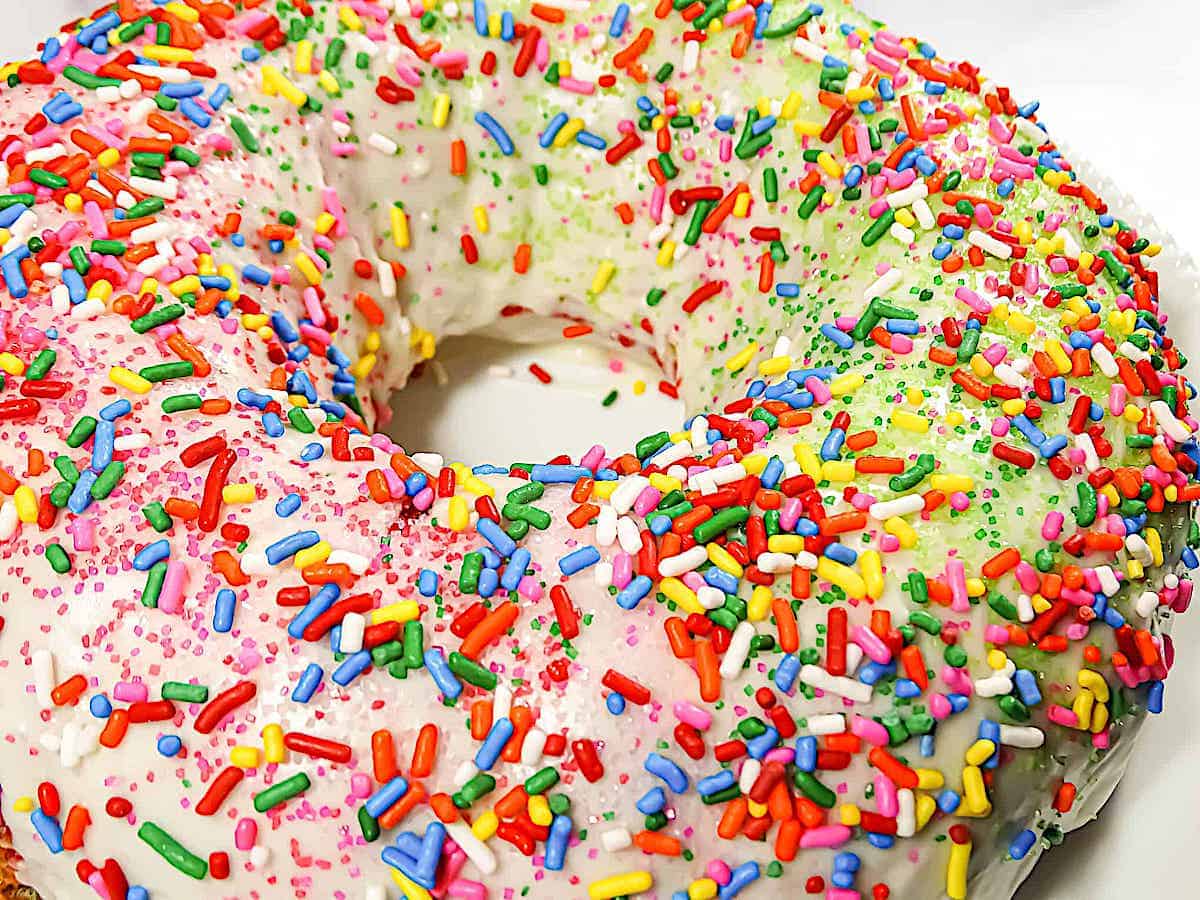 Ingredients
To make this rainbow cake, you need:
Boxed white cake mix: or your favorite homemade cake mix + the ingredients on the box (usually egg and oil)
Red, orange, yellow, blue, green, purple, pink food coloring: liquid or gel are both fine and don't worry if you don't have every color (even 3 or 4 make a beautiful cake!)
Rainbow jimmies
Crystal sprinkles: 2-3 colors of crystal sprinkles before you layer with the rainbow jimmies adds more color but is not essential
Powdered sugar: to make the glaze
Milk: to make the glaze, substitute with heavy cream for a richer and thicker icing if desired
Vanilla extract: to make the glaze, use almond for an almond-flavored icing instead
Butter: to make the glaze, unsalted sweet cream butter works best
You also need cooking spray, a bundt pan, electric mixer, and a bowl that's made to pour liquid, like a pyrex measuring cup or mixing bowl with a pour spout.
Step-By-Step Directions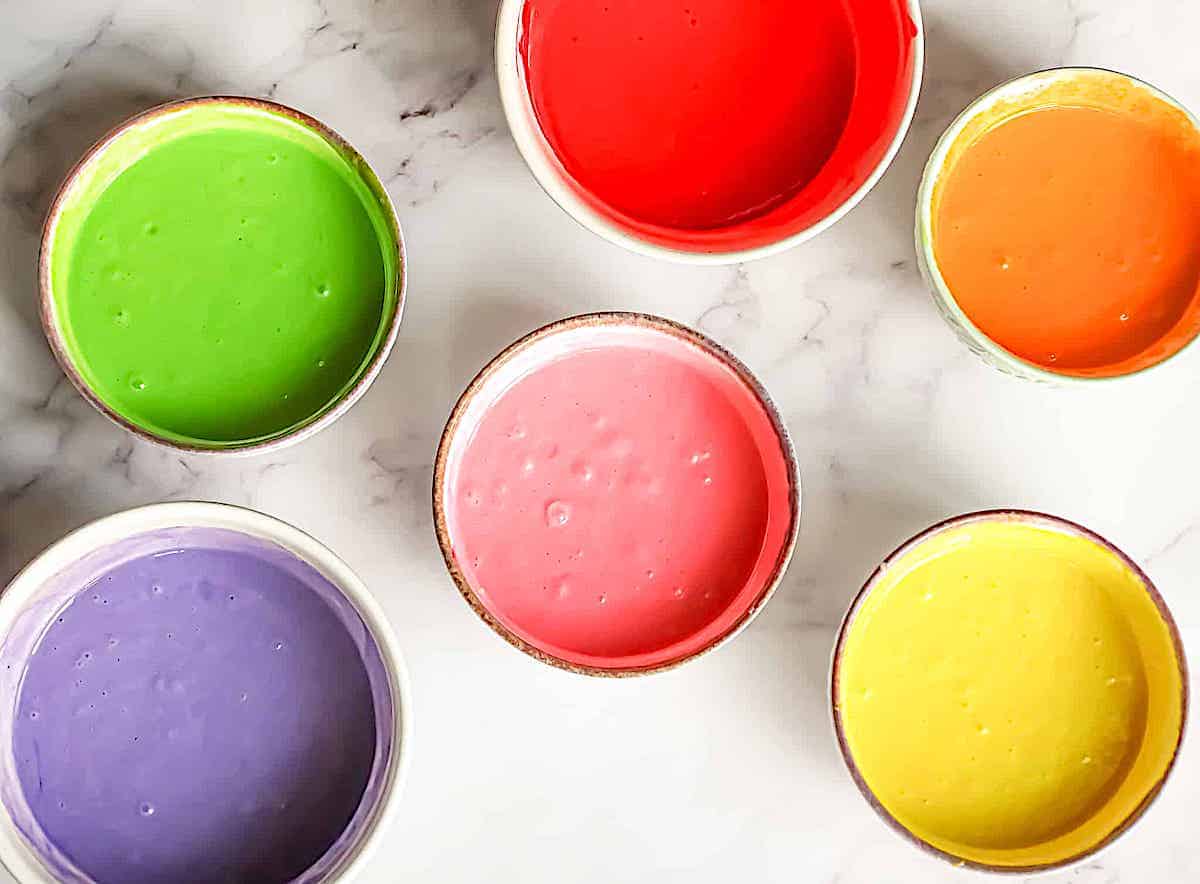 First, mix the cake batter according to the package instructions. Separate batter into bowls for each color. Add food coloring to each bowl, mixing and adding dye until the color is the shade you want.
Spray the entire bundt pan liberally with cooking spray, coating all sides and the center hole. Pour in each color batter separately, forming a ring around the center.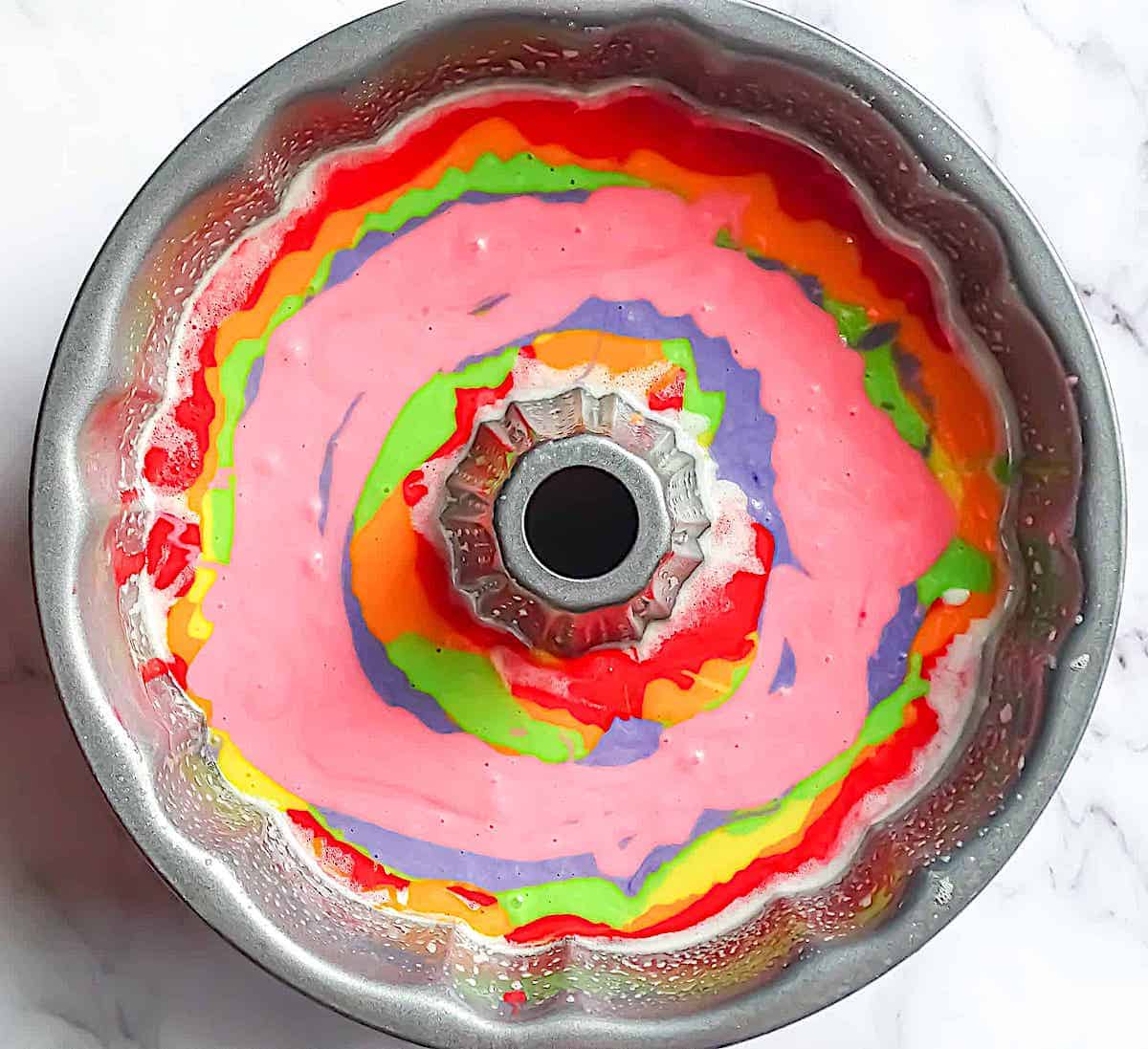 I add the batter in the order of the rainbow (ROYGBIV), so red is first. I find red is the best color to pour in first because as the cake bakes, the red darkens the least of all the colors.
Because the cooking oil is yellowish, green and blue batters change colors and yellow turns into a light brown.
Bake the cake for as long as the package indicates. I bake mine for 40 minutes in a large bundt pan, and the cake mix I use states 38-46 minutes. If you have a smaller bundt pan, check it after 30 minutes by inserting a toothpick.
Once the cake is done, cool in the bundt pan for 10 minutes. This is important! Any longer and the cake may start to stick and you won't be able to remove it without destroying it.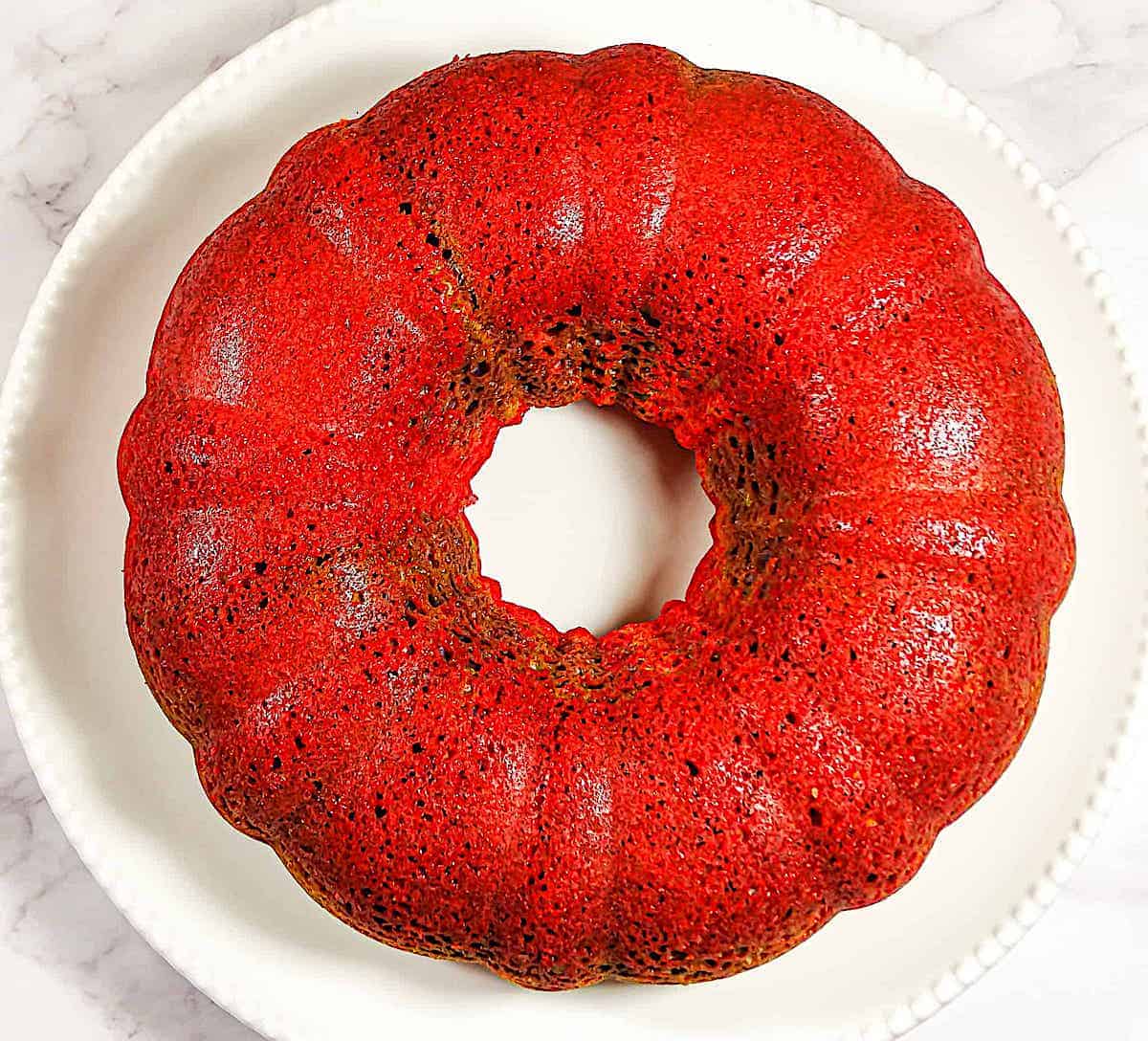 Then transfer it to a separate plate to cool for another 30 minutes before glazing.
When the cake is almost done cooling, make the glaze. Melt the butter until very hot in the microwave. Add the powdered sugar 1 cup at a time and stir until combined with the butter.
Now add the milk and vanilla extract. Stir until smooth.
Transfer the glaze to a bowl with a pour spout. Drizzle the glaze back and forth, spinning the cake as you go. Repeat one more time for a thick coated cake. Try to go quickly here so it doesn't harden before decorating.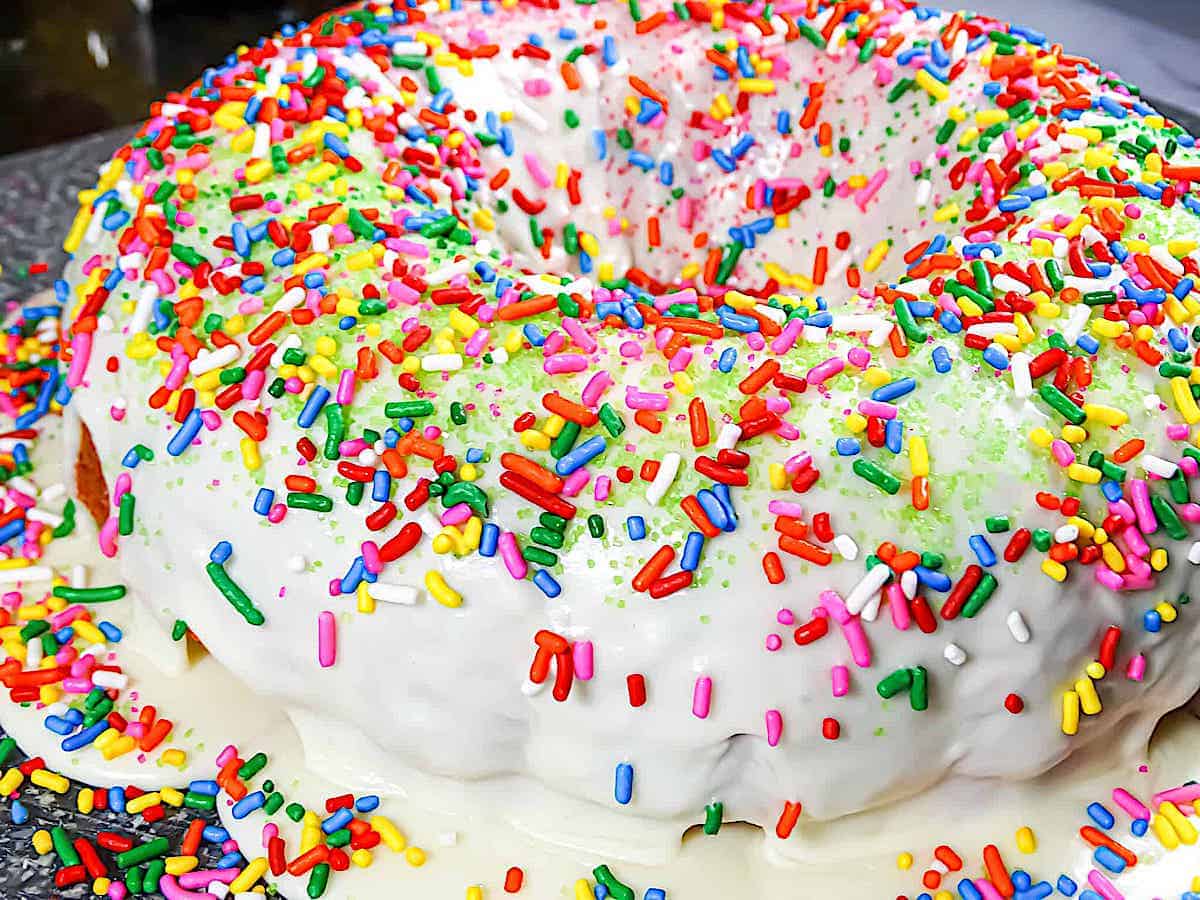 Now sprinkle with a few colors of crystal sprinkles and then top with as many rainbow jimmies as you'd like.
Transfer the cake to the serving platter if you haven't already done so. Slice and serve.
Recipe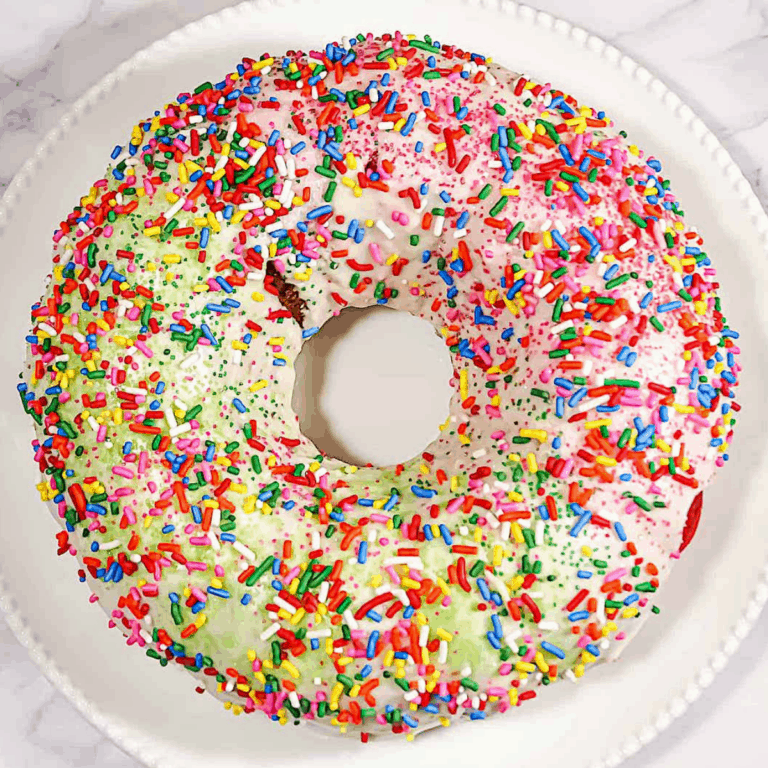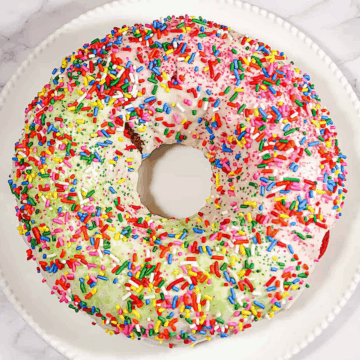 Vanilla Glazed Rainbow Swirl Cake
This fun Rainbow Swirl Cake is a great party cake for kids. Made with white cake mix, food coloring, and a simple homemade vanilla glaze topped with rainbow sprinkles. Your kids will love helping make this fun rainbow cake!
Add to My Collection
Saved!
Ingredients
For Cake
1

box of white cake mix + ingredients in instructions

red, orange, yellow, blue, green, purple, pink food coloring

rainbow sprinkles
For Vanilla Glaze
8

tablespoon

melted butter

4

cups

powdered sugar

6

tablespoon

milk

1

tablespoon

vanilla extract
Instructions
Preheat oven to temperature indicated on package.

In a large bowl make the cake mix according to the instructions. Separate batter into 6-7 bowls, depending on how many colors you will use. Add 1-2 teaspoon of food coloring to each bowl, mixing thoroughly and adding more food coloring until the desired hue is achieved.

Grease the bundt pan generously with cooking spray, making sure to coat all sides of the pan, including the center.

Pour each color separately into the pan. Start with red and work your way through the rainbow (red-orange-yellow-blue-green-purple-pink).

Bake for the time indicated on the package. Cool for 10 minutes in the pan. Remove from pan and cool for 20 minutes.

Make the glaze. White cake cools, melt the butter until very hot. Add the powdered sugar 1 cup at a time, stirring until combined. Add milk and the vanilla extract. Beat with an electric mixer until smooth, adding more milk if you'd like a thinner glaze.

Drizzle over the cake and top with sprinkles. Set in the fridge for 2 minutes before serving.
Notes
Store in an airtight container or the fridge for 3 days. 
Nutrition
Serving:
1
slice
Calories:
231
kcal
Carbohydrates:
40
g
Protein:
1
g
Fat:
8
g
Saturated Fat:
4
g
Cholesterol:
12
mg
Sodium:
221
mg
Potassium:
77
mg
Fiber:
1
g
Sugar:
32
g
Vitamin A:
147
IU
Calcium:
39
mg
Iron:
1
mg
How to Store
Store your rainbow swirl cake in an airtight container at room temperature for about 3 days. You can also store it in the fridge and bring to room temperature prior to serving.
Enjoy!
If you enjoyed this recipe, make sure to give it a star rating and let me know what you thought in the comments! And follow me on Facebook, Pinterest and Instagram for more delicious recipes!
Recommended Recipes