Lasagna Roll Ups make a fun dinner to make with your kids. They are an easy and delicious first course for your holiday menu, a fun and different appetizer for any gathering with family and friends, or a meal prep option throughout the week. The sour cream and cheese filling makes them extra creamy! Follow the recipe to make a homemade sauce or use your favorite jarred sauce to make it extra simple.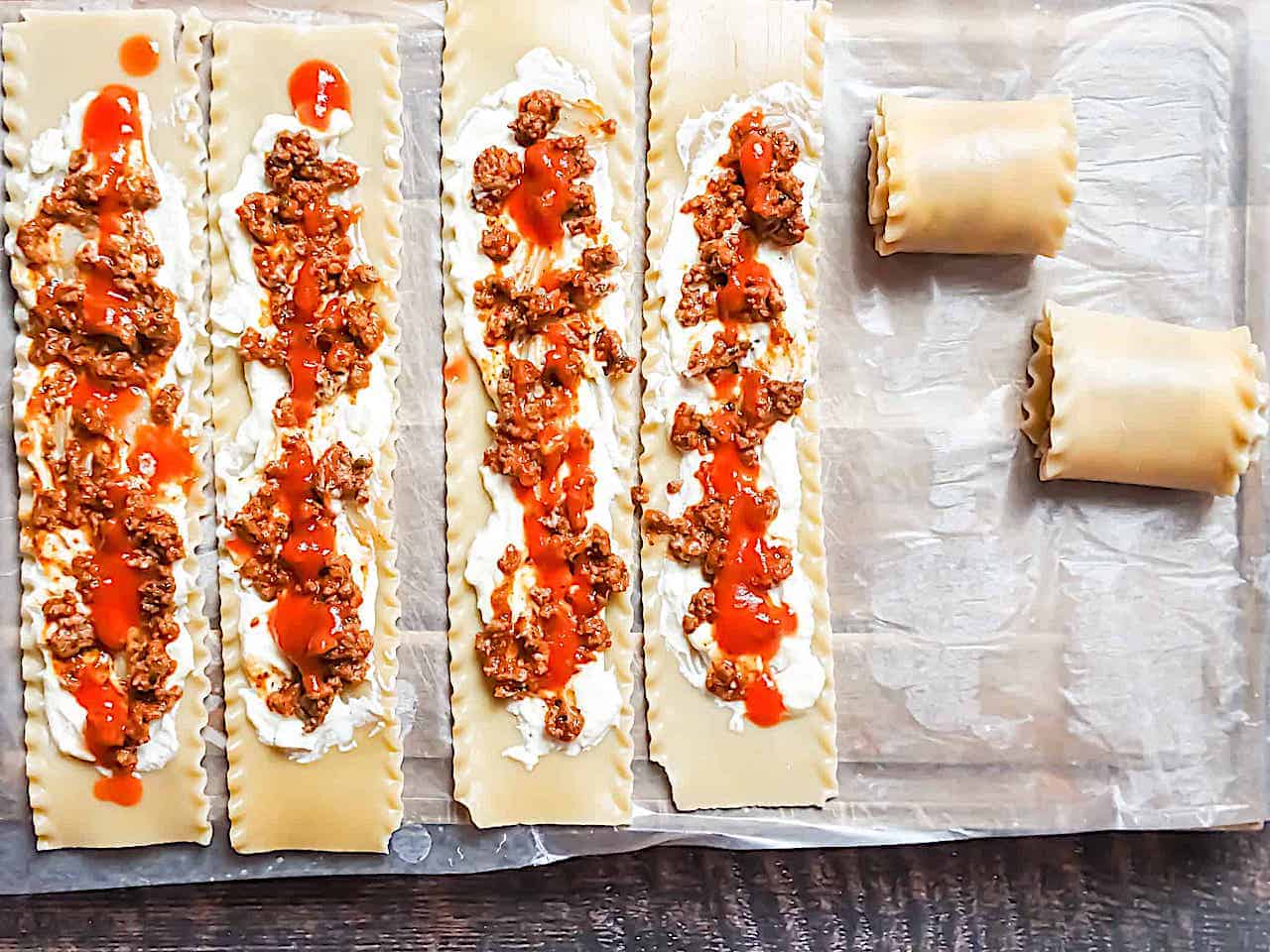 Jump to:
Tell me, what's on your stay-at-home holiday dinner menu?? We had a big menu planned for our first quarantined holiday last spring without lots of family, and these lasagna roll ups were the best part. Instead of a traditional sit down meal, we made lots of finger foods and appetizers.
If you're planning to keep your holiday celebrations small with just your immediate family, consider making lasagna roll ups and other finger appetizers instead of a great big turkey or ham.
And if you're spending the holidays in a big group, these lasagna roll ups work for that too! Either way, they are a great addition to the holiday menu.
Each lasagna roll up is perfectly portioned as 1 serving. This makes them a great appetizer or first course to a big Thanksgiving or Christmas dinner. A few more fantastic choices for your holiday dinner menu are mini potato bites and Instant Pot mashed sweet potatoes.
Lasagna roll ups are made with a sour cream, mozzarella, and Parmesan filling so they are extra creamy. This creamy filling is spread onto cooked lasagna noodles along with a quick homemade tomato sauce and ground beef mix. The noodles are rolled and topped with extra sauce and mozzarella.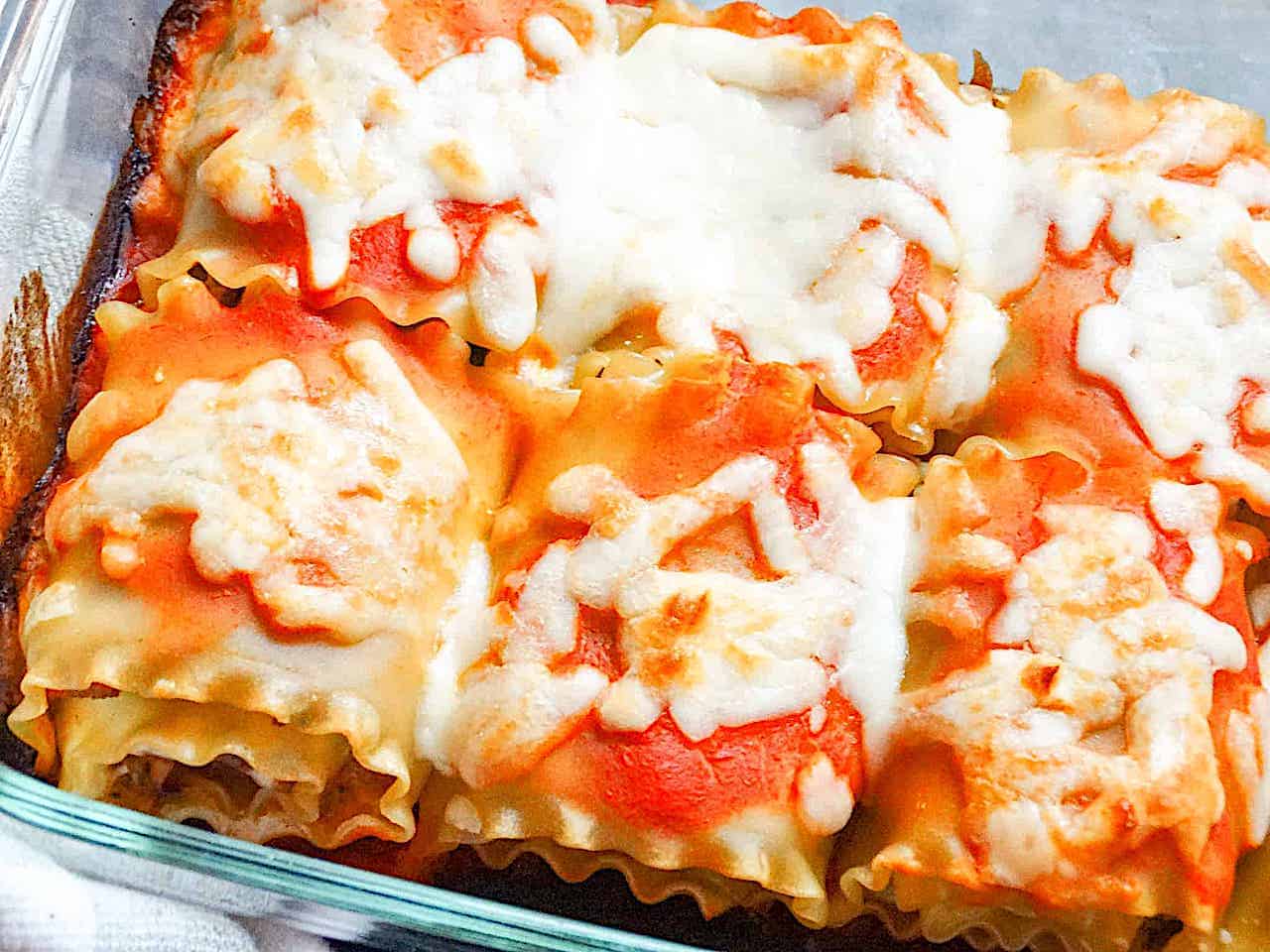 Ingredients
To make these easy, fun lasagna roll ups, you will need ingredients for the sour cream & cheese filling and the beef mixture.
To make the sour cream filling, you need:
sour cream
mozzarella cheese
Parmesan cheese
egg
salt + pepper
If you're not a fan of sour cream, you can replace it with ricotta cheese. Both are delicious!
To make the ground beef filling, you need:
ground beef
plain tomato sauce
oregano, basil, parsley
To make it simpler, you can use your favorite jarred tomato sauce and eliminate the spices above. A four cheese sauce or classic tomato marina sauce would taste fantastic.
Last, you need lasagna noodles and extra sauce and mozzarella to top the lasagna roll ups with.
How To Make It Kid-Friendly
Lasagna is definitely kid-friendly already, but the lasagna roll ups might be a little too thick for them to easily cut or bite into. For my kids, I cut the noodles in half before stuffing to make smaller lasagna roll ups. They devour them like this!
Step-By-Step Directions
It takes about 45 minutes to make these lasagna roll ups. Gather up the kids and let them help!
First, cook the lasagna noodles in boiling water 8 minutes. Drain and place on a paper towel to dry for a few minutes.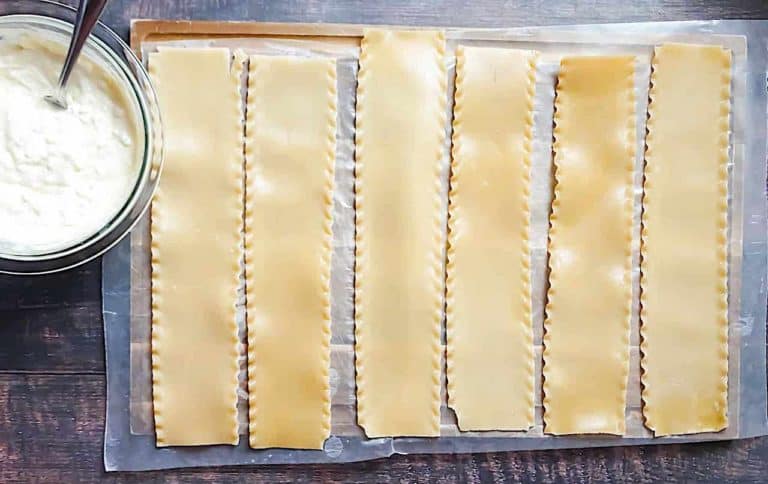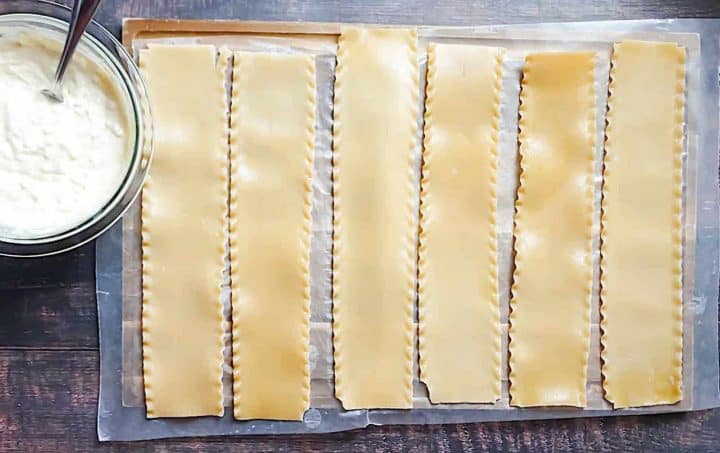 While the water is coming to a boil and the noodles are cooking, brown the ground beef. This also takes about 8 minutes. Drain the grease and bring it back to the heat. Add the tomato sauce, parsley, oregano, and basil and simmer for 5 minutes.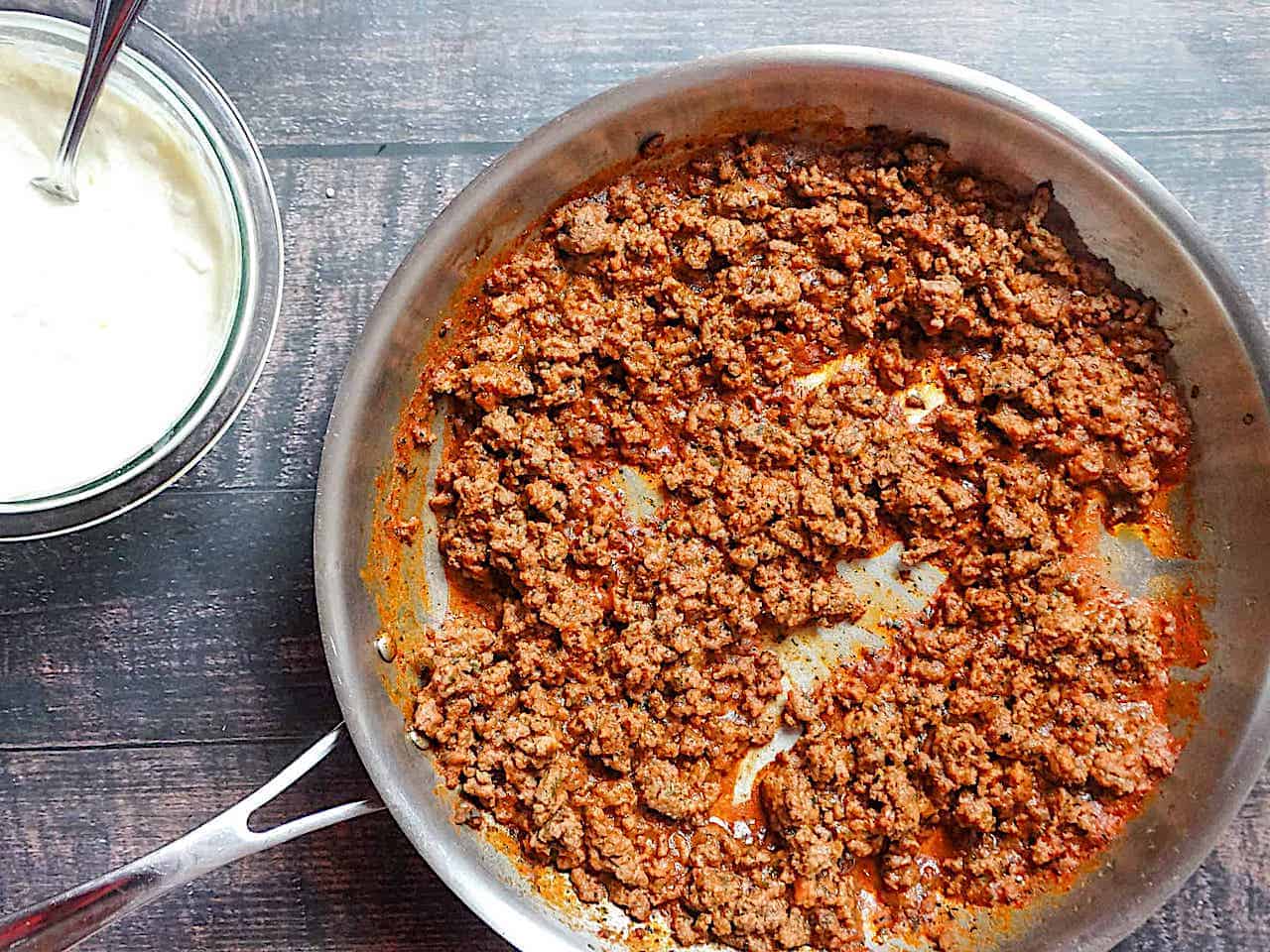 Next, make the filling by mixing the sour cream, mozzarella cheese, Parmesan, salt, pepper, and egg. Spread a heaping spoonful onto each lasagna noodle, coming about 1 inch from both ends as in the picture below.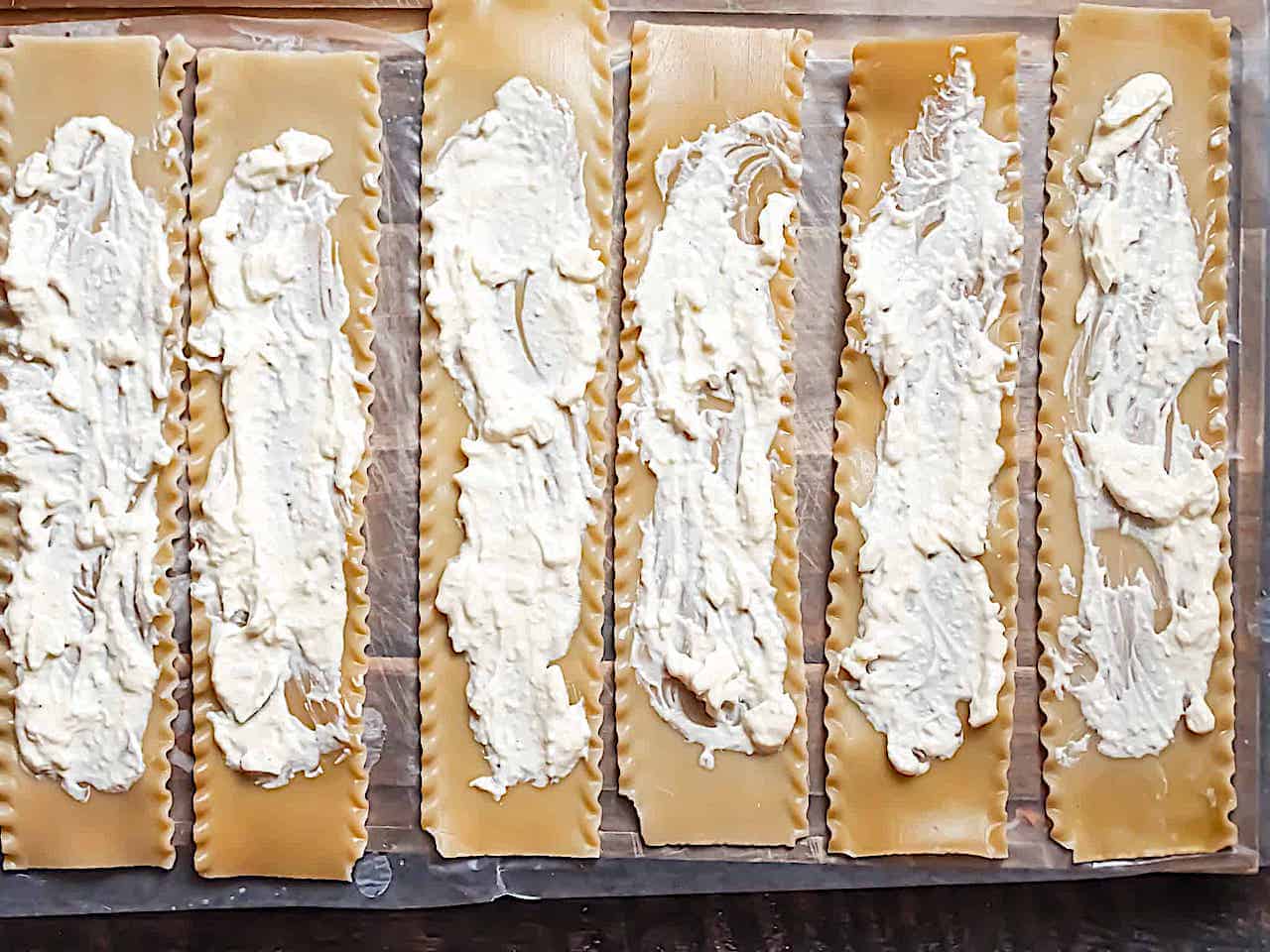 The ground beef and tomato sauce should be done by now. Add a big spoonful on top of the sour cream filling like below.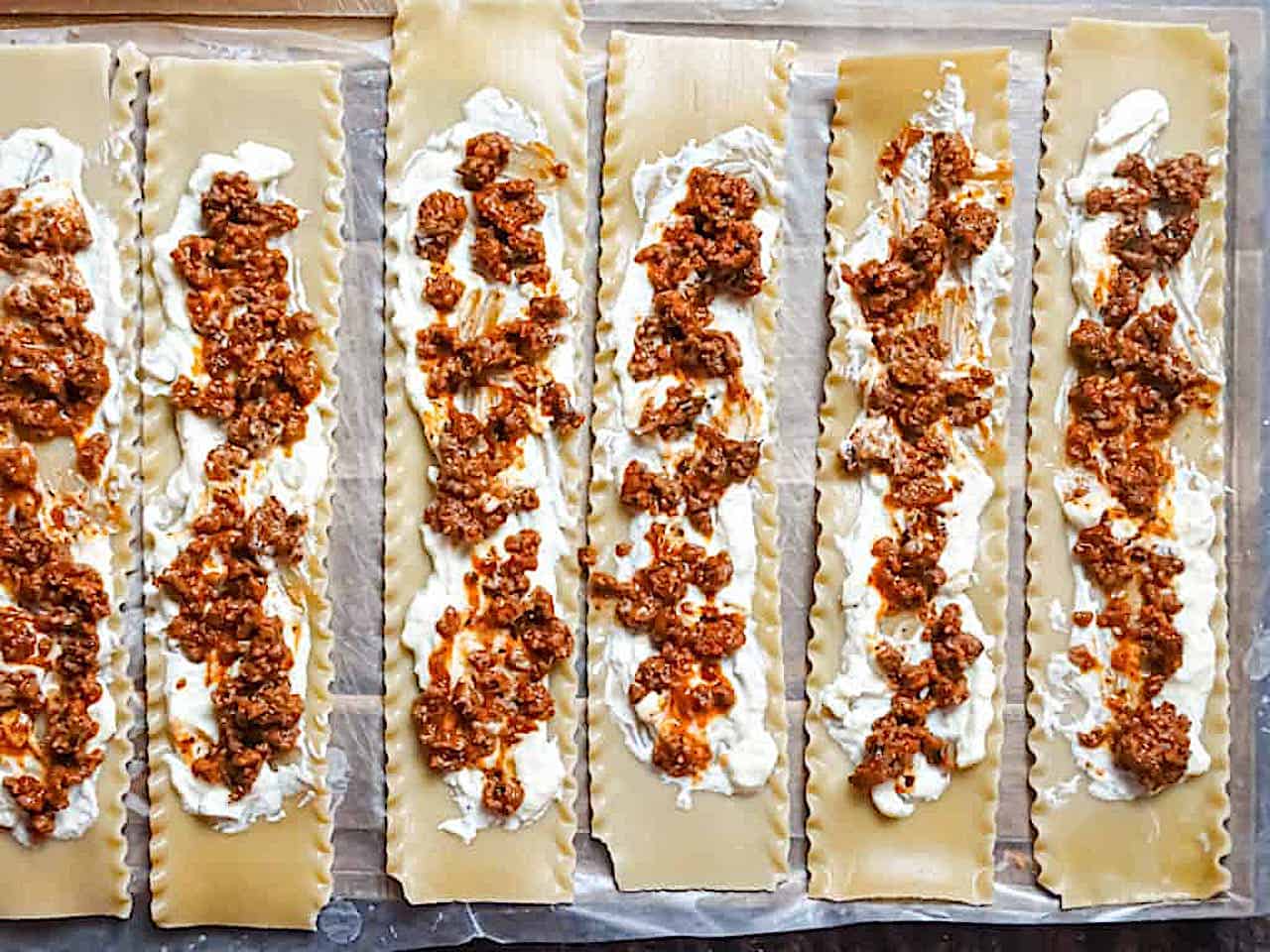 Drizzle with extra tomato sauce if desired.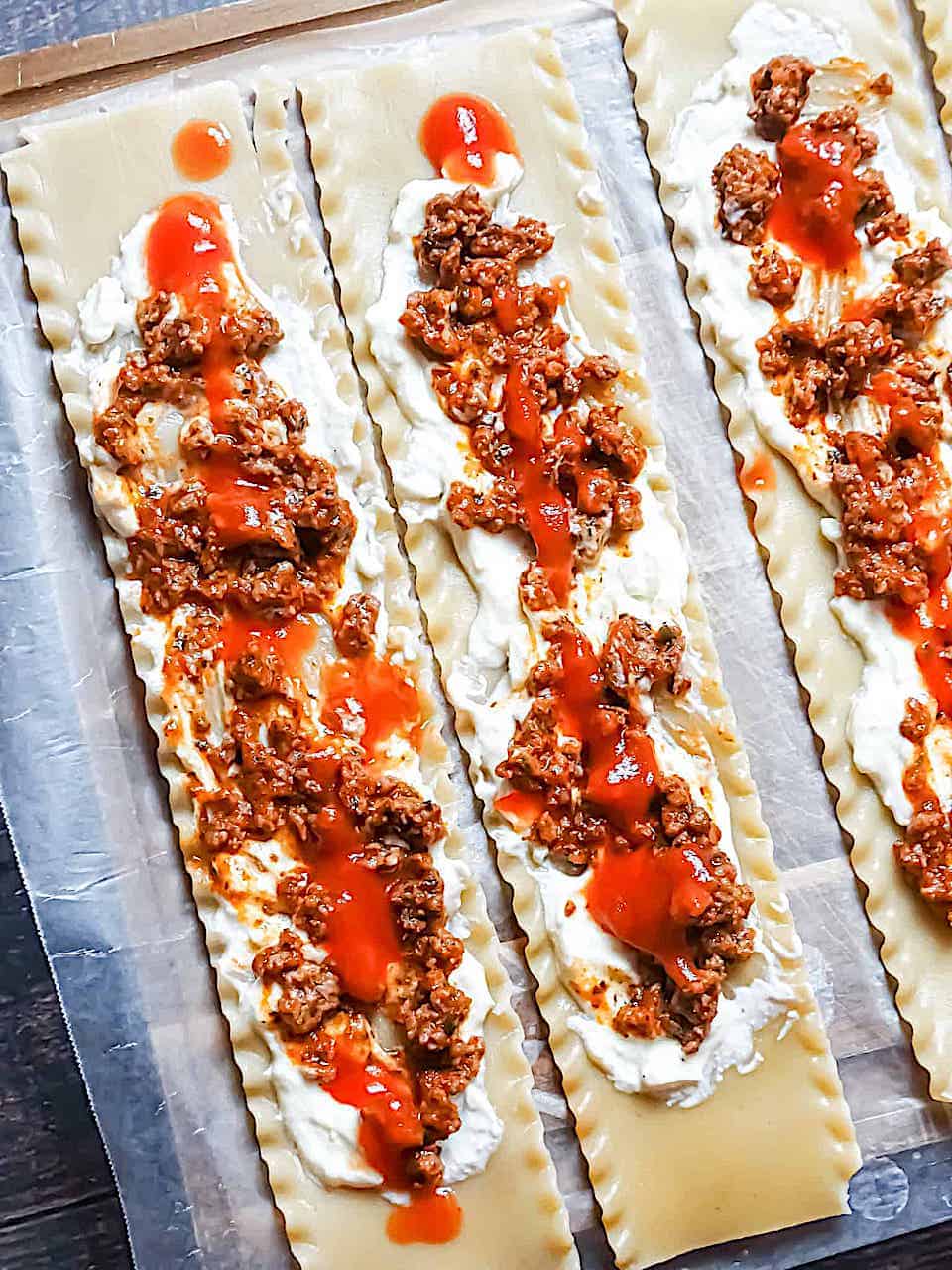 Now roll up the lasagna noodles, gently but firmly tucking in the tasty filling as you go. Place seam side down in a glass pan. Make sure to spread a thin layer of tomato sauce on the bottom of the pan before putting in your lasagna roll ups. If you don't, they will stick to the pan.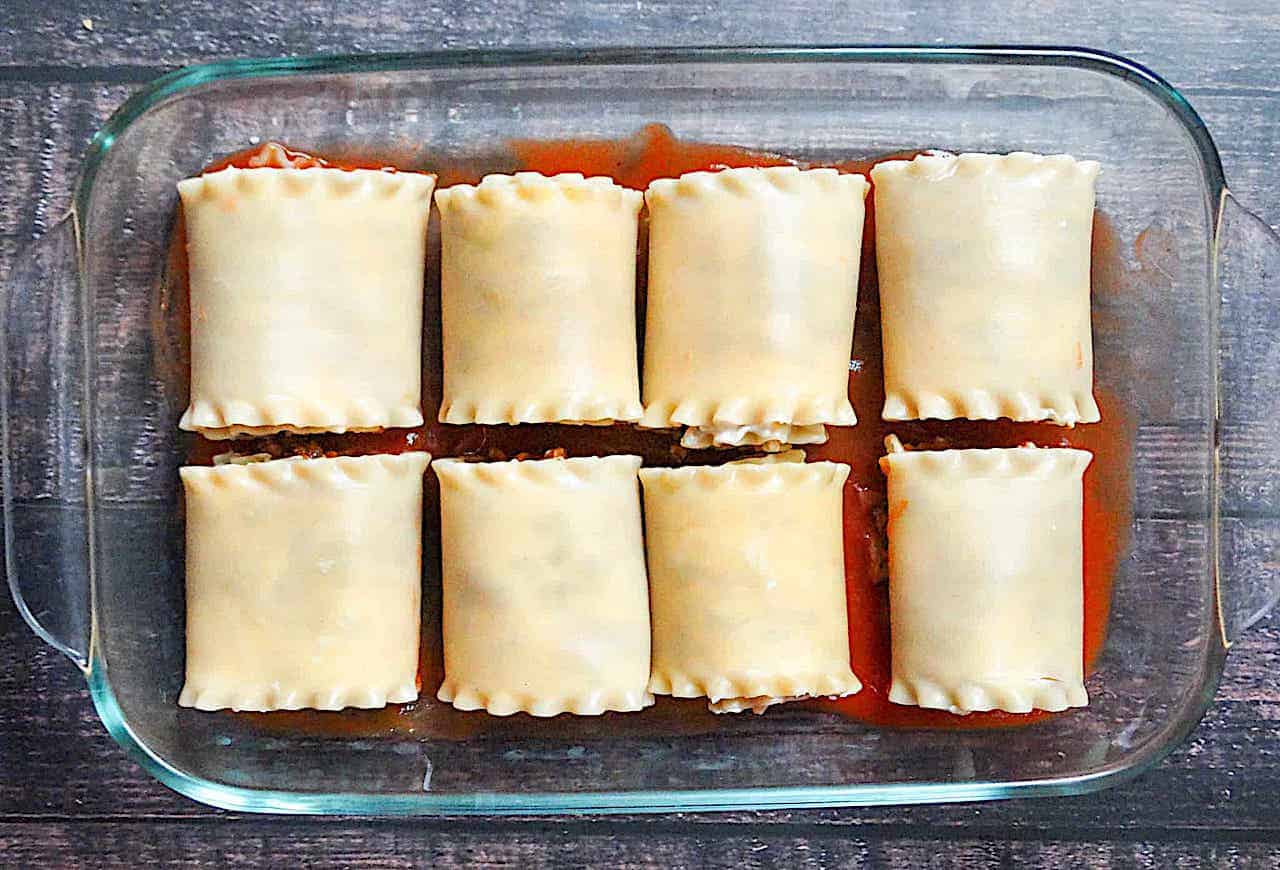 Now spread even more tomato sauce on top of the roll ups (as much as you'd like), and sprinkle with lots of mozzarella cheese.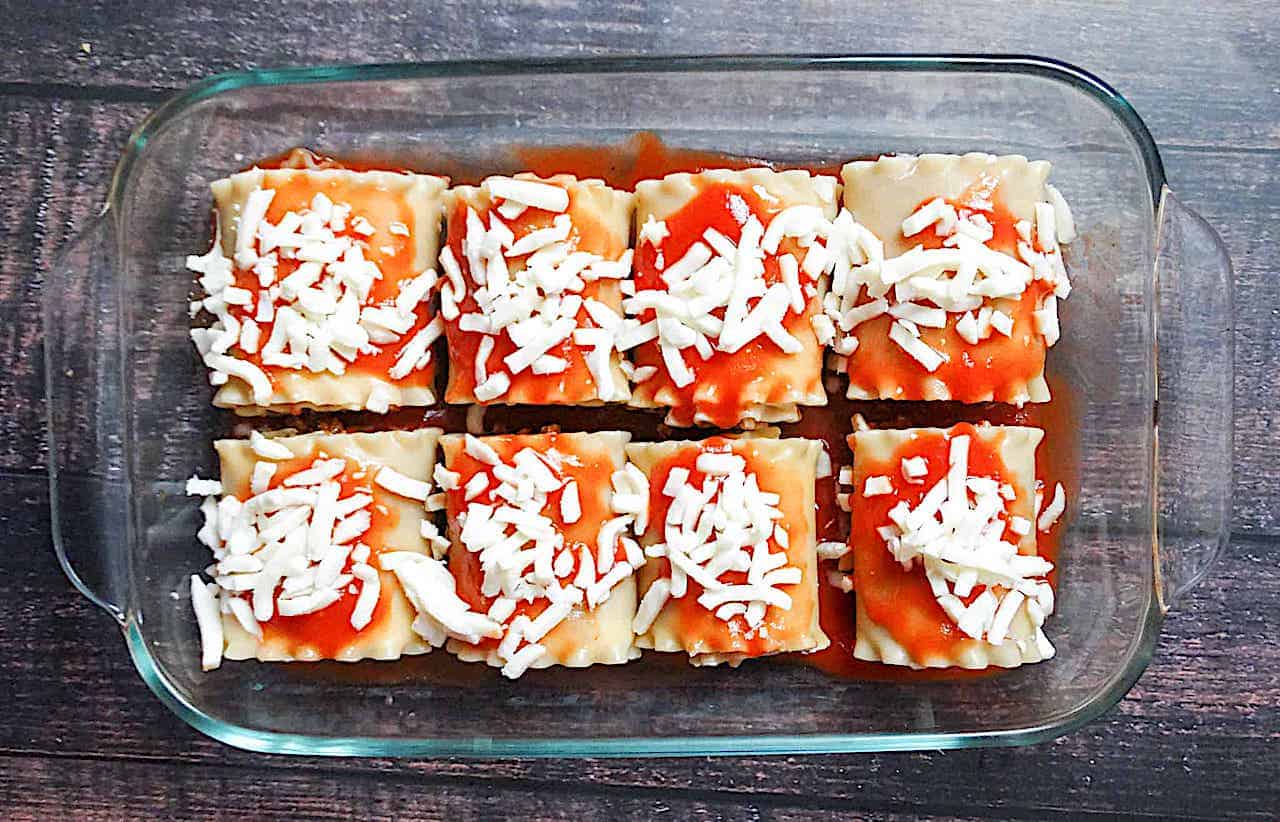 Cover the pan with foil and bake the lasagna roll ups in the preheated oven for 20 minutes. Then remove the foil and bake for another 10 minutes. The cheese will start to brown when finished. You can also cook them a little extra and wait til the cheese is golden bubbly brown. It all depends on how well-cooked you want the cheese topping.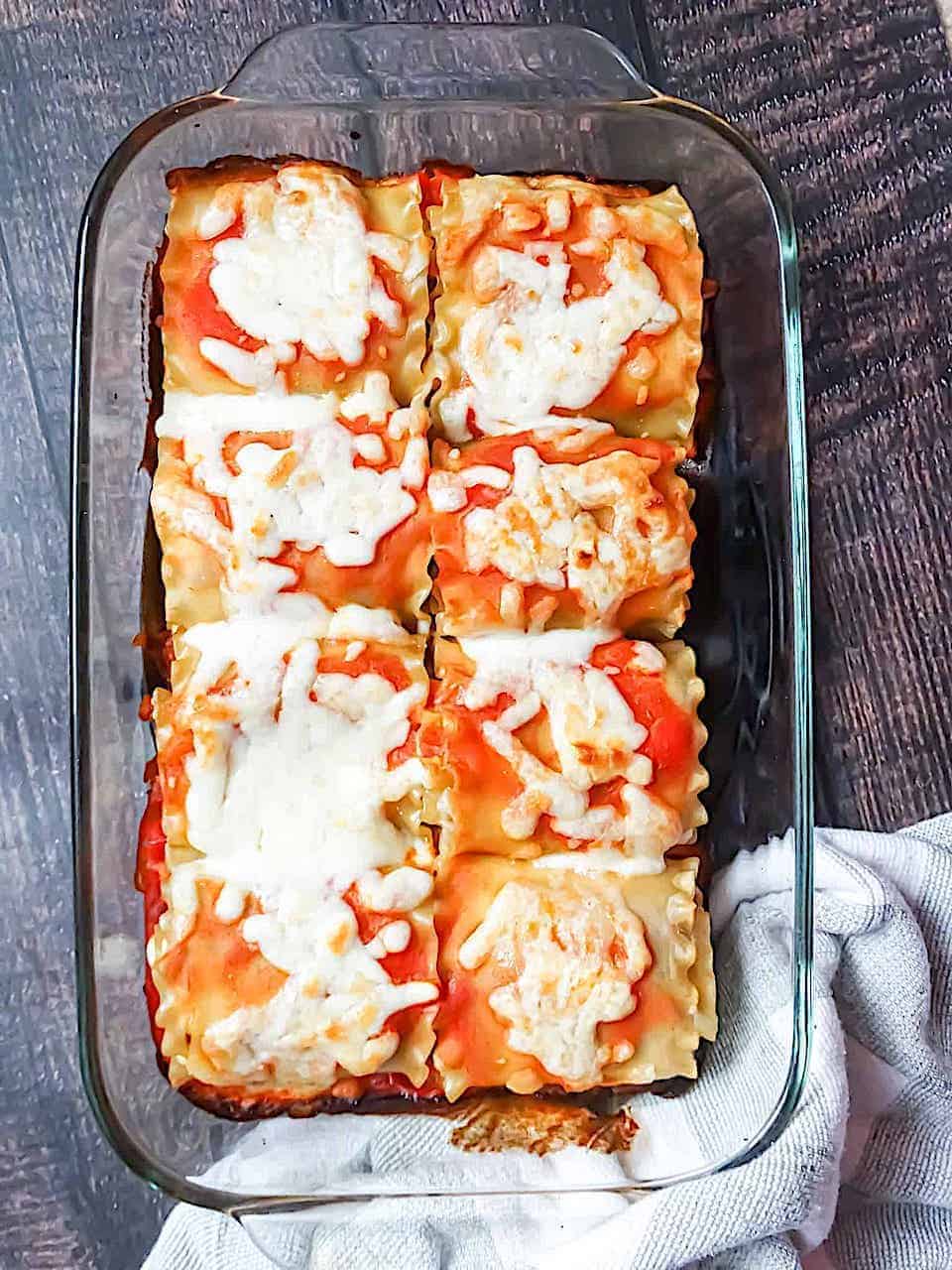 Let the lasagna roll ups sit for about 15-20 minutes before serving. I think they taste the best this way.
I hope that you enjoy them!
Recipe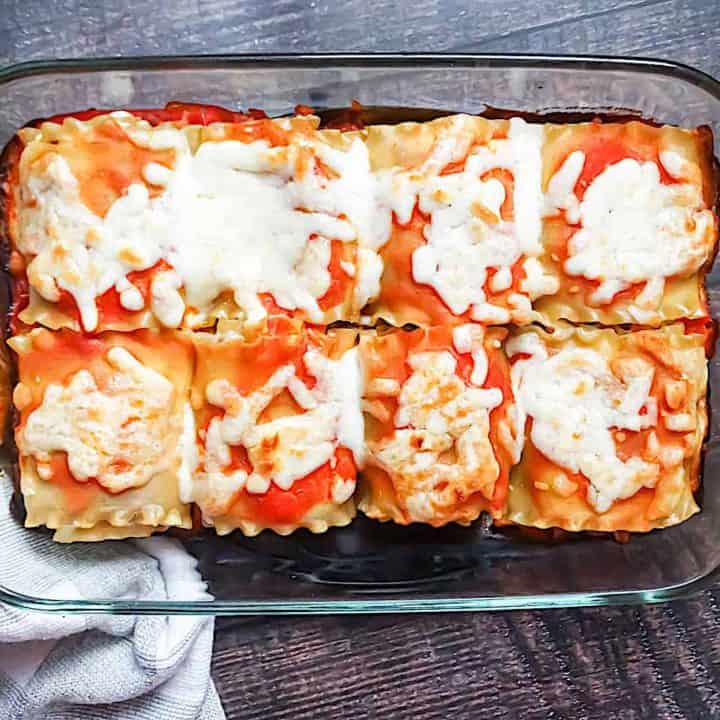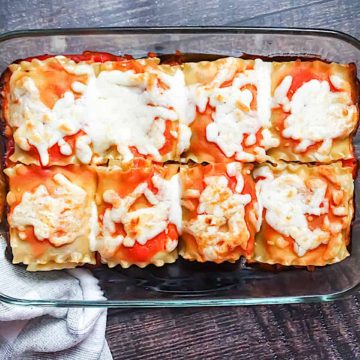 Lasagna Roll Ups
Lasagna Roll Ups make a fun family-friendly appetizer or party food for your next holiday dinner!
Bookmark Recipe
Saved!
Ingredients
12

lasagna noodles

1

lb

ground beef

2 ½

cups

tomato sauce

1

tablespoon

parsley

½

teaspoon

basil

½

teaspoon

oregano

1

cup

sour cream

1

egg

⅓

cup

parmesan cheese

2

cups

mozzarella cheese

⅛

tsp

pepper

½

teaspoon

salt
Instructions
Cook the lasagna noodles according to the package, drain, and set aside on parchment paper to dry.

Meanwhile, brown the ground beef in a large pan. Drain and add 2 cups of tomato sauce, basil, oregano, and parsley. Simmer on low for 5 minutes.

Mix the sour cream, 1 ½ cups of mozzarella, parmesan, salt, pepper, and egg together.

Preheat the oven to 400°. Spread a thin layer of tomato sauce on the bottom of a glass baking pan.

Layer each lasagna noodle with a big spoonful of sour cream mixture and then beef/tomato mixture. Add a dollup of tomato sauce. Roll tightly and with the seam down, put in the pan.

To the top of the lasagna roll ups, add the remaining ½ cup of sauce and ½ cup of mozzarella cheese.

Cover with foil and bake 20 minutes. Uncover and bake another 10 minutes, until cheese is golden brown.
Nutrition
Serving:
1
roll up
Calories:
166
kcal
Serving
Serve lasagna roll ups as an appetizer, a first course during a big holiday dinner, or a full dinner paired with a side salad. They are also convenient as a meal prep lunch throughout the week.
Lasagna roll ups keep well in the fridge for 1 week. They also freeze excellently for about 6 months in freezer baggies. Defrost in the fridge overnight.
That's all there is to making lasagna roll ups for your next dinner party, kid-friendly fun dinner night, or holiday gathering! If you gave them a try let me know in the comments below. I'd love to hear what you thought.
If you enjoyed this recipe, make sure to give it a star rating and let me know what you thought in the comments! And follow me on Facebook, Pinterest and Instagram for more delicious recipes!
Related Recipes You'll Love