Strawberry Cheesecake Muffins with Cream Cheese Filling are made with a combination of oil and butter for an extra moist bakery style muffin. They are full of fresh, chopped strawberries and have a creamy sweet cheesecake center. A delicious family-friendly breakfast, snack, or dessert.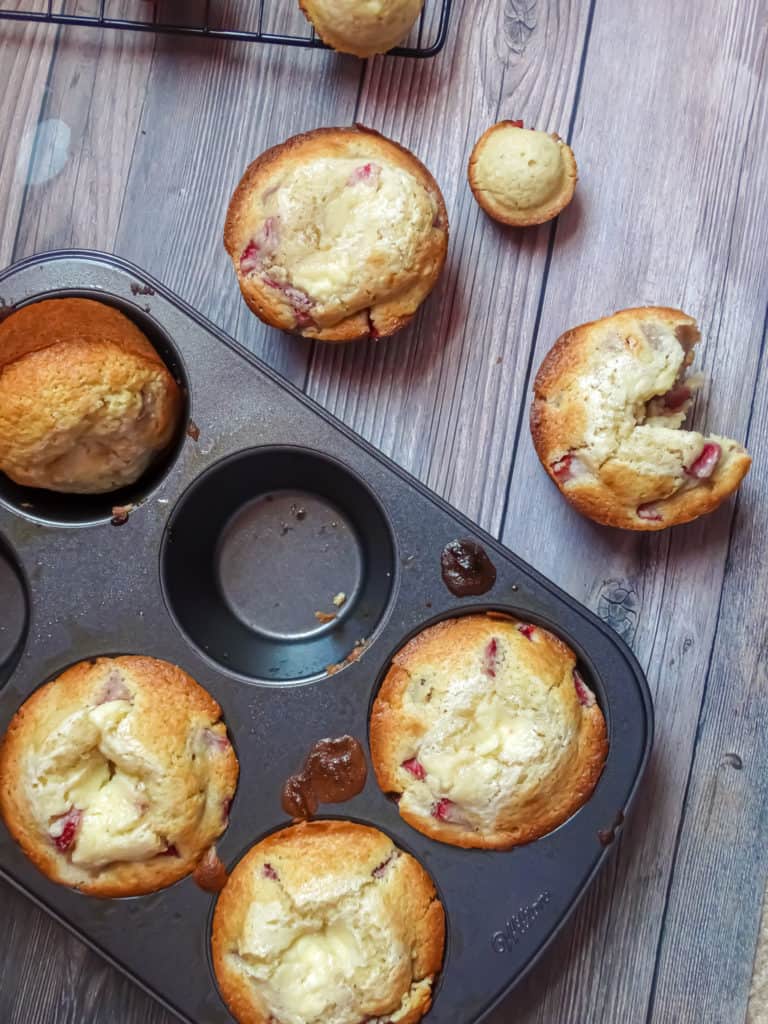 If you've been reading my blog for a while now, you'll know 3 things about my family. We love pizza. We love pasta. And we love muffins!
I make muffins for breakfast, for snacks, for meal prepping, for freezing, and for desserts. We can't get enough of our muffins, and these strawberry cheesecake muffins with a creamy, rich cheesecake filling are now part of my monthly freezer meal rotation.
Anytime I make muffins I make a batch big enough that there are extras to freeze. This way we always have something to pull out of the freezer when we want a quick snack or breakfast. I catch my daughter and husband in the freezer often looking for muffins! These double chocolate bakery style muffins are the best chocolate muffins we've had, so they are ones you can always find tucked away in there. And these breakfast-style oatmeal flax muffins are muffins we always have on hand for a fiber-rich nutritious breakfast on the go. You should give them a try!
bakery style strawberry cheesecake muffins
These strawberry cheesecake muffins are a new recipe for us. I have been craving strawberries like it's nobody's business lately. Maybe it's the thought that summer is just around the corner, hopefully. We have had a 2 pound carton of fresh strawberries in our fridge for a few weeks now. When it runs out, back to Sam's Club I go for another one. I have a freezer stocked of strawberries that we couldn't eat quickly enough before they went bad. I also have a couple jars of dehydrated strawberries. So many strawberries!
And then my grandmother-in law mentioned she was having a blueberry cheesecake muffin for breakfast last week. It sounded amazingly delicious and perfect for the fresh hot cup of coffee that I had just poured. I didn't have any blueberries, but I had a ton of strawberries, and that was how this recipe was created.
A quick note while you're here. I always make my muffins jumbo size, so they are more along the lines of a bakery style muffin. But you can make your muffins standard or mini too. It's all about your preference! You can even make sheet pan muffins, like these white chocolate cranberry sheet pan muffins. Sheet pan muffins are just that. Simply baked on a baking sheet rather than in a muffin tin. They have a crispy top, yet a soft interior. Sheet pan muffins are like eating just the top part of a muffin. And who doesn't love muffin tops??
So gather your equipment and ingredients and get started on these strawberry cheesecake muffins. The smell of fresh strawberries as you cook them is like being in a summer farmer's market surrounded by fresh produce and baked goods. It's definitely a great recipe to brighten up a dark and cold February day!
ingredients in strawberry cheesecake muffins
To make my strawberry cheesecake muffins, you'll need all the baking basics:
all purpose flour
baking powder
unsalted butter
white sugar
olive oil
vanilla extract
eggs
buttermilk (keep reading for more info on buttermilk!)
chopped strawberries
While most muffin (and baking) recipes call for vegetable or canola oil, i always use extra virgin olive oil. It is a healthier oil option compared to vegetable and canola, and it honestly does not make the muffins taste any less delicious! I use half butter and half olive oil for the best tasting moist and fluffy muffin.
If you do not have buttermilk, you can make it yourself in just a few minutes. Simply combine regular milk with white vinegar and let it sit for 5-10 minutes until it curdles.
I also make sure to chop the strawberries in small pieces so they aren't too heavy. They won't fall to the bottom of the muffin if they are cut small.
To make the cheesecake filling, you'll need:
softened cream cheese
white sugar
egg
chopped strawberries
You want to make sure that your cream cheese is soft and not straight out of the fridge. Cold cream cheese will be difficult to mix and could be quite lumpy. Just as you did for the batter, you want to make sure the strawberries for the filling are chopped into small pieces too.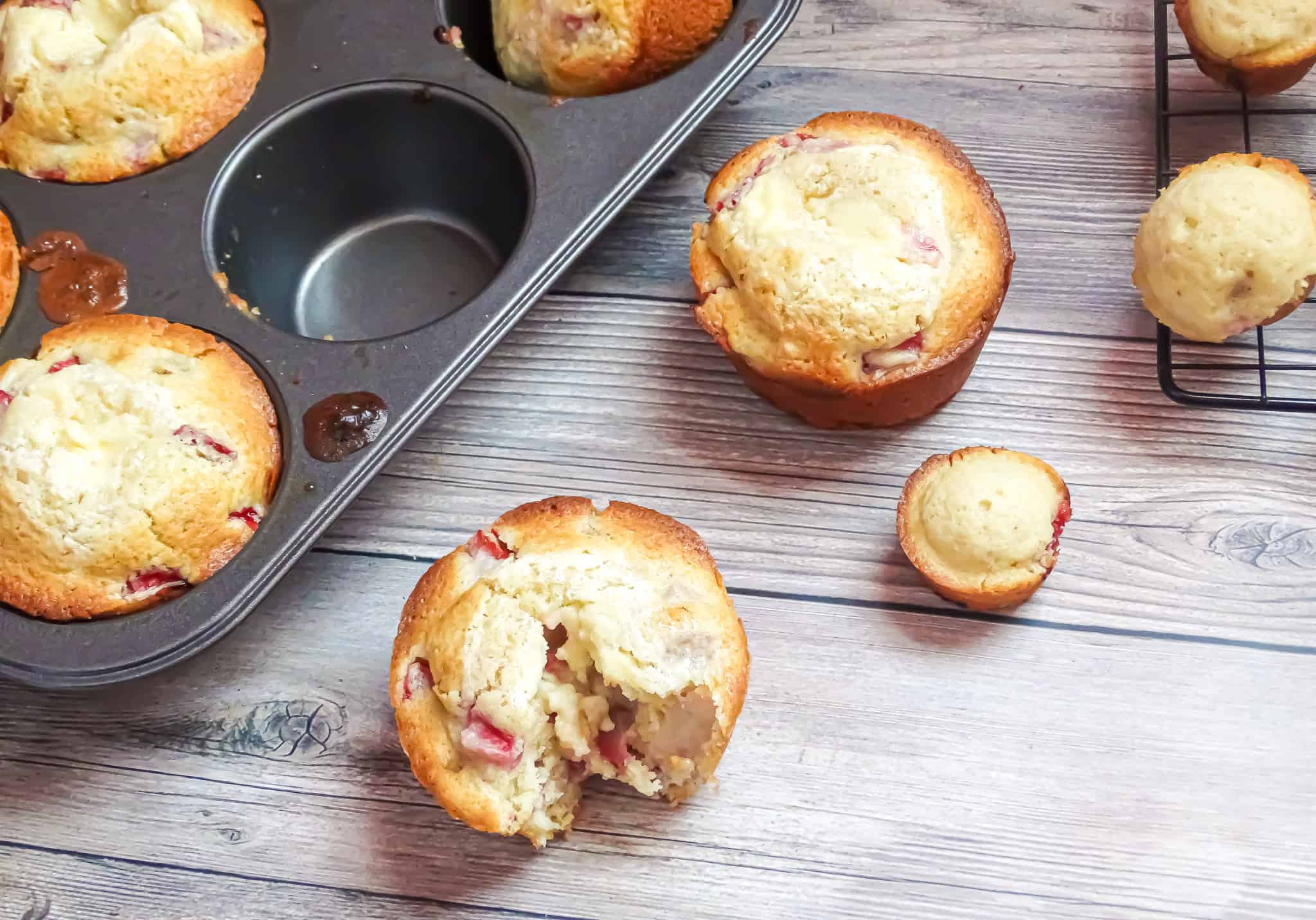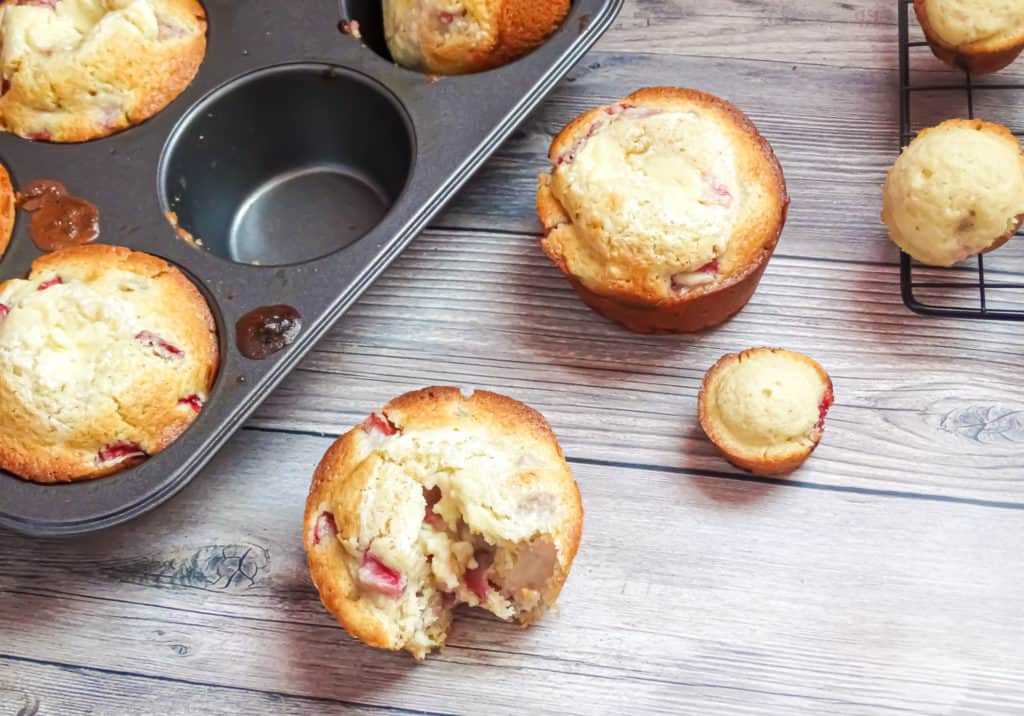 tools needed
Now you'll also need an electric mixer. A hand mixer works great, but if you don't have one, you can break out your stand mixer. I love my little KitchenAid hand mixer. It's so much easier to get in and out of a cabinet than the super heavy KitchenAid stand mixer. Which, don't get me wrong, I love too, but my gosh, it is so heavy! So for a simple recipe like muffins, I always use the hand mixer and the swirly dough hooks.
In addition to an electric mixer, you'll need a few large mixing bowls and a spatula.
Now for the tins, I use jumbo size for strawberry cheesecake muffins. I actually make most of muffins in jumbo size so they are more of a bakery style muffin. And so they are large and filling enough to be eaten for breakfast!
But you certainly do not need to make jumbo muffins. You can make regular size muffins if that's what you prefer. Since this strawberry cheesecake muffin recipe makes 7 jumbo muffins (and a tin has space for 6), I actually take the batter for the 7th muffin and make mini muffins for the baby. I do this without the cheesecake filling, but you could totally put a little drop of filling in mini muffins if you'd like!
If you do make standard sized strawberry cheesecake muffins, make sure to decrease the time to about 20 minutes. If making mini muffins, they only need 10 minutes. Make sure to always check with a toothpick to see if they are done, as every oven cooks a little different.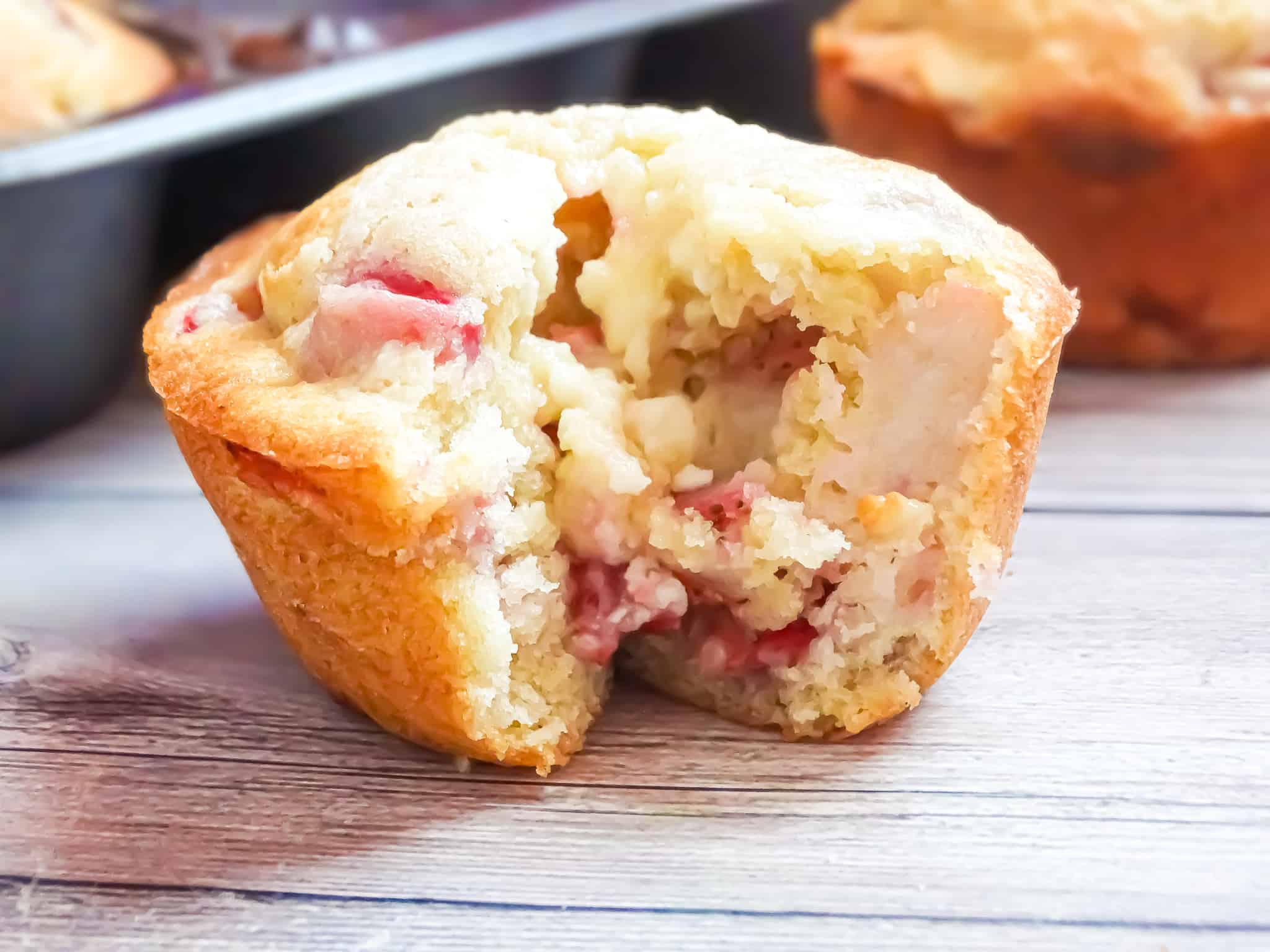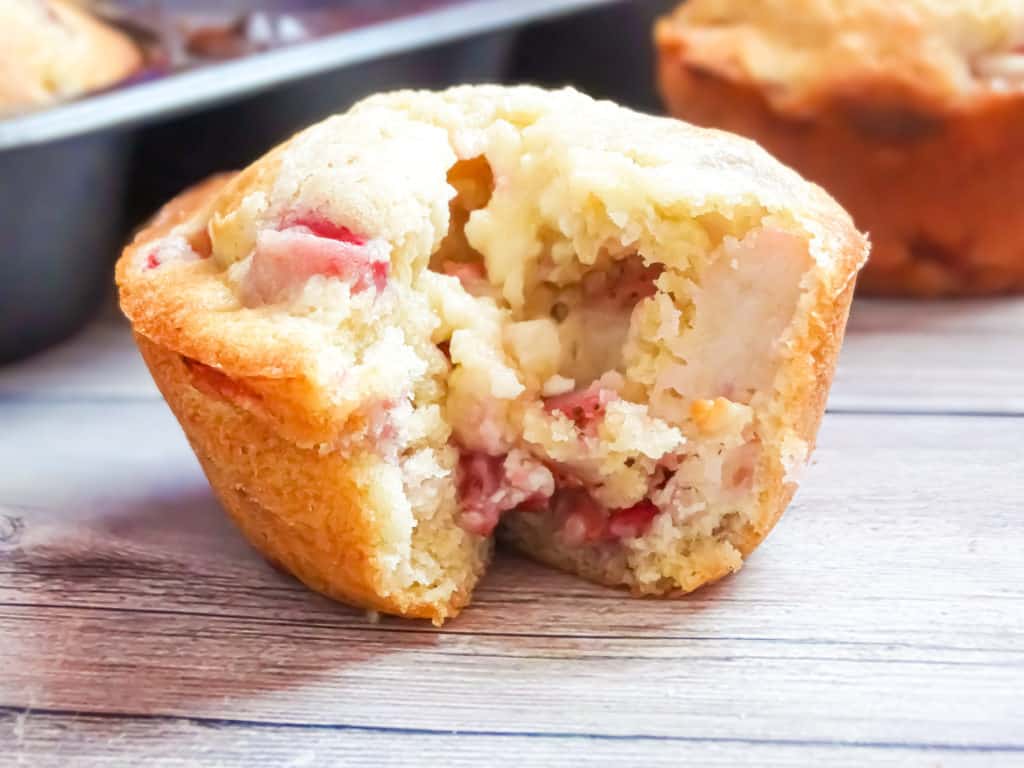 how to make strawberry cheesecake muffins
Like with all muffin recipes, the process of making strawberry cheesecake muffins is pretty simple. It's all about the right proportion of ingredients and not over mixing the batter. This recipe has two parts: making the creamy cheesecake filling and making the strawberry muffin batter.
When making these strawberry cheesecake muffins, I like to make the cheesecake filling first. Here is what I do to make these muffins in the simplest and quickest way:
make the cheesecake filling
First, mix the softened cream cheese with the sugar and egg. Use the electric mixer for the smoothest outcome. Once smooth, fold in the chopped strawberries with a spatula. It's okay if you have a few lumps in the cream cheese. They will go away once you bake the muffins.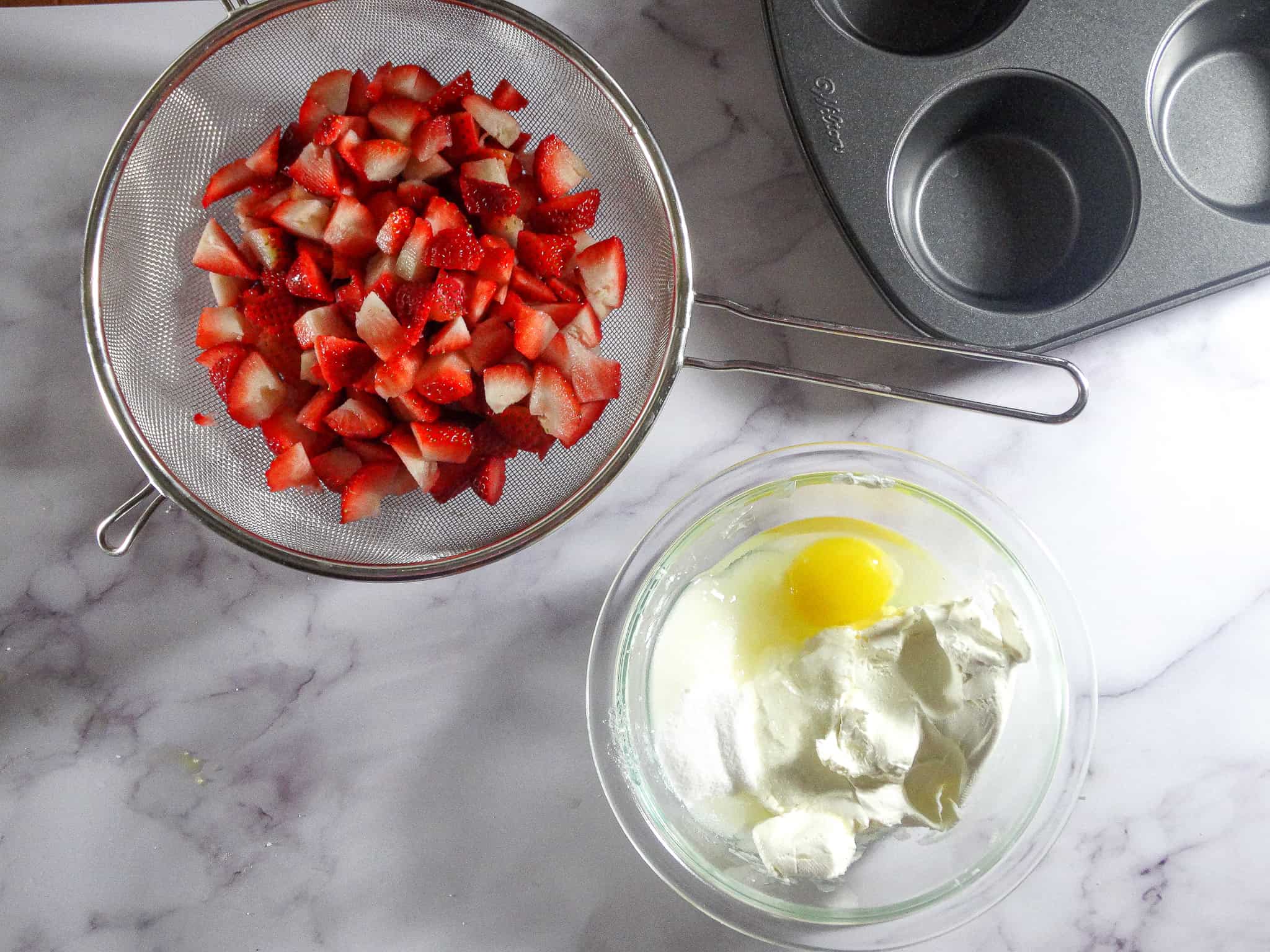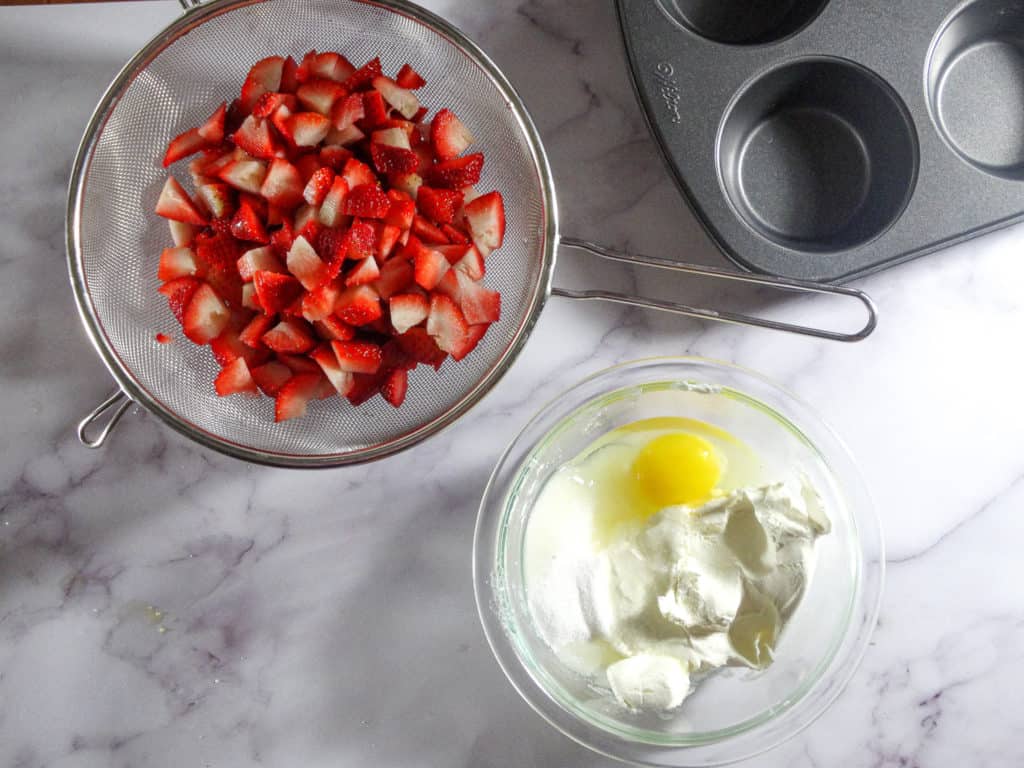 make the strawberry cheesecake muffin batter
Once you've made the fillings, it's onto the muffin batter! First, preheat the oven to 425 degrees. I start with a higher than usual temperature to achieve a slightly crispy muffin top. You'll lower the temperature about half way through.
Next, mix the dry ingredients in a large bowl and the wet ingredients in a small bowl.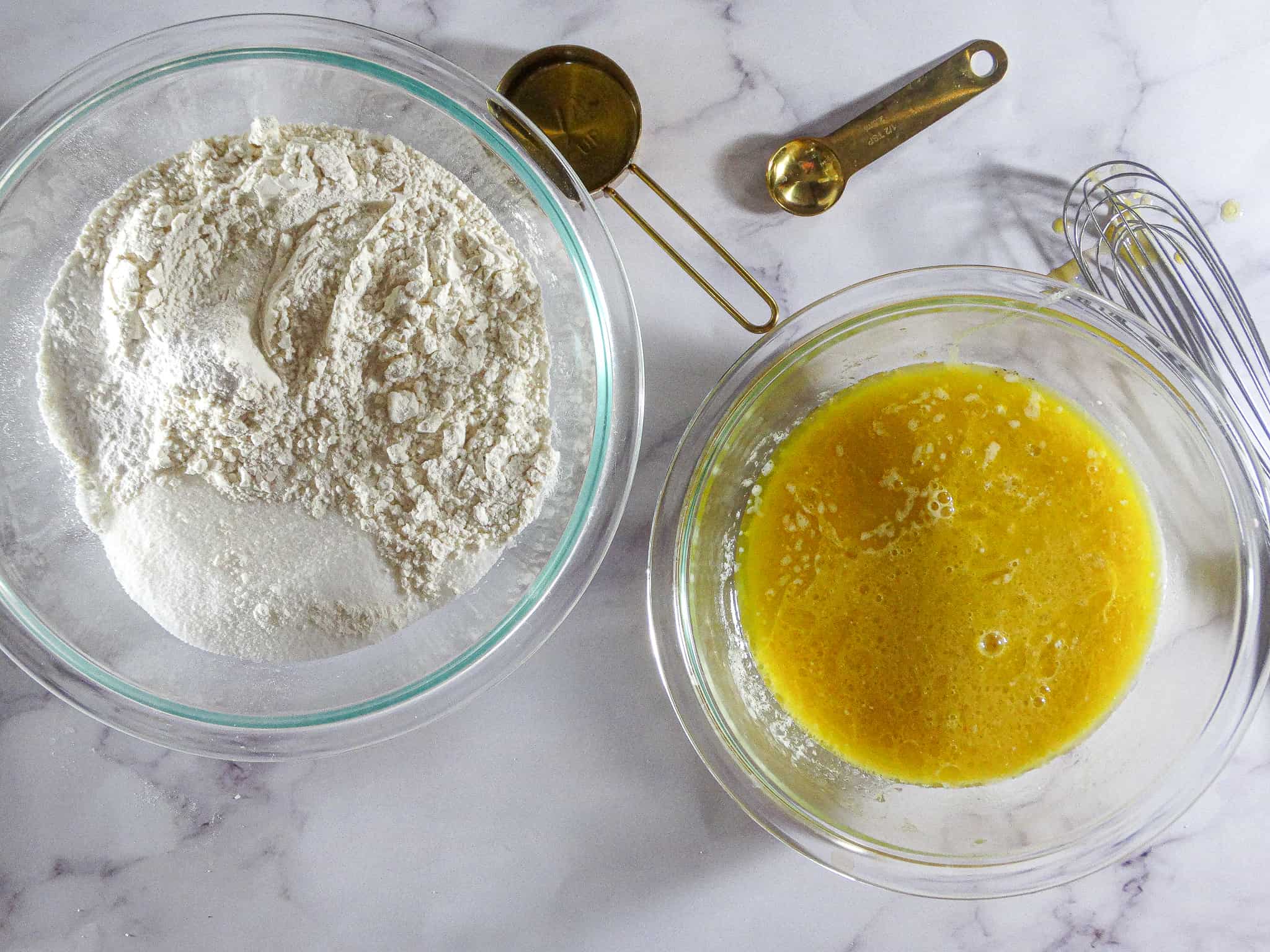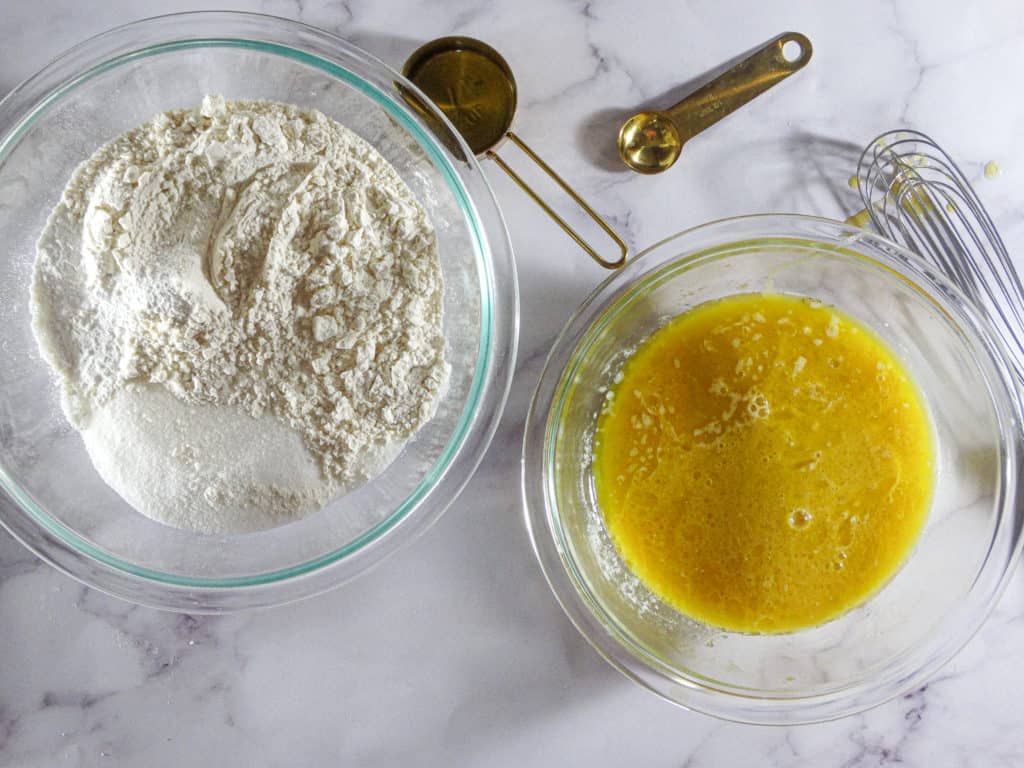 Now pour the wet ingredients into the dry and mix on medium speed just until all of the flour is incorporated into the wet ingredients. Be very careful not to mix too much. What happens if you over mix the batter? You get dense, chewy muffins that certainly wont be as delicious as the soft and moist strawberry cheesecake muffins that you're supposed to get! Your perfectly mixed batter will be clumpy and that's okay as long as you cannot see the flour or baking powder. The batter will be thick, and this is perfect!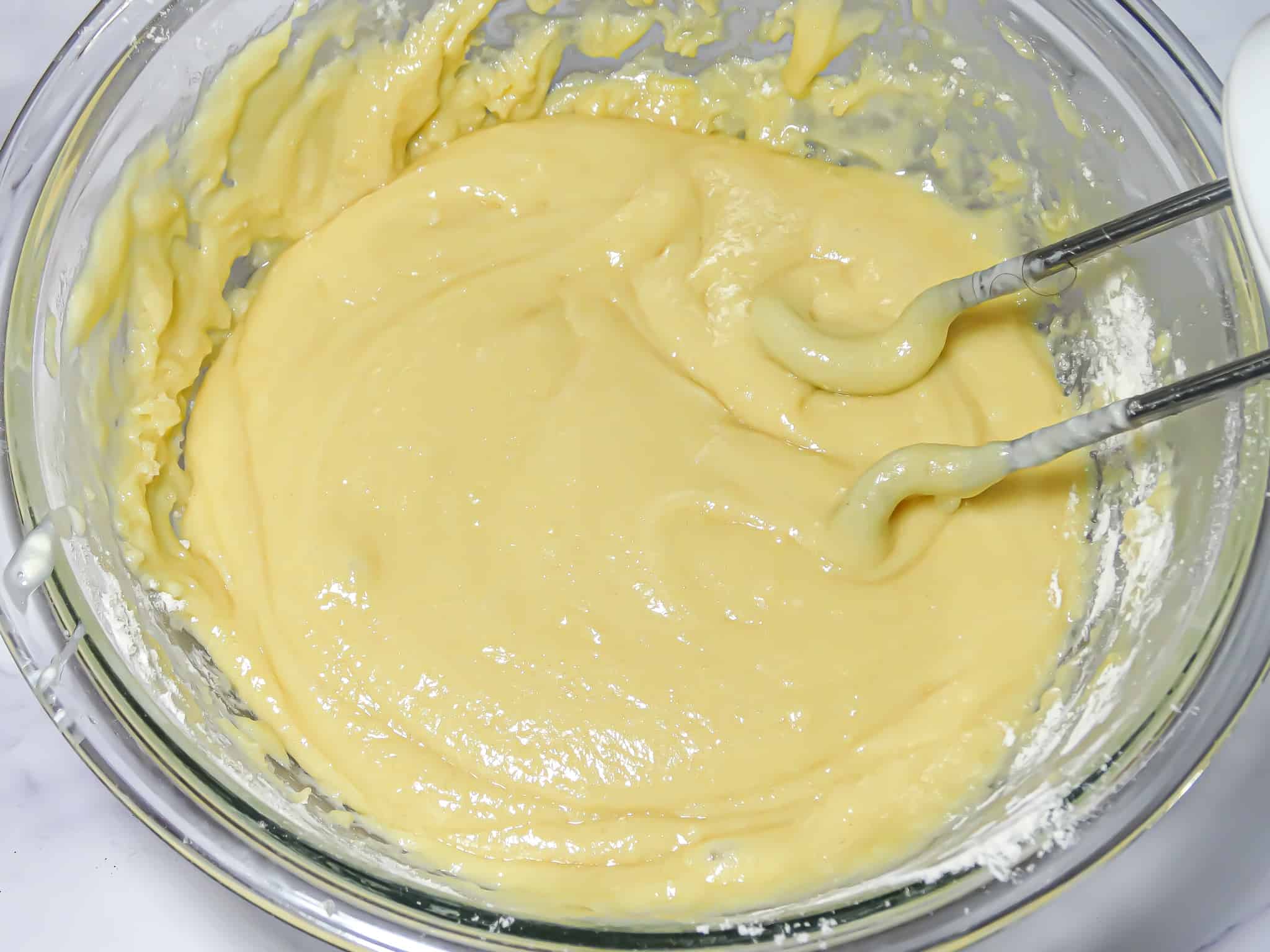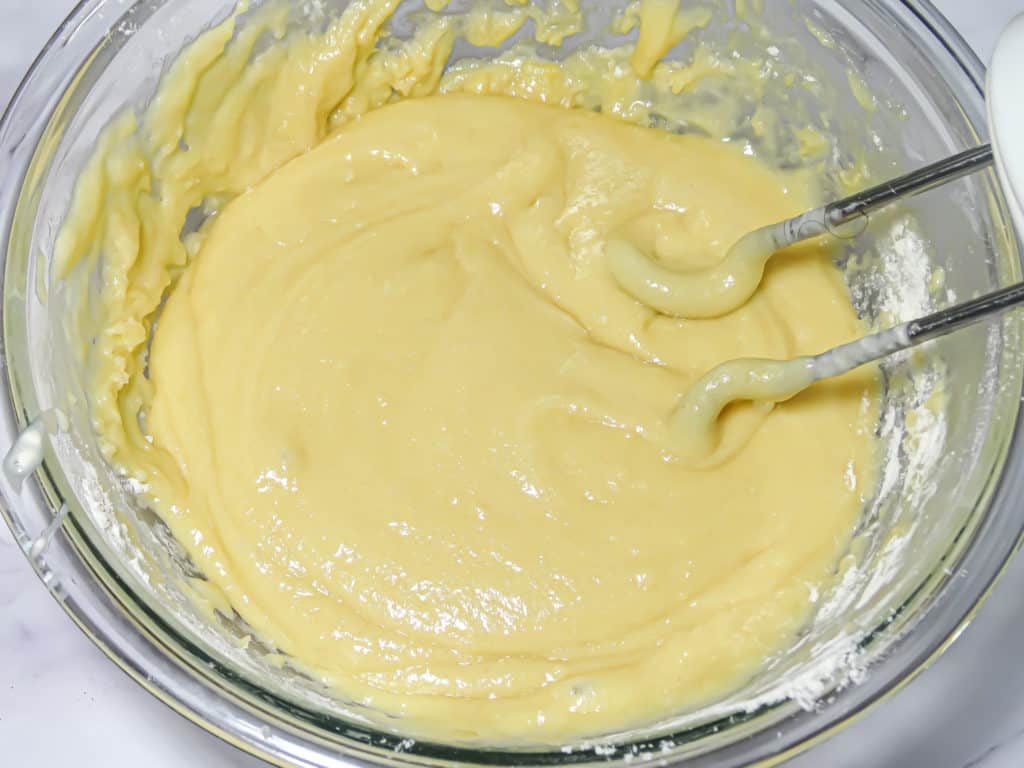 Once you've mixed the batter, fold in the chopped strawberries using a spatula.
Next, fill the greased muffin cavities ⅔ of the way to the top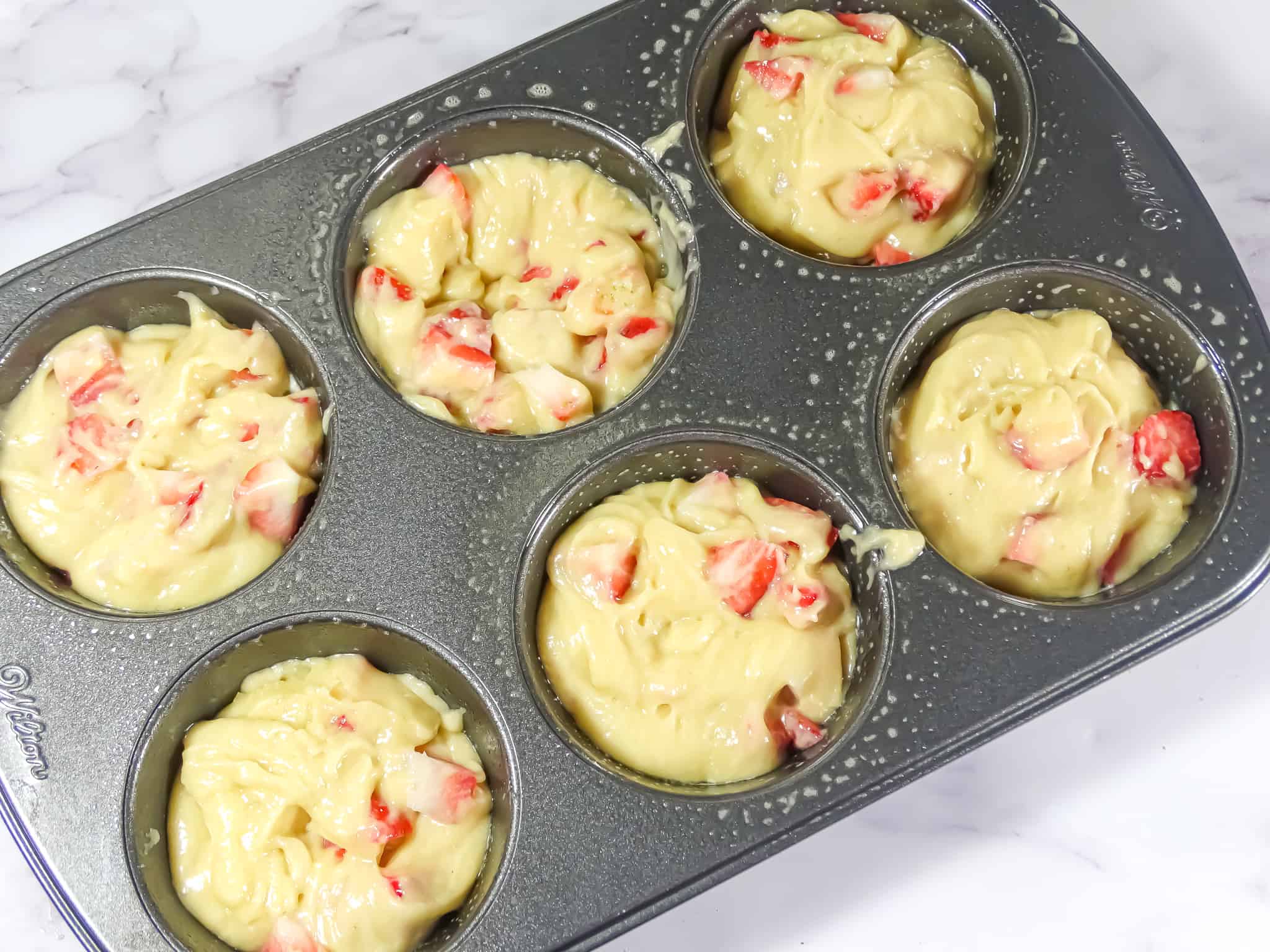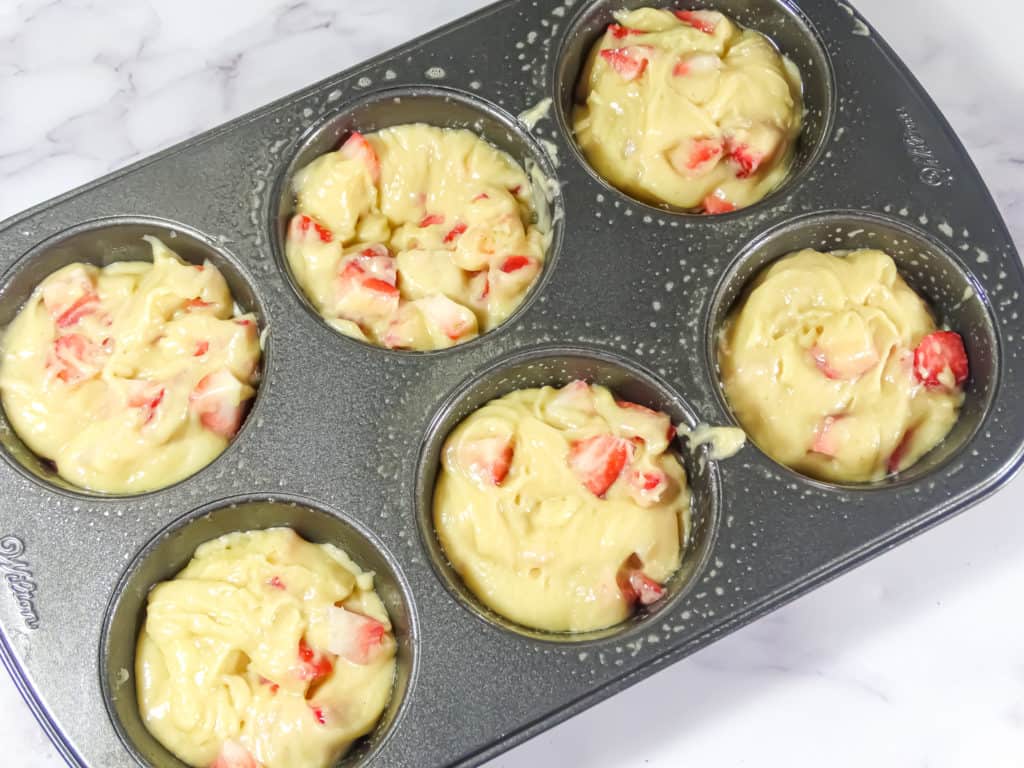 Now drop about a tablespoon of the cheesecake filling onto the top center of the muffin and push down slightly with a spoon so it falls inside the muffin batter.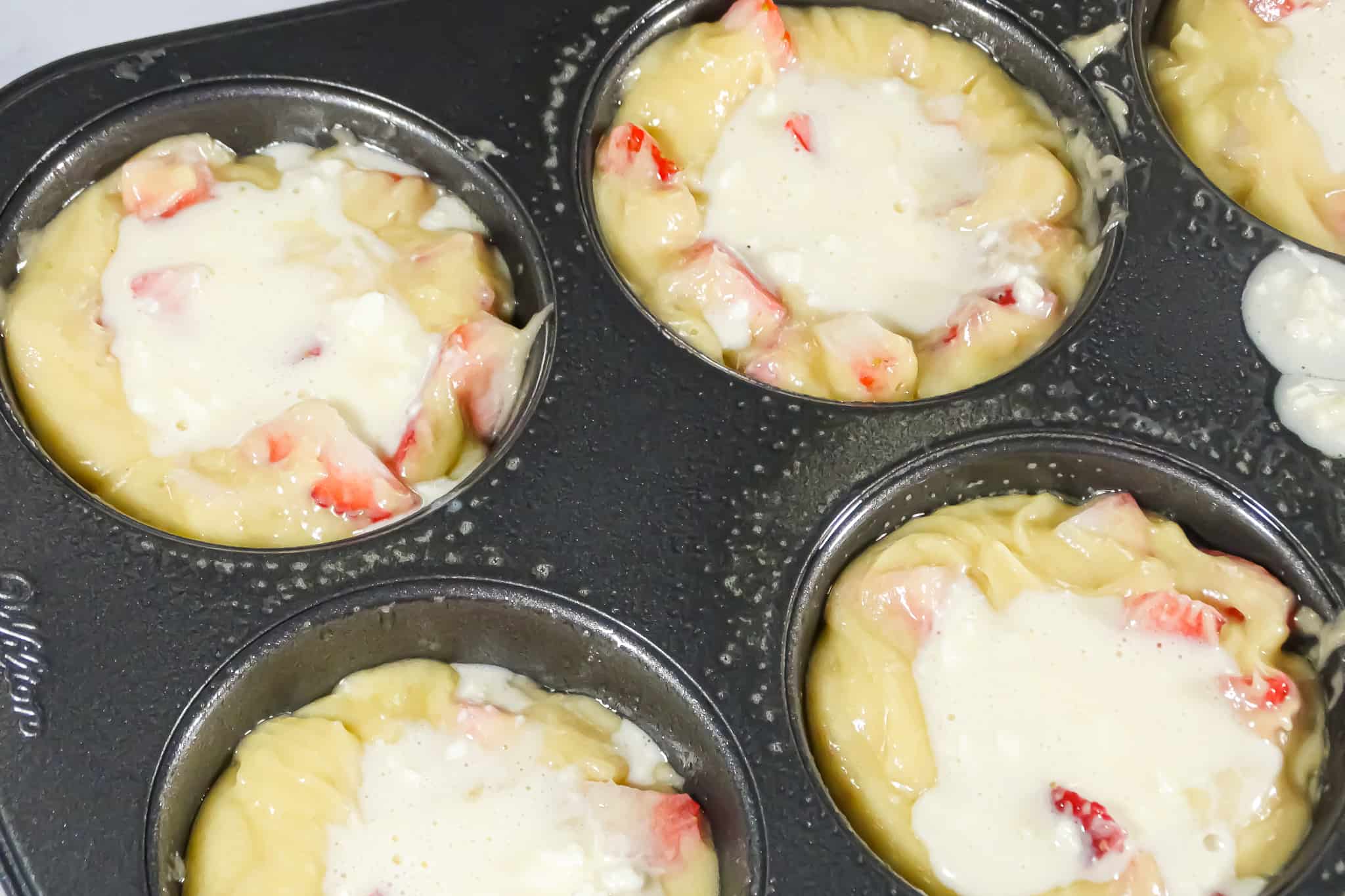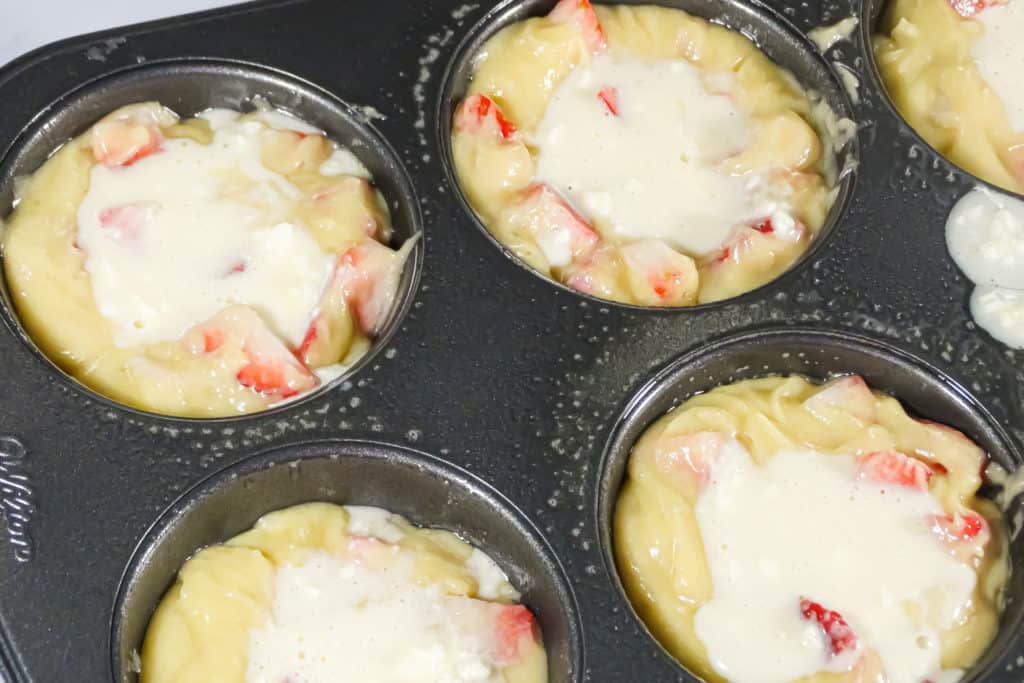 Bake at 425 degrees for 15 minutes. Then turn the heat down to 350 and bake another 10 minutes, or until a toothpick comes out clean. Make sure to insert the toothpick a little to the side of the muffin center, since the center is full of tasty creamy cheesecake!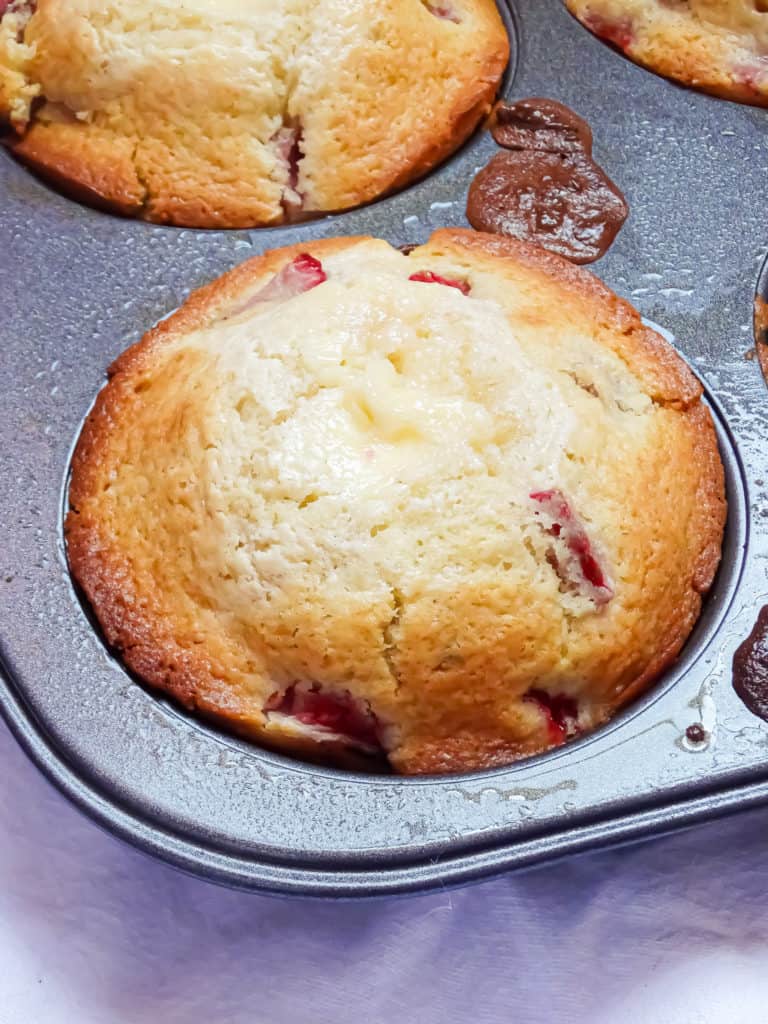 Let the finished muffins cool for about 20 minutes before removing.
Then sit back, relax, and enjoy your fantastic strawberry cheesecake muffin!
Recipe
Strawberry Cheesecake Muffins with Cream Cheese Filling
Strawberry Cheesecake Muffins made with oil and butter for an extra moist bakery style muffin. They are full of fresh chopped strawberries and have a creamy cheesecake center. A delicious breakfast, snack, or dessert.
Materials
For the Muffins
2

cups

flour

2

teaspoon

baking powder

¼

cup

unsalted butter

1

cup

sugar

½

cup

buttermilk (or ½ cup milk + 1 teaspoon white vinegar*)

¼

cup

olive oil

2

eggs

2

teaspoon

vanilla extract

2

cups

chopped strawberries
For the Cream Cheese Filling
4

oz

cream cheese

¼

cup

white sugar

½

egg, beaten

⅓

cup

chopped strawberries
Instructions
Preheat oven to 425° and spray a jumbo muffin tin with cooking oil or grease with butter.

In a large bowl, mix the flour and baking powder.

In a small bowl, cream the butter and sugar with an electric mixer. Add oil, buttermilk, eggs, and vanilla extract. Mix until smooth.

Add wet ingredients to the flour and baking powder. Mix until just combined (there may be lumps and this is okay). Fold in the strawberries with a spatula. Be careful not to over mix during this step.

Fill the muffin tin ⅔ full of batter.

Using the electric mixer, mix the cream cheese, sugar, and egg to make the filling. Fold in the strawberries and dollop about 1 tablespoon of filling in the middle of each muffin, pushing down a little with a spoon so that it falls to the center of the muffin.

Bake for 15 minutes. Lower the heat to 350° and bake another 10 minutes, until a toothpick inserted into the side of the muffin comes out clean (do not insert into the center, as the cream cheese will make it appear they are not finished).
Notes
*Make your own buttermilk by combining ½ cup milk and 1 teaspoon white vinegar. Let it sit for 5 minutes to curdle.
Recipe makes 7 jumbo muffins, but you can use standard muffin tins as well.
Nutrition
storing strawberry cheesecake muffins
Store your strawberry cheesecake muffins in an airtight container at room temperature for up to 3 days. You can also freeze them for up to 6 months. I love making double batches of muffins and freezing them to eat on lazy mornings. They can be defrosted 2 to 24 hours before eating.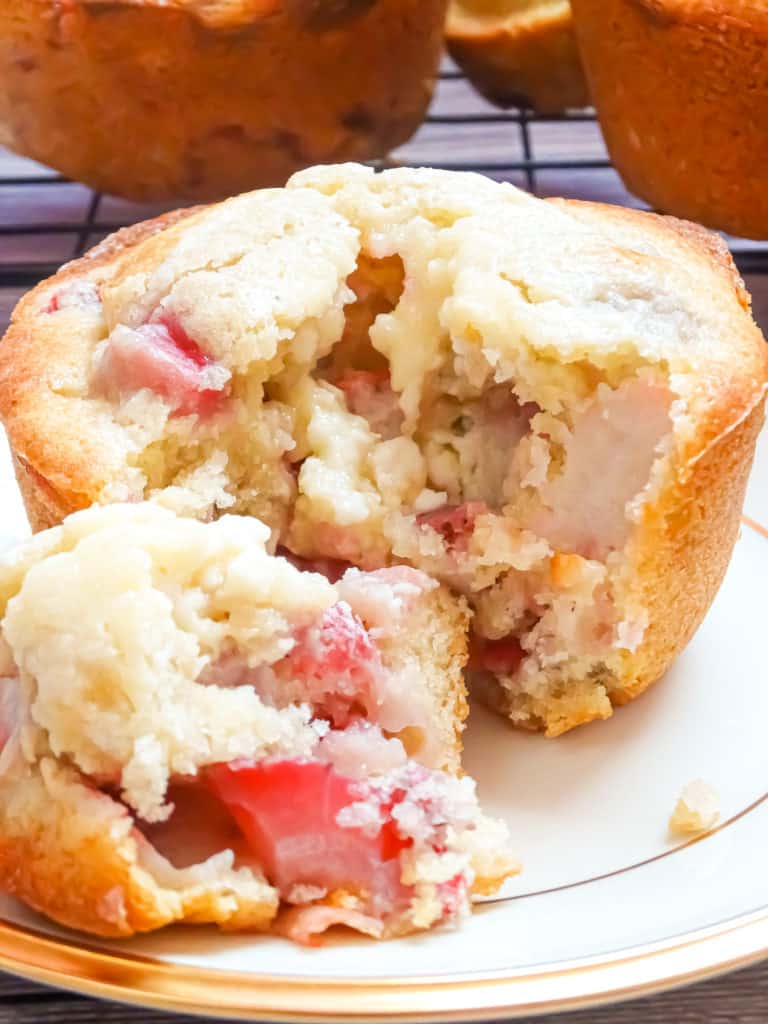 If you loved these strawberry cheesecake muffins, you might also enjoy: