Tortellini Spinach Soup with Parmesan is a quick and comforting winter weeknight dinner that only takes 20 minutes on the stove. This easy cozy soup is full of incredible flavor and uses just 7 simple ingredients: tomato sauce, stewed tomatoes, garlic, Italian seasoning, chicken broth, spinach, and tortellini. It's fantastic served with a side salad or crusty garlic bread for dipping. Easily adapt it for the slow cooker, too!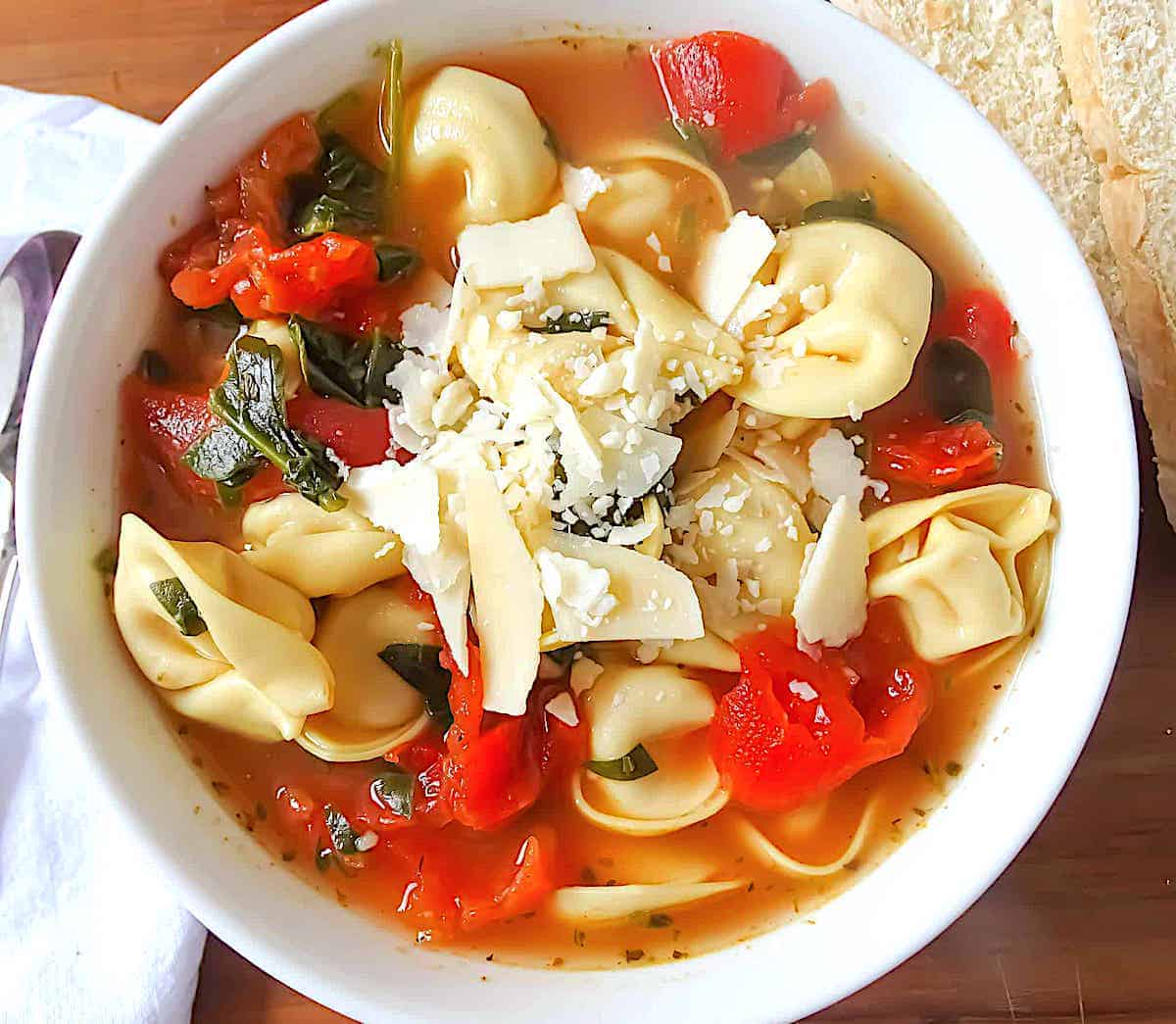 Jump to:
Ingredients
Spinach tortellini soup requires just seven ingredients.
fresh chopped spinach
cheese tortellini
chicken broth
stewed tomatoes
tomato sauce
minced garlic
Italian seasoning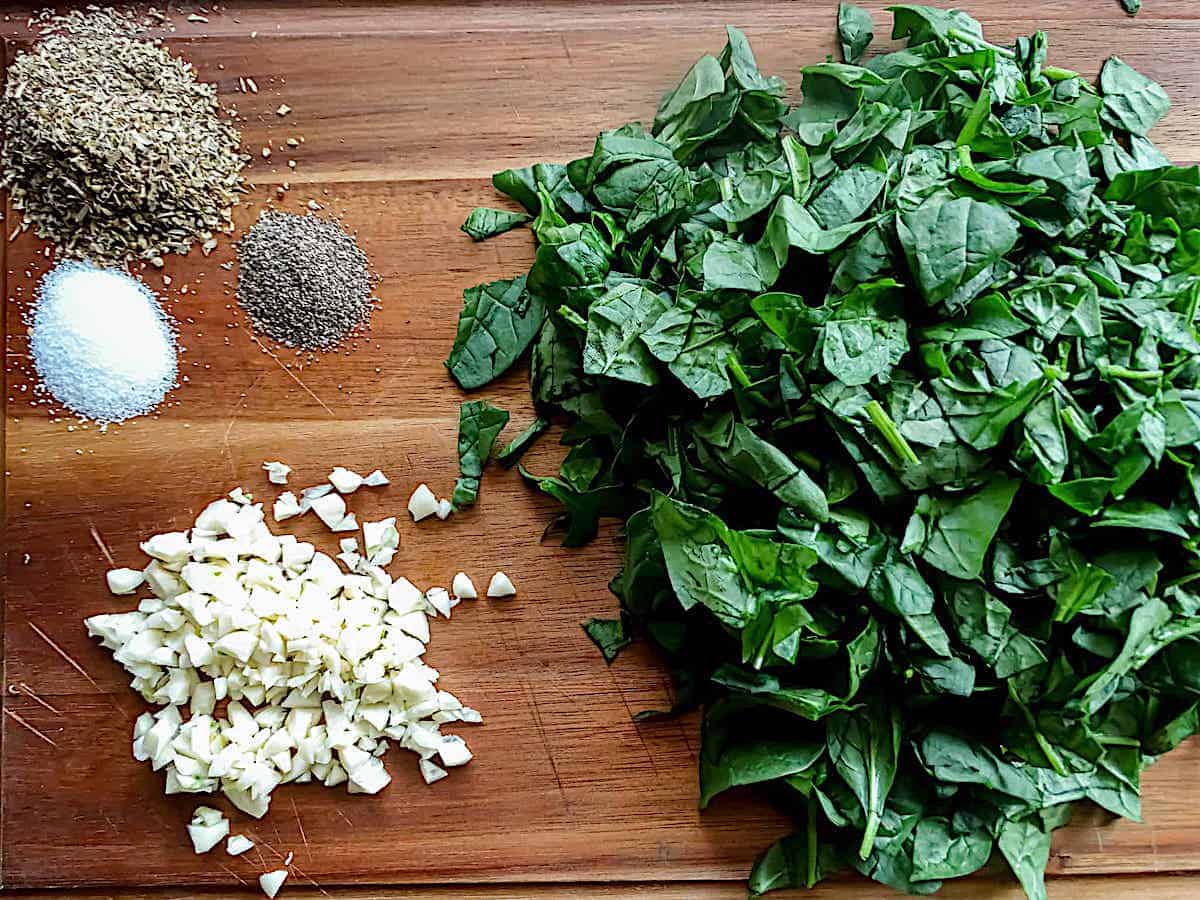 If you prefer to use frozen spinach and save yourself some chopping time, that is totally fine. Just make sure to squeeze out extra water first.
You can also replace the stewed tomatoes with diced tomatoes, if stewed tomatoes are too chunky for your liking.
As for the cheese tortellini, feel free to substitute with spinach tortellini. Whatever suits your fancy!
Any of these options will still make for a fantastic spinach tortellini soup.
No matter the ingredient options you choose, they are all items most people already have on hand or that are easy to find year round. They also are pretty inexpensive, which makes this budget-friendly soup even better for families.
Variations
There are many versions of tortellini soup. While I like my tortellini soup meat-free, you can add Italian sausage or chicken.
You can also add onions to the broth base, or use basil instead of Italian seasoning for more of a "tomato basil" flavor.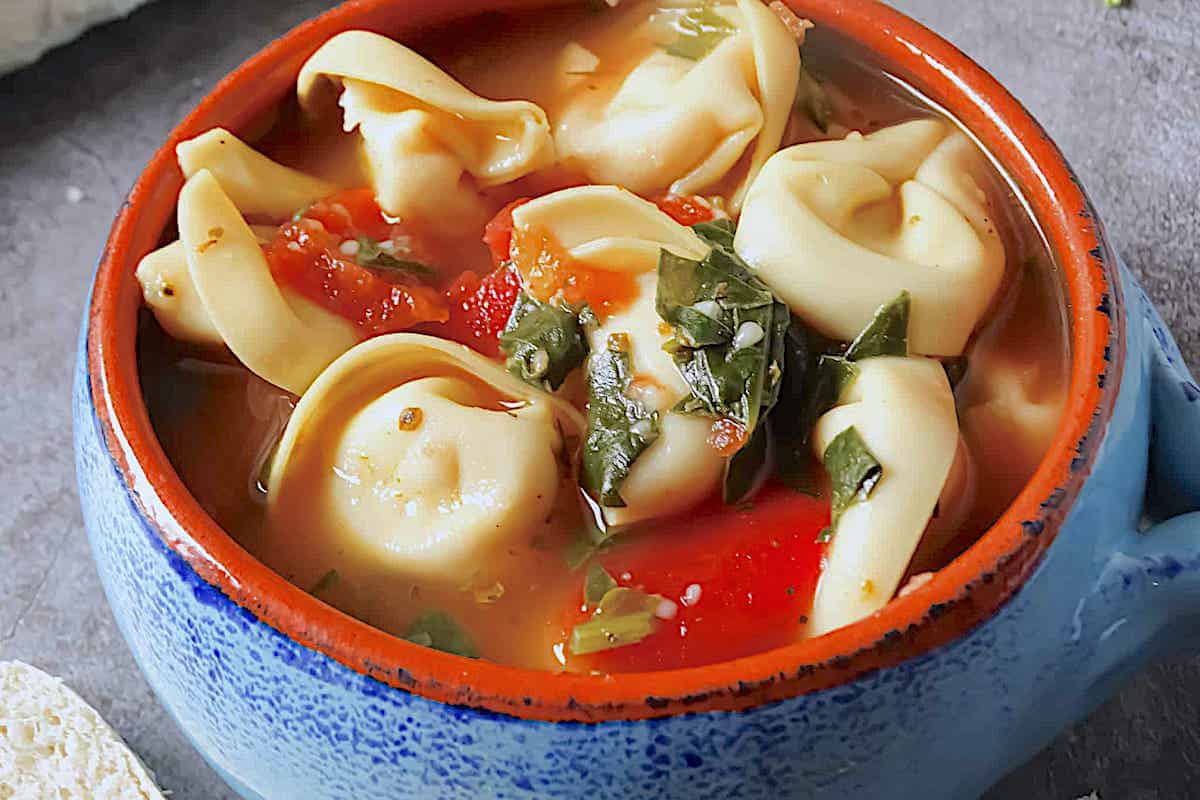 Step-By-Step Directions
Because this spinach tortellini soup only takes 20 minutes from start to finish, it's perfect for a busy weeknight.
To make it, you'll need a large pot. I love my red Martha Stewart 10 quart pot. It's perfect for making big batches of soup. I use it every time!
First, saute the garlic in oil for a minute and then add broth, tomatoes, tomato sauce, and all seasonings. Cover the pot and simmer the soup for 10 minutes.
Then add the spinach and tortellini and simmer for about 4 more minutes, or until the tortellini begin to float.
Last, remove from the heat, add the Parmesan, and serve nice and warm with toasted garlic bread.
I love serving soup in crocks. This way it can easily be moved from the counter to the table without burning your hand on a hot bowl.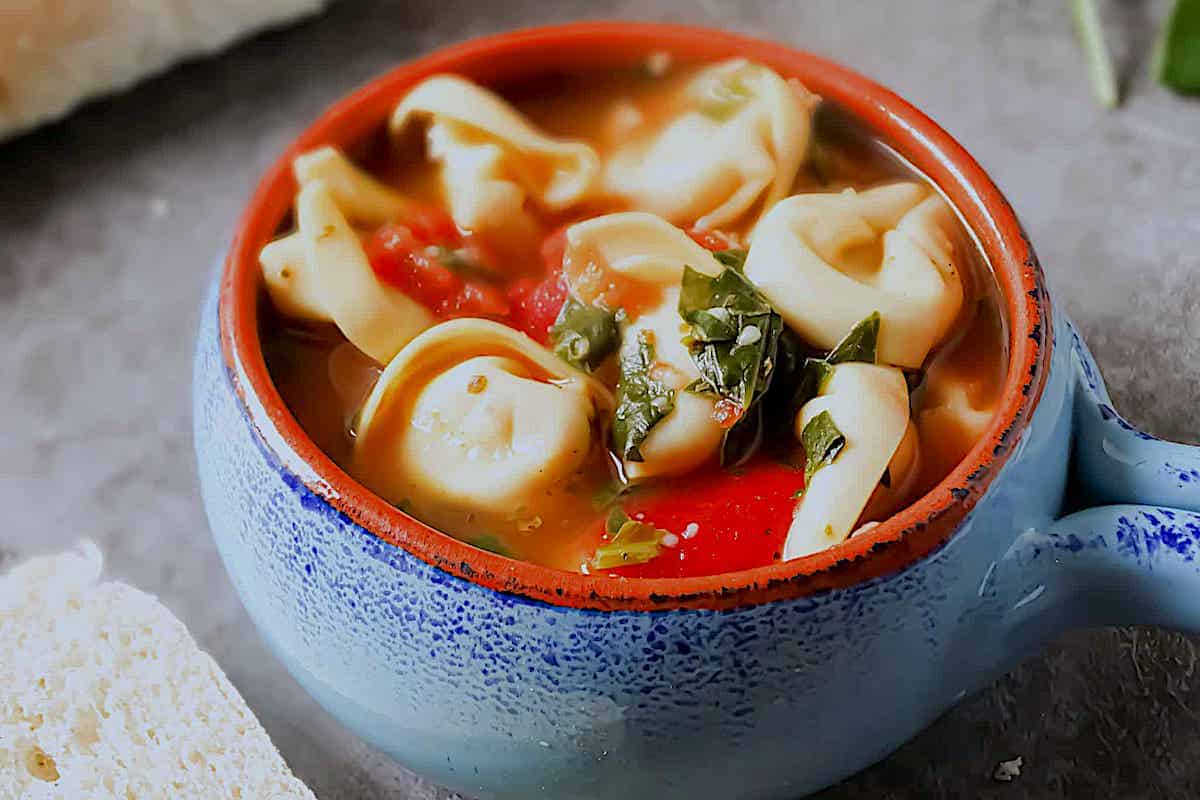 Slow Cooker Instructions
Spinach tortellini soup can be made in the slow cooker too.
To do this, add all the ingredients except for the tortellini into the slow cooker. Cook on low for 8 hours, and add the tortellini at the last 20 minutes.
How To Make It Kid-Friendly
Spinach tortellini soup is kid and family-friendly overall, but not everyone (especially veggie-hating kids!) like spinach.
So while my kids' taste buds are still getting used to the endless varieties of food, I chop the spinach into really small pieces. Then I hope that either they won't notice it at all or it's small enough that it won't feel weird.
For those kids who can't be fooled, swap the spinach for something else like kale, green beans, peas or zucchini, or leave the "green" out entirely.
The tomatoes are healthy enough so you won't really be compromising on nutrition. You can also add a legume you know your children will eat, like beans or chickpeas.
I also make sure to either crush my stewed tomatoes into smaller pieces or to use diced tomatoes.
Storing
This soup is meant to be eaten as soon as it's ready. Because the tortellini continue to soften as they sit in the broth, they could fall apart after a while.
This recipe makes a gigantic batch for big families. However, you can certainly cut the recipe in half and keep the ingredients proportionate to each other.
And that's all there is to making this soup! I hope you enjoy it. Please let me know how it turned out in the comments below.
If you enjoyed this recipe, make sure to give it a star rating and let me know what you thought in the comments! And follow me on Facebook, Pinterest and Instagram for more delicious recipes!
Recipe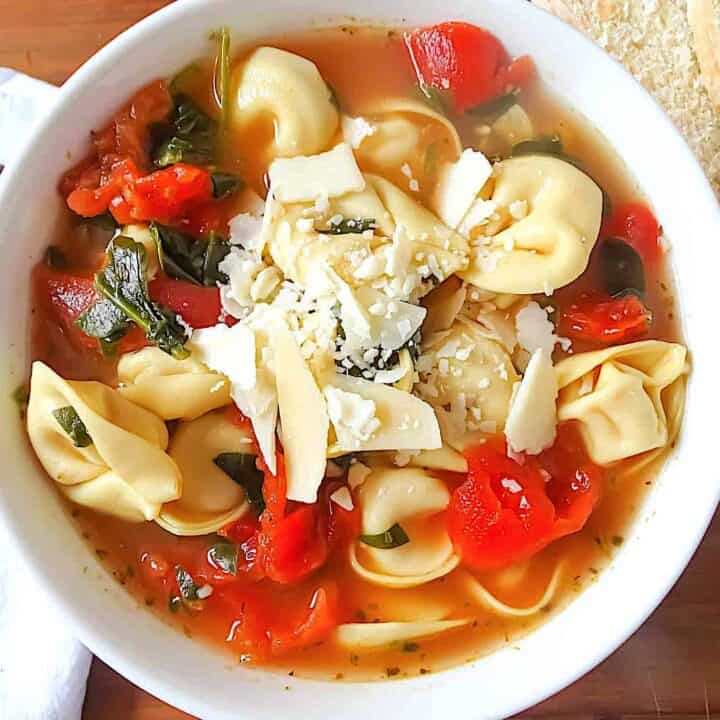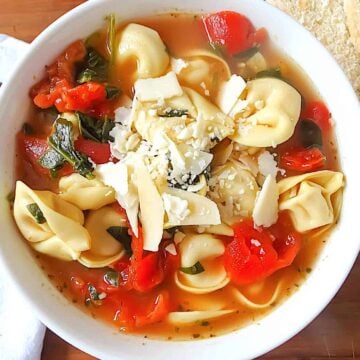 Tortellini Spinach Soup with Parmesan
This Tortellini Spinach Soup with Parmesan takes only 20 minutes on the stove top and is packed with incredible warm and comforting flavor. It uses 7 simple ingredients: tomato sauce, stewed tomatoes, garlic, Italian seasoning, chicken broth, spinach, and tortellini. Serve with crusty bread or a side salad for a complete, cozy weeknight winter meal. It can easily be adapted for the slow cooker, too.
Ingredients
2

teaspoon

olive oil

7

garlic cloves, minced (about 2 tbsp)

16

cups

chicken broth (or 16 cups water + 14 cubes bouillon)

1

cup

tomato sauce

1

can

stewed or diced tomatoes (28 oz)

1

tablespoon

Italian seasoning

2

teaspoon

salt

½

teaspoon

pepper

27

oz

frozen tortellini

8

oz

fresh spinach, chopped

1

cup

grated Parmesan
Instructions
In a large stock pot or dutch oven, heat the oil and add the garlic, cooking for 1 minute.

Add the chicken broth, tomato sauce, tomatoes, Italian seasoning, salt, and pepper. Cover and simmer on low heat for 10 minutes.

Add tortellini and spinach and simmer 4 more minutes.

Remove from heat and add parmesan cheese, stirring to evenly distribute cheese. Serve with extra parmesan, crusty garlic bread, cheese toast, or a side salad.
Notes
I chop the spinach into small pieces so children (or adults!) who are picky with eating vegetables don't notice it or don't mind it as much.
You can use frozen chopped spinach too instead of chopping your own. Make sure to squeeze out excess water.
If using stewed tomatoes, use a meat masher when they are simmering to break them into smaller chunks. 
Calorie count is per 2 cups of soup.
Nutrition
Serving:
16
oz
Calories:
412
kcal
Carbohydrates:
50
g
Protein:
23
g
Fat:
14
g
Saturated Fat:
5
g
Cholesterol:
47
mg
Sodium:
3165
mg
Potassium:
766
mg
Fiber:
6
g
Sugar:
5
g
Vitamin A:
2979
IU
Vitamin C:
49
mg
Calcium:
365
mg
Iron:
5
mg
RELATED RECIPES