Energy balls are healthy snacks for kids that take only minutes to make and use simple ingredients. Double Chocolate Sprinkled Energy Balls are made with peanut butter, honey, oats, and cocoa powder. They are chock full of protein, fiber, and omega-3s making them perfect healthy snacks for kids and adults.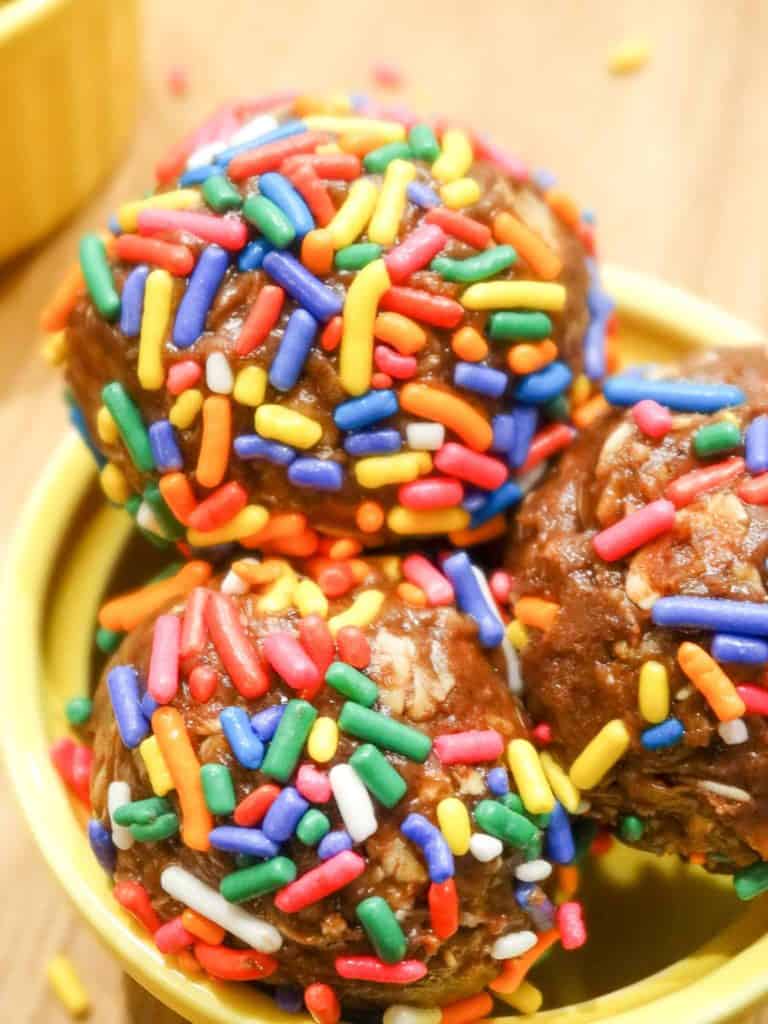 I've made energy balls for almost a decade. They take just a few minutes and can be customized using all sorts of ingredients and flavors. Energy balls are great healthy snacks for kids and adults, and I am going to tell you how, with simple ingredients, to make energy balls that will make your mouth water.
They are very filling, so one is enough to make my belly stop rumbling. Although, a second sometimes seems too good to skip!
We are already in week 4 of school here (how did that happen?!) and my house has been fully swinging to the school-all work-no fun grind during the week. This mom is TIRED! And ready to raid the grocery store shelves for packaged, processed, and not-that-great for you lunch treat and snack ideas.
But I won't go that route!
What Makes Energy Balls Healthy Snacks for Kids?
I discovered energy balls when I wanted to eliminate as much processed boxed and canned food and snacks as possible and replace them with healthy alternatives that were simple, quick, and wouldn't break the bank. I used to make ALL THE TIME when my husband was in athletic training. So why couldn't they be a healthy snack for kids too??
Energy balls are great because they use minimal natural ingredients, are full of protein, fiber, iron, and omega-3s and rich in lots of minerals, like magnesium and copper. Your kids will never know they are eating healthy snacks. And if yours are anything like mine, as soon as they learn something is "healthy", they "don't like that anymore". Those little sneaksters.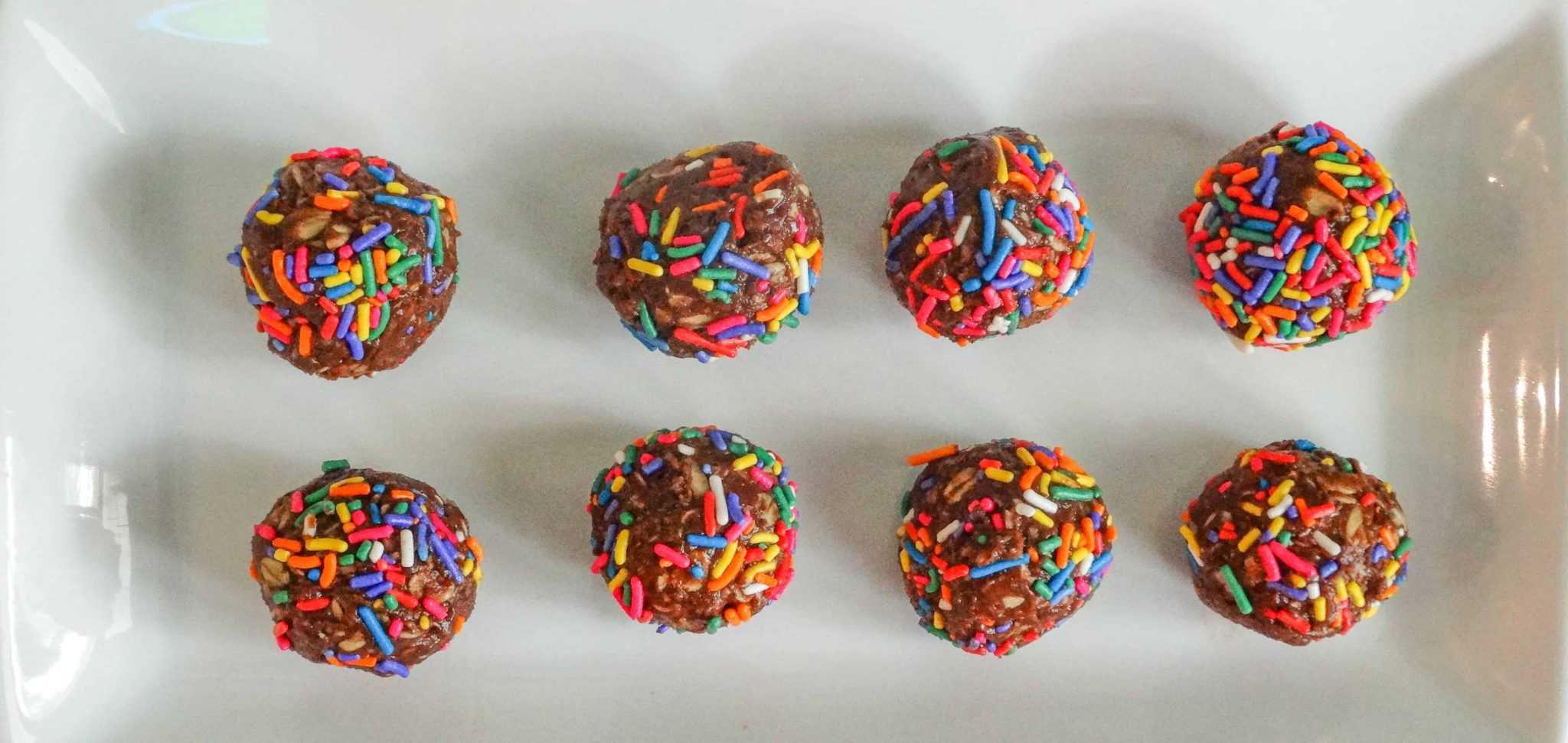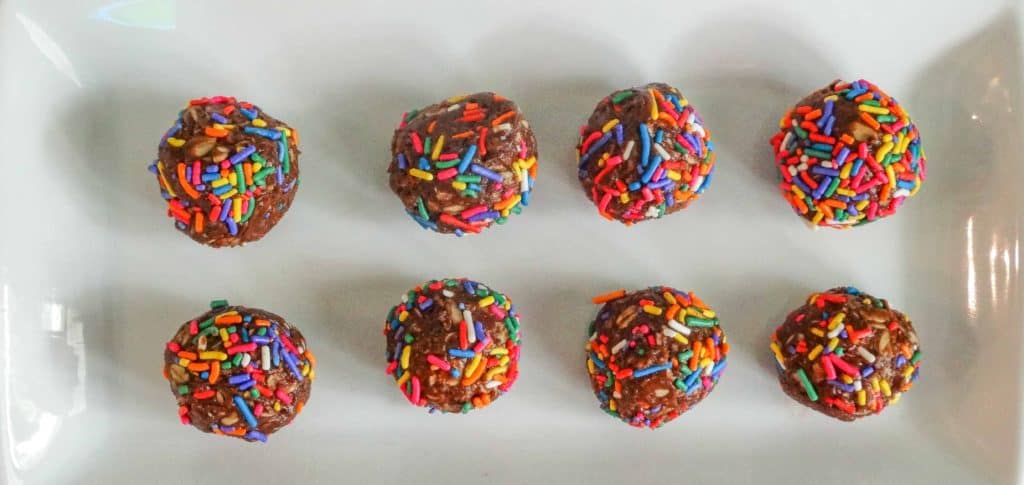 What Ingredients Are In Double Chocolate Sprinkled Energy Balls?
All you need is 4 basic ingredients: peanut butter (or any other nut butter), honey, oats, and cocoa powder.
From there, the rest is up to you! They can be customized to fit the ingredients you have in your pantry. No chocolate chips? No problem! These are great with just the cocoa powder too. You can also add in a teaspoon or so of vanilla extract.
Once you've got a good base, you can customize them anyway you want. My base was inspired years ago by this simple recipe for peanut butter energy bites. I've got tasty ideas in mind for capturing my most loved fall flavors: pumpkin spice and cranberry, so stay tuned for those. For now, you can also try my trail mix and dark chocolate sea salt combos.
To my base of peanut butter, honey, oats, and cocoa, I add ground flax and chia seeds, for added nutrition and not taste. Chia seeds are one of those things I've found people love or hate. I think it's the texture, so be careful with how much you use, if using at all.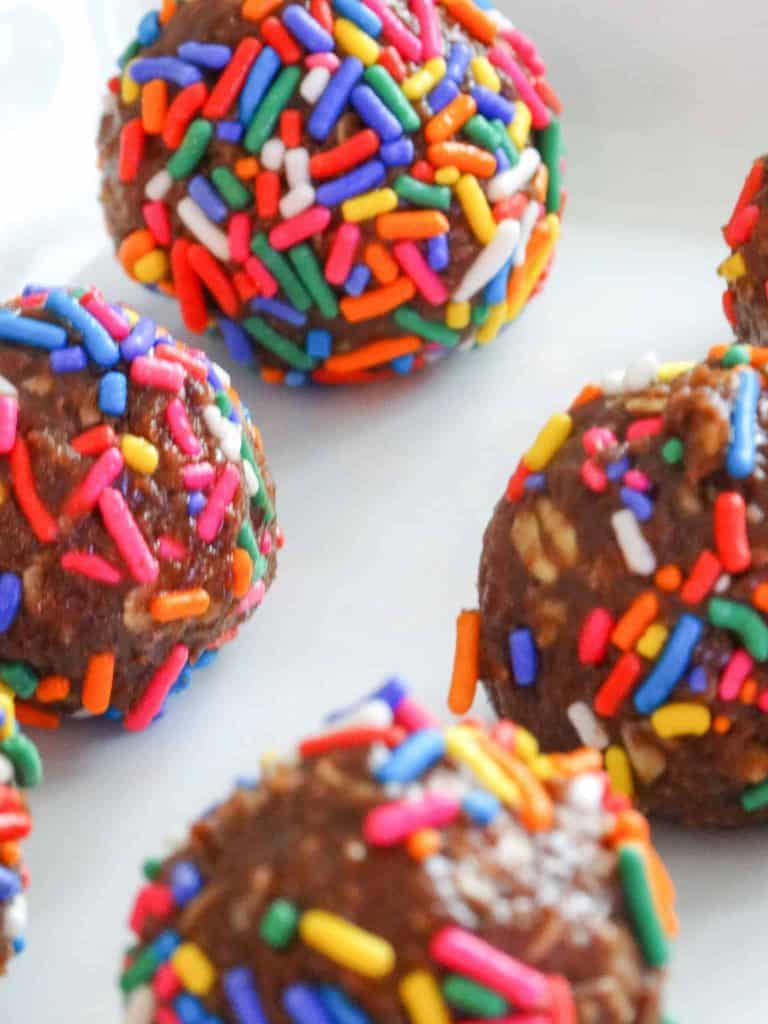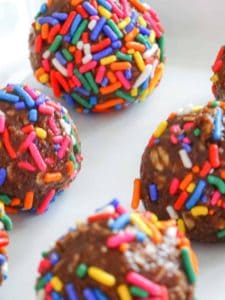 How Do You Make Double Chocolate Sprinkled Energy Balls?
Once you have all your ingredients, making the energy balls is SO EASY! Combine everything but the sprinkles in a large bowl or in an electric dough mixer. I like to use a fork to start mixing so that it's less messy and the honey doesn't stick to my hands. After the ingredients are mostly combined, which just takes a minute, I use my hand to mix them more, until everything is evenly distributed.
Next, put your sprinkles on a plate and form the batter into small ½ inch or so balls. Roll them until they are smooth. Don't worry if the batter sticks to your hands at first. The more you roll, the less it will. Then, roll them in the sprinkles to coat and put on a parchment-lined plate. Helpful hint: if the batter doesn't stop sticking to your hands, add more peanut butter, about 2 tablespoons at a time.
And that's it! I think they are best eaten after they've been chilled for a little bit, but you can eat them right away! Remember they are filling, so one is usually enough to halt the craving until they chill.
Can You Freeze Energy Balls?
Absolutely! This is my favorite part of the recipe. It makes a huge batch, about 18 balls depending on the size, so I like to double it (or make a few different energy ball combos at once) and throw a bunch in the freezer.
Throw them in plastic freezer bags and store for up to 6 months in the freezer. If not freezing, they keep well in the fridge for about 2 weeks (maybe more but ours have never even lasted that long :)).
And that's all there is to it. Try it out and let me know what you think! I'd love to hear what you thought about mine and how you've made them your own. I hope you enjoy them!
Double Chocolate Sprinkled Energy Balls
Peanut butter, honey, oats, and cocoa powder are the stars of these Chocolate Sprinkled Energy Balls. They have no added sugar (other than the sprinkles!), and are made with pantry essentials you probably have on hand. They can be easily customized to use the "fun" ingredients in your pantry!
Materials
1

cup

oats

½

cup

peanut butter

¼

cup

honey

2

tbsp

cocoa powder

1

cup

chocolate chips

2

tbsp

ground flax (optional)

1

tbsp

chia seeds (optional)

rainbow sprinkles
Instructions
Combine all ingredients in a large bowl. Mix by hand or using an electric mixer until batter sticks to itself.

Shape into ½ to 1 inch balls and roll in sprinkles. Place on parchment paper.

Serve immediately or chill on to set ingredients.
Notes
If you're not a fan of flax, you can eliminate it without affecting the recipe. 
Use as many or as few chocolate chips as you'd like! You can also use minis or morsels, for different textures. 
Nutrition
Serving:
1
ball
|
Calories:
143
kcal
Other Healthy Snacks For Kids You Might Like: