Energy Balls are a quick healthy snack using peanut butter, honey, oats, pumpkin puree, and pumpkin spice. If you love all things pumpkin, these make a quick healthy fall snack that the whole family will love!
We are 2 days into Fall and I've been enjoying all-things pumpkin since about...the day after Labor Day. It's still hot here in Northern Virginia (90+ on the first day of Fall!), but that hasn't stopped me from busting out the Fall and Halloween decorations or from drinking enough homemade pumpkin spice lattes that I've finally perfected the recipe. Yay!
Really though, I can't wait for it to finally be cool enough to start lounging around in cozy sweaters, leggings, and fluffy slippers. I can't wait for enough leaves to fall off the trees so I can make a big pile and watch the kids jump in them from the porch drinking that pumpkin spice latte in my cozy sweater :). I cannot wait to FINALLY use our new fire pit.
Until then I'll be inside cooking, eating and drinking pumpkin in my fluffy slippers admiring my decorations imagining that it didn't feel like a mid-July day.
Reality Check: What I'll really be doing is making dinner, packing lunches, getting everyone ready for school and work, and cleaning. Repeat Daily.
I'll need energy. And pumpkin. So I experimented with my favorite healthy snack, coming up with a scrumptious, pumpkin-filled energy ball that the entire family will love. I hope you enjoy, too!
What ingredients are in Pumpkin Spice Energy Balls?
All of my energy balls are made with a base of the same 3 ingredients: oats, peanut butter, and honey. For Pumpkin Spice Energy Balls, you also need pureed pumpkin, pumpkin spice, chocolate chips, and cocoa powder. Ground flax and chia seeds are optional, but I do use them in this recipe for added nutritional benefits.
Oats: I use old fashioned or quick oats. Old fashioned oats are bigger flakes so they have a heartier texture but either one works great. They are both full of protein, fiber, and minerals like zinc and iron. Because of all these vitamins and minerals, oats keep the belly full for longer!
Peanut butter: peanut butter is the glue that keeps the balls together. You can substitute almond butter or other nut butters, although I haven't done this yet. Peanut butter has a ton of protein. (and what kid doesn't love peanut butter!)
Honey: honey is an all natural sweetener, which gives the energy balls a hint of sweetness.
Pureed pumpkin: you can use canned pumpkin or your own roasted pumpkin puree. If using canned pumpkin, make sure you use pure pumpkin and not pumpkin pie filling. They are 2 different things!
Pumpkin spice: you can use a store bought mix or make your own. If you don't have pumpkin spice on hand, you can find a great recipe here. I used 2 teaspoons the first time I made these, but then upped it to 3 teaspoons for an even bigger pumpkiny kick.
Chocolate chips: you can use minis, morsels, or chunks.
Cocoa powder: make sure to use unsweetened cocoa powder.
Ground flax: this is an optional ingredient, but you can barely taste it! It is full of omega-3s and cancer-fighting minerals. I love adding flax for this reason. The kids won't have a clue it's there, trust me!
Chia seeds: another optional ingredient. I like adding 1-2 tablespoons of chia in my energy balls because it is high in fiber, antioxidants, and omega-3s. If you don't know if you like chia seeds, start with a smaller amount. When chia is immersed in liquid, a gooey shell forms around the seed, which can feel gooey.
How Do You Make Pumpkin Spice Energy Balls?
It is so simple to make these. All you need is 10 minutes, a mixing bowl, and your ingredients! Add your ingredients to the bowl and mix until everything is combined. I prefer starting with a spoon and then using my hand. I think you can evenly disperse the ingredients better this way. BUT, you can use an electric stand mixer on low using a dough hook. This works just as well, but is not my preferred method because then I have more to clean and put away :).
Next, roll the batter into 1 inch balls (about 2 tablespoons of batter). You can make them bigger or smaller, but this seems like the rule of thumb for energy ball size. If they don't stick well, add a little more peanut butter, a few tablespoons at a time. Put the balls on parchment paper or a plate and chill for a few hours.
But wait, you said they only take a few minutes! Now i have to wait? Nope, you can totally eat them without chilling! I always taste one, give one to the hungry family, and then chill the rest for later. I think they are even better once the batter sets for a bit.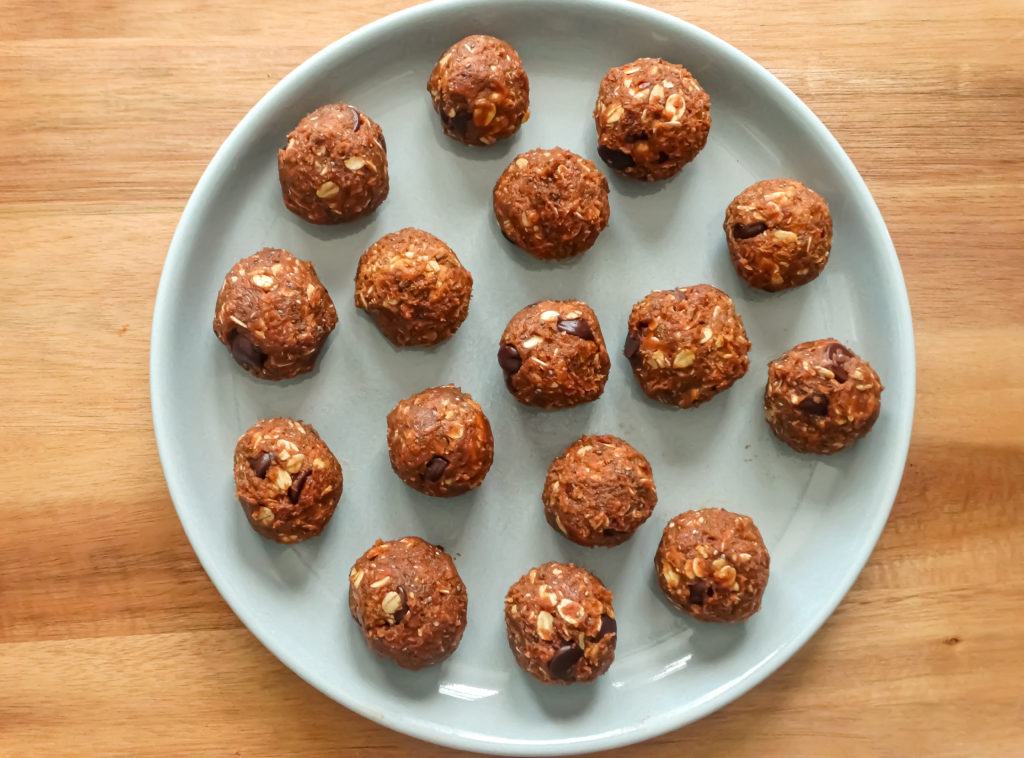 How Do You Store Energy Balls?
Store energy balls in the fridge for up to 2 weeks or the freezer for up to 6 months. Make sure to seal them tightly in freezer bags to prevent burn.
Now go and put on your cozy slippers, light that autumn leaves candle, and get to work! Let me know what you think and how you changed them to make them yours.
Pumpkin Spice Energy Balls
Made with real pumpkin and pumpkin spice, these energy balls are loaded with protein, fiber, iron, and antioxidants. They take only a few minutes to make and are a perfect healthy family snack!
Materials
1

cup

oats

½

cup

peanut butter

¼

cup

honey

½

cup

pureed pumpkin

3

tsp

pumpkin spice

1

tbsp

cocoa powder

½

cup

chocolate chips

2

tbsp

ground flax (optional)

1

tbsp

chia seeds (optional)
Instructions
Combine all ingredients in a large and mix well to combine. You can use an electric stand mixer on low, your hand, or a wooden spoon.

Roll into 1 inch balls using about 2 tbsp of batter. Place on parchment paper or plate.

Chill and serve cool or at room temperature.
Nutrition
Serving:
1
oz
|
Calories:
103
kcal
Other Recipes You Might Like: