Not sure what to do with leftover pumpkin? Tired of dousing your pancakes in butter and syrup and need a healthier option? Pumpkin Ricotta Pancakes are the perfect solution! Pumpkin ricotta is made with only 4 ingredients and can be whipped up in minutes. Serve on top of pancakes or waffles for a quick and easy healthy breakfast solution.
Topping pancakes with ricotta pumpkin mix is one of my family's favorite ways to eat pancakes. I just don't like syrup and butter on mine, so I am always on the lookout for new and exotic toppings.
In my quest years ago to replace unhealthy foods with healthier options, I stumbled upon a recipe for pumpkin ricotta waffles. We didn't have waffle maker then, but we could certainly make pancakes!
Instead of making waffles stuffed with pumpkin and ricotta, I opted for making delicious almond milk pancakes topped with pumpkin, ricotta, and brown sugar. And I am so glad because they were SCRUMPTIOUS!
I've made these for many years before having children, and I honestly didn't think mine would eat pancakes with pumpkin (a dreaded vegetable!) and a healthy cheese.
BUT, they scarfed those pancakes down like they hadn't eaten in days.
And what's more perfect than a healthy, energizing, delicious, AND kid-friendly meal?!
Ingredients Needed For Pumpkin Ricotta Pancakes
You will need:
Ricotta: I like whole milk ricotta. Ricotta is a healthier cheese because it has less fat and salt than others.
Pumpkin: real canned pumpkin is what I use, not pumpkin pie filling. If you want to roast and puree your own pumpkin, that would be delicious (and time consuming)! Pumpkin contains a lot of Vitamin K and C.
Pumpkin spice mix: I use a store bought mix most of the time, but you can make your own. Cookie & Kate has a great recipe.
Brown sugar: not required, but highly recommended!
How Do I Make Pumpkin Ricotta Pancakes
So simple. To make Pumpkin Ricotta Pancakes, mix the pumpkin, ricotta, and pumpkin spice together in a bowl. Spread on top of your already made pancakes or waffles of choice, and sprinkle with brown sugar if desired. Grab your fork and take a bite!
No cooking, no microwaving. Just mix and serve.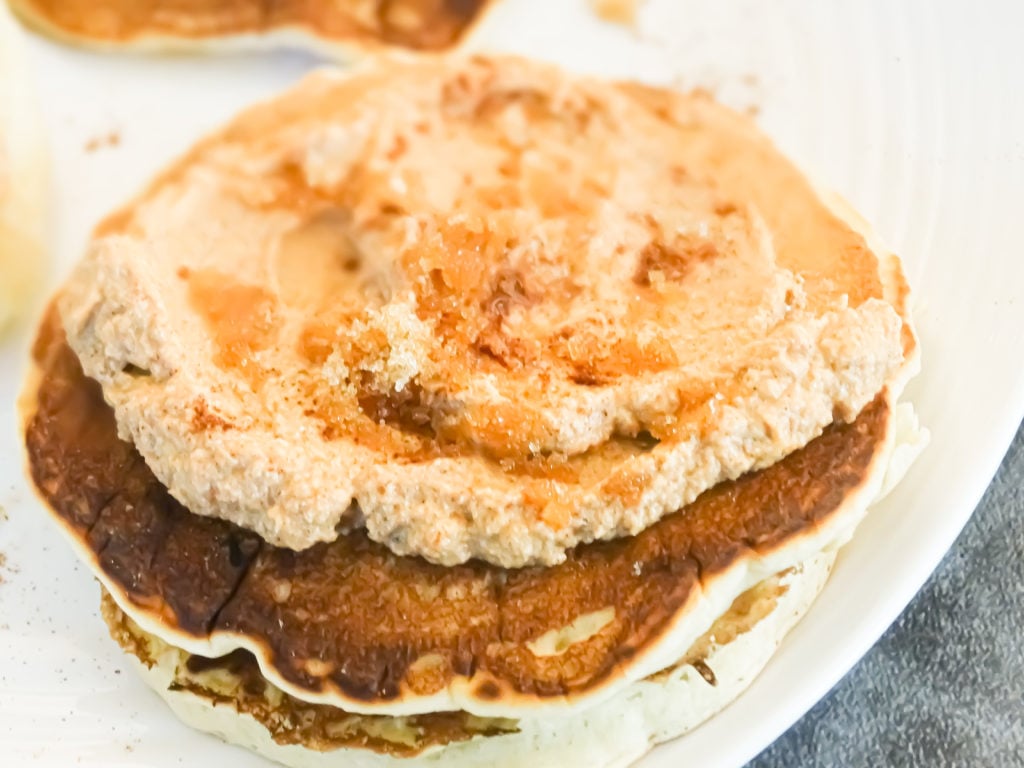 Pumpkin Ricotta Waffle & Pancake Topping
This pumpkin ricotta topping is whipped up in minutes and with pumpkin puree, ricotta, pumpkin spice and optional brown sugar. Use instead of butter and syrup on your favorite waffles or pancakes.
Ingredients
½

cup

ricotta

¼

cup

pureed pumpkin

1

tsp

pumpkin spice

brown sugar for sprinkling (optional)
Instructions
Mix the ricotta, pumpkin puree, and pumpkin spice together.

Spread on top of waffles, pancakes, or other breakfast items. Sprinkle with brown sugar if desired.
Nutrition
Serving:
1
oz
Calories:
56
kcal
You Might Also Enjoy