Being in the midst of a pandemic and unable to venture out as usual is making me do things I never thought I'd had to do. Like learning how to make distilled water! But now that I'm doing them, it's awesome to feel a little more self-sufficient, which is easing this shutdown anxiety.
Making distilled water at home is quite easy. Tonight I am going to show you how to make distilled water by using tap water and a few common kitchen items. A large pot with a lid, glass bowl and ice cubes are all that it takes to make distilled water on your kitchen stove. Distilled water is chemical and mineral free and is used for a variety of reasons, like drinking, filling humidifiers, watering plants, and using in medical machinery.
Stores have been out of distilled water for about 1 week now, and we are running low. It's necessary for medical equipment, and in our case, we need it for a CPAP machine. It is important not to use tap, spring, or purified water in medical equipment because the chemicals and minerals can build up, causing the machine to not work properly or break entirely. This is why it is so important to use only distilled water. If you're curious as to the different types of water and their purposes, check out this blog post.
Being unable to find distilled water to purchase, I researched the various ways to make it myself. The way I am going to explain to you tonight is the simplest one I've found. It requires only common kitchen items and a little bit of patience. It's important to follow the steps exactly so that you end up with perfect distilled water free of chemicals and minerals.
Maybe your reason for needing to make distilled water is because you can't find it. Or you simply don't want to spend the money on it. Either way, I am going to teach you how to make distilled water in you kitchen.
How To Make Distilled Water at Home
Step 1: Boil the water
First, fill a 5 quart or larger pot ¾ of the way with cold tap water. Put a glass bowl inside, making sure it floats. Bring the water to a boil over high heat. Do not let the bowl touch the bottom of the pot.
It's also important during this step to let the water boil before covering. Boiling the water releases the methanol and ethanol.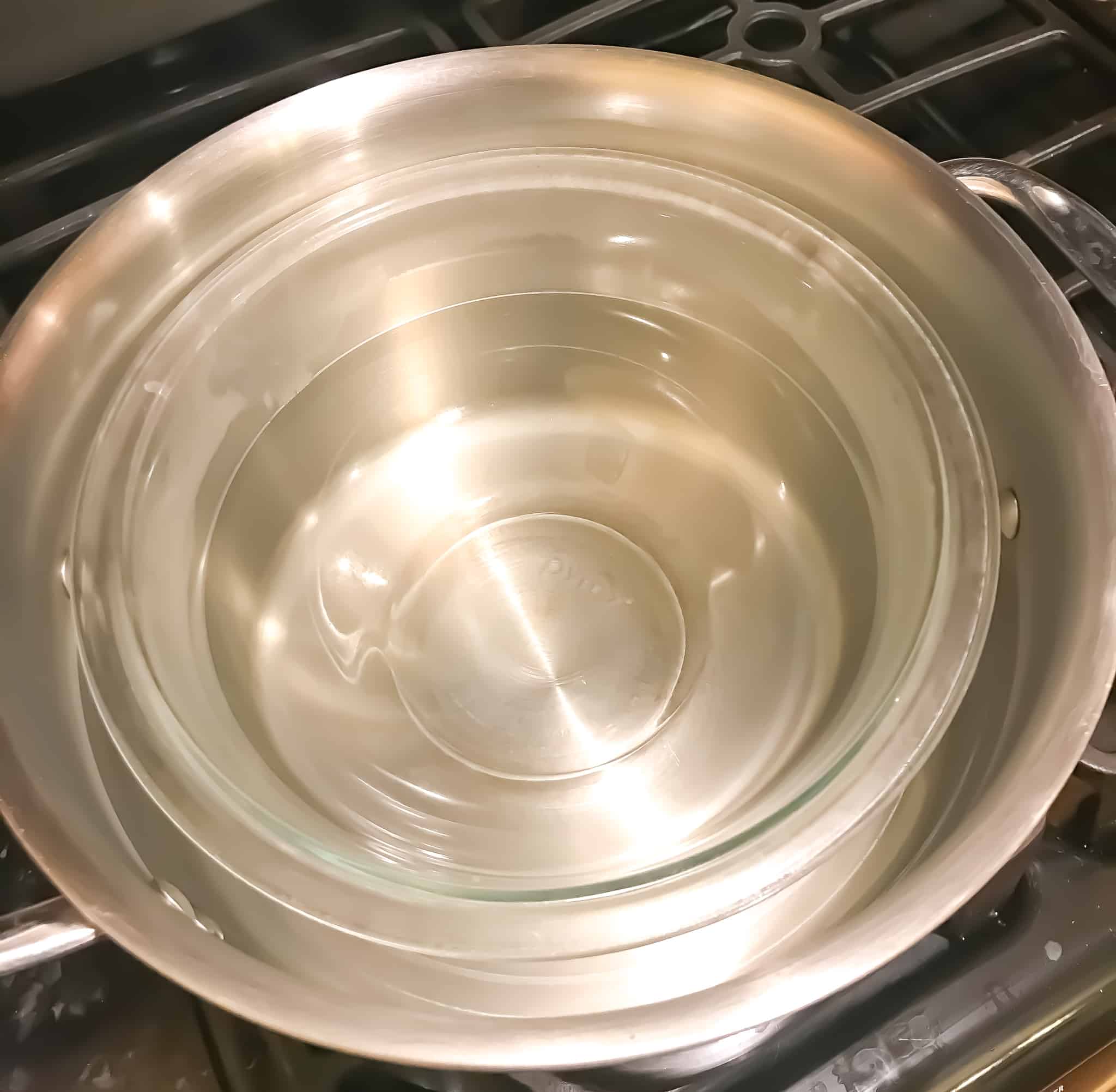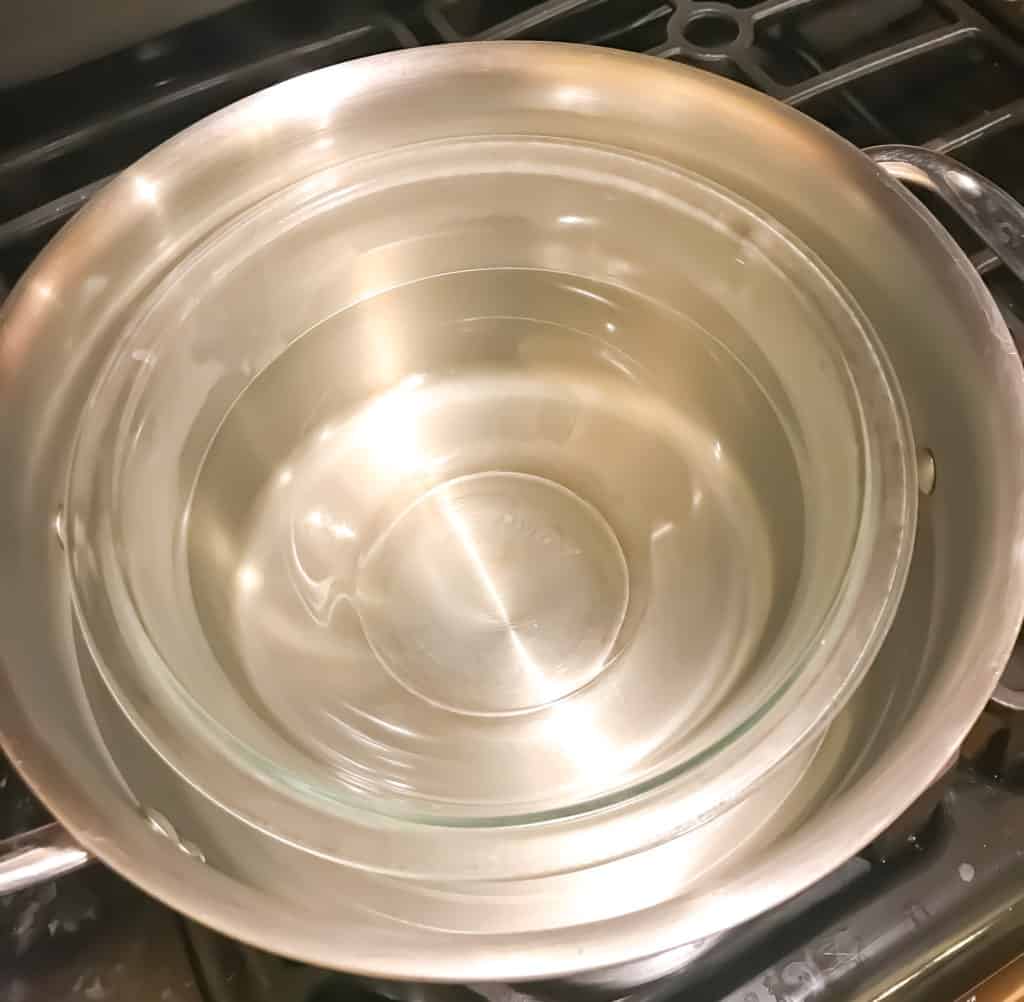 Step 2: Create a Condensation Effect with Ice
Now create a hot/cold barrier by turning the lid upside down, placing it on the pot, and covering it with ice. When the steam from the boiling water hits the lid, the ice will create condensation, and these water droplets will begin to fill up the bowl. Turn down the heat so that the tap water does not boil over into the bowl and check on the progress periodically. Make sure to wear gloves and add ice to the lid as needed.
Hint: use a lid bigger than the pot if you have one. This will make it easier to remove when checking on the water and at the end.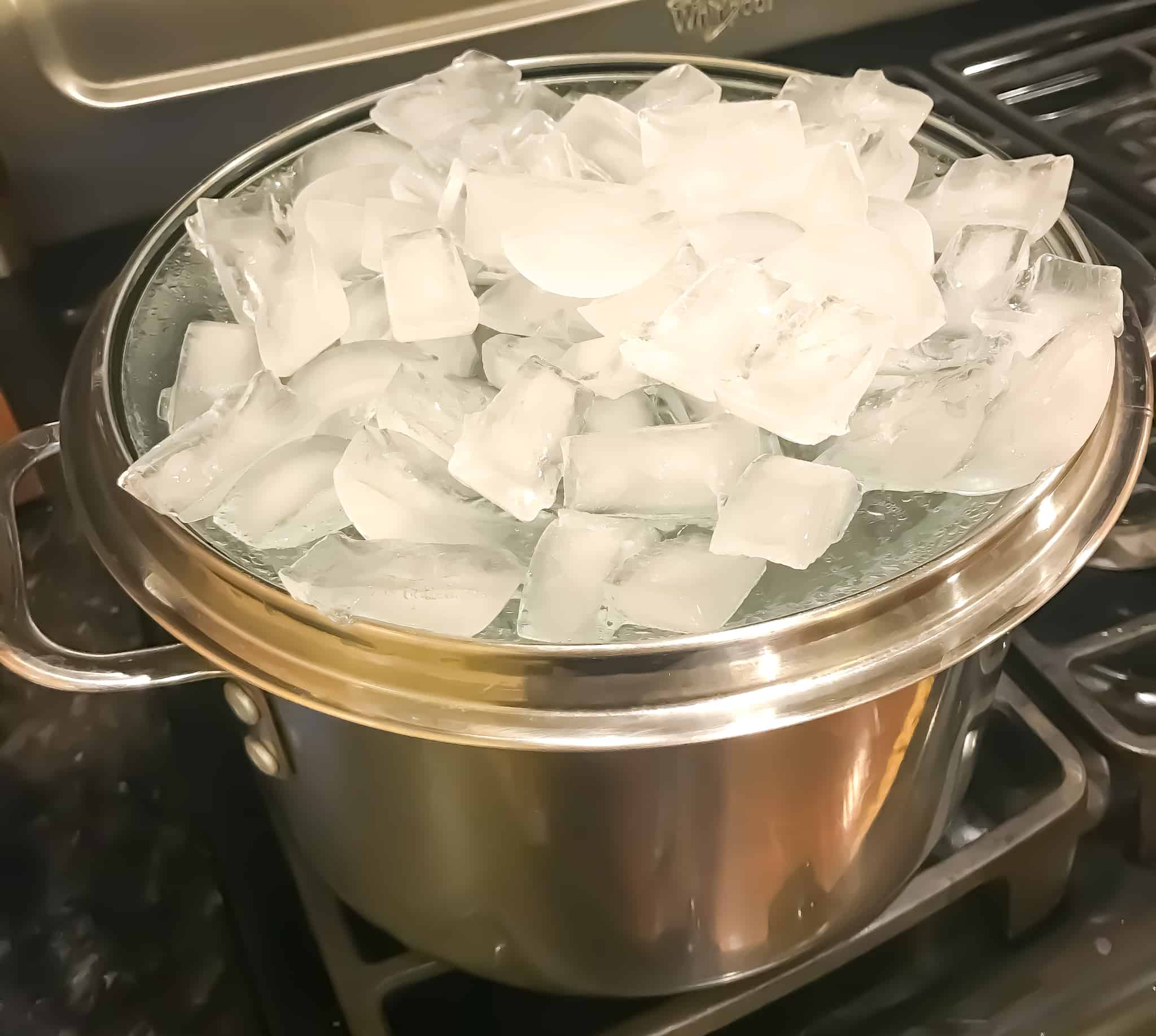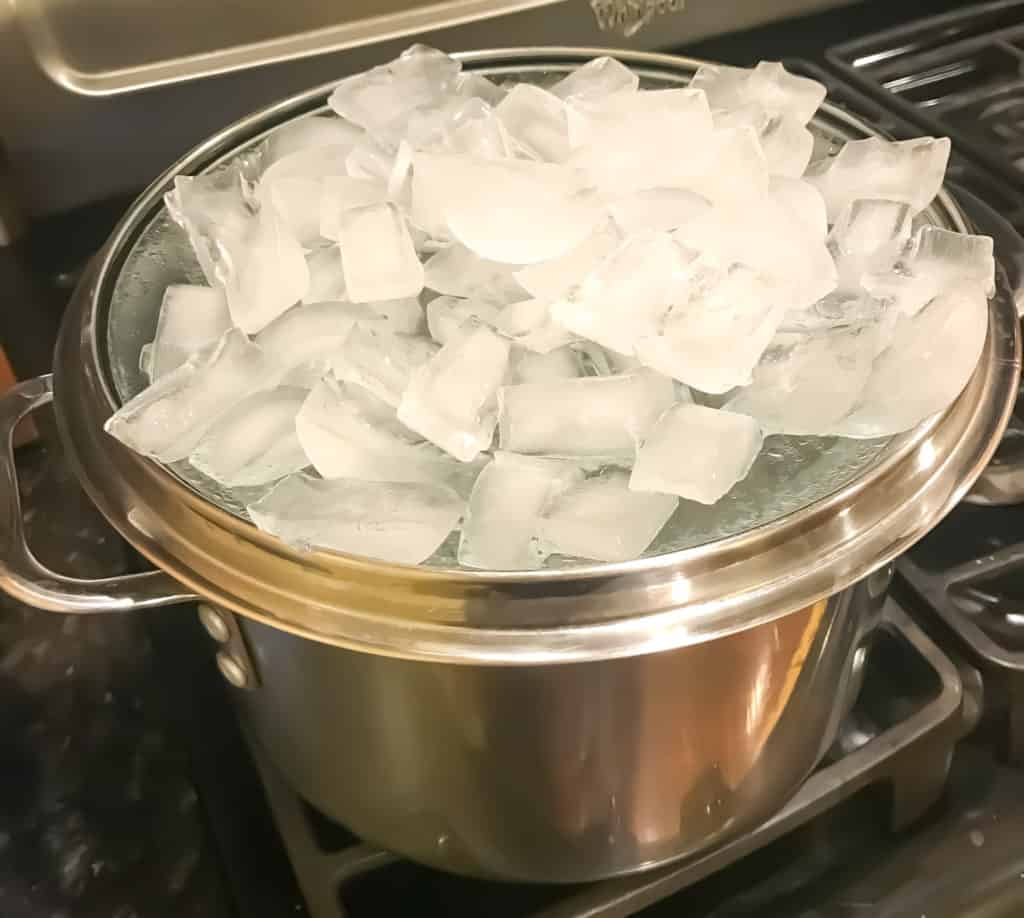 I did replace the ice a few times. To do this, pour the water that has built up on the lid into a smaller pot, like in the picture below. Then add more ice as needed.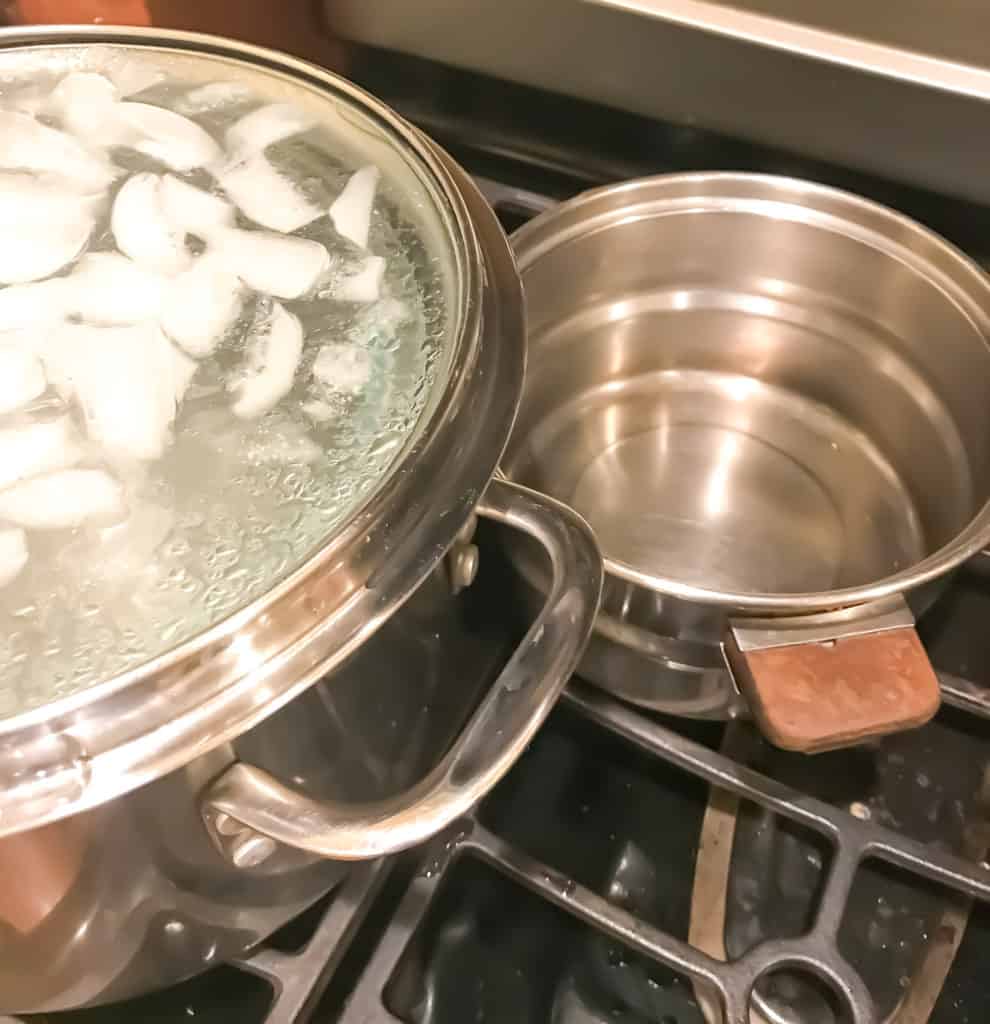 Step 3: Watch the Distilling Water
Continue to replace the ice and allow the droplets to fill your bowl until you have enough distilled water.
Do not let the water in the bowl boil. If it starts to, turn the heat down or stop the process all together. You can then use the water that you have and repeat if you'd like more.
Step 4: Remove Distilled Water from the heat
Once you have enough distilled water, remove the entire pot from the heat. Empty the lid, being careful not to burn yourself. Wait for the water in both the and pot to cool before removing the bowl. Working carefully and when both have fully cooled, remove the bowl and transfer the distilled water into a glass container.
And that is how to make distilled water right in your own kitchen! In 40 minutes I was able to produce 1 ½ cups of water, so in 90 minutes you'll be able to get about 3 cups. Most of the time it takes to make distilled water is inactive, so you can go about doing other things while your stove takes care of distillation. We use 3 oz per night in a CPAP machine, which means I should only need to do this once per week.
It's amazing to see this at work...and most of us may be in need of some activities to get us through this period of self-isolation. Make learning how to make distilled water one of them. You never know when you might need it again!
Hints & Tips for How To Make Distilled Water
Always, always wear kitchen gloves when handling the hot water or pots.
Leave a small pot next to the large pot. When replacing the ice, pour the melted ice from the lid into the smaller pot and don't remove until the distillation process is complete.
When checking on how much distilled water is in your bowl, take notice of whether the bowl is becoming too heavy. If you think it's starting to hold too much water and might sink, stop the process.
Have patience. It took me 40 minutes to make 1 ½ cups of distilled water.
Why can't I just boil my water? Boiling water will not remove all chemicals and minerals. Boiling water really only removes bacteria and chlorine, but not much more.
Now that you know how to make distilled water at home, enjoy your newly acquired skill and your freshly brewed water!
In need of some recipes for you and your family? Try my favorites:
Don't forget to follow me on Pinterest for the latest recipes!