Ultra creamy Healthy Chocolate Pudding with Coconut and Almond Milk makes for a thick, velvety textured pudding without the coconut taste. Serve as a simple snack or dessert with fresh fruit, shredded coconut, or chopped nuts (plain chocolate is just as good too!)
What better time to start learning how to make all of your favorite snacks at home than when we all might be stuck in our homes for a little while? I've been busy stocking up on pantry essentials (instead of toilet paper and sanitizer) so that if we are stuck home for a bit, I can work on more from-scratch recipes! Today I thought I'd share with you my family's favorite healthy chocolate pudding recipe, made completely from scratch.
This healthy chocolate pudding with coconut and almond milk is perfectly rich, creamy, and chocolaty. It's flavor cannot be surpassed with store bought pudding. It takes less than 10 minutes to whip up this creamy chocolaty treat. I think this is the recipe that I am the most proud of. Just talking about how delicious it is makes me smile. I just love sharing it with my friends, family, and now you!
This recipe was created not only as an alternative to store bought pudding but as a try at turning a less-than healthy dessert into a treat that you don't have to feel guilty about eating. And it came out fantastic! In addition to this healthy chocolate pudding, you can try these chocolate chip muffins made with almond milk or these pancakes made with vanilla almond milk.
homemade pudding versus store bought pudding
There are three reasons why I will never buy pudding again:
taste
cost
taste!
My healthy chocolate pudding tastes so darn good that if you make this once, you'll never go back to buying pudding again. Despite the coconut and almond milk, it tastes like neither.
Okay, there is a very subtle hint of coconut, but unless you tell someone that's what it is, they'll never know. Trust me, I've run the test many times and they never guessed what it was. 😉
Now I'm not saying that coconut milk is a bad thing at all. I love using coconut milk in recipes. It's especially good added to cauliflower rice tossed with a Caribbean spiced shrimp. My point is that, using coconut milk in this healthy chocolate pudding does not make it taste strongly of coconut. We want our chocolate pudding to taste as much like chocolate as it can while still being on the healthier side, so that's a good thing!
what ingredients are in healthy chocolate pudding?
To make this healthy chocolate pudding, you are going to need:
full fat coconut milk (unsweetened)
unsweetened plain almond milk
white sugar (or coconut sugar)
unsweetened cocoa powder
all purpose flour
milk chocolate chips
vanilla extract
The most important thing to do when making this is to use full fat coconut milk. The fat content (combined with a little bit of flour) is what makes this pudding as creamy and thick as it is. You will not get the same result when using a low fat coconut milk.
This healthy chocolate pudding recipe is almost dairy free. But making it dairy free takes 1 easy tweak: replacing the chocolate chips with dairy-free chocolate chips.
directions for making your healthy chocolate pudding in 10 minutes
Making healthy chocolate pudding with coconut and almond milk takes not even 10 minutes, but you do need to let it chill to thicken for a few hours. It's made in only 3 simple steps:
In a saucepan, mix sugar, cocoa powder, and flour. Turn on the heat, set on medium, and pour in the almond and coconut milks. Bring to a boil, whisking frequently. Once boiling, whisk continuously for 2 minutes. You'll feel the liquid thicken.
Remove from the heat and add the chocolate chips, vanilla extract, and salt. Whisk until chips are fully melted and pudding is smooth.
Transfer pudding to a bowl and cover tightly with plastic wrap. Press down on the plastic so it's laying on the top of the pudding. This will prevent a layer of film from forming. Chill for 2-3 hours before serving. Pudding will continue to thicken as it chills.
How do you fix your pudding if it's lumpy? To fix lumpy pudding, keep whisking...and whisking...and whisking until the lumps are gone. I don't mind having some itty bitty lumps because they taste no different than a completely smooth pudding. If whisking doesn't do the trick, put it in a blender.
And that's all there is to it! The only thing left to do is enjoy your yummy and healthy chocolate pudding, made from scratch!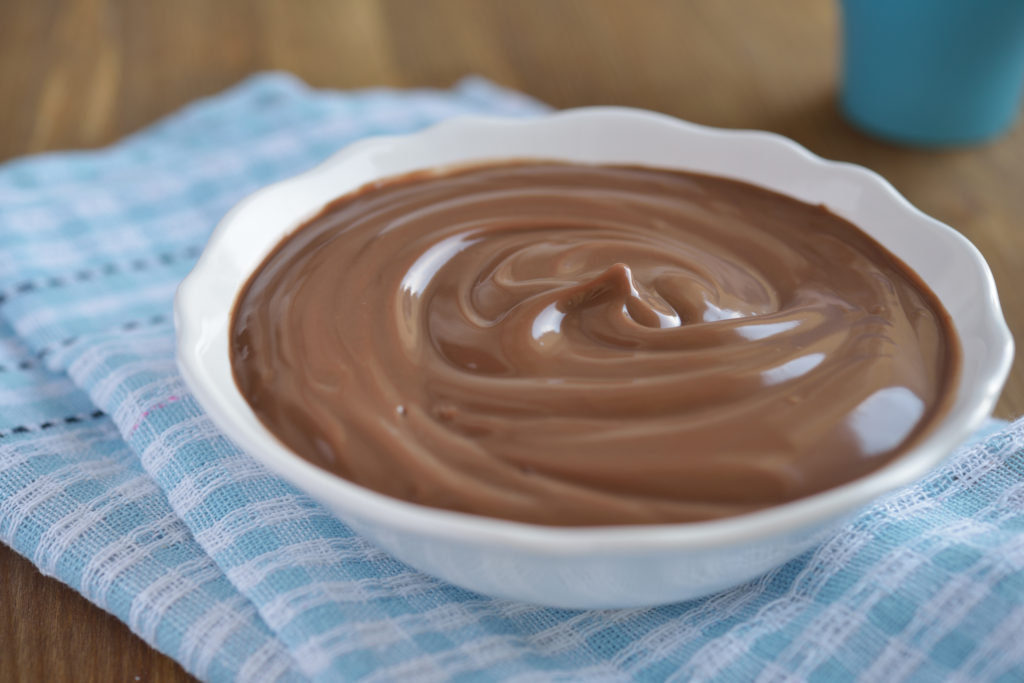 changes you can make to this healthy chocolate pudding recipe
MAKE WITH DAIRY MILK: If you're not concerned about the dairy, you can replace the almond milk with whole milk. If you're looking for a lower fat or fat free version, use 1%, 2%, or skim milk. However, the lower the fat content of the milk, the thinner the pudding will be.
MAKE IT THINNER: If the final product is too thick for you, add a little milk and whisk. Add as much milk as needed to thin it out as you'd like.
MAKE IT A DARK CHOCOLATE PUDDING: Use dark chocolate chips instead of milk chocolate chips. Turning this into a healthy dark chocolate pudding will give it more of a "cocoa" taste. It would be exceptionally delicious served with raspberry or dried cranberries and sprinkled with a pinch of sea salt. Maybe even drizzled with a tiny bit of caramel...yumm!
Healthy Chocolate Pudding with Coconut and Almond Milk
This healthy chocolate pudding uses a blend of coconut and almond milks for a thick, velvety texture without the coconut taste. Serve with fresh fruit, shredded coconut, or chopped nuts.
Ingredients
4

tablespoon

all purpose flour

3

tablespoon

unsweetened cocoa powder

⅓

cup

sugar

1

can (13oz)

full fat coconut milk

1 ¼

cup

unsweetened almond milk

1

cup

chocolate chips

1

teaspoon

vanilla extract

pinch of salt
Instructions
Mix the flour, sugar, and cocoa powder in a medium saucepan. Pour in coconut milk and almond milk. Set heat to medium and whisk until smooth and it begins to bubble. Whisk for 2 minutes continuously after it comes to a boil. You will feel it thicken substantially.

Remove from heat and stir in chocolate chips and vanilla. Add a pinch of salt and whisk until chocolate chips are melted and mixture is smooth.

Transfer to a glass bowl and cover with plastic wrap, pressing the plastic wrap down so it's touching the top of the pudding. This will prevent a film from forming on top. Pudding will thicken as it cools. Chill for 2-3 hours, until pudding is completely set.
Nutrition
serving and storing your homemade pudding
Serve your chocolate pudding once it's chilled and fully thickened, which is after about 2 hours. I always chill mine overnight so it reaches its maximum creaminess, but you don't have to do this. Our favorite way to eat our healthy chocolate pudding is to make it more healthy by adding sliced strawberries or raspberries. You can also sprinkle in some chopped walnuts, almonds, granola, or dried cranberries. Maybe some rainbow sprinkles and cherries for the kids.
Or leave it plain! The choice is yours.
This pudding should be stored in the fridge tightly wrapped in plastic. Make sure the plastic is pressed down onto the top of the pudding. This will prevent a thin layer of film from forming.
I hope you enjoy your healthy chocolate pudding and add it to your list of go-to homemade snacks. If you've made it and loved it, let me know in the comments below. And don't forget to follow me on Pinterest for the latest recipes!
If you love chocolate, you might also like these recipes: